Whenever we hear good music, our body's natural inclination is to sway, spin, twirl, bop, and just move with the beat.
Dancing is essentially a performing art form that can be done through a series of body movements, typically matching the speed and rhythm of a music. It is also a great way to get your body moving and your blood flowing.
Today, dancing remains a popular art form practiced by many people around the world. Thus, we have created and compiled free dance coloring pages that are fun and enjoyable to color.
With these dance coloring printables, coloring activities are made more fun and easy. Simply choose the image you like, download it, print it out, and finally—the most fun part—color it! Feel free to mix and match various colors to customize these artworks!
Have fun and make use of your imagination and creativity!
Dance Coloring Pages — 10 All-New Printable Sheets
The lady in this dance coloring page is feeling the music! Her eyes are closed and she looks at peace while she dances to the beat.
She looks beautiful with her calm facial expression and her long, sleek hair falling over her shoulders. It also looks like she's wearing workout clothes. She must be dancing in the gym!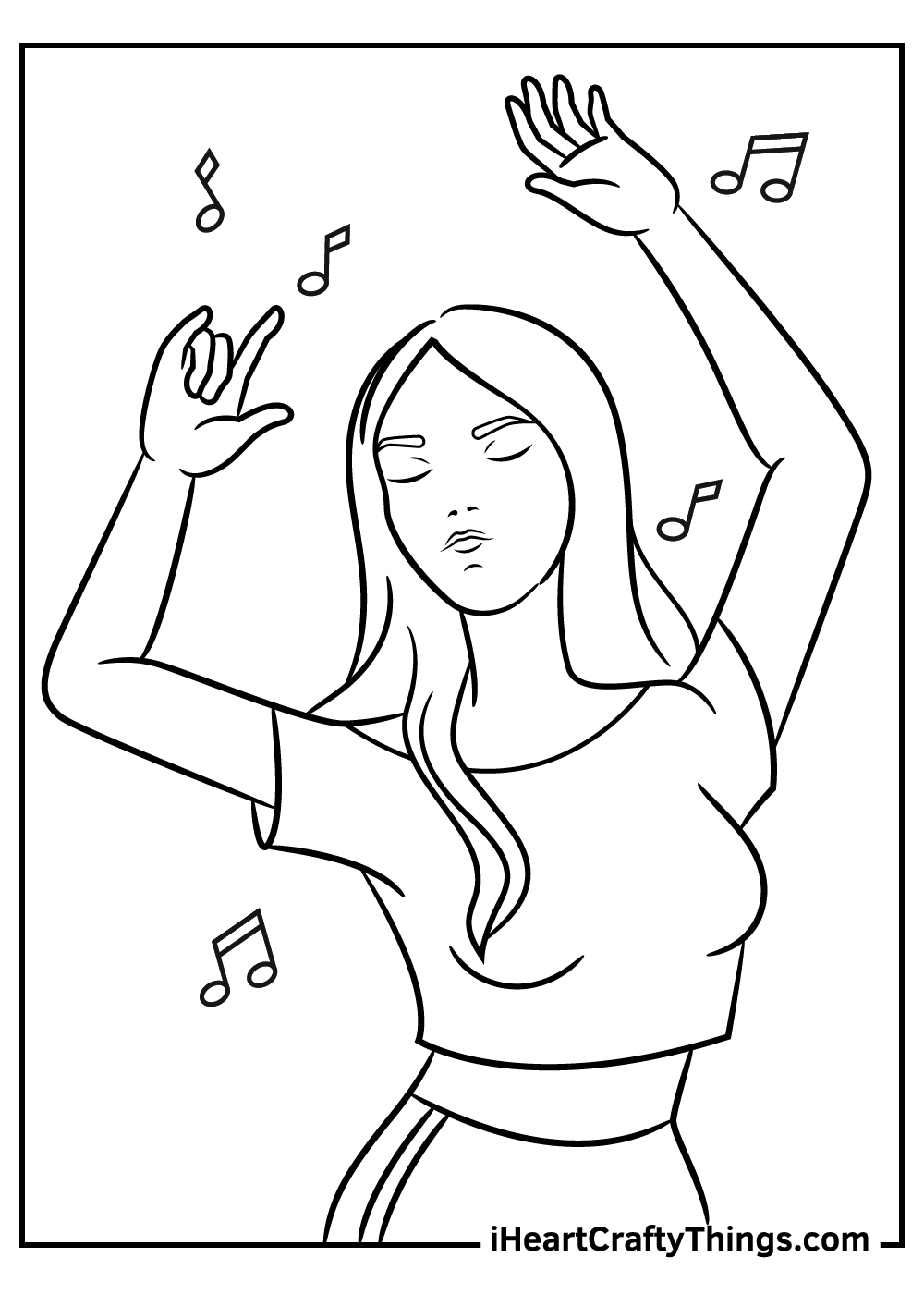 This dance coloring page shows a teenage girl who seems like a prodigy in ballet. She's dancing gracefully and with ease. It looks like she's naturally good at dancing! Perhaps her mother or father is a dancer and she inherited their dancing skills.
She looks elegant wearing a loose, flowy dress paired with pointe shoes. She's definitely dressed the part of a professional ballet dancer! What colors will you use for her outfit?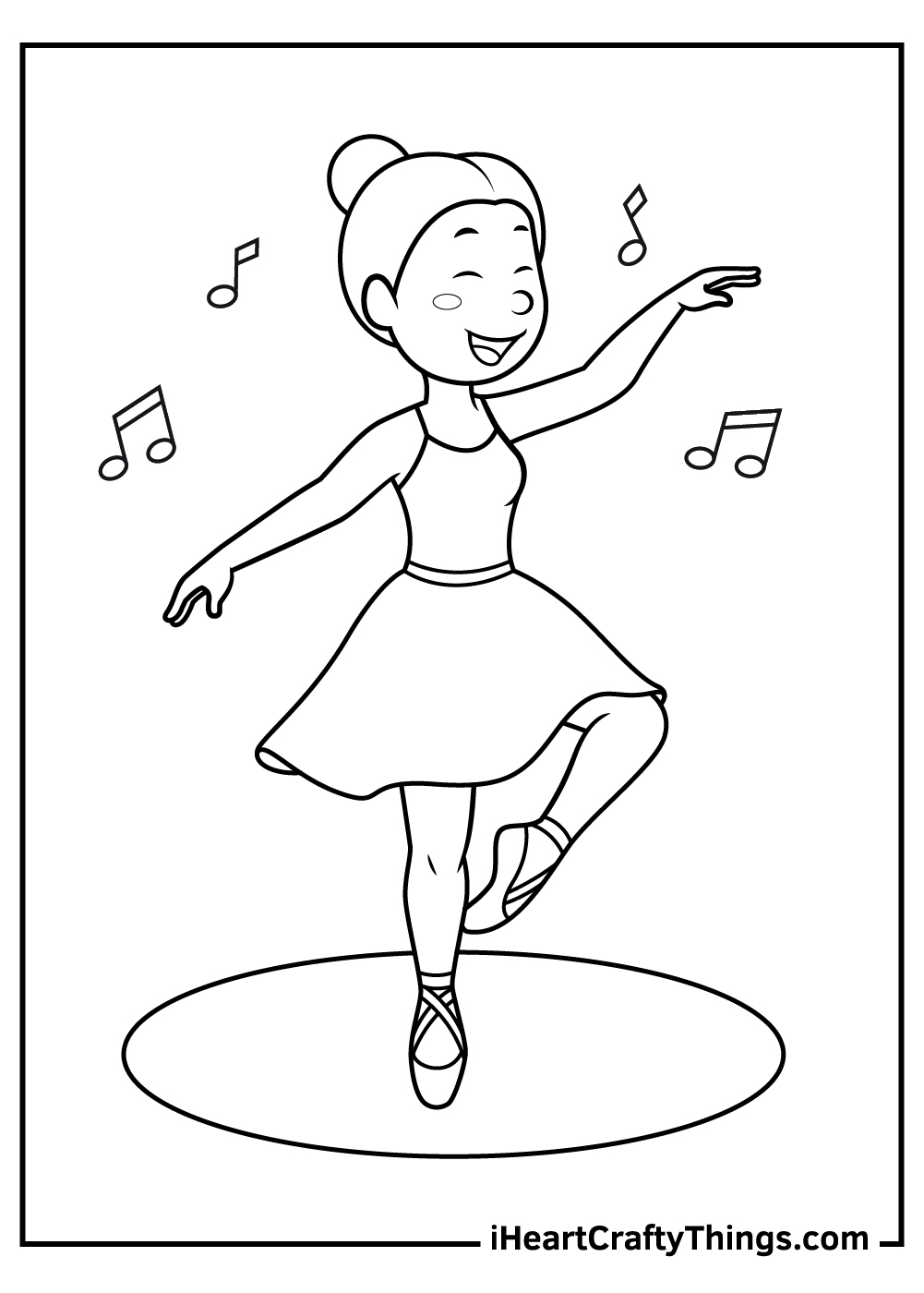 In this dance coloring page, there's a little boy and girl holding hands while dancing. One of their feet moves up while the other stays in place.
Their dance moves are in perfect harmony. Their eyes are gleaming and they have a huge grin on their faces. It looks like they're having fun!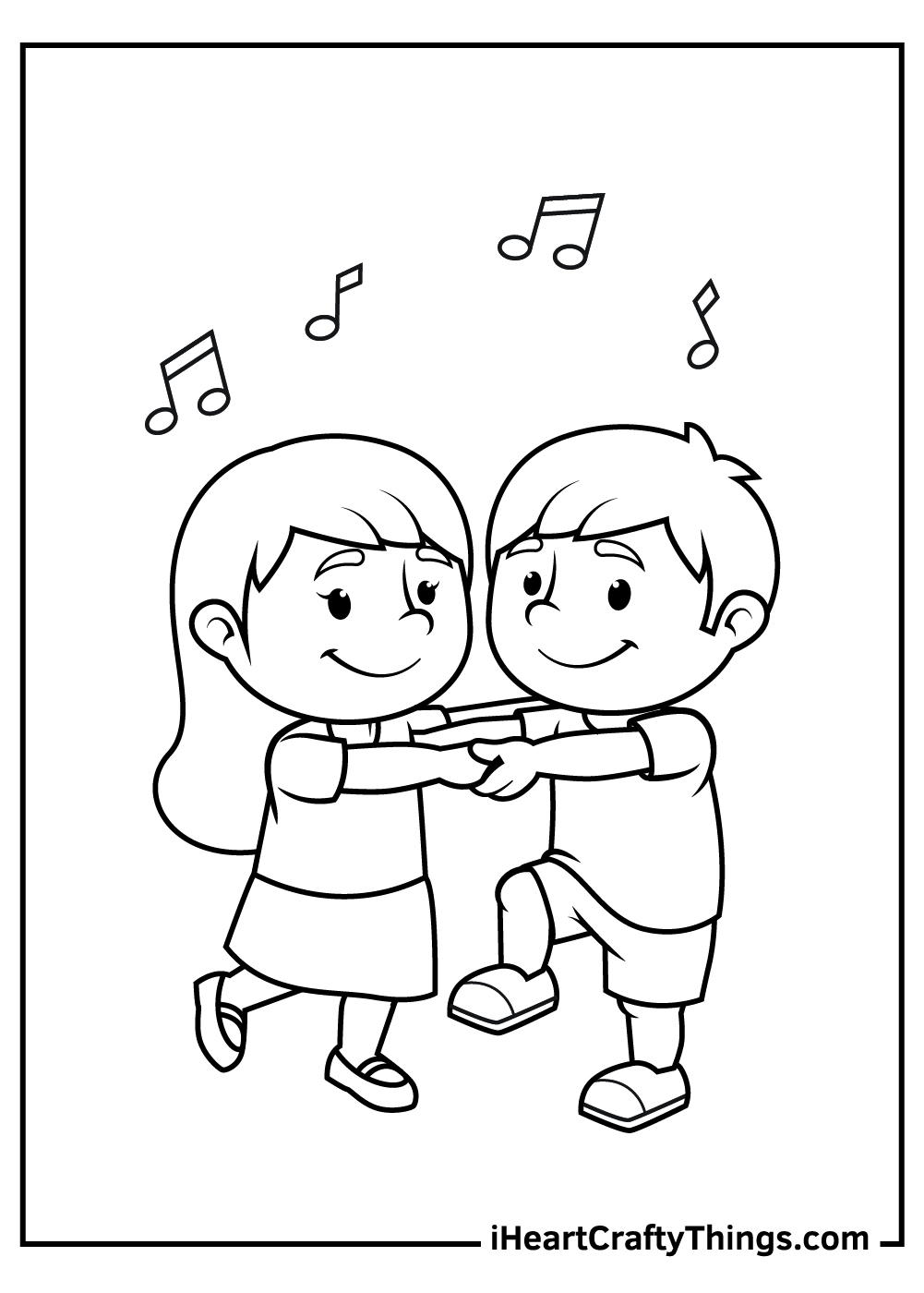 Music has the power to put anyone in a good mood, even animals! In this dance coloring page, a huge bear is swaying and spinning along with the music.
With its glimmering eyes and wide smile, it seems like it's having a good time just dancing around!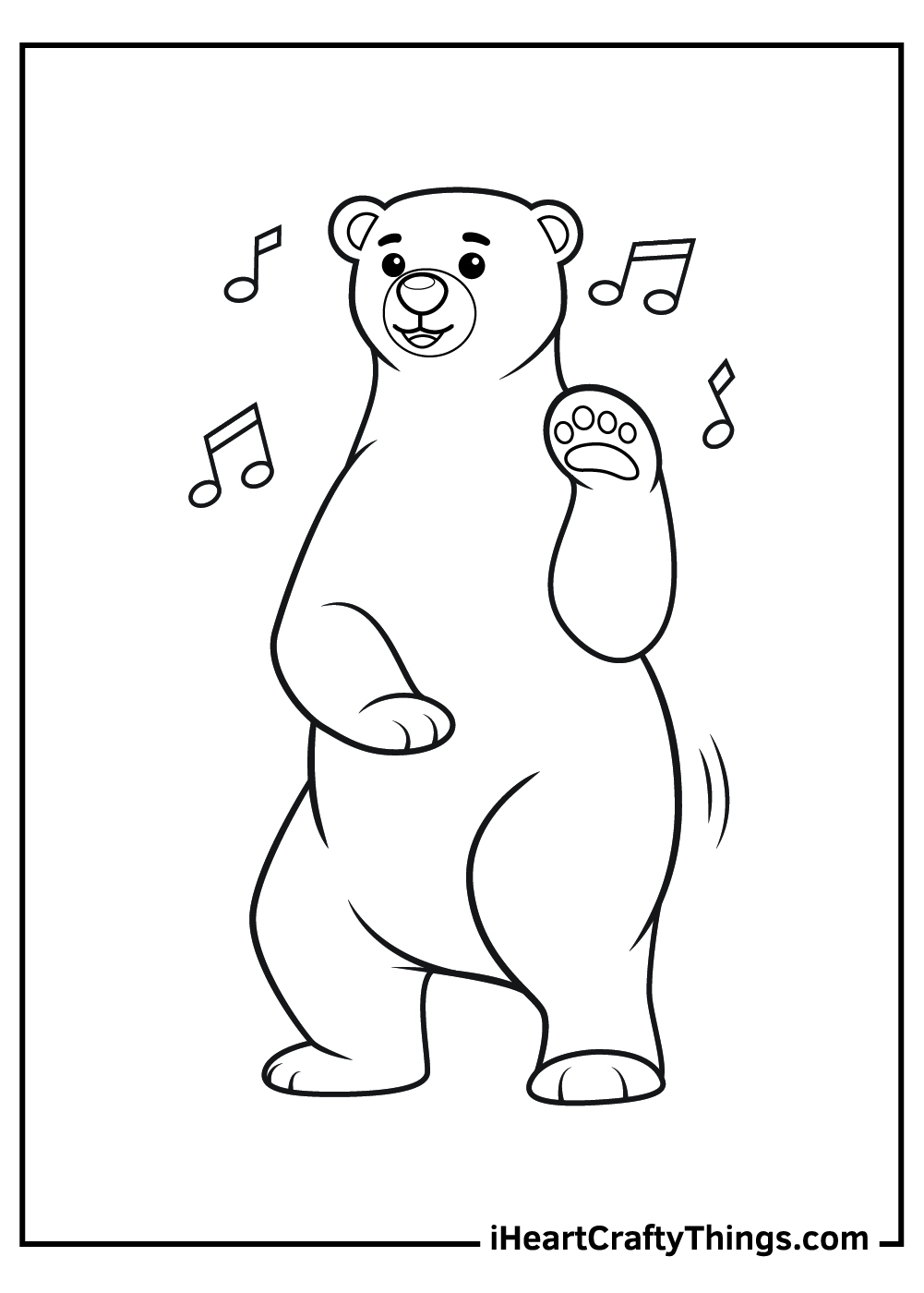 Imagine being able to dance ballet as good as the girl in this dance coloring page—so cool! One of her feet is held high upwards as the other is on a tiptoe. Her arms are spread wide open, creating the iconic ballet dance position.
Did you know that the dress worn as a costume in ballet is called tutu? Tutu dresses are usually either white or pink. However, feel free to customize this girl's dress and use any color you like!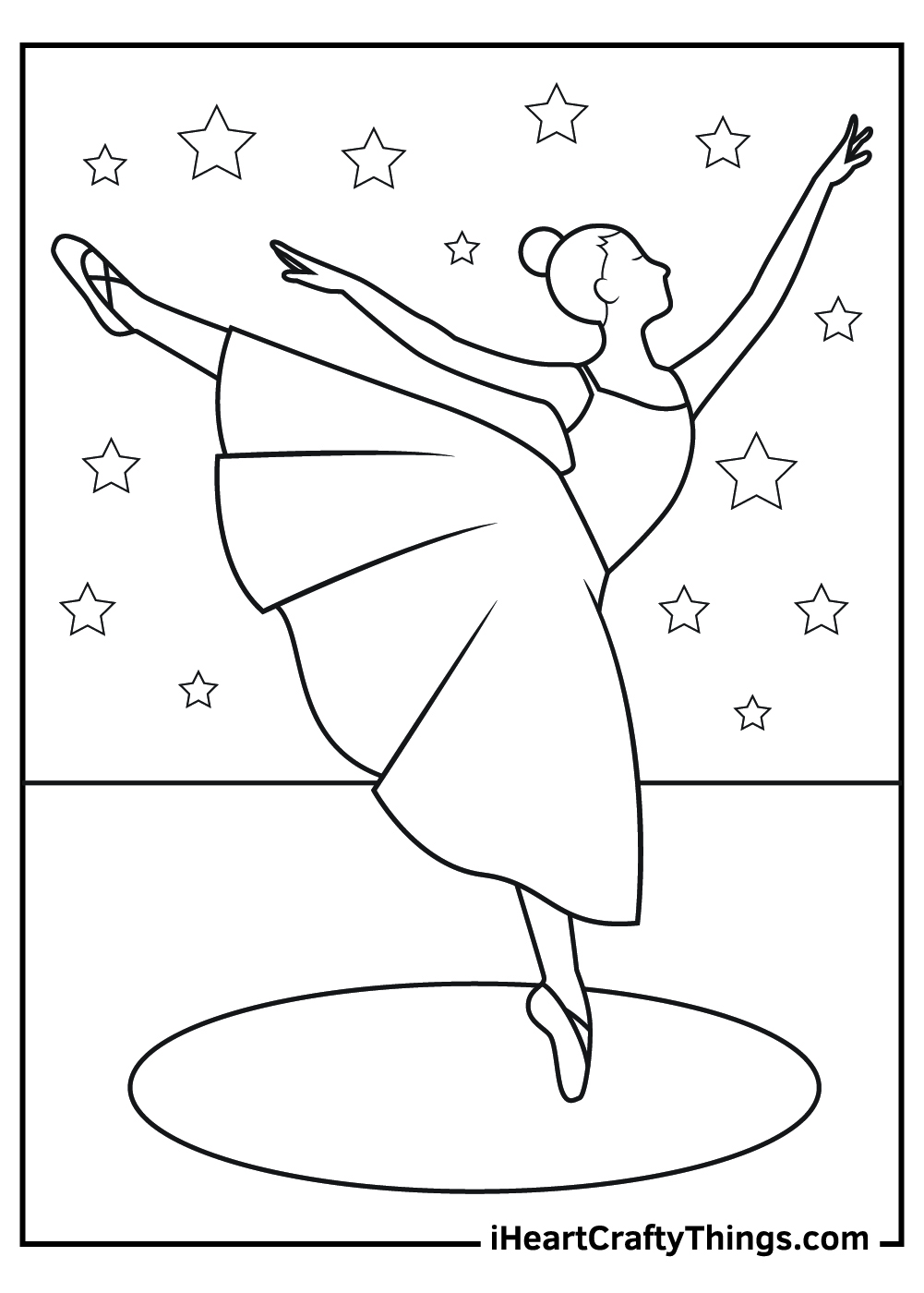 In this dance coloring page, a young little girl appears to be attending a ballet class. She looks extremely adorable wearing a complete ballet costume: a tutu dress paired with pointe shoes.
She looks eager and determined to learn. Most importantly, she seems to be having fun! We think this little girl will learn to dance ballet flawlessly in no time!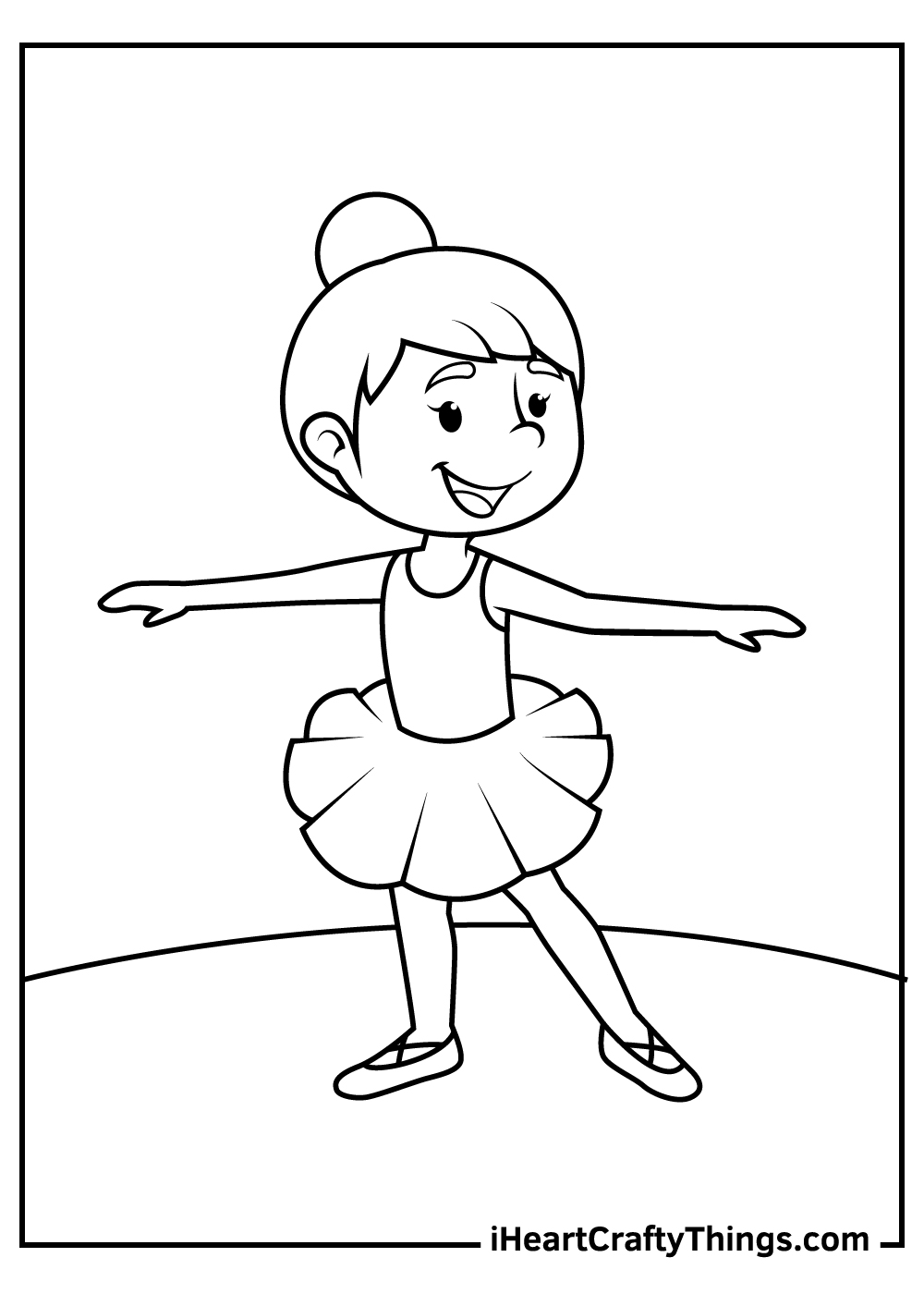 Animals also appreciate music and dance along with it, as shown in this dance coloring page. This mouse is dancing happily to the rhythm without a care in the world.
It looks extremely happy with its eyes closed and a huge grin on its face.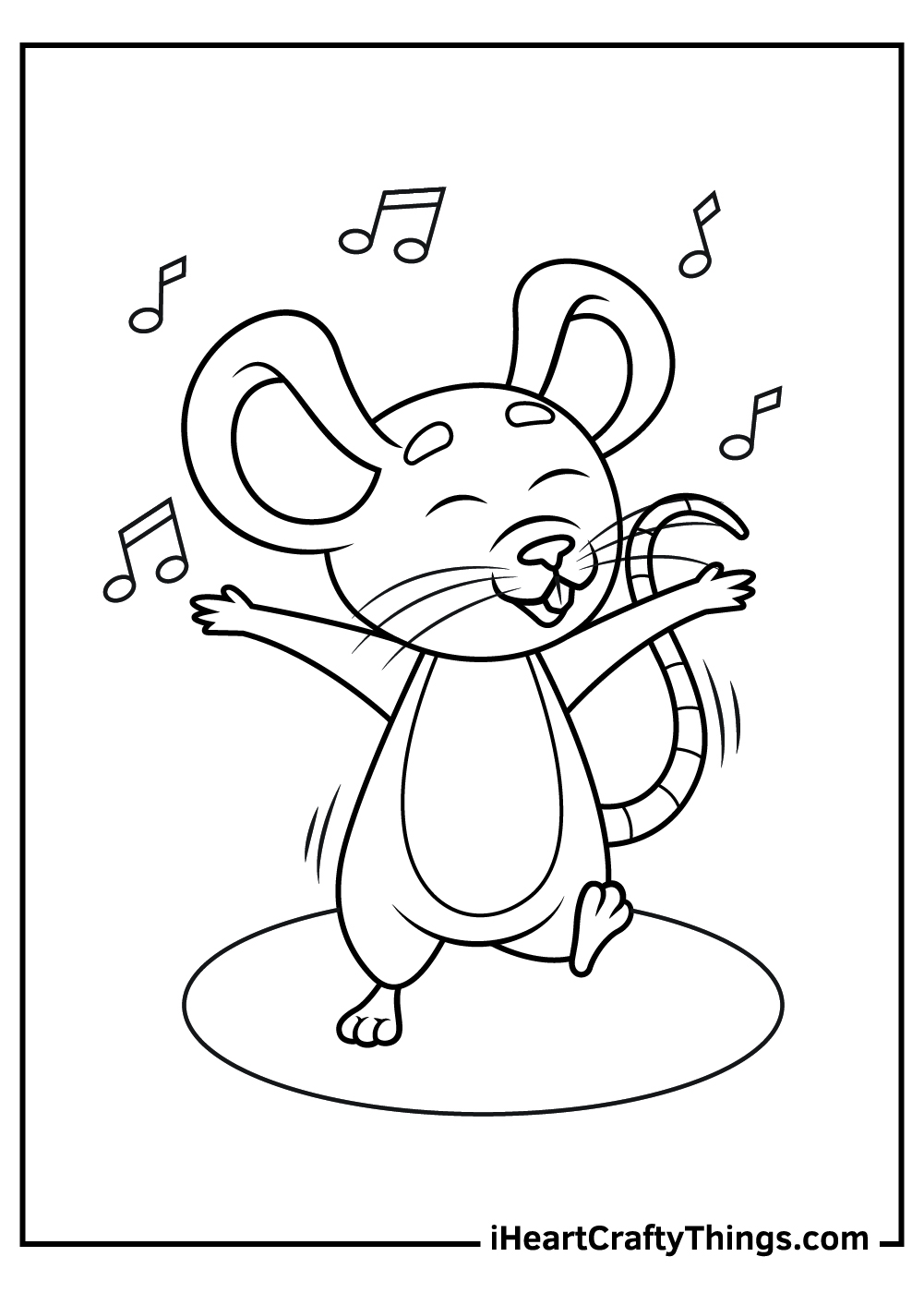 The cheerful little girl in this dance coloring page is showing off her moves! Both her fingers are pointed sideways as she sways and spins her body to the rhythm.
Her facial expression says it all—she's definitely enjoying the music!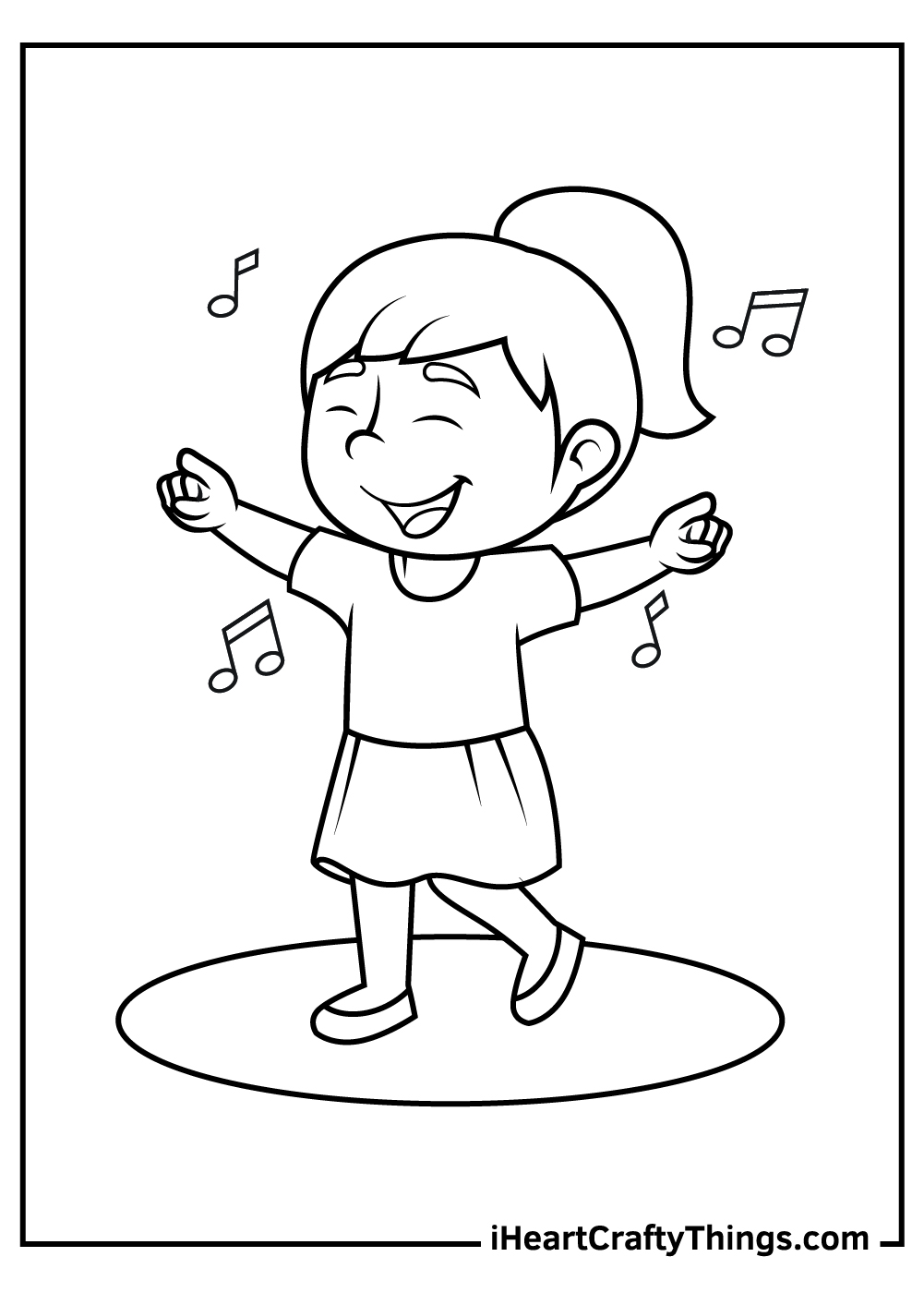 This dance coloring page shows a young little elf dancing to the music. Both his arms and feet are moving rhythmically.
Is he a real elf or a little boy wearing an elf costume? One thing is for sure, dancing can truly brighten up anyone's day!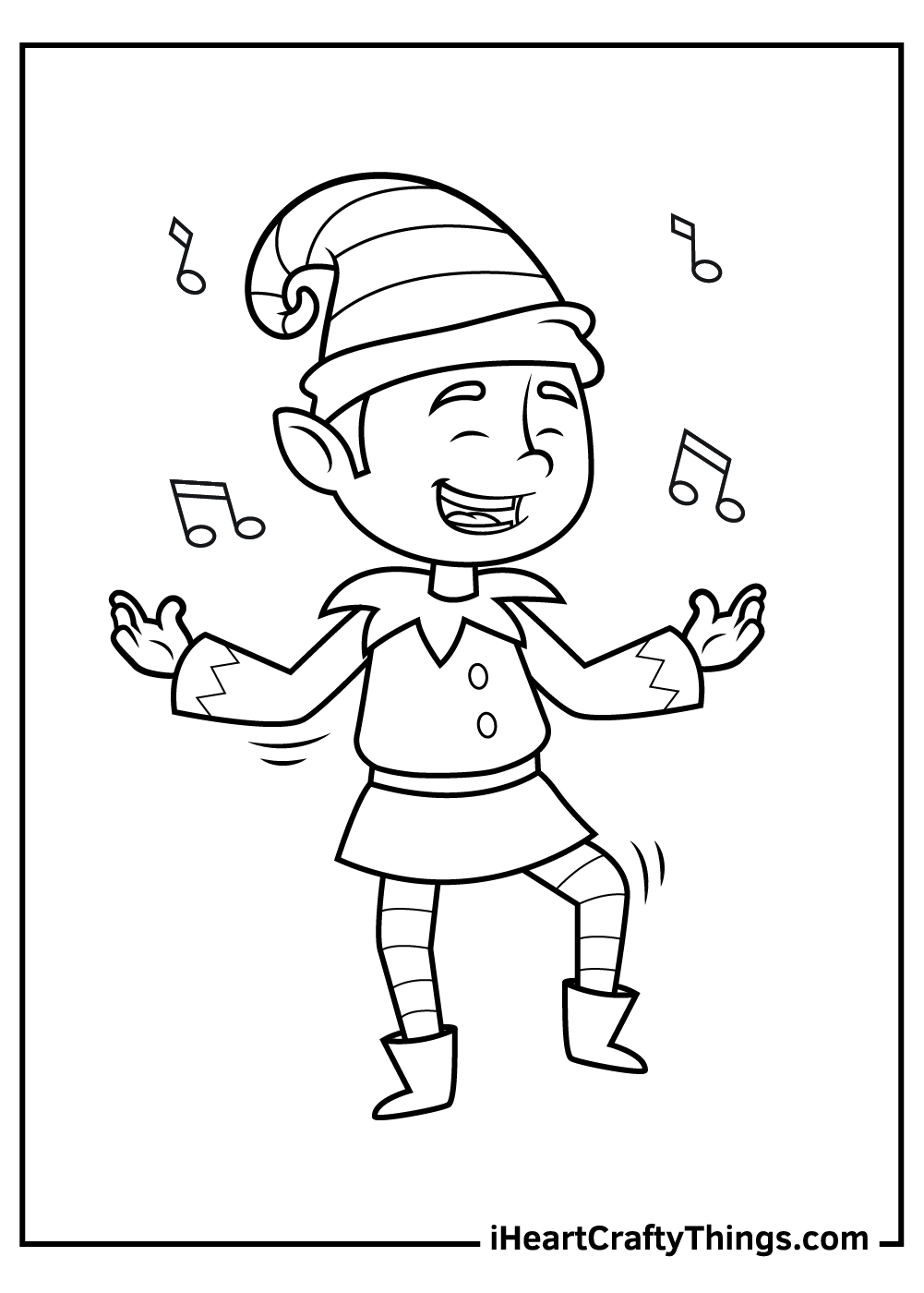 In this dance coloring page, there's a little boy dancing enthusiastically. He pulls one of his feet upwards while the other stays rooted to the ground.
His palms are open as he pushes his arms forward—such a classic dance move! He's probably listening to some upbeat music!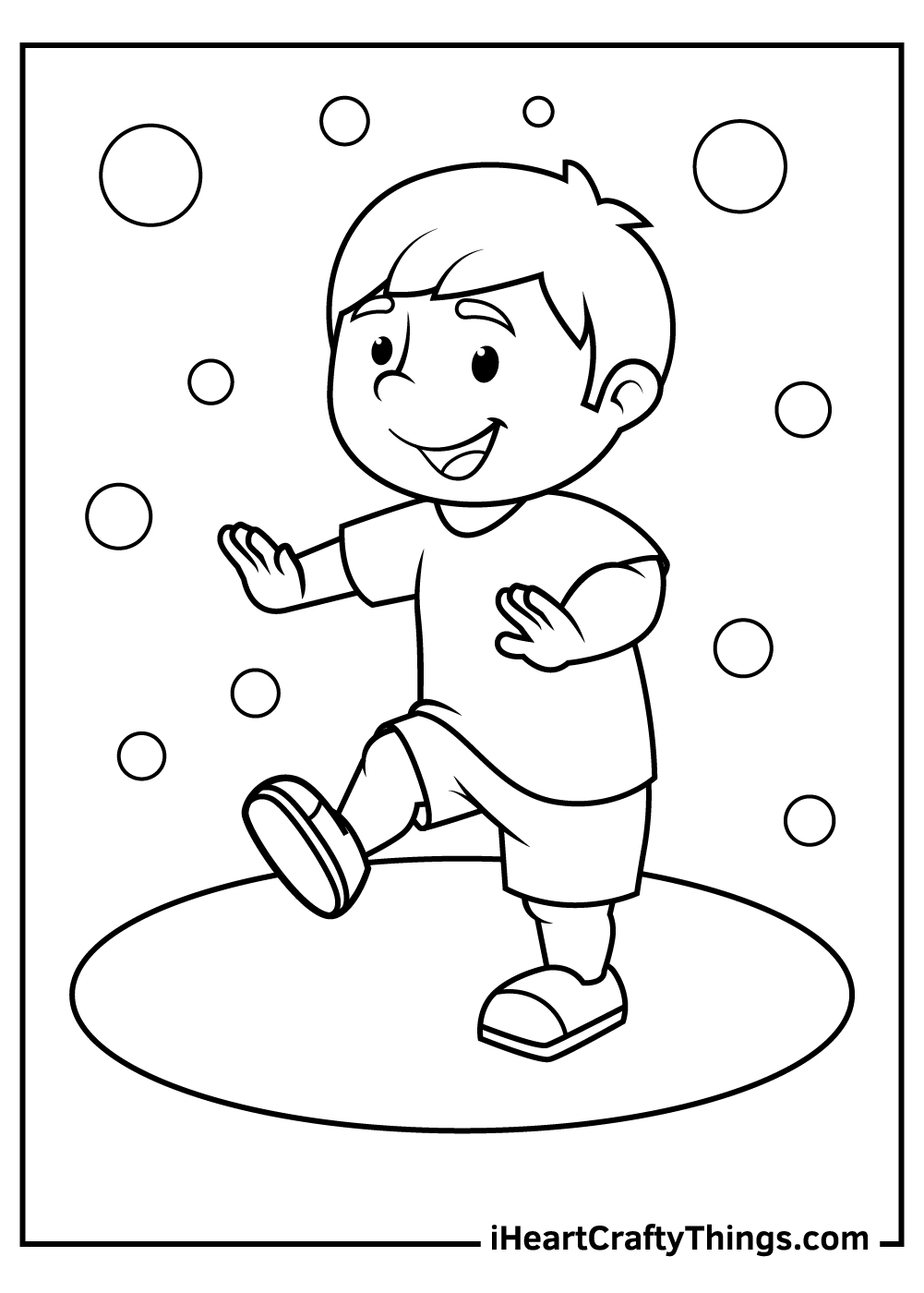 Dance Coloring Pages — Which is your favorite dance move?
We hope you enjoy these dance coloring pages. It consists of simple and intricate illustrations of dancing human beings and animals. Coloring these dance coloring sheets is the perfect activity for kids of all ages who are passionate about dancing or music in general.
Remember, all of our crafts and coloring printables are 100% free for you to download, print, and color. We are always updating our catalog and uploading new content to our catalog. So, don't forget to keep re-visiting our website to continuously enjoy all-new coloring pages.
Once you've finished coloring your dance coloring printables, you must be very proud of yourself for completing a masterpiece—as you should be! Make sure to show off your work of art and share it on our Facebook page. We're sure it looks amazing!
We can't wait to see all of your colorful creations!