Video games constantly have new characters emerging for players to control and grow to love, and Cuphead is a recent example of a new character that has won over legions of new fans!
As the star of a brutally difficult video game that pays tribute to classic old time cartoons, he's sure to become a video game icon!
These free Cuphead coloring pages for kids are perfect for hours of coloring fun with this awesome character and his colorful pals.
You could try out some different mediums like paints and colored pens and pencils for a fun and vibrant look to these Cuphead printables.
Once you've colored in your favorite Cuphead coloring sheets, we would love it if you would share your colorful creations to our Facebook page for us to see!
We're always amazed by your creativity and can't wait to see some awesome depictions of this cool new character.
10 Brand New Cuphead Coloring Pages – Free to Print and Color
Our first free Cuphead coloring page for kids shows the man himself looking very happy and striking a cool pose.
Cuphead wears red pants with brown shoes in the video game, so you could stick to these established colors or you could come up with your own ones to create a new look for him.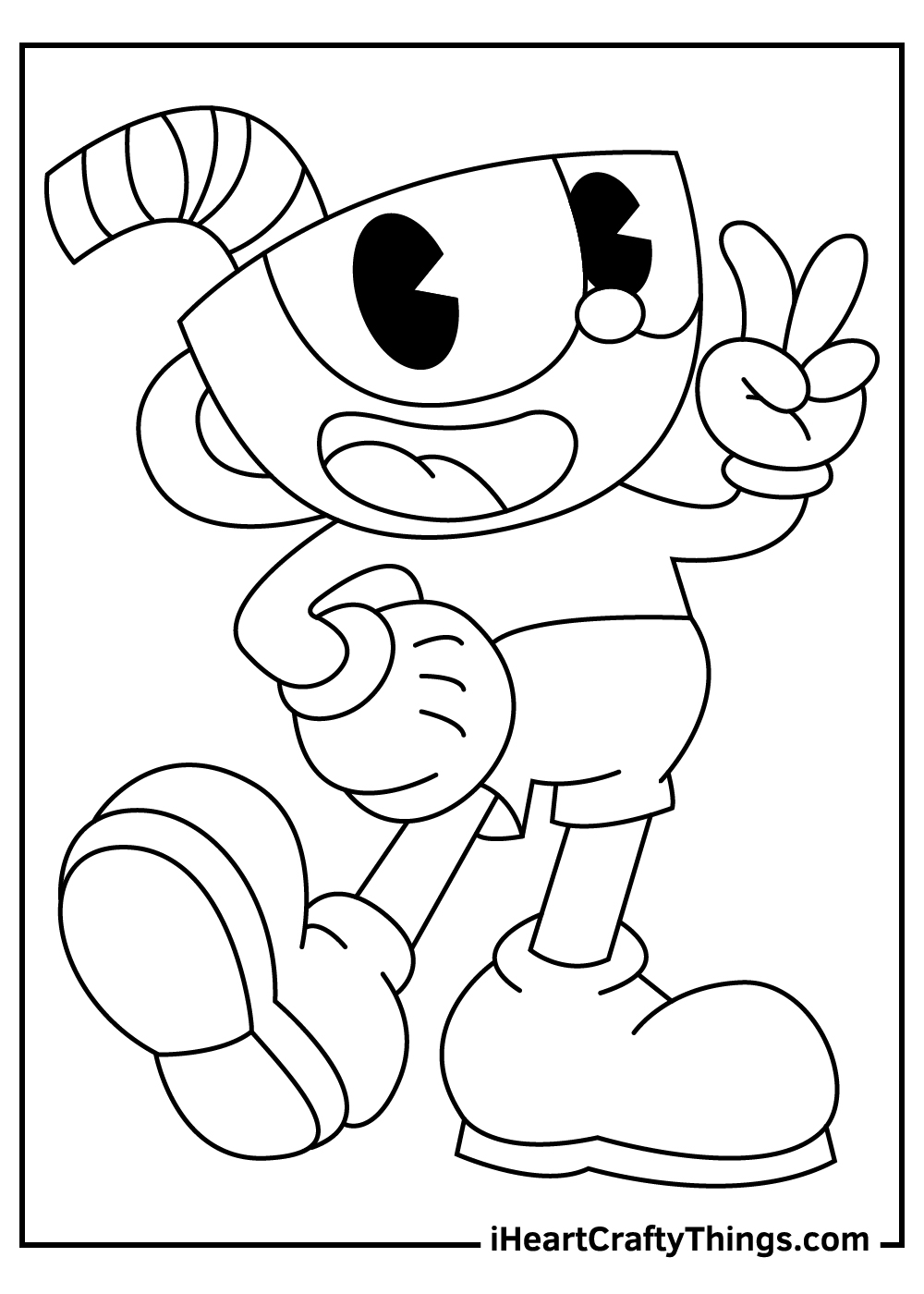 Cuphead is doing another fun pose in this second Cuphead coloring sheet. The backgrounds of the game are very bright and colorful, so what colors will you use for this Cuphead printable?
I think a bright blue would compliment the red of his pants and straw if you decide to go with his normal colors. What will you use for the background?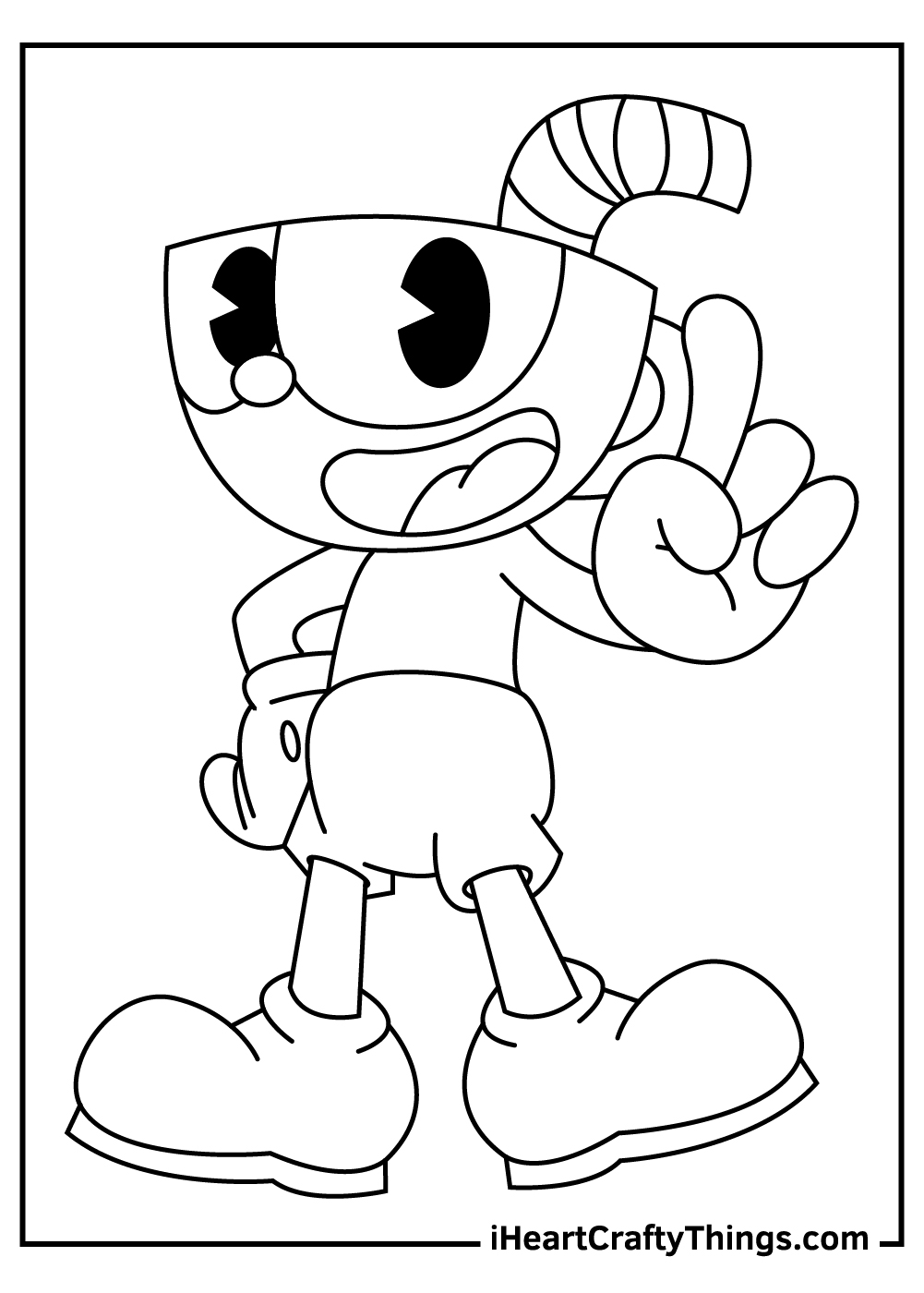 Even though the game can get very challenging, there's always a bright and cheerfully optimistic tone to everything, and that carries over to this next Cupehead coloring sheet where he's wishing you a beautiful day!
I would once again use some bright and cheery colors for this happy Cuphead coloring page, and I'll look forward to seeing what you decided to use!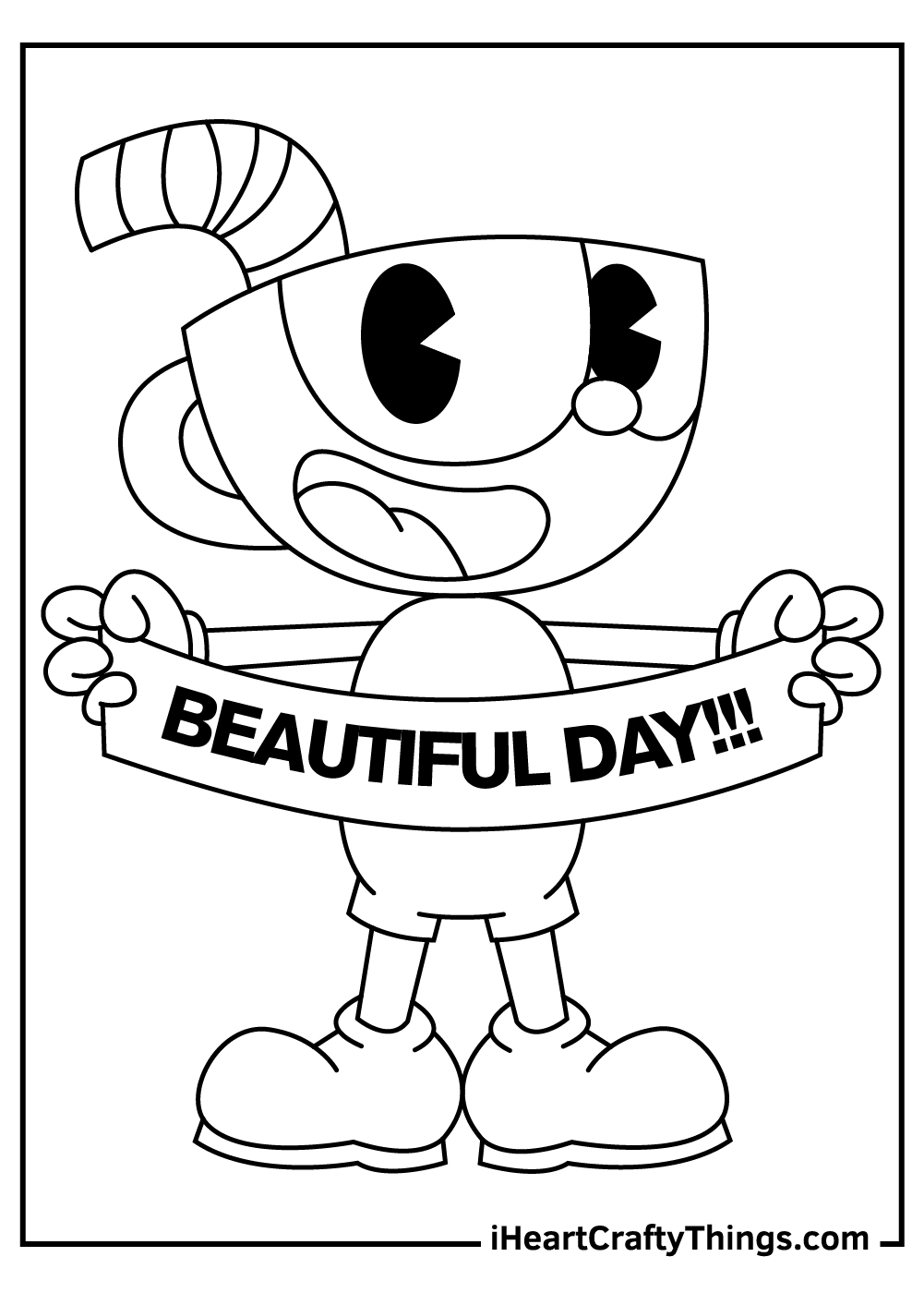 Cuphead is leaping in the air surrounded by stars in this victorious Cuphead coloring printable! I bet that this image comes just after Cuphead triumphed over a tough boss.
For this image, I would color in the stars with a bright yellow coloring pen to really make them stand out, and then I would use a bright blue for the background. I bet any colors you choose will look great though!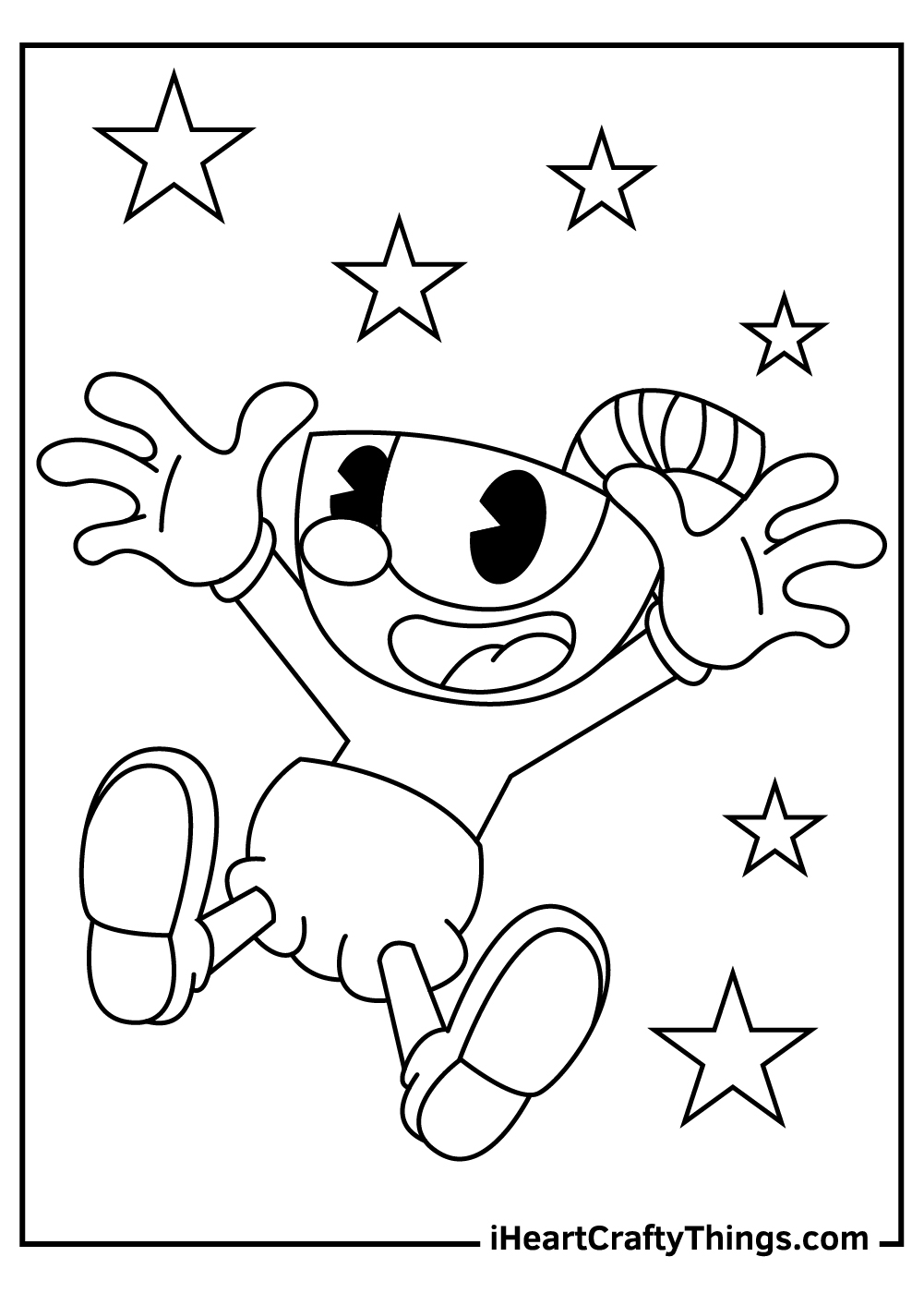 The art of the Cuphead video game are beautifully hand drawn and hand painted to look like old classic cartoons, so for this next Cuphead coloring sheet I think it would look great to use some lovely watercolor paints to really recreate the look of the game with some softer colors and a more painterly style.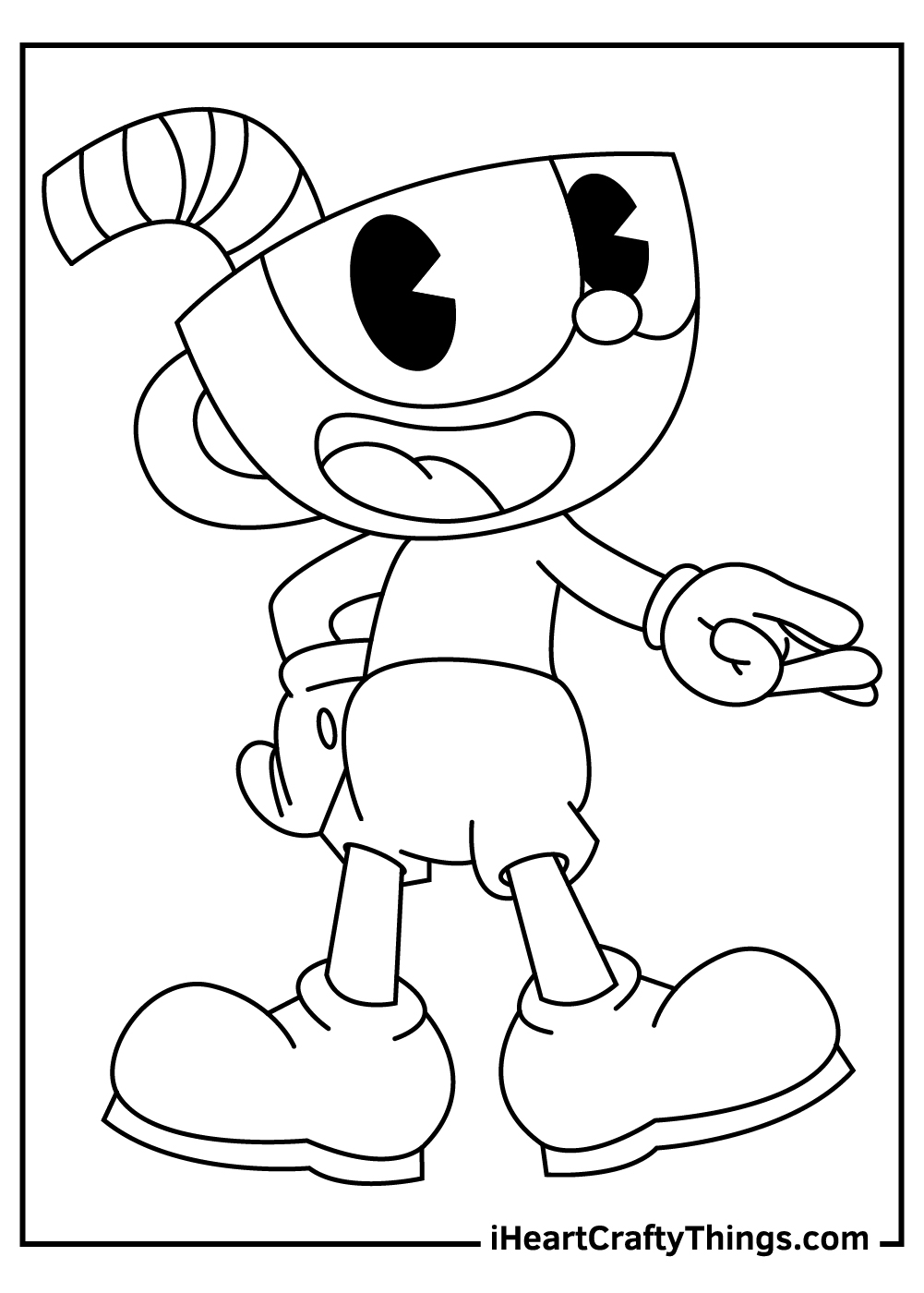 Cuphead is looking very pleased with himself in this next Cuphead coloring page! Maybe he just beat another tough boss and is celebrating the accomplishment.
How will you celebrate along with Cuphead as you color in this printable?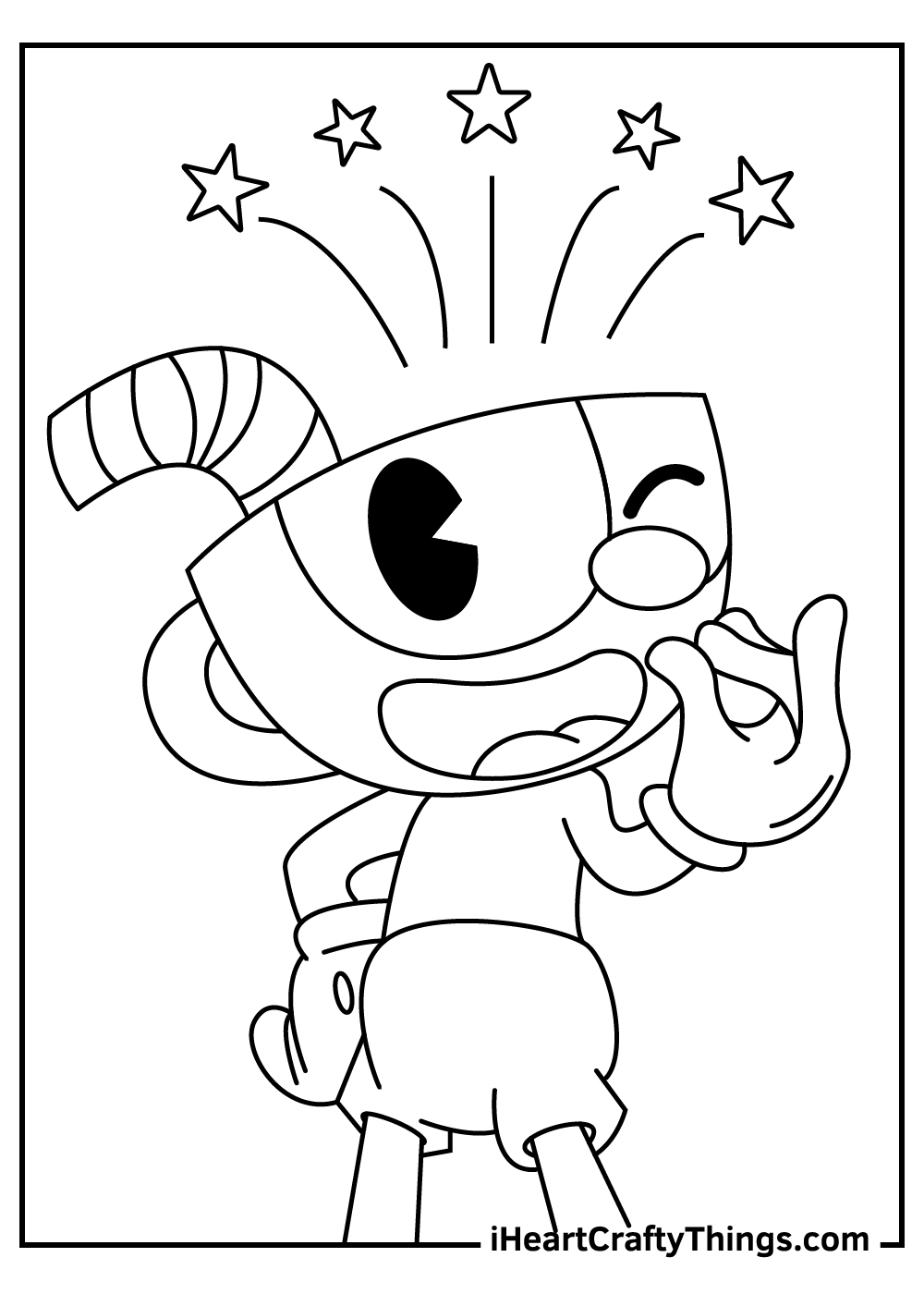 This next Cuphead coloring sheet shows him standing on a few giant poker chips, which ties in to the story of the video game nicely.
The chips have either red or blue stripes in the game's artwork, but you could use your own favorite bright and crazy colors for this fun image.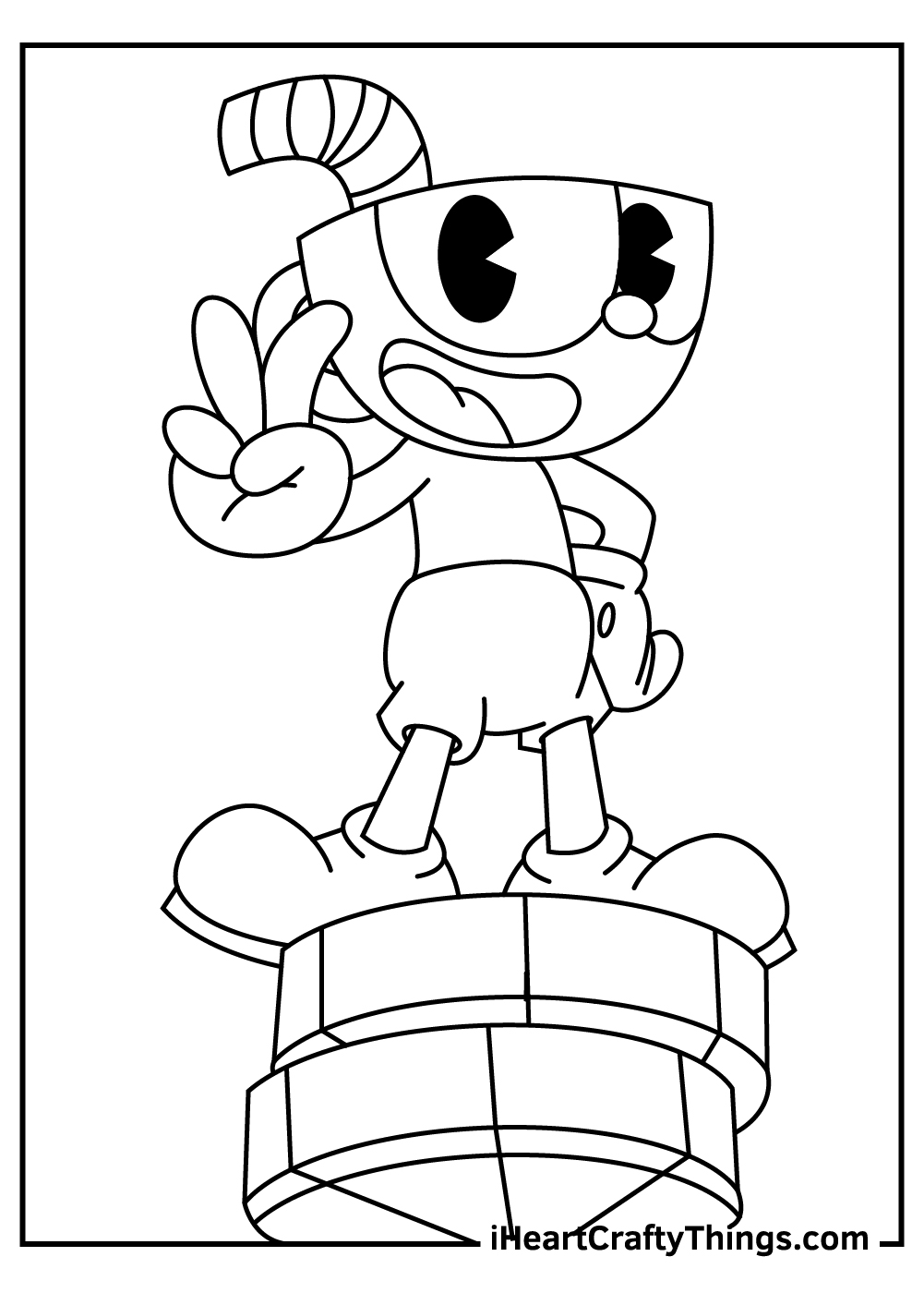 We've had a few coloring pages featuring Cuphead himself, but it's time for player two to join the coloring fun because this next Cuphead coloring printable features his pal Mugman.
Cuphead has red coloring for his pants and straw, but his buddy Mugman has blue coloring for his color scheme. Will you stick to his regular colors or will you give Mugman a bit of a color makeover for this page?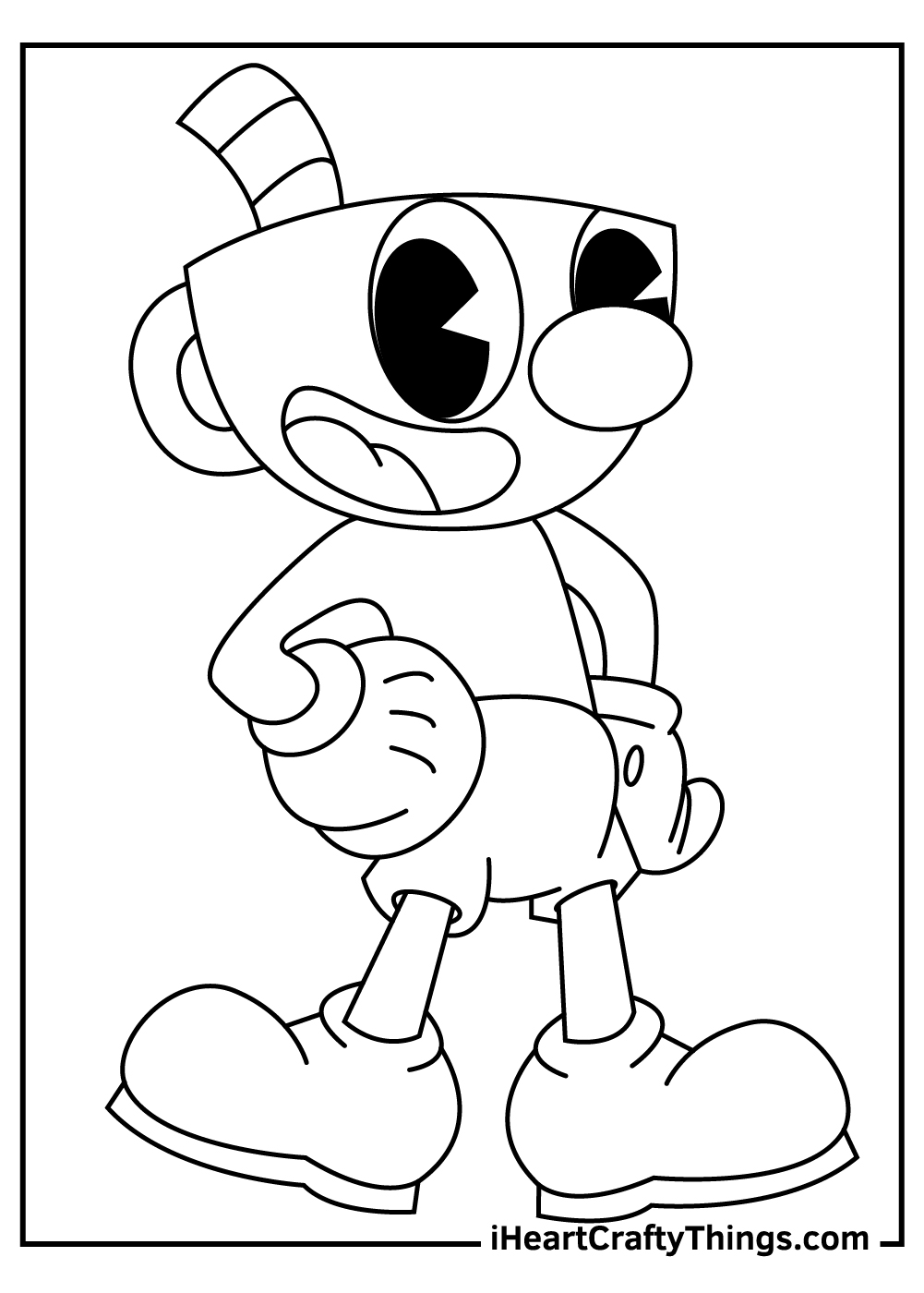 We have another view of the player two character Mugman in this next Cuphead coloring page. This is another image that you could try to use watercolors on for a cool look that would tribute the art-style of the video game.
Maybe you could draw in the background of your favorite Cuphead level to really finish this off.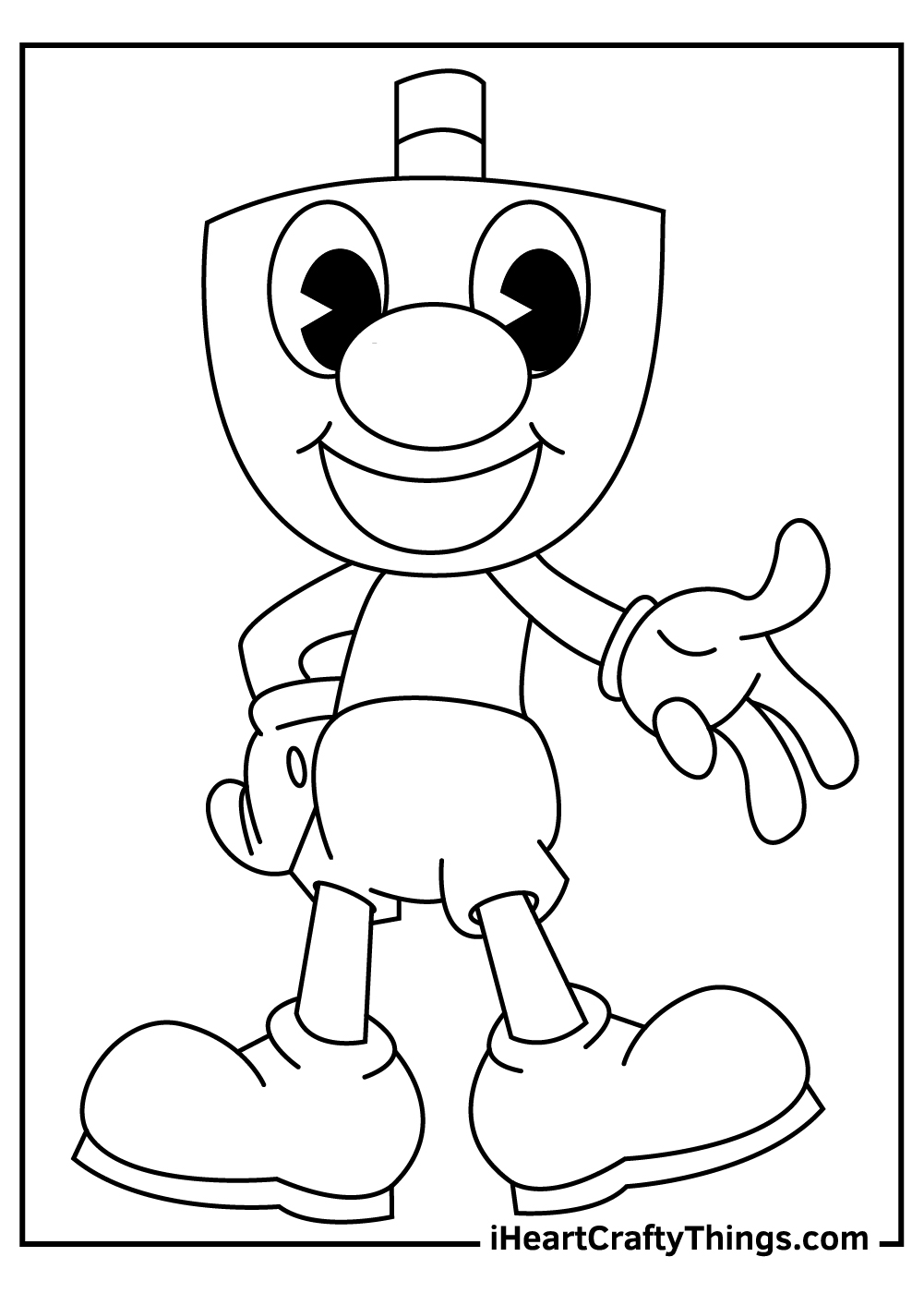 It's a Cuphead party in this final free Cuphead coloring sheet for kids! We have the heads of Cuphead and Mugman on a background with plenty of fun shapes in the background to color, and I think that this image would be perfect with your favorite bright and vibrant colors.
Maybe you could use a mixture of paints and colored pens for a wonderfully bright and colorful end to this series of Cuphead coloring printables.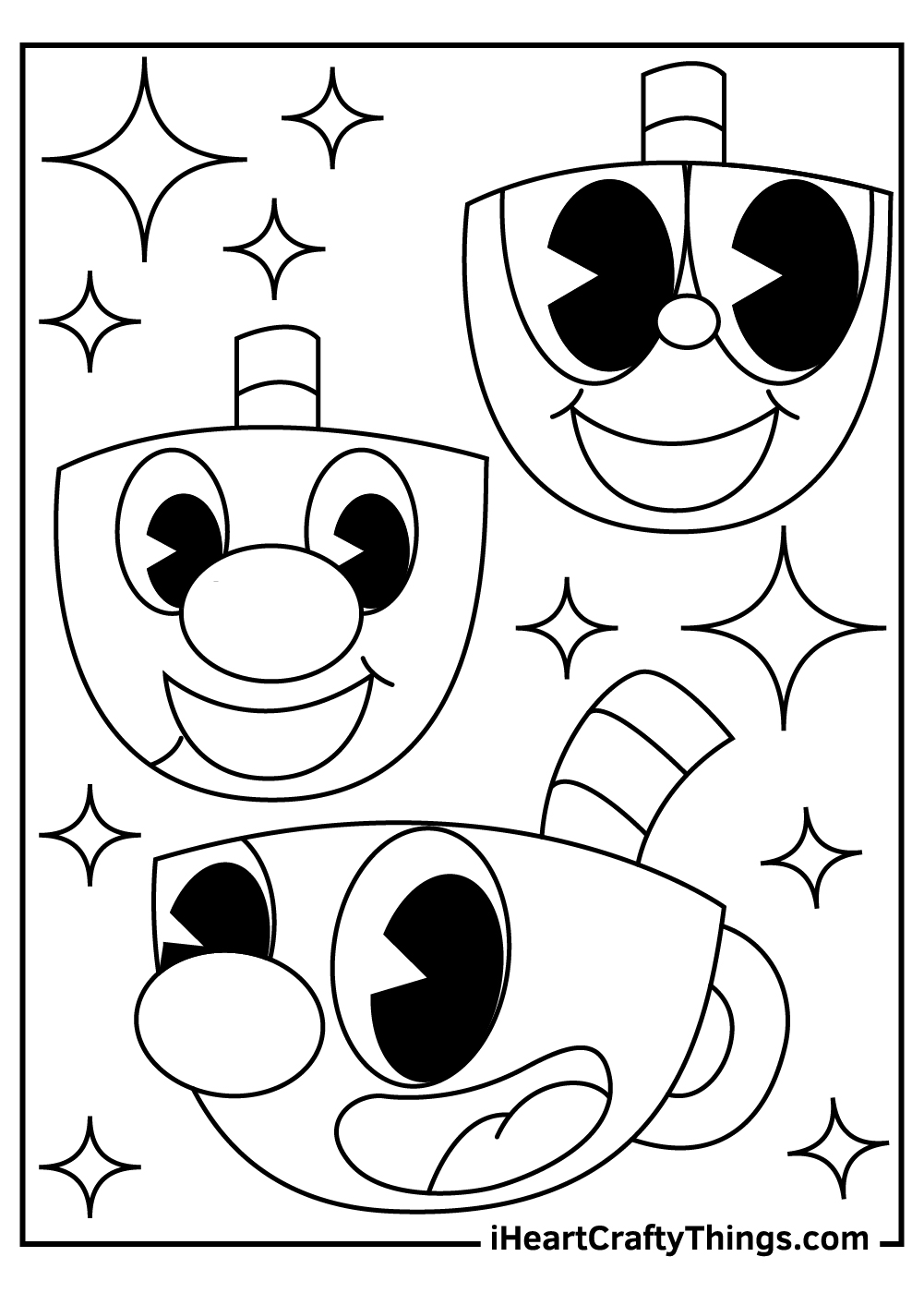 Cuphead Coloring Pages – Which will you choose?
We hope you had hours of coloring fun alongside Cuphead and Mugman in these awesome free Cuphead coloring pages for kids!
Remember that all of our coloring pages and printable art are completely free for you to print out and have fun with, so feel free to print out a few copies of your favorite coloring pages to share with fellow Cuphead fans or use to experiment with different mediums and colors.
Please remember to like and share our Facebook page with your friends so that no one will ever miss out on our fantastic free coloring pages and printable goodies. We upload new fun printables constantly so make sure to join in the fun!
Also, once you've colored in your favorite Cuphead coloring sheets, please be sure to share them to our Facebook page for us to see and enjoy!
We always love to see the stunning coloring skills you all have, and we'll be looking forward to your bright and colorful depictions of Cuphead and Mugman when you're done.