Who doesn't love tucking into a plate of delicious cookies? There are so many types of cookies available not just in terms of taste but also to fit all dietary requirements.
That means that pretty much anyone can find some cookies that they can enjoy! We don't always have cookies on hand when we want them, and it's also possible to eat too many.
However, this collection of free cookies coloring pages for kids allows you a guilt-free way to enjoy this tasty treat no matter when you want to!
There are 15 depictions of delicious cookies to enjoy here, and you will be able to use all of your favorite colors, art tools and techniques. So let's begin tucking into this delectable collection!
15 Brand New Cookies Coloring Pages – Free to Print and Color
There are so many variations to choose from on this first cookies coloring sheet! It's quite a spread, and these cookies have all kinds of toppings and ingredients on them for you to color.
It's a picture you could spend a lot of time on as you choose the colors and color techniques that would best suit it.
By using certain colors, you can make these cookies represent all of your favorite flavors!
There are no wrong ways to go about it, so have fun with it as you beautify this amazing plate of tasty cookies!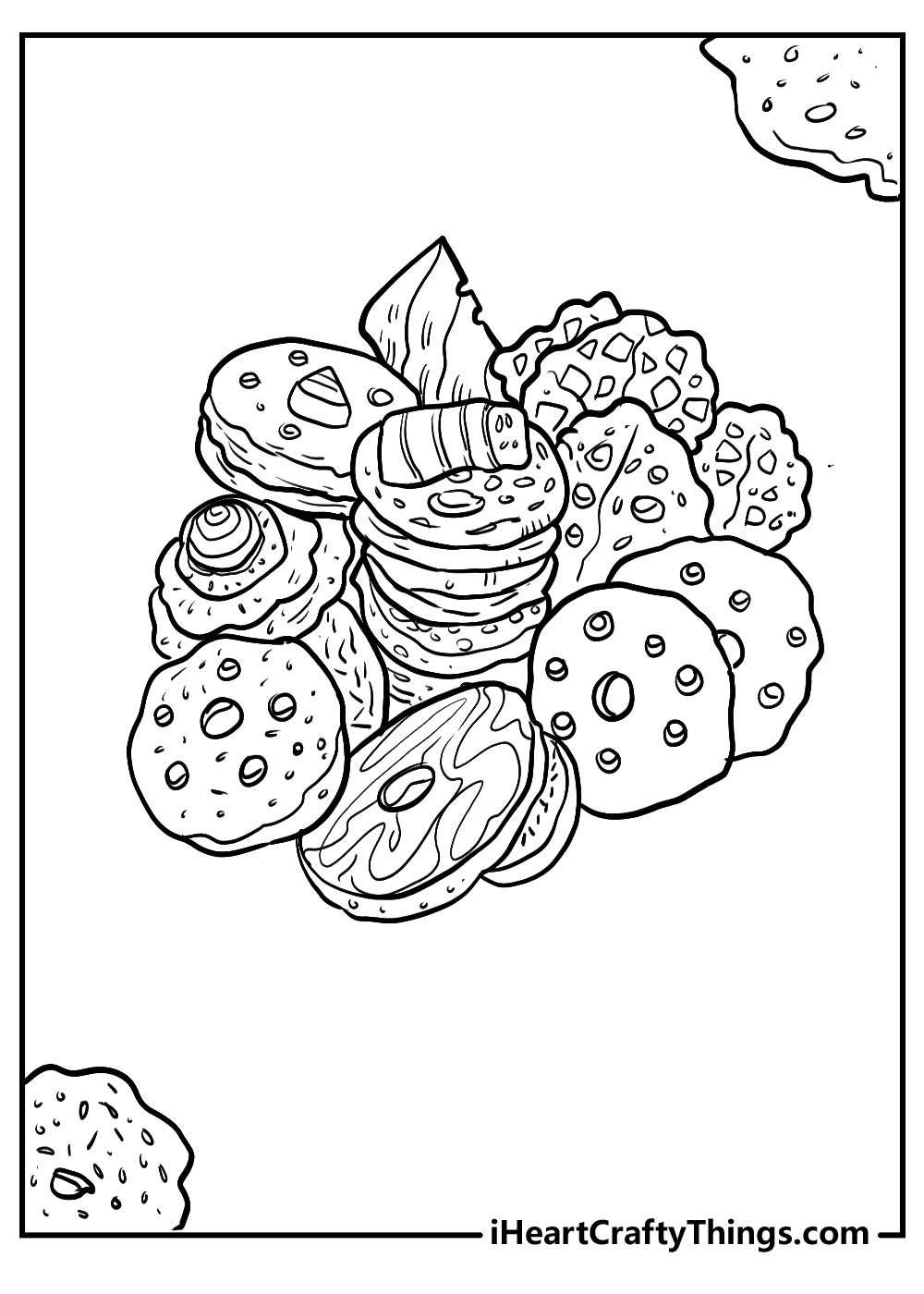 What's better than a delicious plate of cookies? A freshly baked plate of cookies of course!
That is what is being depicted on this page, as these cookies have lines above them that make them look fresh and tasty. Because of this, I would make the colors a bit brighter and more intense.
That would make them look nice and fresh, but you should go for any colors that you feel inspired to use. Which colors will you choose for this fresh plate of cookies?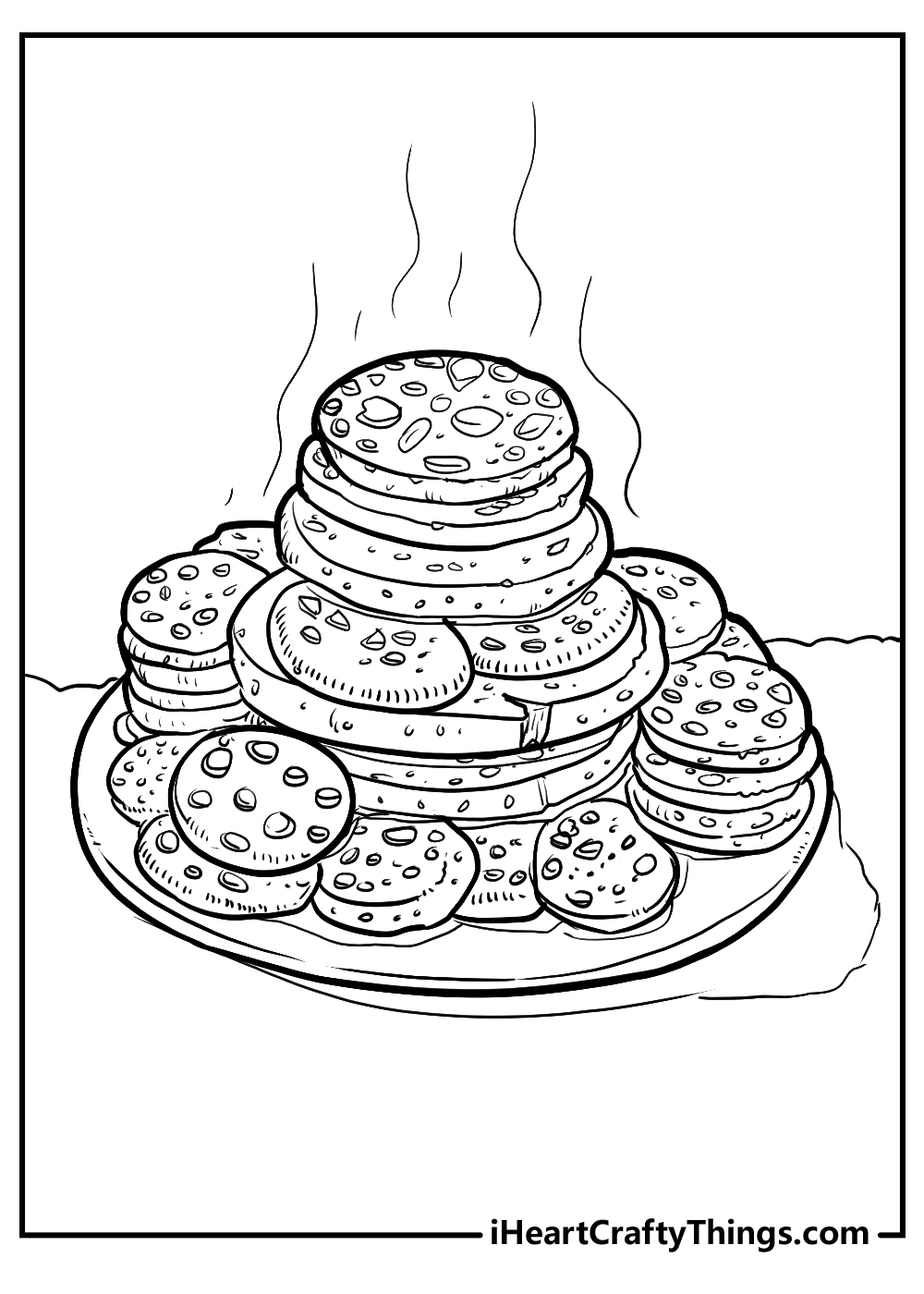 When you enjoy some cookies, it's always a great idea to pair them with a beverage. Everyone has their beverage of choice, and some like to have something cold like a glass of milk.
That seems to be the beverage of choice for this plate of cookies. Not only is there that detail, but the cookies have all sorts of fun details on them such as smiley faces.
Because there are so many details, you could add so many subtle color details to them in order to make them look even more visually interesting.
What color will you use for the beverage on the plate?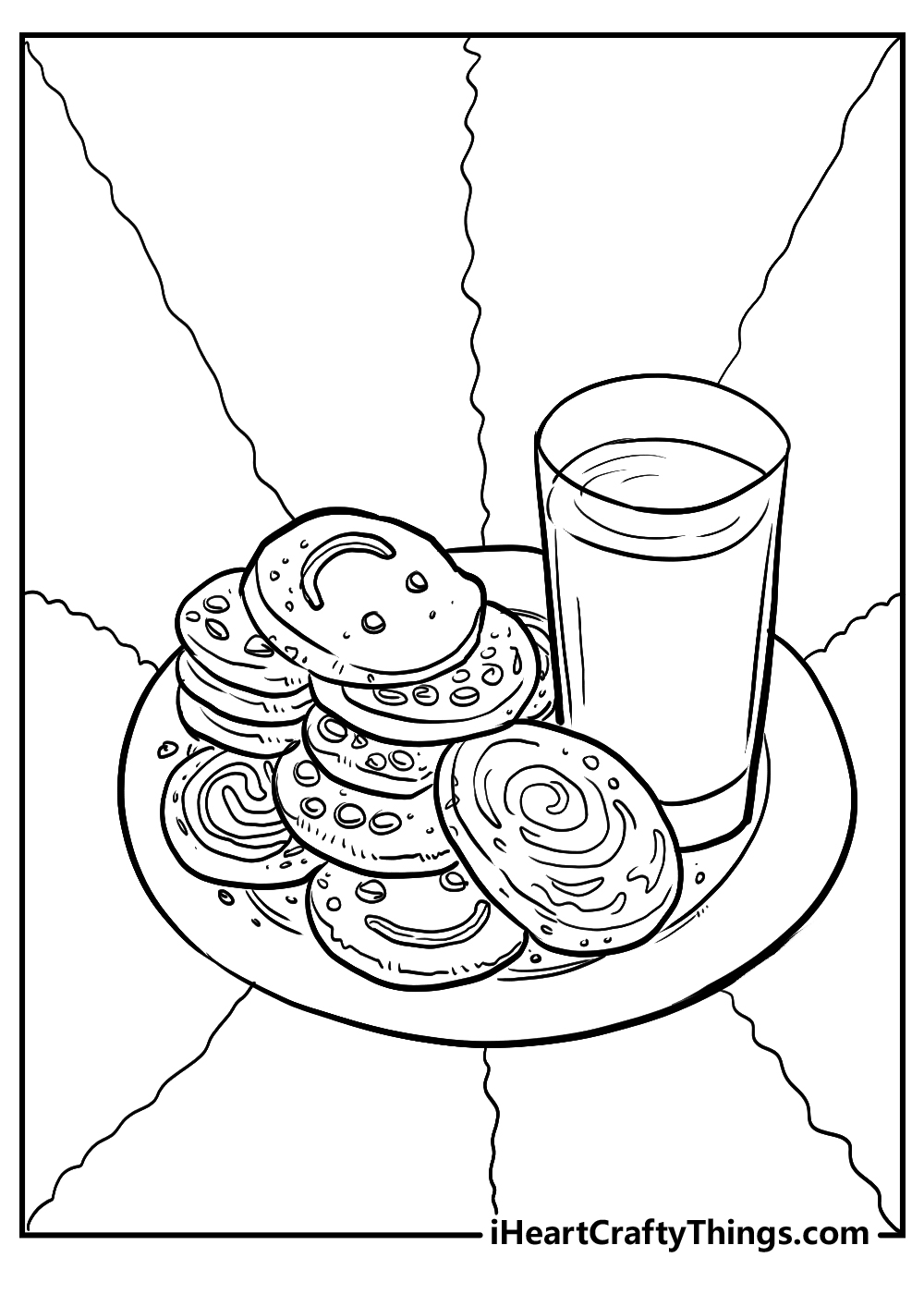 Next up, we have another delectable plate of cookies to color. This one also has a beverage on it, but this time it is in a mug, so it's safe to assume it's a hot beverage.
Some people like to enjoy cookies with a mug of hot chocolate, while others may prefer some coffee or tea. There is no judgment here, as everyone has their preferences!
Do you have a favorite warm beverage to enjoy with cookies? If so, you could portray what it would be by using the colors and details that best match your chosen drink.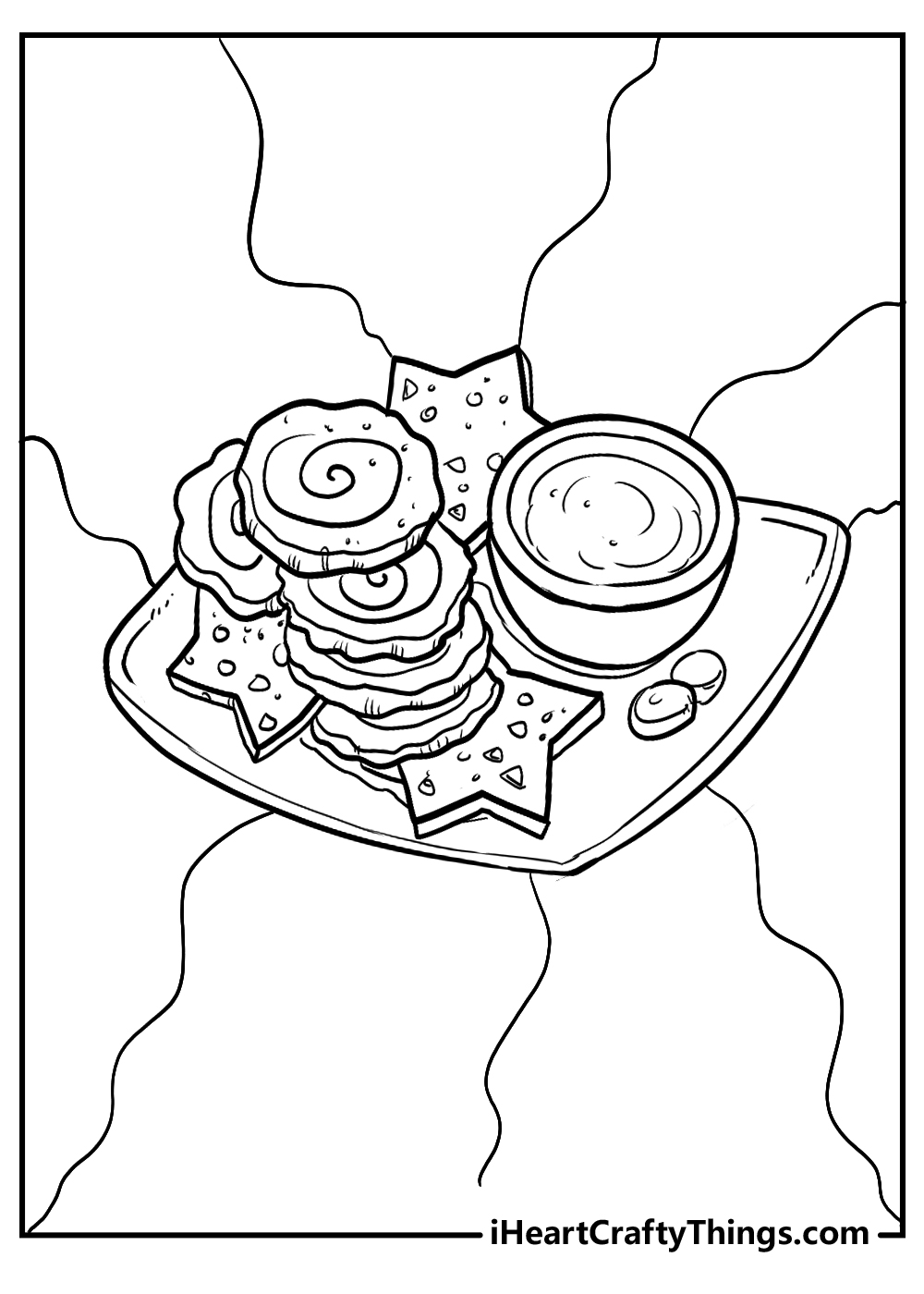 What an incredible plate of goodies we have on this cookies coloring printable! There is a huge pile of cookies to share, and they are all super detailed.
Cookies are often best when they are shared, and you can share the fun with this page as well. You can share this page with any friends or family members that would enjoy coloring them.
Perhaps you could have a coloring party where you enjoy coloring pages together. If so, you could even have a real plate of cookies to enjoy as you do!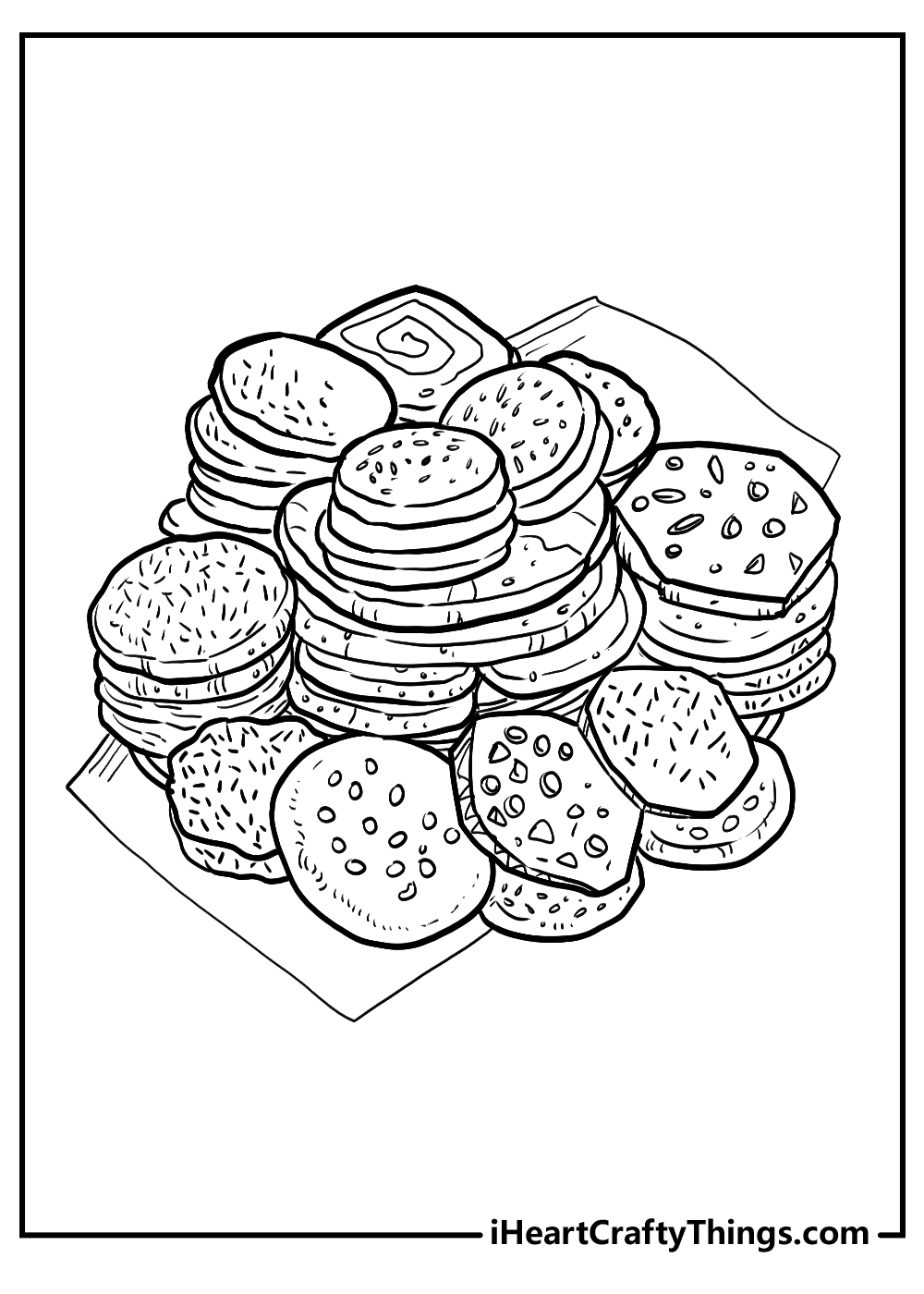 How cute is this next picture? These two cookies have been turned into cartoon characters that would be way too adorable to eat.
However, you can still have fun as you add color to this page! Not only that, but you could also draw some accessories for the cookies.
Maybe they could be wearing hats or have accessories like handbags. You could also draw a background setting for them to be a part of.
There are so many possibilities with this page, so let your imagination run wild! What will you choose for this page?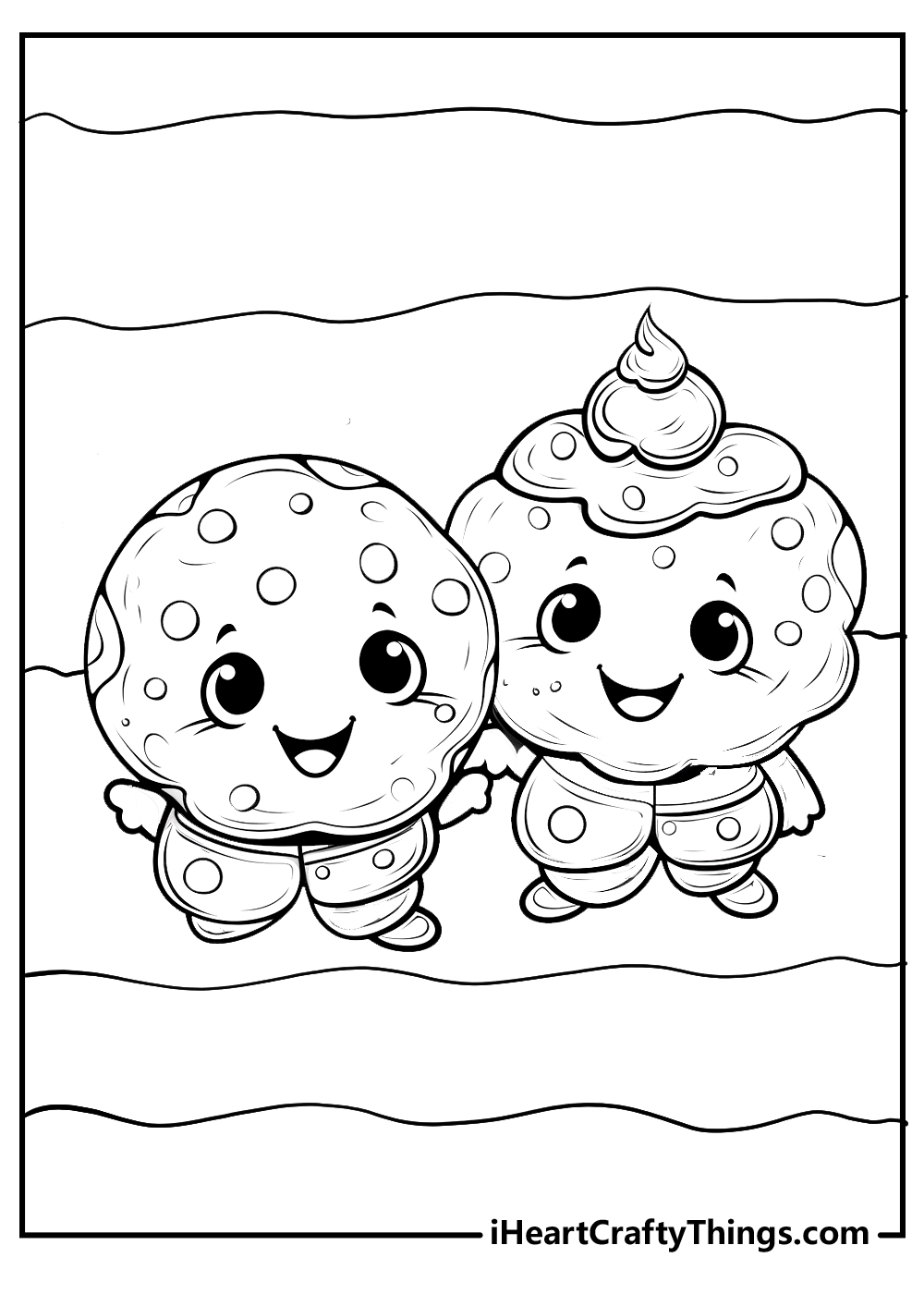 Cookies make the perfect gift for anyone, and this page shows what such a gift may look like. There is a big basket filled with tasty cookies, and there are so many details on them.
This is a page that could take a long time to color, but that is not necessarily a bad thing. It can be fun to relax and spend some time working on a page, so take your time with it and have fun!
Which art tools do you think would make this page easier to color?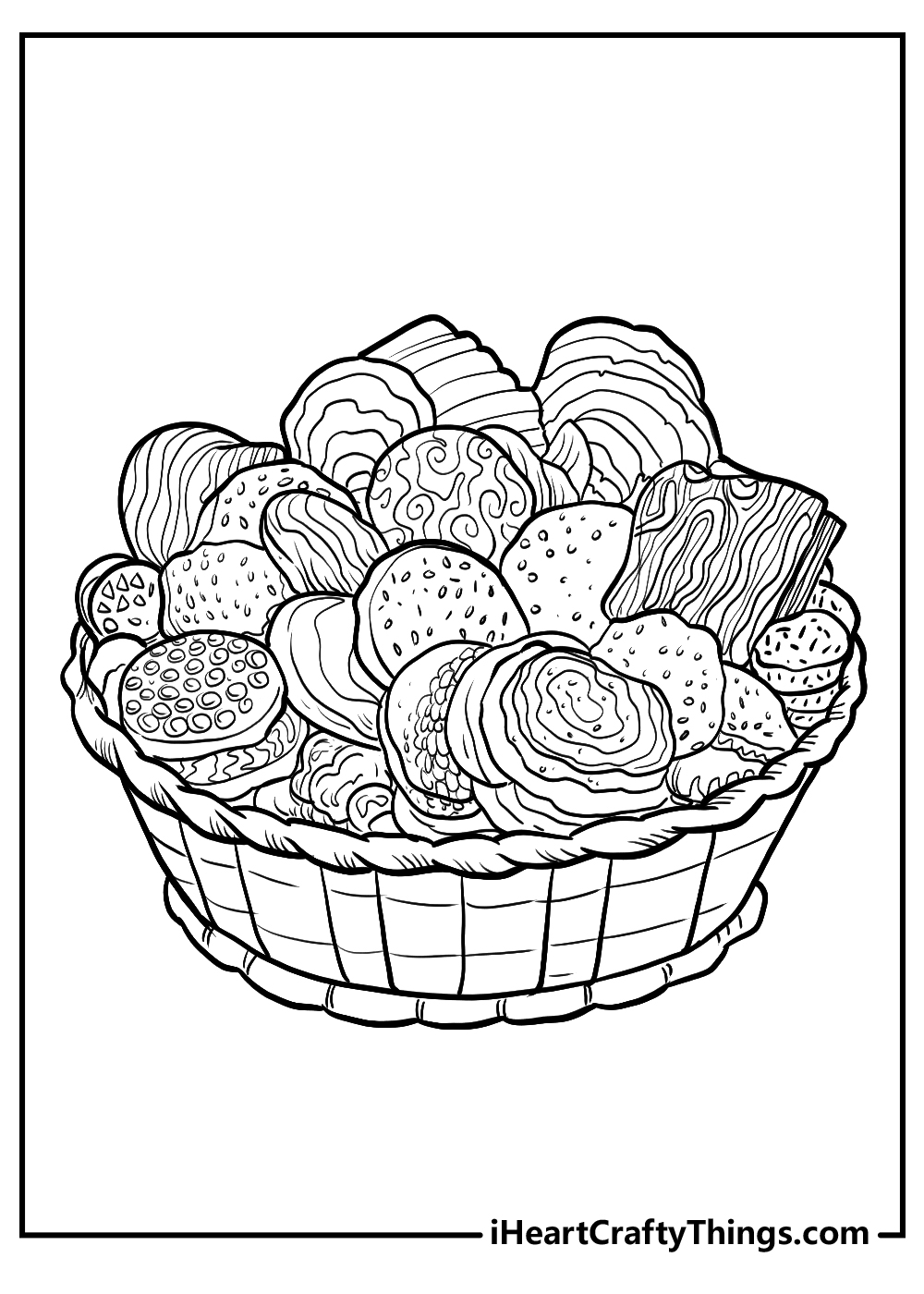 Here's another amazing plate of cookies for you to enjoy! This plate has a lot of free space around it, so you could fill that space in some interesting ways.
Do you have a favorite place to eat cookies? If so, you could represent this place on this page. For example, there may be a specific tablecloth at this location and you could draw and color it here.
If you have any special utensils or other things you have on hand when eating cookies, then you could draw and color those as well.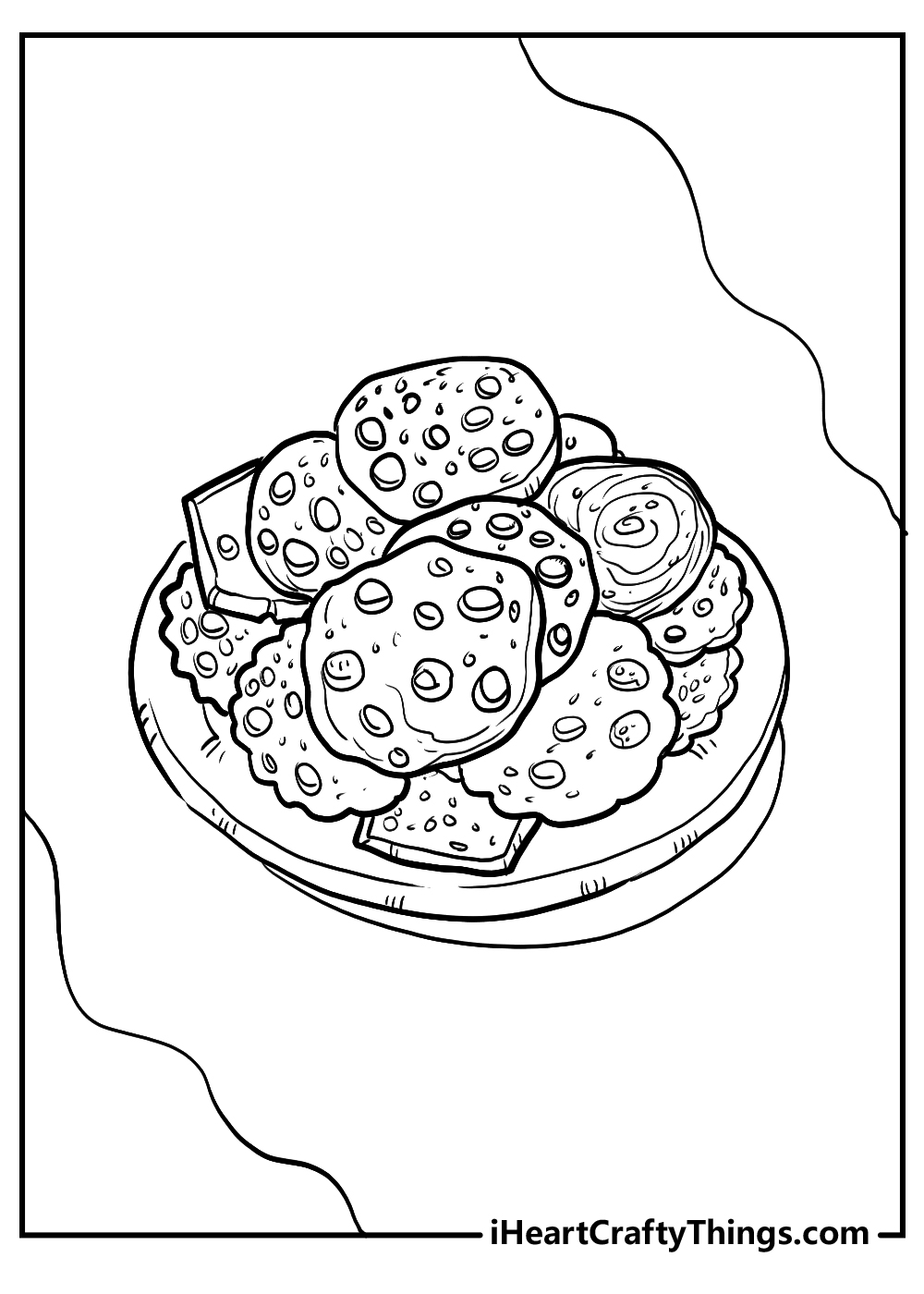 What a vibrant and detailed assortment of delightful cookies we have on this next page! Each cookie has a unique pattern or topping, and it creates a lot of variety.
There are so many different ways that you could color these subtle details and toppings. If I were coloring this one, I would try to use a different color scheme for each cookie.
That would certainly be a challenge, but it would look amazing if you could do that! Do you think you will try that method or do you have something else in mind?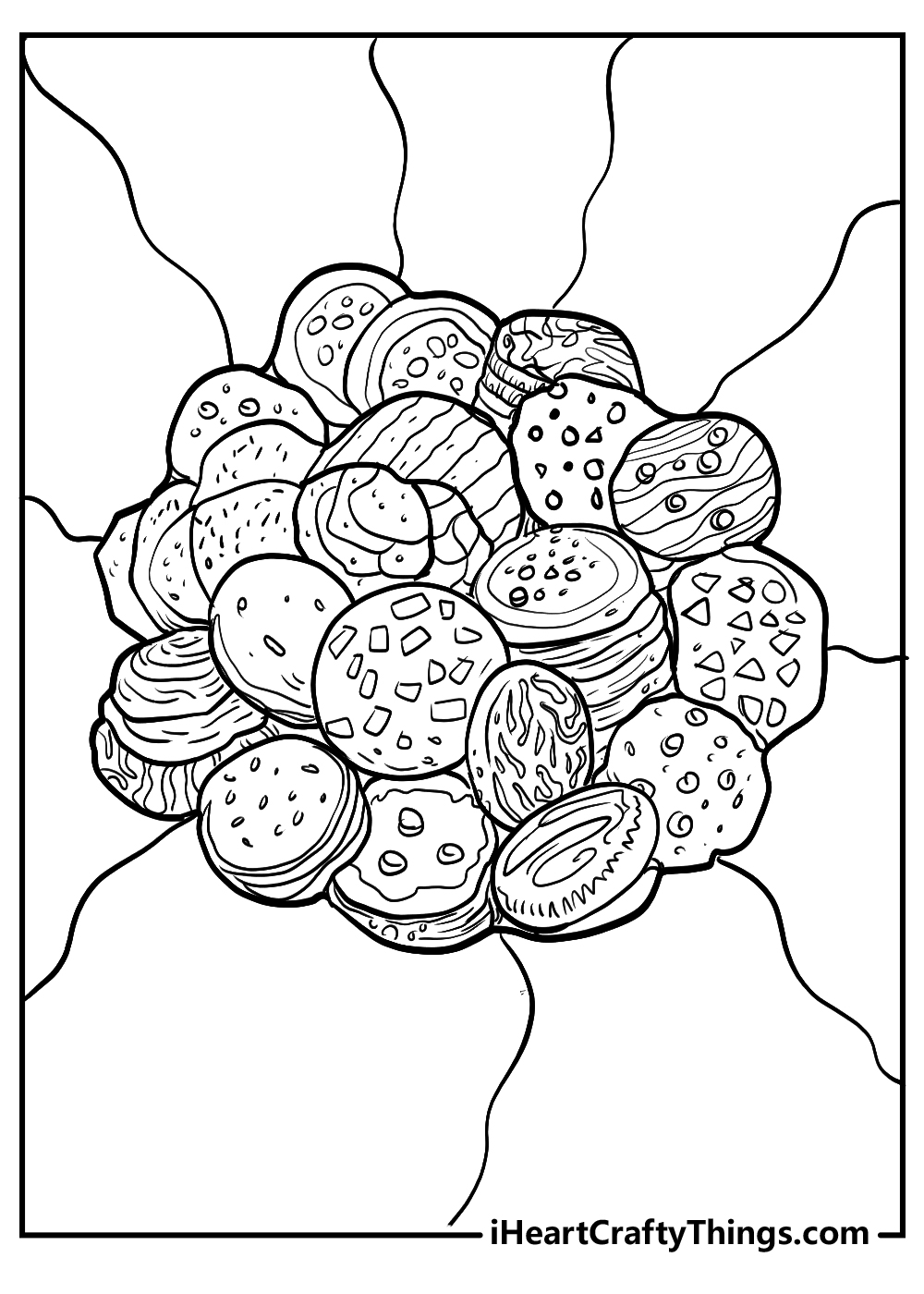 This next cookies coloring page is a bit simpler, but there are still loads of possibilities open to you.
There are four cookies stacked on one another, so you could try some unusual methods to make them interesting.
Using crafts and other art supplies can be very helpful to add some oomph to a picture. Using some stickers, beads or glitter glue would help to make these cookies look even more delectable!
What are some other fun art and craft supplies that could work to make this plate of cookies look even greater?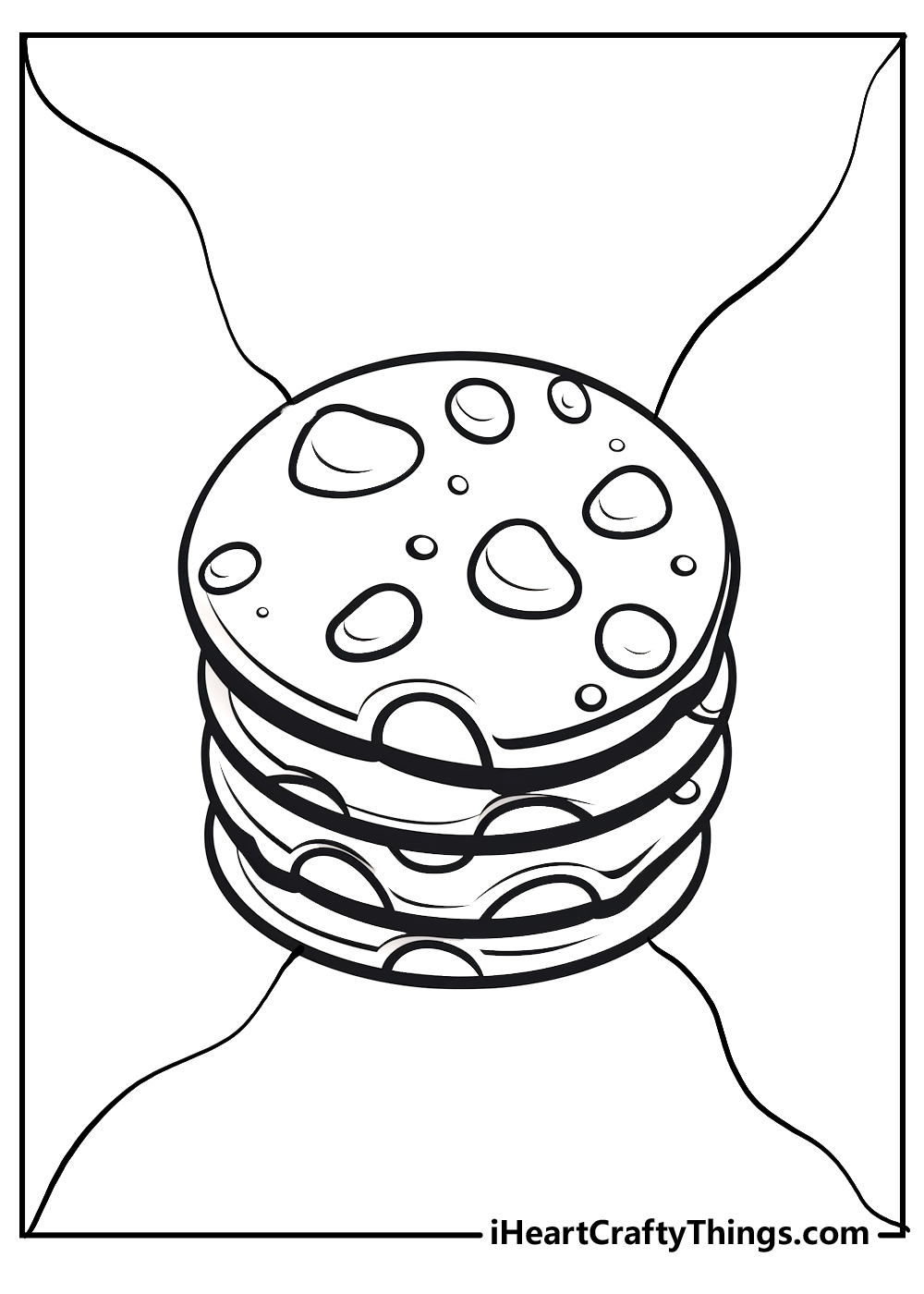 I love the different shapes of these different cookies, and it gives this page some great variety. It would be another page that would benefit from different color schemes for each one.
You could take it even further and use different art tools and mediums for each one to make the colors have different feels to them.
Even though they are fairly detailed, you could also add some of your own details and additions.
If you want to draw some extra things around the plate, then that would give you more things to color as well!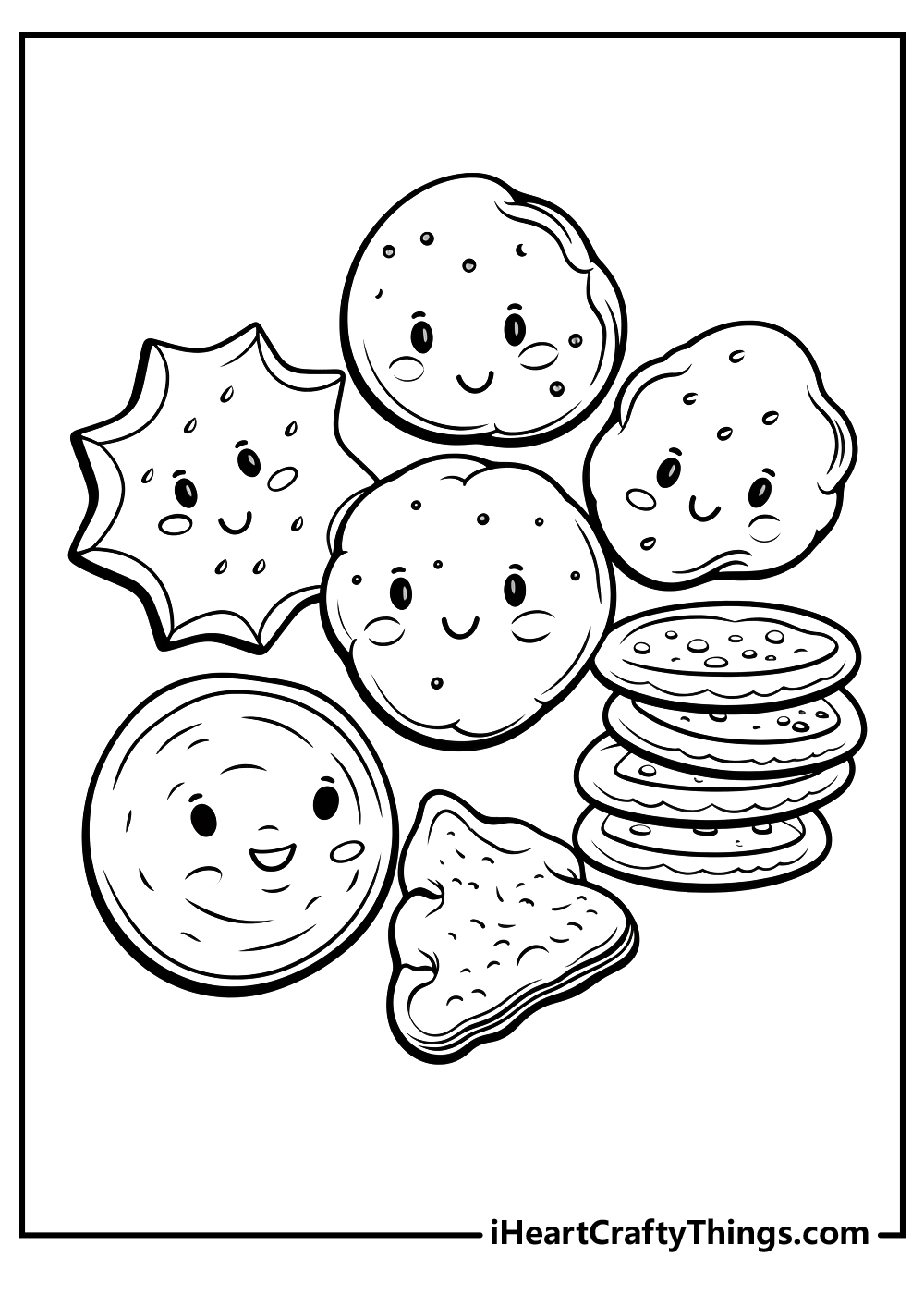 This has to be one of the most adorable pages in this whole collection. This collection of cookies would definitely be too cute to eat, but coloring them will just make them even cuter!
The art style of this page is a bit simpler, but there are some great details to color here. As always, you could always add some more details of your own as well.
It's a happy plate of cookies, so I hope that you will have a happy time bringing some color to this bunch of cute cookies!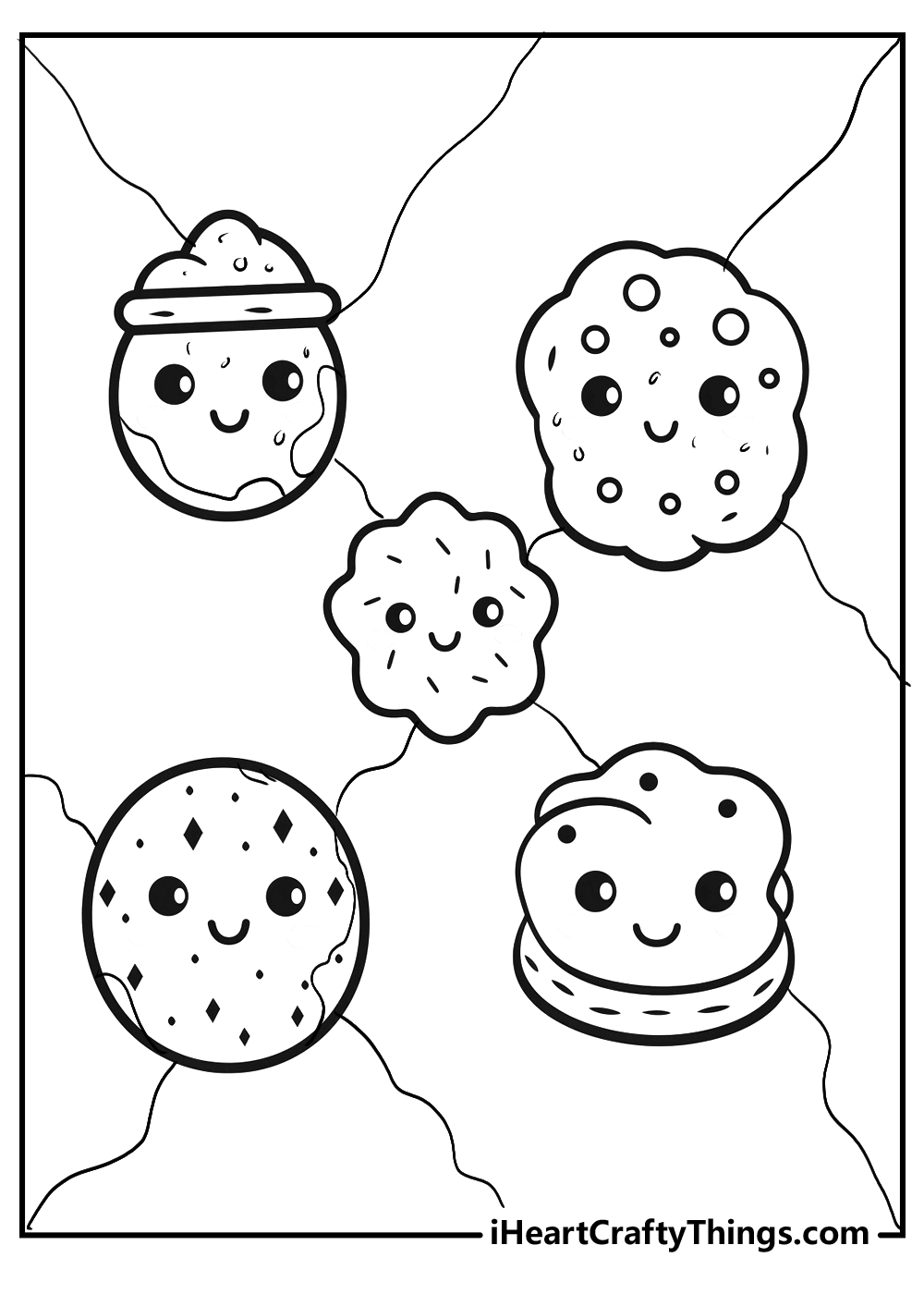 There is some great variety on this next page of cookies, so you could really try out some interesting colors and techniques on this one.
Not only are there some interesting cookies here, some of them have a doughnut shape to them. They could be doughnut-shaped cookies, or they could be, well, doughnuts!
It's up to you, and you can decorate these tasty treats in any ways that you please. If you want to draw some more of your favorite treats to this page, then you could do that as well.
What would you add to the page?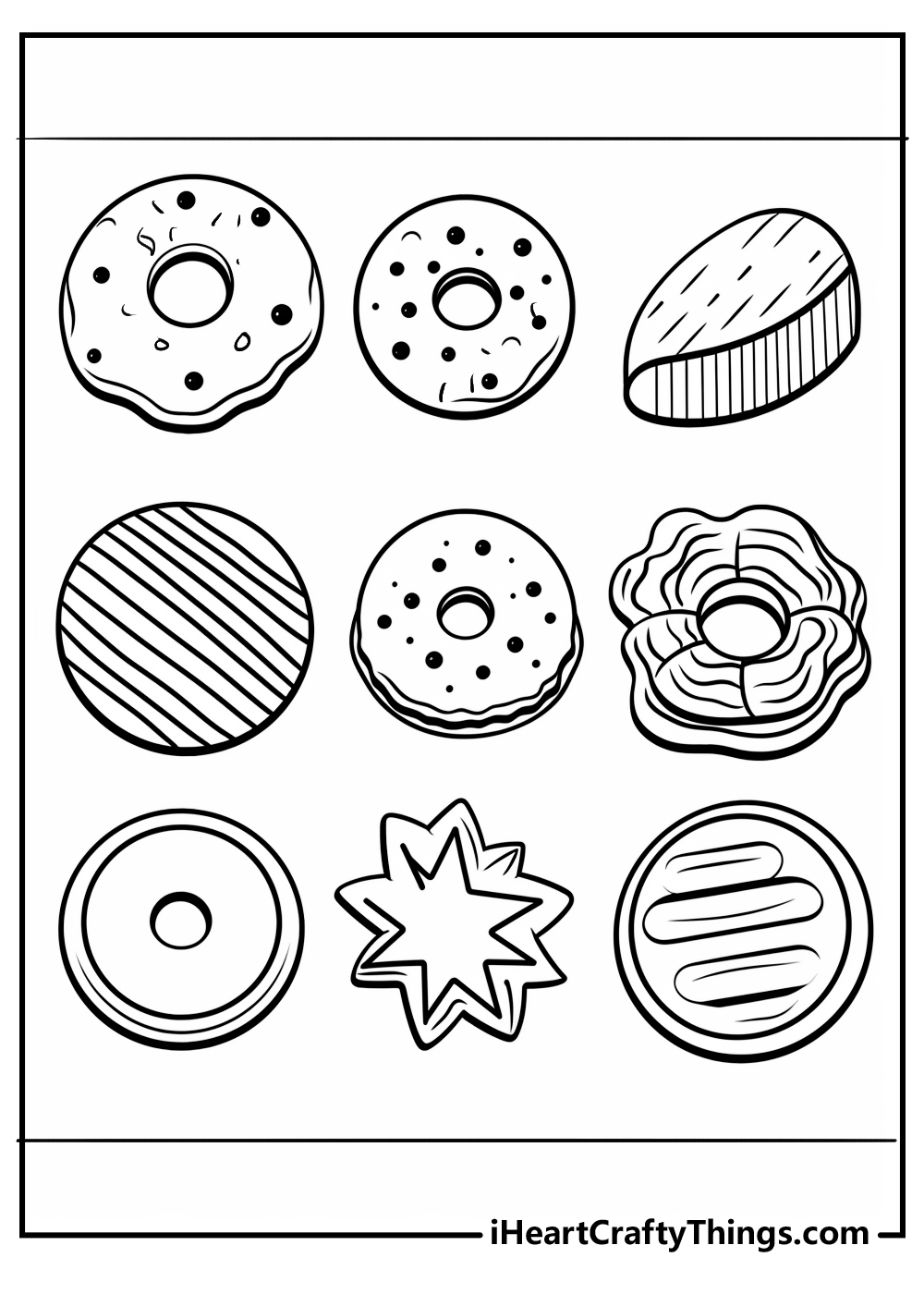 This is one of the most detailed and beautiful pages in the collection, as there are so many cookies to color! It can be hard to know where to begin on a page like this.
When I have a page filled with details to color, I like to start from one point and move out from there. So for this page, I may start at the top left and move along as if reading a book.
This is a page you could spend a lot of time on, so how will you approach this challenge?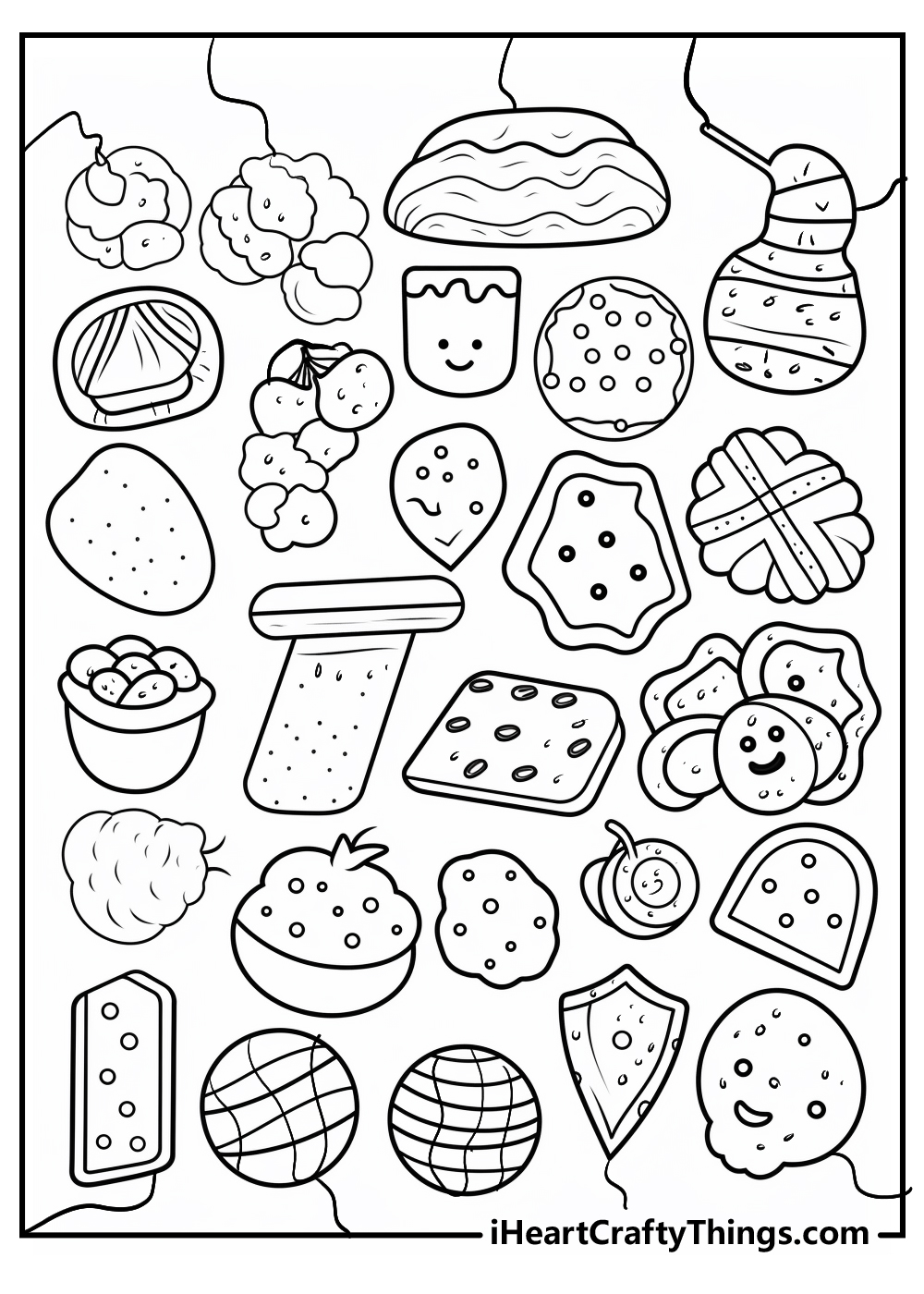 This final cookies coloring page has a simple selection of cookies for you to color. However, the simpler nature of these cookies allow you to customize them with your own details.
It can be quite a challenge to add your own spin to a picture like this, so there are many ways that you could make it more visually interesting.
Don't forget that you can use craft supplies to add some fin color details as well! How do you think you would like to make this plate of cookies even better?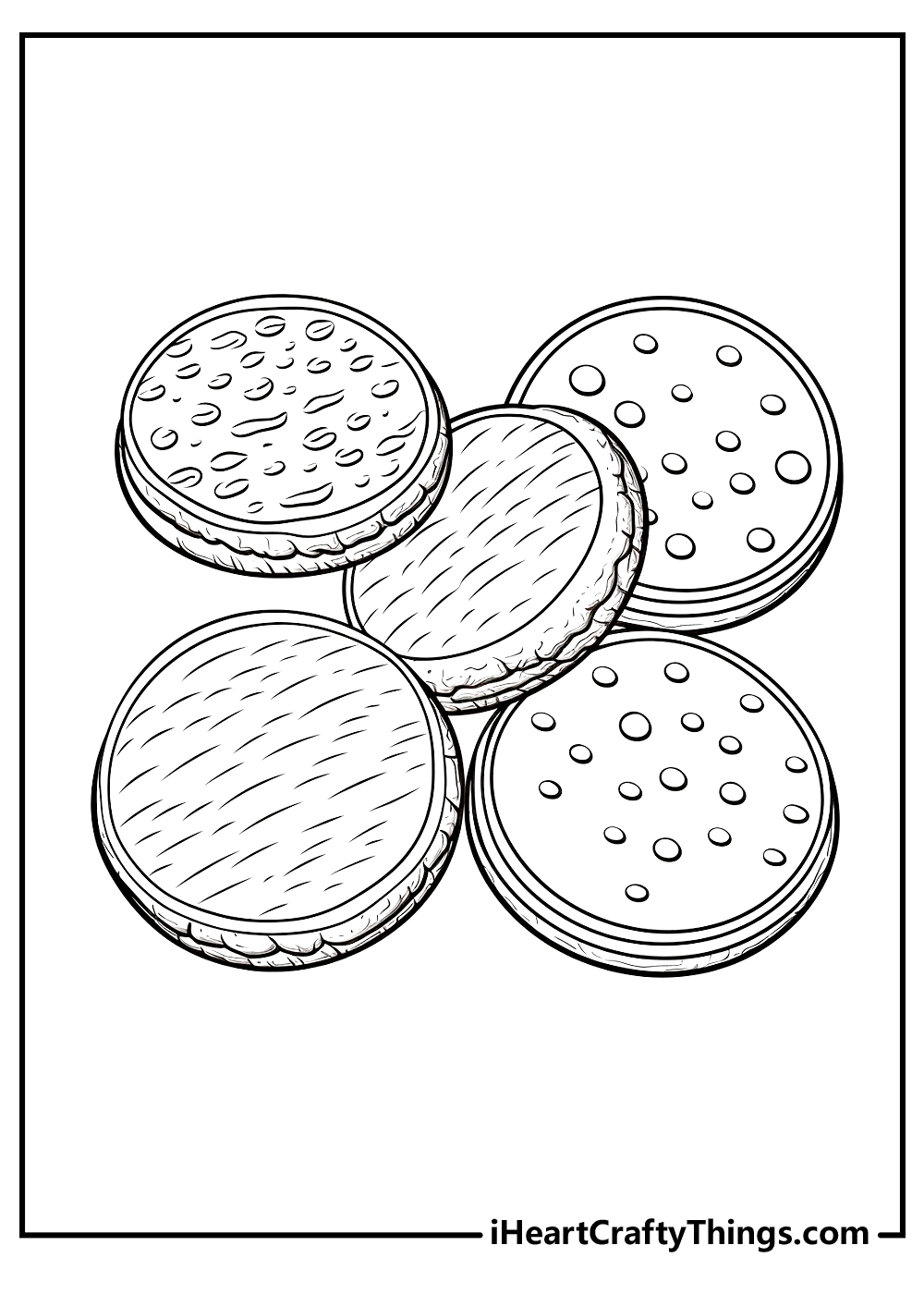 Cookies Coloring Pages – Which will you choose?
Hopefully, this collection of cookies coloring sheets didn't make you work up too much of an appetite!
There were so many different kinds of cookies in this collection that there is really something for everyone.
You can use not only all of your favorite colors but also your favorite art tools, mediums and crafts. It could also be fun to try out some new art methods that you're not as used to!
It's also a great idea to share this collection with other people to enjoy as well. We would also love to see how these pictures come out.
You can share some of your finished artwork on our facebook and Pinterest pages!