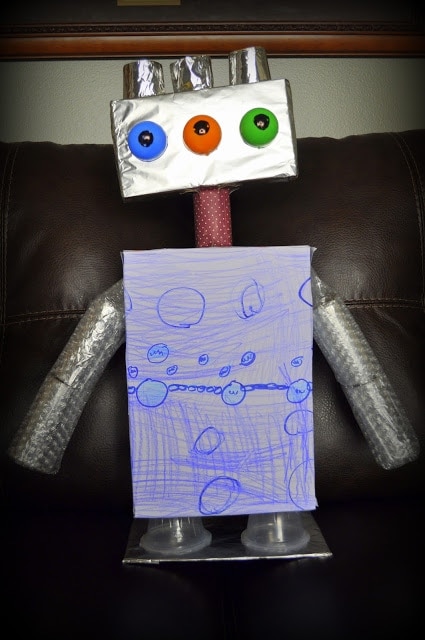 My boys are fascinated with robots. We recently received a new game called "Build a Robot" from The Organized Parent and after playing it, we felt inspired to build our own robot. These are some of the fun robot books we read before making our robot, which were all recommended by our game.
Hello Robots by Bob Staake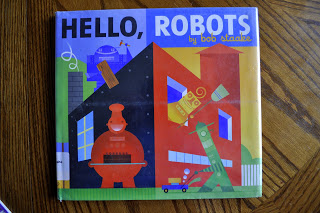 Robots Everywhere by Denny Hebson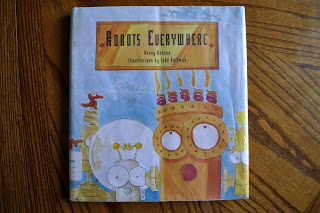 Robots by Clive Gifford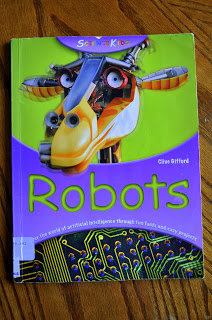 This was a non-fiction book about all the different types of robots throughout the world. It was long but really interesting. My boys enjoyed this book better than the fiction, but they usually do.
At the end of the book there were ideas for creating your own robots. This is what we based our own robot from.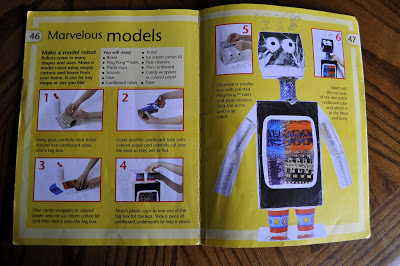 We started with two different sized boxes. Big box of granola bars from Costco and Girl Scout Cookies (Tagalongs, YUM!).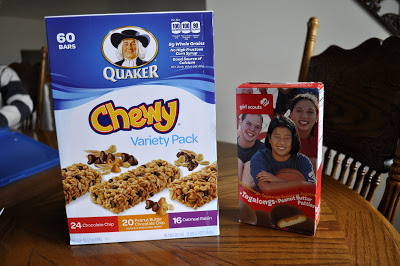 The best part of our robot was that we decided to make it double-sided. My oldest's artwork is on one side of the robot and my youngest's is on the other, but since there is eyes on both sides, no one is fighting over whose artwork was put on the front of the robot. Sneaky, I know!
We covered the head completely with foil. I showed the boys how to wrap it like a present and then we taped the sides. For the eyes we decided to use plastic Easter eggs. I just split them in half and put one half on one side and the other half on the other side. We used a black permanent marker to draw the pupils on the eggs.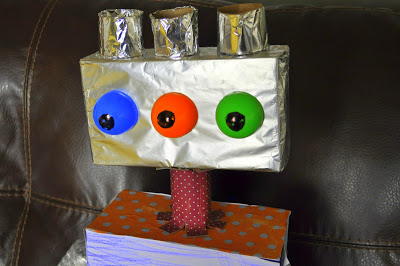 For the neck we covered a toilet paper roll in scrapbook paper and then cut slits down both sides then glued it to the body and head.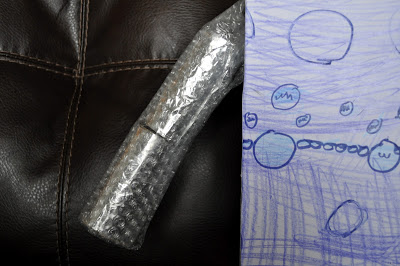 The arms are two toilet paper rolls covered in foil, then wrapped in bubble wrap. We just taped the arms to the body with clear packaging tape.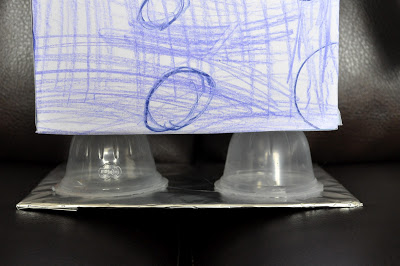 We used fruit cups for the legs (we were too inpatient to paint them, but they would have been better painted). We glued the legs to a piece of cardboard covered in foil to stabilize it.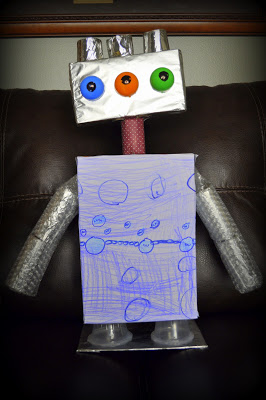 I had intended on just covering the entire body with scrapbook paper but they boys said they wanted to decorate it themselves, so we covered the front and back with white paper for them decorate, and then used scrapbook paper for all the sides.
Projects like this never get old with boys. They were actually disappointed that we were only making one robot and wanted to make several. The truth is, I don't even know where we are going to store this guy since he's so big, but still….SO WORTH IT!
I like to link my posts up to THESE fun link parties.