On this page, you will find 15 all new Blippi coloring pages that are completely free to print and download.
A character created by Stevin John, Blippi is an energetic character that is famous for his entertaining and educational videos for kids.
He teaches kids different things like colors, letters, and animals, and so much more. His signature look is his blue shirt with orange suspenders and orange-blue hat.
Blippi creates interactive and educational content for children ages 2 to 7 to get them excited about learning.
We created these 15 new Blippi Character coloring pages that will surely make kids beam with joy. These printables are also simple to color and engaging.
Download these free Blippi character printables and kids will surely have a joyous coloring activity.
15 Brand New Blippi Character Coloring Pages – Free to Print and Color
Blippi is a fun character that is both goofy and friendly. He takes learning to a whole new fun!
Some of the topics he likes to talk about are science, nature, earth, and the environment.
In this printable, he is seen happily waving and greeting the kids. He seems to be in a garden or forest. Probably on to another learning adventure involving nature!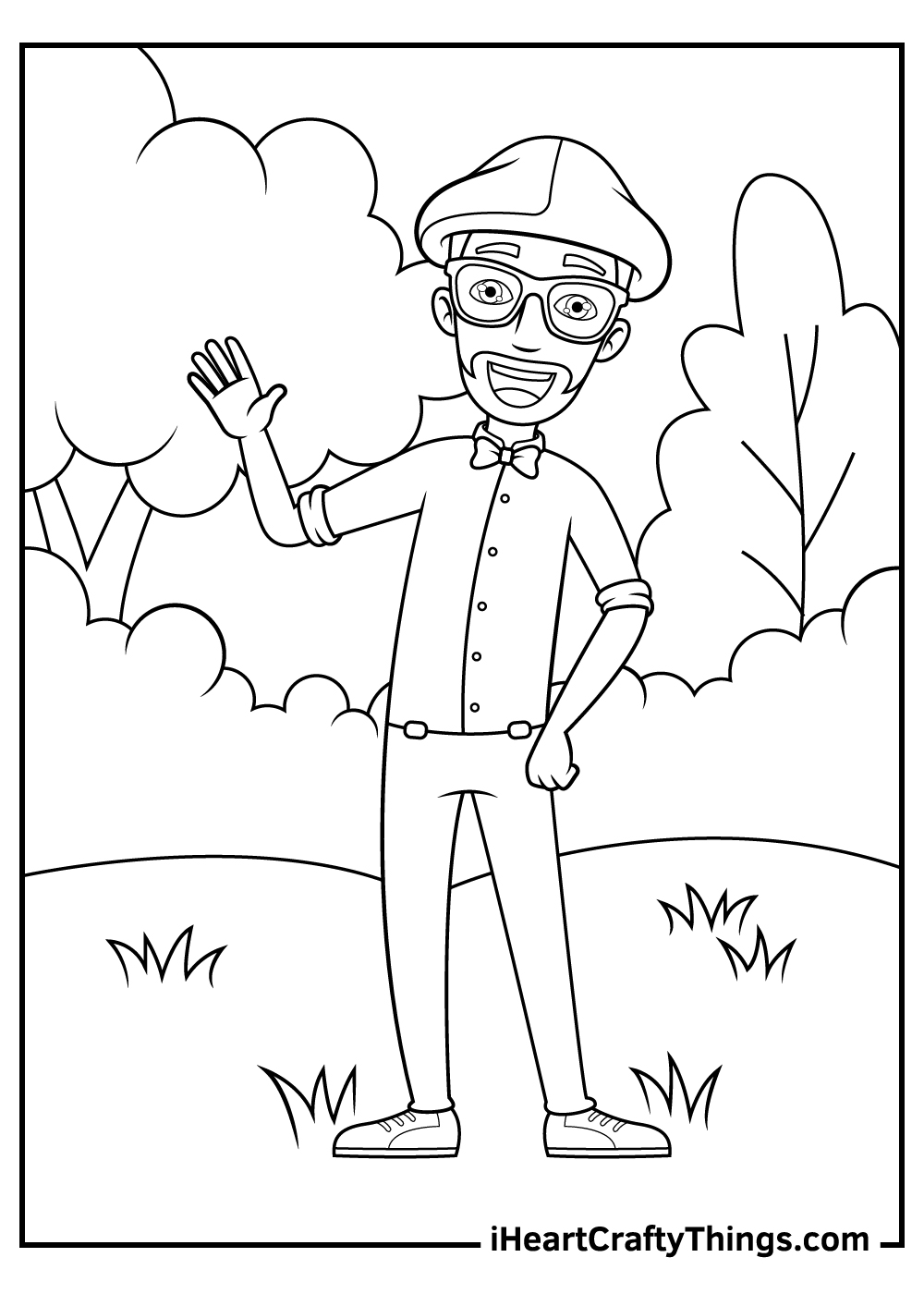 Blippi in a baseball cap and overalls in this coloring page. He helps kids to develop their skills, such as counting, spelling, color recognition, and more.
Can you color Blippi's outfit with the right colors? His outfit is mostly blue and orange, but you can also use other colors to make it more colorful.
When you're finished, Blippi's outfit will look good as new.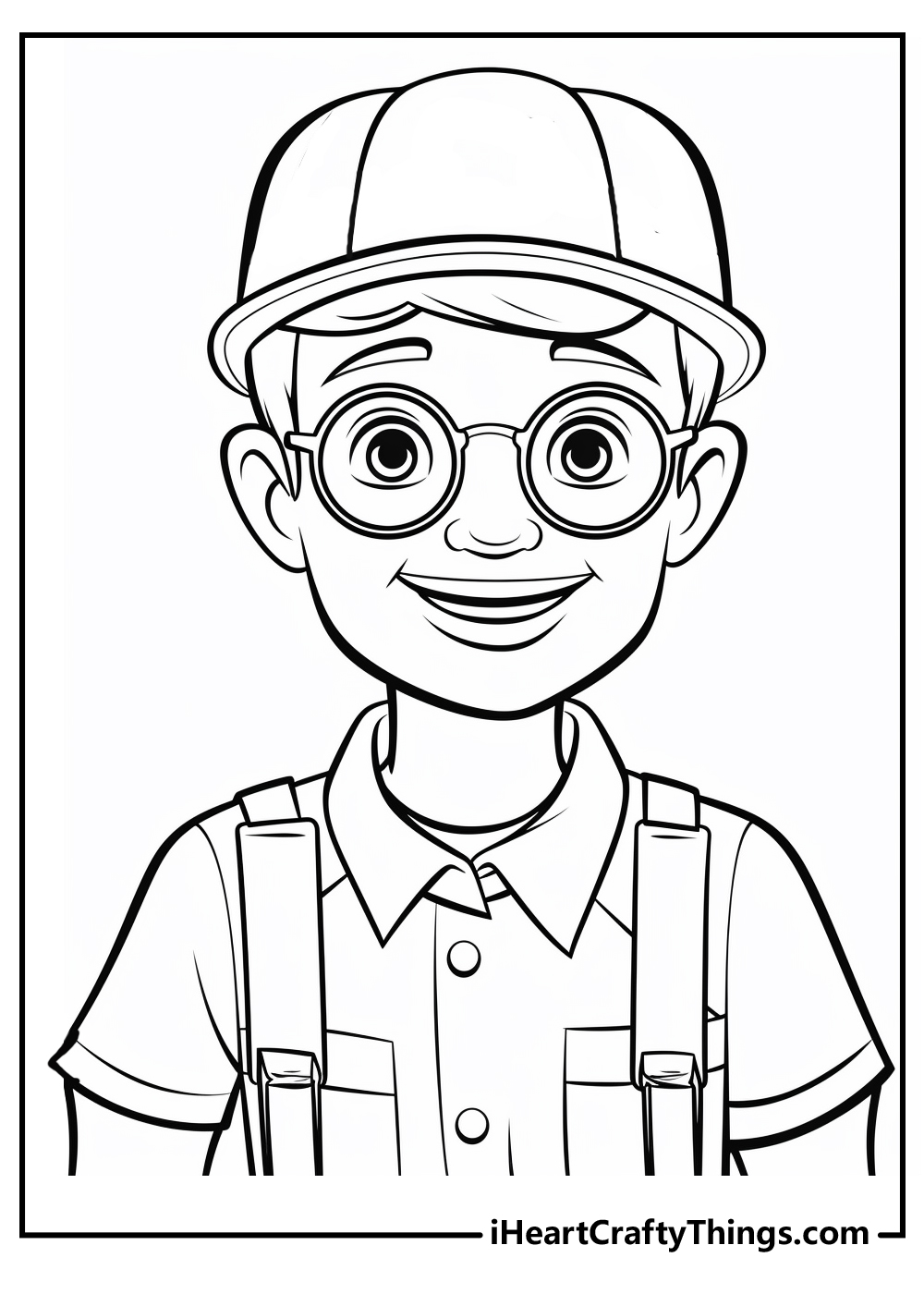 This Blippi character coloring page for kids can be a poster once kids are done coloring with it.
Blippi is seen with both his hands in the air, excitedly welcoming you or just possibly ecstatic about the new learnings from his adventure.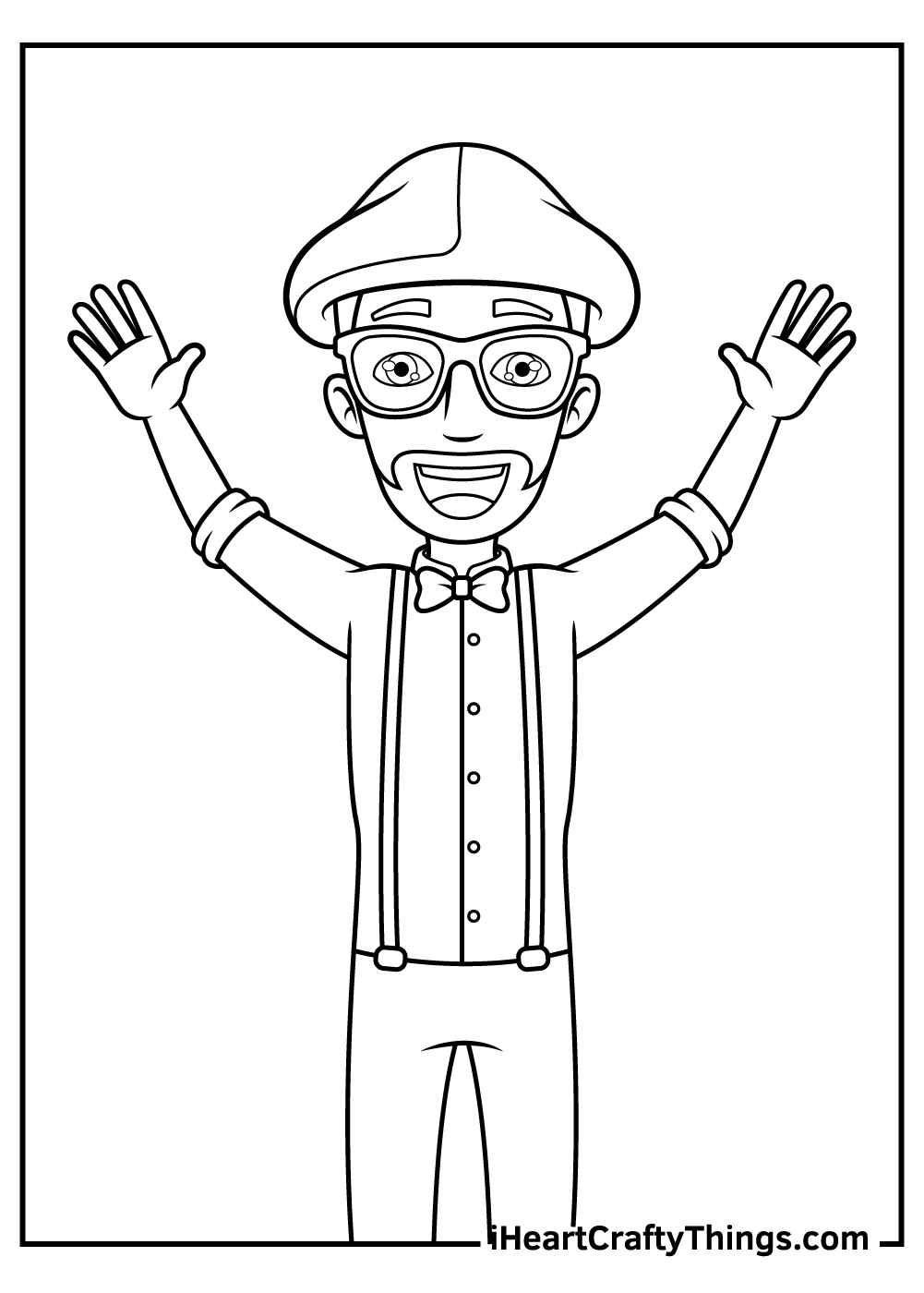 These Blippi character coloring pages are designed to activate a child's fascination with this fun character.
Like this one image, it's Blippi doing two thumbs up, showing his approval of the fun and learnings ahead.
With his signature outfit, the color recognition skills of kids will be used on this free printable.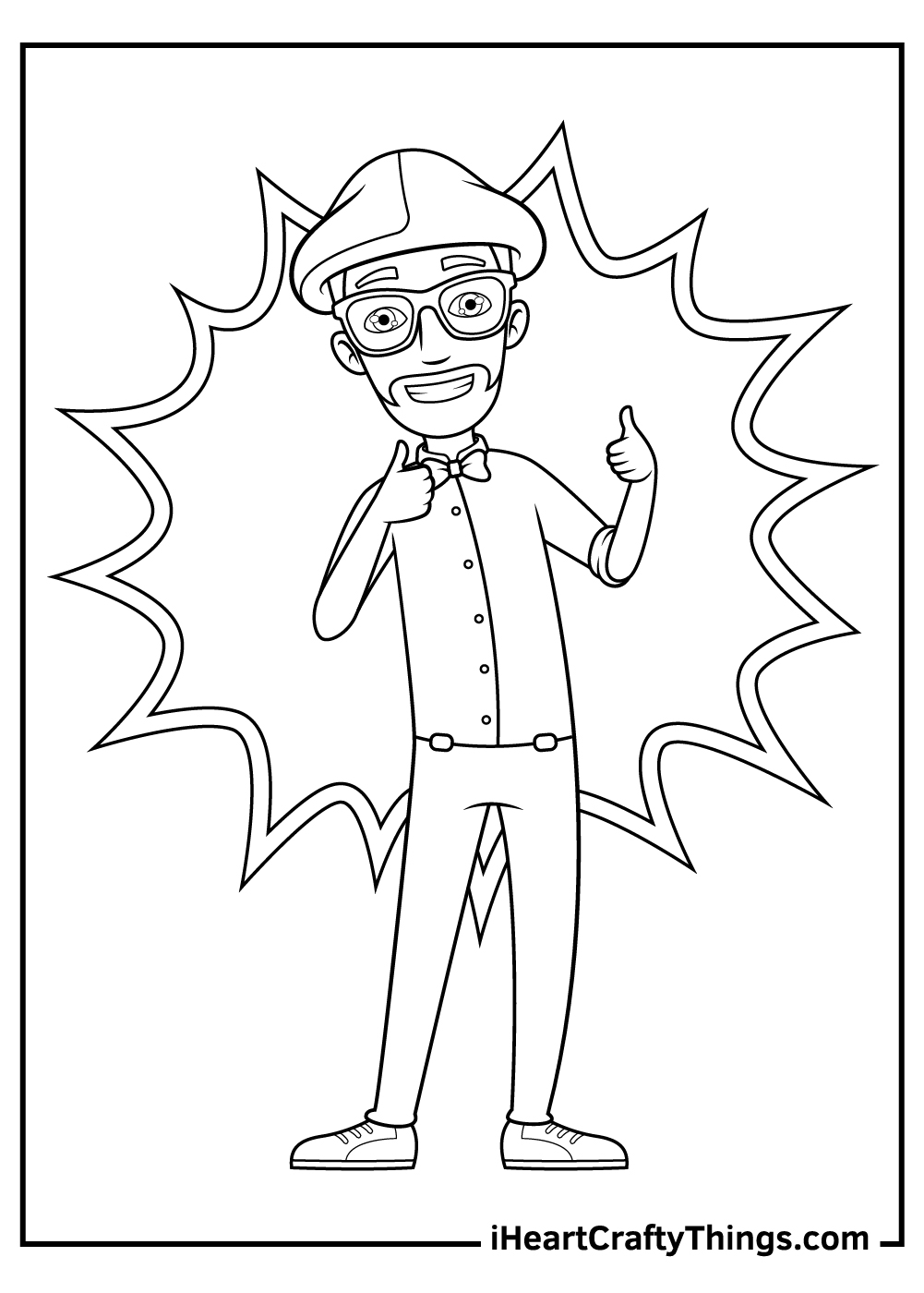 Learn and explore with your pal Blippi in this fun coloring page! Blippi's iconic glasses are perfect for practicing your colors. Use peach, tan or light brown crayons for his skin tone.
For his signature outfit, let your creativity shine by choosing whatever vibrant shades you love – try yellows, oranges, reds, greens or purples.
You can even add shapes, patterns or designs. As you color, think about all the cool science facts Blippi might teach you.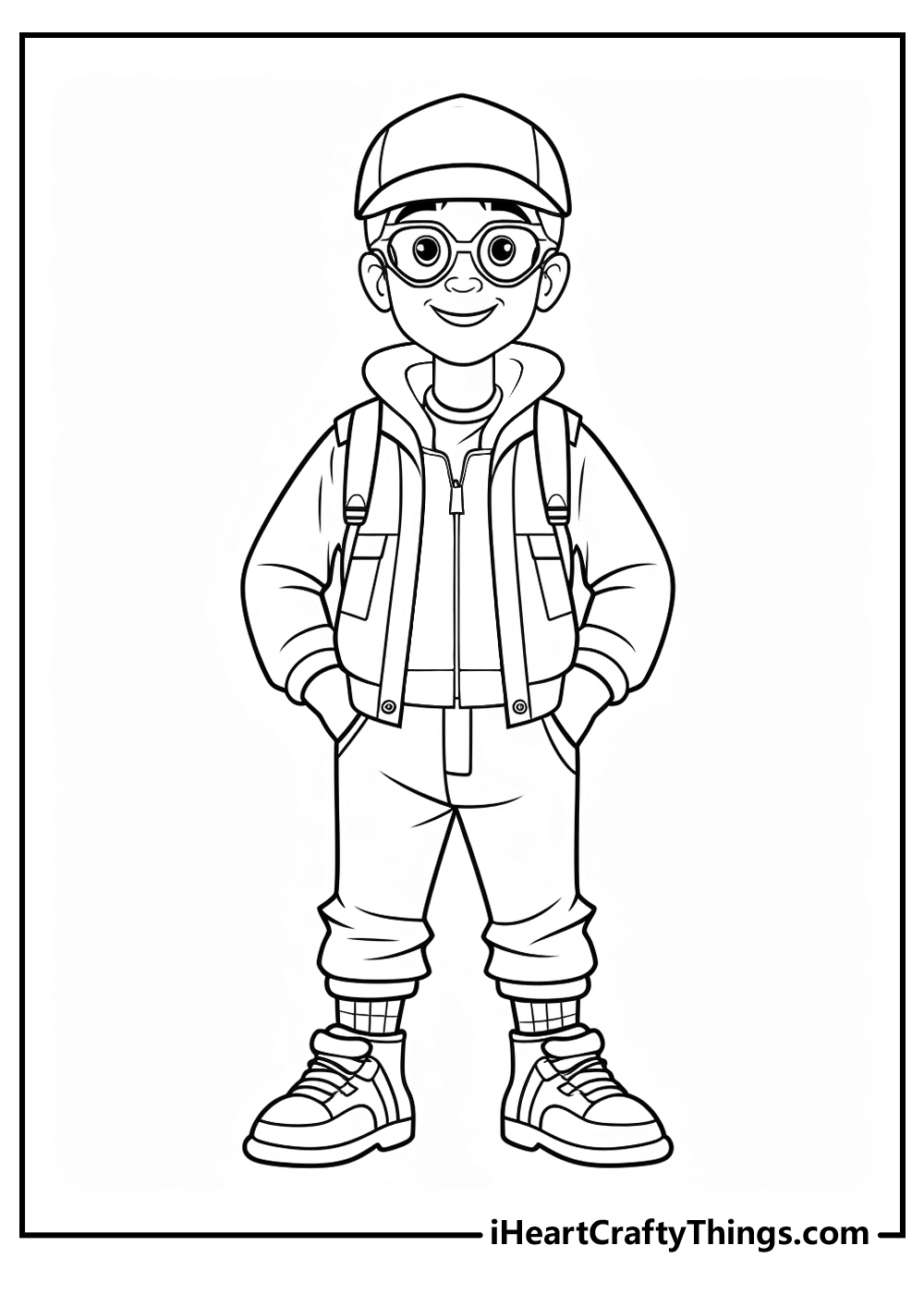 You can download for free the Blippi character printables. Print them and once done, you can pin them up as posters.
In this image, Blippi is seen to be amazed at the number of eggs laid out in front of him. He seems to be on a farm adventure. How many eggs do you think there are? Can you count them?
You can turn this Blippi character coloring page for kids to be an interactive one by asking questions!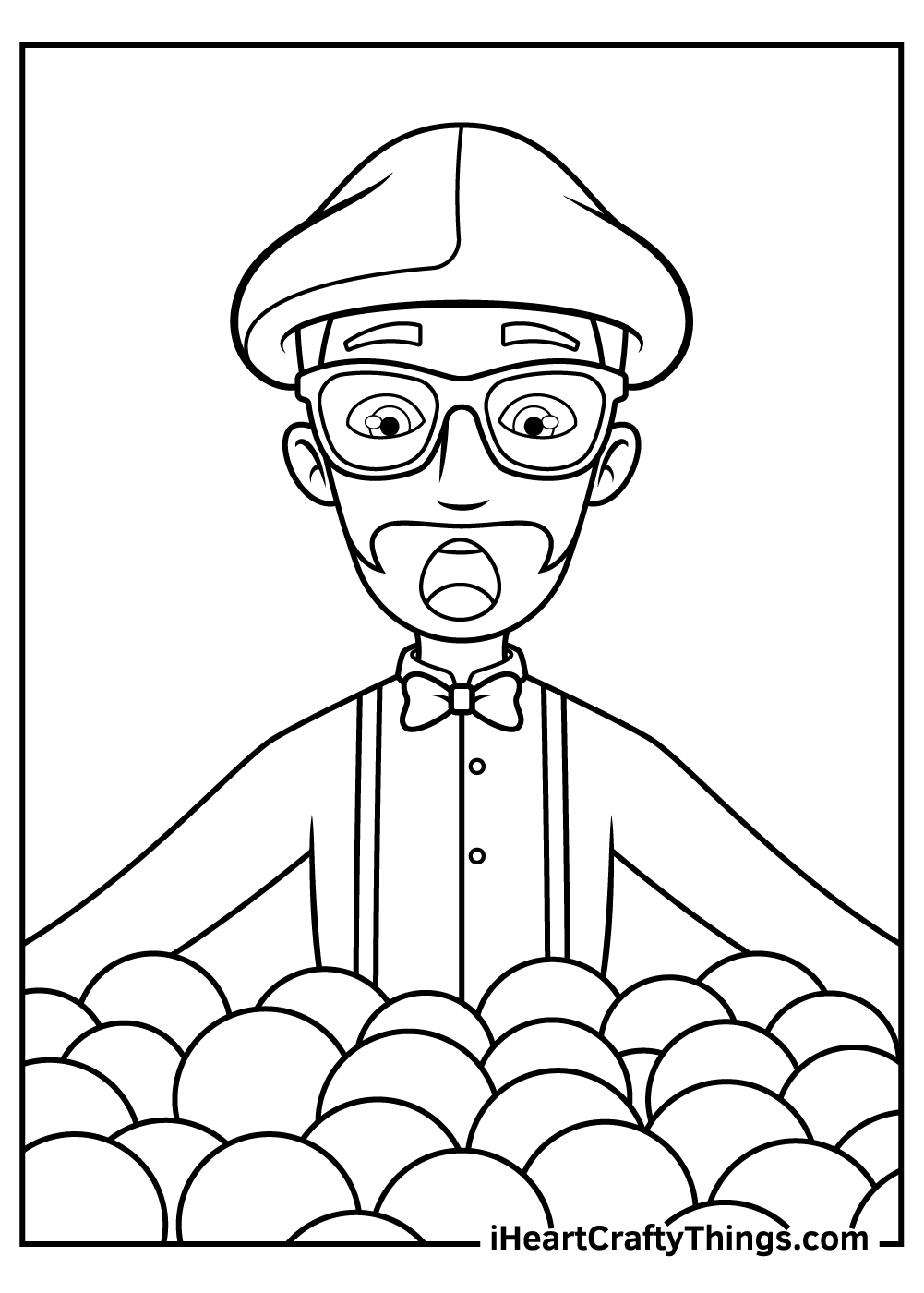 It's another Blippi portrait!
He seems to be in a mountainous area with beautiful seas of mountains and clouds behind him. He likes to play with his suspenders – a type of clothing accessory that dates back to the 1820s!
This free Blippi character coloring page will surely be a colorful one!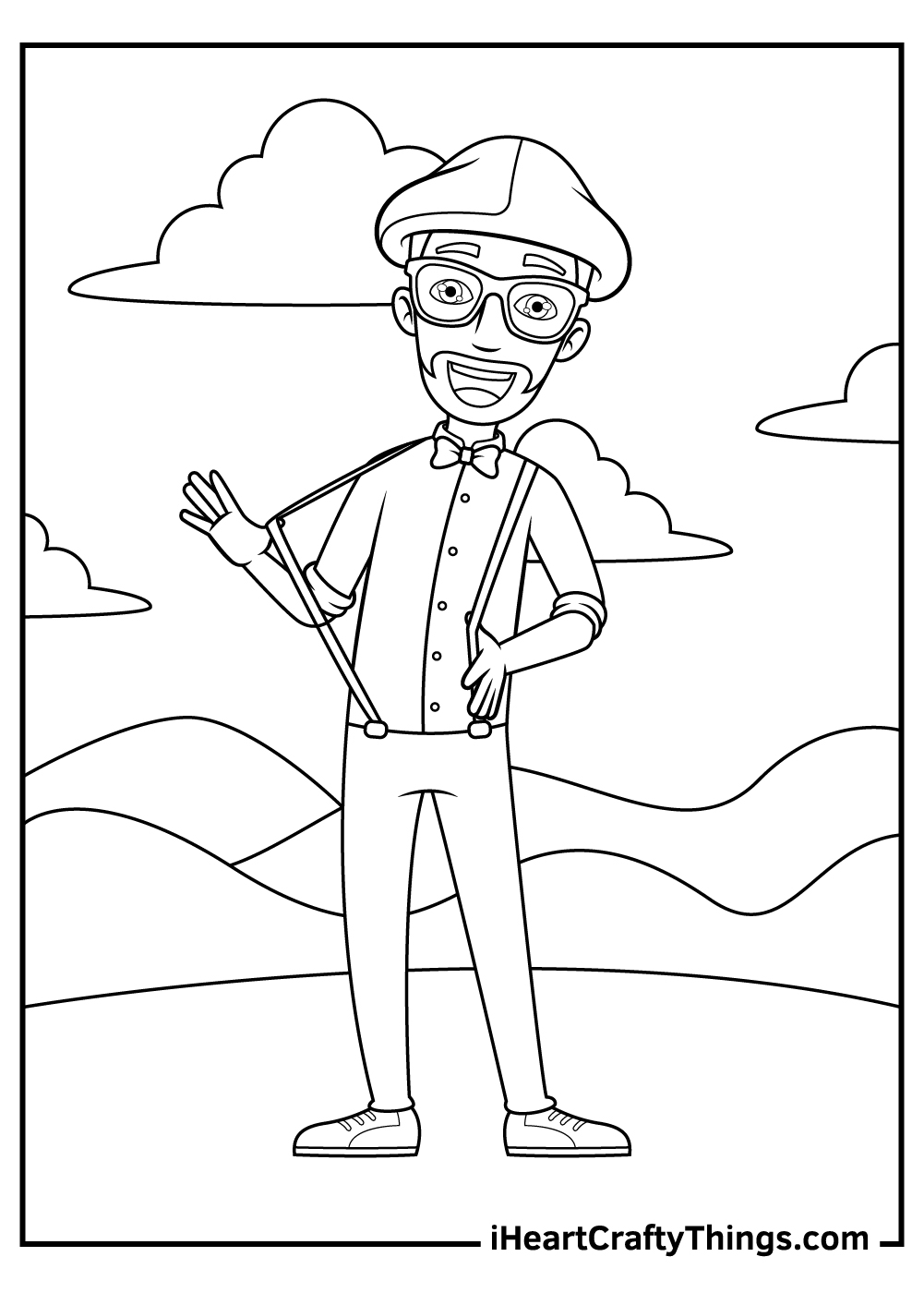 Blippi provides learning videos for children and one of the topics he likes to talk about is science, involving our planet and the many animals that live with us.
He likes to remind kids how to take care of the planet we live on and how to enjoy the world around them.
In this Blippi character printable, he is seen holding a globe in his hand, representing the Planet Earth. The color is mostly blue because this blue marble of our planet is made up of 70% water.
Blippi is grinning and is excited about another science video.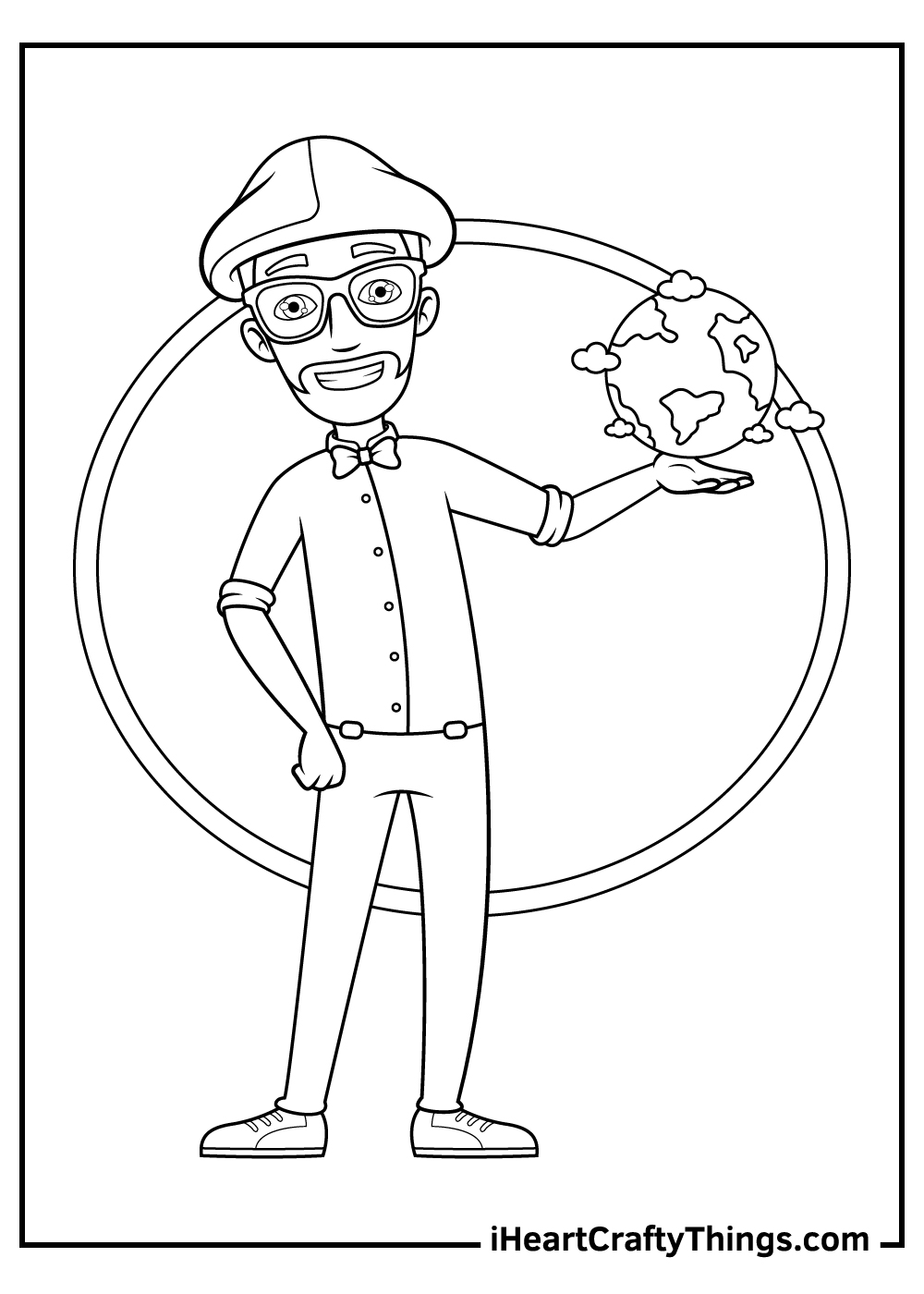 This Blippi character coloring page features Blippi as a fun and educational character who loves to explore the world and learn new things.
He is smiling at you, inviting you to join him on his adventures.
You can color Blippi with his original colors, or you can use your own creativity and imagination.
Maybe you want to change his outfit, or give him a different hairstyle, or add some accessories.
You can also color the background with any colors you like, or draw some objects or animals that Blippi might encounter on his travels.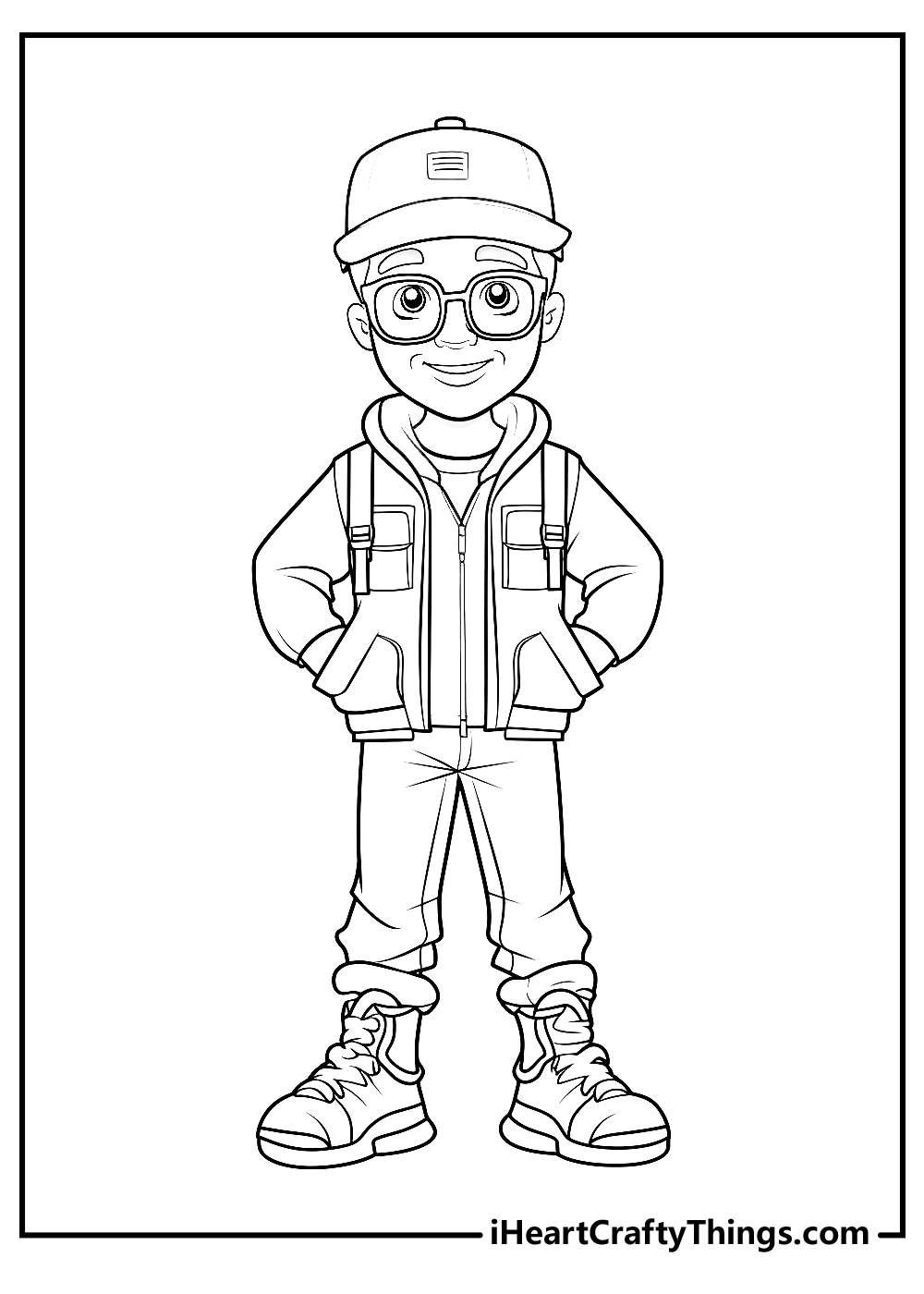 An average star is between the age of 1 to 10 billion years old and the stars at night are bigger and brighter than the sun.
In this free printable, Blippi is smiling widely with many stars on his background. He is wearing his usual outfit.
The colors of stars range from red, orange, yellow, green, white, and blue!
What colors are you using for the stars in the background?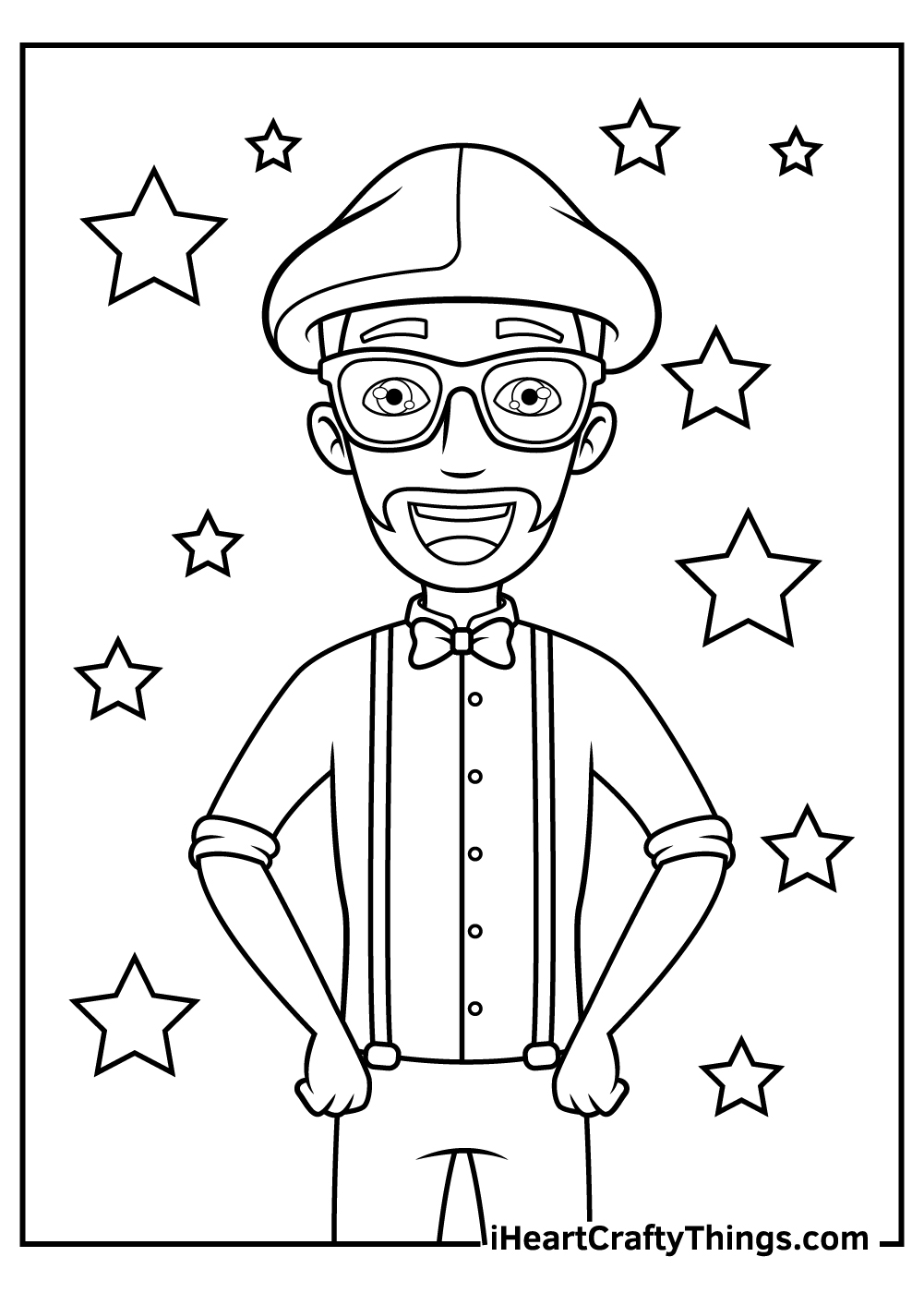 Next, we have Blippi as a construction worker, who builds and repairs things with different tools and machines.
You can color Blippi with yellow, blue or red or you can use your own creativity and imagination.
Maybe you want to give him a different tool, or add some patches or buttons to his vest, or change his glasses.
You can also draw some buildings or vehicles in the background that Blippi might work on.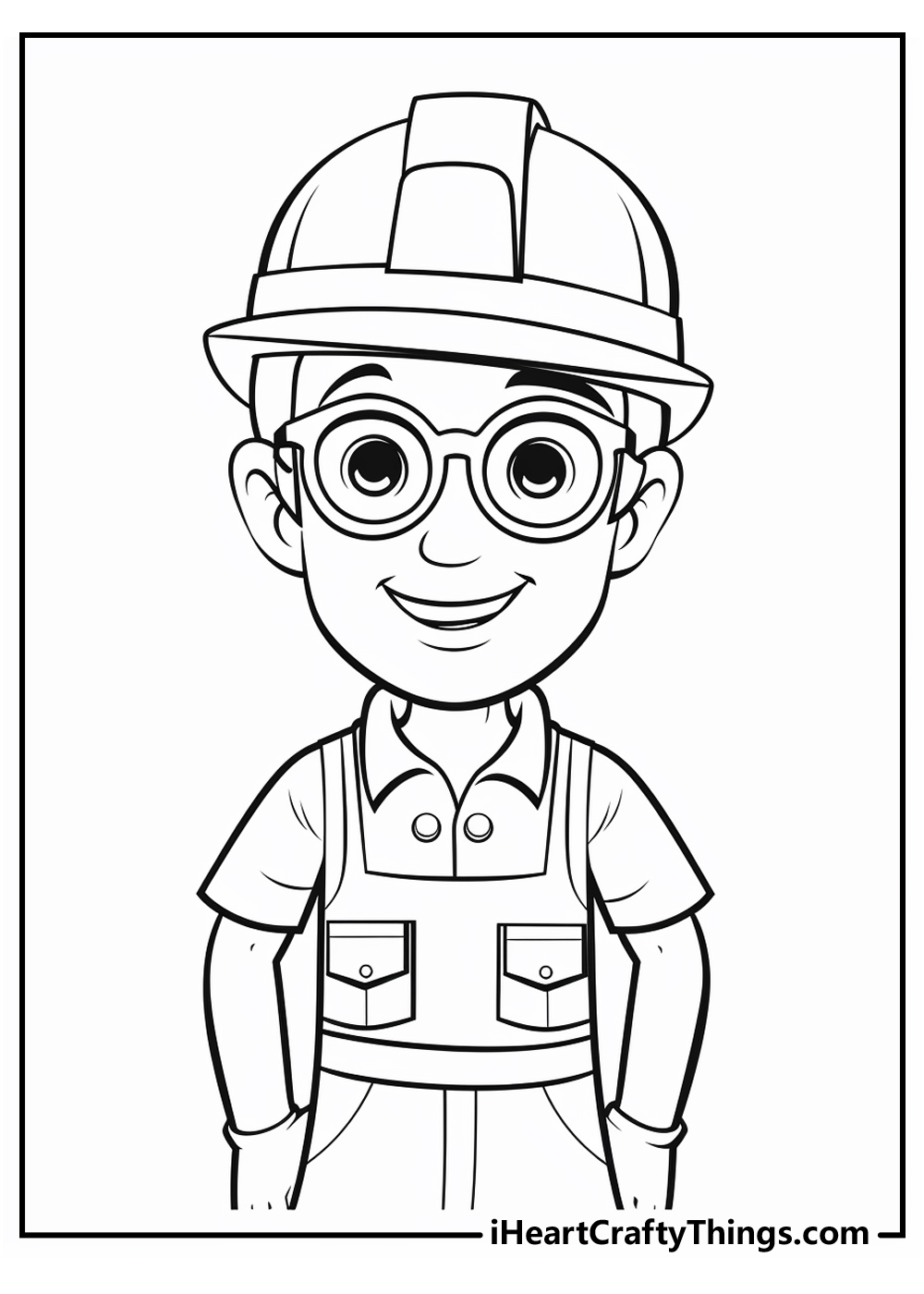 One of the many topics Blippi likes to talk about is tractors – like seen here on this Blippi coloring page for kids. Blippi is seen inside a backhoe loader tractor.
He likes to discuss with kids the different trucks and tractors out there, how they are used and where they are used.
The backhoe loader's name came from the motion of digging buckets. The bucket scoops the soil towards the body of the machine.
Our Blippi character coloring pages also remind kids of the many learnings and topics they have watched from Blippi. They are a good refresher for all the learnings!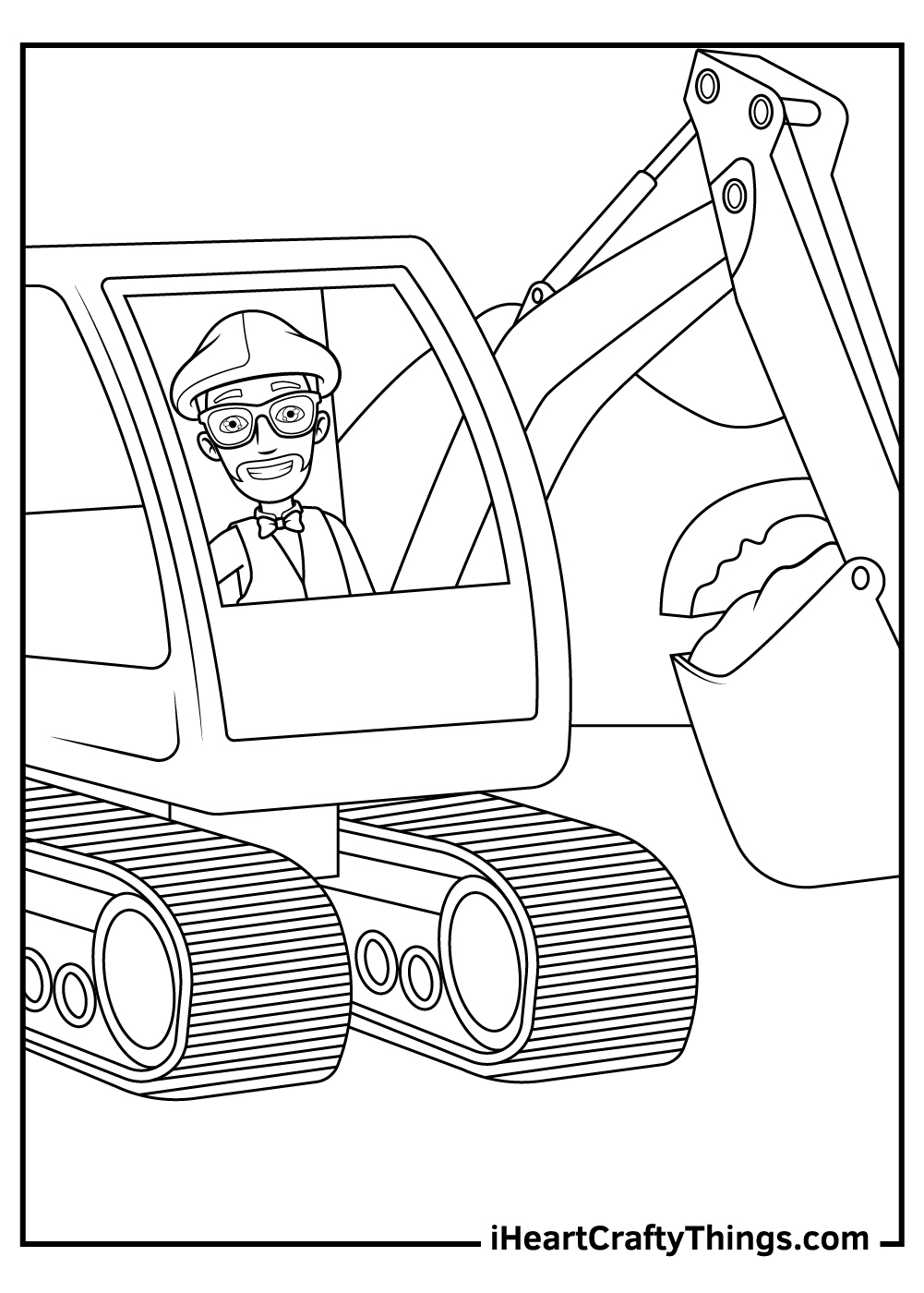 Did you know that one-fifth of the world's landscape is made up of mountains? The highest mountain is Mount Everest in the Himalayas.
On this coloring page, Blippi is possibly on to another adventure. Here he looks excited. Behind him are mountains and bushes. It's another nature-filled adventure.
What interesting facts do you think he'll share?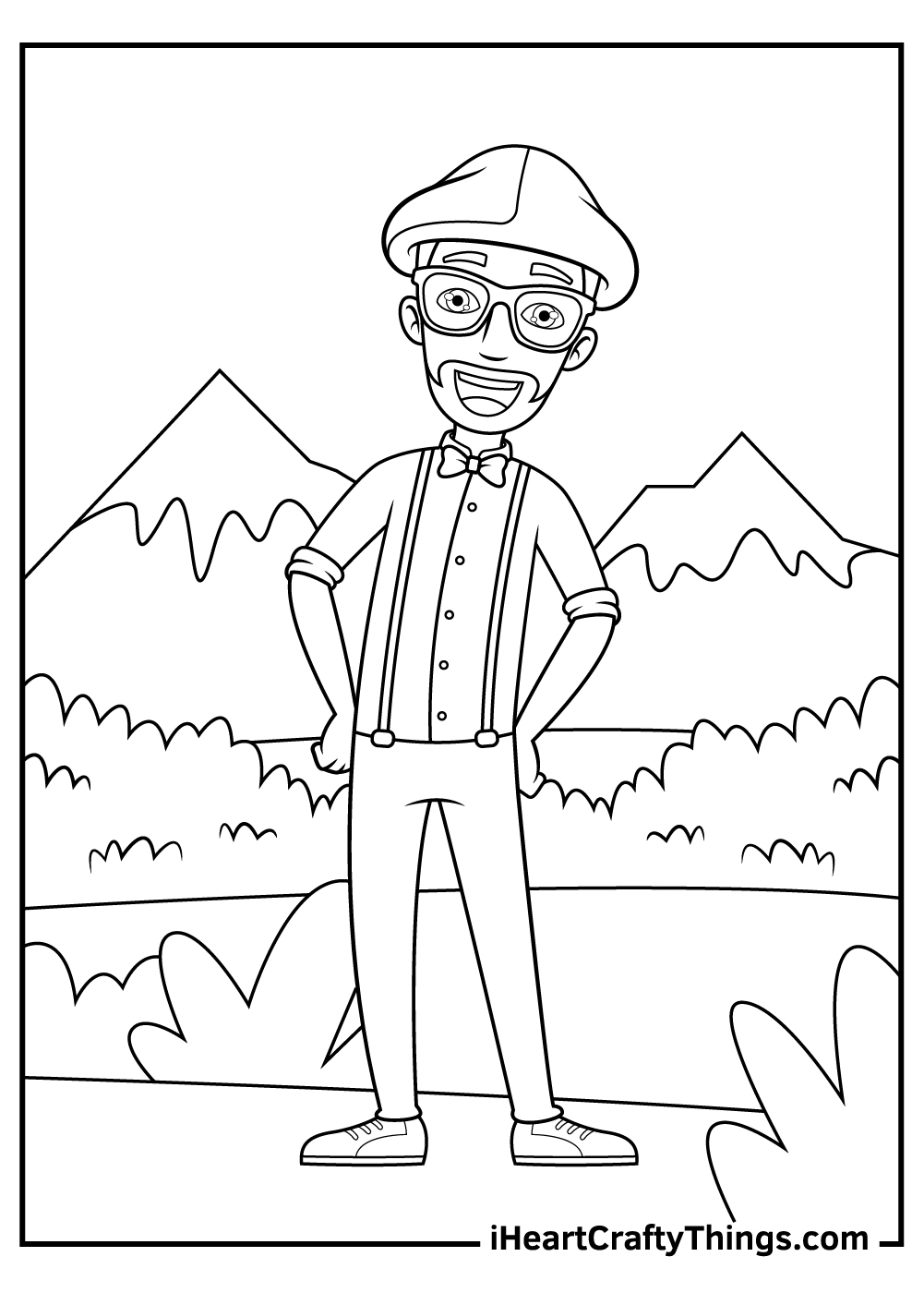 Adventure awaits with Blippi! In this Blippi character coloring page, he's ready to embark on an exciting expedition around the world. He's looking at you with a big smile, inviting you along.
Use your most creative colors to customize Blippi's outfit for whatever environments you imagine. Try coloring his hat blue for sailing the ocean, or red for hiking volcanoes.
Add stickers, patches and accessories too. Maybe he needs a compass, camera or walking stick. It's up to you.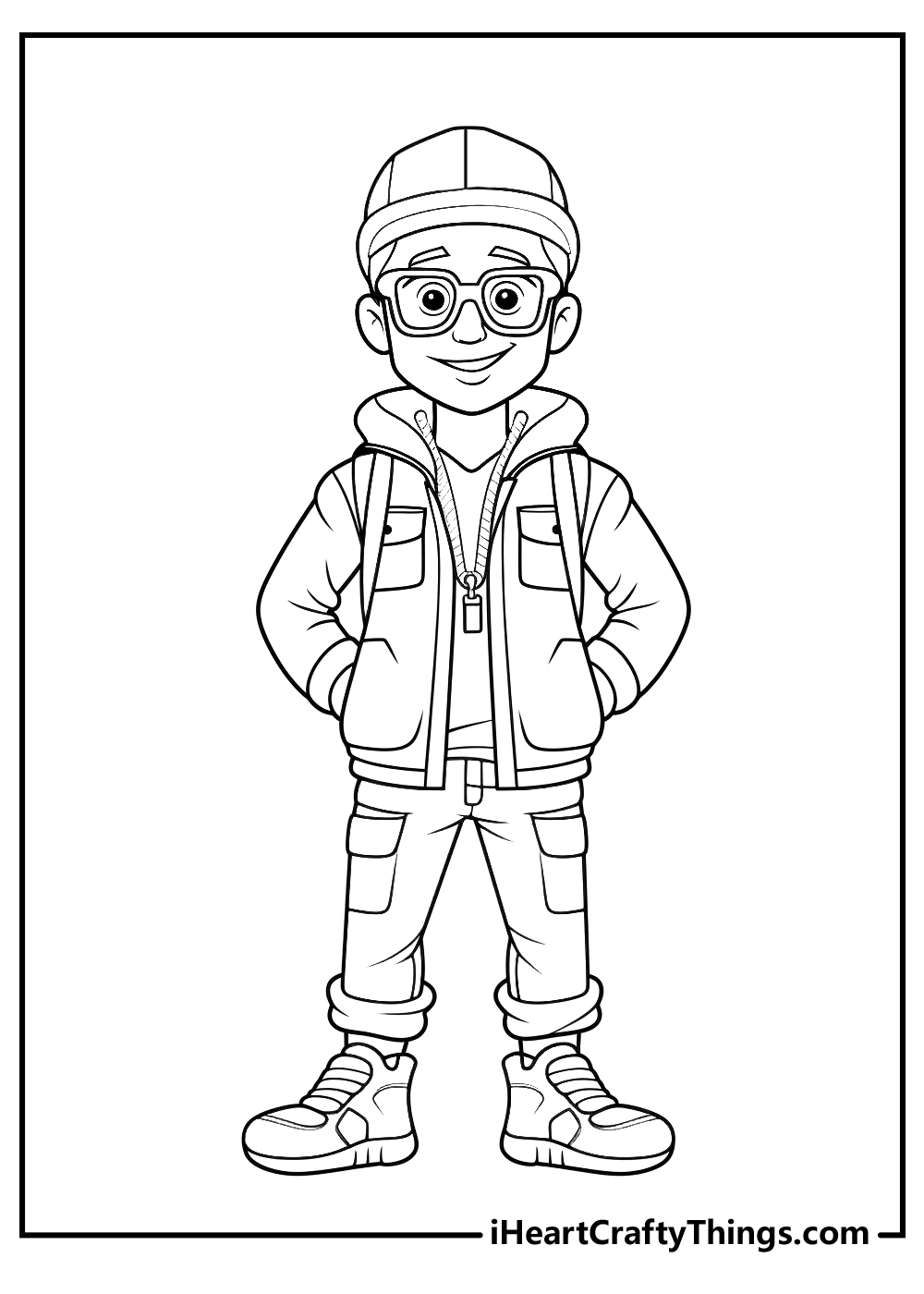 One of the many activities of Blippi in his videos is singing and dancing. These make kids super engaged to him and his videos.
Music, in general, whether in the form of singing and dancing, truly engages a child's brain. This act connects Blippi to all his young audiences.
In this image of our Blippi character coloring pages, he is dancing and singing to another episode of fun learning!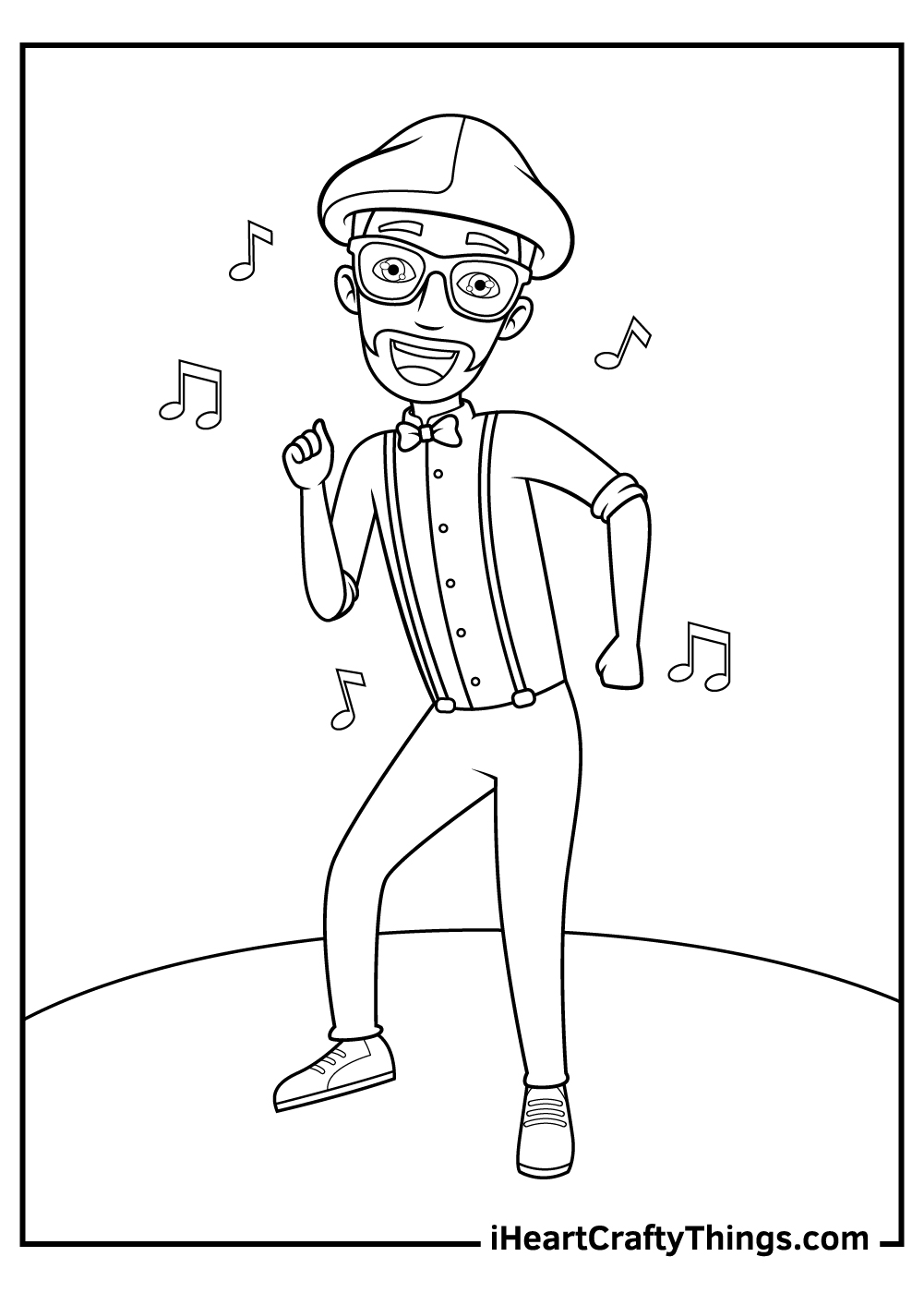 Blippi Character Coloring Pages – Easy-to-Color Free Printables
Our Blippi character coloring pages are easy to color and engaging too, just like Blippi! We made sure we incorporate the things he likes to talk about in his videos and the interesting details of his shows.
Blippi is a goofy character and he injects this character into the learning videos he creates for kids. With many learning points in his show, there are also tons of things that can be beneficial in these printables.
These printables are free and you can download and print them anytime you like. You can even share them with friends and family.
Kids will surely enjoy these free printables and you can even do a fun learning activity with kids using these pages.
We would like to see how your coloring pages turned out! Post it on our Facebook page.