Sewing is an awesome skill for kids to have! Starting out with yarn wrapping and hand sewing is great for youngsters for hand and eye coordination and exercising those fine motor muscles, and then learning how to use a sewing machine is a skill that children can utilize their whole lives.
Whether you're just beginning to learn how to sew by hand, or are ready for some basic sewing machine projects, you are going to love these 20 sewing projects for beginners.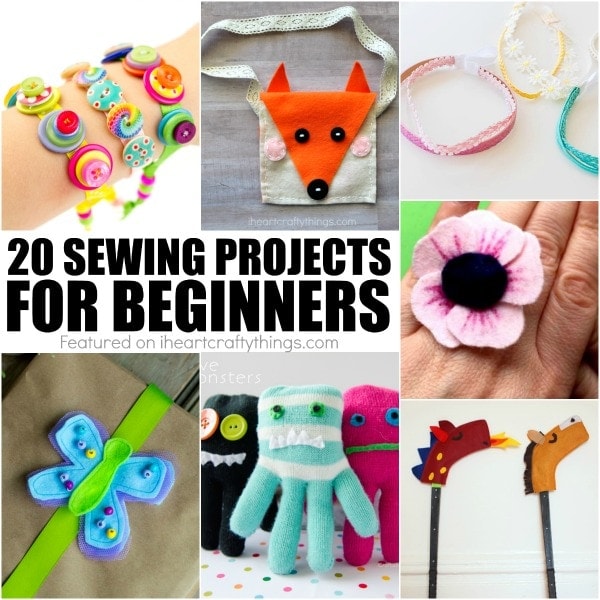 20 Sewing Projects for Beginners
Click on the title links underneath the photo collages to be taken to the full craft tutorials. If you would like to share this post (please do!) we would appreciate if you would use the top square image or the bottom vertical image for pinning.
10 Hand Sewing Projects for Beginners
Not only is hand sewing a fun activity for kids but it's a great skill to have as an adult. I have fond memories as a kid of learning how to hand sew. For my first project my mom showed me how to cut up old, holey jeans and sew them into a cute purse. I beamed with pride after making my first purse, just like your children will after making any one of these darling hand sewing projects below.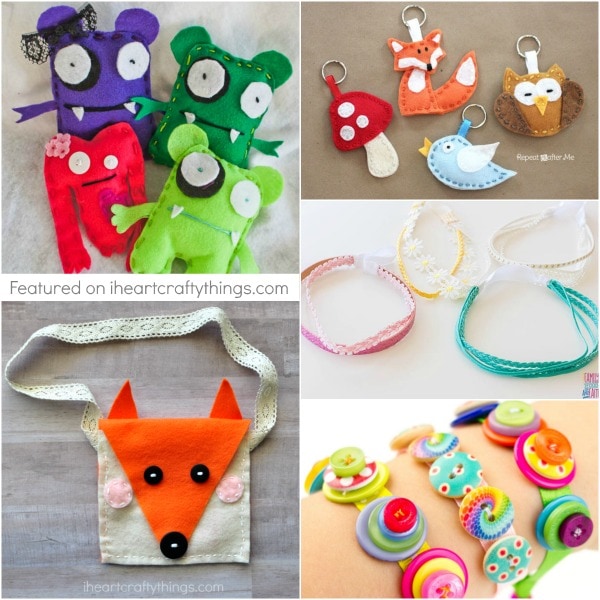 Kid-designed Felt Monsters | Just Short of Crazy
Felt Forest Animal Keychains | Repeat Crafter Me
Easy DIY Headbands | Family, Food and Faith
DIY Felt Fox Purse | I Heart Crafty Things
Snazzy Jazzy Button Bracelets | Kids Craft Room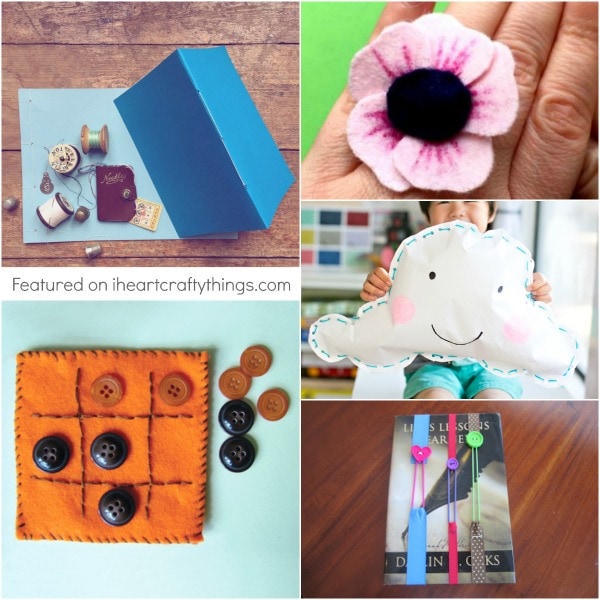 Easy Hand-Sewn Book Binding (two different ways) | Incredibusy
Easy DIY Felt Flower Rings | Red Ted Art
Kid-Made Happy Paper Cloud Pillow | Hello, Wonderful
DIY Travel Tic Tac Toe Kit | Scholastic
Basic Sewing Ribbon Bookmarks | My Busy Beehives
10 Sewing Projects for Beginners using a Sewing Machine
Once kids have mastered the skills of hand sewing they'll love discovering the world of using a sewing machine. I, myself, wish I had learned more of this skill growing up so I am excited to encourage my daughter to learn this skill as she grows older. These 10 sewing projects are perfect projects for kids (and adults) who are new to using a sewing machine. Make them for yourself or as gifts. There's so much possibility!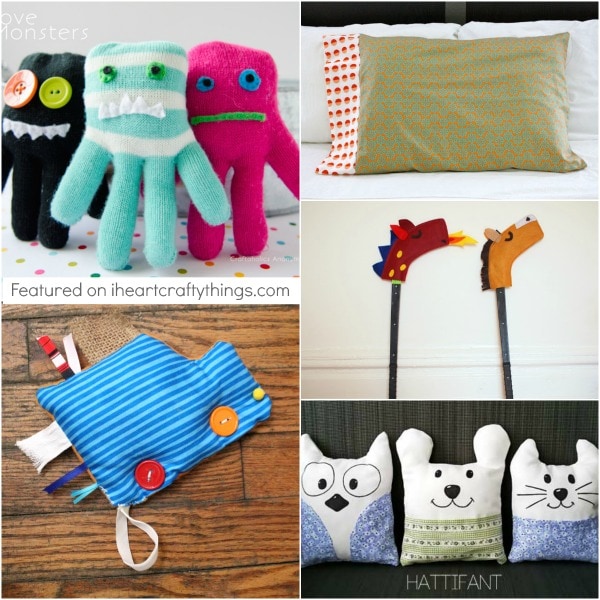 How to turn gloves into Monsters | Craftoholics Anonymous
Simple DIY Pillowcase | Made Everyday
Hockey Stick Hobby Horse and Dragon Craft | Pink Stripey Socks
DIY Sensory Toy | Moms & Crafters
Stuffed Animal Friends | Hattifant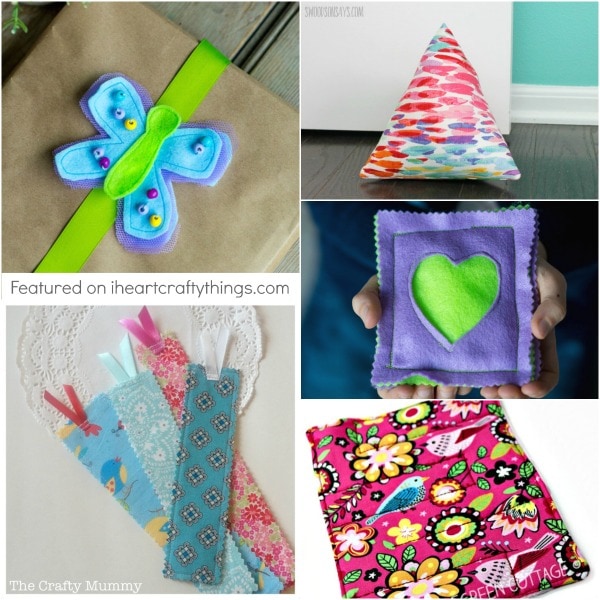 Butterfly Present Topper | Make it Your Own
How to Make a DIY Doorstop | Swoodson Says
Peek-a-Boo Heart Bean Bags | Make it Your Own
Simple Fabric Scrap Bookmarks | The Crafty Mummy
DIY Fabric Marble Maze Toy | Apple Green Cottage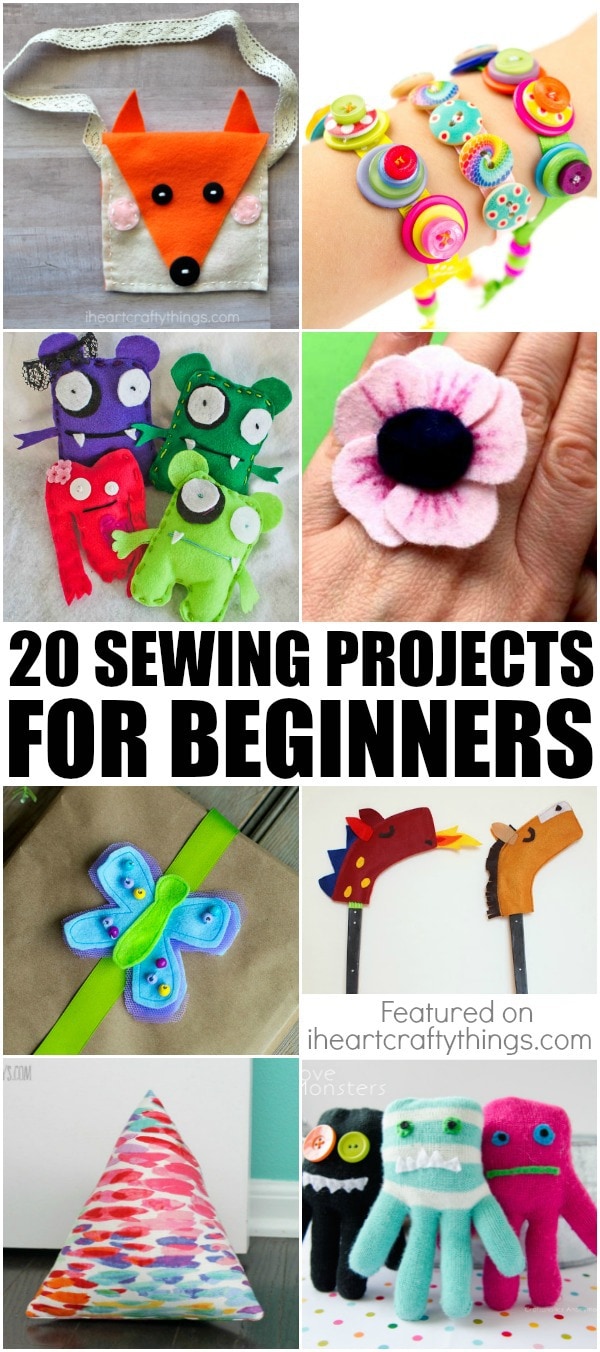 Do you have toddlers  or preschoolers who aren't quite ready for hand sewing? Start them out with this yarn wrapped cardinal craft or yarn wrapped sheep and then you can progress into learning how to make this cute paper plate insect sewing craft.