Now that the school year is wrapping up and summer is upon us, we will be gearing up for the Fourth of July holiday soon! I love all of the red, white and blue decor and how we get to spend the holiday with our extended family each year. With the warmer temperatures, it's the perfect opportunity to get crafty with the little ones indoors by making patriotic crafts. If you are looking for some festive red, white and blue ideas for your children, here are 12 fabulous American flag crafts for kids that are sure to put you in the Fourth of July spirit!

12 FABULOUS FLAG CRAFTS FOR KIDS
1. Purchase a package of patriotic straws and turn them into this simple Straw Flag Craft. It also combines as a great way for preschoolers to get some scissor cutting practice.
2. Paint the bottom of your child's foot as a flag and use it to create this darling American Flag Footprint Craft. I love how it couples as a cute keepsake!
3. Whip out some red, white and blue pony beads and use them to create this fun Pony Bead Flag Craft. Even toddlers can participate in this fun craft.
4. Paper plates are a common staple in most homes during summer time. Get one out and use it to make this simple Paper Plate Flag Kid Craft.
5. Here is another fun Pony Bead American Flag Craft that you can hang as pretty decor for the holiday. I love the addition of the blue star beads!
6. Re-purpose a tin can to create this cute Tin Can Windsock Craft. Hang it outside on the front porch to welcome all of your party guests.
7. I love this creative take on the classic Popsicle Stick Flag Craft. A perfect craft for kids to enjoy creating on the Fourth of July.
8. Turn paint sticks into this pretty Paint Stick Flag Craft that you can hang on your front door as festive decor. The addition of buttons makes it an especially fun craft for kids.
9. Paint your hand to look like a flag and use it to create this Patriotic Handprint Kids Craft. Another beautiful keepsake to keep for the memory book.
10. Have you ever tried painting with pom poms? Create a pom pom paintbrush and use it to create this bright and beautiful Pom Pom American Flag Craft for Kids.
11. Red, white and blue tissue paper squares make a darling Fourth of July Tissue Flag Craft for Kids. Download the free printable pattern to make it even more simple for kids to create.
12. Tear up construction paper strips to make this simple Torn Paper Flag Craft. My kids love playing with stickers so I love the addition of the silver star stickers on this craft.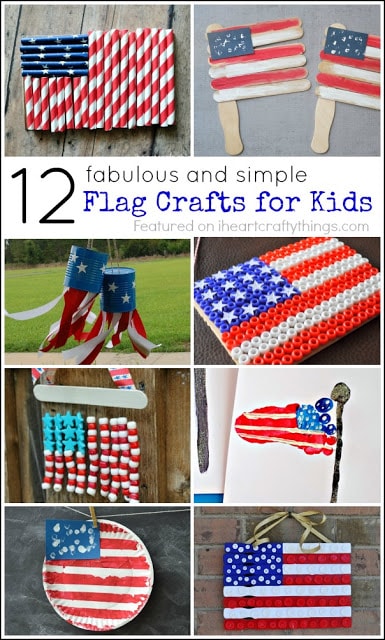 Looking for more fun flag crafts?
This year we added a new patriotic craft you'll love! Check out this tape resist Flag Fourth of July Craft.