These Thanksgiving crafts for kids are sure to be a huge hit with children of all ages! They are perfect for family activity night, play dates, for use in the classroom, and more!
We have some fun craft ideas for little crafters and something for more experienced crafters to enjoy. With over 35 different ideas to choose from, your kids are going to have a blast creating some of these cute Thanksgiving crafts.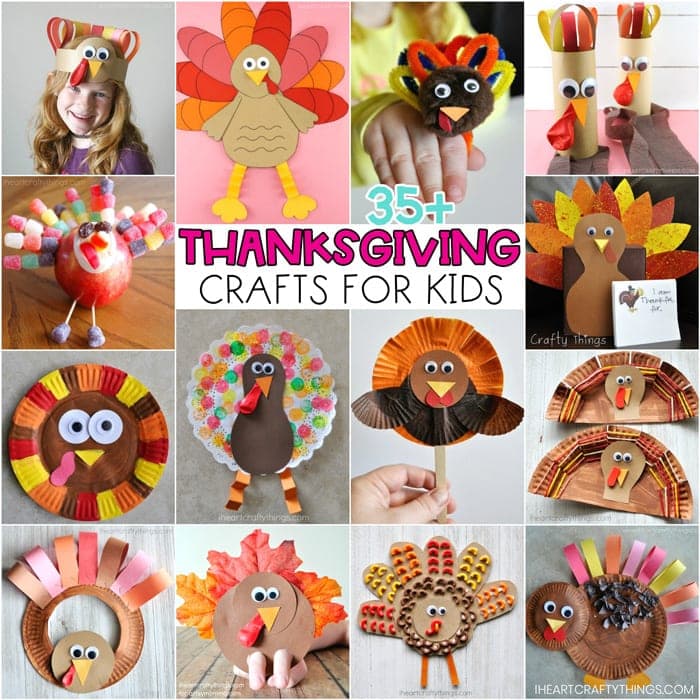 Easy Thanksgiving Crafts For Kids
Thanksgiving is just around the corner so it's time to celebrate with some adorable turkey crafts. I'm certain you can turn any type of craft material into a turkey craft, which is probably evident by our amazing collection of turkey crafts below.
Go check your craft closet right now for some simple supplies you have already have on hand and then come back and find something easy to create with your children to brighten up your turkey day!
Simple Thanksgiving Crafts for Toddlers
Even the littlest of crafters can enjoy making crafts for the Thanksgiving holiday. Here are some simple ideas my children loved making when they were toddlers.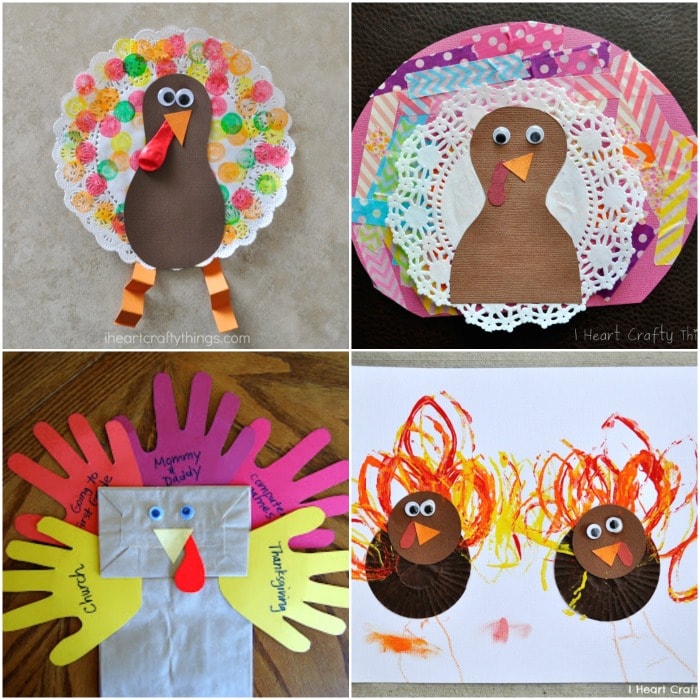 Dot markers are the ultimate toddler craft supply! Use them to make this cute doily turkey craft and avoid the painting mess.
Have a washi tape stash? Let toddlers dig in by decorating this cute Washi Tape Turkey Craftivity.
This paper bag Thankful Turkey Puppet is a classic that never gets old. The handprint feathers decorating with what children are thankful for are oh so cute!
Want to add a fun art project into the mix for Thanksgiving? Here's a fun way for toddlers to stamp a toilet roll to add feathers to their turkey art project.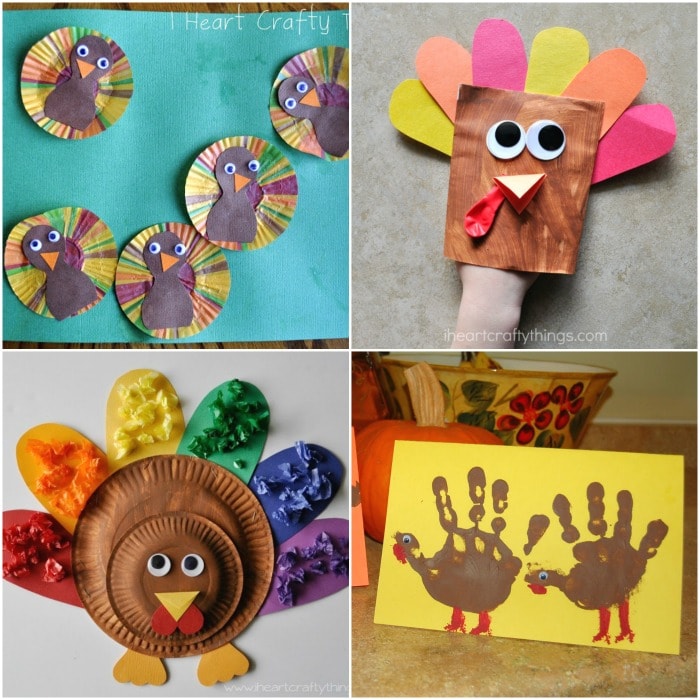 Toddlers will love creating a paper full of five little turkeys using cupcake liners, colored paper and glue.
Here's a clever way to turn an envelope into a fun turkey puppet for toddlers. A fun make and play craft for the little ones!
Work on colors with toddlers with this big Color Matching Paper Plate Turkey. Little ones scrunch up the tissue paper and glue it onto the correctly colored feather on the turkey.
This Handprint Turkey Card is another classic that makes a great gift for mom, dad or grandparents. Click through to the tutorial to see a fun poem to write on the inside of the card.
Fun Thanksgiving Crafts for Preschoolers
Preschoolers love craft time! Lay some art supplies out on a kids table while you are busy whipping up Thanksgiving dinner, and let kids have fun making some of these fun turkey crafts.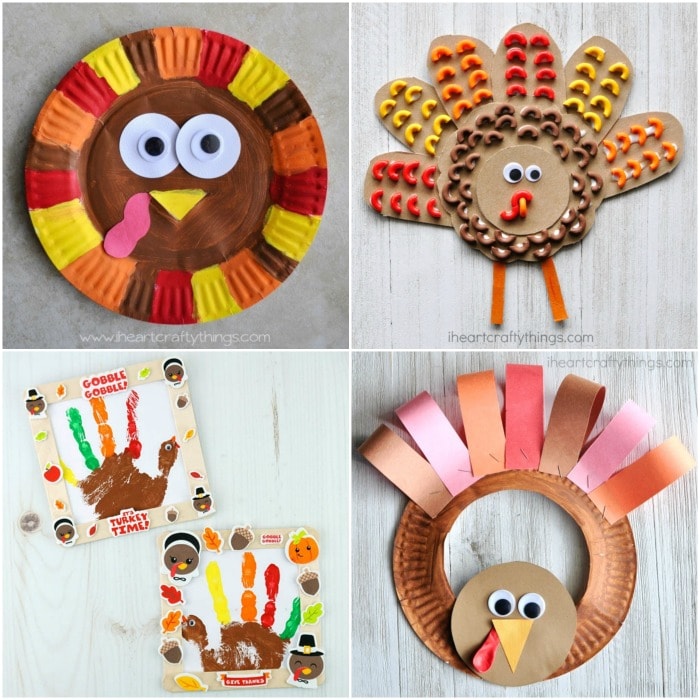 All you need is one paper plate to make these darling turkey craft. It goes along great with any Thanksgiving kids picture.
Dye or paint some pasts and let kids get creative making this macaroni turkey art project.
These handprint Turkey Photo Frames are a perfect keepsake for kids to bring home for Mom and Dad to treasure forever.
Paper plates, paint and construction paper is all you need to make one of these simple and cute Paper Plate Turkey Wreaths.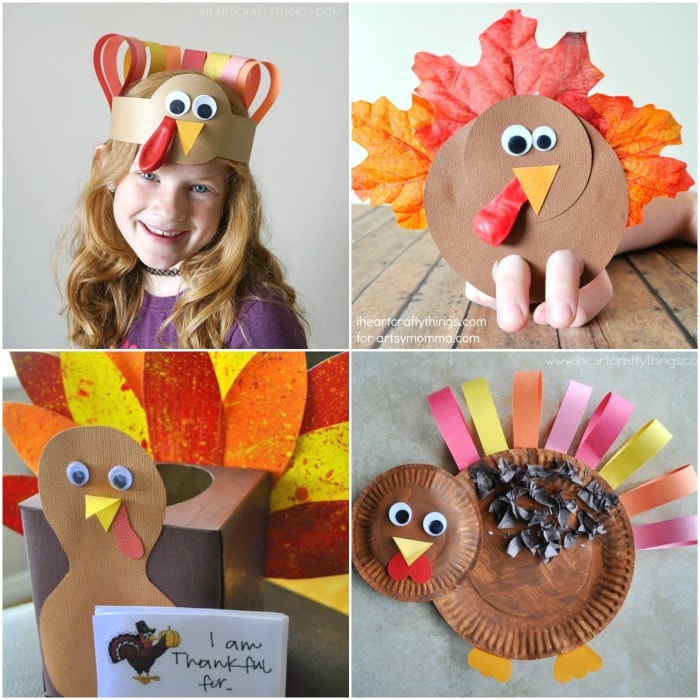 Preschoolers will have a blast making and wearing these turkey headbands. Our free template makes prep time so easy!
Kids will not only love making this cute turkey finger puppet, but they'll also have fun putting on a puppet show afterwards.
Get the entire family involved with this fun Thankful Turkey Box. After making it, friends and family members can add a note of what they are thankful for inside the box.
Gobble gobble! It doesn't get more fun than making this simple paper Plate Turkey Craft for Thanksgiving.
Thanksgiving Crafts for Kids of all ages to enjoy
Looking for a fun craft to entertain older children, or for older children to help the little ones make? Here are more fun Thanksgiving craft ideas to choose from.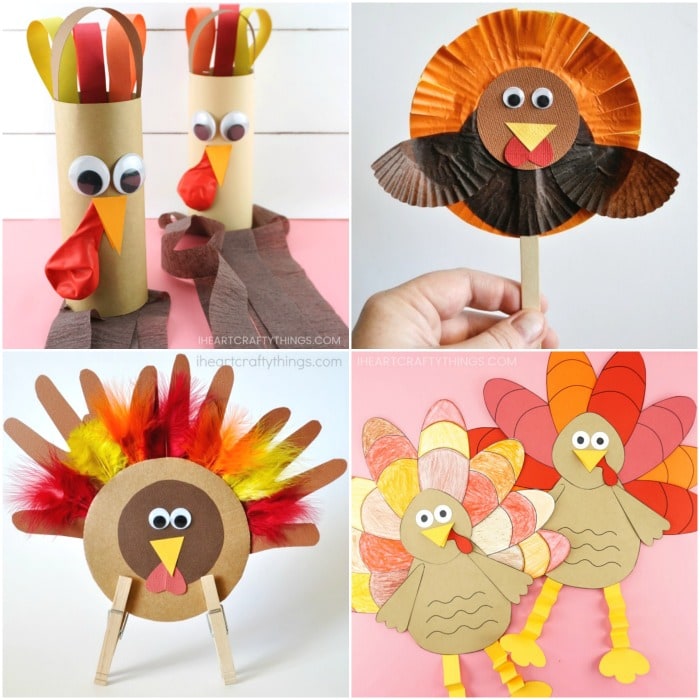 Hang these cute turkey windsocks outside or indoors for a fun Thanksgiving decoration!
Kids will love putting on a puppet show as entertainment after dinner with these cupcake liner turkey puppets.
Don't you think these standing turkeys would make a great addition to the dinner table centerpiece? The handprints on the back make them a fun keepsake.
Kids can use their creativity to color and design their own turkey feathers in this simple paper turkeys craft, or can use colored paper.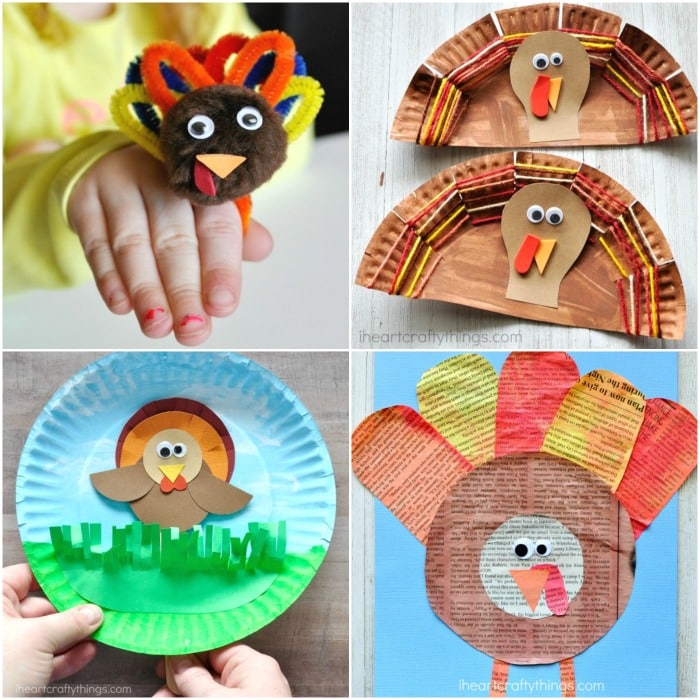 These pipe cleaner Turkey Rings can also be used as DIY napkin rings for your Thanksgiving table.
This Yarn Weaving Turkey Craft is great fine motor work for kids!
Move the popsicle sticks around and watch your turkey jump and hide in and out of the grass on this fun paper plate hiding turkey craft.
Repurpose old newspaper into a colorful turkey craft for a Thanksgiving art project.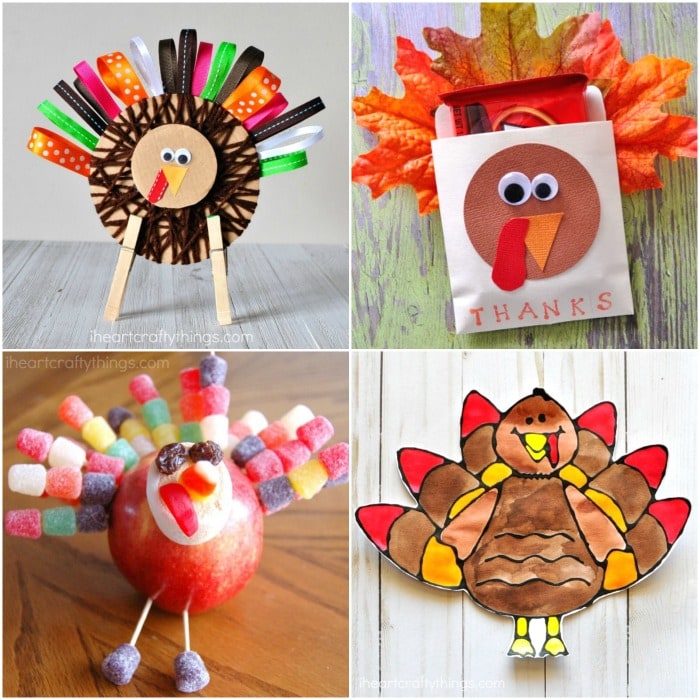 Have leftover ribbon scraps in craft stash? Use them to create this colorful yarn and ribbon turkey craft.
Put a smile on your dinner guests face with these cute thankful turkey gifts. Kids will love helping you make them too!
Move over paper crafts! These apple turkeys are the perfect way to keep kids entertained while you are making Thanksgiving dinner.
Older children will love making this gorgeous black glue and watercolor turkey art project. The black glue requires some drying time so it's one to plan for in advance.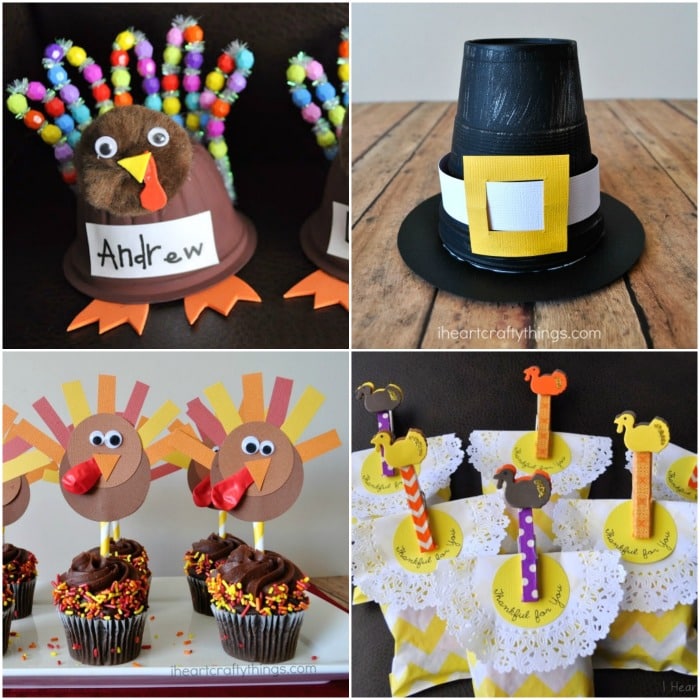 Save some plastic fruit cups and have kids help make these adorable turkey place cards for your Thanksgiving table.
This simple styrofoam cup pilgrim hat craft is another fun way to create DIY place cards. Add each guests name on the brim of the hat before placing them on the table.
Add a fun, festive touch to cupcakes this year by making some cute turkey cupcake toppers. Those balloon waddles are a hoot!
Kids will love helping you make simple turkey clothespins to close up these simple thankful for your treat bags to give to your Thanksgiving dinner guests.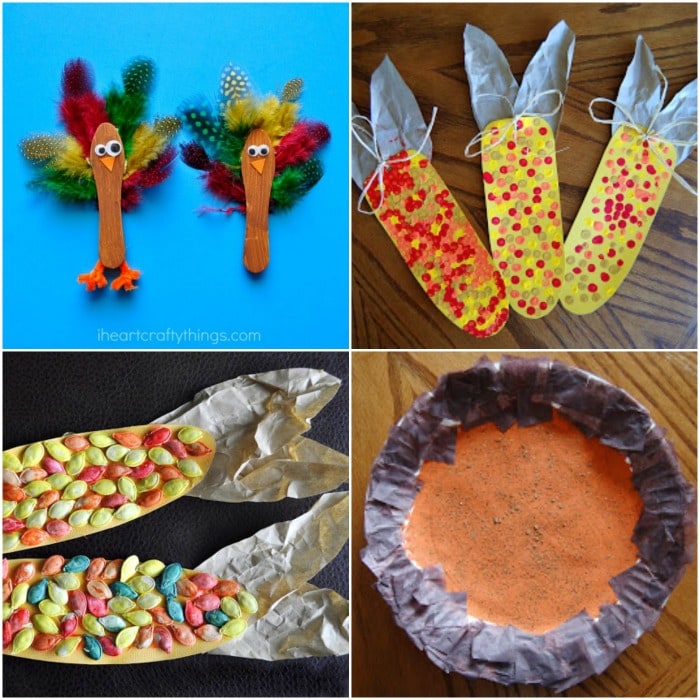 Here's a cute and clever way to turn wooden scoop sticks into cute little turkeys. Another fun craft to add to the kids table.
Thanksgiving wouldn't be complete without some fun Indian corn crafts. The corn kernels on this colored paper corn is made with stamping the end of a pencil eraser.
Dye some of your dried pumpkin seeds leftover from Halloween pumpkin carving and use them to create this colorful Indian corn craft.
Let kids have a go of making their own pumpkin pie out of a paper plate. The sprinkled pumpkin pie spice on top is sure to make the room smell delicious!
Fun Thanksgiving Activities for Kids
Supplement craft time with one of these fun Thanksgiving activities. They are great for multiple kids and a whole family to enjoy together.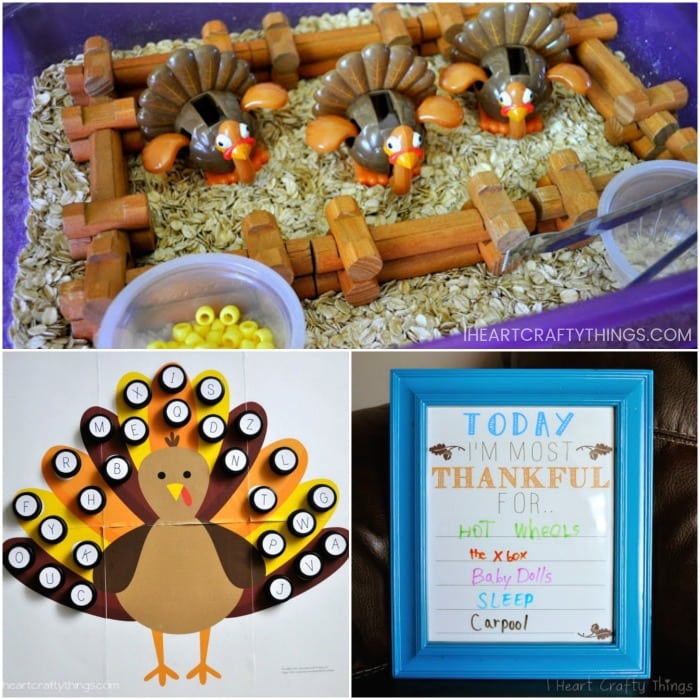 Kids will love exploring their senses with this darling Turkey Sensory Bin. So many fun ways for kids to play and explore in one bin.
Practice the alphabet with this colorful turkey alphabet matching game. Print out our free template and attach it to poster board for hours of fun learning.
Get kids in the thankful spirit every day with this Thankful for you writing prompt. The board can be erased and started new every day.
Here are 10 corn themed activities for Thanksgiving that toddlers and preschoolers will love!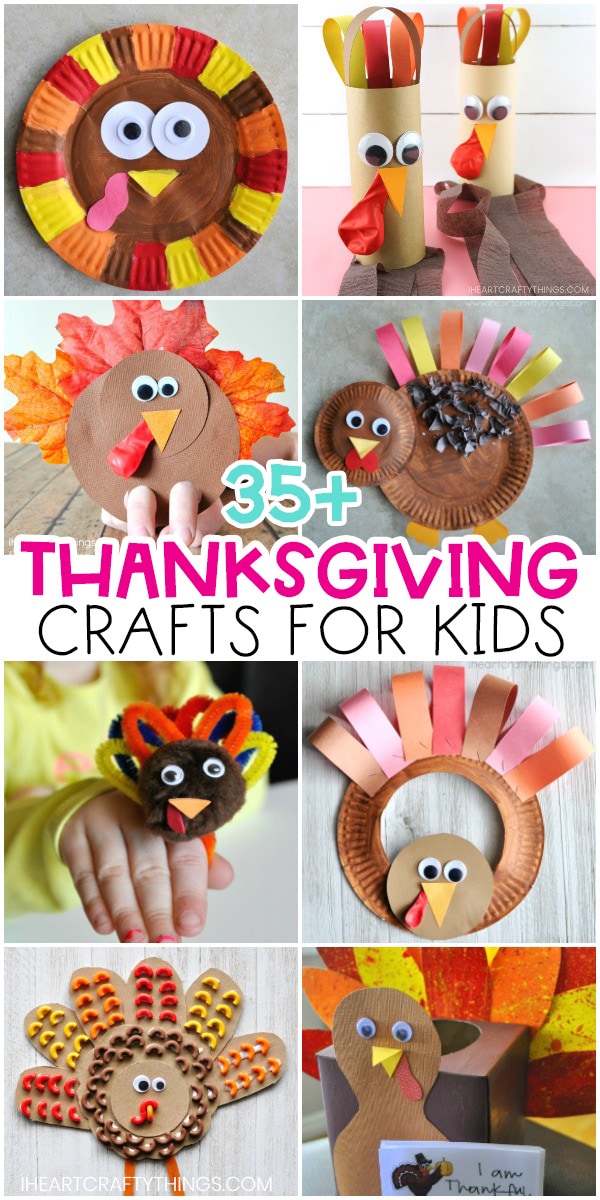 Looking for other Thanksgiving crafts for kids not listed here? You can search our website by typing in what you're looking for at the top of the page where the search bar is located. You can also browse through our category pages along the top menu bar of our page.
Save this page for later! We'll be adding more Thanksgiving arts and crafts ideas to this page as new crafts get posted.