Looking for a fun way to incorporate learning about colors with your preschooler this Thanksgiving? Your little ones will love the color matching aspect of this fun kids turkey craft.
Thanksgiving is one of my favorite holidays! I have such fond memories of being with my siblings and all us pitching in on making a delicious Thanksgiving feast. It's also one of my favorite holidays for crafting with kids.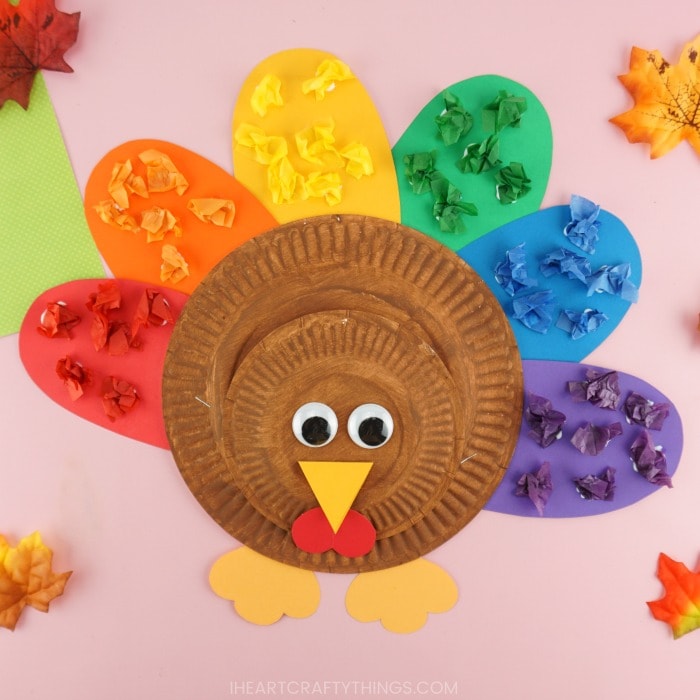 There are so many fun children's books about Thanksgiving that we enjoy reading every year and along with them we love making turkey crafts. Today we're sharing a cute and colorful kids turkey craft that incorporates color matching as a learning activity for little ones.
I originally shared this craft idea over at Cooking with Ruthie in 2015 and then published the tutorial here on October 23, 2015. The craft post has since been updated to include new photos, text and a how-to video tutorial.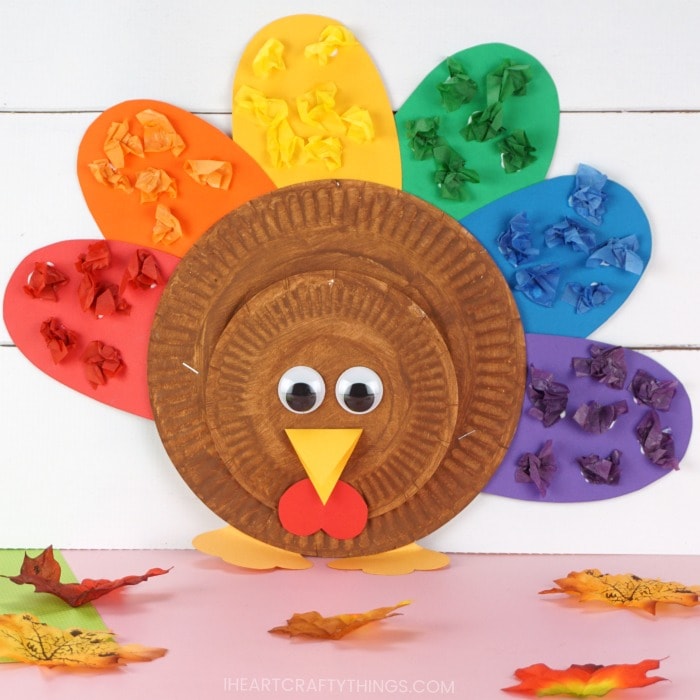 How to Make and Use this Color Matching Kids Turkey Craft
Read our easy step-by-step instructions below for how to create this kids turkey craft and then how to use it as a color matching activity for preschoolers.
Make sure to watch our video tutorial inside this post before get started too.
Supplies needed for this easy preschool turkey craft:
This post contains affiliate links to the products mentioned. Read our disclosure policy for more information.
regular sized paper plate
small sized (dessert) paper plate
brown paint
paint brush
2 large googly eyes
red, orange, yellow, green, blue and purple cardstock paper
red, orange, yellow, green, blue and purple tissue paper
stapler
scissors
extra strength glue stick
school glue
Instructions for Making the Kids Turkey Craft
1. Start by painting the bottom of both the large and small paper plate with brown paint. Set them aside and let them dry completely.
2. While the brown paint is drying on your paper plates, cut out a feather shape from your red, orange, yellow, green, blue and purple cardstock paper.
I cut one out and then used it as a pattern to cut the rest of mine out. You will also need to cut out a beak, snood and feet from your left over red, orange and yellow paper.
3. After your paper plates have finished drying, staple the small paper plate onto the bottom of the large paper plate to create the turkey head and body.
4. Lay each of the colored feathers around the paper plate turkey in a rainbow arrangement: red, orange, yellow, green and purple. When you are satisfied with the placement of the feathers, turn your paper plate turkey upside down and add a generous amount of school glue along the top half of the paper plate rim.
Then place the paper plate down onto the rainbow feathers to glue them in place. As an alternative, you could also staple each of the feathers around the paper plate.
5. Glue the two large googly eyes, beak, snood and turkey feet onto your turkey craft.

Now it's time for preschoolers to enjoy the color matching activity on their turkey craft
6. Lay out red, orange, yellow, green, blue and purple tissue paper squares for your preschooler to use.
7. Children place a dot of glue on a feather and choose a matching square of tissue paper to scrunch up and place on their glue dot.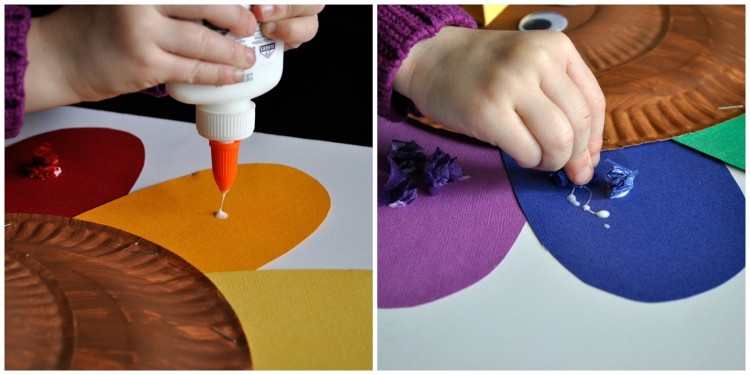 8. Continue adding glue dots and matching the correct tissue paper squares onto the feathers to make them as full as you want.
For toddlers, adults can add the glue dots for them and the child can scrunch up the tissue paper and place them on the correct dot of glue.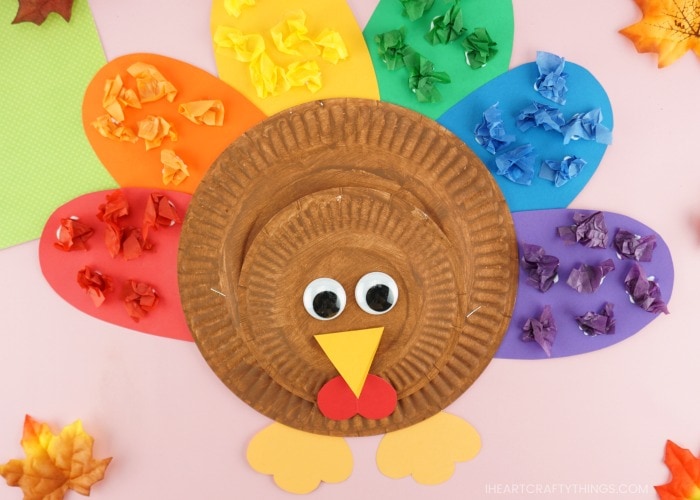 Not only did your child create a darling kids turkey craft to display for the Thanksgiving holiday but they got some color learning and matching practice in too. Win-Win!
Here are some of our favorite Thanksgiving Books that would go great with this craft:
– A Plump And Perky Turkey by Teresa Bateman
– 10 Fat Turkeys by Tony Johnston
– Thanksgiving Mice by Bethany Roberts
– The Thanksgiving Story by Alice Dalgliesh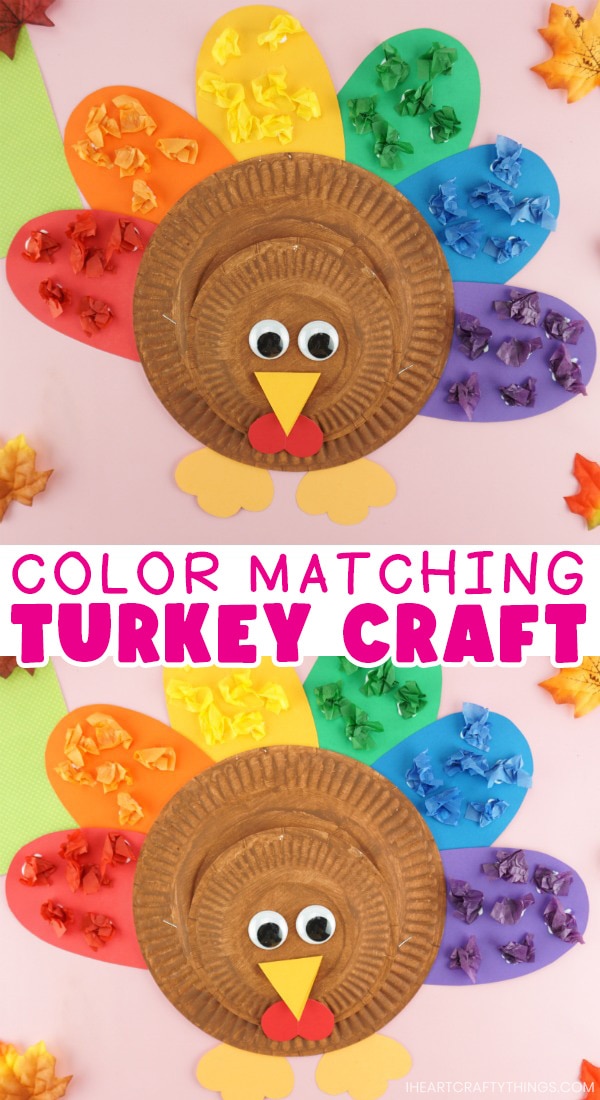 More Fun and Easy Thanksgiving Turkey Crafts for Preschoolers
These cute turkey windsocks are super simple for kids to create and they make a lovely Thanksgiving decoration to hang inside our outside your home.
Here's a fun and creative way for kids to turn an apple into a turkey with toothpicks and gum drops. They make a cute centerpiece on your Thanksgiving tablescape.
Looking for more Thanksgiving fun you can create out of paper plates? Check out this fun list of paper plate Thanksgiving crafts for kids.
See our full collection of over 35 fun and easy Thanksgiving craft ideas for kids of all ages.