Awww! This darling bear Valentine craft is as cute as a button and sure to bring loads of smiles and fun to your Valentine's Day! 
These adorable bears are such a cute and easy Valentine's Day craft for preschoolers and early elementary age children to make. Cutting out the simple shapes and gluing them together to make a bear is a fun way to incorporate scissor skills practice for a Valentine's Day activity at school or home.
Children can also write a Valentine's Day message on the inside of their heart and give their bear as a Valentine card to Mom, Dad, Grandparents or a friend.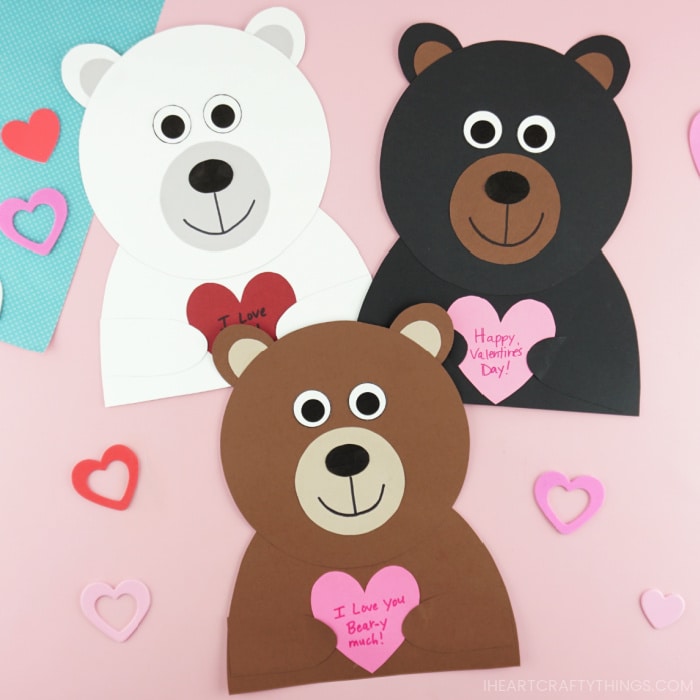 My favorite part about this easy paper Valentine craft is how children have the option to make any type of bear they want. They can make a polar bear, black bear, brown bear, or one of all three!
These cute bear Valentines are a perfect make and take craft for kids to create at a Valentine's Day party at school or at home. They are simply adorable!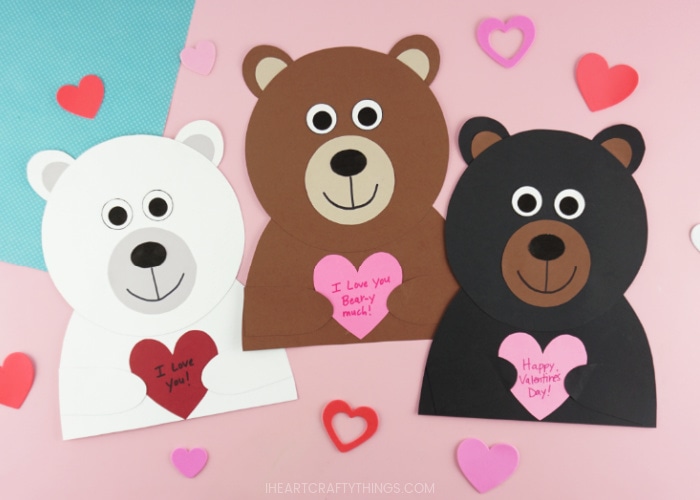 Bear Valentine Craft for Kids
Once again we kept the supplies at a minimum for this easy bear paper craft so you probably already have everything you need on hand to make this cute Valentine's Day bear craft.
Read our simple how-to instructions below for how to create your own Valentine bears. You'll also want to watch our full video tutorial inside this post before you get started too.
Supplies needed for your paper bear craft:
Bear Craft Template <—– Purchase the template in our shop
colored cardstock paper (Your choice: brown, black, white, gray, pink, red)
white cardstock paper
markers or crayons
scissors
glue stick
"Where do I get the Bear Craft Template?"
To simplify prep for this cute Valentine paper craft, we have created a template you can purchase in our shop or our TpT store.
Included with the template is printable how-to instructions and helpful tutorial photos. Click the blue button below to be taken to our shop to purchase the template.
The template is optional and if you prefer not to purchase it, you can easily follow along with our tutorial instructions below and our video to see how to create your own Valentine bears. We truly appreciate you supporting our website!

NOTE: If you are in the EU, please visit our TpT Store to purchase any of our templates.
Instructions for How to Make a Bear Valentine Craft
1. Purchase and download the Bear Valentine Craft template in our shop. Choose which type of bear you want to create (polar bear, brown bear or black bear) and print out each of the bear template pages on colored cardstock paper based on that type of bear.
Print the eyes and nose page of the template on white cardstock and the heart on red or pink. Cut out each of the pieces from the template.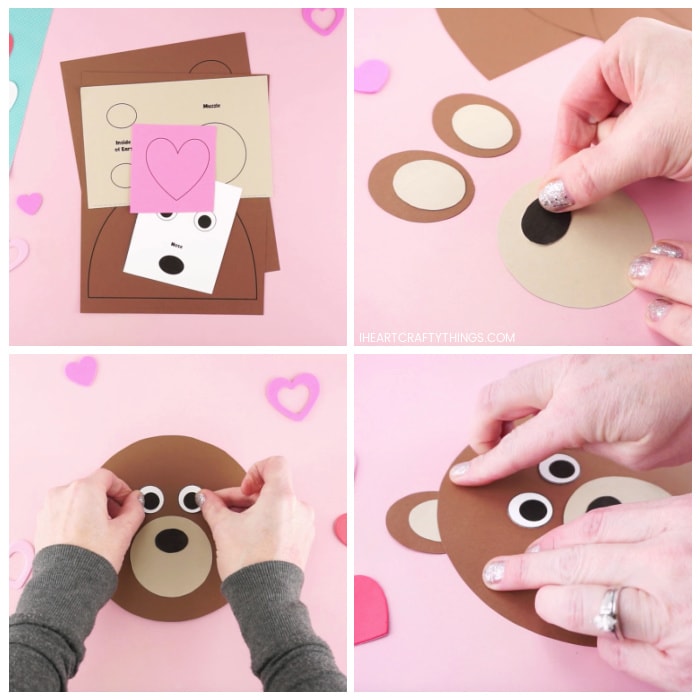 To conserve paper, you'll find that we included two or templates on several of the pages. This way you can cut the printed template page in half or in quarters and have pieces for two or more children to make the craft.
2. Glue each of the inside ear pieces onto the ears and glue the nose inside the muzzle. Now glue the muzzle, ears and eyes onto the bear head.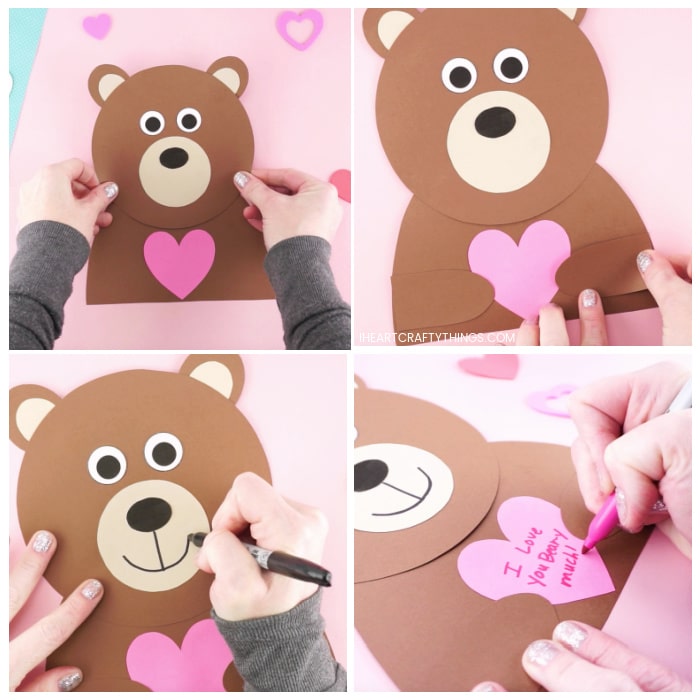 3. Glue the heart at the bottom of the bear body. Then glue the head at the top of the body. Finally, glue each of the arms on the body so they are holding the heart.
4. Use markers or crayons to draw a mouth on your bear and to write a message on the inside of the heart.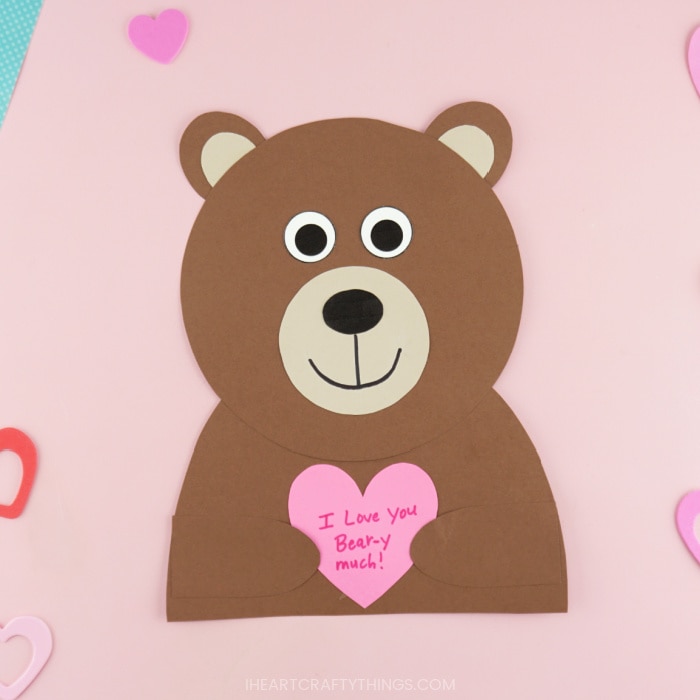 Children can write a simple "Happy Valentine's Day" message on their heart. Or they can continue with the bear theme and write a message like "I love you Bear-y much!"
Another fun idea for older children is to create a 3D heart for their bear to hold. See our animal Valentine crafts tutorial to learn how to assemble your 3D heart together.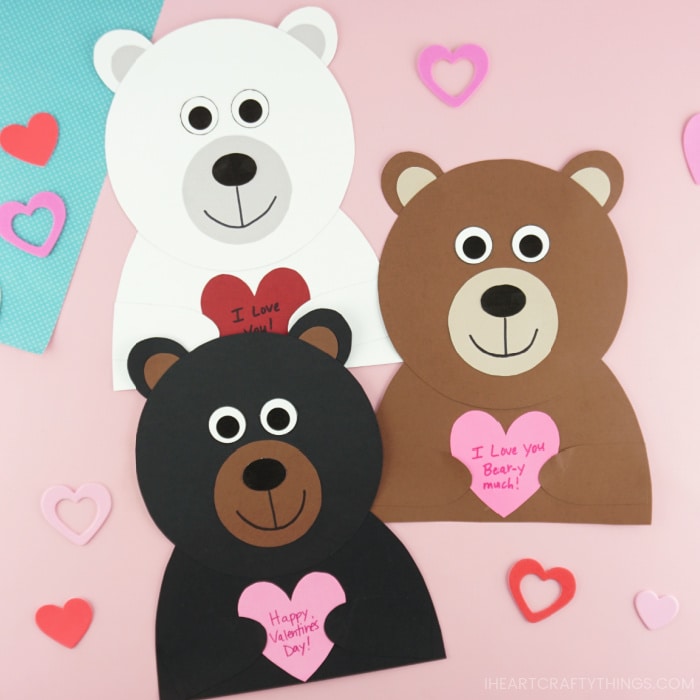 A classroom full of cute bears would make an adorable Valentine's Day display hung up inside or outside the classroom.
Letting children choose their favorite type of bear to create is a fun idea for helping to add some personalization to the classroom craft project.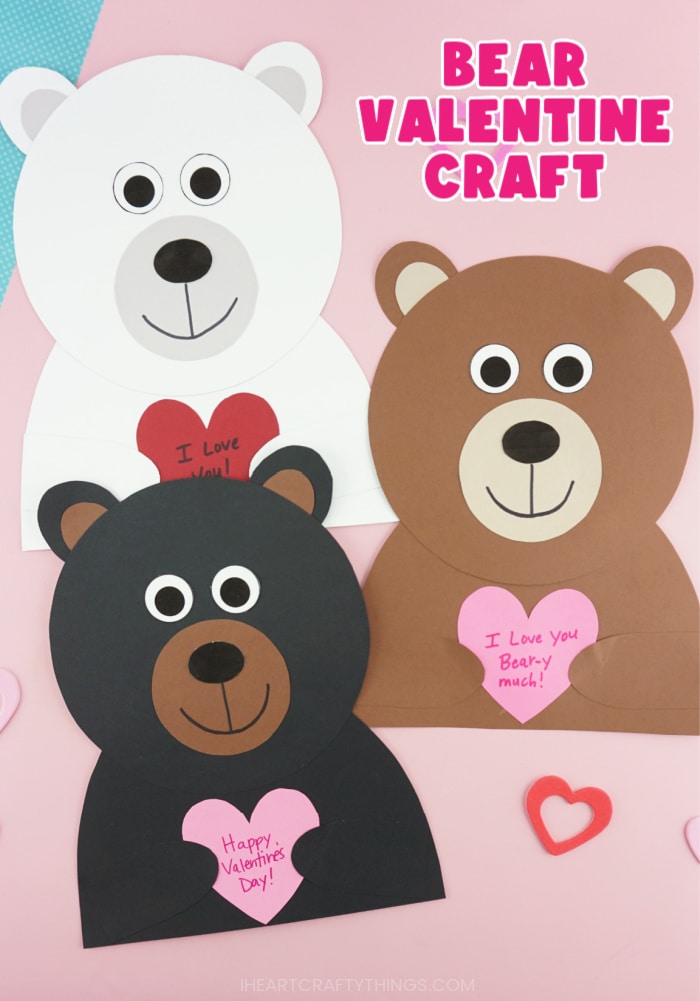 More Easy Valentine Paper Crafts for Kids
Looking for more cute animal crafts to make for Valentine's Day? We have a koala, panda, skunk, fox and raccoon you will love making too.
Our new paper taco Valentine cards make a unique and funny card for all of your friends or family members who love tacos.
Kids will love making and designing their own unique robots to give to a loved one for Valentine's Day.
Check out our full list of over 40 of the best Valentine's Day crafts for kids!