I'm rather obsessed with movable paper plate puppet crafts. The fun ensued by having your very own puppet show on top of a paper plate is hysterical for children and creates an amazing opportunity for play and for laughter.
So with Thanksgiving on the horizon I am stoked to share this gobbly, giggly hiding turkey puppet craft with you. Kids will have a hay day letting their wild turkey hide down inside the grass then pop it back out to dance around on their paper plate.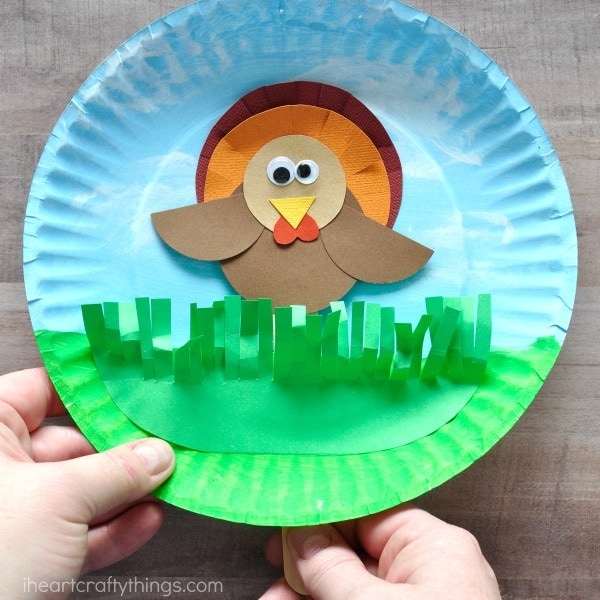 How to Make a Hiding Turkey Puppet Craft
This post contains affiliate links to the products mentioned. I Heart Crafty Things is a participant in the Amazon Services LLC Associates Program, an affiliate advertising program designed to provide a means for sites to earn advertising fees by advertising and linking to amazon.com.
Supplies needed to make a Hiding Turkey Puppet Craft
paintbrush or spongebrush
craft knife (adult use only)
peel & stick craft stick (We received ours from our friends at Craftprojectideas.com. You can find them at your local Walmart on the craft supplies aisle.)
scissors
glue
Instructions for making this Turkey Craft
1. Begin by painting your paper plate. Paint the bottom third of the paper plate with green paint for grass. The paint the top of the paper plate blue for sky. You can also paint some white puffy clouds in your sky. Let the paint dry completely.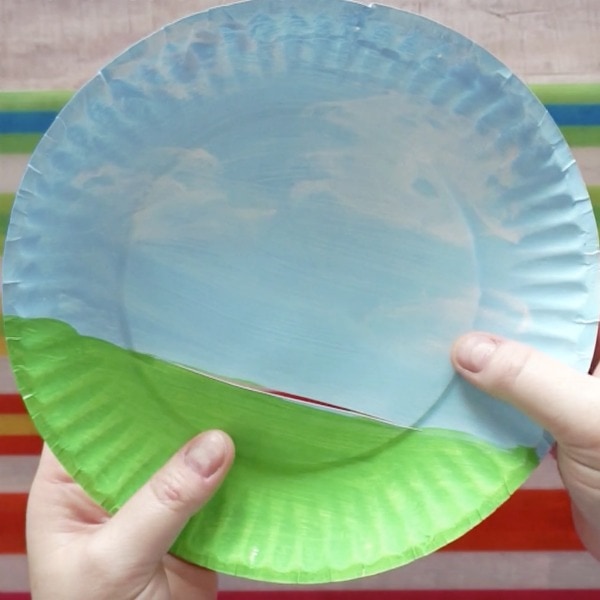 2. Once the paint has dried, have an adult use a craft knife to make a slit along the top of the grass on your paper plate. This is the entrance for your turkey puppet.
3. Now it's time to assemble your turkey puppet. You will need 5 different sized circles to make your turkey puppet. We found different objects around the house for tracing our circles. Our largest circle was the size of a tuna fish can and the second was traced with a plastic fruit cup.
The turkey body was around 2 1/2 – 3 inches, the wings circle was 2 inches and the turkey head was a little over an inch. You'll also need to cut out a triangle beak and a turkey snood.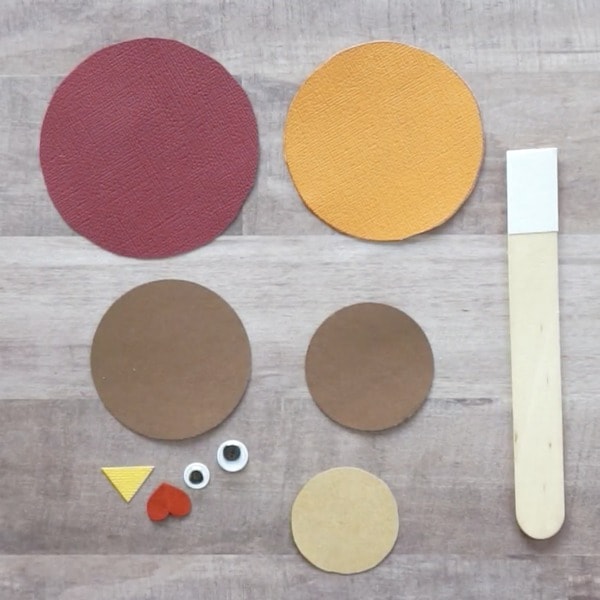 4. Cut small slits around the top half of your two larger circles and glue them together. Then glue the turkey body at the bottom.
Next cut your 2-inch wings circle in half and glue the wings on the side of the body. Last glue the turkey head onto the turkey puppet and glue the googly eyes, beak and snood onto your turkey.
5. Attach the turkey puppet craft to your peel & stick craft stick. If you don't have an adhesive one just glue it onto a regular jumbo craft stick.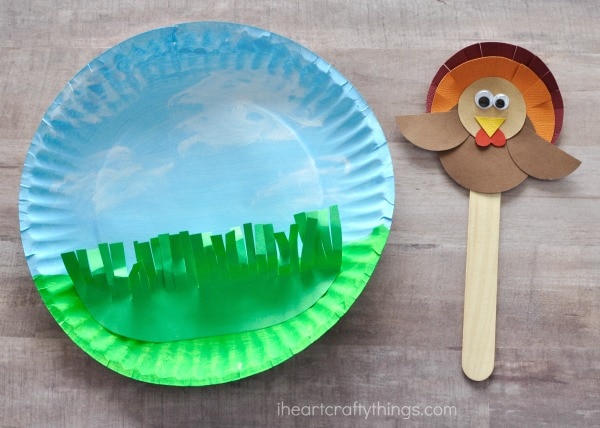 Cut out a green section of construction paper for grass with a rounded bottom. Cut slits along the top of it for grass and crinkle them a bit to add dimension. Glue the grass at the bottom of your paper plate under the open slit.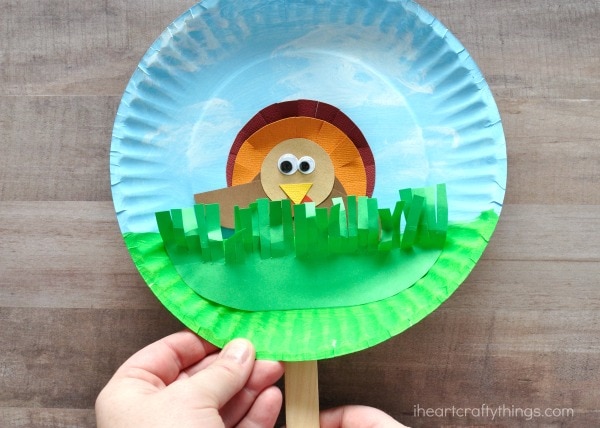 Your Hiding Turkey Puppet Craft is complete!
To play with your hiding turkey puppet craft simply slide the turkey puppet down into the open slit of the paper plate behind the grass. Now you can move your turkey up and down to hide in the grass and then pop him back out of the grass to dance around. Such fun!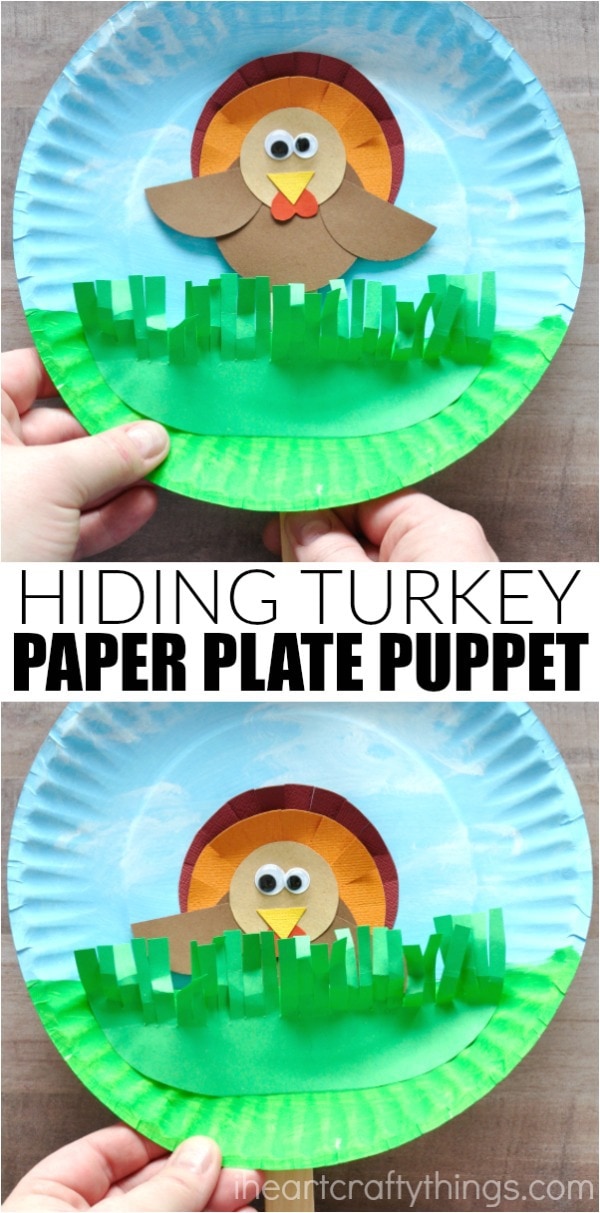 Looking for more interactive paper plate puppet fun
This swimming jellyfish is sure to be a big hit with the kids. This spider web puppet is also fun for play!
Check out our paper plate category to see our entire collection of paper plates fun!