We have literally been the house of snot this last week. Seriously, we went through almost 3 boxes of tissues in one day the end of last week. I don't know what the heck this crud is, but it just does not want to go away! So we've been spending most of our time bored and indoors with the sniffles! We did get enough energy one day to make some super cute Thanksgiving Cards.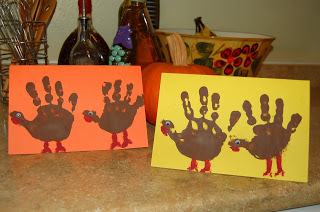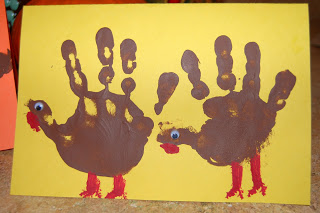 I helped the boys each dip their hand in brown paint and add it to the construction paper. Then we added legs and the gobbler-thing (whatever it's called hahaha) with red paint, and glued on some wiggly eyes. Cutest turkey's you ever saw right?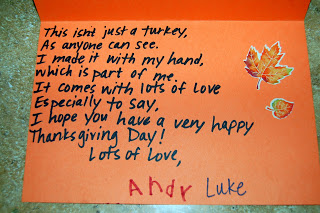 I don't have a printer set up right now so I just hand-wrote the message on the inside and the boys added some leaf stickers. The message is so cute, you'll have to enlarge the picture to see it better. I enclosed a picture of my boys inside and am super excited to send them out to family members today.
While we had the brown paint out we also made a Thanksgiving Grateful Tree. Last year the lady who tended my kids for me while I worked did this with my boys and I loved the idea so we made our own this year. Each day the boys get to pick something they are grateful for and we add it to a leaf and glue it on the tree. Yesterday I laughed when my son told me he was grateful for chicken nuggets. I too am grateful for those nuggets because it seems to be the only thing he will eat lately (other than fruit).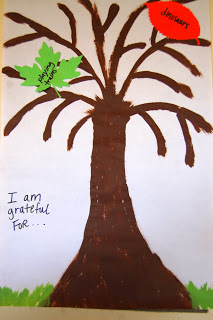 Keep in mind I am anything but an artist, but I did my best! I got the leaves on clearance at Wal-Mart like a month ago so I don't have to make any.