If you're looking for a fun craft and activity to make with your kids this Thanksgiving I have just the perfect thing.
This yarn and ribbon Thanksgiving turkey craft is super cute and makes a perfect decoration for the holiday.
You might also love to check out more of our fun turkey crafts.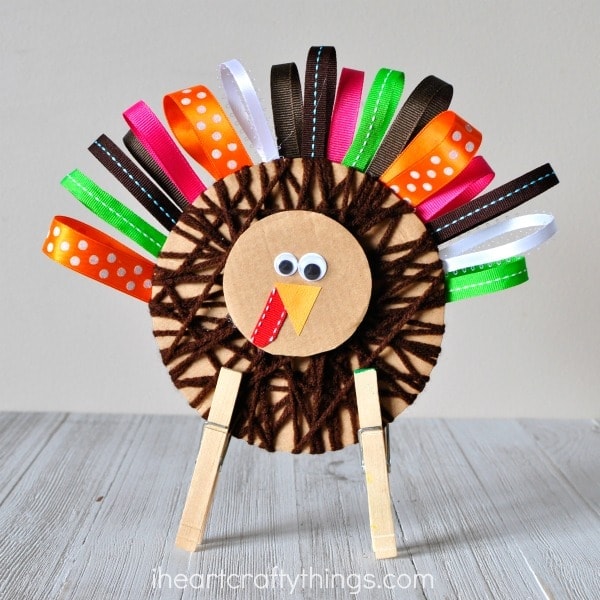 This post contains affiliate links to the products mentioned. Read our disclosure policy for more information.
How to Make a Cute Yarn and Ribbon Thanksgiving Turkey Craft

Supplies Needed to Make this Thanksgiving Turkey Craft
– cardboard
– brown yarn
– ribbon
– orange cardstock
– googly eyes
– clothespins
-scissors
– glue gun
– tape
Directions for Making This Yarn and Ribbon Thanksgiving Turkey
1. Start by cutting out two circles from your cardboard. One for your turkey body and one for your turkey head. Cut small slits around the larger circle to help with the yarn wrapping.
2. Cut off a long piece of brown yarn to wrap around your turkey body. You'll want it pretty long, depending on how thick you want to wrap it around your turkey. We used about 10 feet. Tape the brown yarn to the back of your cardboard, then wrap it around and around the circle in different directions until you reach the end of the yarn. Tape the end of it onto the back of the circle.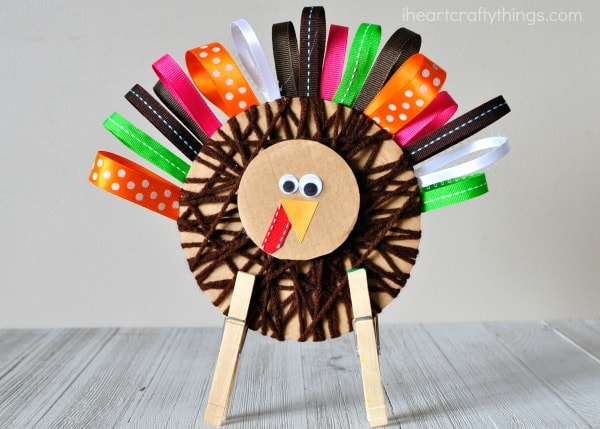 3. Cut out a waddle from a piece of red ribbon (or construction paper) and an orange beak. Then glue both of them onto your cardboard turkey face along with your googly eyes.
4. Cut off a handful of different colored ribbons to use for your turkey feathers. Heat up your hot glue gun and use it to glue the folded pieces of ribbon all over the top and back of your cardboard turkey body. (Note: Adult supervision is required if a child is using a hot glue gun.)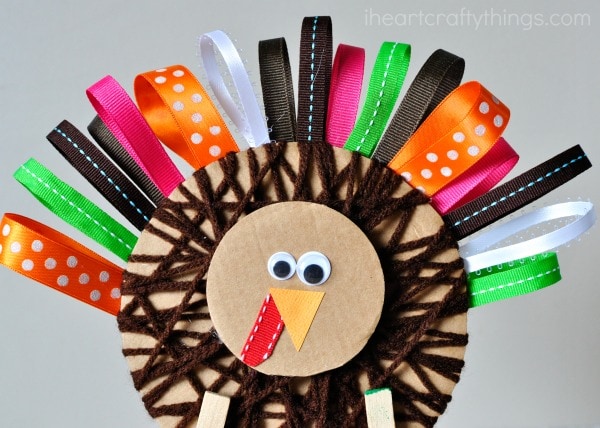 5. Once you are finished gluing the ribbons onto your turkey, glue the turkey head onto the body. We used our hot glue gun to do this.
6. Finish your yarn and ribbon Thanksgiving turkey craft by adding your clothespin legs at the bottom of the turkey.