A classroom bulletin board full of this colorful leprechaun paper craft would make such a fun St. Patrick's Day display hung up inside or outside the classroom, or at home. 
This cute leprechaun craft is such a fun and easy St. Patrick's Day craft for preschoolers and early elementary age children to make. Cutting out the shapes and gluing them together to make a leprechaun is a fun way to incorporate scissor skills practice for a St. Patrick's Day activity at school or home.
Children might also love the idea of giving their leprechaun a name and writing it on the brim of the hat before hanging them up on display.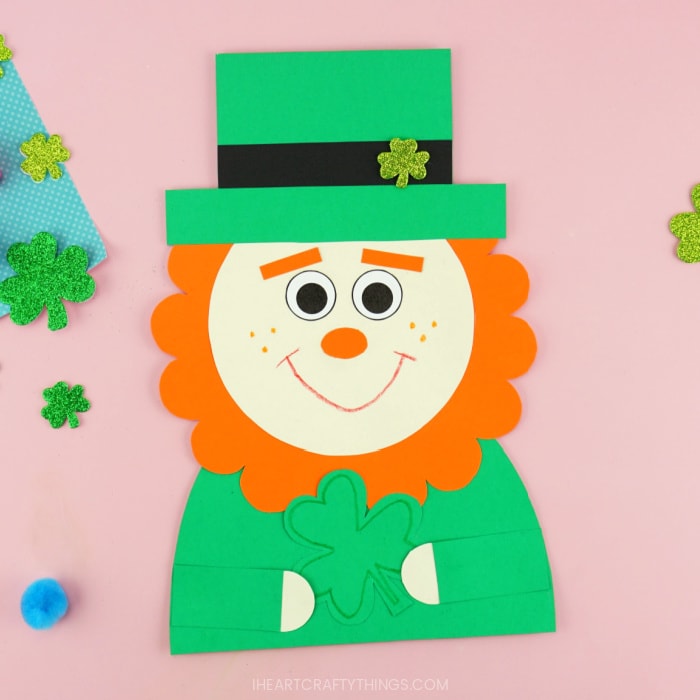 How to Make a Leprechaun Paper Craft
Once again we kept the supplies at a minimum for this easy bear paper craft so you probably already have everything you need on hand to make this cute Valentine's Day bear craft.
Read our simple how-to instructions below for how to create your own Valentine bears. You'll also want to watch our full video tutorial inside this post before you get started too.
Supplies needed for your Easy Leprechaun Craft:
This post may contain affiliate links to the products mentioned. Read our disclosure policy for more information.
Leprechaun craft template <—– Purchase the template in our shop
colored cardstock paper (green, orange, cream, white and black)
scissors
glue stick
crayons
How do I get the Leprechaun Craft Template?
To simplify prep for this cute St. Patrick's Day paper craft, we have created a template you can purchase in our shop or our TpT store.
Included with the template is printable how-to instructions and helpful tutorial photos. Click the blue button below to be taken to our shop to purchase the template.
The template is optional and if you prefer not to purchase it, you can easily follow along with our tutorial instructions below and our video to see how to create your own paper leprechauns. We truly appreciate you supporting our website!
NOTE: If you are in the EU, please visit our TpT Store to purchase any of our templates.

Instructions for making this St. Patrick's Day paper craft
1. Purchase and download the leprechaun paper craft template in our shop. Print out each of the leprechaun template pages on colored cardstock or construction paper.
Print the head page of the template on cream colored paper, the hat and body page of the template on green paper, the beard page of the template on orange paper, the eye page on white paper and the hat strips page on black paper.
You can also print each page of the leprechaun template on white cardstock and have children color each of the template pieces before cutting them out.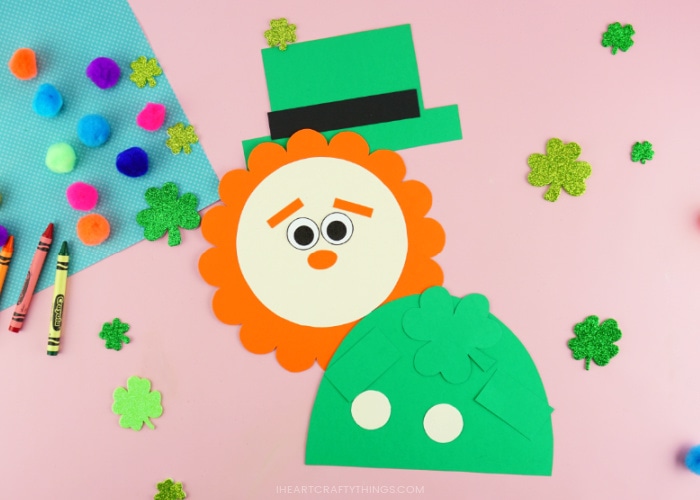 2. Cut out each of the pieces from the template.
3. Using a glue stick, add glue on the back of the face and glue it inside the orange beard piece. Then glue the head at the top of the body.
4. Glue the hat at the top of the leprechaun head. Then glue the black hat strip above the brim of the hat. Add a shamrock sticker or two on your hat for added pizazz and decoration.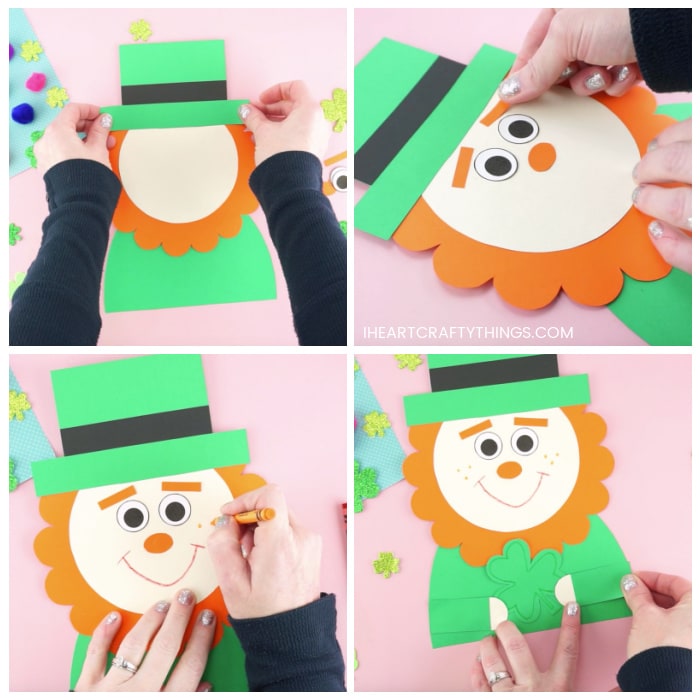 5. Glue the eyes, nose and eyebrows onto the leprechaun craft.
6. Use crayons to draw a smile and freckles on your leprechaun. You can also decorate the shamrock piece with crayons to help make it stand on the leprechaun.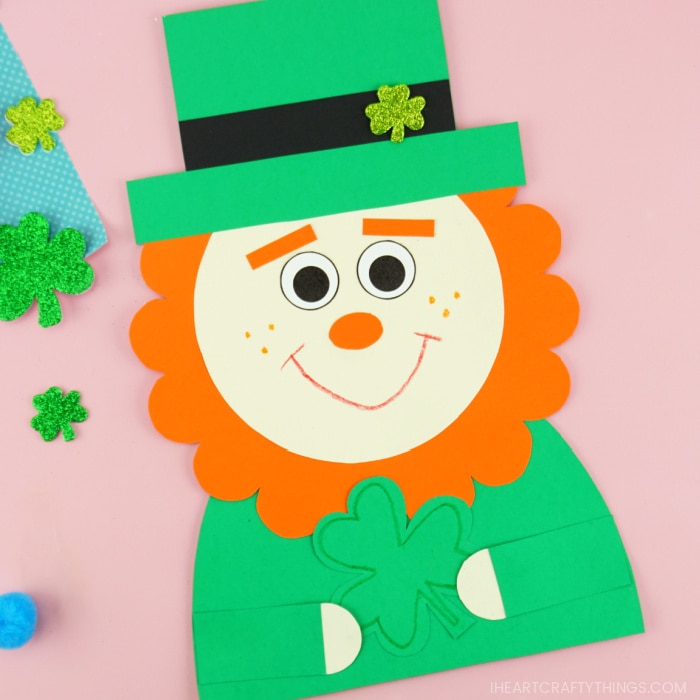 7. Add glue on the back of the shamrock and glue it at the bottom of the leprechaun body.
8. Glue the cream colored hands at the ends of each arm piece. Then glue the hands and arms on the body of the leprechaun so it looks as if they are holding the shamrock.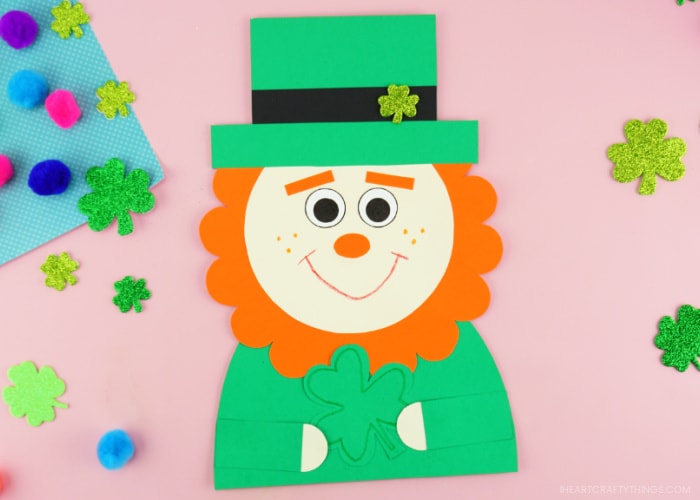 Want add an an additional educational element to this fun St. Patrick's Day activity?
After children are finished making their leprechaun paper craft, you can have them complete a writing prompt such as "I'm lucky because …" and glue it at the bottom of each leprechaun before hanging them on a classroom bulletin board for St. Patrick's Day.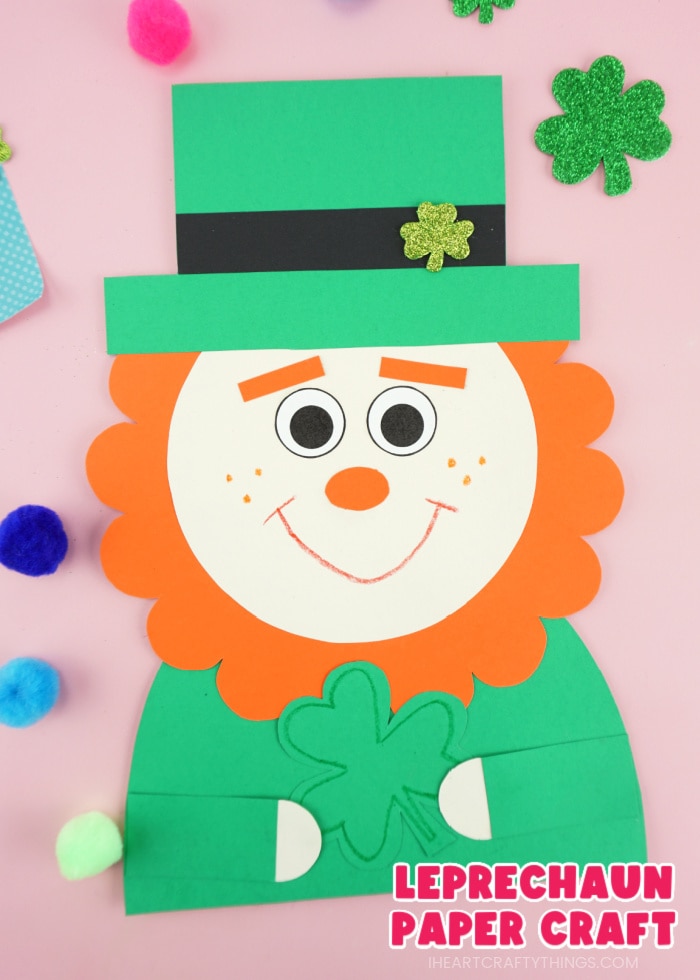 More Easy St. Patrick's Day Crafts for Kids
The bright watercolors mixed against the black glue lines of this St. Patrick's Day art project gives it a beautiful faux stained glass appearance. Kids are sure to delight in creating the artwork.
This paper plate leprechaun mask is certain to bring some smiles and giggles to your littles ones this year.
These leprechaun finger puppets are the definition of fun for St. Patrick's Day. They are sure to add something extra special to your holiday celebrations.
Check out list of over 40 St. Patrick's Day arts and crafts ideas for kids!