A big thank you to Elmer's for sponsoring today's post. As always, all opinions are my own. St. Patrick's Day is one of those holidays where I feel like it's completely acceptable to be a little silly.
If you feel the same way you are going to love this silly paper plate leprechaun beard craft we are sharing today. It will seriously delight the little leprechaun's in your life!
Elmer's brand new Re-Stick Glue Sticks are perfect for this craft too because they help your little ones to layer the paper strips on their beards just right!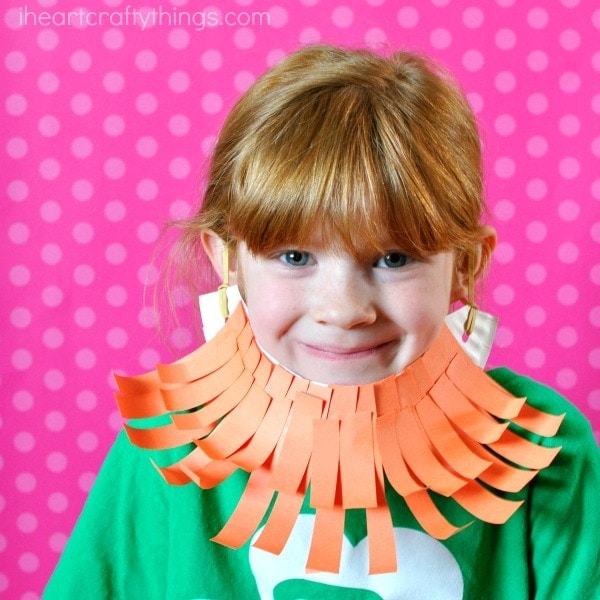 How to Make a Silly Paper Plate Leprechaun Beard Craft
Supplies Needed for this Paper Plate Leprechaun Beard Craft
paper plate
orange construction paper
Elmer's Re-Stick Glue Stick
rubber bands
hole punch
scissors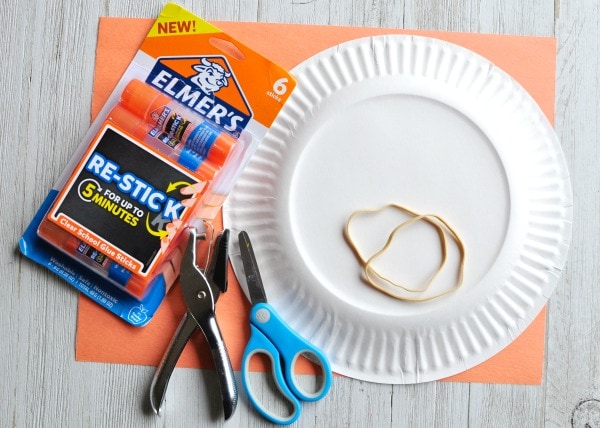 Instructions for this Leprechaun Beard Paper Plate Craft
1. Begin by cutting your paper plate in half. Then cut out the inside circle from the paper plate leaving the rim of the paper plate. Depending on the size of your child's face you'll need to cut off a small section from the rim of the paper plate. My daughter is 6 years old and I cut off about 2-inches from the plate.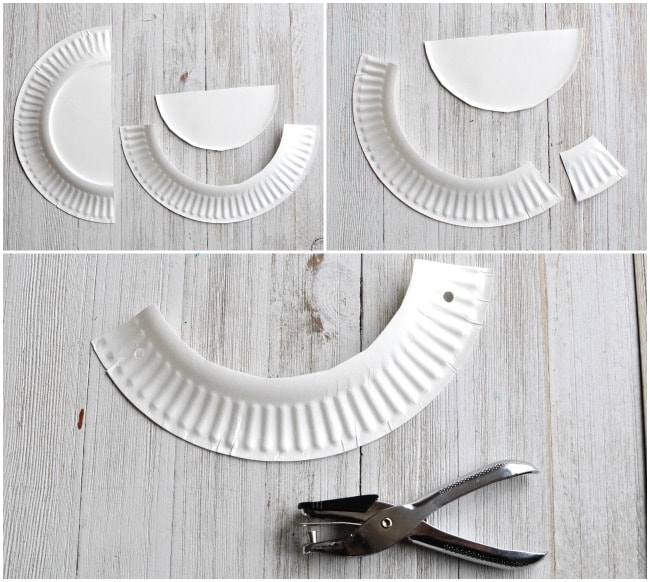 2. Use your hole punch to punch a hole in each end of your paper plate section. We also cut off the inside corners of the paper plate so it laid more smooth against the face.
3. Attach your rubber bands to each end of the paper plate. Stick the rubber band through the hole in the paper plate. Then pull the end of the rubber band through the loop at the top of the rubber band. Pull it snug so it stays in place. These little loops are what you'll use to secure the beard around your ears.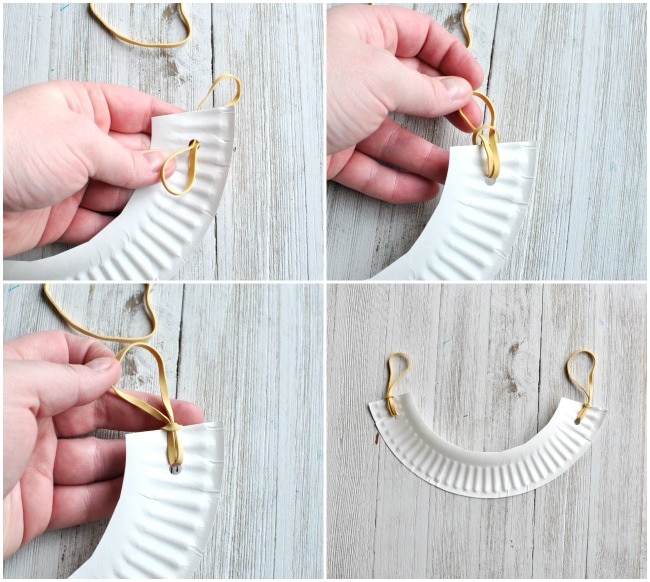 4. Cup out strips from your orange construction paper. Cut half of them shorter so you can make layers for your beard. Curl one end of the construction paper strips around your finger or a pencil to give it a little bit of curl. Using your Elmer's Re-Stick Glue Stick add glue to a section of your paper plate. Then begin adding the strips along the paper plate.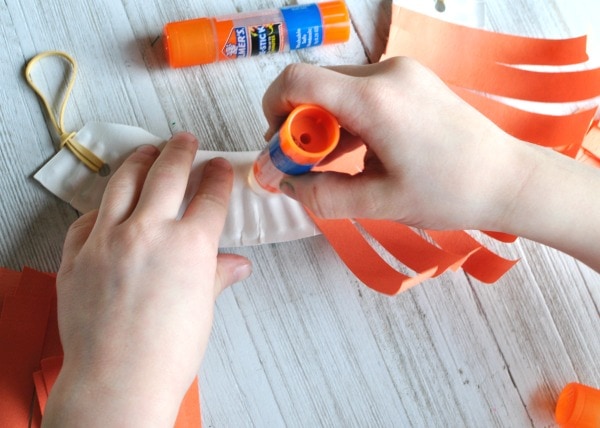 The Re-Stick Glue Stick is great because if kids aren't happy with where they placed their strips they can easily move them around. You can literally re-position the strips for five minutes which is fabulous for kids! After you finish with one layer of the beard add another layer on top with the shorter construction paper strips.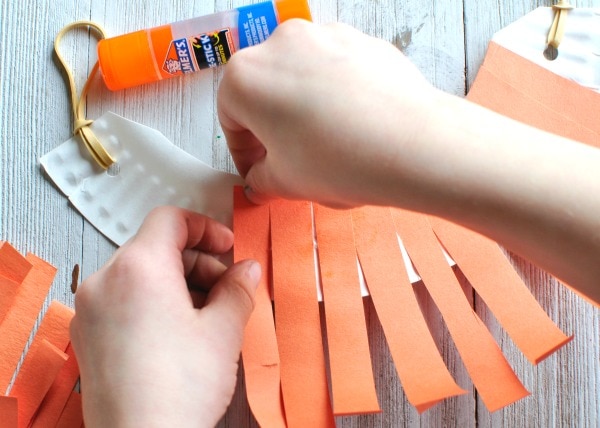 5. Once you are finished adding the construction paper hair strips onto the paper plate let it sit for a while to let the glue dry completely.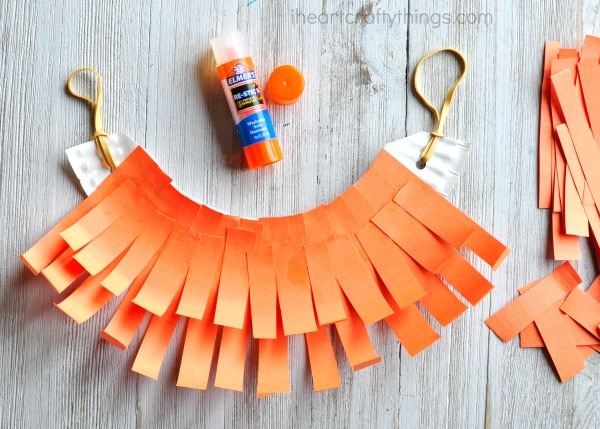 Once your paper plate leprechaun beard craft is finished drying, it's time for play! Open up the rubber bands and place them over the ears to position the beard in place. Now you can pretend to be a silly leprechaun! When I photographed my daughter wearing her leprechaun beard she was a riot of fun! The beards are super silly and perfect for St. Patrick's Day!

More fun St. Patrick's Day crafts made with Elmer's Glue:
Cute Leprechaun Stick Puppets
Puffy Paint Leprechaun Craft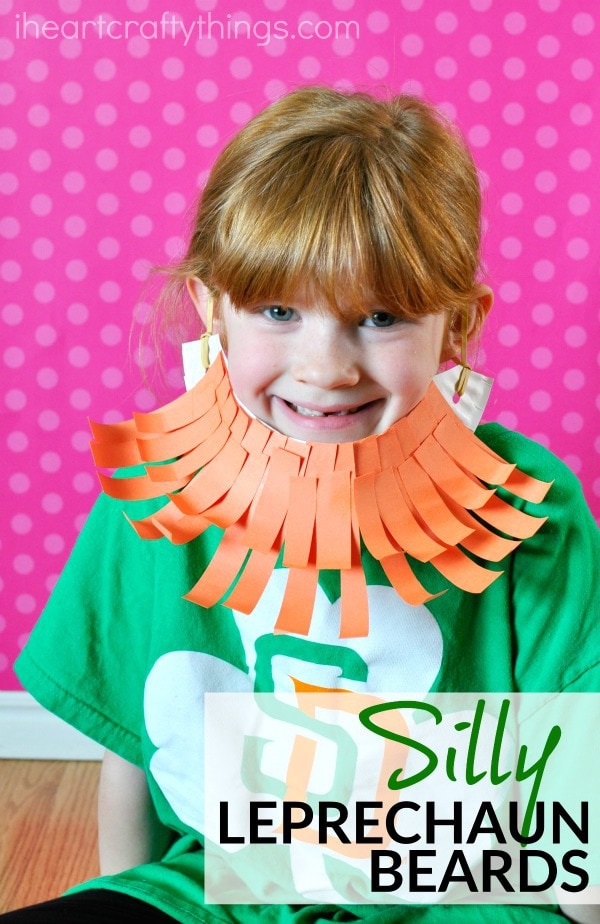 For more fun kids craft ideas, visit Elmer's and sign up for their newsletter. Make sure to also check them out on Facebook, Twitter, Instagram and Pinterest.