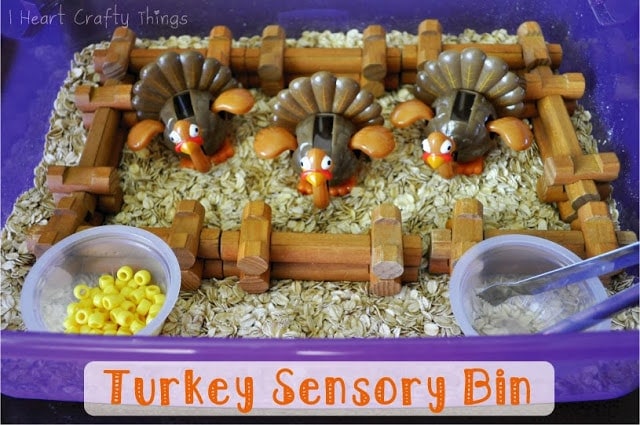 It's been a couple weeks since I switched out our sensory bin so I decided it was about time I got back on track. This time we decided to play with turkeys.
I went to Dollar Tree yesterday with a couple things on my list and when I walked in the door these adorable solar powered turkey's were flapping their wings and nodding their heads at me. I couldn't resist them! My kids loved them too! After brainstorming some ideas with my 3rd grader (please tell me you do this too) our turkey sensory bin was born.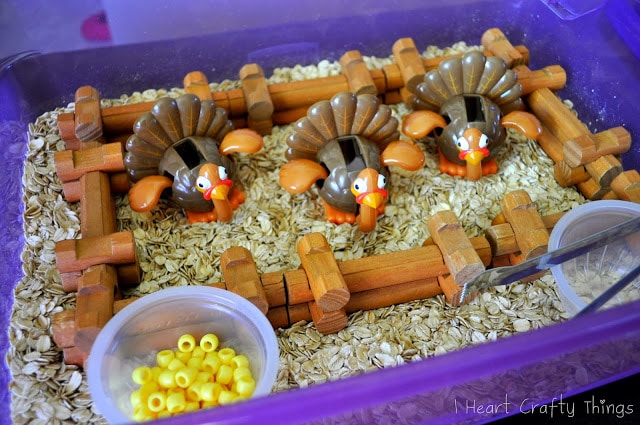 I put them in a base of oatmeal and used our Lincoln Logs to build a turkey coop for them. We used empty fruit containers as their feed bins with yellow opaque beads from our friends at Craftprojectideas.com as our turkey feed. You can pick up the opaque beads in a pack with several colors at your local Walmart. I included a small pair of tongs for removing the turkey feed in our bin also.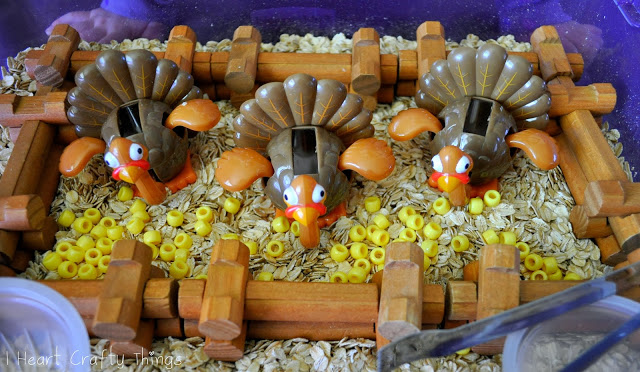 Before I set it all up, we had the turkeys sitting in the window seal all morning with the morning sun to get them charged so they moved while my daughter played with them. You can't see them move in the pictures obviously but seriously, it's so cute!
My daughter had fun feeding the turkeys and practiced removing all the feed back out of the coop. She built a whole new coop for them a bunch of different ways and played pretend with the turkeys. My kids ended up naming the turkeys Tom, Tucker and Teresa and they are sitting back in the window seal waiting for the morning sun tomorrow again.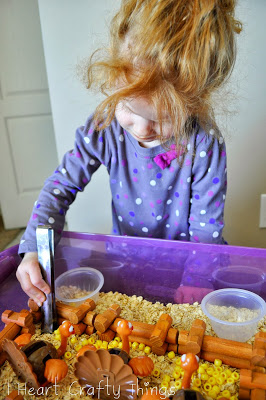 The sensory bin ended up looking like a big old mess when she was done playing with it. I call that a SUCCESS!! 🙂
Click
HERE
to check out more of our Sensory Bin Activities.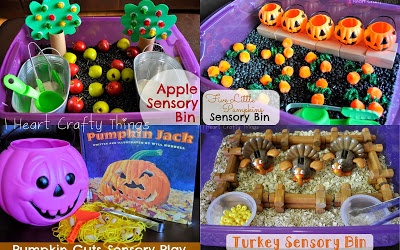 *I received my opaque beads free of charge from Craftprojectideas.com. All opinions expressed are 100% my own.