A shamrock is a unique plant with heart-shaped leaves. It is used as a symbol of Ireland and St. Patrick's Day. Green is originally the color of a shamrock. Combine it with hints of yellow hue to make the shamrock appear more realistic. Feel free to use your creativity and mix and match a variation of colors.
Below is a compilation of shamrock coloring pages. Every printable is unique, and there's a total of 10 images you can choose from. Coloring these shamrock coloring sheets is a great way to have fun with friends and family.
With these free shamrock coloring printables, coloring activity is made more fun and easy. Simply choose the image you like, print it out, and finally—the most fun part—color it!
Enjoy transforming these colorless shamrock leaves into colorful ones!
Shamrock Coloring Pages — 10 Free Printable Sheets
The shamrock in this coloring sheet has various patterns inside. In the middle of the shamrock, there's a beautiful flower.
This shamrock looks very artistic, and it would surely make an aesthetic decoration once colored.
Using a variation of bright or pastel colors for the patterns would look stunning! Which colors are you going to use?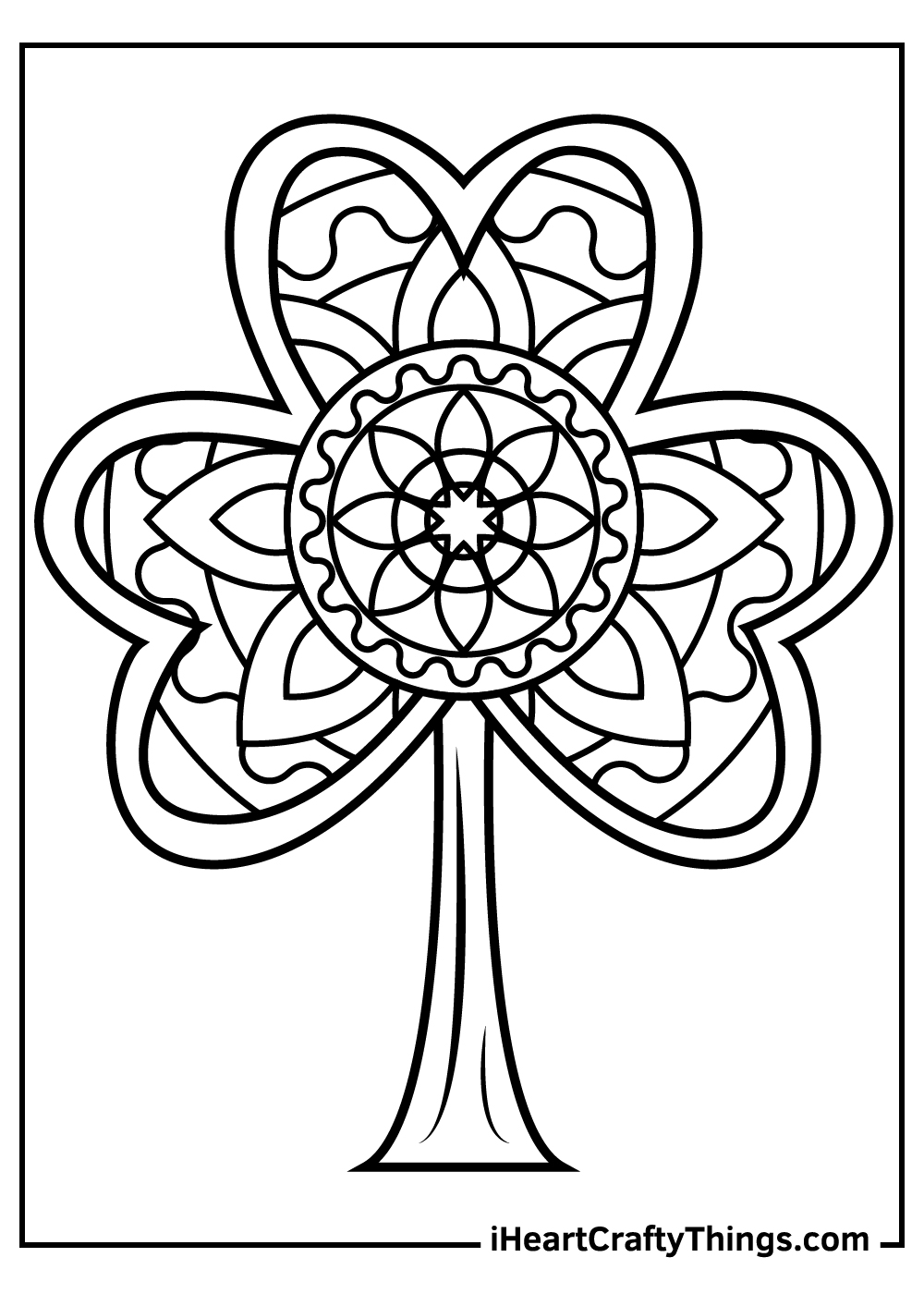 This coloring page shows a shamrock planted in a pot. The plant looks happy and healthy! The sun probably shines on it often and it is getting watered everyday. Imagine having your own shamrock plant at home—so cool!
In the background, there's a few more shamrocks floating around, reaching the rainbow. Which colors are you going to use for the rainbow?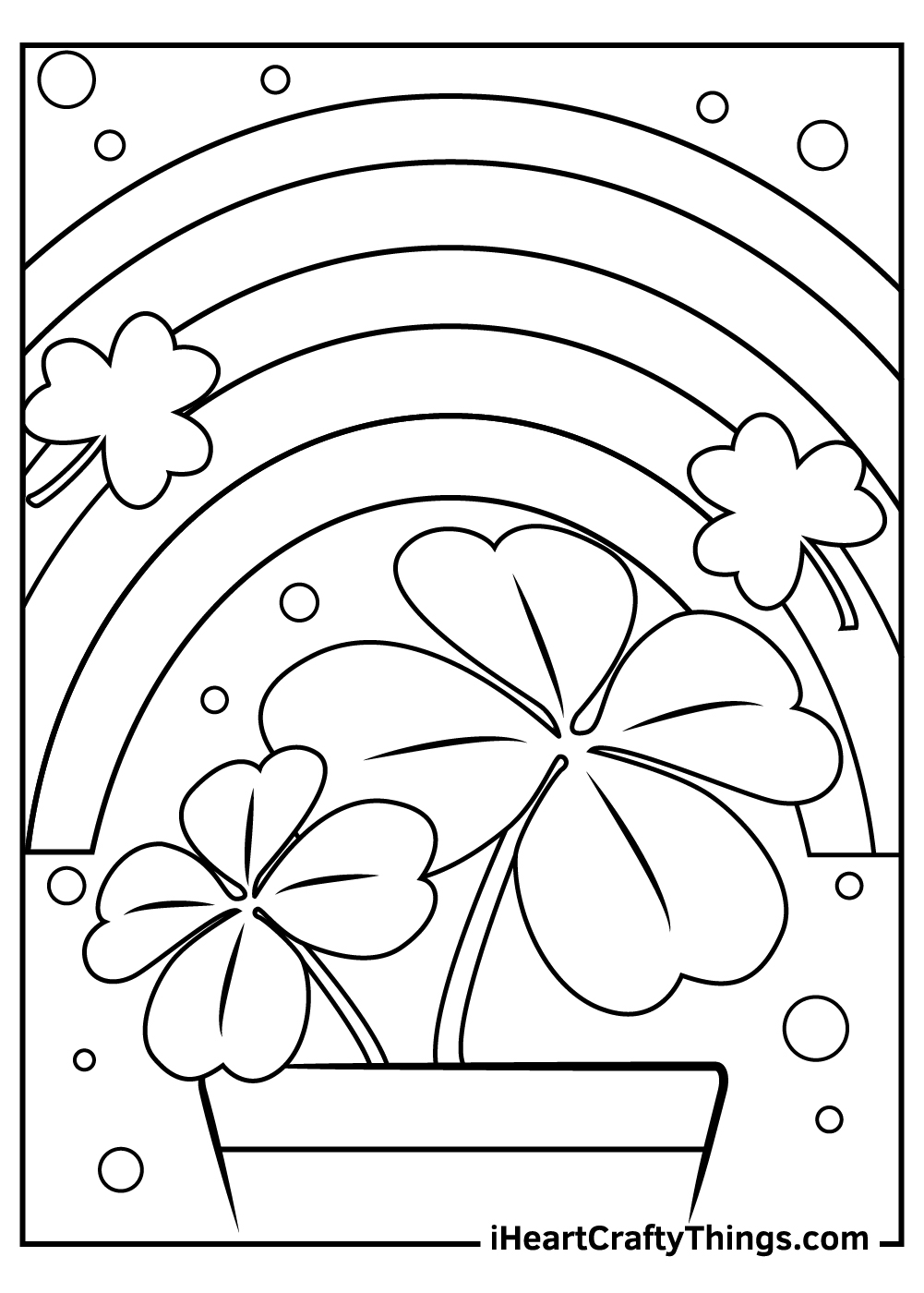 In this coloring sheet, there are four shamrocks inside a hat. The hat looks like a magician hat with a belt wrapped around it.
Maybe it was a magic trick, and the shamrocks suddenly appeared in the hat out of nowhere. How cool is that?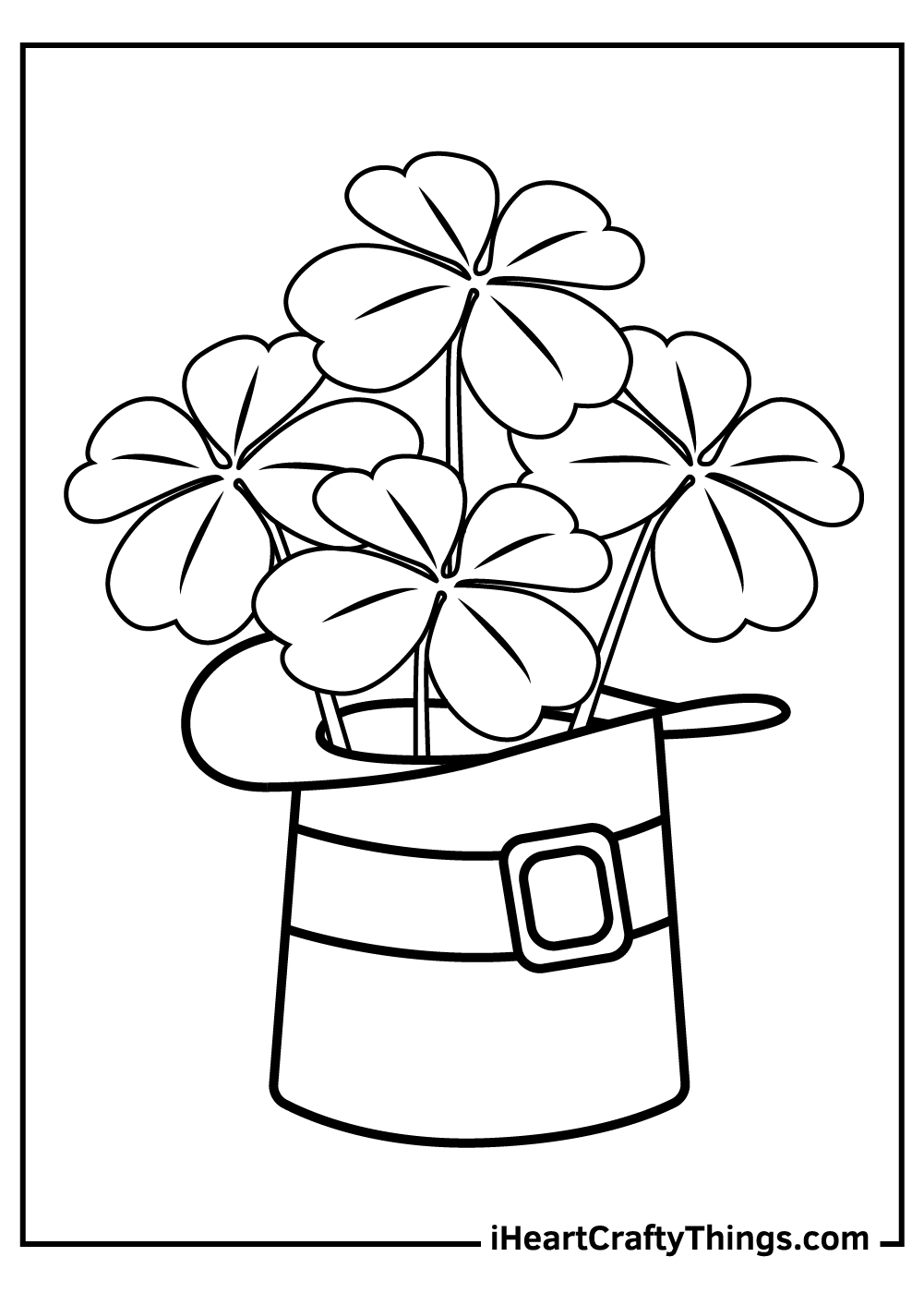 This shamrock coloring page shows a collage of four different shamrock images. Two of them are an outline of the shamrock plant, while the other two is a more detailed drawing of it.
With this coloring sheet, you have an opportunity to design and color the shamrock. Basically, you will be creating your very own unique shamrock!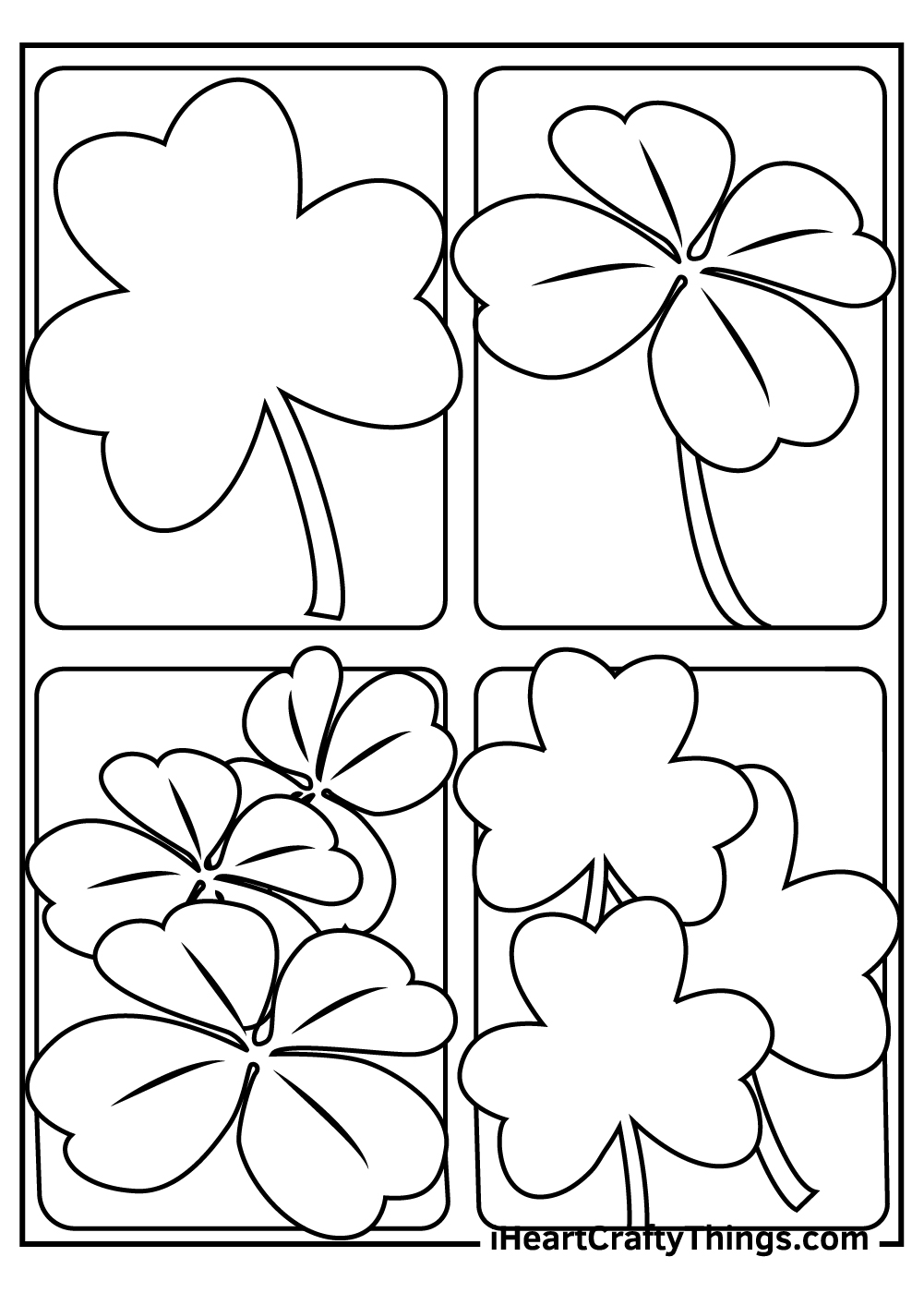 The shamrock in this coloring page looks like it is in a good mood! Its eyes are sparkling and it has a huge grin on its face. Someone is surely having a good day! The cheerful shamrock is wearing what looks like a magician hat. Perhaps it is a magician shamrock!
In the background, there is a rainbow up in the sky. The color of the shamrock would surely complement the combination of colors in the rainbow. That would look so awesome!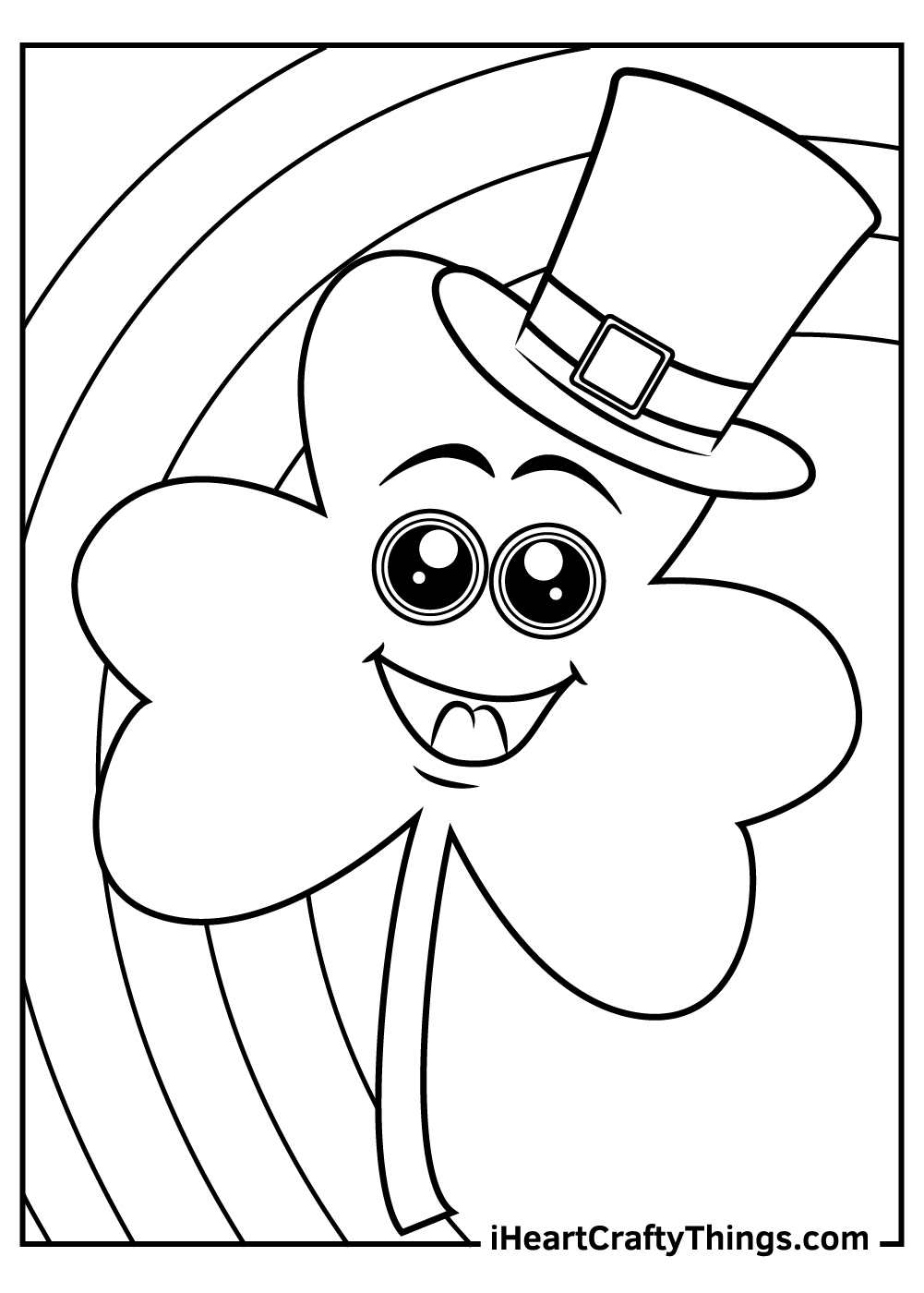 In this coloring page, the shamrock not only has four leaves but it is also designed with various geometric patterns.
There's a sun in the middle of the shamrock, making it look more artistic. We think this would look amazing with different vibrant colors such as red, blue, yellow, and more!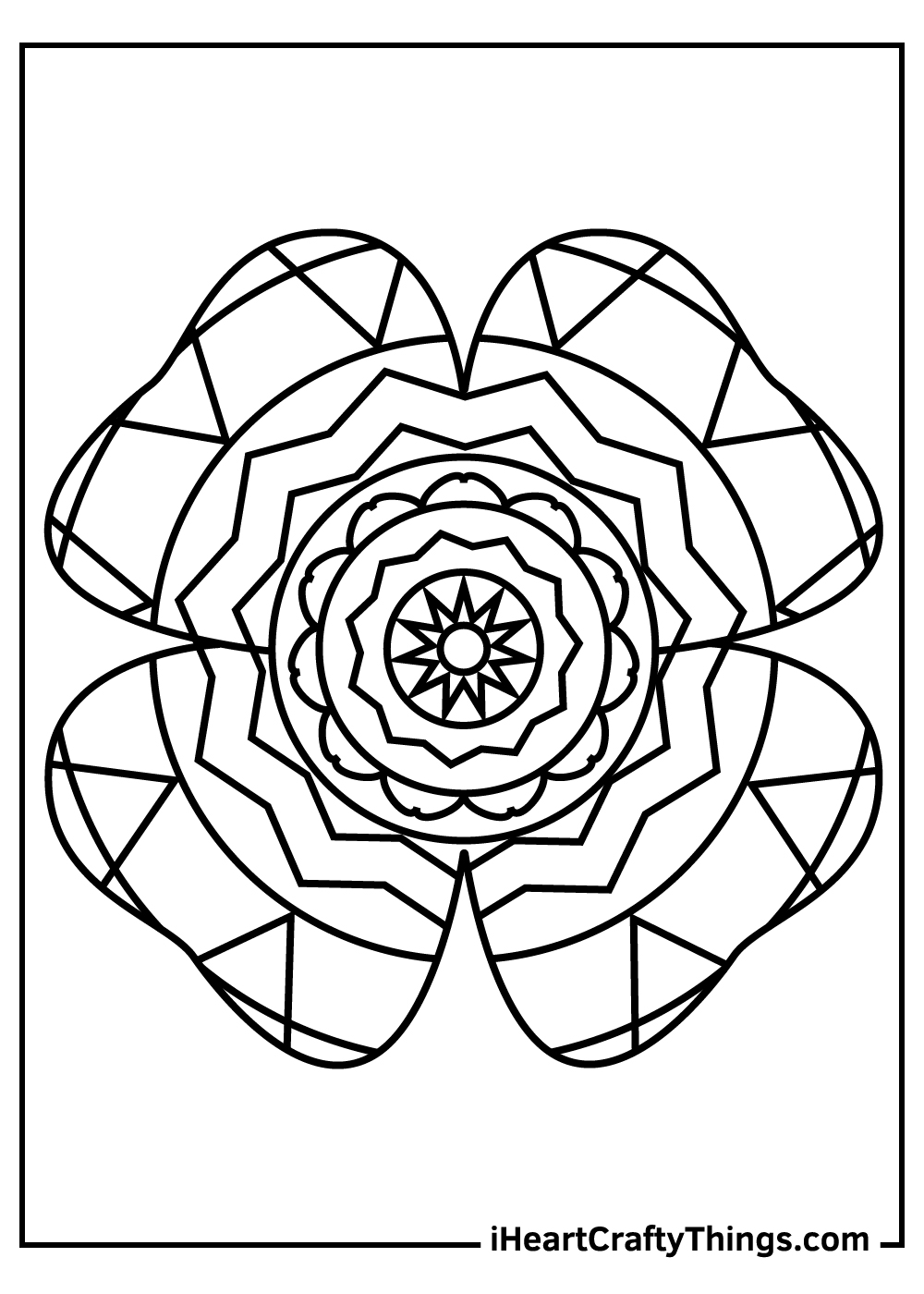 This coloring page exhibits an aesthetic-looking shamrock with four leaves. Its design looks extraordinary with various artistic patterns.
It almost looks like an ornament! Color this art and frame it, and you've got yourself a creative decoration for your wall! All the more reason to be creative and color this work of art. So exciting!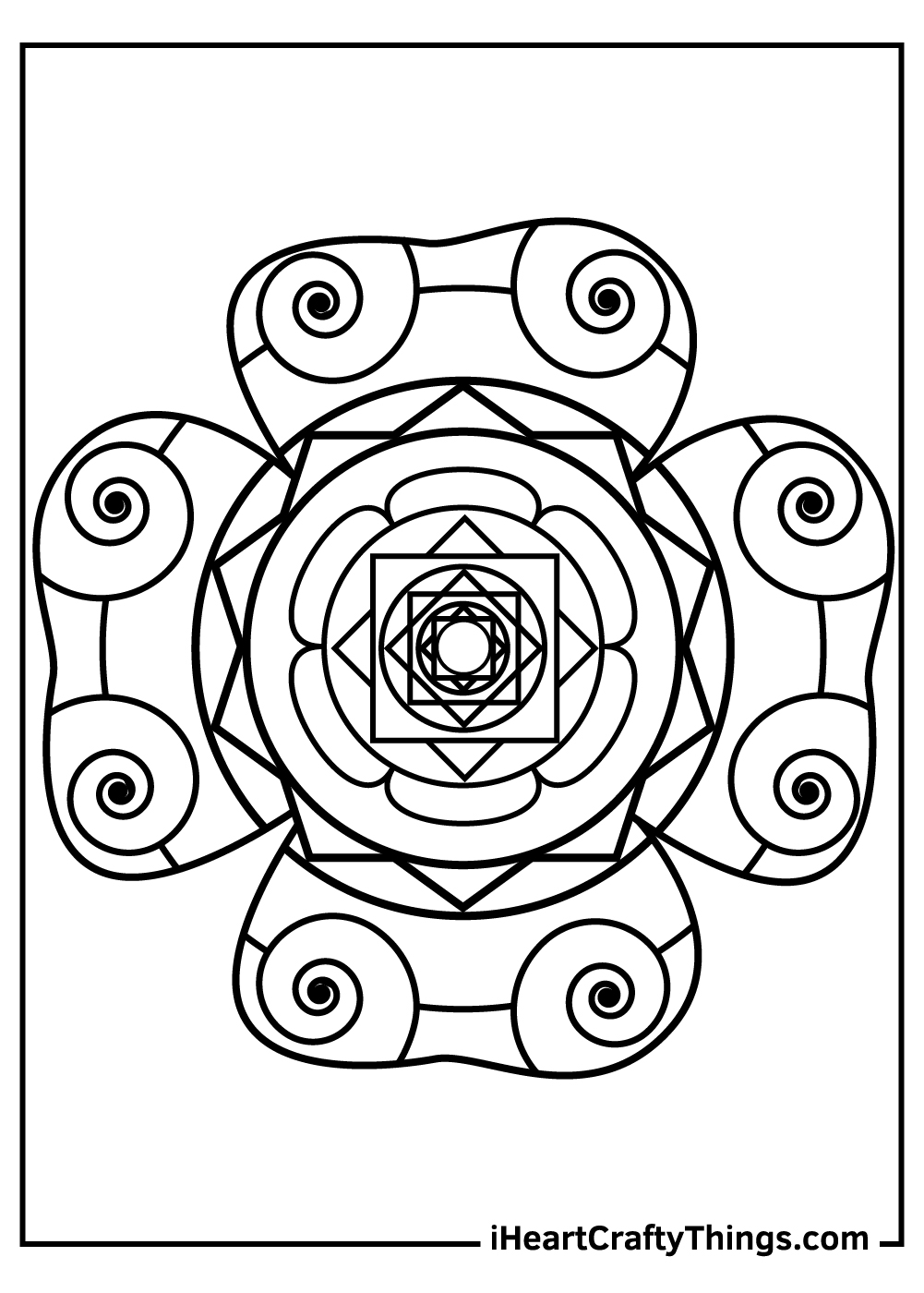 According to folklore, shamrocks with four leaves bring good luck. There's lots of shamrocks in this coloring sheet and there's also a pot of gold. The vivid yellow color of the gold would look great with the rich green color of the shamrock.
There's also a rainbow that appears to be connecting the two together. Hopefully, this image of four-leaf shamrock brings you prosperity!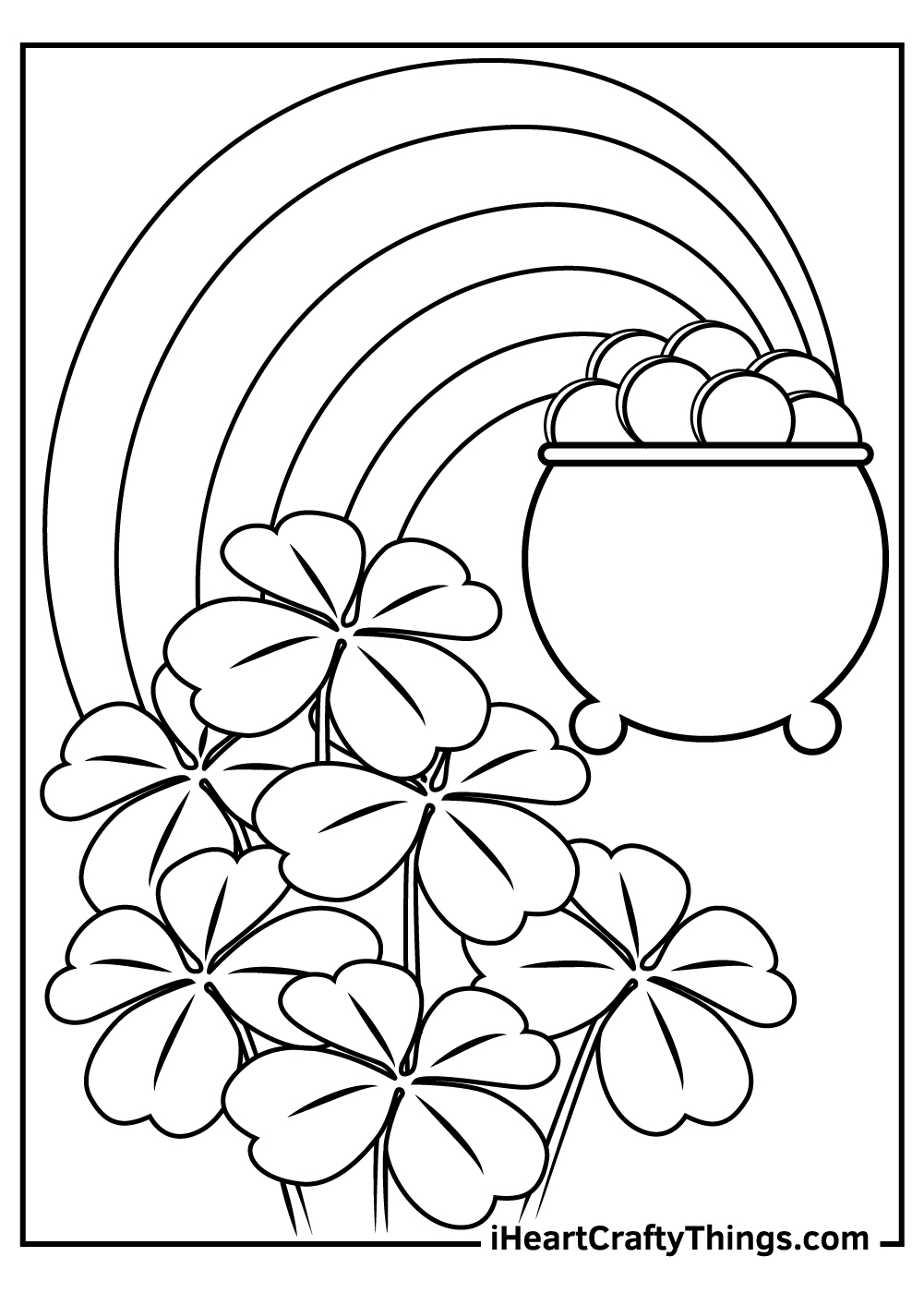 They say shamrocks with four leaves are rare and very hard to find. But in this coloring sheet, there's lots of it! Heaps of shamrock plants are situated at the top of the hat.
The hat is designed with a band wrapped around it. It looks like a magician hat. Perhaps it can make shamrocks appear out of thin air? So cool!
It's a traditional belief that shamrocks with four leaves bring good luck and prosperity. This coloring page shows a massive pot filled with gold coins and three shamrock plants. The pot is designed with a huge shamrock symbol in the middle.
Could this be the sign that shamrock really does bring fortune? Who knows? One thing's for sure, coloring this image will bring fun and enjoyment among friends and family.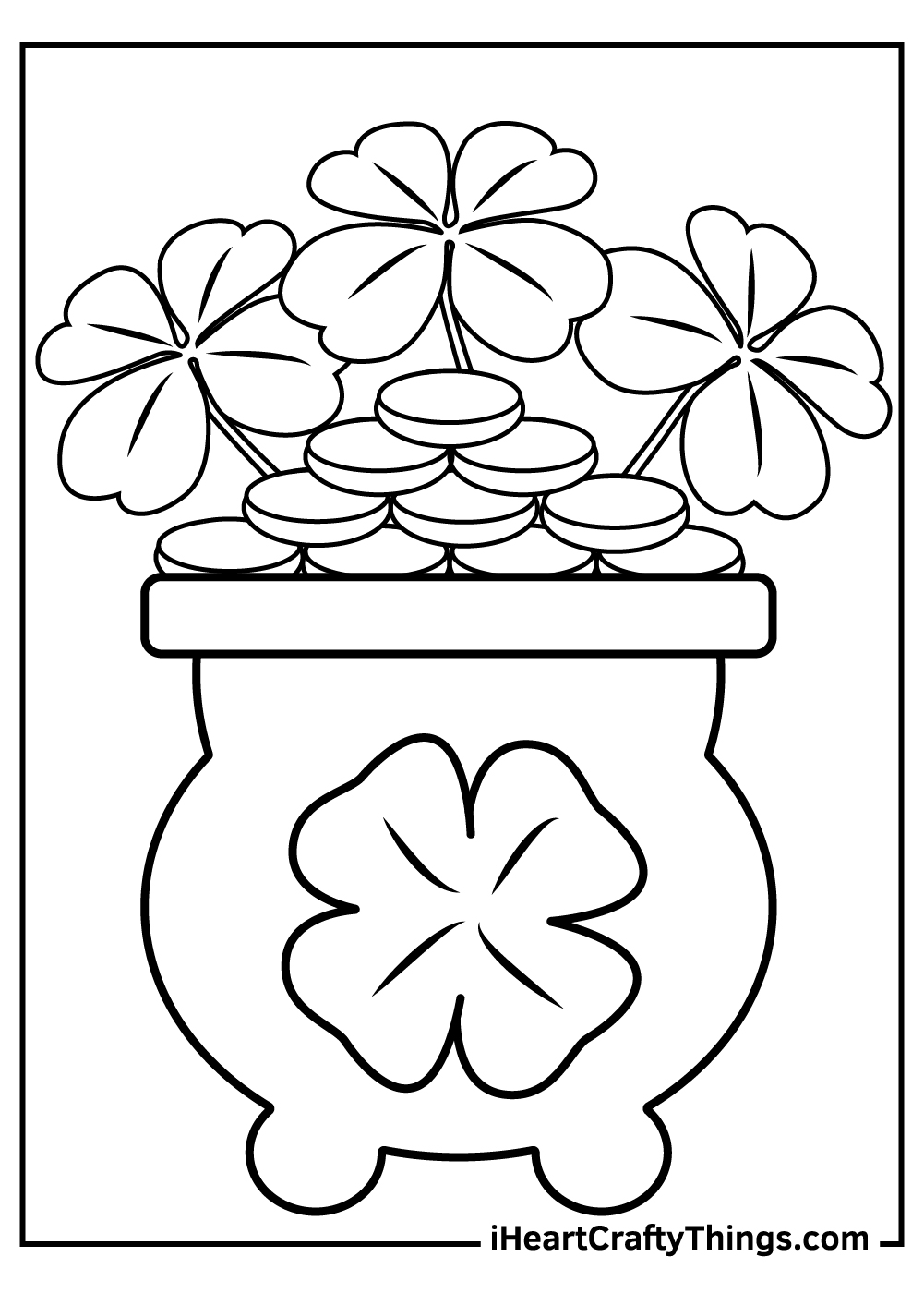 Shamrock Coloring Pages — Which shamrock image will you color?
Shamrock is an extraordinary plant that signifies many things. It is considered as a symbol of a country and a holiday. Some even believe it brings good luck and prosperity. The shamrock is also very difficult to find, making it an extremely special plant.
The uniqueness of a shamrock is what created a demand for shamrock coloring pages. Fortunately, we have created and compiled shamrock coloring sheets that are 100% free for you to print and color. We are regularly updating our website and uploading new coloring printables for you to enjoy. So don't forget to check back anytime soon to enjoy brand new coloring pages.
Once you've completed your masterpiece, we're sure you must be very proud of yourself for creating a wonderful work of art. Show off your craft and share it on our Facebook page. We can't wait to see all of your colorful creations!