Halloween is one of the most unique holidays of the year. While most holidays are bright and cheerful, Halloween is all about making things a bit dark and spooky, and there are several telltale signs that the spooky season is near.
One of the most common Halloween signs is the sight of creepy jack-o-lanterns on porches and in gardens.
While it can be fun to make one, it can also be a lot of fun to learn how to draw a scary pumpkin so that you can design your perfect one!
That's what this tutorial is for, as we will learn how to draw one of these creepy vegetables.
Get ready for some super scary drawing fun in this step-by-step guide on how to draw a scary pumpkin in just 6 easy steps!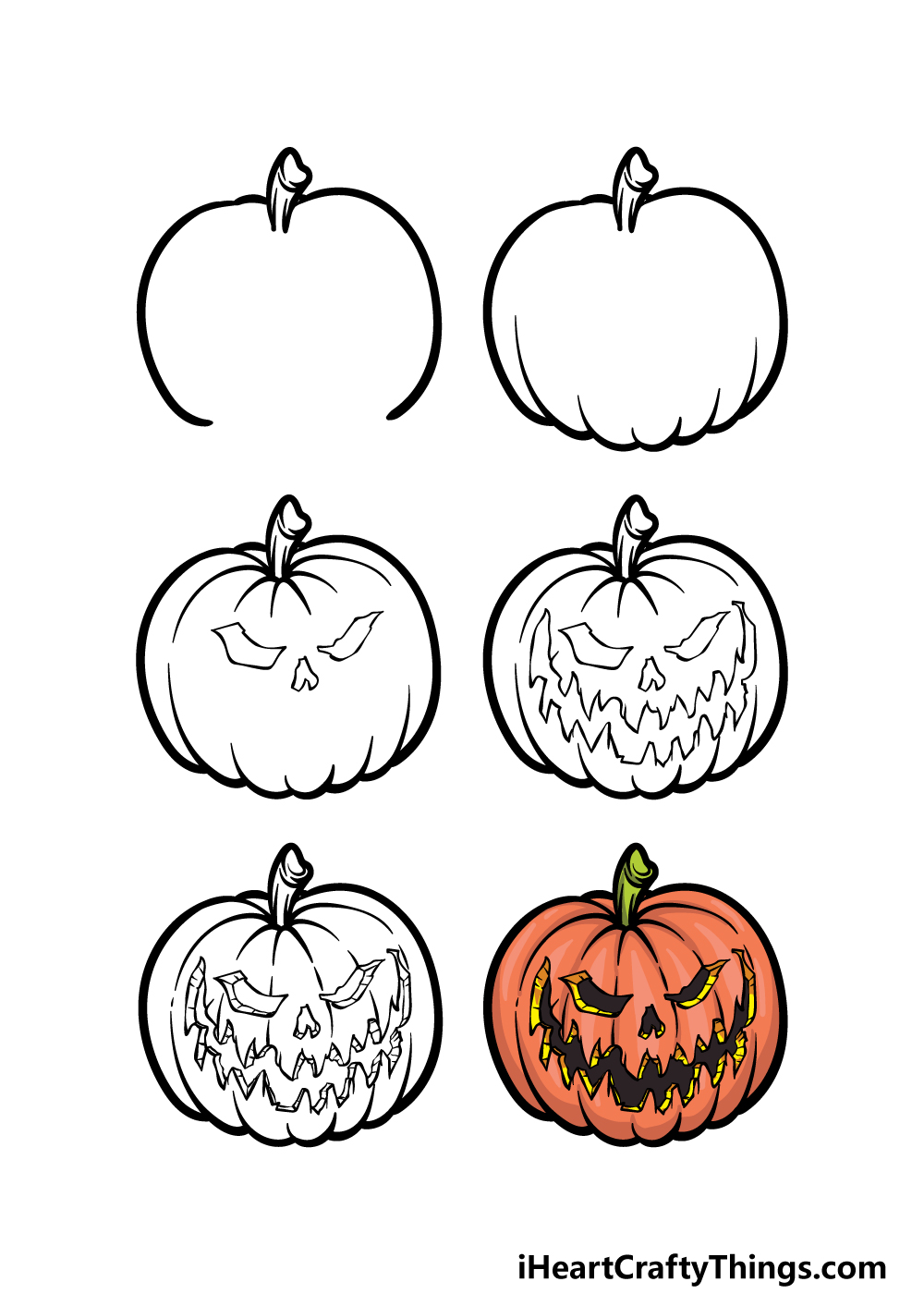 How to Draw A Scary Pumpkin – Let's Get Started!
Step 1
We shall begin this guide on how to draw a scary pumpkin by beginning the outline of this vegetable. Pumpkins have short, thick stalks, and this is what we will draw first.
This will have a roughly rounded shape at the end to show where it cut off. Then, use some more curved lines down from it and add some line details to the middle of it.
Then, we will draw the sides of this pumpkin. You can add these by using some curved lines coming down from the sides of the stalk. Then we can continue to step 2 to add more to this scary pumpkin!
Step 2 – Now, draw the base of this scary pumpkin
In the previous step, we created the sides of this scary pumpkin drawing, and in this second one we will draw the base.
The sides of the pumpkin were drawn as single smooth curved lines, but the base will look a little different.
The base will be drawn using several curved lines that connect to one another. These lines will extend into the interior of the pumpkin as well.
The reference image will show you how you can position these curved lines, and then it's on to step 3 of the guide!
Step 3 – Start drawing the facial details of this scary pumpkin
For the next part of this guide on how to draw a scary pumpkin, we will start adding the facial features along with some other details.
Before we start drawing these facial features, we will first add some details to the base of the stalk.
To do this, extend some curved lines out from the base of the stalk and outward, as this will add some depth.
Next, we will be drawing the eyes of this scary pumpkin. These will be drawn using some rough, jagged lines.
This is to make it look like the eyes were cut out with a knife. They will also be angled downwards for a more sinister look.
Finally, draw a nose between the eyes using similar jagged lines, and then we can head to step 4.
Step 4 – Next, draw the mouth for this scary pumpkin
Every respectable jack-o-lantern has a big leering smiling mouth, and we will add one to your scary pumpkin drawing in this fifth step.
This mouth will also be drawn with that same jagged line that you used for the nose and eyes, and it will be very large on the face of the scary pumpkin.
Once it is drawn as it appears in our reference image, we will add some details to it along with any final touches in the next step of the guide.
Step 5 – Add the final details to your scary pumpkin drawing
Now you're ready to finish off the final details and elements in this step of our guide on how to draw a scary pumpkin.
In this step, we will mainly focus on adding some depth to the parts that have been cut out. To do this, simply draw some lines running parallel to the inner outlines of all the cut-out areas.
Add some small line details, and this will help to give them more of a 3D look.
Once you have finished these details, you can then add some more details of your own! It could be really fun to add a cool Halloween-themed background.
There are many other icons of Halloween that you could use for a background, and you could draw some more objects around this scary pumpkin as well.
What kinds of fun spooky details can you think of to finish off this image?
Step 6 – Finish off your scary pumpkin drawing with color
For the final step of this scary pumpkin drawing, we will finish it off with some colors! In our reference image, we showed you the colors that we would choose for this image.
We used various shades of orange for the outside of the pumpkin, and then we incorporated some yellows for the inner edges that you drew inside the cut-out areas.
We then used some dark brown for the inside portions to maintain a more mysterious look for the scary pumpkin.
These are the colors we chose, but you should definitely go for any colors that you think would best suit this spooky image! What colors and art mediums will you use to bring this scary pumpkin to life?
Here's how you can make your scary pumpkin drawing even better…
Making your scary pumpkin sketch even better doesn't have to be scary with these tips!
Often when people make a jack-o-lantern for Halloween, they will make a few of them. You could add some more to this drawing of a scary pumpkin to make it even scarier!
You could follow the guide again and then change the designs of the other ones until each one is unique. How many you add is completely up to you, so how many do you think you will include?
Once you are happy with the number of pumpkins you have in your image, you could add some other Halloween decorations. There are so many creepy decorations to choose from!
These could include creepy animals like spiders or bats. Of course, classic monsters and ghouls like ghosts, witches and zombies would not be out of place either.
What are some creepy decorations you could add to this image to make it even more spooky and creepy for that Halloween spirit?
Next, we think that a background would be perfect for this scary pumpkin drawing. Adding a background would be great because you would really get to use your imagination.
It could be a simple setting such as the porch of a house, or you could go for something even creepier. This could include something like a haunted house or maybe a spooky graveyard.
These are just a few ideas for some background settings, but there are many more you could do! What are some background ideas you can think of?
The longer a pumpkin is left out, the more rotten it will get. This won't result in a nice smell, but it can make the pumpkin look even scarier.
If you wanted to adapt that look for your scary pumpkin sketch, it would certainly make it look even creepier! This could be as simple as adding a darker color and making the outline a bit bumpier.
You could look up some pictures of rotting pumpkins if you want it to look more realistic.
Your Scary Pumpkin Drawing is Complete!
You have finished all of the 6 steps in this guide on how to draw a scary pumpkin, and you should be very proud of the awesome picture you have created!
We tried to create a very cool and visually interesting scary pumpkin depiction for you to work on, and also endeavored to make sure that it would be fun and easy for you to draw.
Now that you have completed it, you can keep the fun times going by adding your own personal touches and flair to the picture.
We spoke about adding a background or some other Halloween objects and icons, but what else can you think of to finish it off?
You can also keep the fun going by visiting our website for more awesome drawing guides. We plan to bring many more new ones out soon, so stay tuned for those!
Lastly, when you're ready to show off your scary pumpkin drawing, you can share your finished scary pumpkin drawing on our Facebook and Pinterest pages.