It's always a thrilling thing to see the first snow of Winter falling outside through your window. It means that it's time for sledding, snowmen and mugs of hot chocolate by the fire.
It also means cities and landscapes blanketed in snow and catching snowflakes on your tongue!
They say that every snowflake is unique, and this has made them a popular subject for art, drawings and paintings over the years.
If you've ever wondered how you can learn to draw one yourself, then read on!
We created this step-by-step guide on how to draw a snowflake in 6 easy steps to have you drawing snowflakes in no time!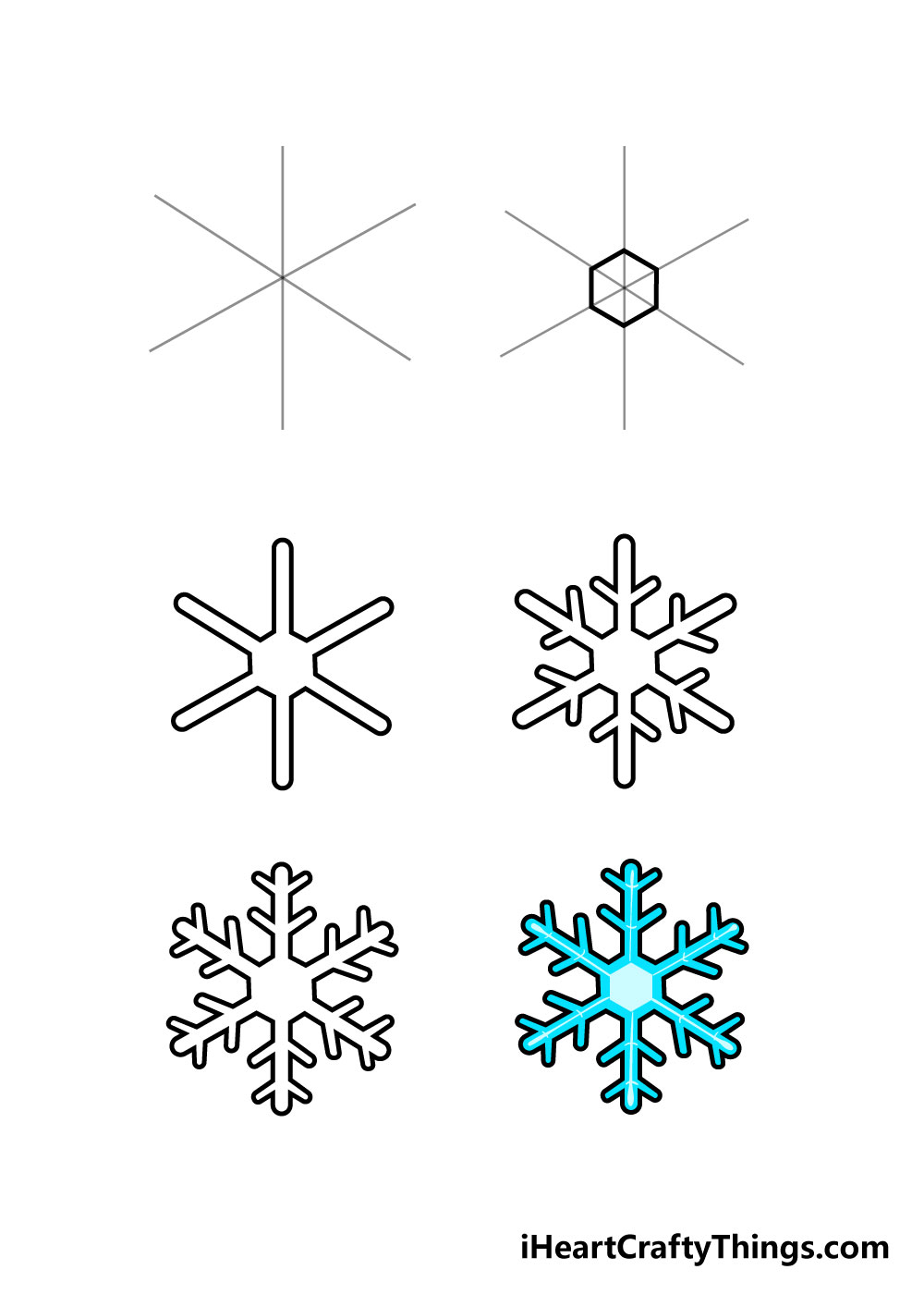 How to Draw A Snowflake – Let's get Started!
Step 1
For this first step in our guide on how to draw a snowflake, we will be drawing a set of guiding lines.
For this step, it would be better to use a lighter pencil, as we will be erasing these lines later on.
Using a ruler, draw a line straight down and then add two more at the angle shown in the reference image.
If you can, try to have the lines be the same length. If you have a drawing triangle, you can use it to make the angles precise for your snowflake.
Step 2 – Next, draw in a guide hexagon
With the pencil lines drawn, we will be adding another shape to help with drawing the final snowflake.
While still using a pencil, carefully use your ruler to draw a line between each of the lines you drew earlier near the center to form a six-sided hexagon shape.
You can use the reference image as a guide on how your snowflake drawing should look at this point.
Step 3 – Now, draw in the beginning of your snowflake
At this point, all of your guiding lines are drawn in and you can begin to draw the snowflake properly.
Using the lines you drew in steps 1 and 2, we will be drawing thick outlines around the guiding lines earlier.
At this point, it would still be recommended to use a pencil to create your snowflake drawing for now.
Once you've drawn around the lines to make it appear as it does in the picture, you can erase the inner lines of the hexagon from step 2 so that the inner portion of the snowflake is one solid shape.
Step 4 – Next, we will draw in details of the snowflake
Your snowflake drawing is starting to take shape now!
For the next few steps, we will be showing a design that you can use for your snowflake, but once you have the hang of it you could change up the design a bit to make some unique snowflake designs.
You can draw some little 'arms' coming off from your snowflake drawing as they appear in the image.
Once you've drawn them in, you can erase the base of each arm so that they become part of the snowflake outline.
Step 5 – Now, we will draw in some final details
At this point, your snowflake drawing is almost complete! To finish off this design, simply add in a few smaller 'arms' to the snowflake as you did in the last step, only much smaller.
Once you're happy with how it looks, you can draw over your pencil outlines with a pen or darker pencil and then erase all of the pencil lines that you used earlier.
When you do this, make sure that the pen ink is dry before erasing! If you erase too soon, then you might smudge the ink.
Bonus: Create Some Snowflakes For Decorations
This guide on how to draw a snowflake focused on creating a drawing of this natural phenomenon. If you wanted to, you could use this drawing for all sorts of fun crafts!
This would be the perfect activity leading up to Christmas, and you could even surprise your family by setting up your decorations around the house.
Our first idea would allow you to use this snowflake drawing as a tree topper or a decoration that can sit on a table or mantle. First, draw and color your snowflake design.
Then, you can carefully cut out the outline of the snowflake and put it aside. You can then use some fairly rigid cardboard and then bend it into a cone shape.
Use some strong glue to stick the cardboard together in such a way that it holds the cone shape. Finally, stick the snowflake near the top of the cone, and then you have your decoration!
If you were to make a large cone from the cardboard, it could even be big enough to wear as a hat. If you don't want to make the cone design, you could also hang the snowflakes.
This effect would be especially powerful if you were to make quite a few of these snowflakes and then cut them out. For the next section, you should definitely get someone to help you.
Start by gluing the snowflakes to string or ribbon. You could then secure the string or ribbon to the ceiling using tape or something that won't damage the paint or material the ceiling is made of.
You could also secure them to curtains or from a Christmas tree. These are a few ideas, but what are some other crafts you could make using this design?
Step 6 – Now finish it off with some color
And now, you have successfully learned how to draw a snowflake! You should really be proud of drawing what is a bit of a complicated design, but before it's finished there's still one more step.
Luckily, this step is a lot of fun, as you will be adding in some beautiful colors to your snowflake drawing!
We have shown one way you can go about coloring in your picture, but for this step you should let your creativity run wild and use any colors that you love!
You could keep to a classic light blue like our example image, or you could use a wide variety of your favorite bright colors to make this snowflake really pop with color!
Choosing which colors to use is one way you can personalize it, but another way to do it is by playing around with different art mediums.
You could use ones like acrylic paints, watercolors, colored pens and pencils to create some stunning colors for your drawing.
Once you've got the hang of it, you could draw a few different snowflake variations on one page and then use different colors for each one!
This is just one idea and you can really show us how creative you can get with it.
5 Tips To Make Your Snowflake Drawing Even Better!
Make your pretty snowflake sketch even more unique with these awesome tips!
They say that no two snowflakes are alike, so that means that you could change this design in so many ways!
By altering the shapes of the branches of the snowflake drawing, you can easily make it quite different.
You could try out creating your own designs, but you can also look at existing snowflake designs for inspiration! We're sure you can make all kinds of amazing snowflakes.
Once you have played around with the various snowflake designs, you can then fill the page with many snowflakes. This would make it look like this snowflake sketch is st during some pretty snowfall.
If you were to do this, it would be great to fill the page with as many snowflakes as you can, and each one can be unique!
Another fun idea for this drawing of a snowflake would be to draw a background setting for it. For one example, you could draw a cartoon character with their tongue out to make it look like they're about to catch it.
That is just one idea that you can use, but what are some other background setting ideas you have for this drawing?
When it comes to coloring this snowflake drawing, you can use all sorts of fun colors and art mediums. Snow can sometimes look a bit sparkly, and you could create this effect for your artwork.
For instance, you could use glitter or glitter glue to create this beautiful sparkly effect. If you have any other mediums and crafts then you should definitely try them out!
If you want to take this even further, you could create snowflakes out of construction paper. This is a really fun activity to do, and it would really enhance the drawing.
Make sure you get an adult to help you, and then look up some tutorials on cutting out snowflakes. Once you have made a few, you can then stick them onto the page for an even more vibrant image!
Your Snowflake Drawing is Complete!
We really hope that this step-by-step guide on how to draw a snowflake was helpful and lots of fun for you to use!
A snowflake is a notoriously intricate design, so it might have seemed like it would be difficult to learn how to draw one at first.
As with any drawing challenge though, it can be made so much easier if you break it down into a few simple steps.
Our aim with this guide was to just that and have it so that you can see that if you plan it a bit, you can draw a snowflake with ease!
Now that you've learned how to draw one snowflake design, there are tons of ways you can personalize your drawings.
You could use the basis of this guide and then change a few details for your own unique designs!
You could look up pictures of other snowflakes for inspiration and try to work them into your own drawings.
Combining these designs with some beautiful colors and art mediums will make for some amazing snowflake artworks!
We will be uploading lots of great step-by-step drawing guides like this one frequently, so make sure to keep checking in on our site to never miss out on the fun!
Once you've finished drawing and coloring in your amazing snowflake drawing, we hope that you will share it on our Facebook and Pinterest pages for us to enjoy!
We can't wait to see your incredible and unique snowflakes.