The character of Puss in Boots has been around for many, many years. In fact, the original stories are said to have come out around 1550, so this character has been loved literally for hundreds of years.
More recently, he has been portrayed in films by DreamWorks. He has had his own films and also starred in others such as the Shrek series.
Because of this, he has won many new fans, and these fans would surely love a collection of free Puss In Boots coloring pages for kids.
Luckily, that is exactly what you have before you right now! So get ready for some coloring adventures as we start this collection.
15 Brand New Puss In Boots Coloring Pages – Free to Print and Color
This first Puss In Boots coloring sheet shows our feline hero ready for adventure. He is brandishing his signature cutlass, and there are plenty of great details for you to color.
The background has been left fairly blank, and that means that you can add some details of your own. Perhaps you could recreate a famous scene from the films that you love.
Or, you could go for an entirely unique setting that would take him on a brand new adventure! Which approach do you prefer for this page?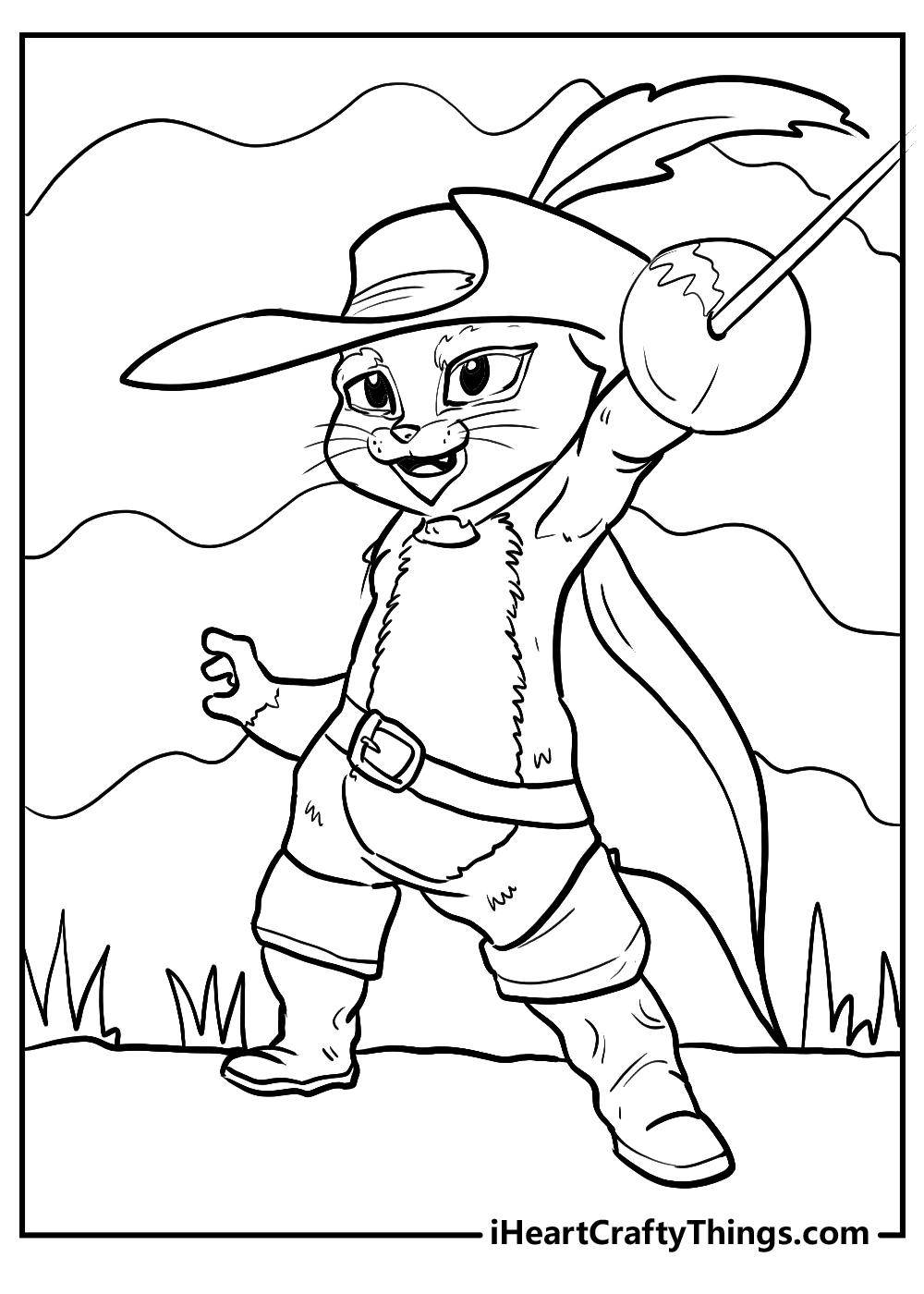 The next page in the collection is drawn in a slightly more cartoony style, but there are still loads of details. You could color this page in so many ways!
Because it is a bit more cartoony, I would probably go for some bright and vibrant colors. Colored pens and markers are my mediums of choice when it comes to that approach.
Of course, you could use any other mediums you prefer for your one. If you have a few different approaches to try, then you could print out a few copies of the page to try each one.
How will you color this page?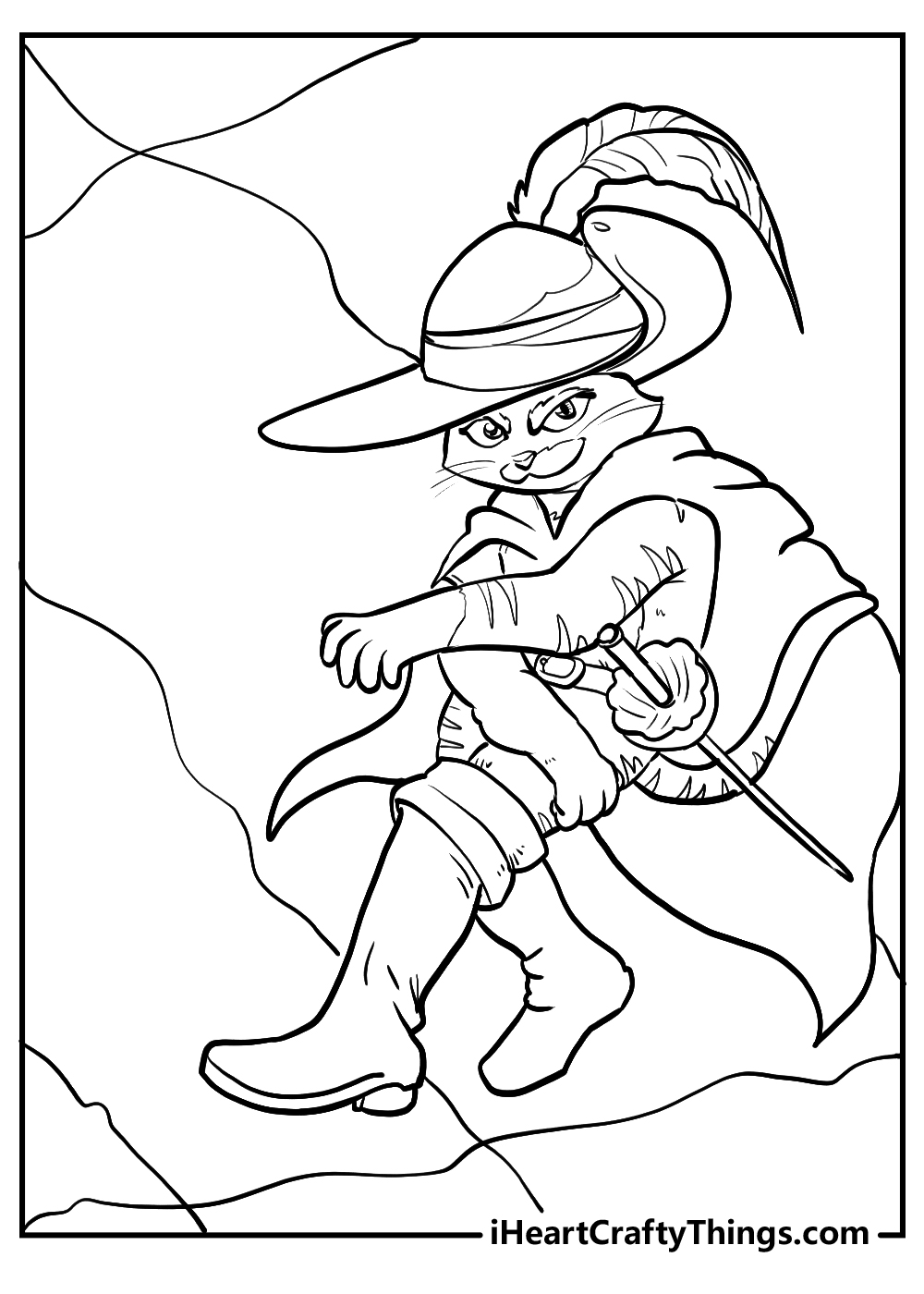 Puss In Boots is a character known for his confidence and charm. Many times, he can talk his way out of a jam instead of fighting.
This page captures this confident personality, and it shows off his character really well. When it comes to a page like this, you can also add some additional things.
Previously, I mentioned adding a background setting, but there are other ways that it can be done. You could also draw some additional characters or objects to add some more fun to the page!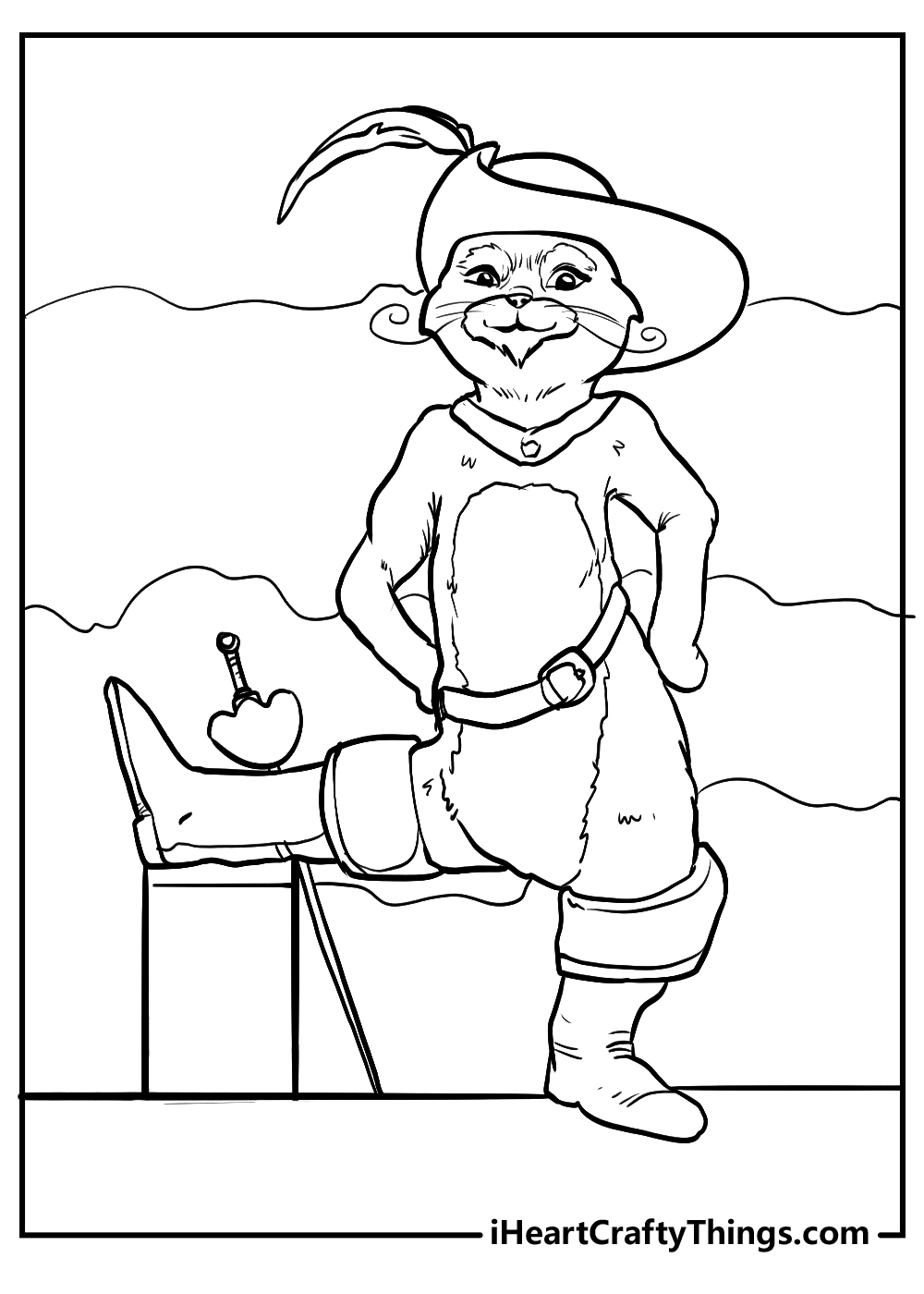 The next pose that we have Puss In Boots in is quite an action pose! He seems to be in the middle of a daring move, and it makes you wonder what could be going on here.
What do you think Puss In Boots is busy doing on this page? Once again, you could add some details of your own to build a scene around this page.
In doing so, you could use scenes from the films or use your own ideas. Or, you could keep the background simple and keep the focus on Puss In Boots himself.
Do you think you will build a scene out of this image or keep it as it already is?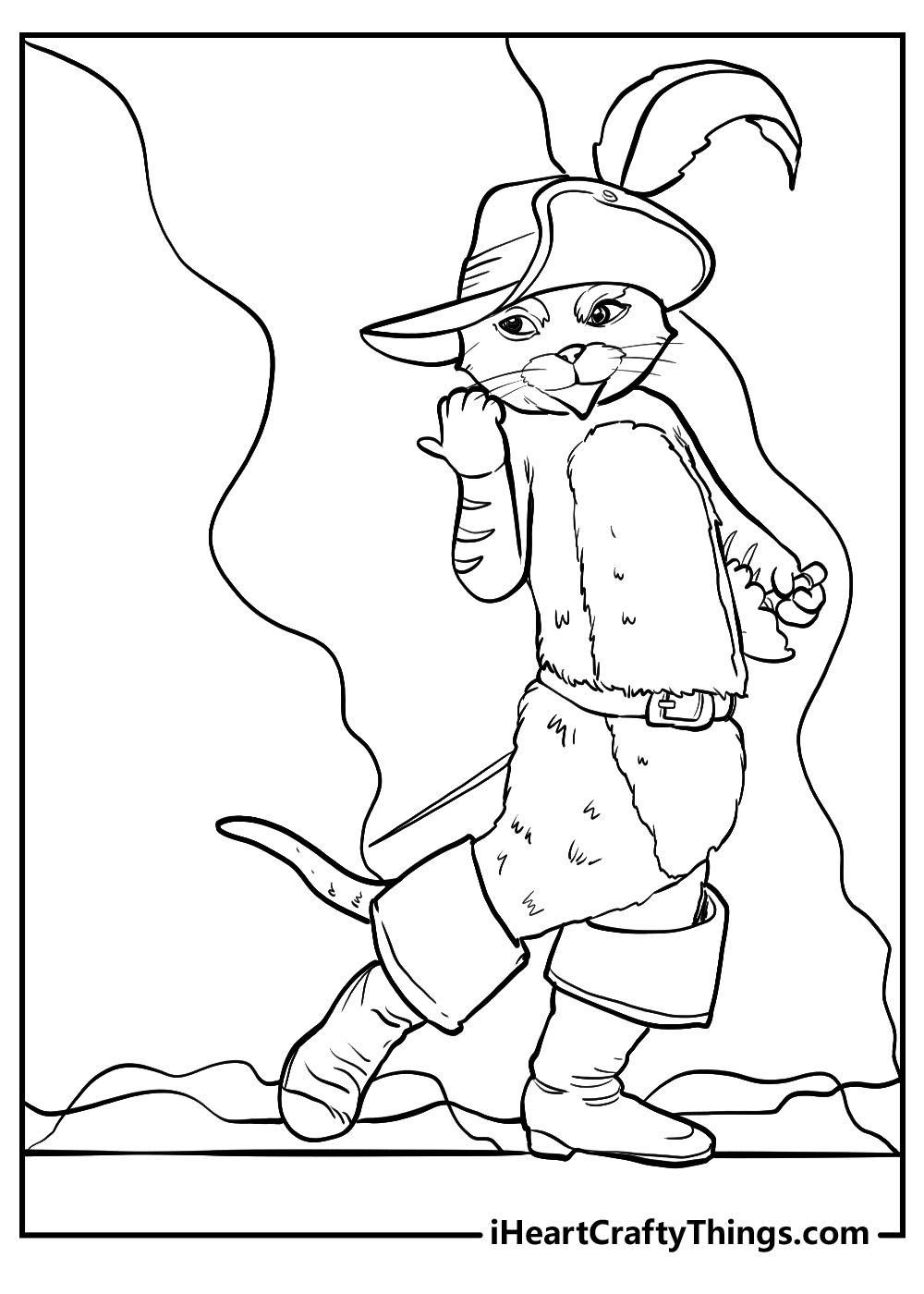 Puss In Boots is not above receiving praise for his heroic deeds! This next Puss In Boots coloring printable shows him reveling in some attention, possibly after a heroic feat.
There are some great details you could add to this page to complete the effect. For example, you could have a crowd in the background and draw flowers and gifts in the air.
That would make an atmosphere of a cheering crowd that would suit this depiction well. What are some other details you could add to finish off the atmosphere of this page?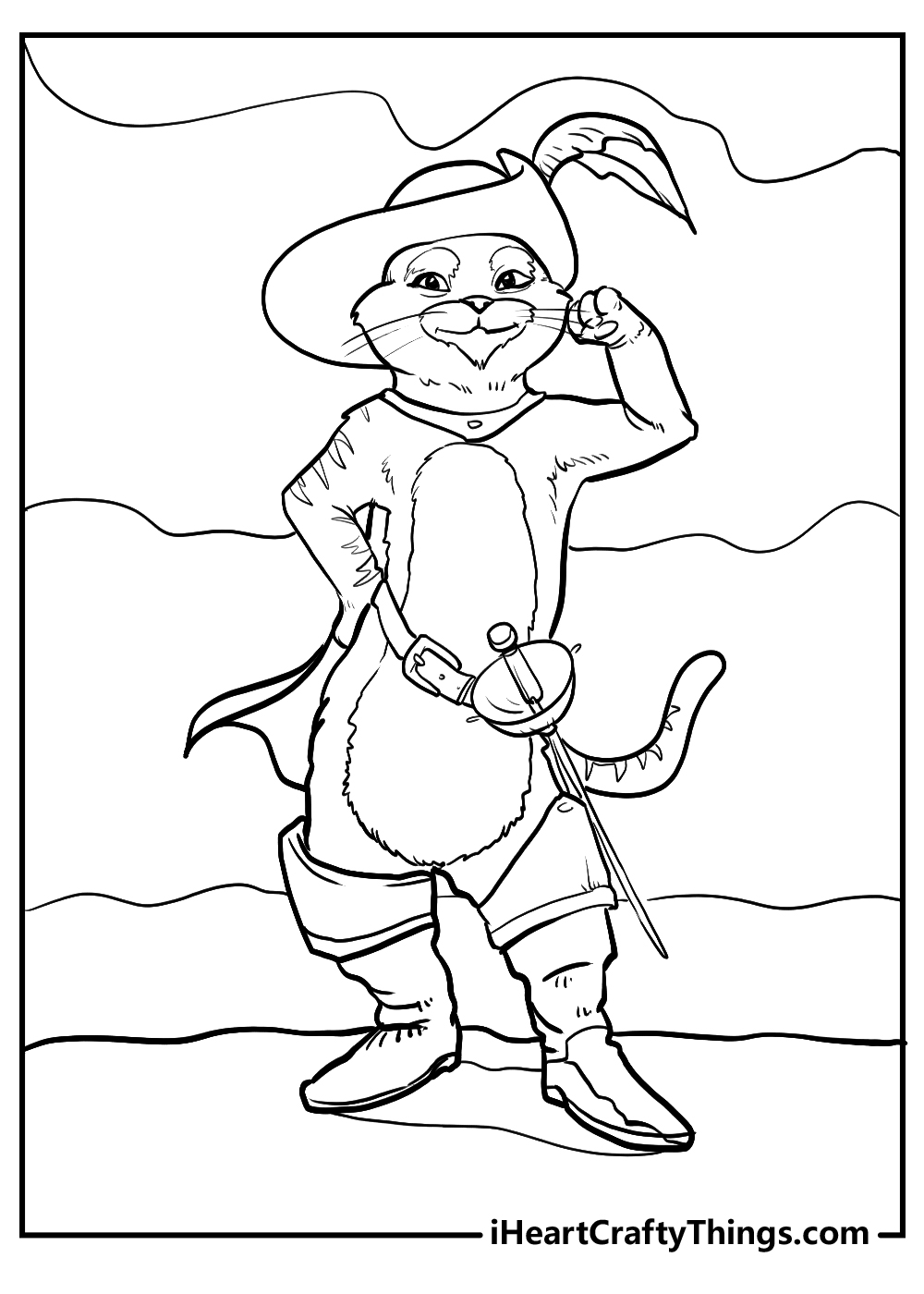 A big part of Puss In Boots' fighting strategy is to taunt his opponents with witty remarks. It looks a bit like he's doing that on this next page!
It makes you wonder what he could be saying, but you can solve that mystery by adding some text to the page.
You could draw a speech bubble and then show what Puss In Boots could be saying on this page.
It could be a line from the films, or you could make a unique quote of your own!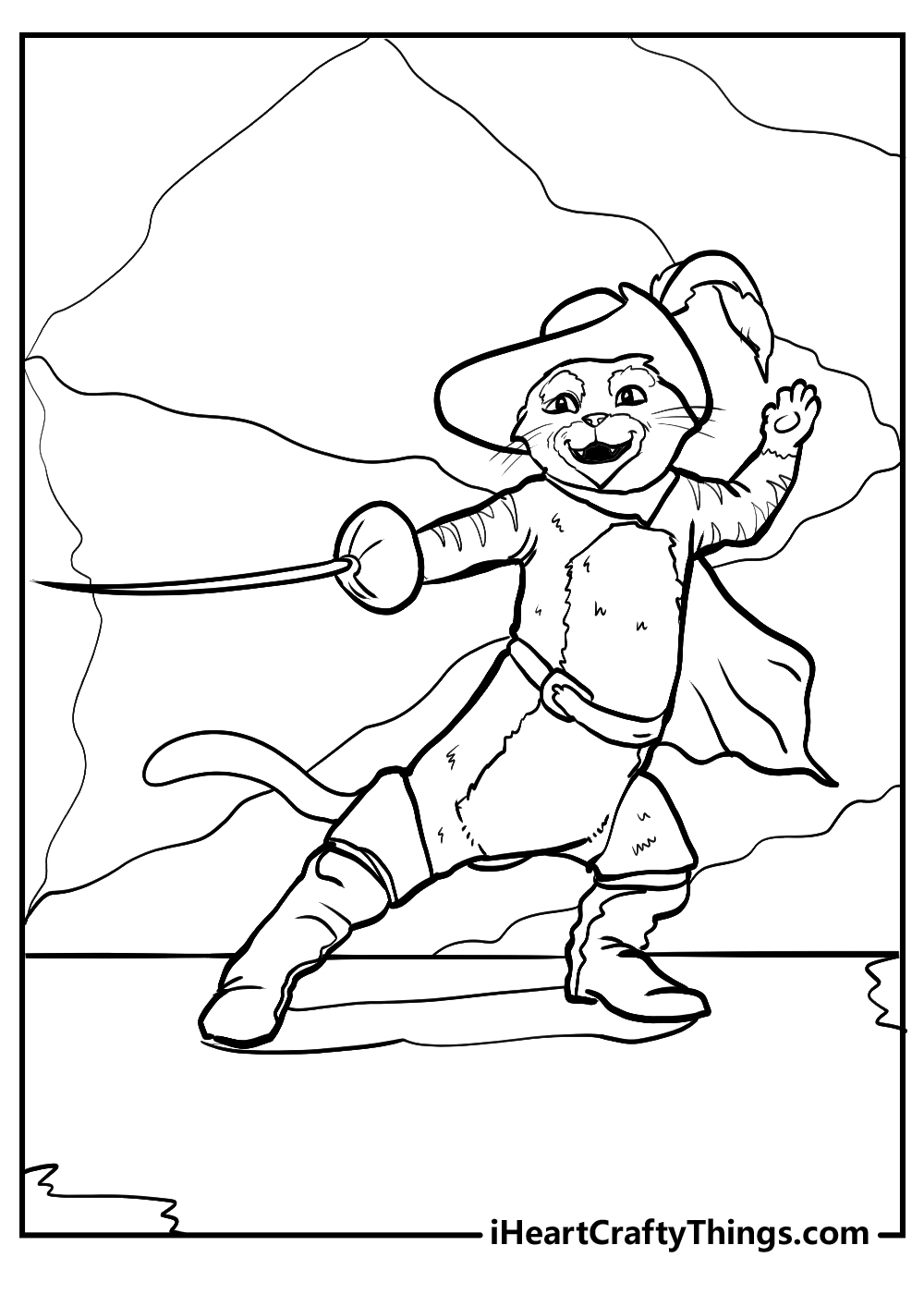 This next page is a real action shot, and Puss In Boots looks awesome! He is going for a dramatic swing of his sword, and it looks like the finishing move of a fight.
He has faced many different foes in his film appearances, and you may have a favorite villain that he has gone up against. If you do, then you could add them to this page.
If you don't have space, then you could even add a clue to who the opponent may be. Who would you add to battle Puss In Boots on this page?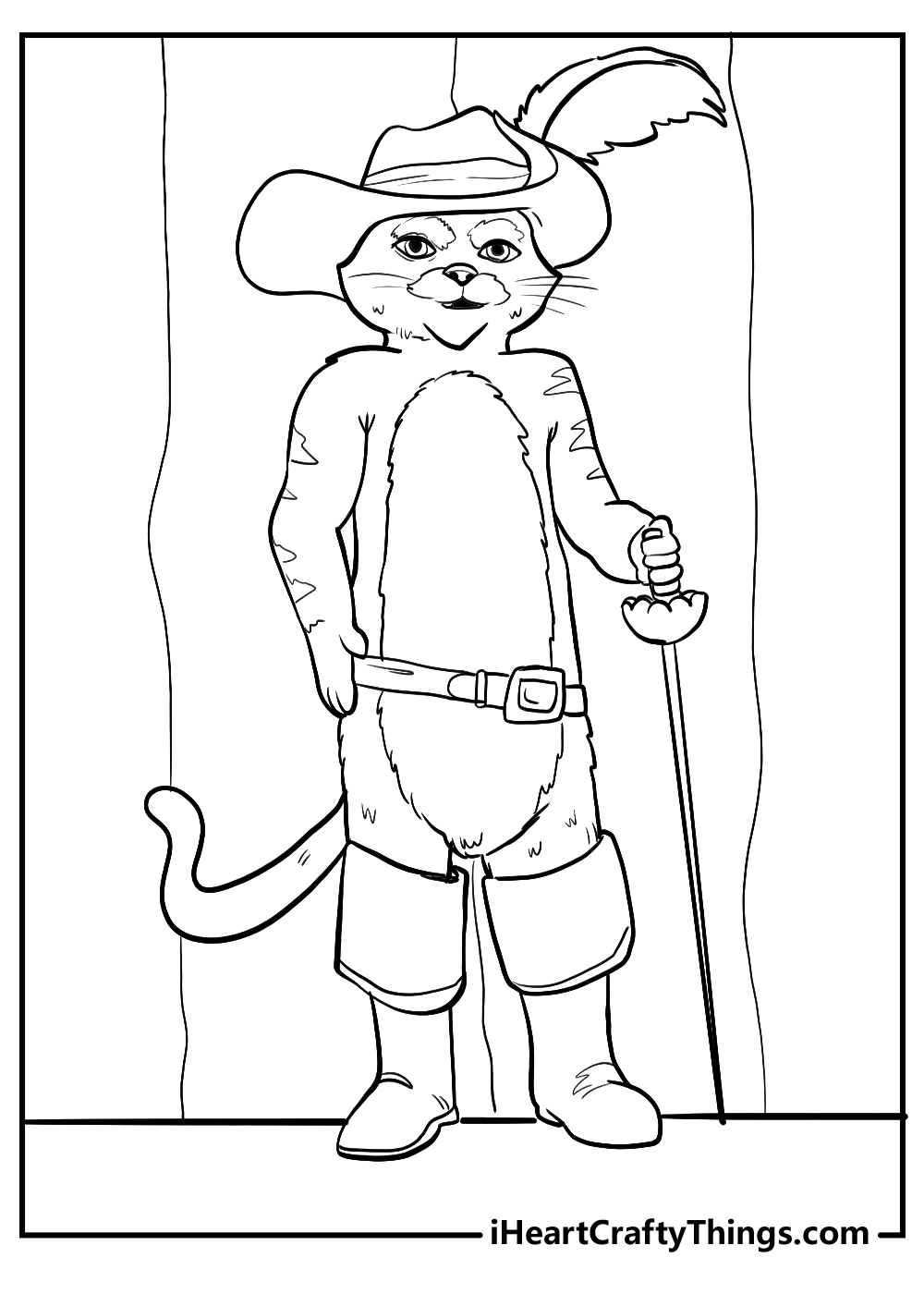 Every hero needs to master a cool hero landing, and that is what is happening on this next page. Puss In Boots has landed on his feet in a cool pose, showing he is still in control of the situation.
There is also a cool lightning bolt pattern behind him, and that could be colored with some bright and amazing colors. I would probably use some bright yellow for the lightning bolt to make it eye-catching.
Do you think you will as well or will you use a different color instead?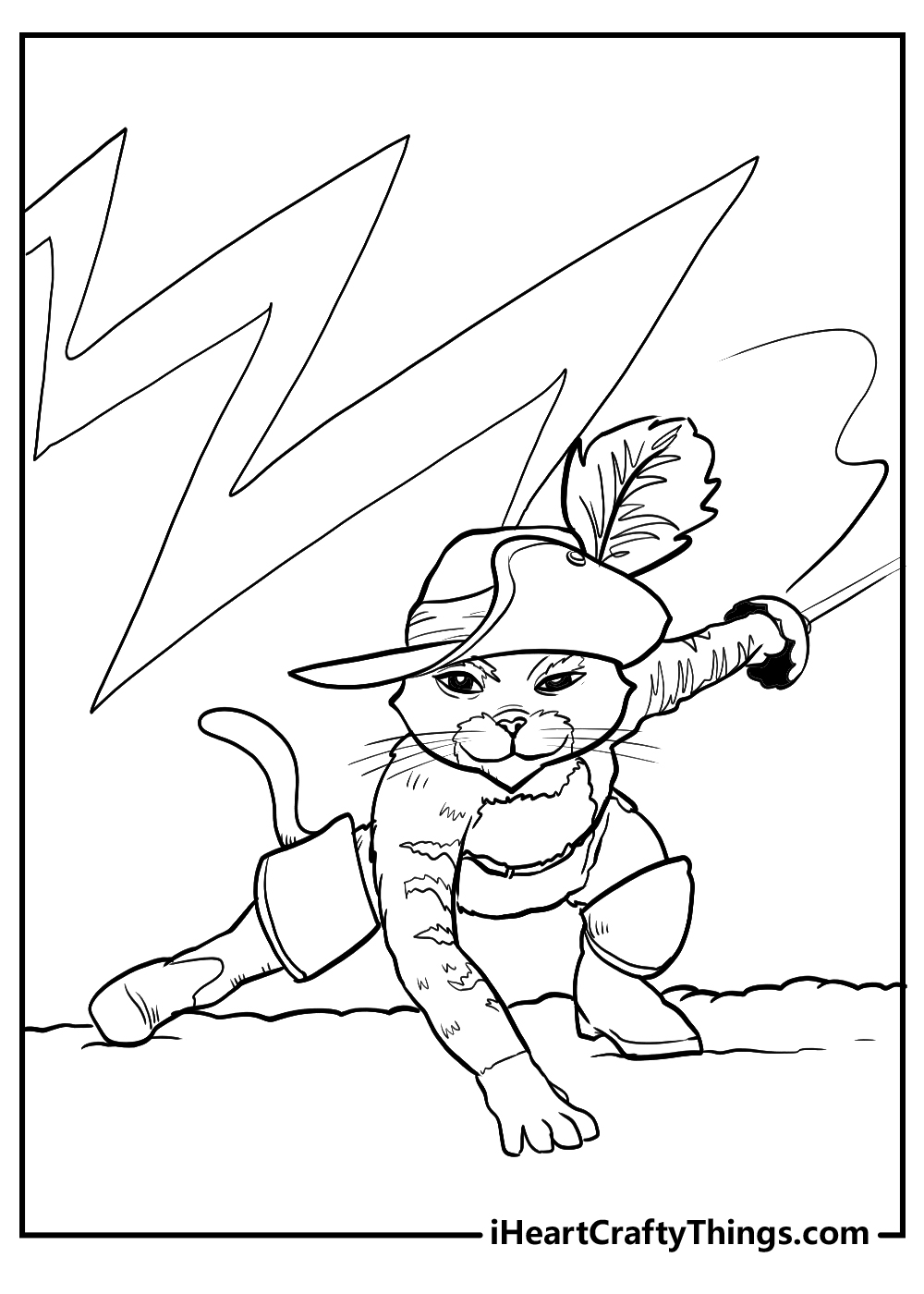 Being a swashbuckler isn't all about fights, and sometimes you get to enjoy some quiet moments.
That is what is happening on this next page, as Puss In Boots enjoys a quiet interlude.
Where do you think someone like Puss In Boots would hang out? Drawing a background would be a great way to show what you think.
You could use your own favorite place to relax as inspiration for the background setting. There are so many awesome locations you could use, and you may even want to draw some props or objects as well.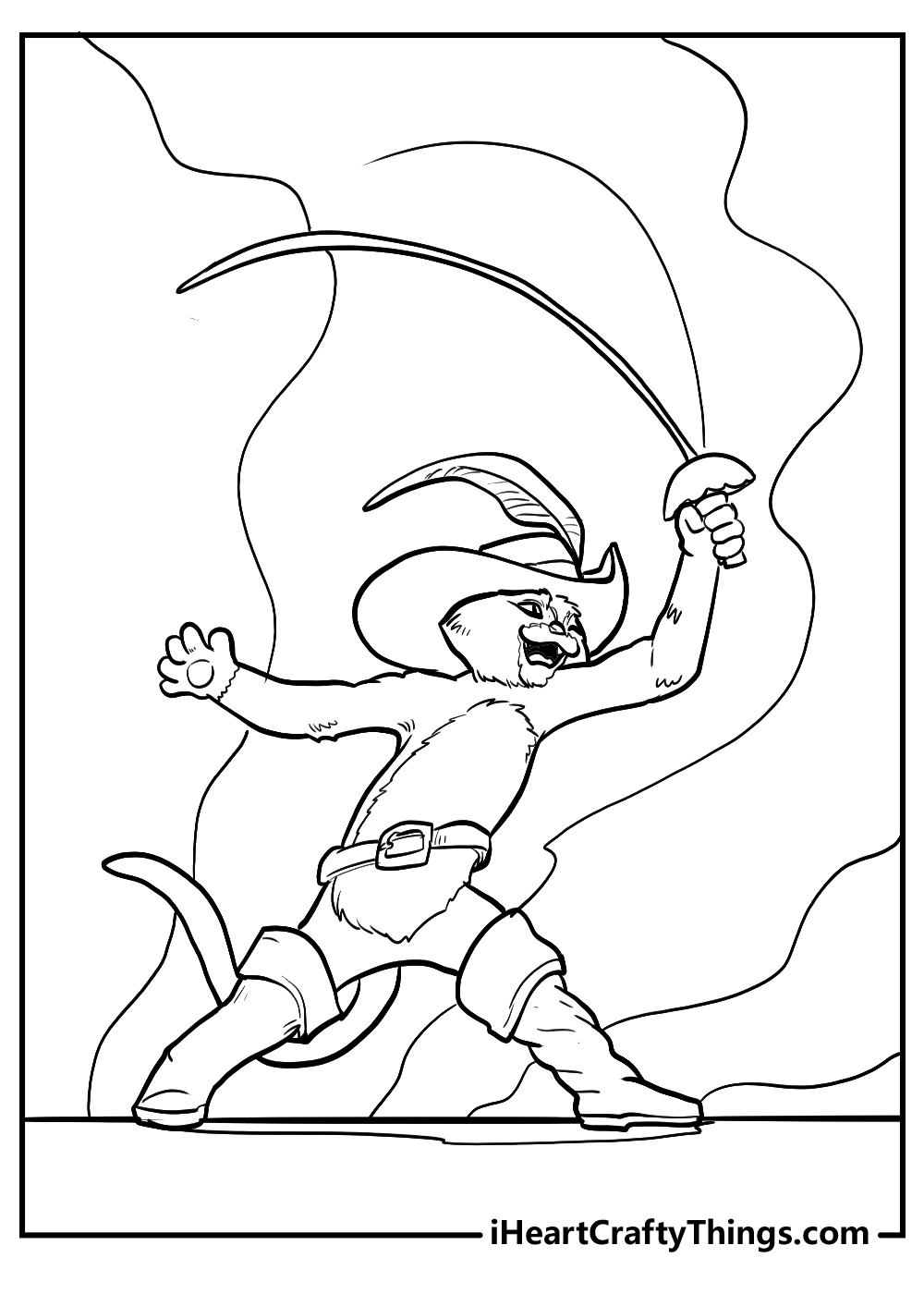 When fencing, fighters will sometimes say "en garde!" as a warning for their opponent to prepare themselves. It kind of looks like that could be said in this Puss In Boots coloring printable.
If you think that Puss In Boots could be saying that, then you could add it to the page. This could be in a speech bubble, or you could write it in big text around Puss In Boots.
That's one idea, but you could add other text or details as well, it's all up to you! What would you like to add to the page?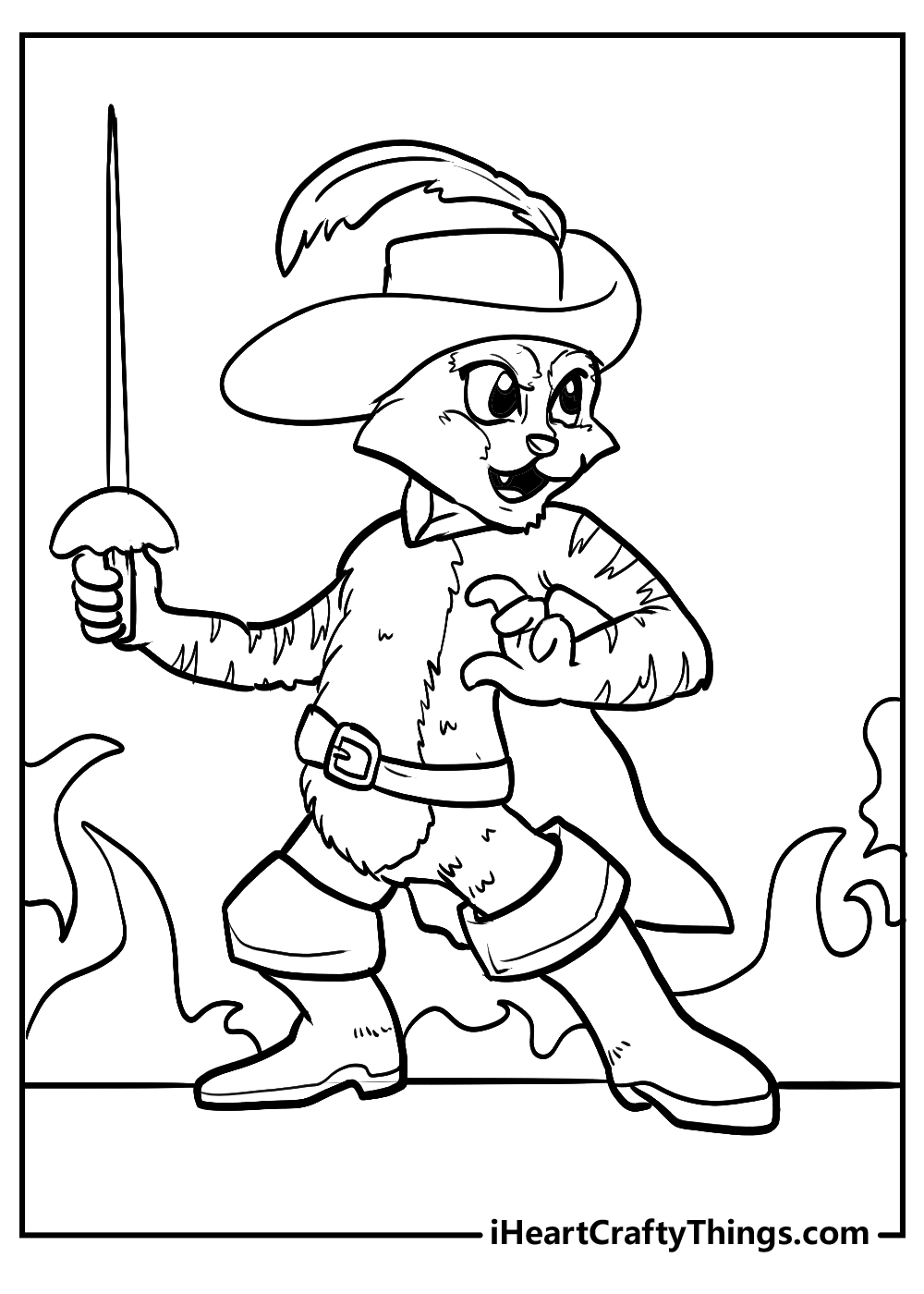 Puss In Boots looks pretty pleased with himself on this next page, and it's a really fun portrayal of this lovable character. Why do you think he is looking so smug and happy on this page?
It makes me think that he has just triumphed over someone or accomplished something amazing. This is another page that you could add to with your own details and additions.
The only question is what do you think is happening on this page that you could show with some additional details?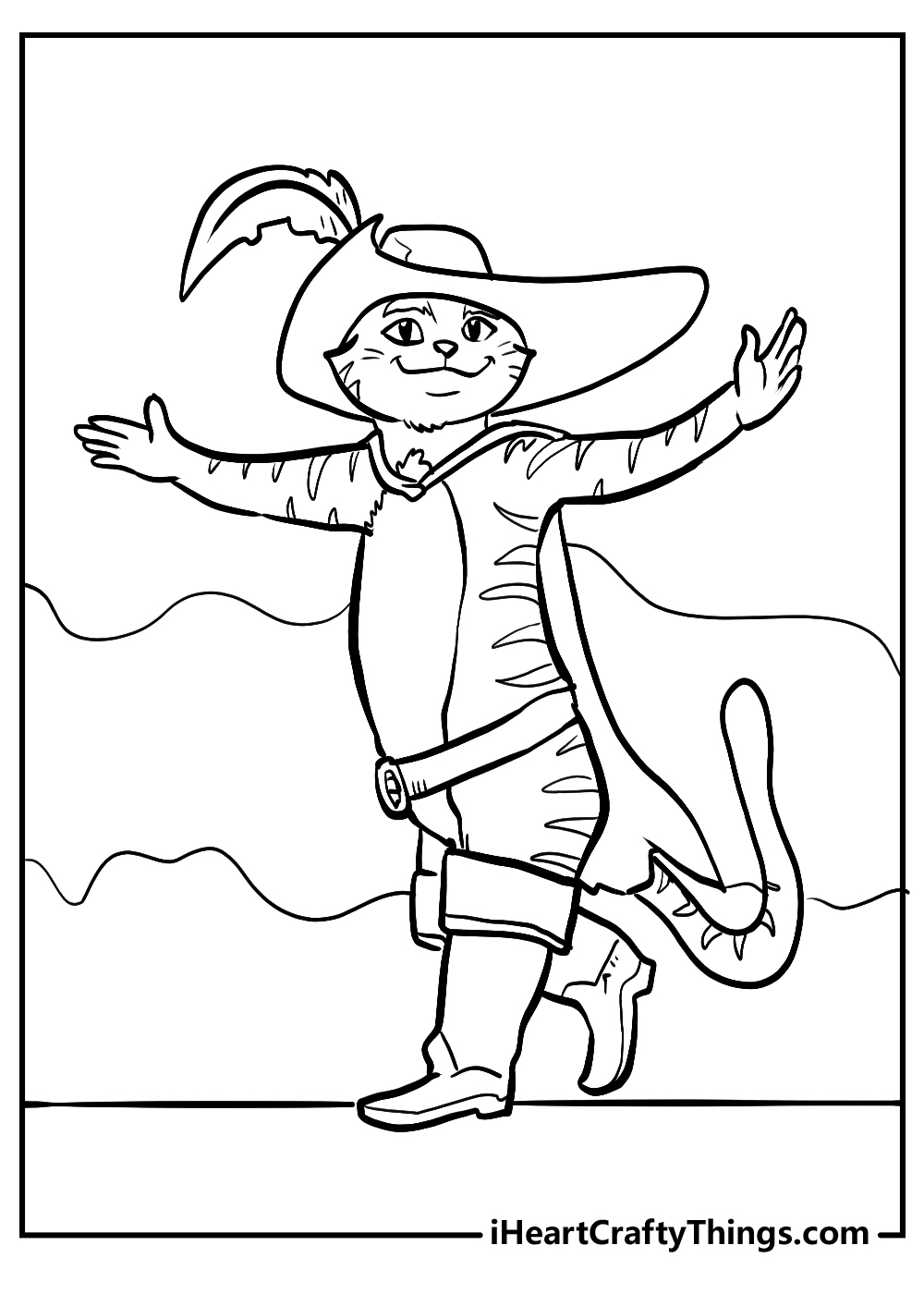 The way that Puss In Boots is posed on this next page makes it look a bit like he is making fun of someone. That could be a foe, but it could also be someone that he is more friendly with.
Puss In Boots stars in not only his own films, but also in the Shrek series. For that reason, you could draw in some of your favorite Shrek characters on the page along with him.
That could help you show who he could be making fun of on this page!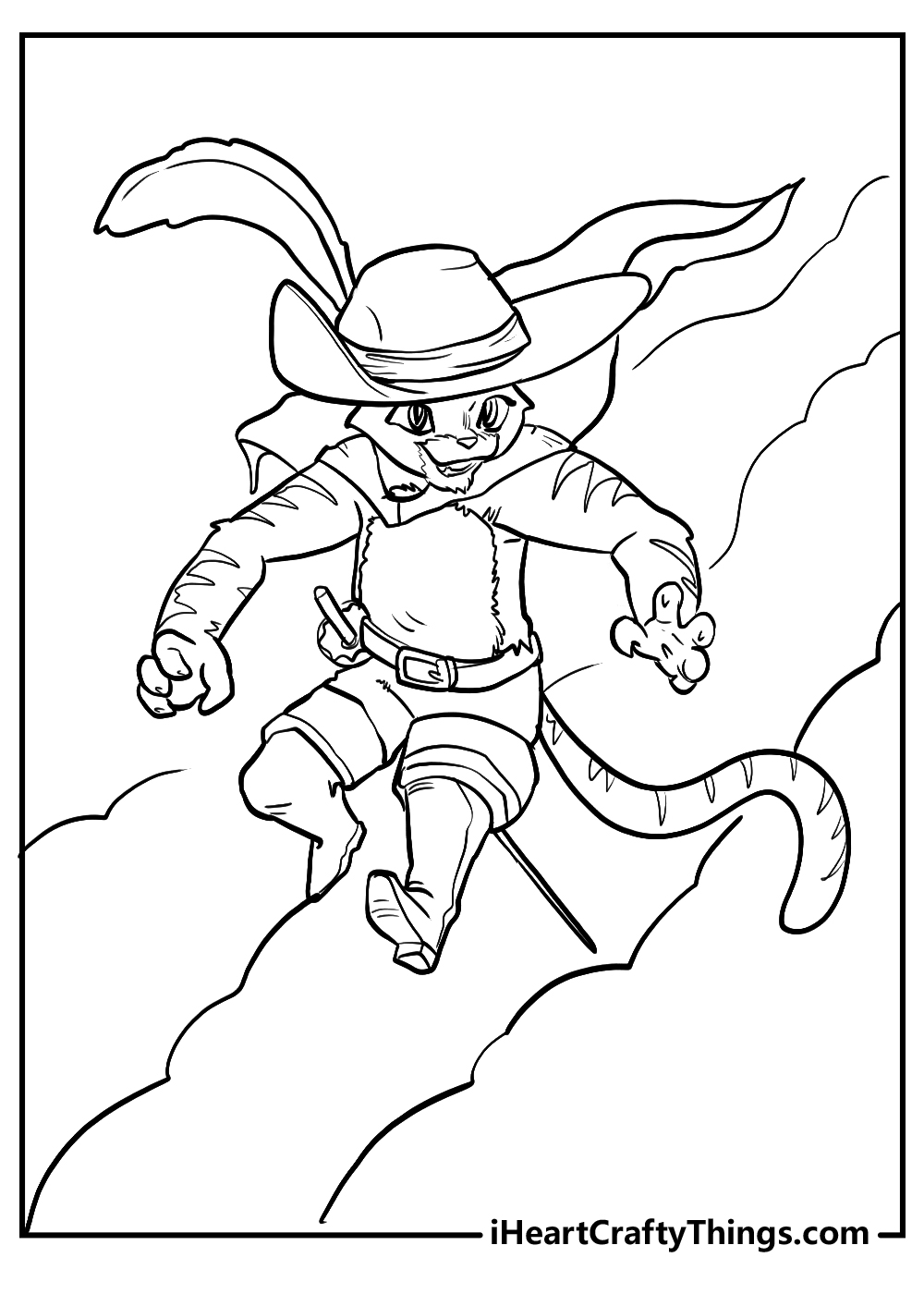 Preparing yourself for physical activity is important, and that includes stretching before a duel. That is what is happening on this next page, as Puss In Boots stretches out for an epic battle!
If you like to prepare for any activities you enjoy, then you could draw in some extra details that show that preparation.
Or, you could keep things simpler and just color the background with solid colors.
Which approach do you think you will take for this page we have for you?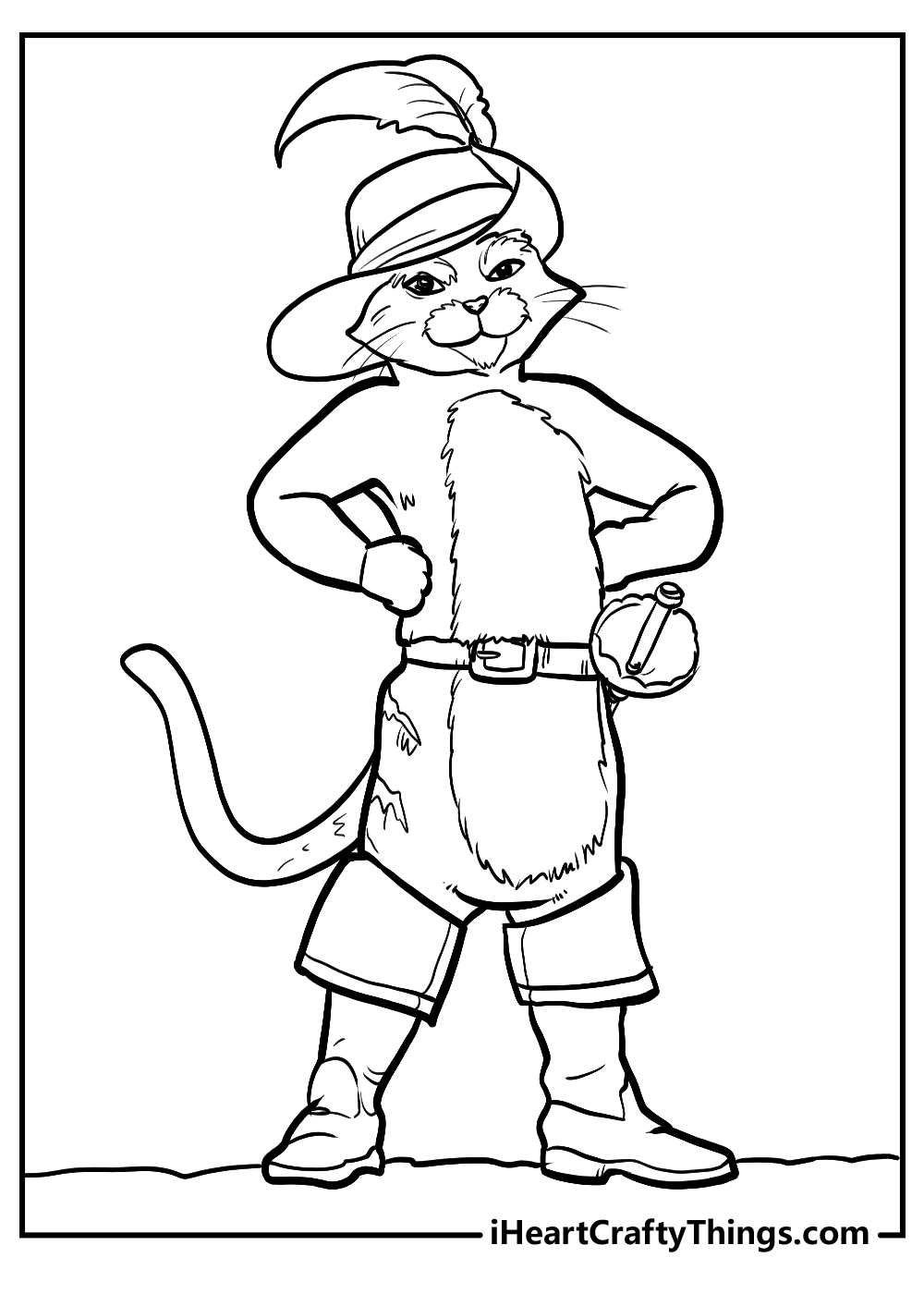 Sometimes, Puss In Boots likes to let loose with some dance moves, and this page is showing him strutting his stuff! You could add some fun details to the page to show that he is dancing.
One simple detail you could add would be to draw some music notes around him. If you have a song that you like to dance to, then you could draw in some lyrics from the song.
These are a few ways you could add some music to the scene. It would also be fun to listen to some favorite songs as you color this page!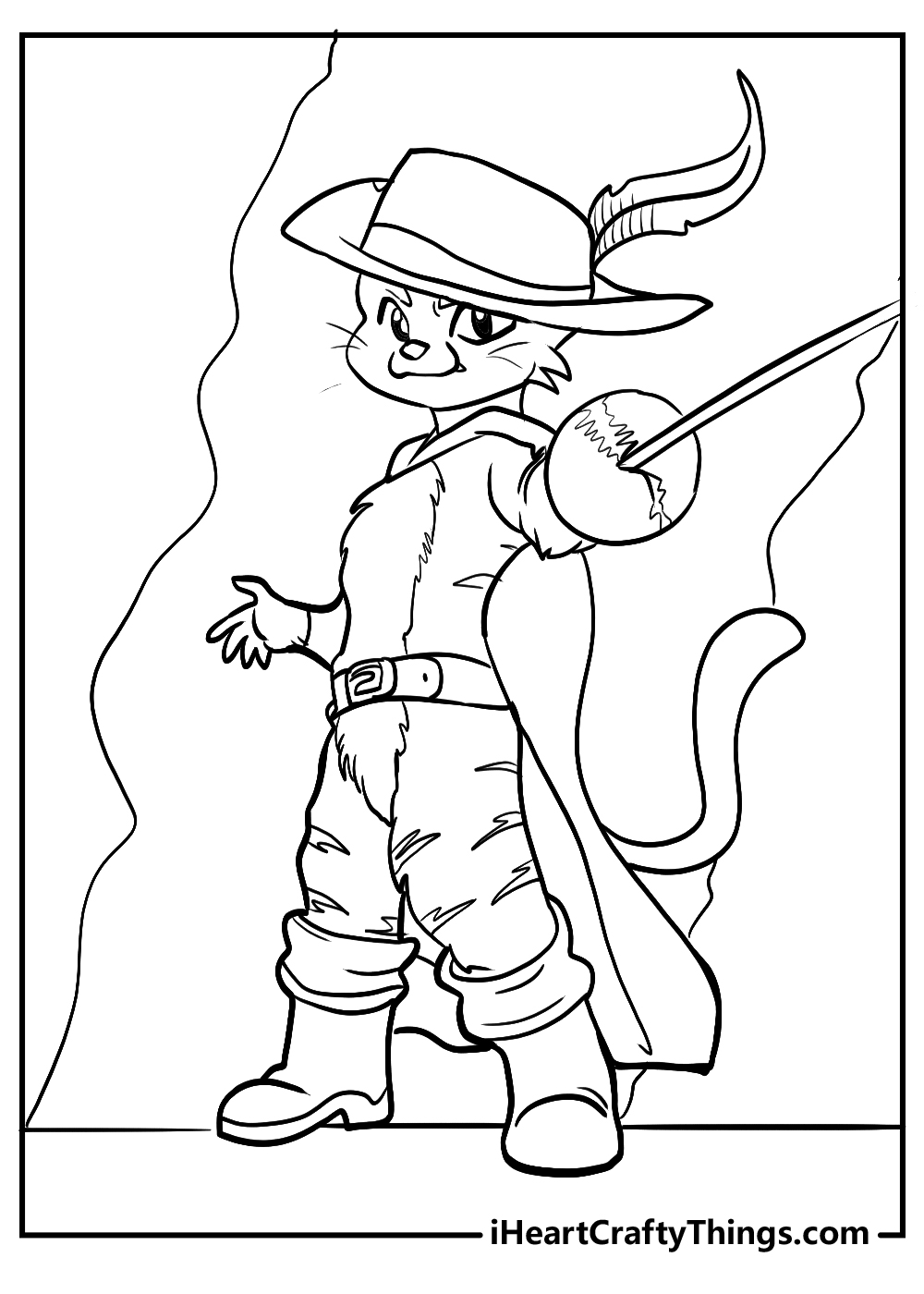 It's time to strike on this next Puss In Boots coloring page. He is striking with his sword, and it's a really cool pose.
Seeing as this is the final page in the collection, it could be fun to try out some new art tools, mediums or techniques. Perhaps you could use some paint or colored pens and markers!
Trying something new can be a bit intimidating at first, but it can lead to you finding a new favorite. You can print out these pages as many times as you like, so don't be afraid to experiment a bit!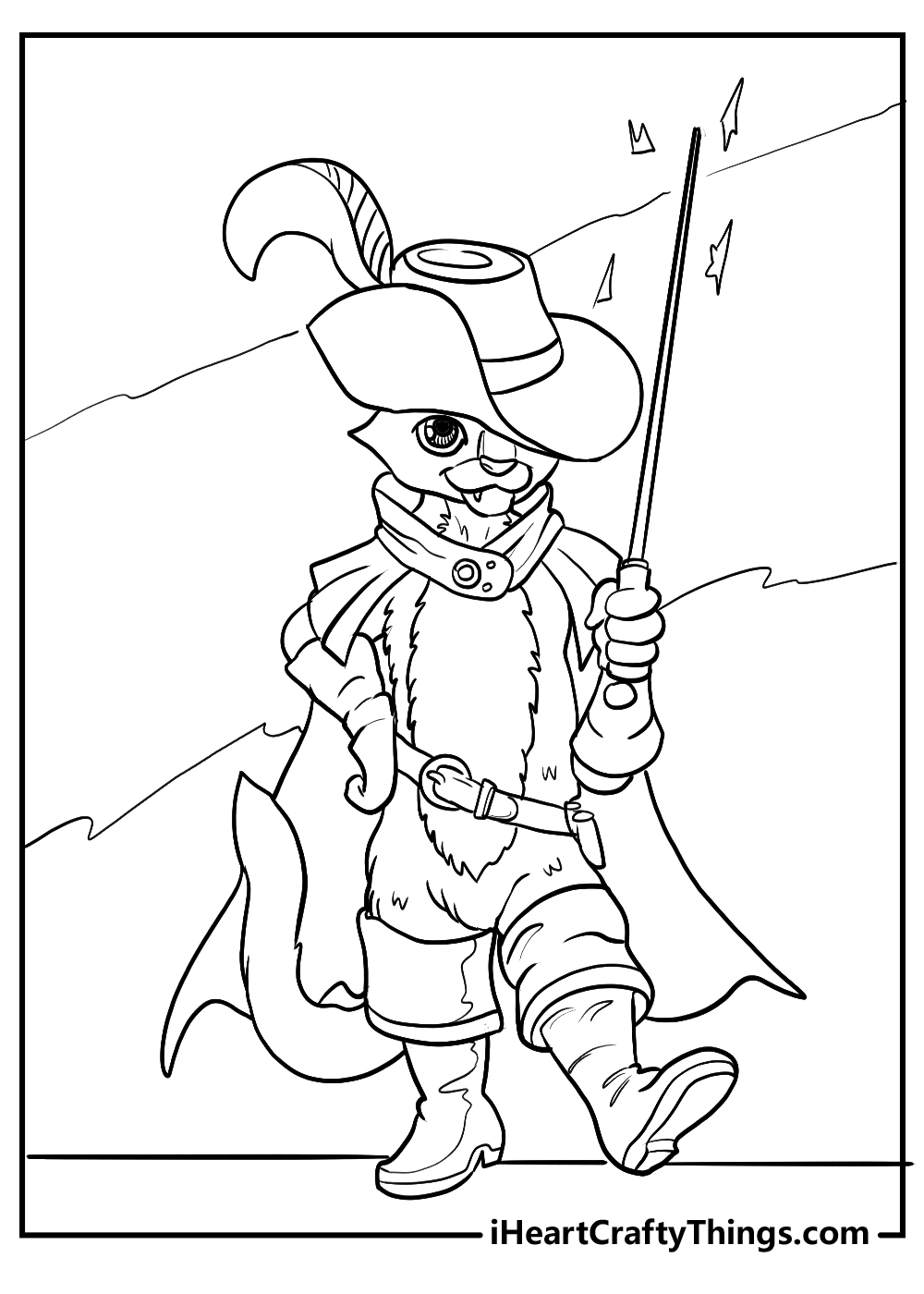 Puss In Boots Coloring Pages – Which will you choose?
Hopefully, you had an awesome time working on this collection of free Puss In Boots coloring sheets for kids! We included so many fun poses and scenarios for you to enjoy.
Because of this variety, you have plenty of ways that you can get creative with it. Not only can you add some color to the pages but also draw your own details and additions.
The pages in this collection are all free to print and enjoy, so you can really go wild as you experiment and try out different approaches!
Please also feel free to share your finished pages on our Facebook and Pinterest pages as well!