It's always exciting when NHL season comes around, and we'd like to celebrate that excitement with this collection of free NHL coloring page printables!
These exciting, action packed images will give you the opportunity to represent your favorite moments from famous matches and to represent all of your favorite NHL teams! NHL team uniforms come in all sorts of different color schemes and styles, so feel free to unleash your creativity as you represent your favorite players!
These free NHL coloring pages for kids are the perfect way to get into the spirit of hockey season.
You might even want to draw in the logos of the various teams to really finish them off! Once you've colored in your copies of these coloring pages, please share them on our Facebook page so we can get a great look at your creativity and share in on your excitement for the NHL!
REMEMBER: You can get the COMPLETE set of these coloring pages >> HERE
10 Brand New NHL Coloring Pages – Free to Print and Color
In this first NHL coloring page, we see a player ready for action! He looks to be concentrating intensely on the game at hand, maybe he's planning out a dramatic move that will win the game!
This image feels like the calm before the storm as he leaps into action, so maybe more muted colors with the contrast of his brightly colored uniform will really capture this moment.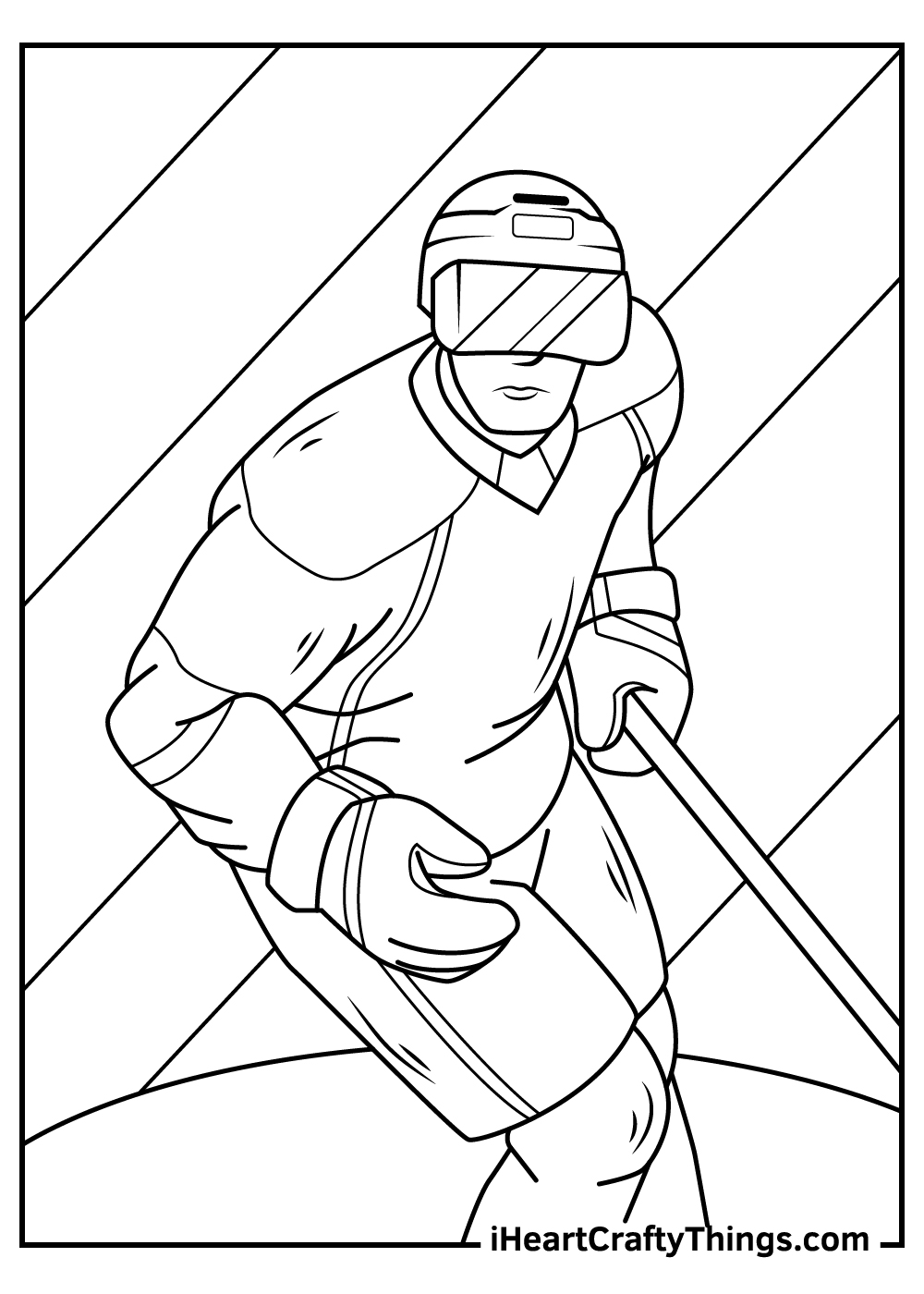 In the previous coloring page, we saw a player getting ready to leap into action, and in this one we see a player in the middle of a move.
He's leaping into action in this printable, so perhaps a brighter color scheme will capture the more action packed nature of his pose. Maybe you can finish it off by coloring his uniform in the colors of your favorite team!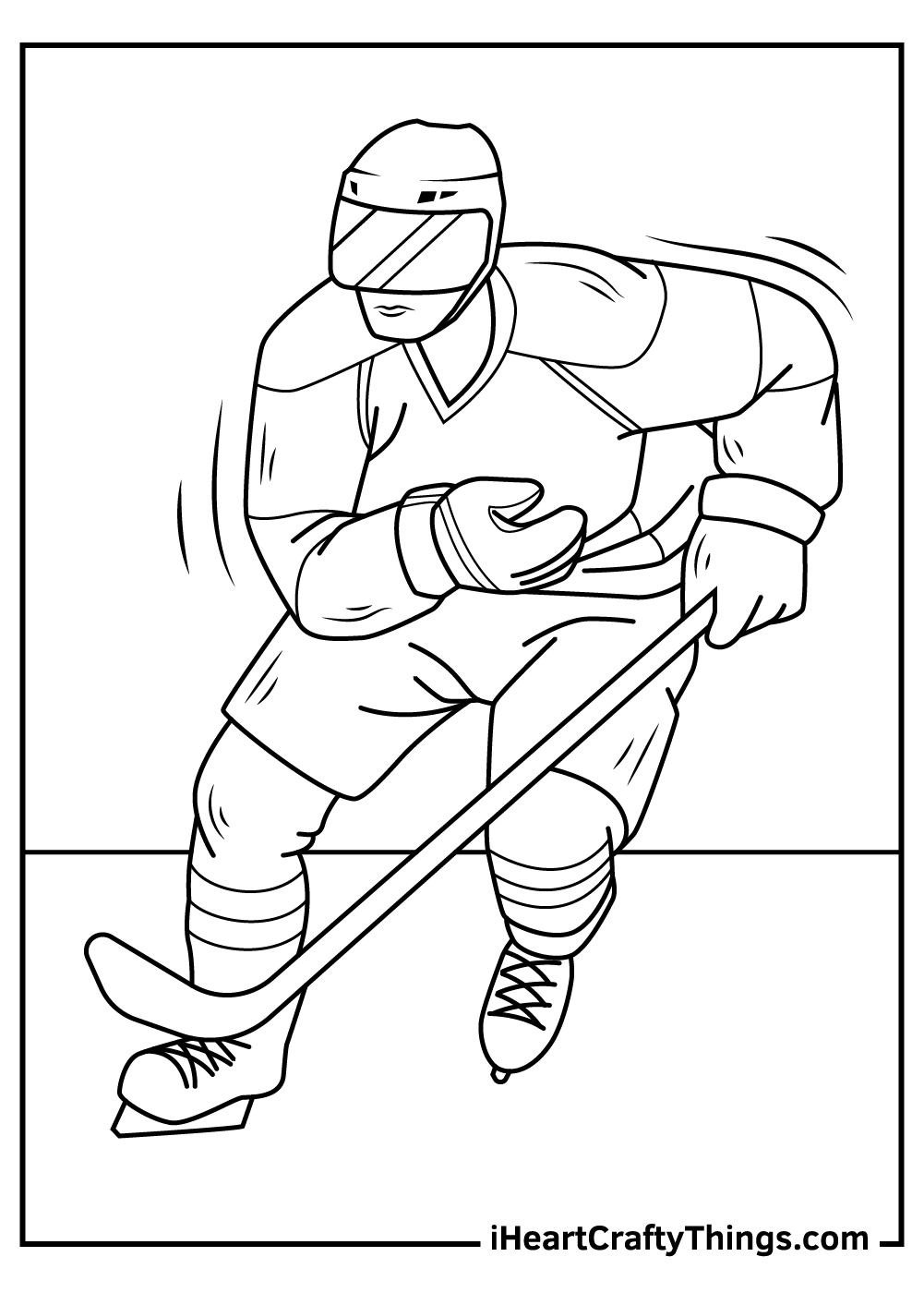 The NHL logo is the focus of the next coloring book sheet. The color scheme of this logo has gone through many changes throughout the years; usually varying between a black and yellow color scheme to a black and white.
Maybe you can color in the logo in the scheme from your favorite NHL era, or you could really get creative and go wild with some brighter colors to capture the exciting spirit of the game!
REMEMBER: You can get the COMPLETE set of these coloring pages >> HERE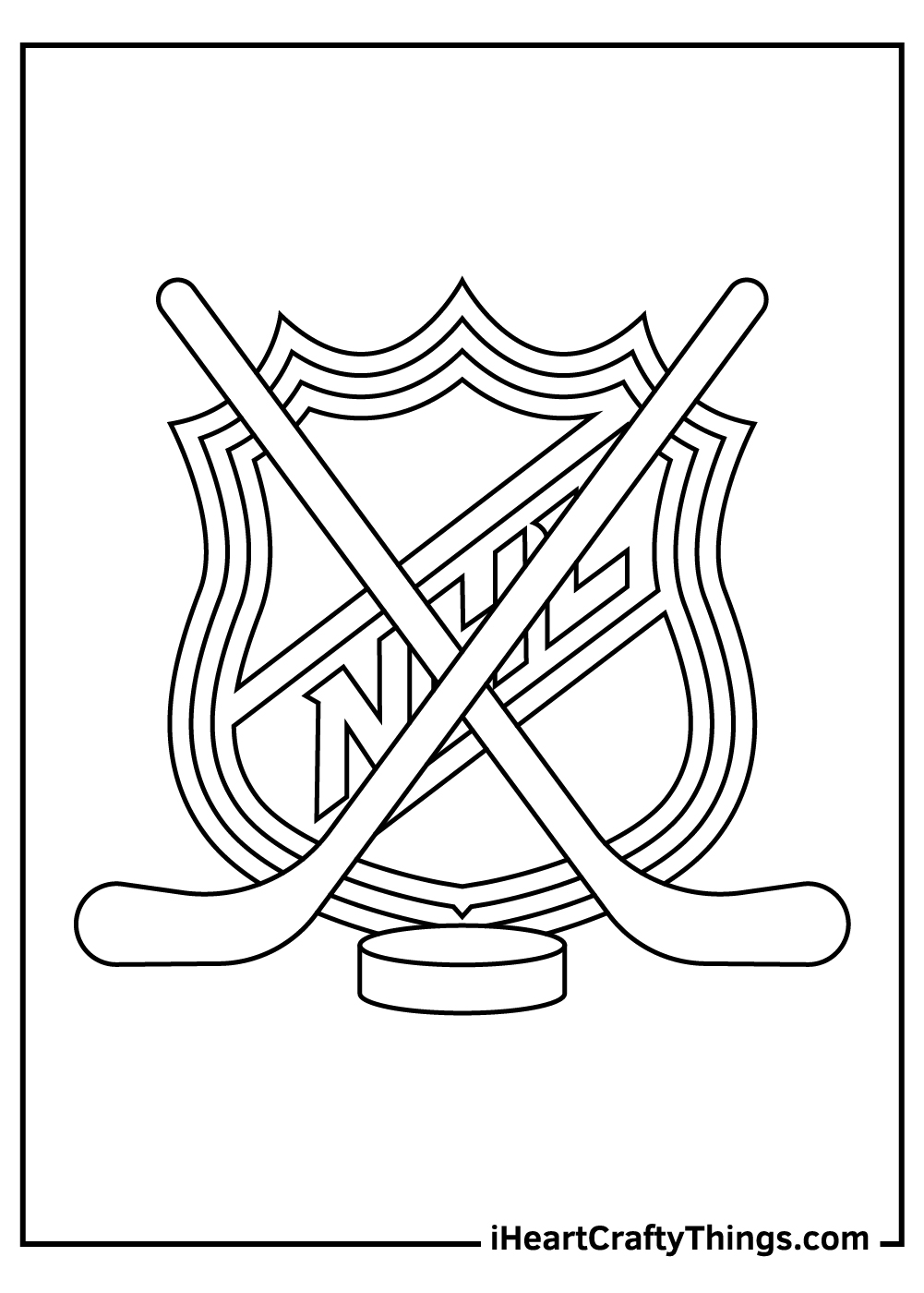 The player in the next coloring page gives us a great close up on the action. If only we could see this closely during real NHL matches! This printable sheet gets us up close and personal with the action, and it would look really cool to have a flurry of colors in the background to really show off the sped and action of this player.
Which team uniform will you use for the player in this image?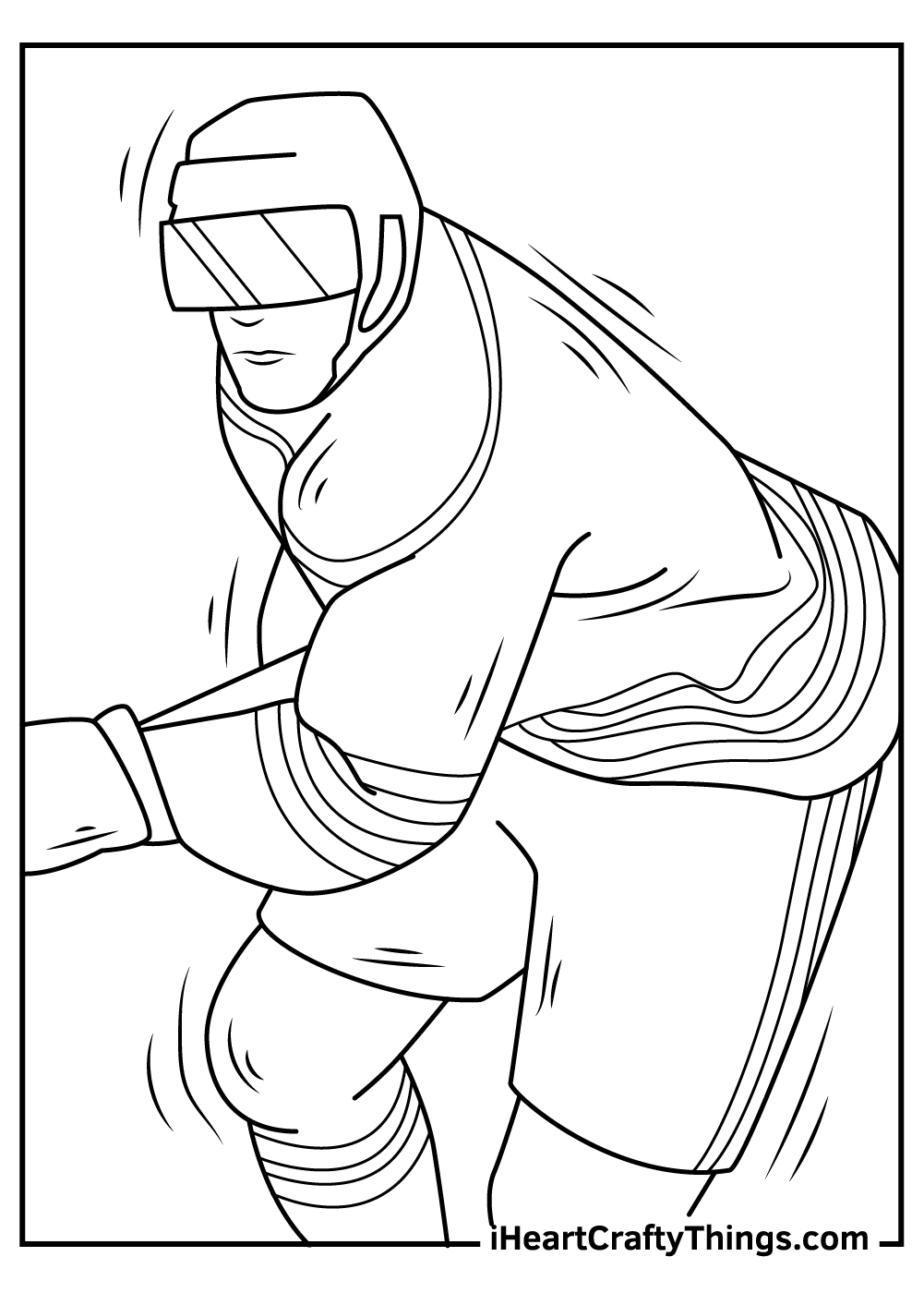 The next coloring page shows what must be the star of the game, as he's literally surrounded by stars! This printable suggests to me that he's either about to score the winning shot of the match or he just did and is doing a victory lap around the rink.
Why not try and make every star a different color around him to make an explosion of color to celebrate his team's victory?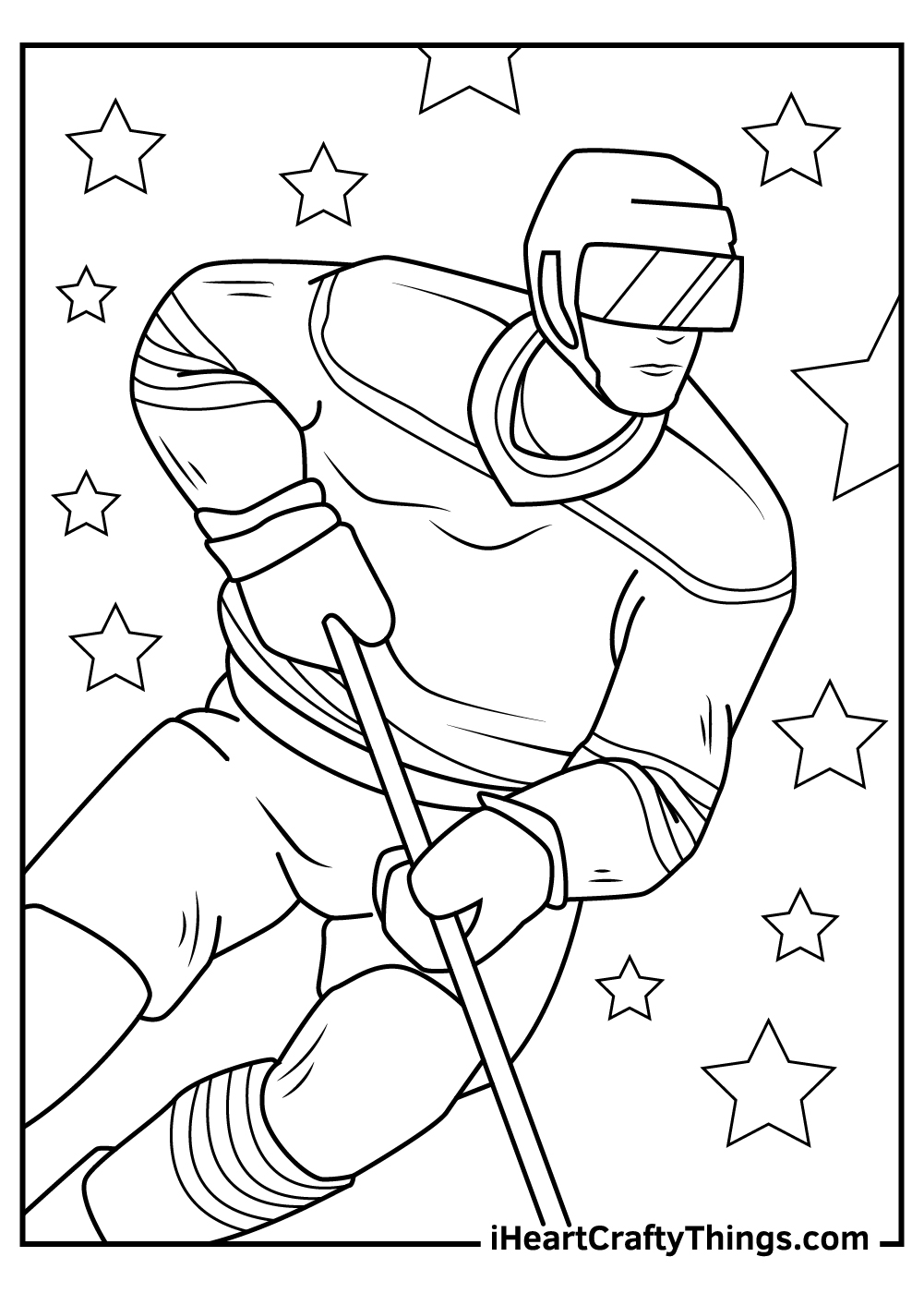 I can only imagine the focus and concentration that NHL players need for their matches, and that's captured in the next coloring book page.
He's looking pretty serious, maybe he's about to intercept an opposing player or planning out a risky move that could turn the tides in his team's favor. What color scheme will you go with to capture the concentration this player is showing in this printable?
REMEMBER: You can get the COMPLETE set of these coloring pages >> HERE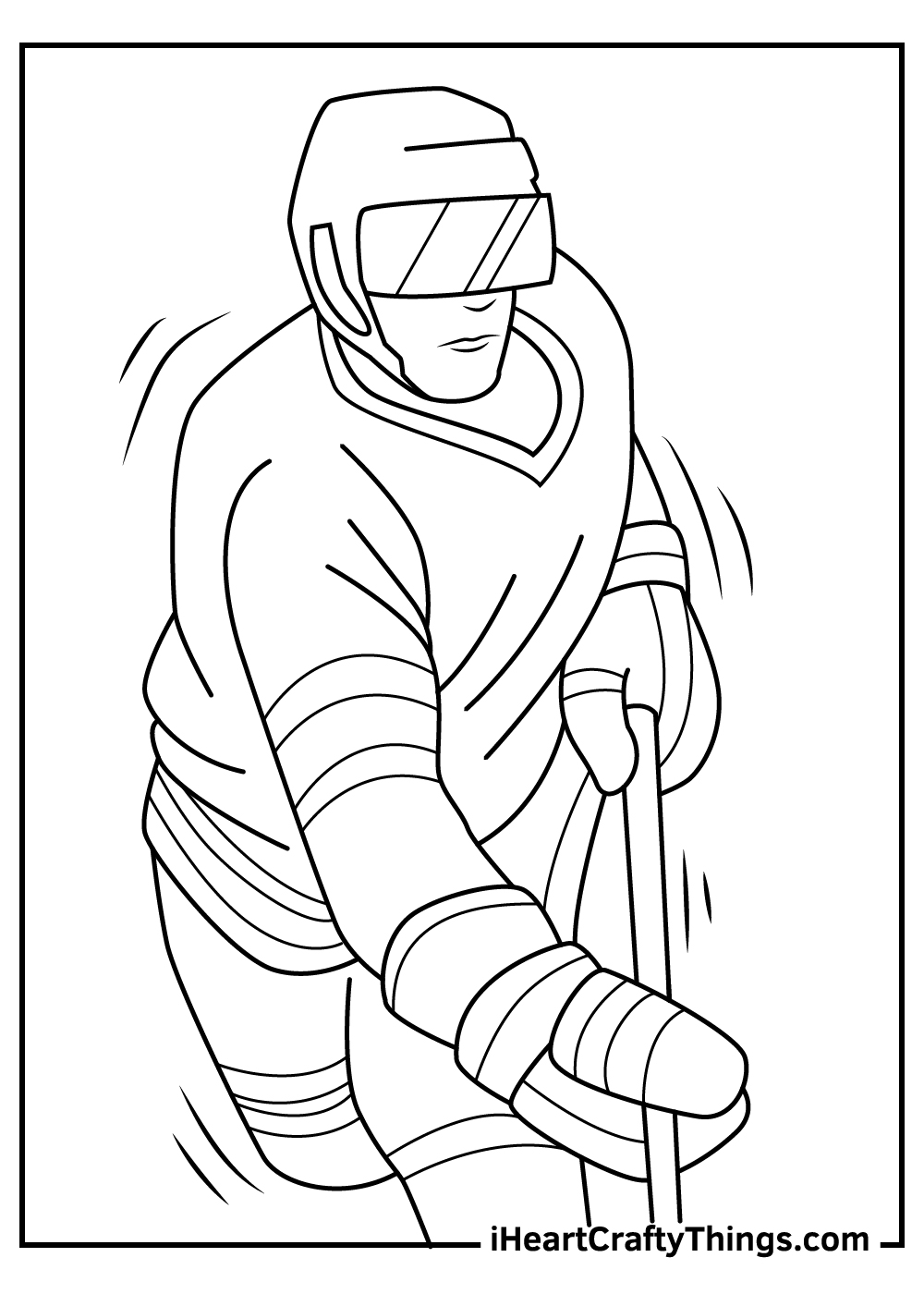 We have another player that must be the star of the match in this coloring page! He's looking pretty proud, and I bet he just scored the winning goal. I think for this image some bright and vibrant colors for the stars and the background would work to show off the triumphant atmosphere of the scene.
If you have a favorite NHL match, maybe you can make his uniform match the one in that match to recreate the winning moment!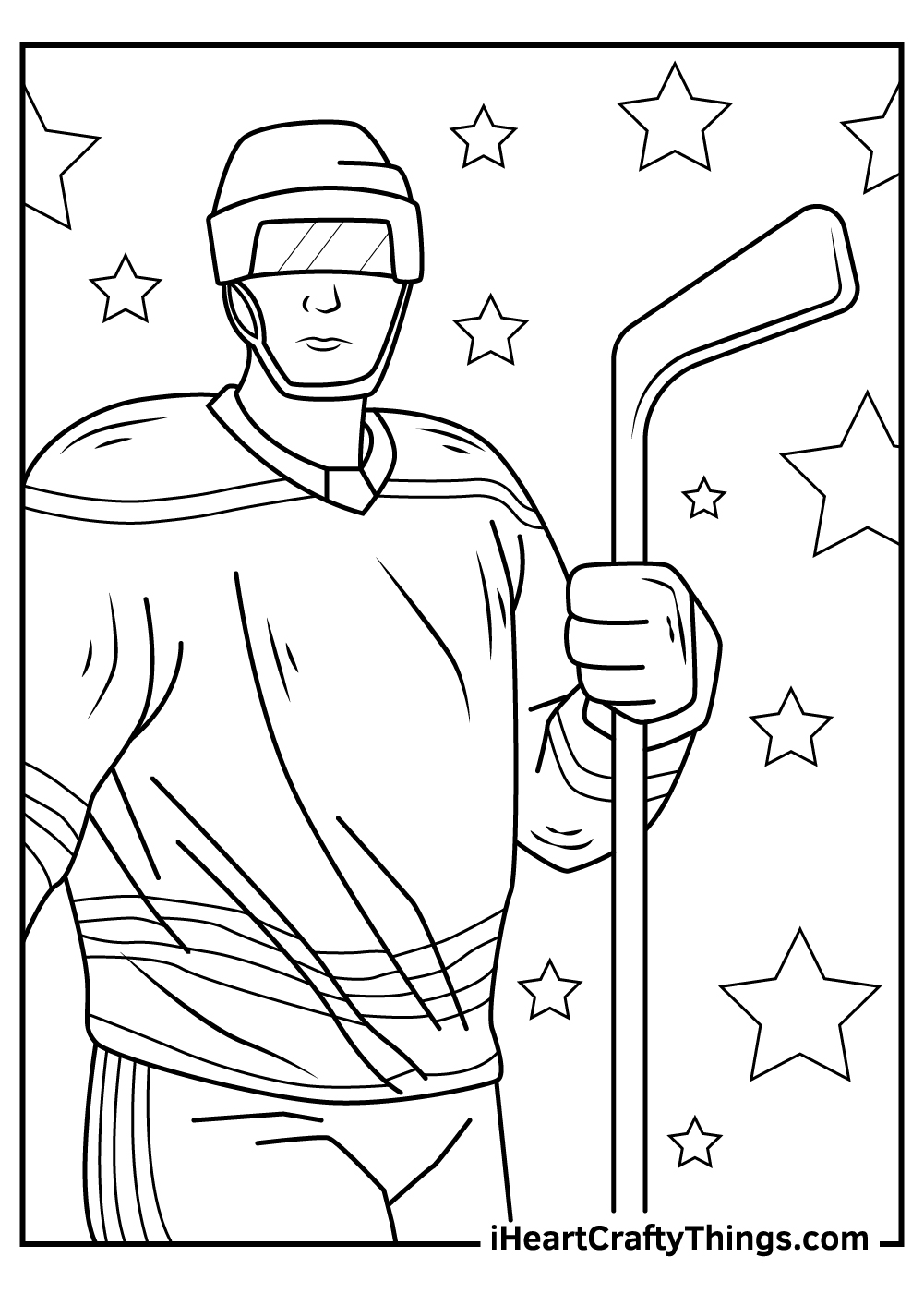 Another action packed moment takes center stage in the next printable. This player is busy swooping in, maybe getting ready to go for the goal shot. I always think bright colors work great for these kinds of more active scenes, so what will you choose for this NHL coloring page?
REMEMBER: You can get the COMPLETE set of these coloring pages >> HERE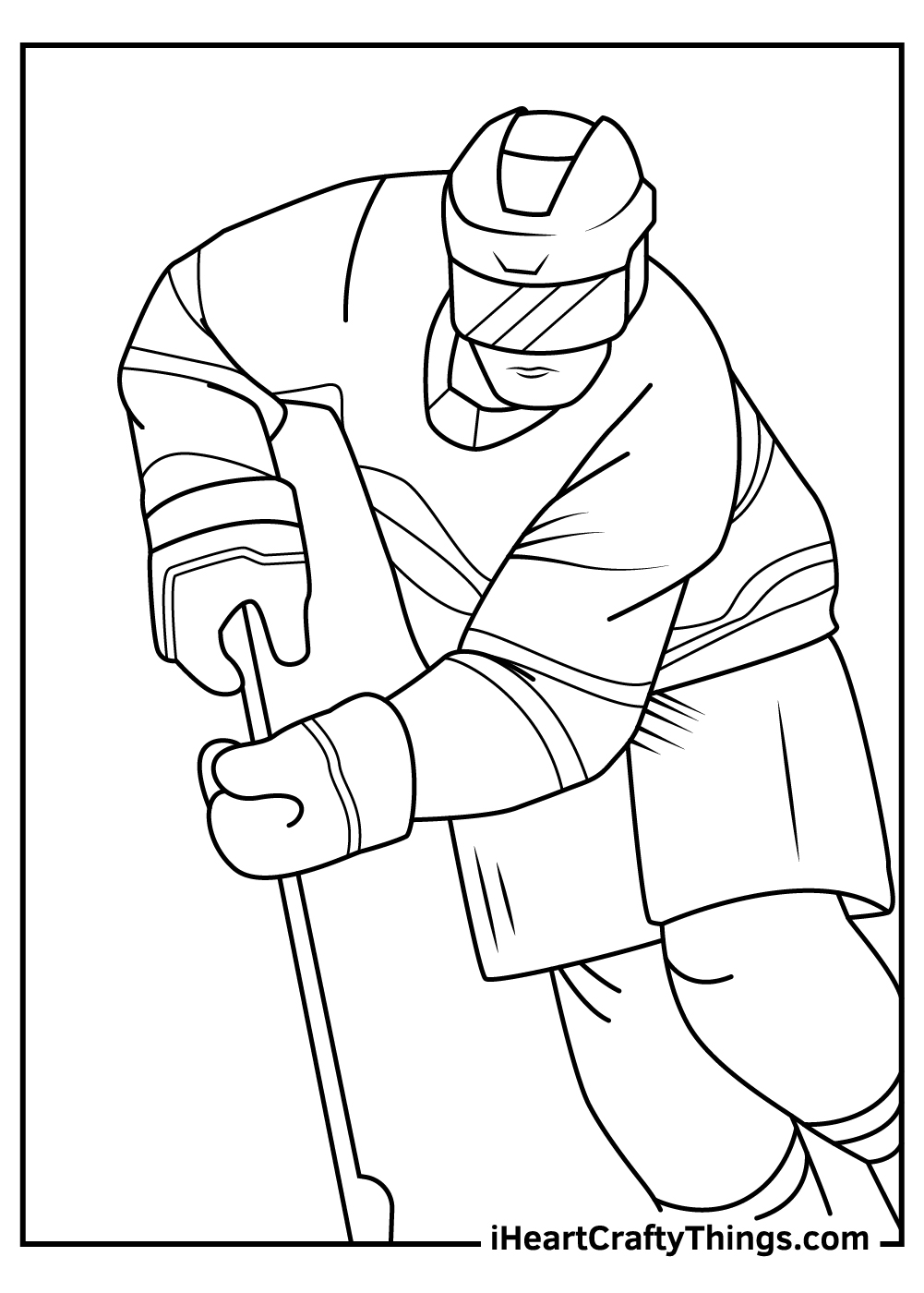 I think the background being segmented behind the player in this NHL coloring page is perfectly set up for a striking color scheme! Maybe you can use the colors of a team's uniform in the background as well as using them on his uniform, of course!
Be sure to show us the colors of your favorite teams on our Facebook page.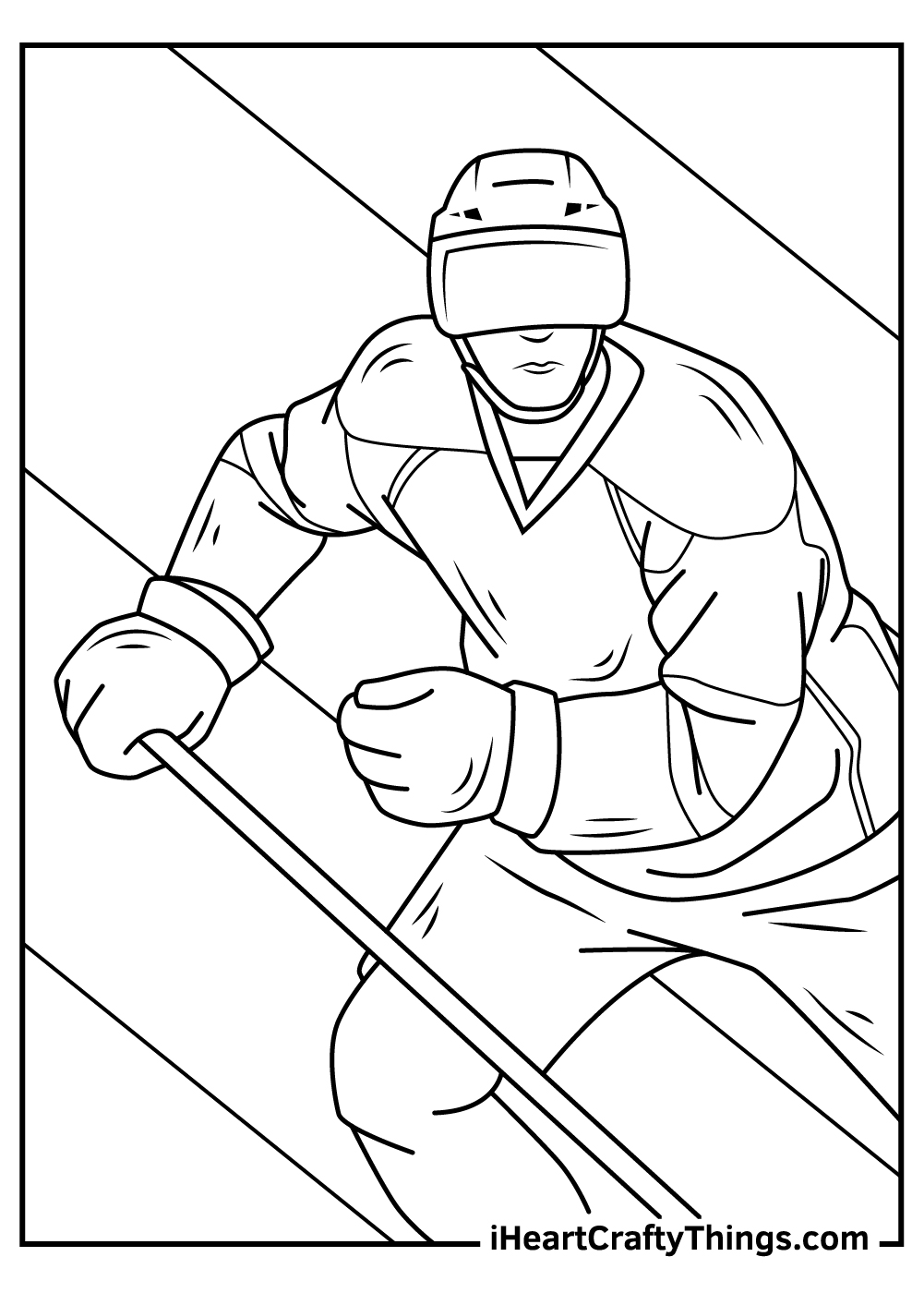 We close off this collection of free NHL coloring pages with one more action shot. I think the only way you could get this close to the action is if you were a player yourself playing alongside him!
There's a lot of space behind this player for you to color in a bold background, or maybe you want to use another flurry of colors to show off his speed and agility. We can't wait to see how you capture this moment with your creativity!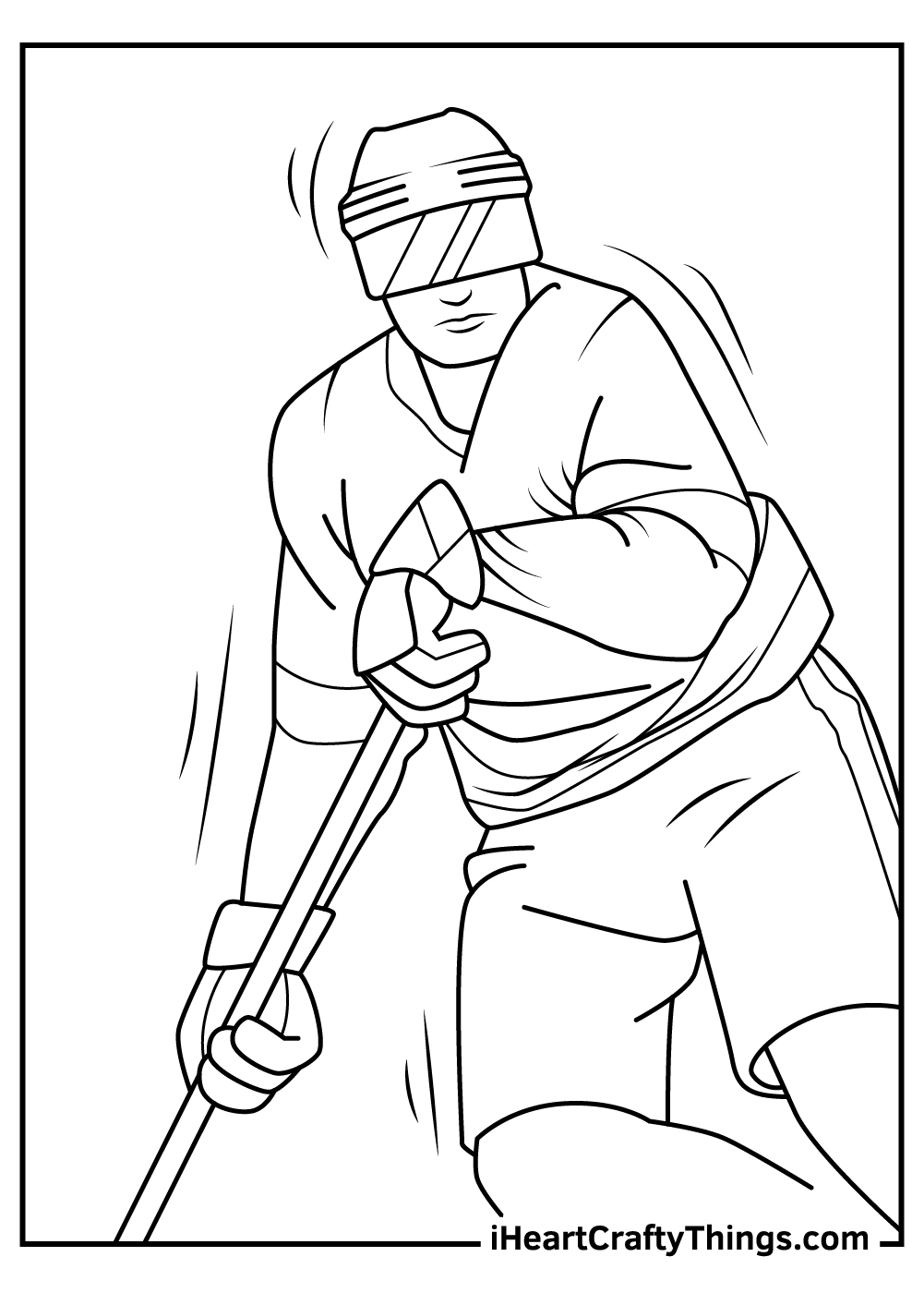 NHL Coloring Pages – Which will you choose?
We hope these NHL coloring page printables have helped you capture the excitement and fun of the game! All of our printable coloring book pages are completely free for you to print as many times as you like, so if you found it hard to choose just a few team uniforms to color in you can print out multiple copies and represent all of your favorites!
Please remember to like and share our Facebook page for many more fun coloring book page printables to come.
Also, please be sure to show us your NHL coloring pages once you've finished them, we can't wait to see all your favorite teams and moments!
REMEMBER: You can get the COMPLETE set of these coloring pages >> HERE