In the middle ages, knights were brave and noble soldiers who fought for their king and land. In stories, they also faced all manner of beasts and monsters like dragons, and whether it's fact or fiction it's always true that knights heroically took on any obstacle in their way.
Knights would often sport regal colors like reds, yellows and purples to compliment their shining armor, but with these free knight coloring pages for kids you can decide how you would like to color in these knights and have them ready for battle!
If you have some silver glitter or glitter pens, you could also use them to represent their shiny metal armor.
Once you've printed out and colored your favorite free knight coloring sheets, be sure to share them to our Facebook page for us to see.
We'd love to share in your colorful medieval adventures!
REMEMBER: You can get the COMPLETE set of these coloring pages >> HERE
15 Brand New Knight Coloring Pages – Free to Print and Color
The first in this series of free knight printables for kids has a brave knight standing and ready for anything.
You could color in his shield, cape and tunic in all manner of colors; for example you could keep the red and white color scheme of a crusades knight or get creative and incorporate your favorite colors. How will you color in this knight coloring page?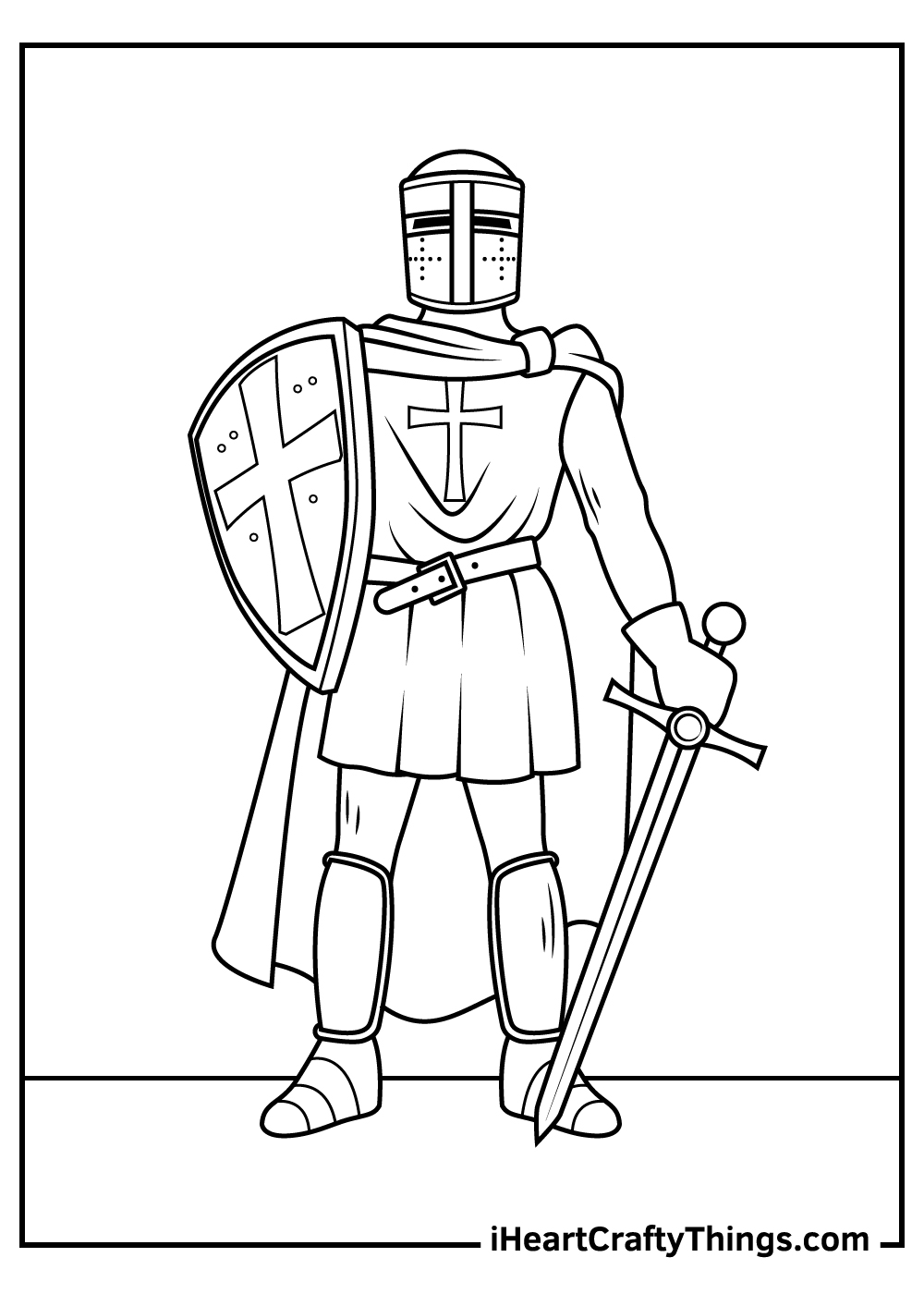 This knight coloring page shows a close-up of a knight in armor holding a sword in his left hand. He's smiling as if he's showing off his sword to you. The sword is a long sword with a cross hilt.
You can see the details of his helmet, breastplate, pauldrons, vambraces, and greaves, which are perfect for coloring.
What kind of knight do you think he is? Is he a brave and noble knight who fights for his king and land. Or maybe a mysterious and mysterious knight who has a secret mission.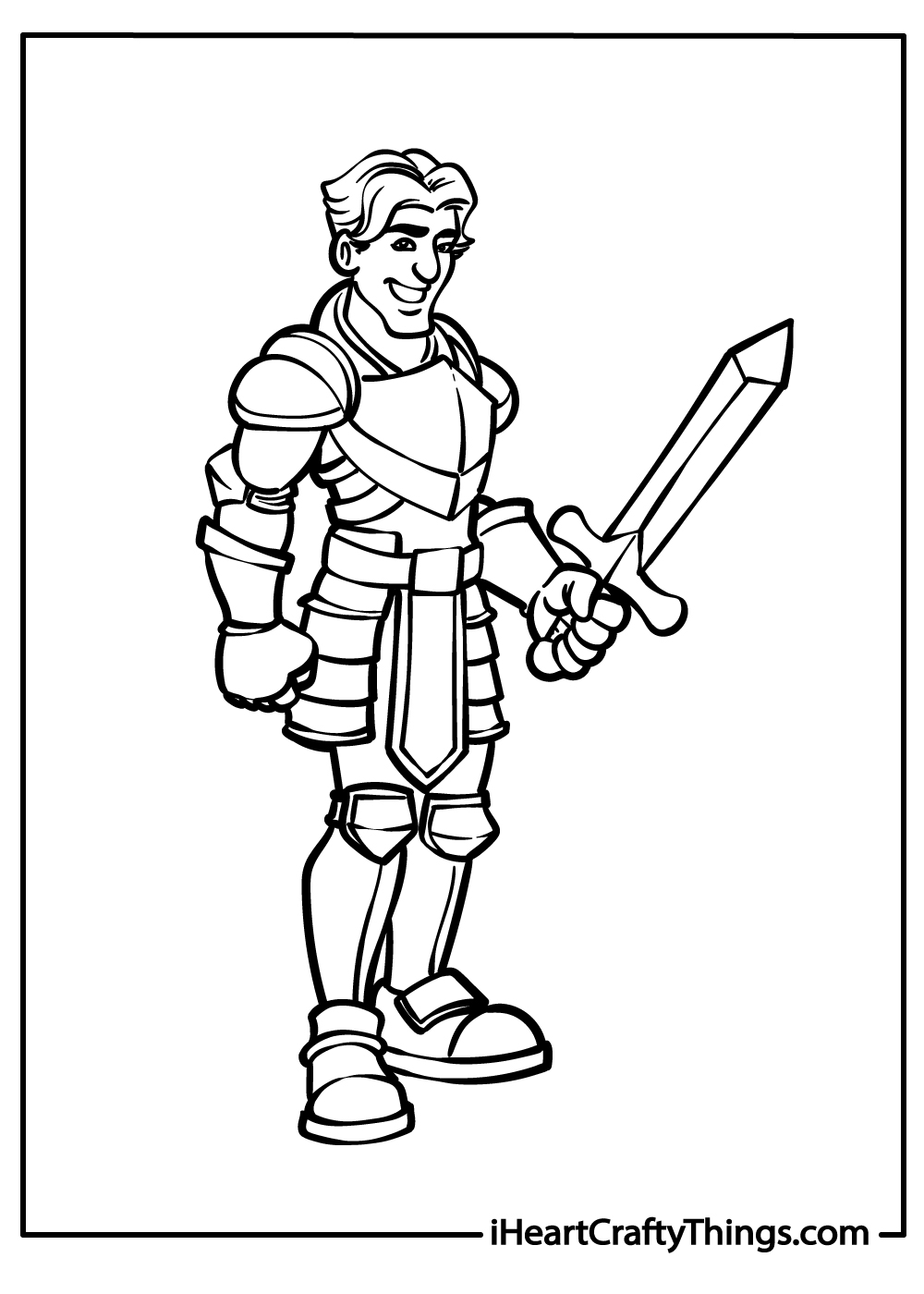 This next knight coloring sheet shows one who is heavily armored up with his sword and shield. He definitely seems like someone you'd want to have on your side!
Maybe you could draw in a background scene of a castle or battlefield once you've colored him in to give this knight printable some extra depth.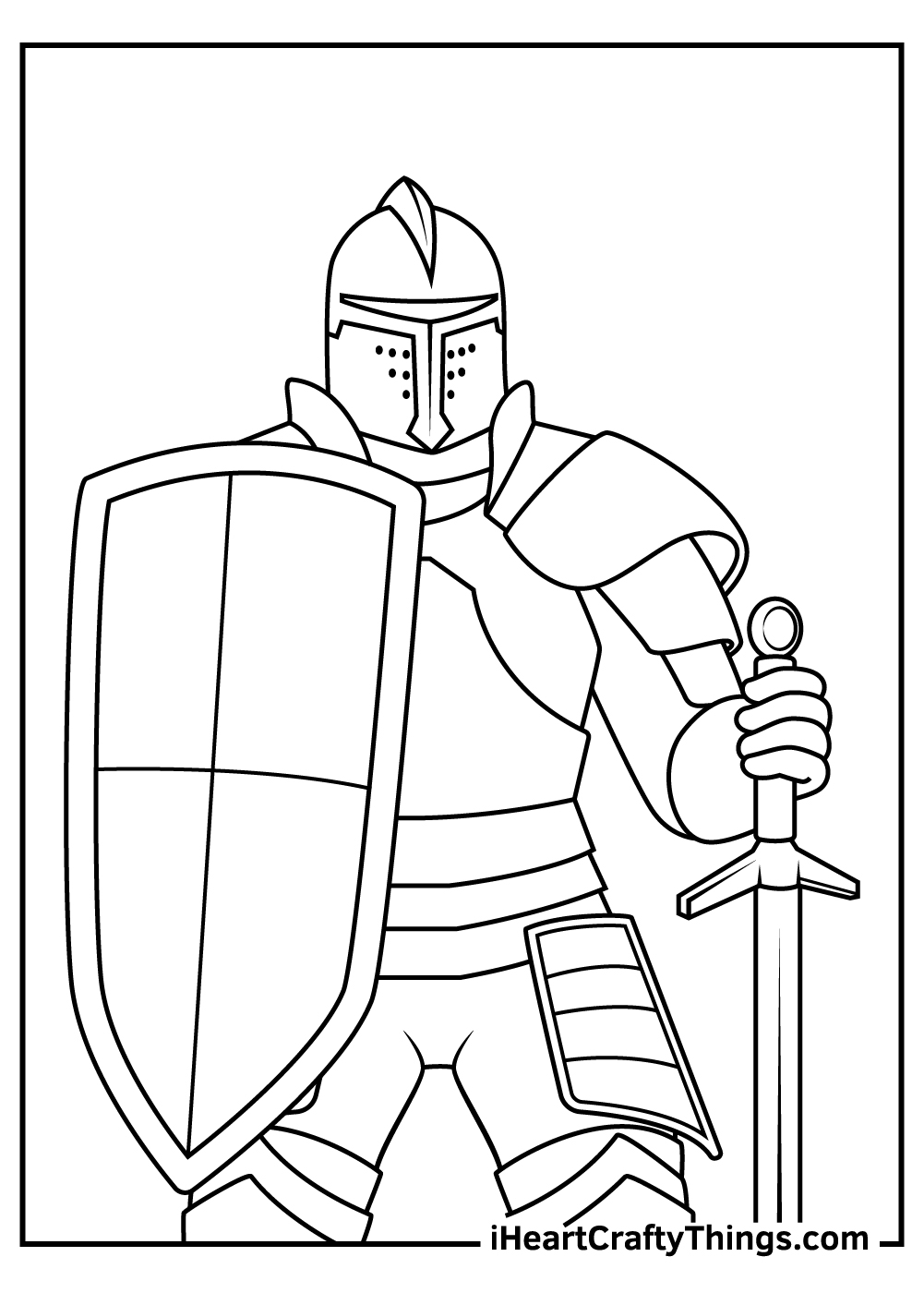 It looks like the man in this knight coloring page is marching ahead, probably towards the battle!
The background is separated into sections, so maybe you could alternate the color scheme you decide on for his shield and tunic colors, or you could make them completely different to contrast the knight even more.
We can't wait to see what you decide for this knight printable!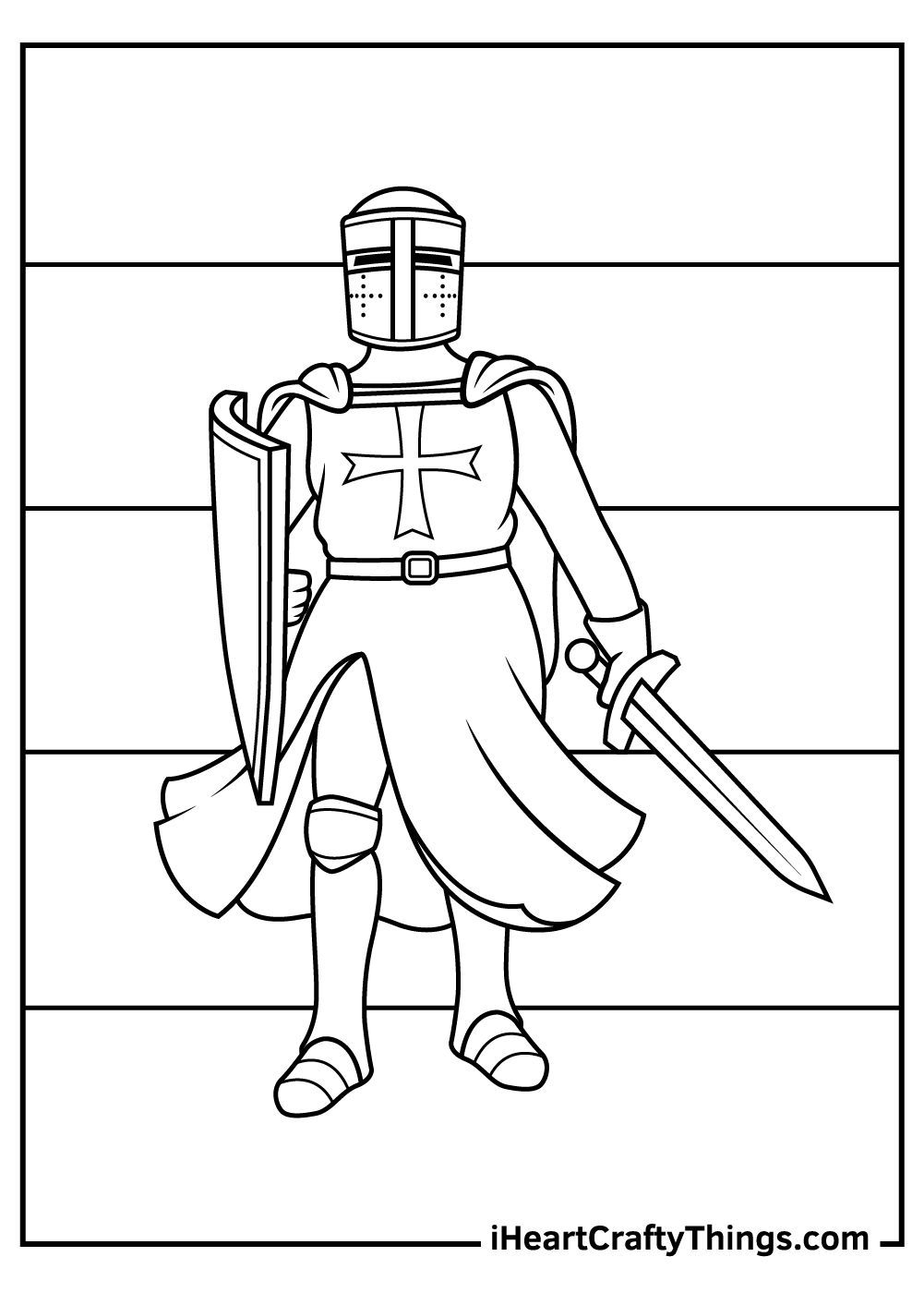 Next we have a young knight in armor holding a sword and shield. He is wearing a helmet with a plume on top, which makes him look very noble and elegant. Look how his sword is pointed upwards, as if he is ready to strike.
You can color his armor and shield in any way you like. The armor, shield, and sword will look more realistic if you add metallic colors. Adding bright colors will also make them look more fun.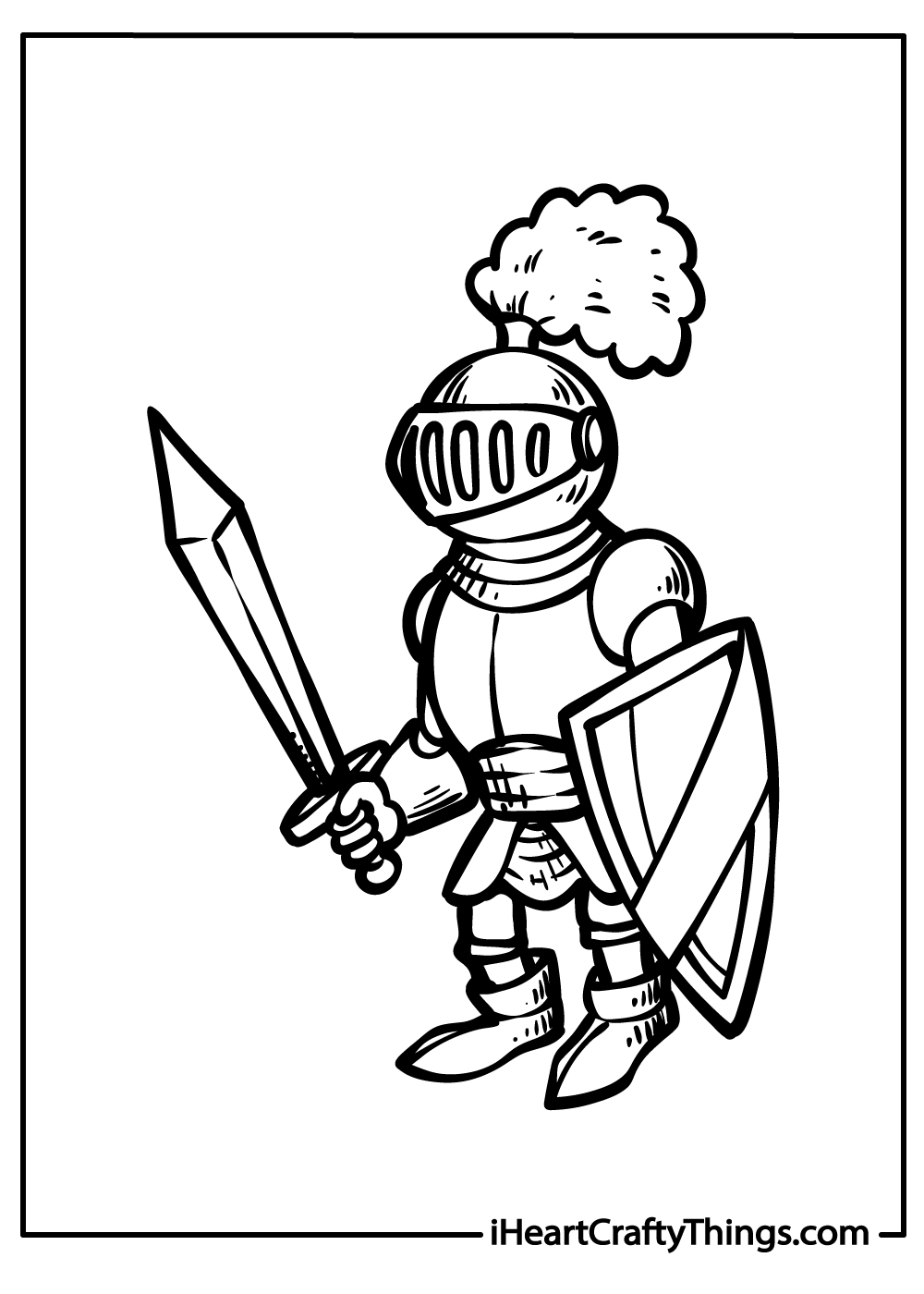 In our fourth free knight coloring page, we see a knight who seems to be in the heat of battle, blocking with his shield against a strike.
For this more dramatic image, I'd think some bright reds and yellows for the background would help to show with color that this knight is moving around the battlefield and fighting hard.
REMEMBER: You can get the COMPLETE set of these coloring pages >> HERE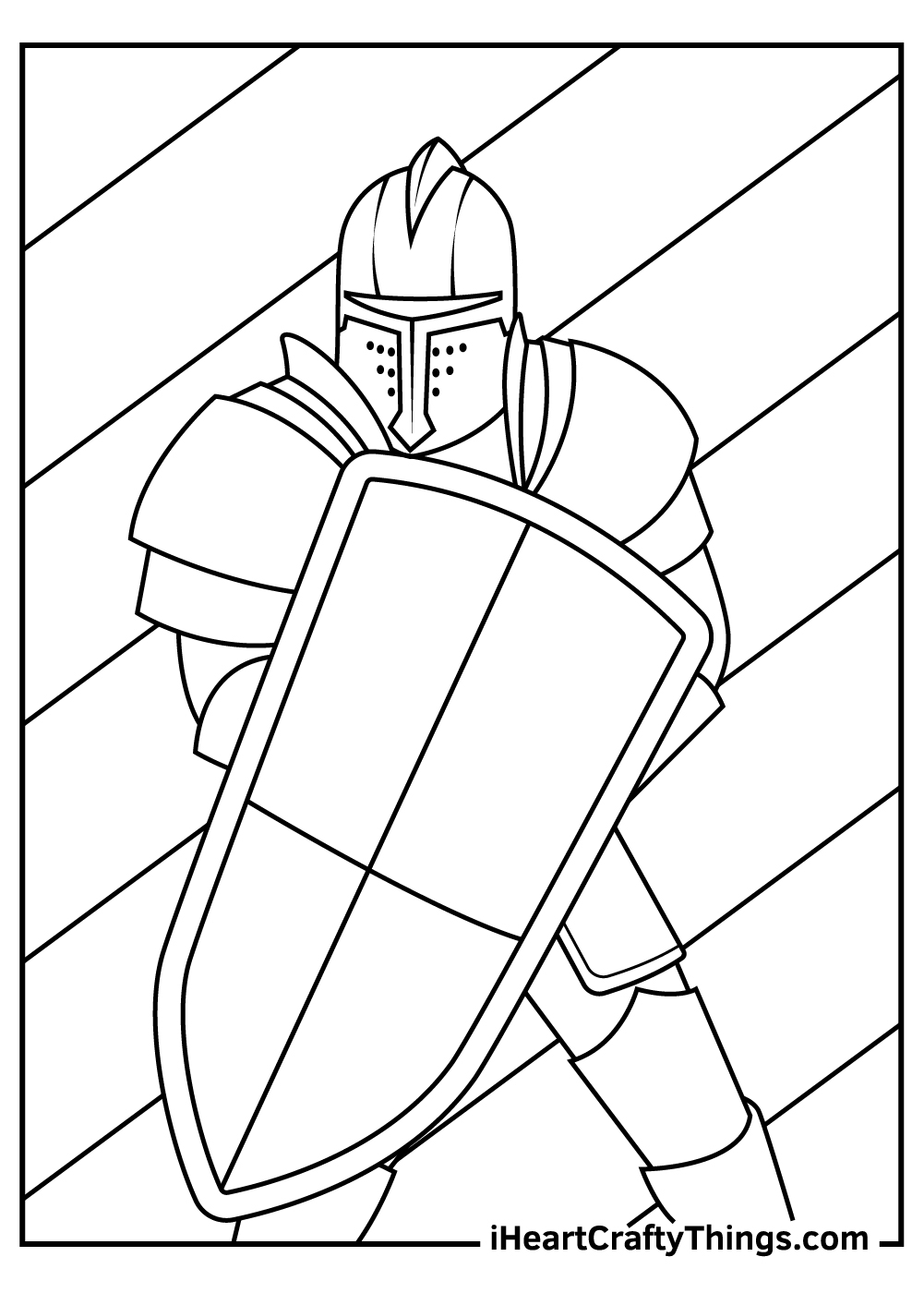 We have a more subdued image for this knight coloring sheet. He's kneeling down, and I bet he's taking a breather after winning a tough battle.
The circle around him almost makes it look like he's kneeling in a spotlight. I think this knight printable would look great if you kept the background a darker color, maybe a blue or green, while keeping the knight and spotlight in brighter colors.
I think that would really give this image a striking look.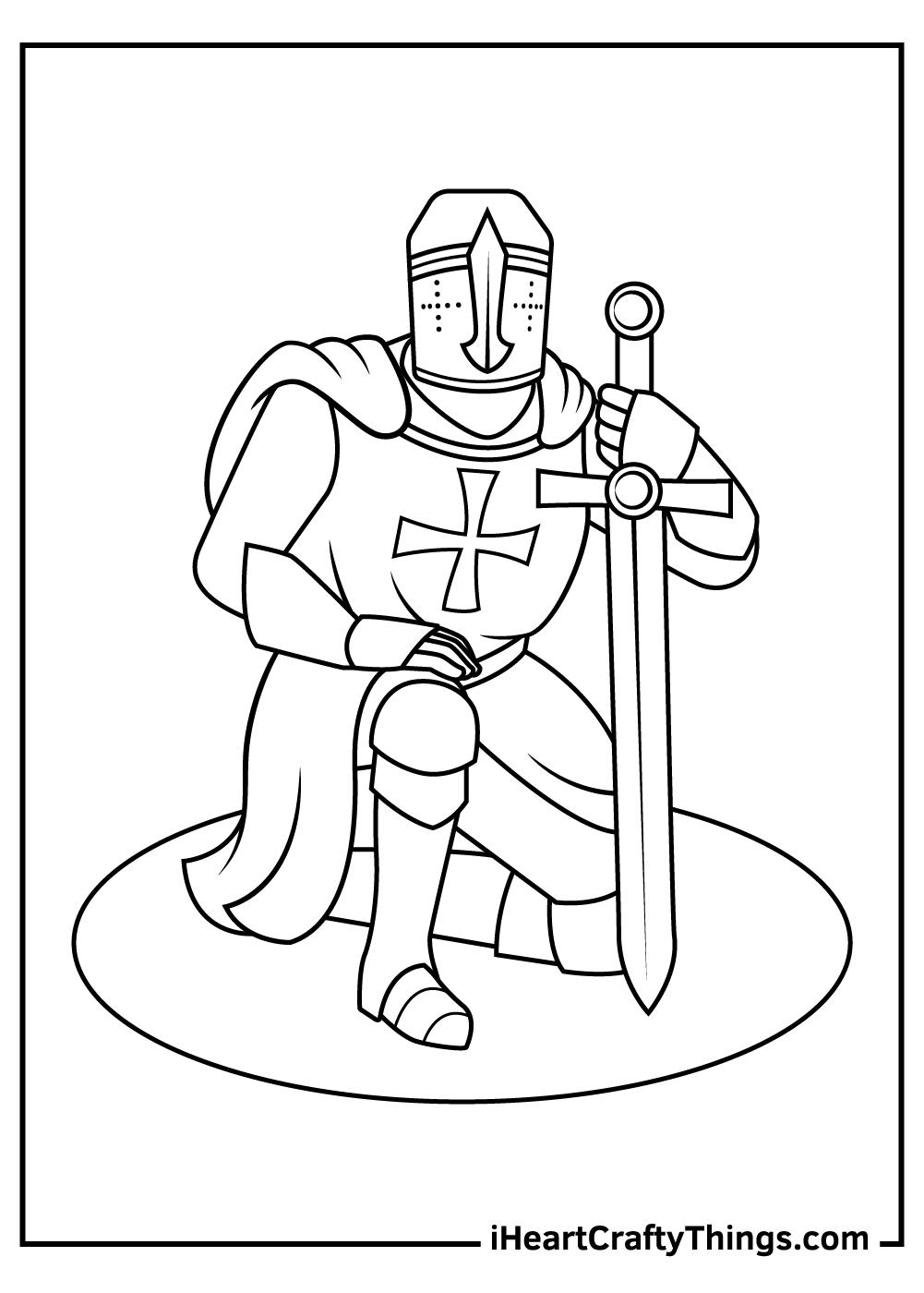 Grab your coloring tools and meet this brave knight holding a huge axe and ready for a royal joust. He wears shining armor from head to toe, with a pointy helmet topped with a feather.
His helmet features a cross, and a coif of chainmail wraps around his neck for extra protection.
There's so much detail in this printable for your to color. Color his armor with gleaming golds and silvers fit for royalty. Or make his gear pop with your brightest reds, blues and greens.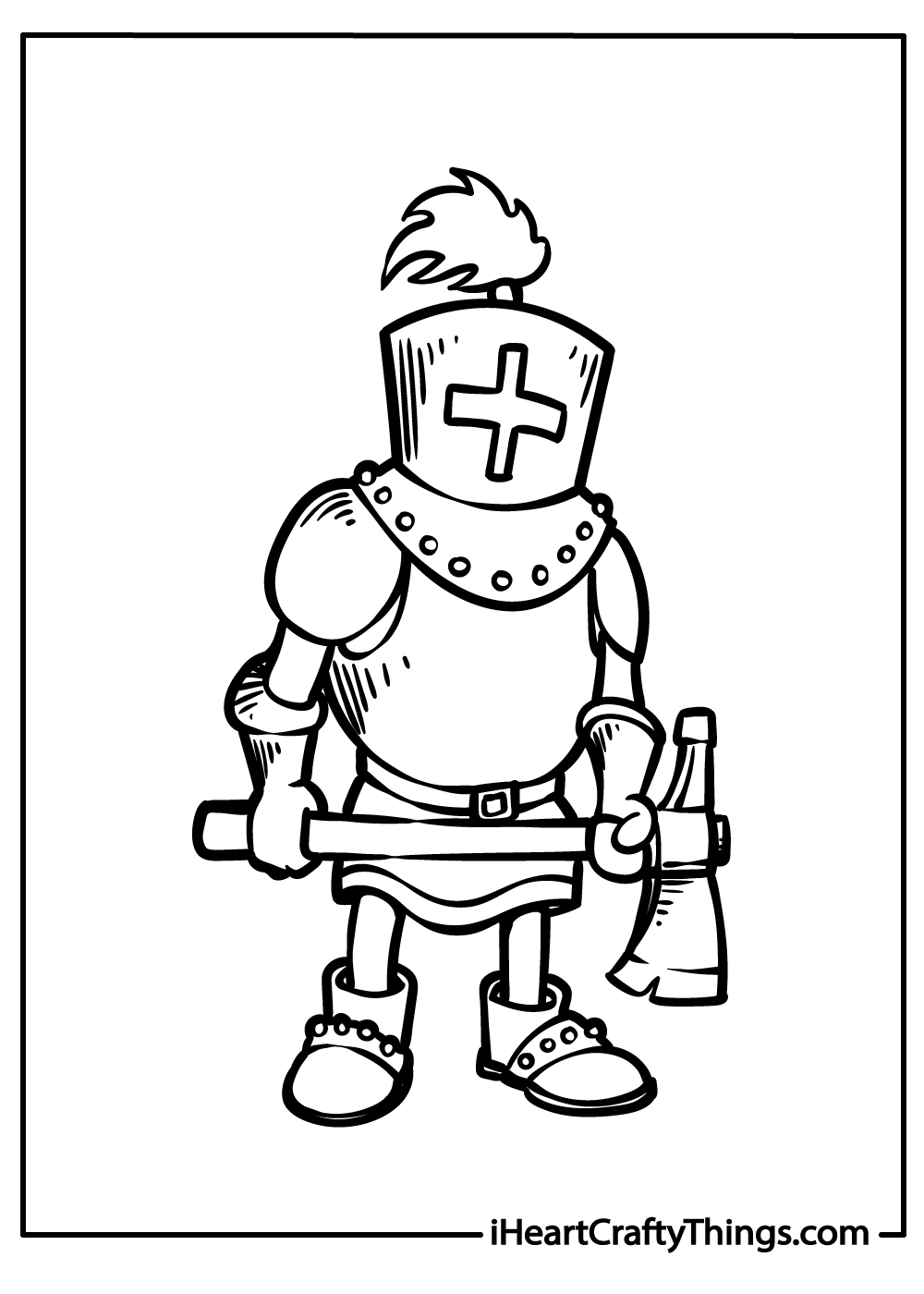 A close up on the hilt of a sword is next up in our collection of free knight coloring pages. What colors will you choose for the symbols on the handle and hilt?
This would also be another great opportunity to draw in some extra details in the background. Maybe you could draw in a dragon that he's about to face!
REMEMBER: You can get the COMPLETE set of these coloring pages >> HERE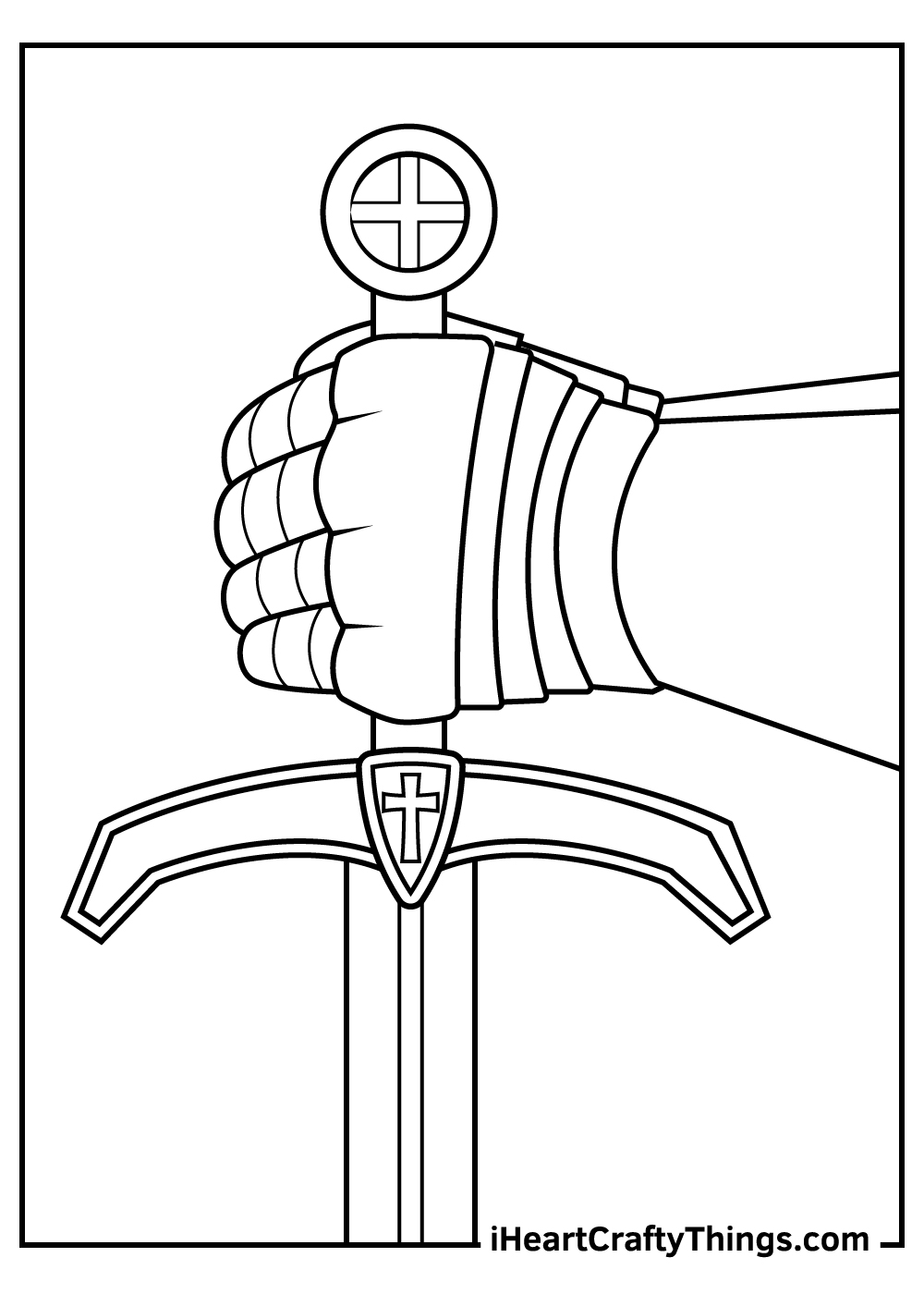 The man in this knight coloring sheet is wielding a battle axe.
He seems to be wearing a lot of chain-mail armor, so that means there will be a lot of grey on this knight which you can contrast with brighter reds, yellows or any of your favorite colors for the symbols on his armor and for the background.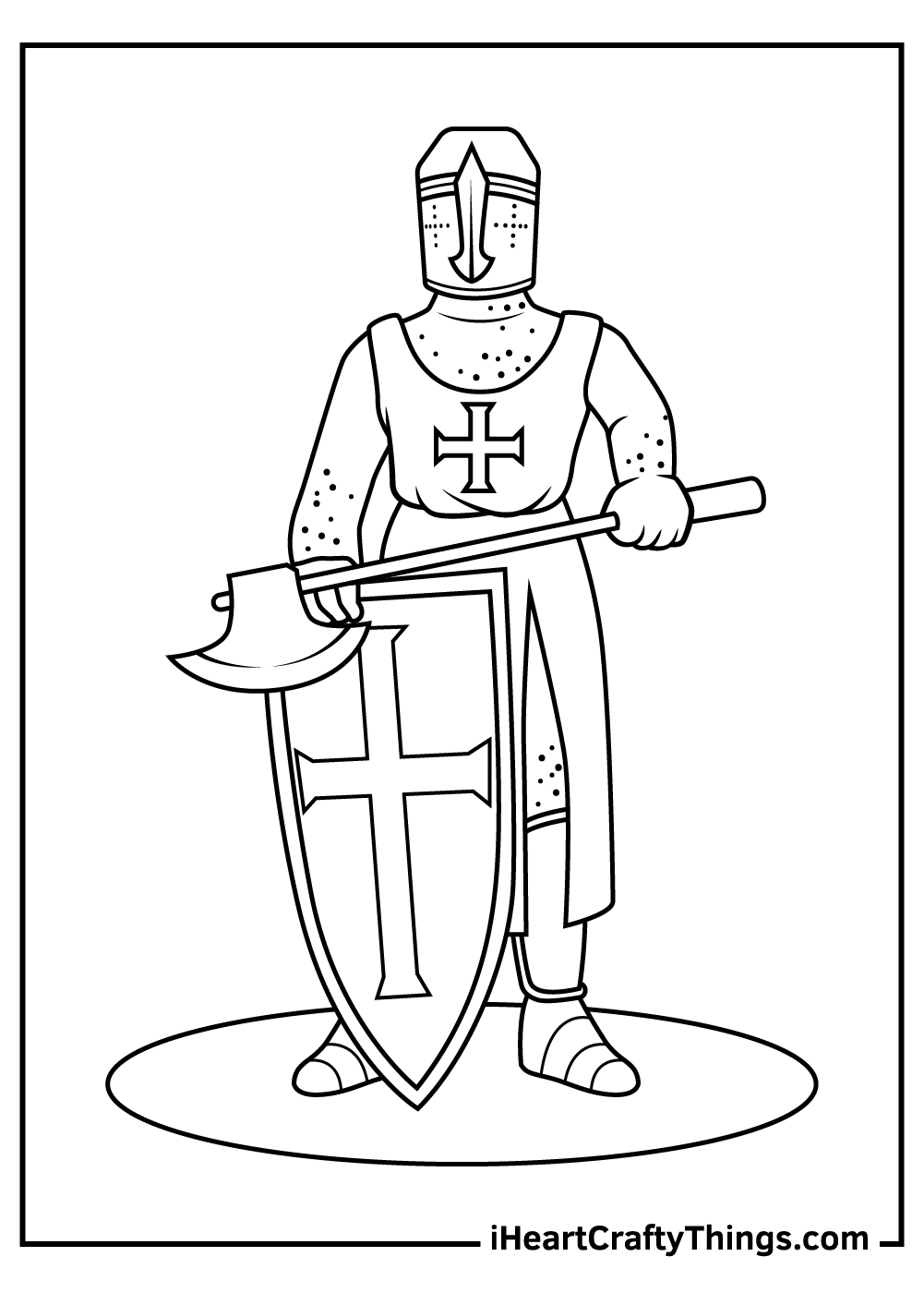 We're right in the action with this next knight coloring page. He's swinging his sword down hard, so he must be in a battle. I wonder if he's facing other knights or a mythical monster?
For this more action packed knight printable, I'd suggest a vibrant red for the background to highlight the feeling of this image.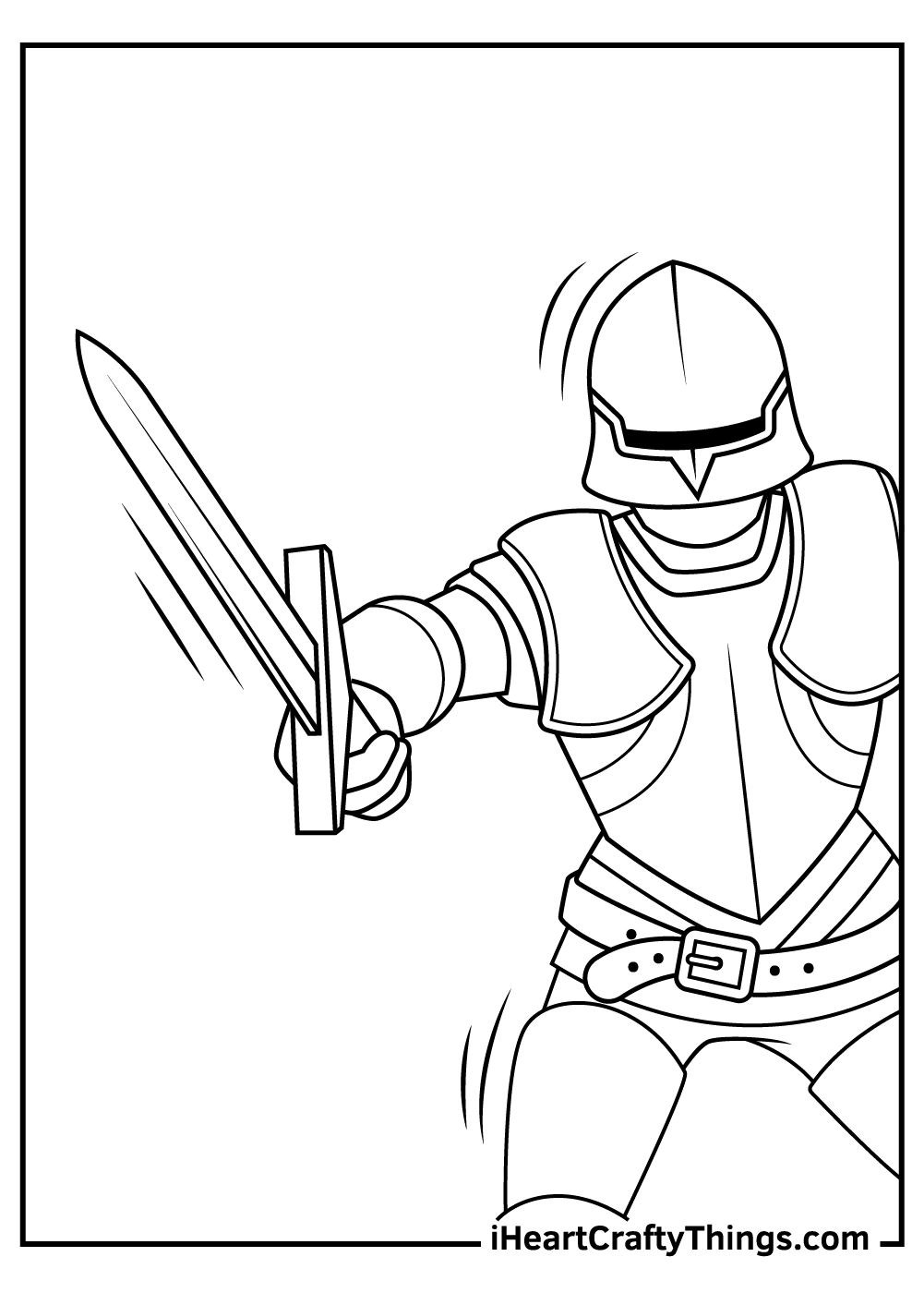 Look at this cute little knight who is having fun. He's dressed up in his helmet with a flip-up visor so he can see.
A bright tunic also covers his armor to keep him cozy. He's pointed his sword forward ready to challenge anyone that faces him. Do you think you can beat this knight?
You can color his helmet, tunic, lance and pennant in any way you like. You can also make his helmet glow by coloring it silver or gold.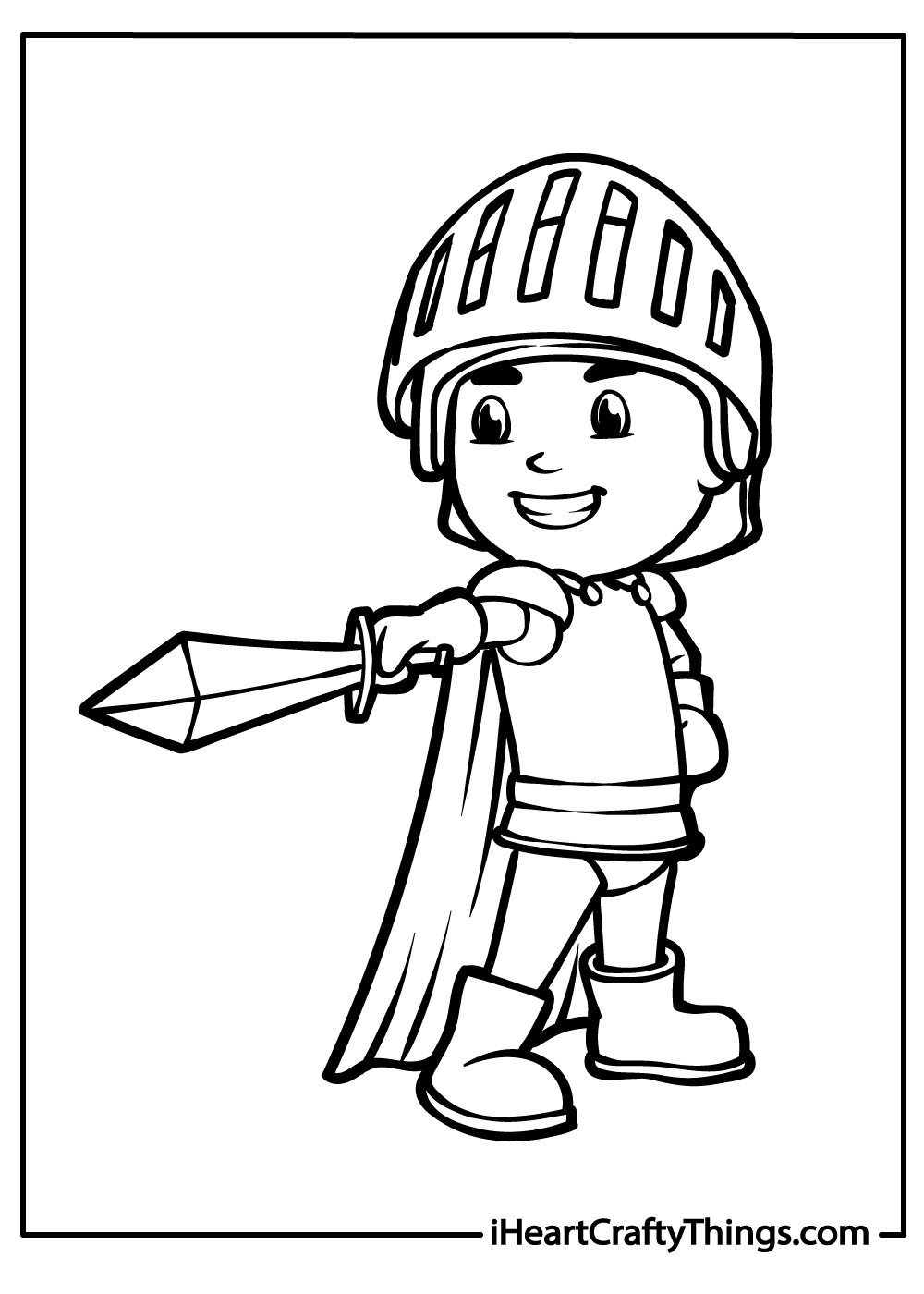 This knight coloring page has quite a unique look compared to the rest in this series. It looks a bit like a logo for a knight; showing his gloves grasping his sword in front of a segmented background.
This knight printable gives you a chance to really experiment with your favorite colors in the background to make for an eye catching image. Once you've completed it, this page could make for a cool poster!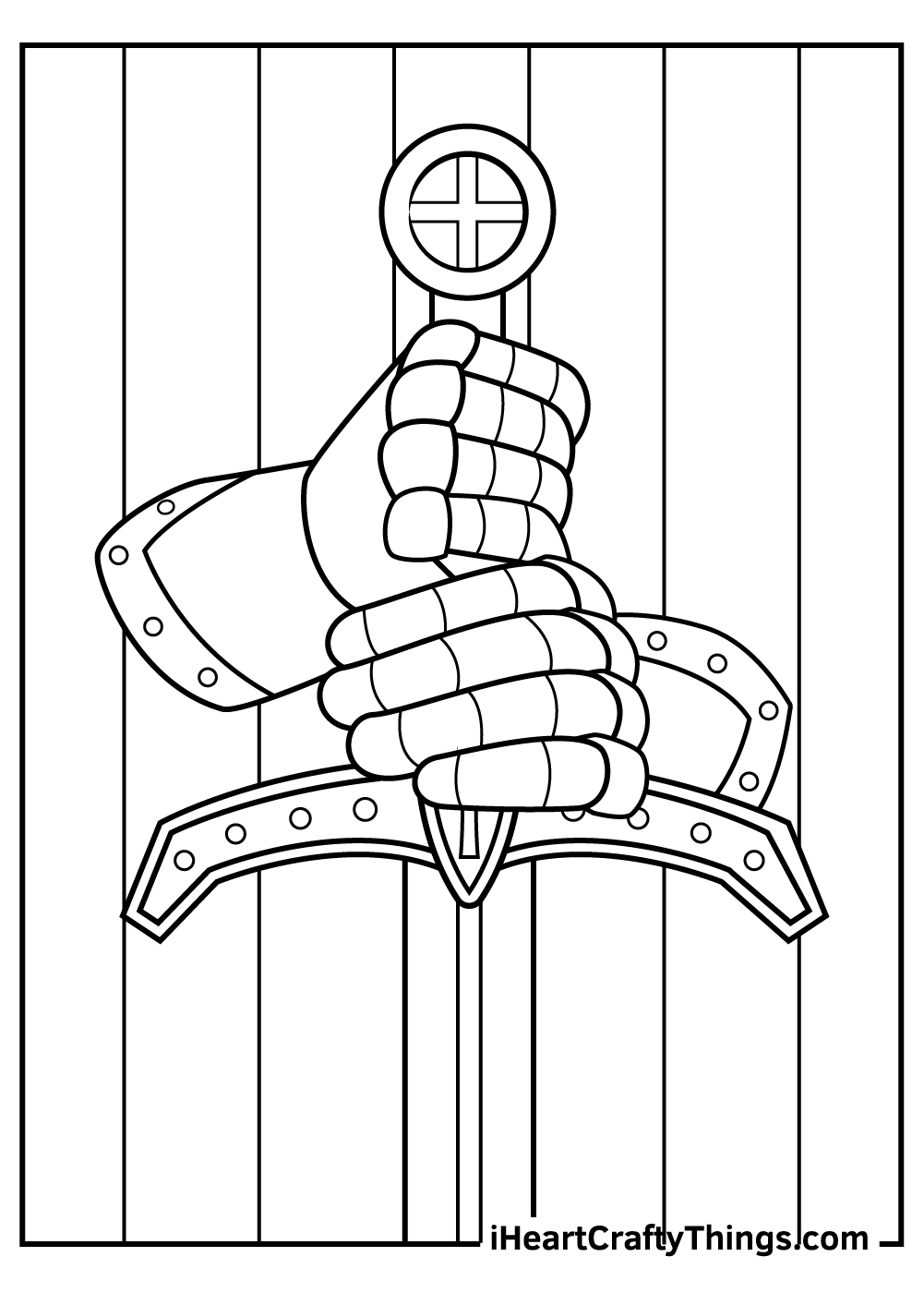 For the last free knight coloring page for kids we have a brave knight riding on his trusty steed. Once you've decided on the colors for his armor symbols, you can decide what color you'd like to make his horse.
Then I'd suggest a nice vibrant background to finish off this knight coloring sheet. Maybe you could use a combination of different colors for the background to give off a sense of movement.
REMEMBER: You can get the COMPLETE set of these coloring pages >> HERE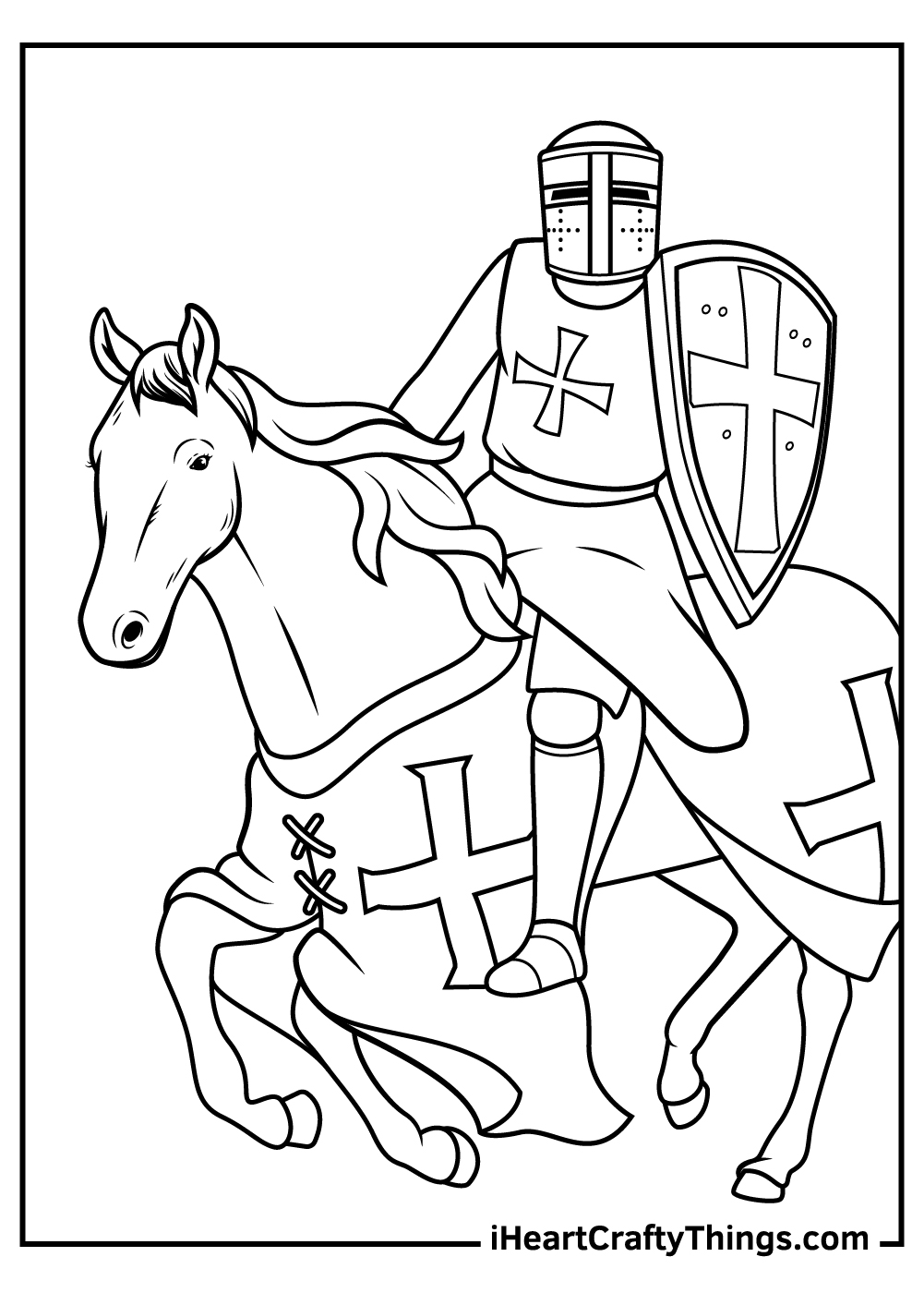 In this knight coloring page, we have another young knight in full armor holding a sword and shield. He is standing in a battle-ready pose with the sword raised and the shield at the ready.
His armor is detailed with a helmet that has a visor, a breastplate, and greaves. Color the shield bright red or emerald green to match his courage.
Add stickers or glitter to make his armor shine as you imagine all his adventures together.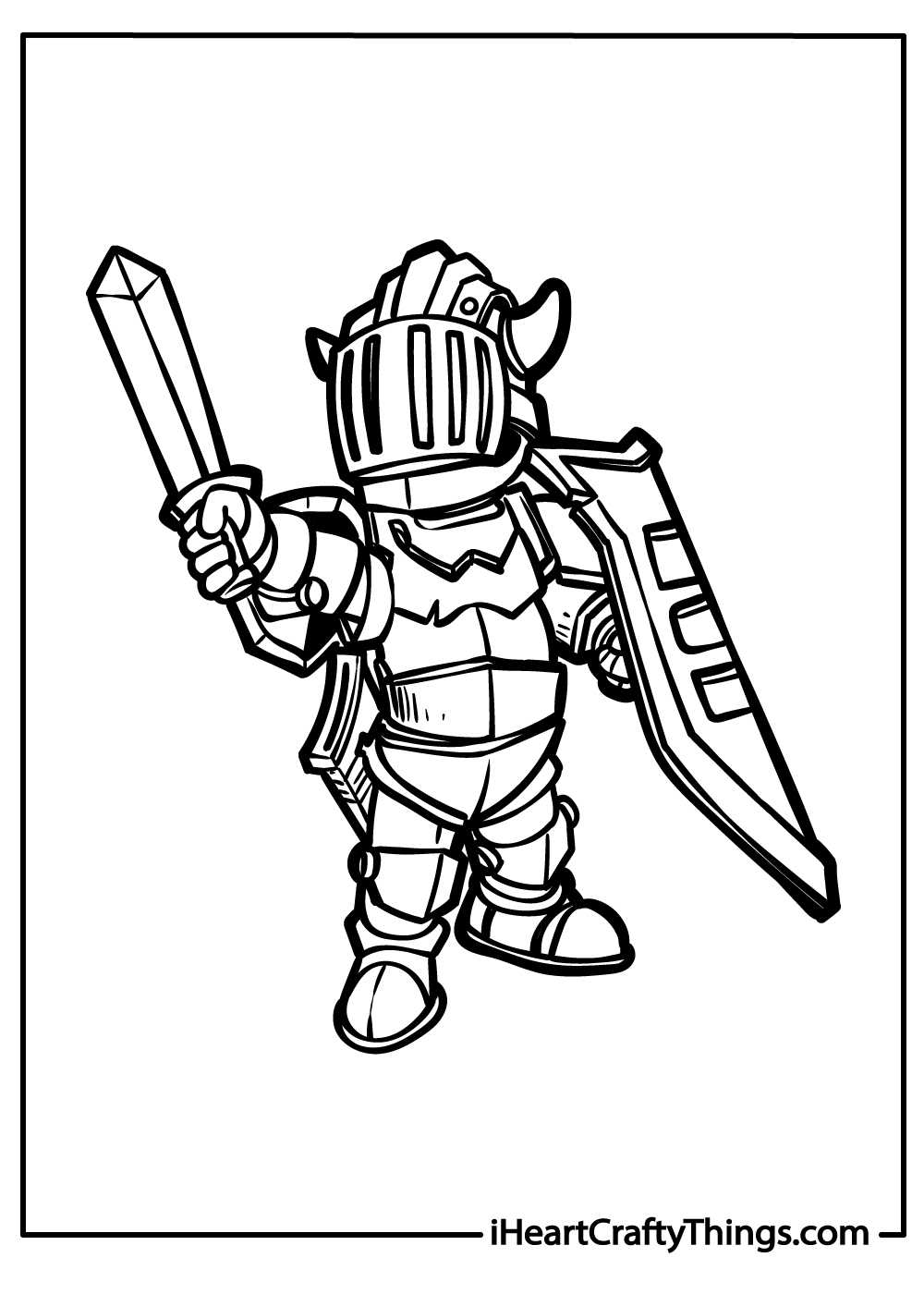 Knight Coloring Pages – Which will you choose?
We hope you had a lot of fun going back to the middle ages for some coloring fun with these free knight coloring pages for kids!
All of our coloring pages and printable art are completely free for you to print, color and enjoy, so why not go ahead and print out a few copies of your favorite knight printables to experiment with and share with your friends?
Don't forget to go ahead and like and share our Facebook page, we have plenty of free coloring pages and printable goodies for you to have lots of fun with, so you don't want to miss out on all the fun!
Also, once you've finished your favorite free knight coloring sheets please share your colorful artworks on our Facebook page for us to enjoy!
We can't wait to see your colorful, bold knights!
REMEMBER: You can get the COMPLETE set of these coloring pages >> HERE