On this page, you will find 20 all new Goku coloring pages that are completely free to print and download.
There are so many heroic, superpowered characters that appear in manga and anime, but few are as iconic as Goku.
This main character from the Dragon Ball Z series has captivated millions of people worldwide, and he has fans of all ages.
This collection of free Goku coloring pages for kids is here to celebrate this awesome hero in style!
These 20 pages all feature Goku in various forms, and each page is free for you to enjoy as you please! If you know other Goku fans, you can share these pages with them to enjoy as well.
So get ready to have some amazing coloring fun as you begin this collection!
20 Brand New Goku Coloring Pages – Free to Print and Color
This first page in our collection of free Goku coloring pages for kids features a really cool image of this hero.
Goku appears in different forms depending on the situation, and here he is in one of his Super Saiyan forms.
His hair is usually bright yellow in this form, but there are a few variations you could choose as well. How will you color this awesome picture of Goku?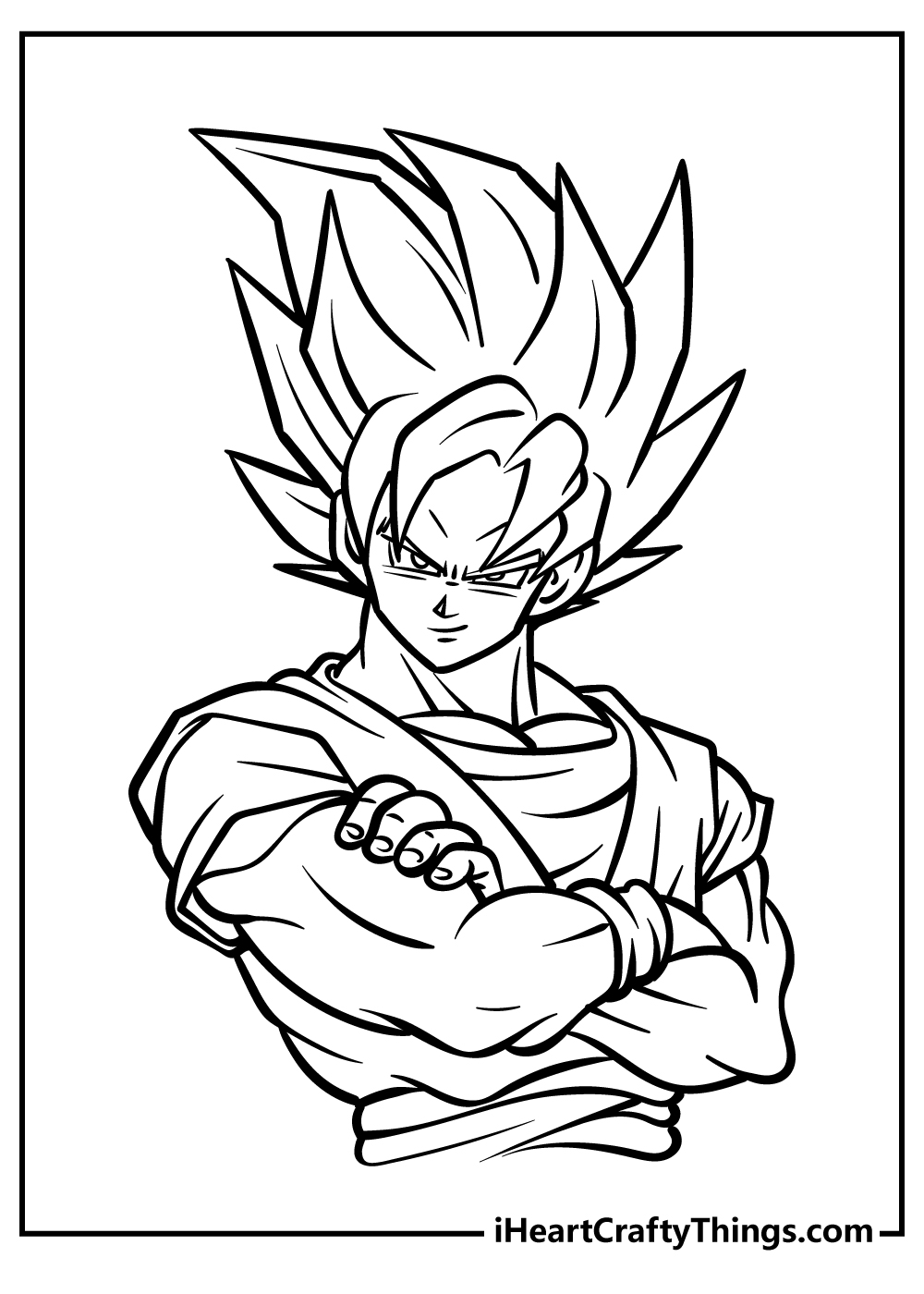 The focus of this Goku coloring page is on the face of our hero, giving a great look at his stern expression.
He seems to be facing a big obstacle, and this picture may remind you of your favorite Dragonball fight.
If you have a scene in mind, you could draw some background details to show off the scene this page made you think of.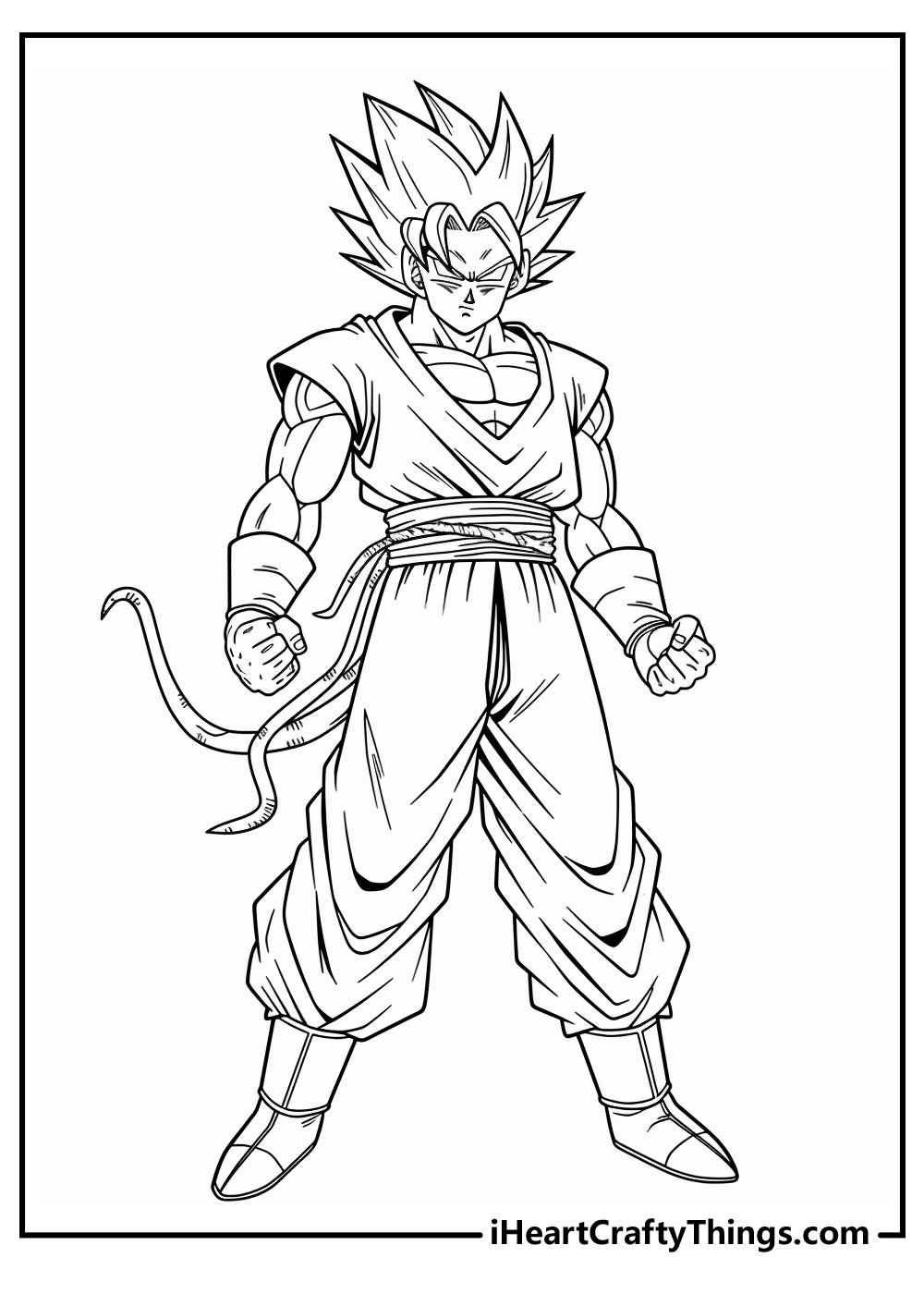 The previous image had Goku in his Super Saiyan form, but here he is in his regular human form. In this form, he has black, spiky hair.
He also typically wears an outfit that is orange with blue details, so you have a basis to work from if you wish to keep him looking accurate to how he looks in the anime!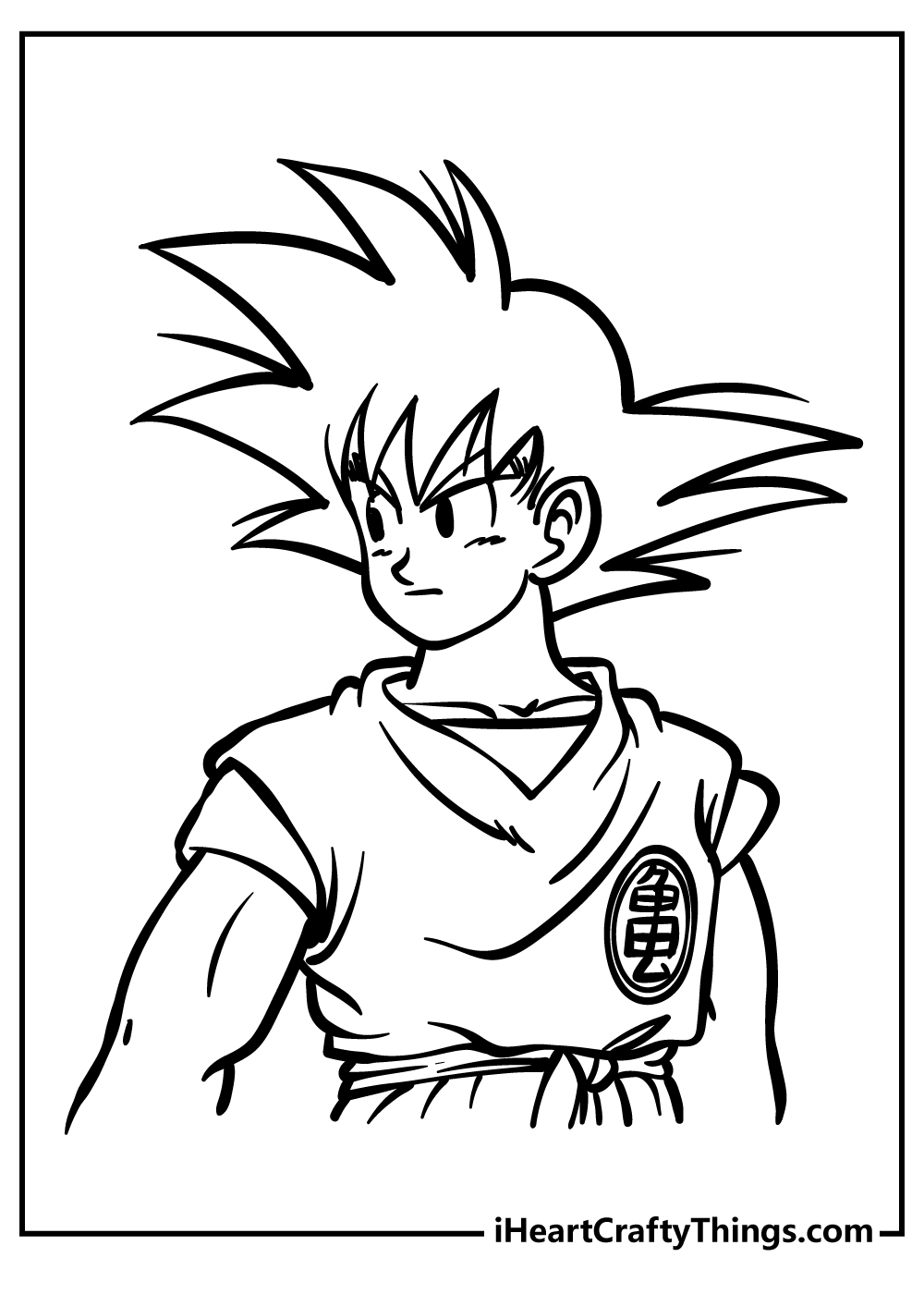 Things are about to get a whole lot more action-packed with this next image we have for you!
Goku is known to have many incredible powers, and here he is flying through the air while looking quite angry. Which classic Dragon Ball Z villain do you think he could be taking on here?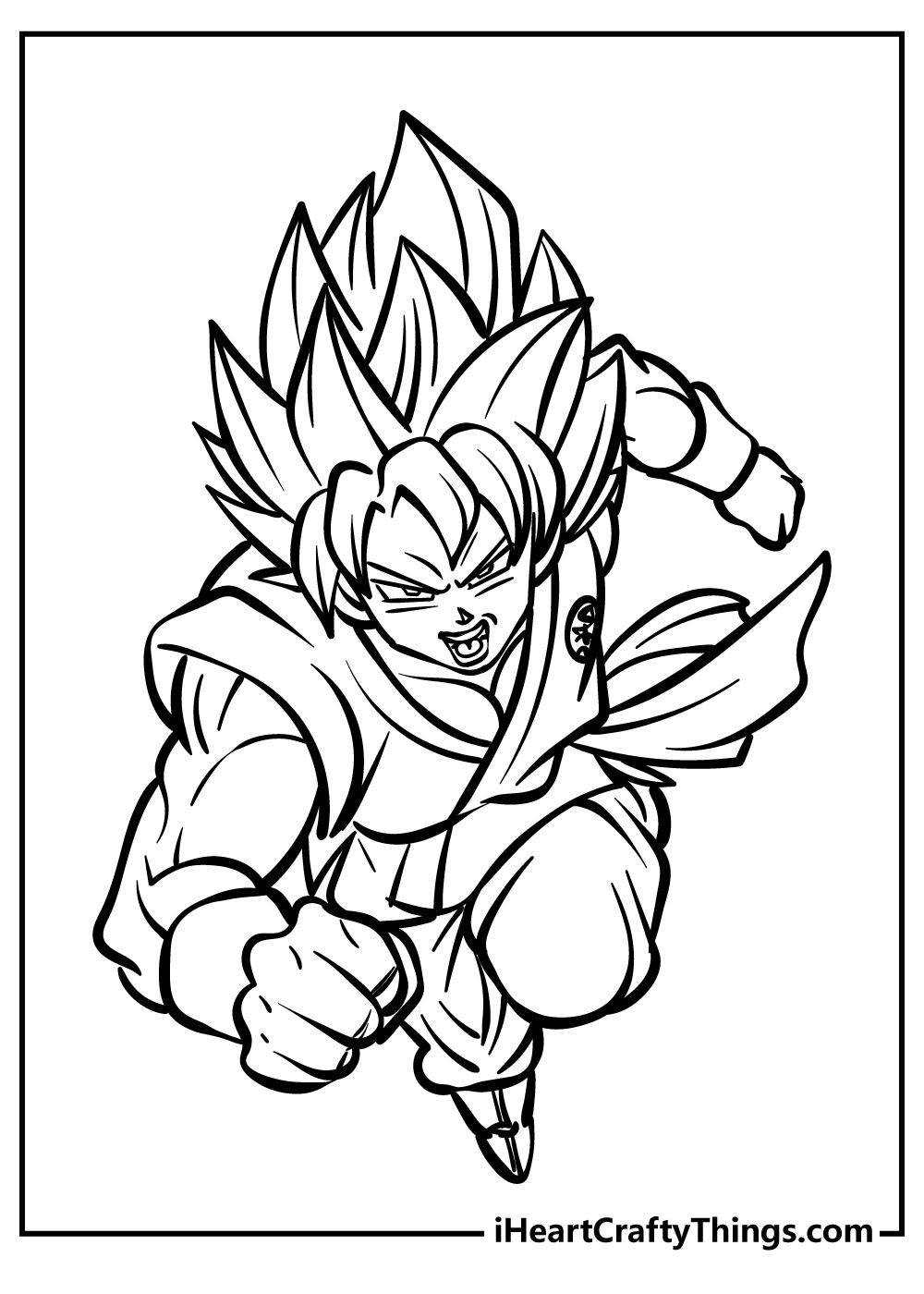 We're getting another look at Goku's incredible powers with this next page. In this image, he seems to be preparing one of his powerful moves, and there are a few ways that you could illustrate that.
One idea would be to color some bright lines and shapes around his hand to show his superpowers visually.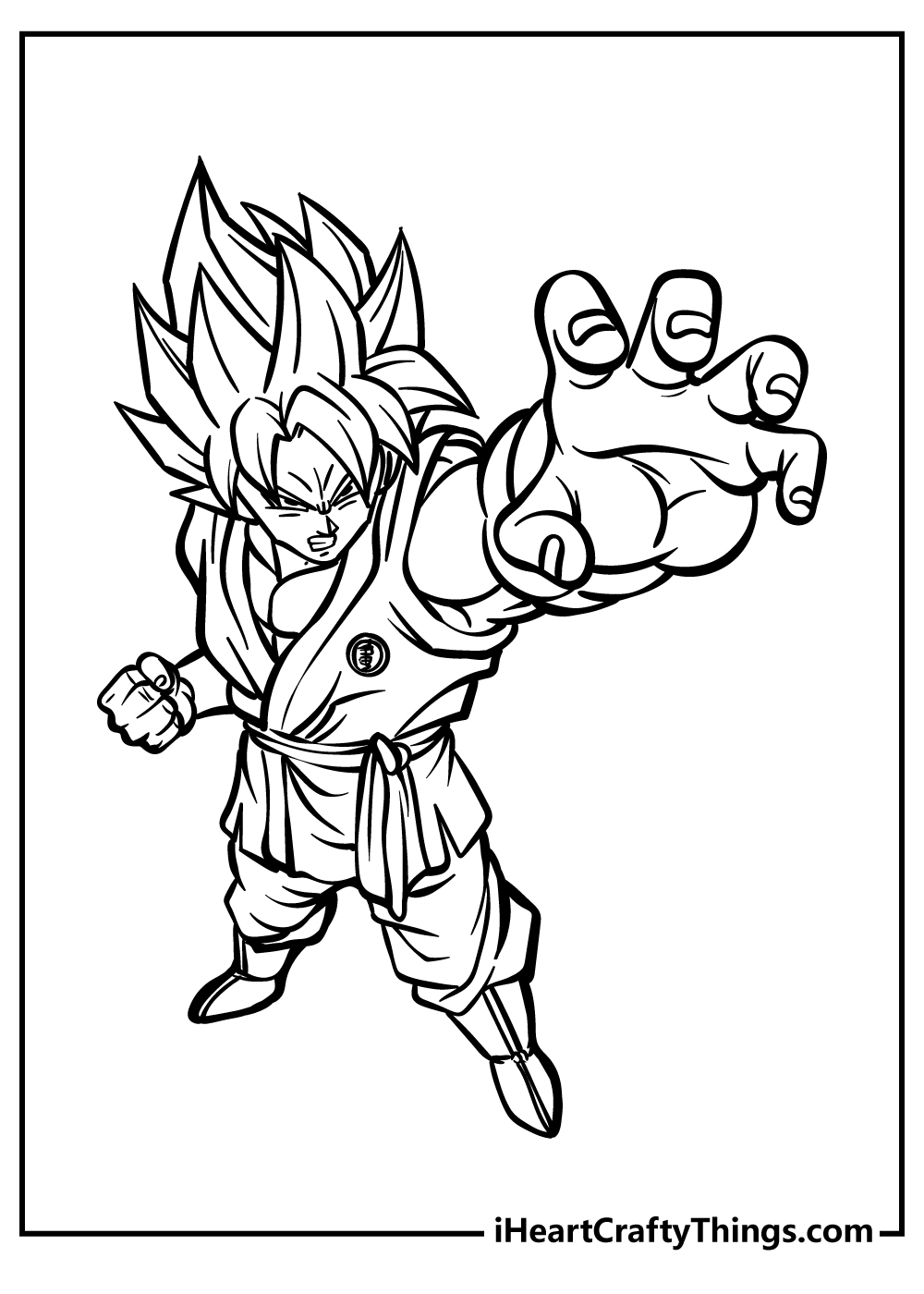 This next page gives us a good look at Goku's outfit, which has taken on a few different styles over the years.
You can choose your favorite look for Goku and show off what it is with the colors you use.
Which iconic look will you use for this awesome depiction of Goku we have for you?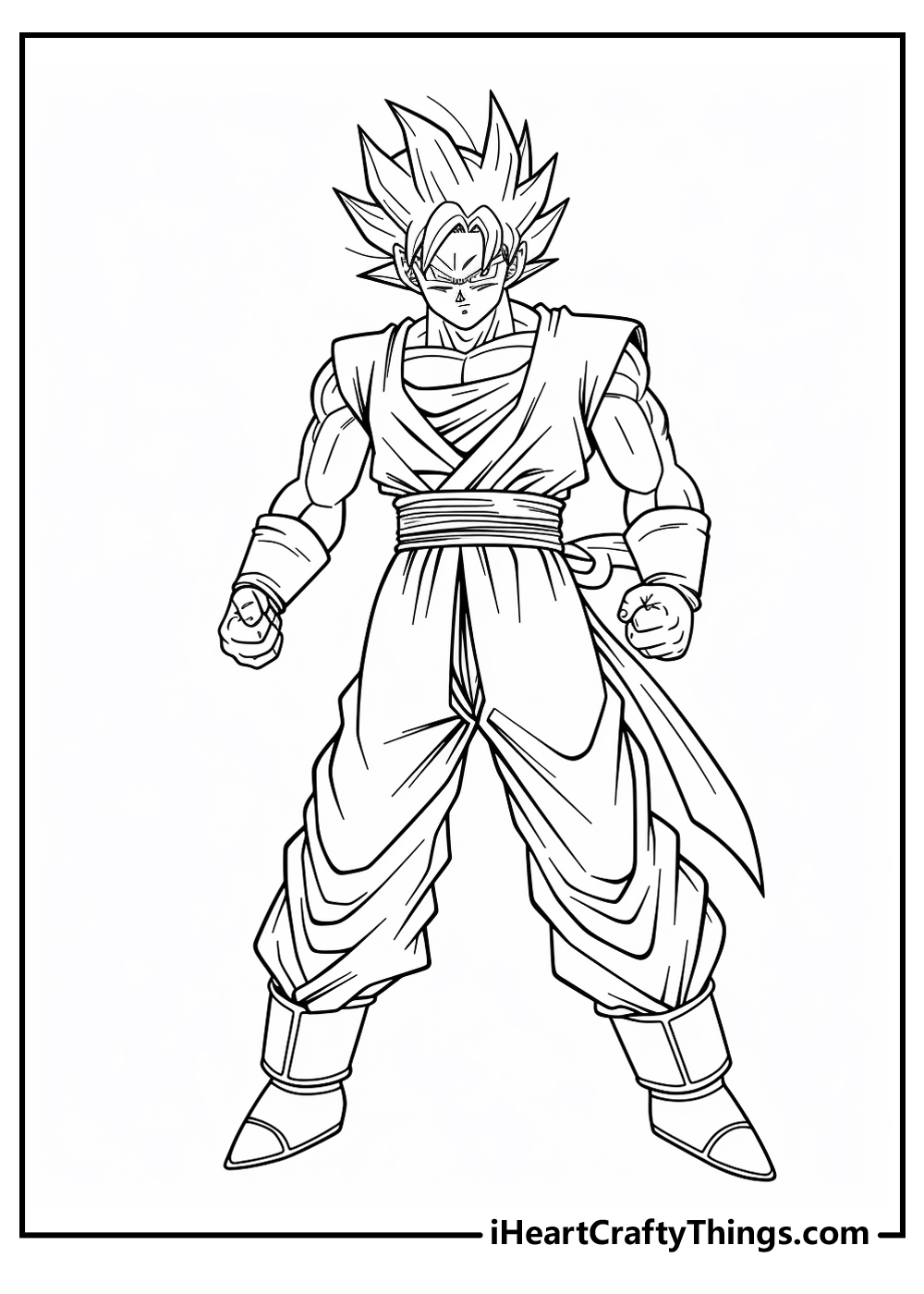 There are lots of awesome details to color in this Goku coloring sheet. He is once again in his Super Saiyan form here, and that means that you could incorporate some bright colors for his hair.
You could also fill the background with some amazing bright colors to show his power gathering up behind him in the way it does in the anime.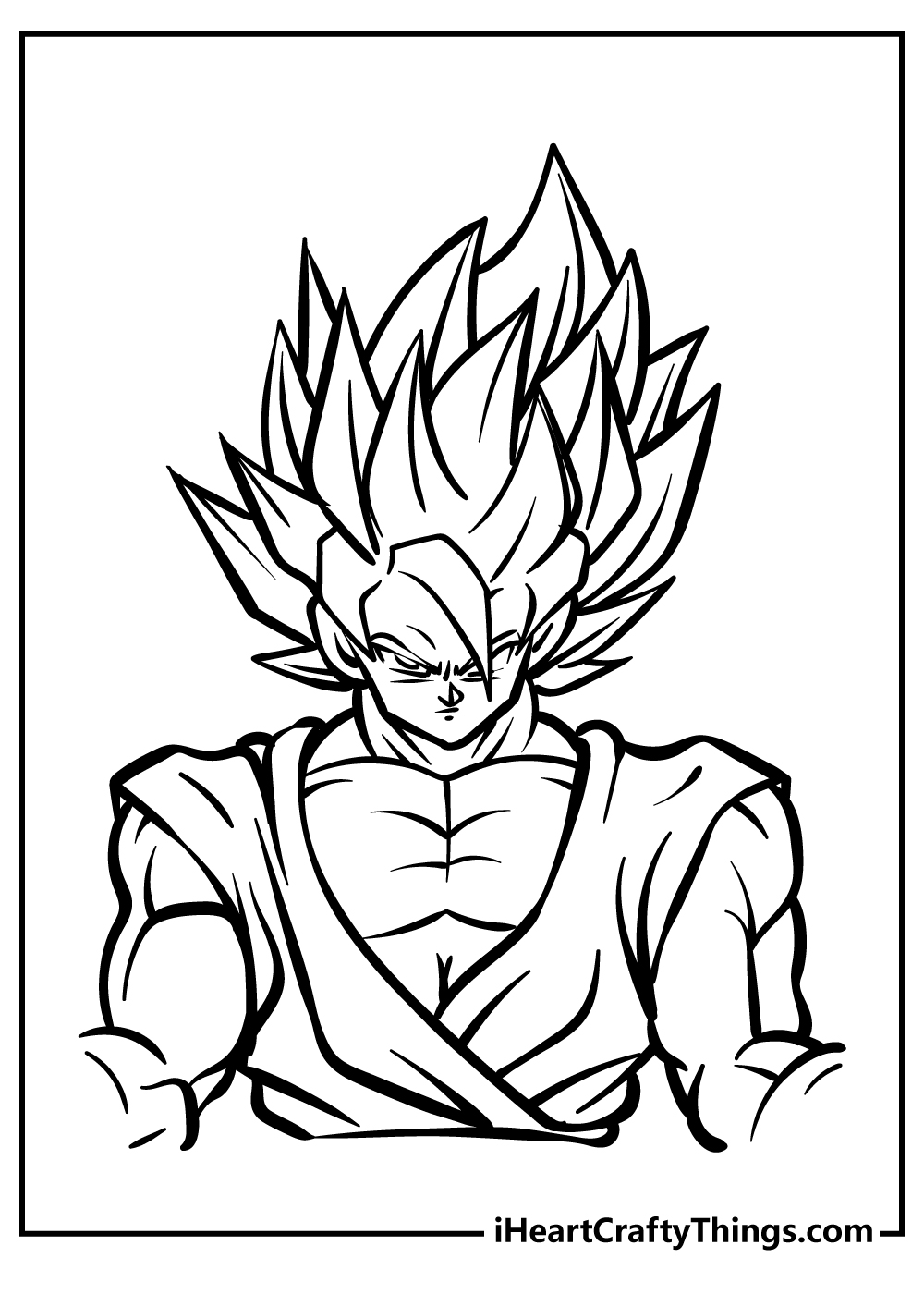 We're turning back time for this next page, as this one features Goku as a young boy.
Part of what makes the anime so great is we get to see Goku at many different points of his life, and that includes his childhood.
This picture should look great once you have worked your creative magic on it!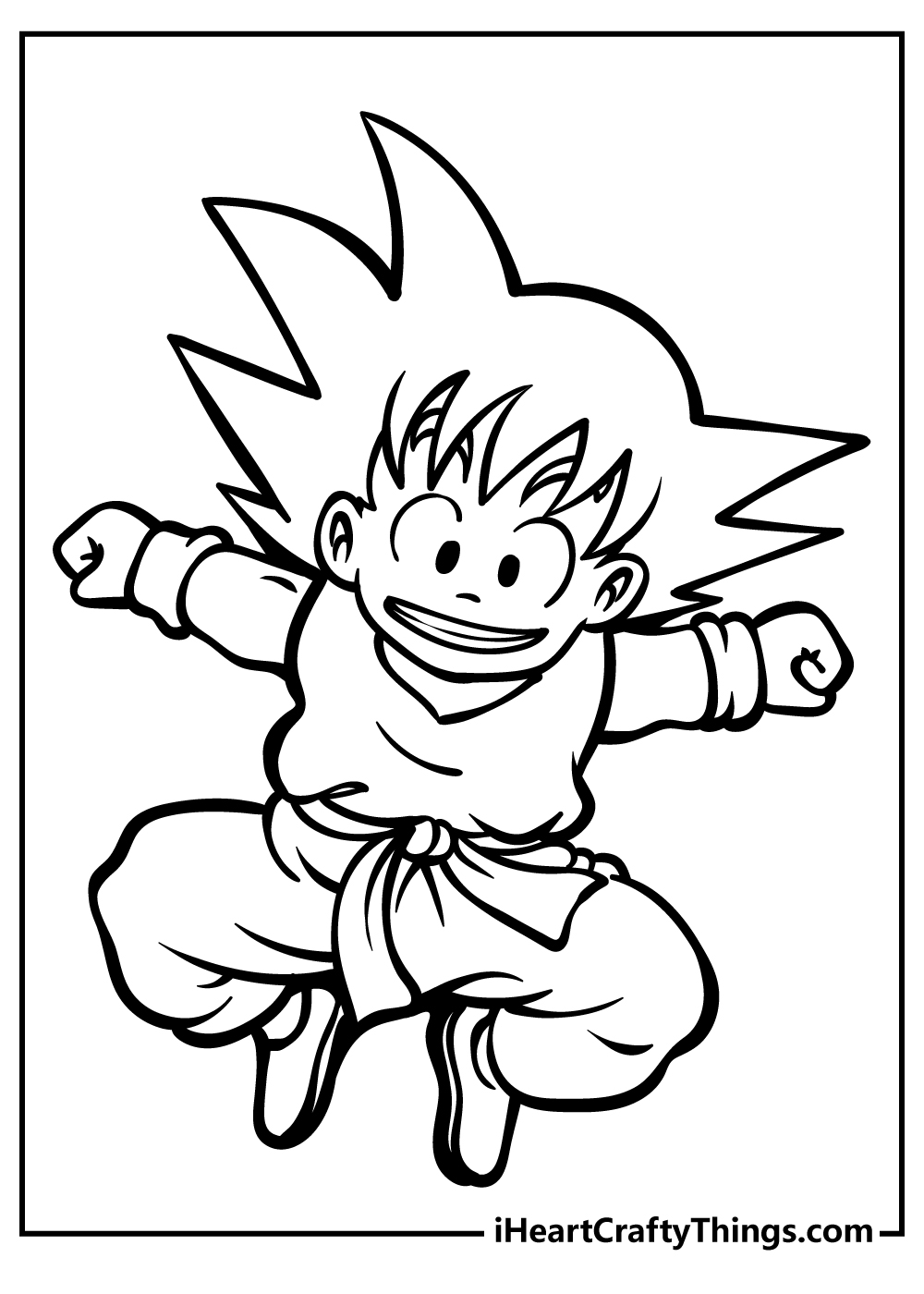 The intensity of this character is shown in this Goku printable we have for you to color. Goku's hair varies in appearance depending on his current power level.
You could show what you think his current state is by changing the color and even adding a few details to how his hair looks to make it more unique!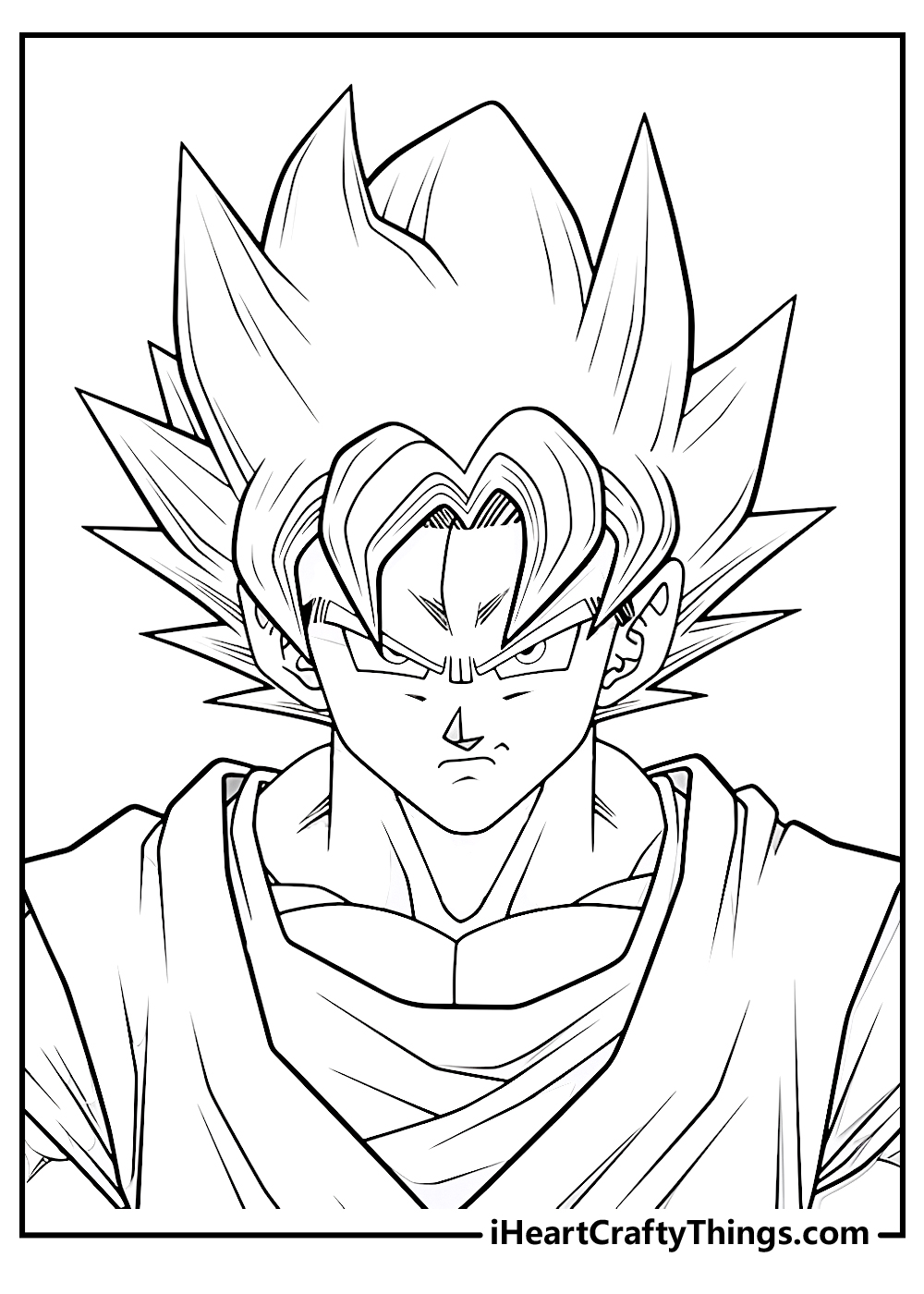 Even as a kid, Goku is still honing his skills, and this next picture captures that determination brilliantly. This portrayal even has the fun detail of his Saiyan tail that he had as a kid.
When coloring smaller, thin details, you can use colored pens and pencils as a few mediums that would help make coloring them much easier.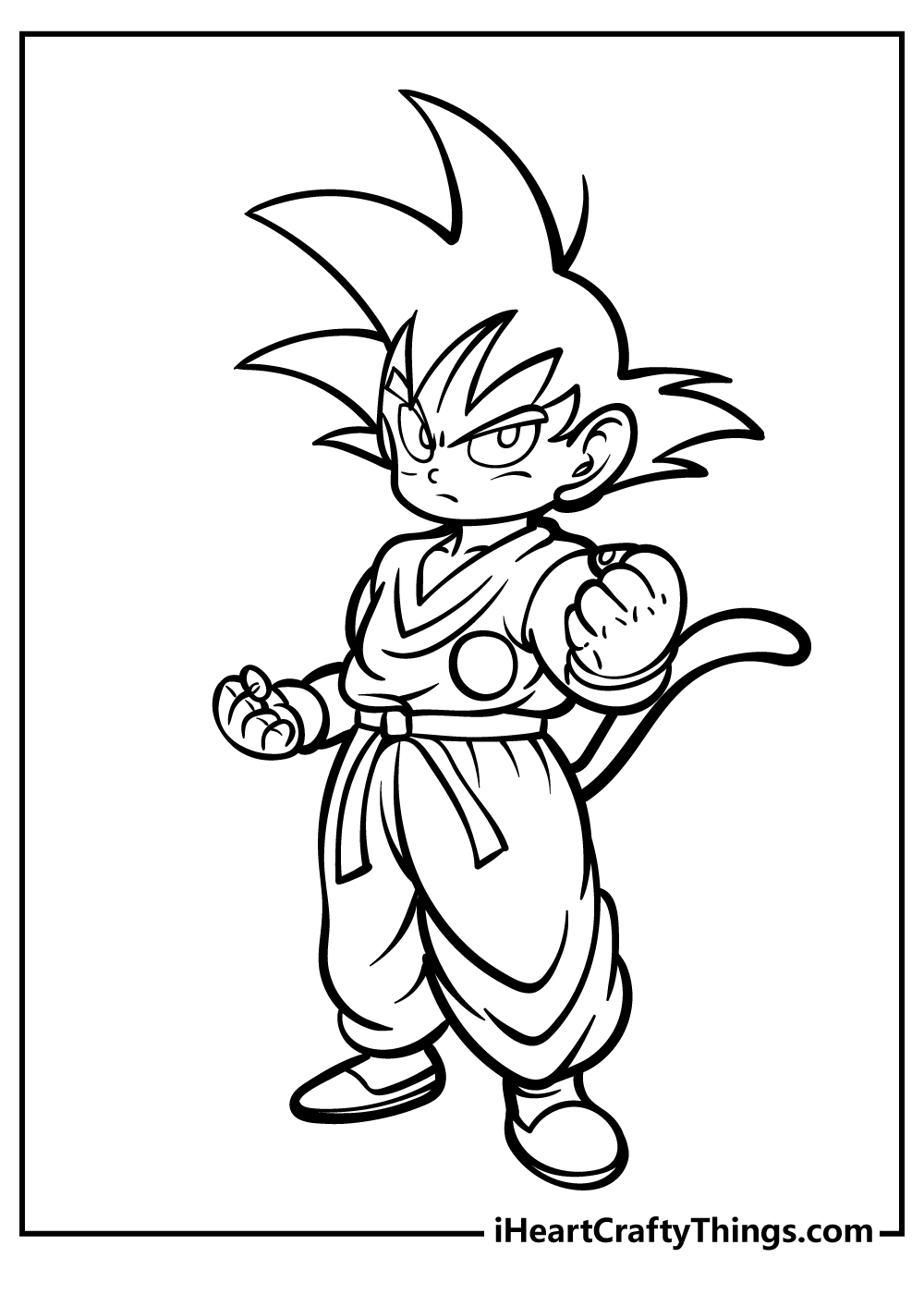 There are so many awesome details included in this next page! This one again shows Goku as a child, but he is in his Super Saiyan form as well.
With how detailed this one is, you can really spend lots of time working in some amazing subtle color effects to make this image even more dynamic.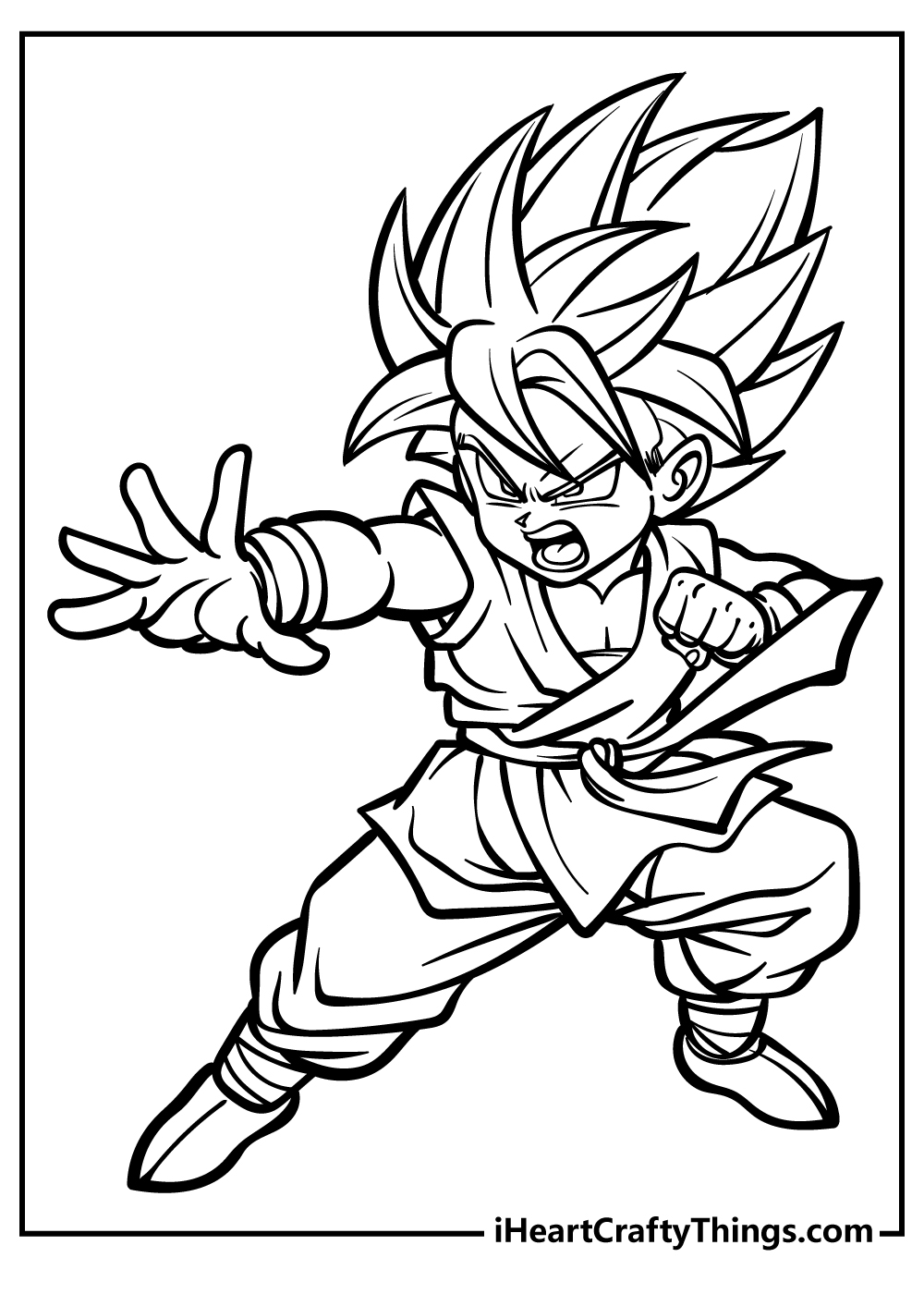 When Goku is charging up an attack, he will often be surrounded by lightning or other power effects. The background has been left blank here, so you could add some of these effects.
Using bright mediums like colored pens or certain paints would be perfect to make these effects really stand out on the page.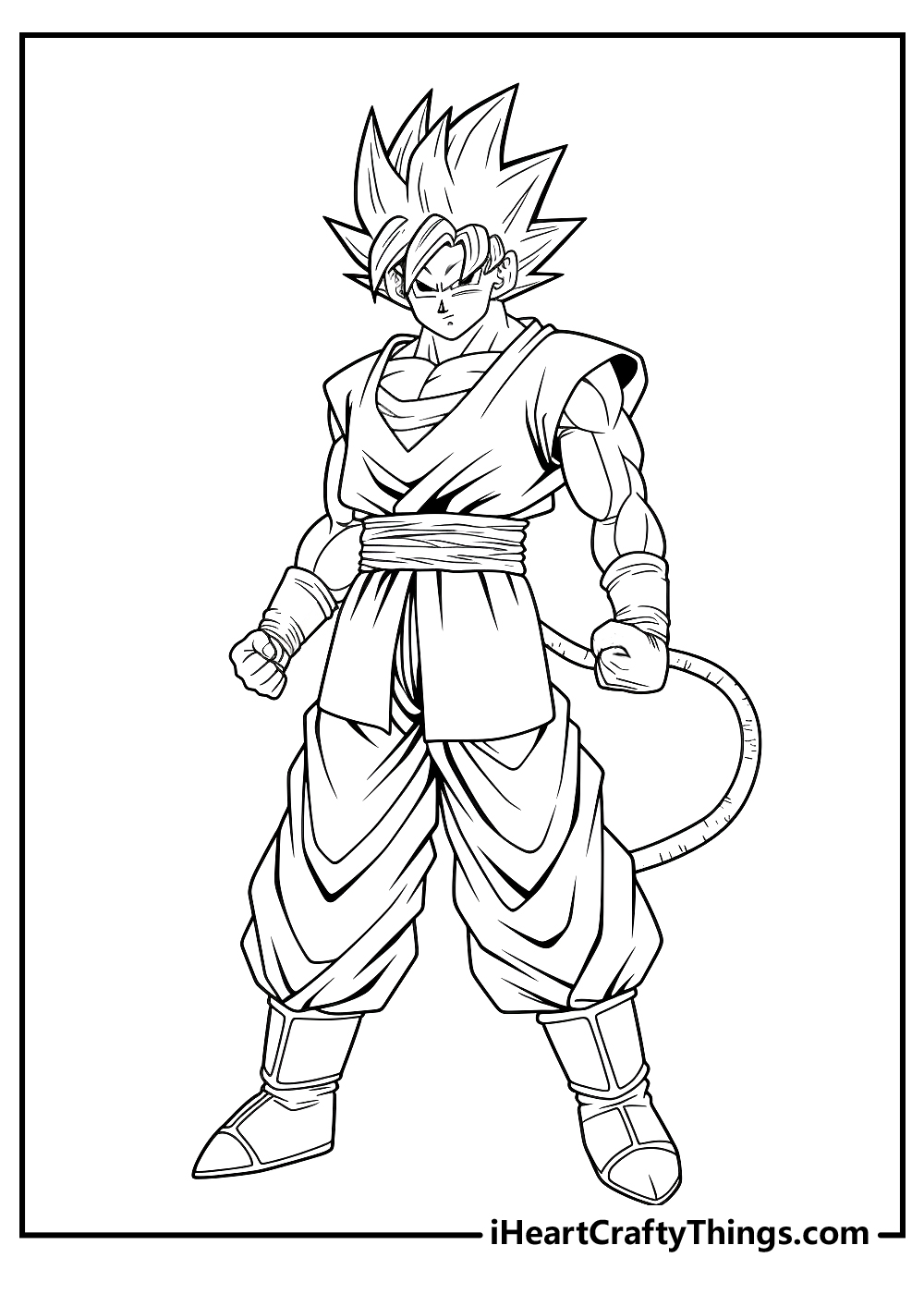 This next Goku coloring printable features Goku zooming through the air again, and it's a really awesome portrayal of the hero.
There is a lot of empty space behind and beneath him, so you could also draw some background details into the empty space to show where he is flying over.
If you have a favorite location from the series, you could use it as inspiration if you decide to do this.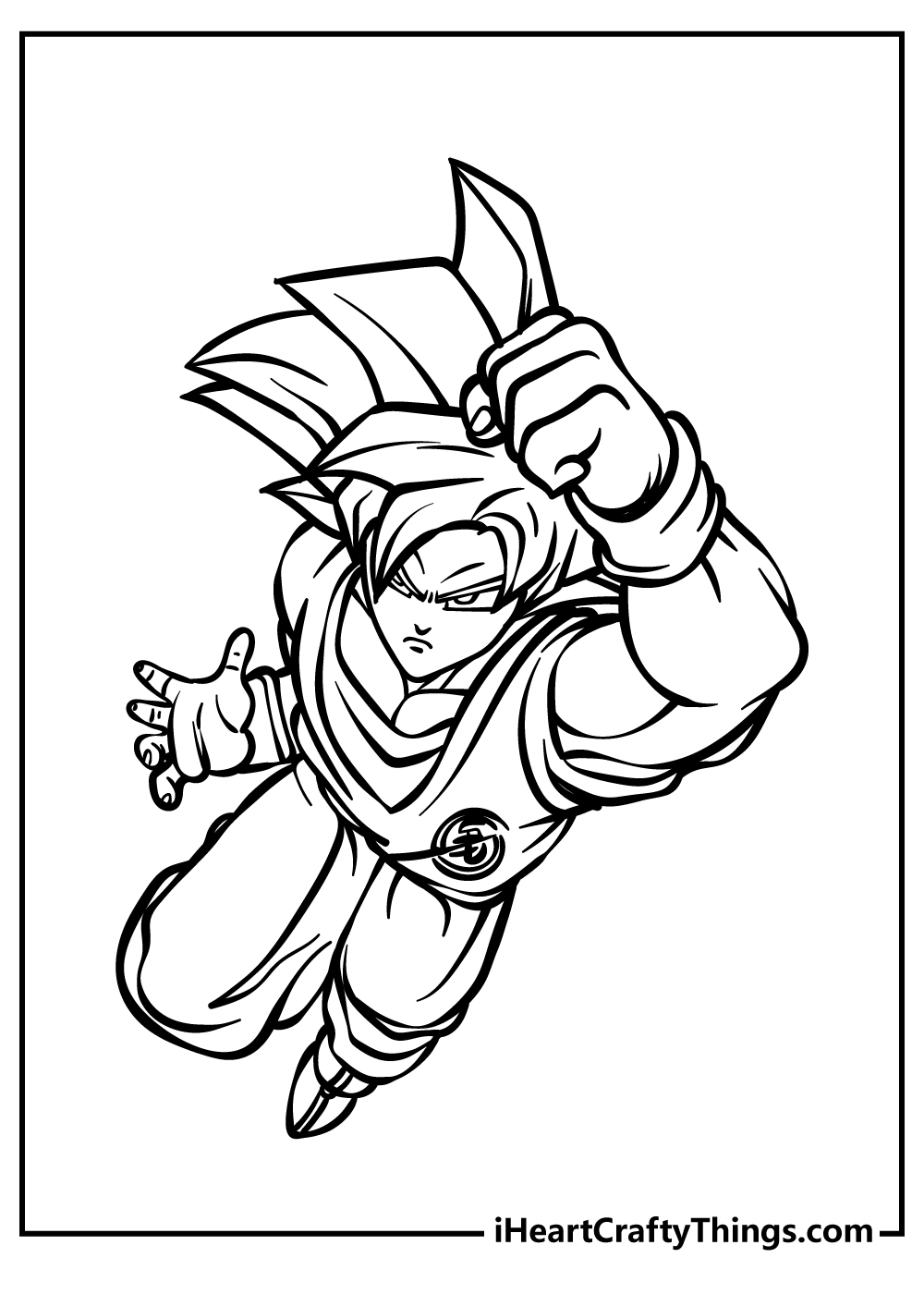 Goku is looking really awesome in this next image! It is another one where there are tons of smaller details that you can have fun coloring.
As we mentioned in an earlier page, mediums such as colored pens or pencils can make coloring highly detailed pictures much easier to complete.
So, if you have some of these mediums they would be perfect for this one!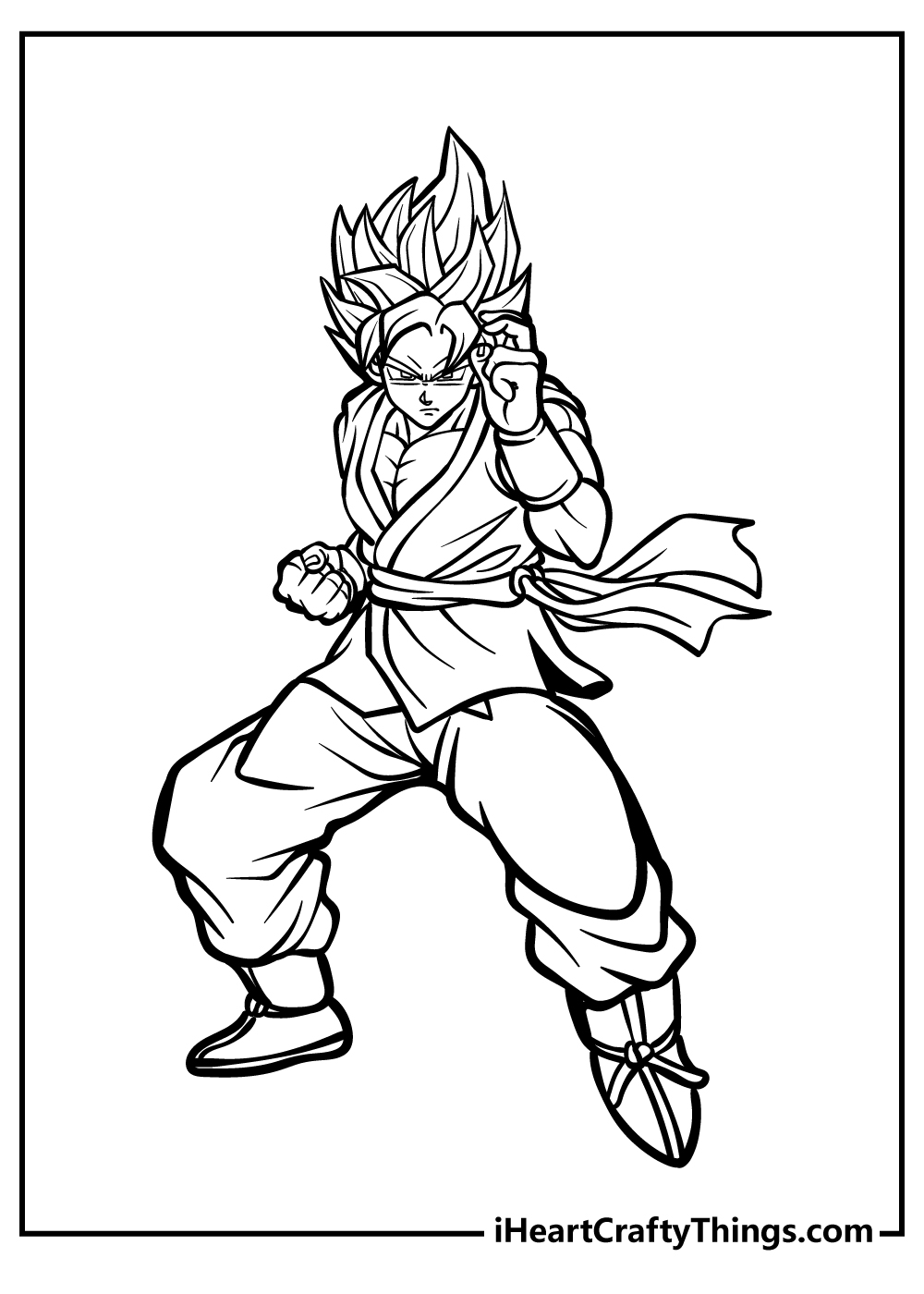 Goku's immense power is really captured brilliantly in this picture.
He seems to be preparing one of his powerful moves in this one, so it's another image where you could add some colorful effects around his hands.
What other fun details can you think of that would look cool with this particular page?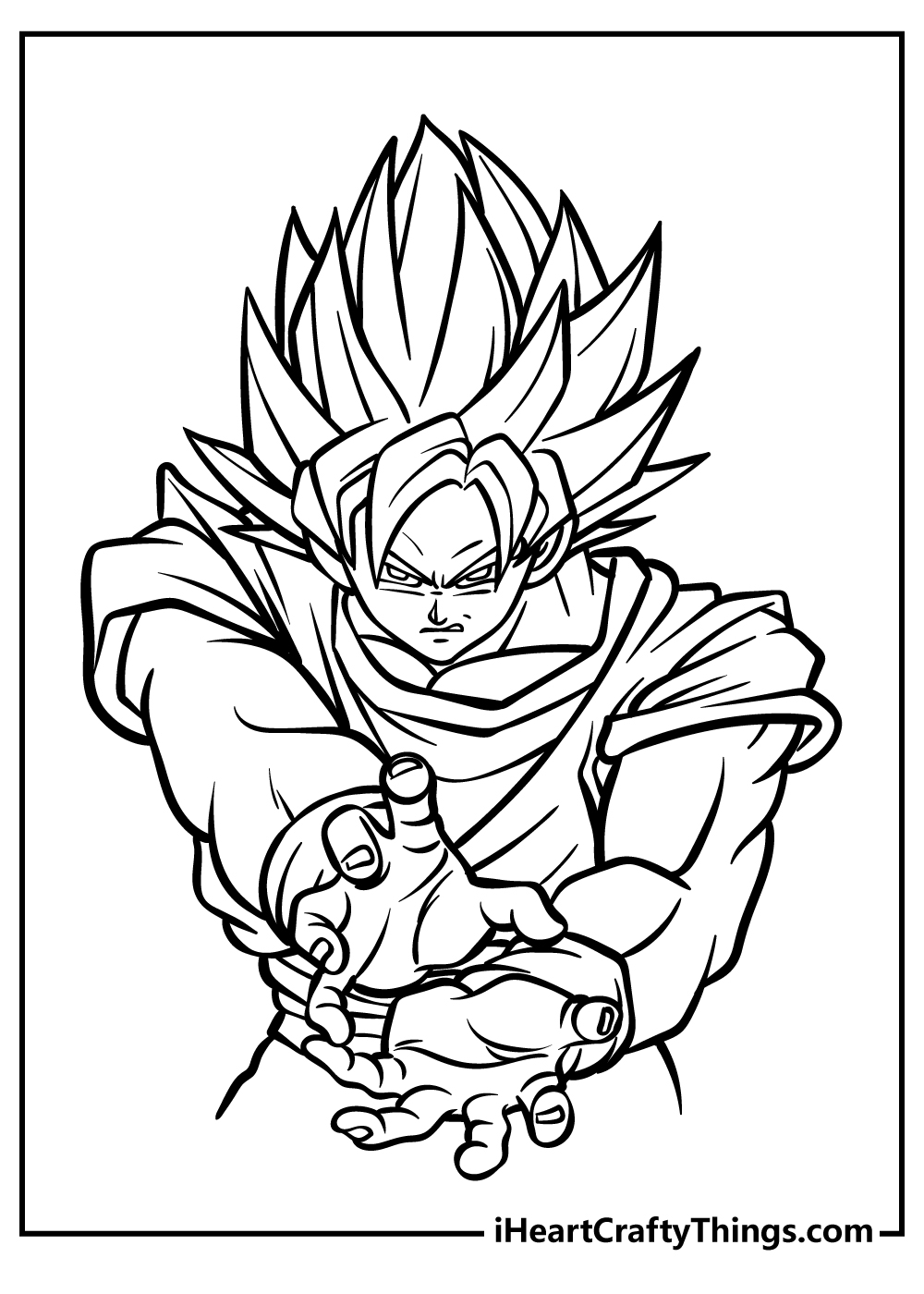 This next picture is really cool, as we get a great look at the details of Goku's design. He also has a really intense expression that captures his character really well.
Do you think that you will color him with his regular colors or maybe create a new look by choosing some unique ones instead?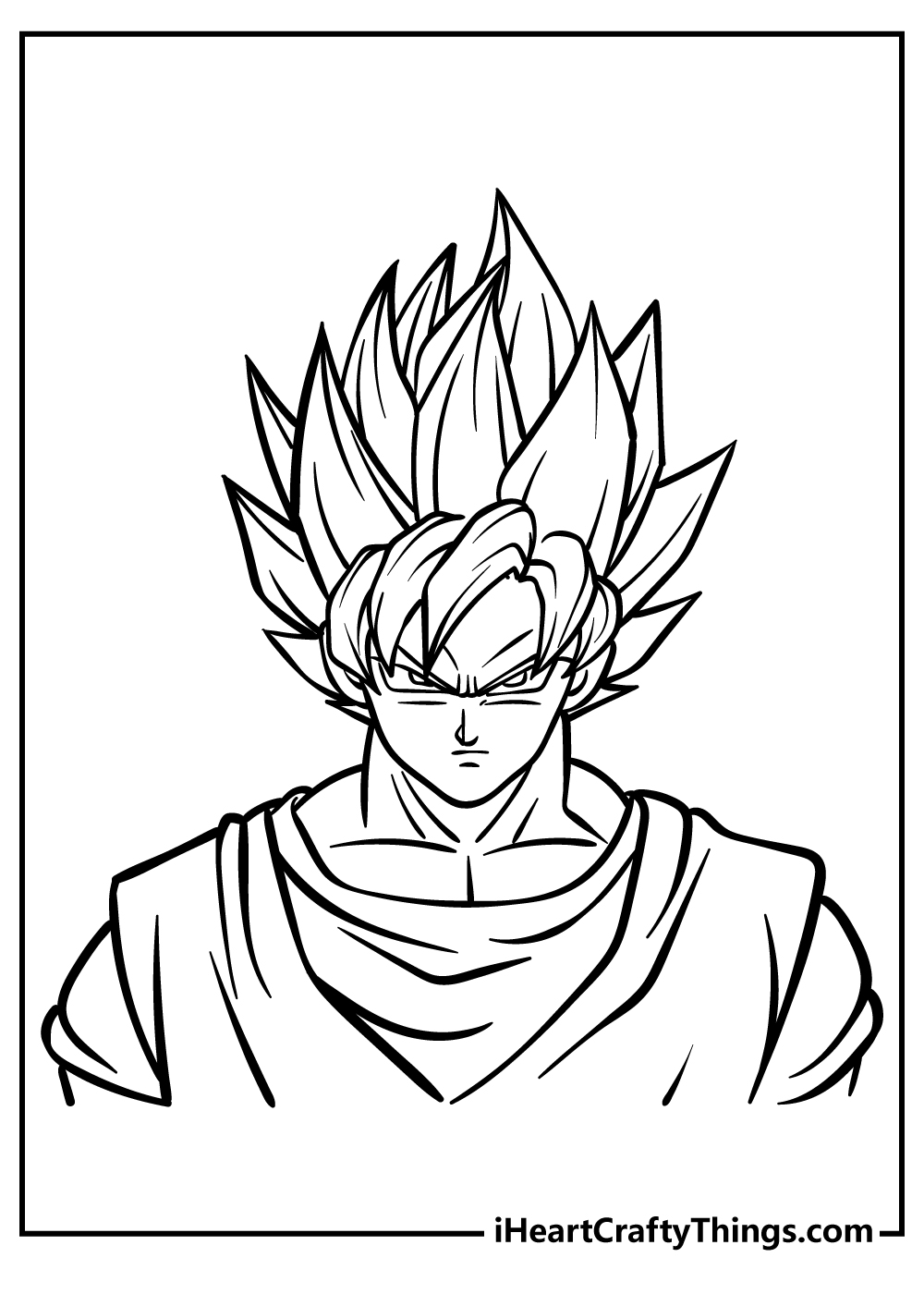 Goku can be a serious and intense character a lot of the time, but he also has a lighter, goofy side. This image captures that lighter side brilliantly, and it makes for a much more lighthearted image.
If we were coloring this one, we would probably go for some nice bright colors and art mediums to make this an even more cheerful picture.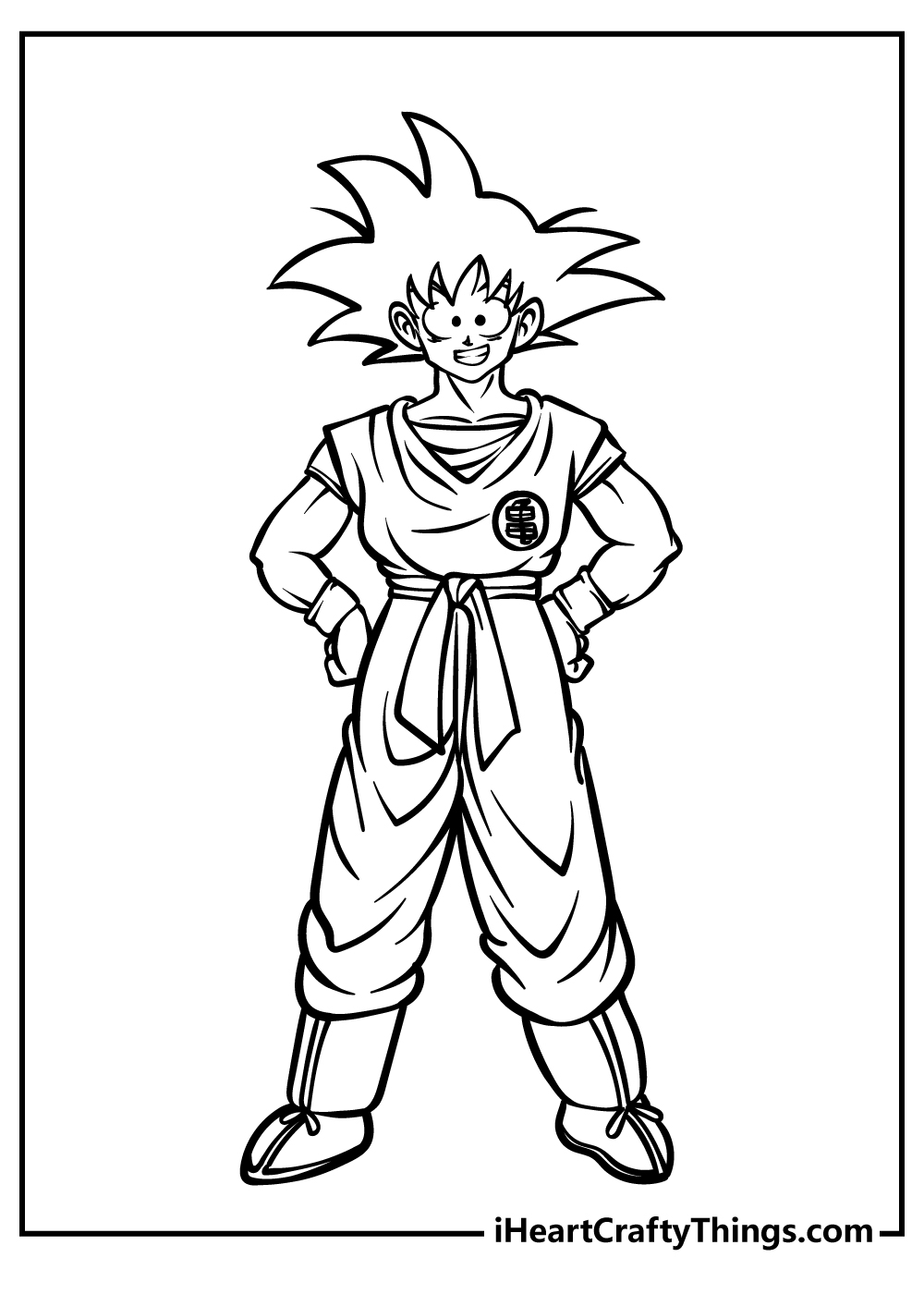 Kid Goku is back for more in this fun picture. This is another image that shows Goku looking very happy and cheerful, and he is flashing a peace sign in great detail.
It's another highly detailed depiction of Goku, and now it's up to you to bring it to life with some awesome colors!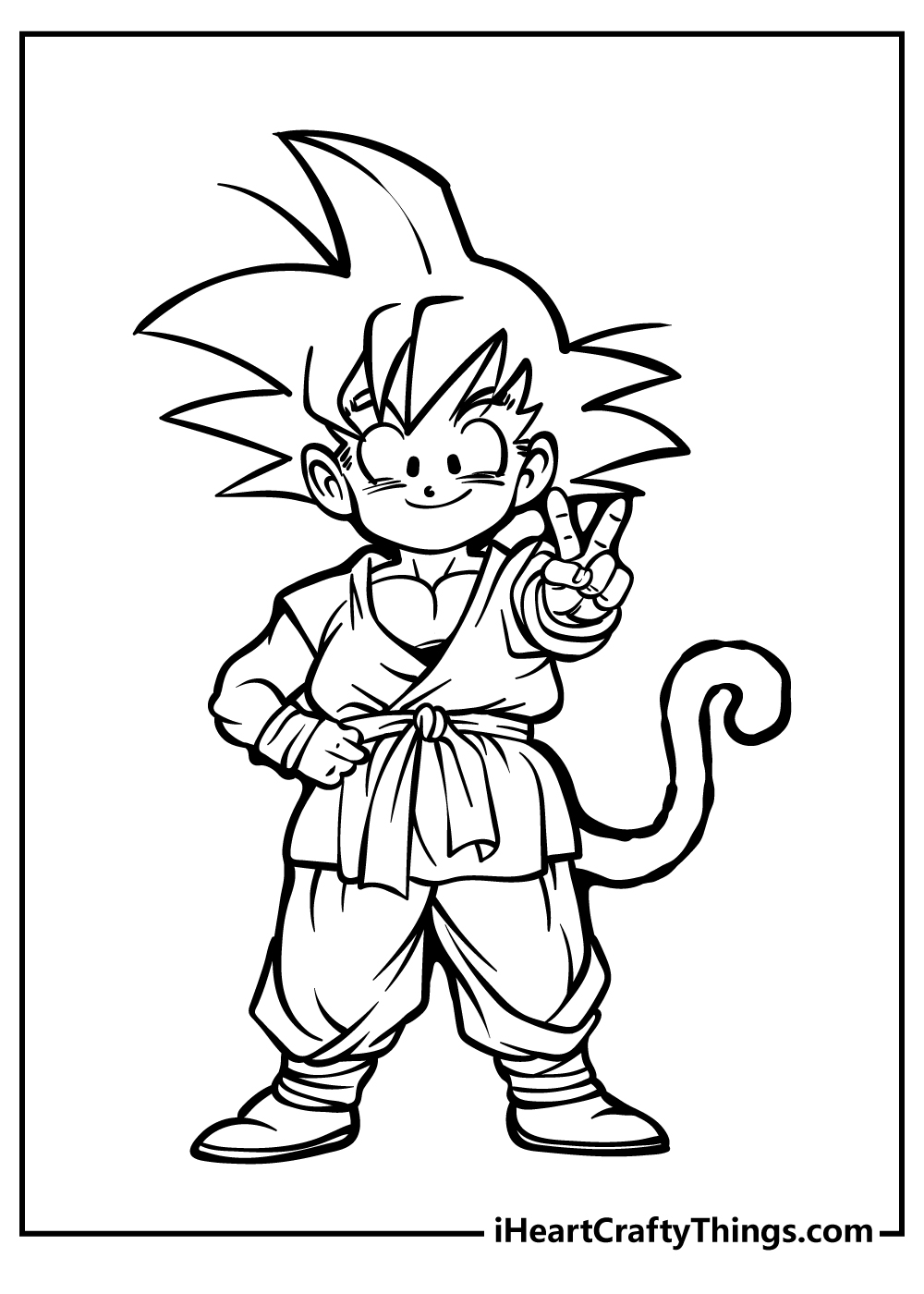 There are so many small and intricate details on this Goku coloring sheet for kids! Colored pens have really small tips, and this makes them perfect for applying smaller color details.
You can really get in there with these art tools, and they also make the colors really bright and eye catching!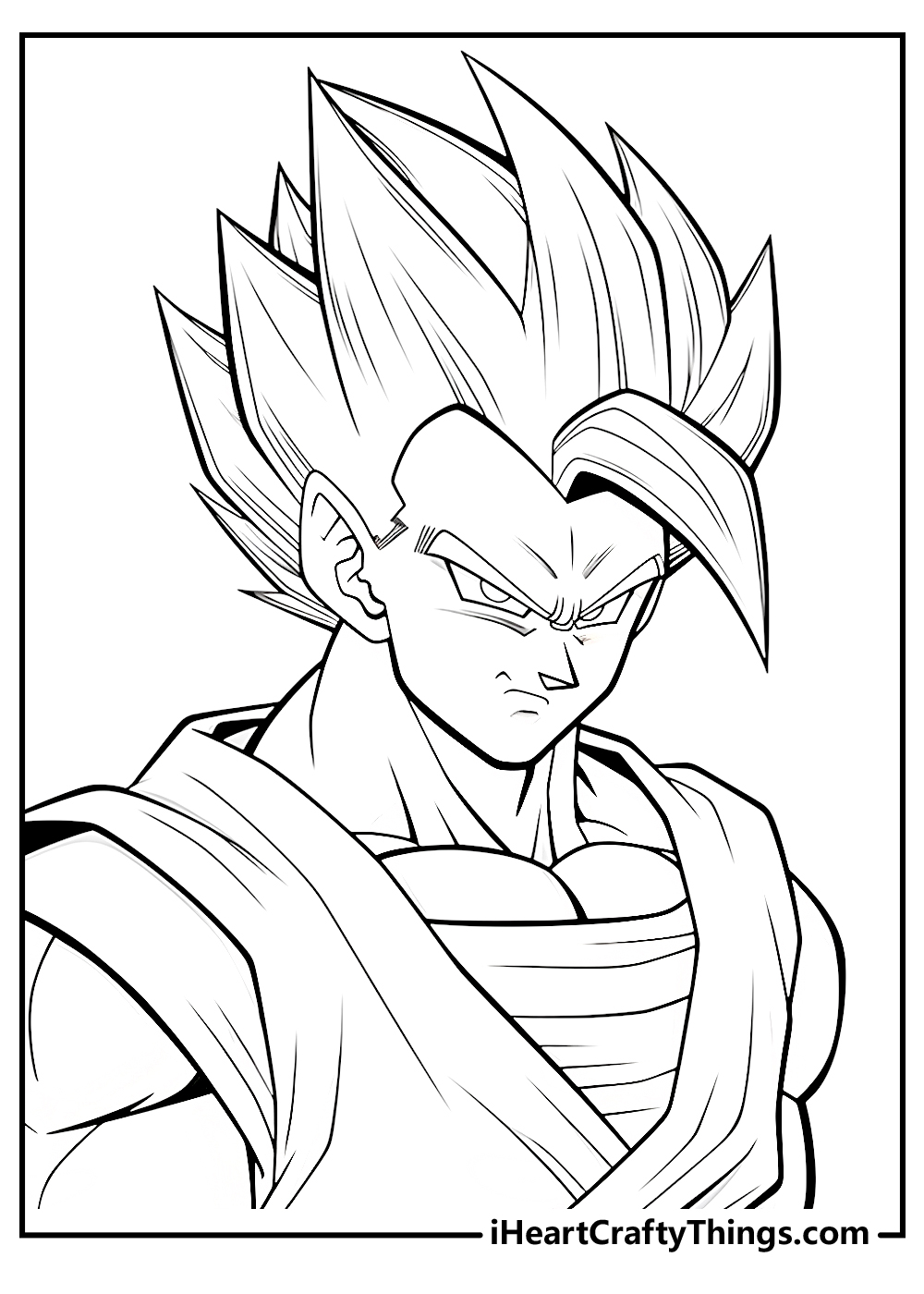 This is the final Goku coloring sheet that we have for you, and it again focuses on Goku as a younger character.
This one shows him looking a lot more intense than in the previous one, and there are lots of colors that you could use to highlight this intensity.
Which colors will you choose to close off this awesome collection? We hope you will share it with us when it's done!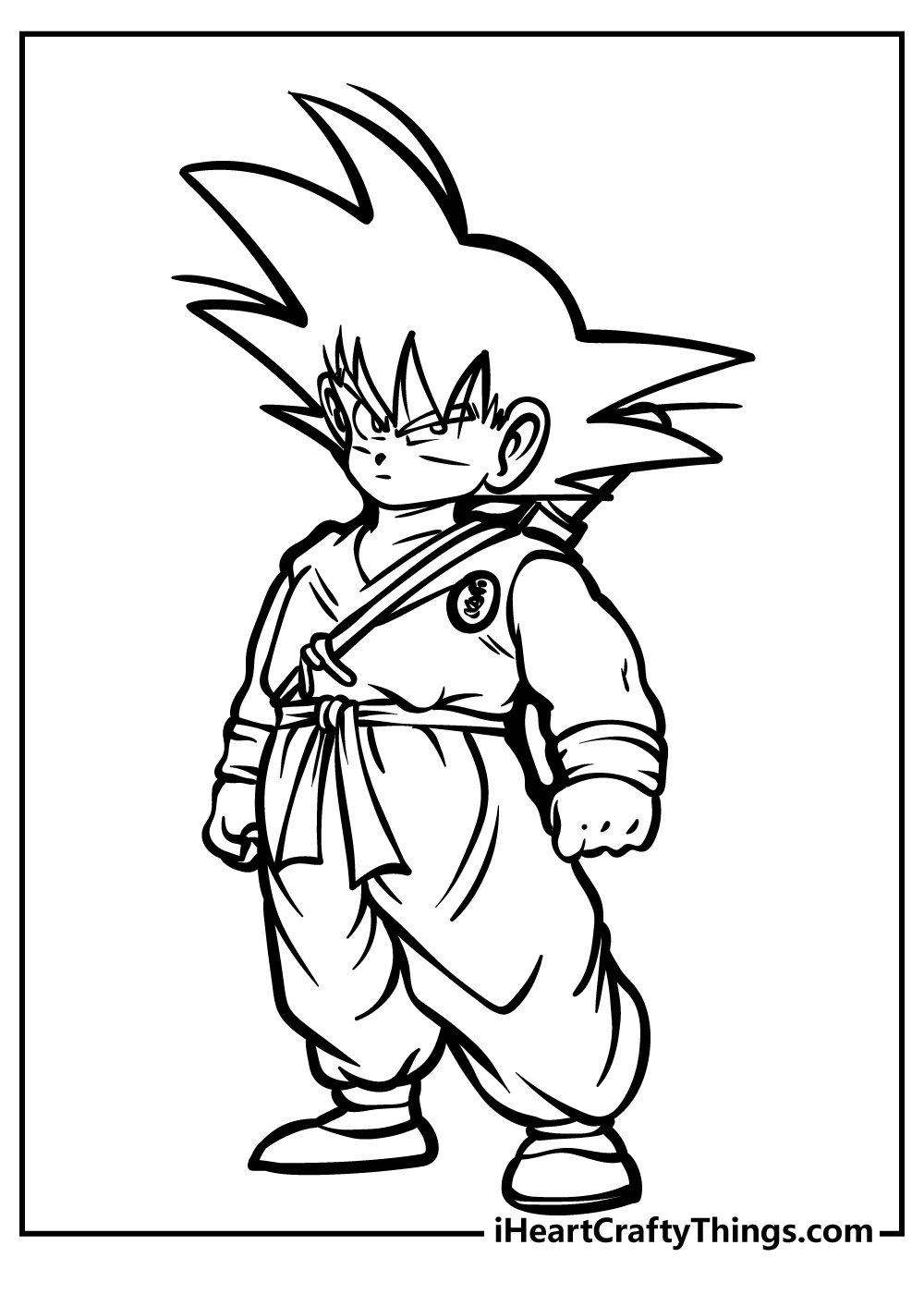 Goku Coloring Pages – Which will you choose?
This is one of the most well-known and popular characters ever created, so we hope you had a great time celebrating him with this collection of free Goku coloring pages for kids!
There was a great variety to the images in this collection, and we're sure that any Goku fans you know would love to color them in as well!
When you have chosen your favorite pages and colored them in, you can also share some of your artworks on our Facebook and Pinterest pages for us to check out!