The character of Garfield began as a humble comic strip in 1978. A lot has changed since then.
Not only does Garfield look very different to how he did at the beginning, but he is now arguably the most popular comic strip character ever created.
He is recognized around the world, and people can really relate to the lazy, perpetually hungry orange cat.
Fans are always up for some free Garfield coloring pages for kids, and we're here to deliver!
This collection of 15 pages features Garfield in many poses and situations. Characters like Odie may make an appearance as well!
There is a ton of fun for you to have with this fat cat, so prepare for some lazy coloring fun as we begin.
15 Brand New Garfield Coloring Pages – Free to Print and Color
One thing we can say about Garfield is that he absolutely loves food. That is very apparent on this first Garfield coloring sheet!
He is looking very happy and content as he holds a hotdog on a plate. While he is savoring the impending treat, it surely will be devoured very soon.
If you have a favorite place to enjoy a tasty hotdog, then you could draw this place as a background on this page. Where would you choose to set this first page in the collection?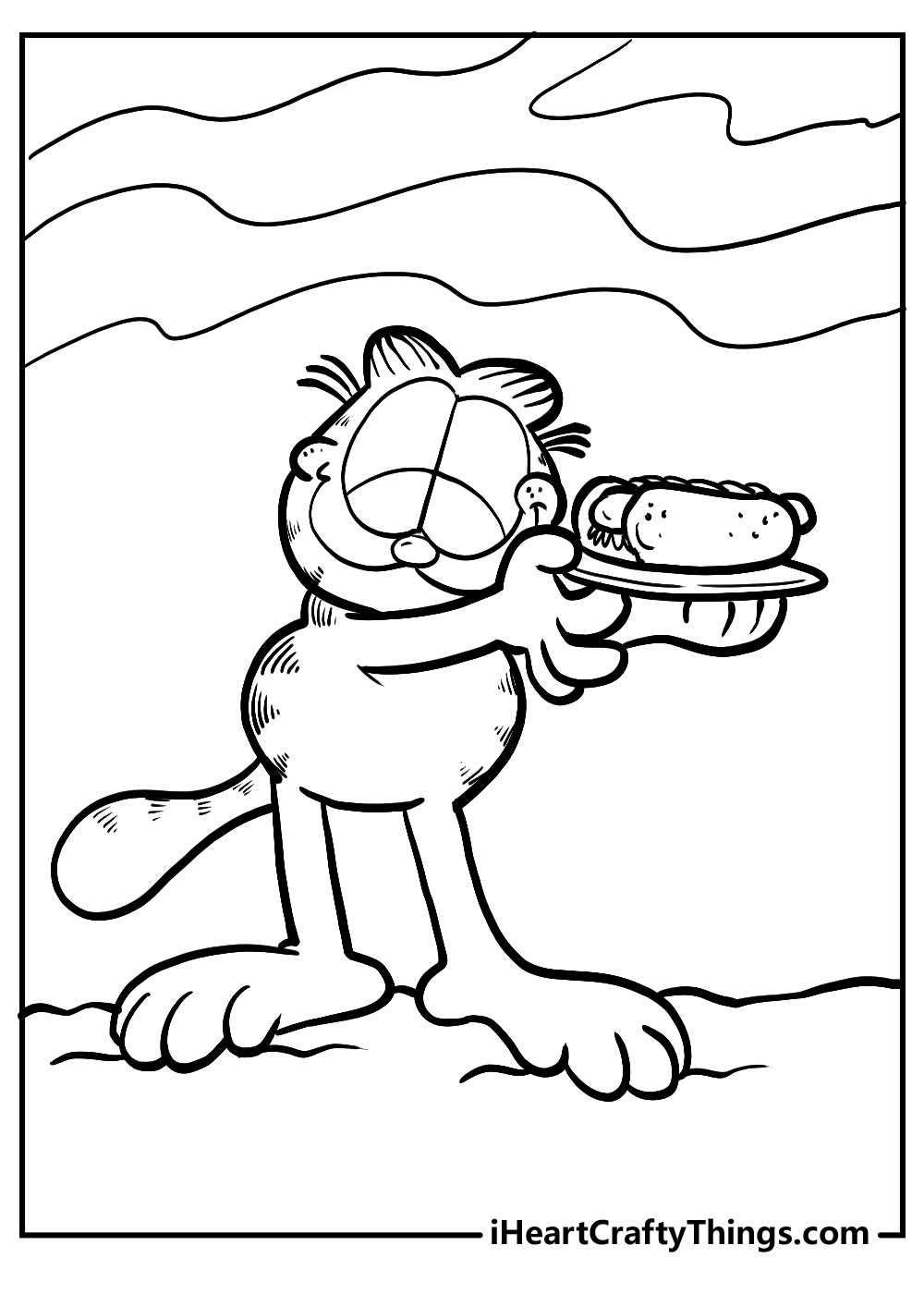 What's better than having a tasty treat to enjoy? A nice warm beverage, of course. Garfield definitely loves his coffee, and he has a steaming mug along with the sandwich that he is about to enjoy.
Many mugs will have a design on them, and you could draw one on the mug that Garfield is holding. Garfield himself appears on many mugs, so it could even be a Garfield mug for a fun twist!
Once again, you could also draw some background details to show where he is about to enjoy this treat.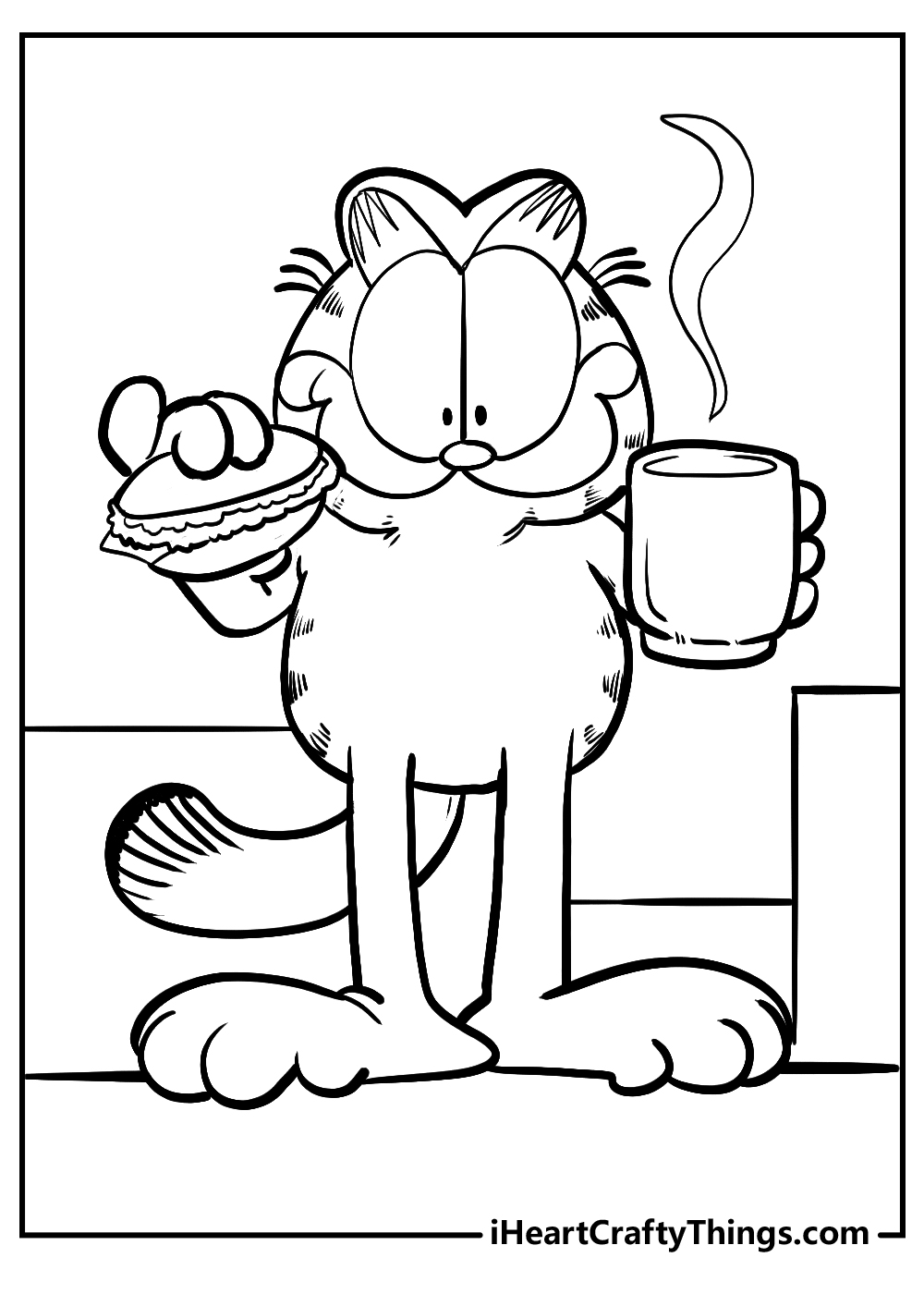 Garfield's love of food can sometimes get him in trouble, as he thinks with his stomach instead of his brain! That seems to be happening in this image.
A tasty chicken drumstick is dangling from a string, and Garfield seems to be about to take a bite. It makes you wonder, why would he encounter such a thing?
Maybe one of Garfield's enemies is trying to lure him into a trap. Perhaps Nermal is getting revenge for the many times that Garfield has tormented him!
Who do you think could have set this trap? You could draw some details that would suggest who it could be.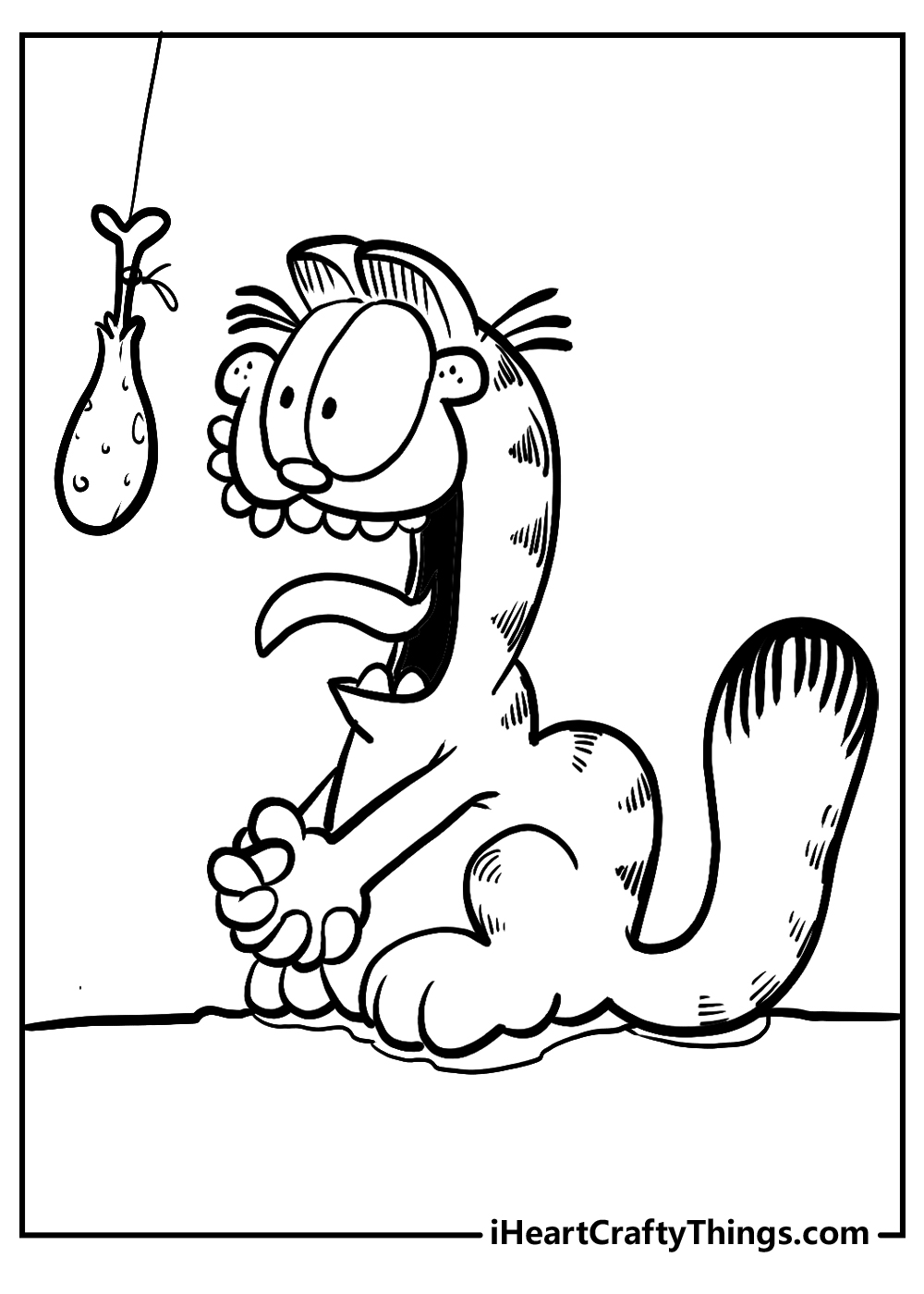 Garfield has not always had the friendliest relationships with birds.
Like many cats, he has been known to hunt and eat them, and so it's fair to assume that birds would be nervous around this chubby cat!
The bird in this image is certainly looking a bit nervous, and the way that Garfield is looking at it makes it a reasonable emotion to feel.
He seems to be walking around outside, so not only can you use some cooler colors for the bird but also the background. Garfield is a warm orange, so some greens or blues would contrast nicely!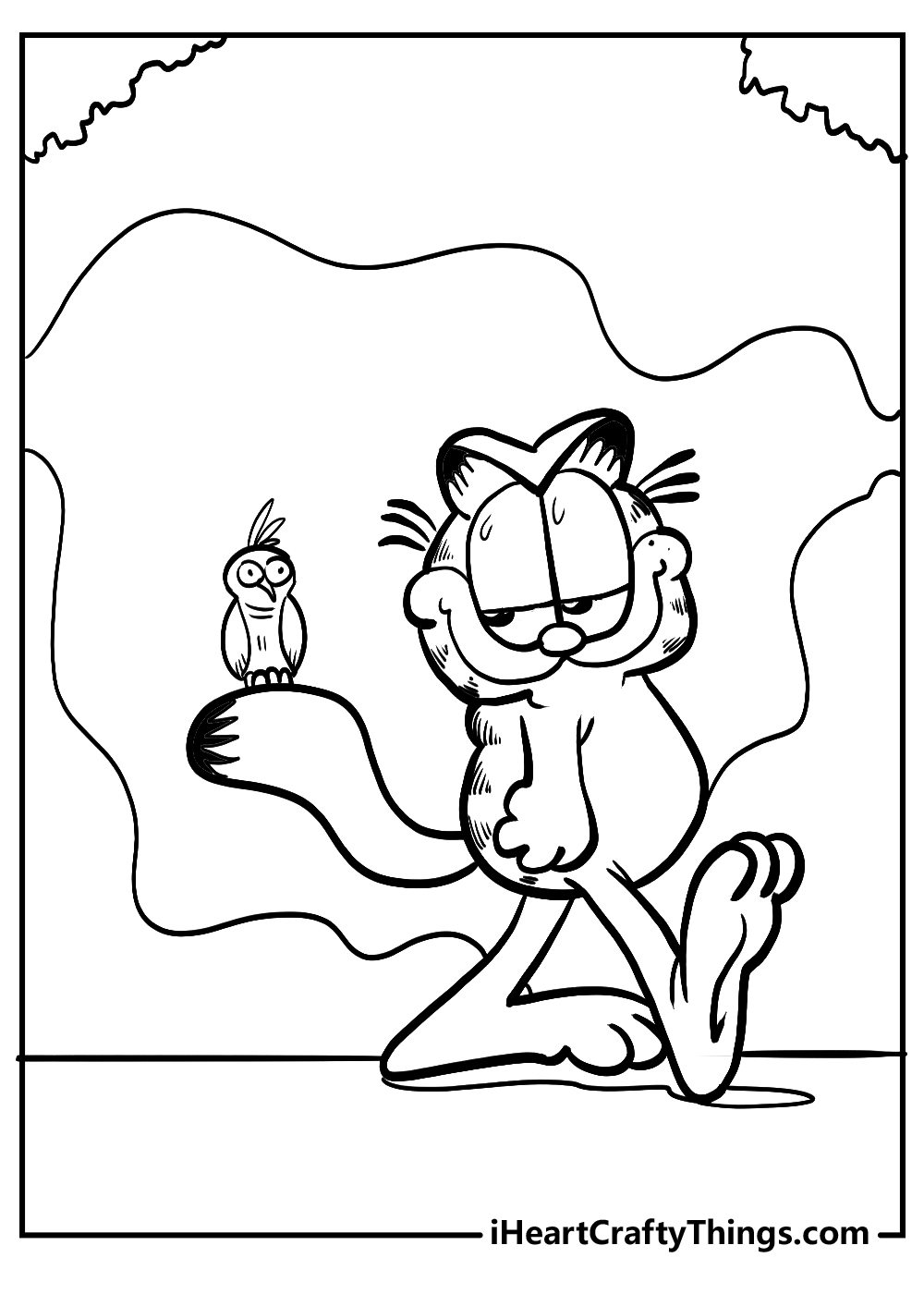 This next Garfield coloring printable shows our favorite feline friend enjoying some time in nature. As long as he gets to relax, Garfield doesn't seem to mind where it's happening!
This page makes it look like he has ventured outside and is making friends with a pretty butterfly. It not only makes for a fun picture, but it also allows you to use some amazing colors for the butterfly.
Using some colored pens for the butterfly would allow you to add some subtle, fine colors to this small detail.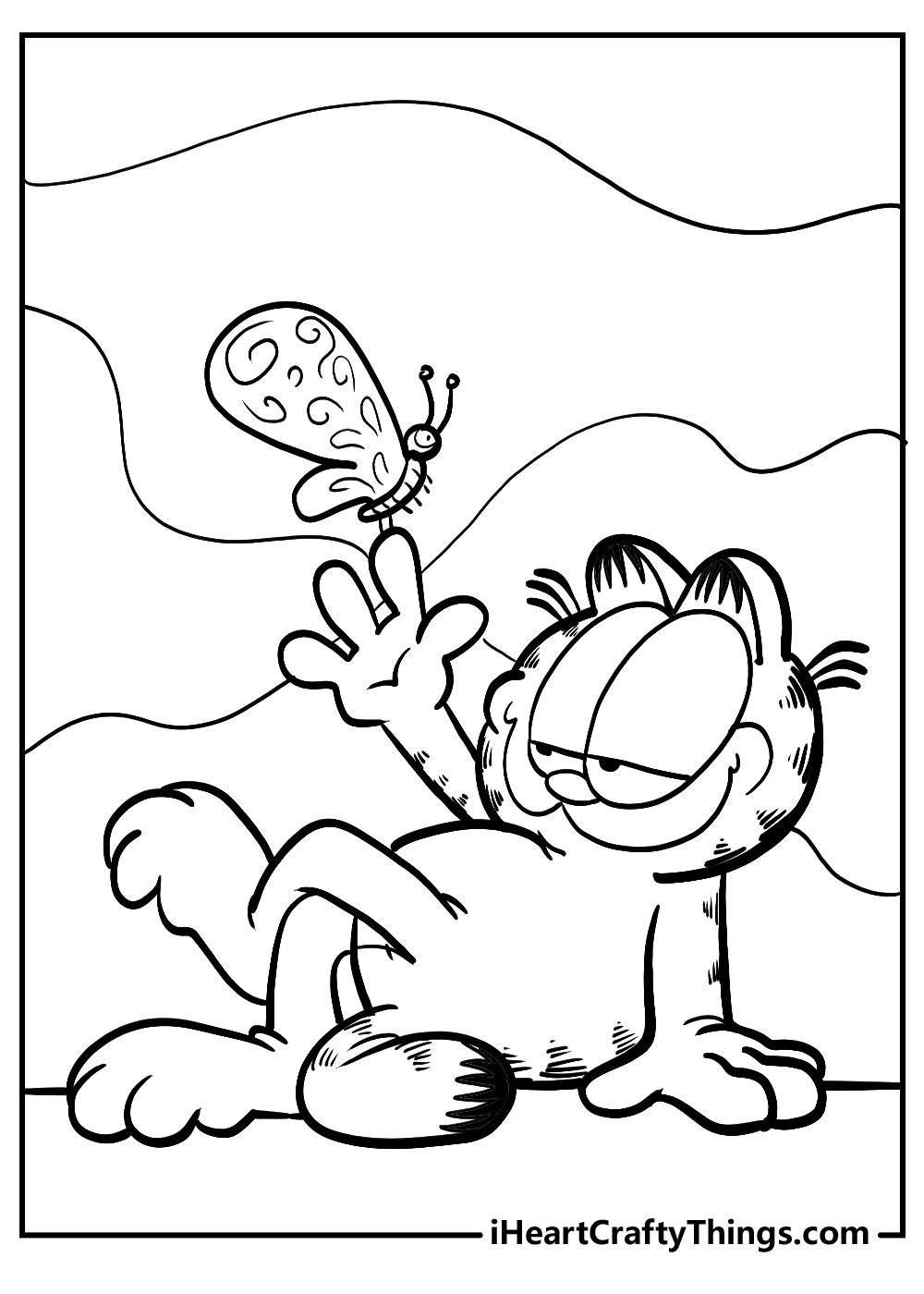 When Garfield isn't tucking into some food, he's probably dreaming about it. That seems to be what is happening here!
Garfield is laying down and has a dreamy look on his face, so it's easy to assume that food is on his mind. The only question is what kind of food do you think he is fantasizing about?
You could draw a bubble above his head and then draw a small picture of the food that you think he is imagining to finish off this page.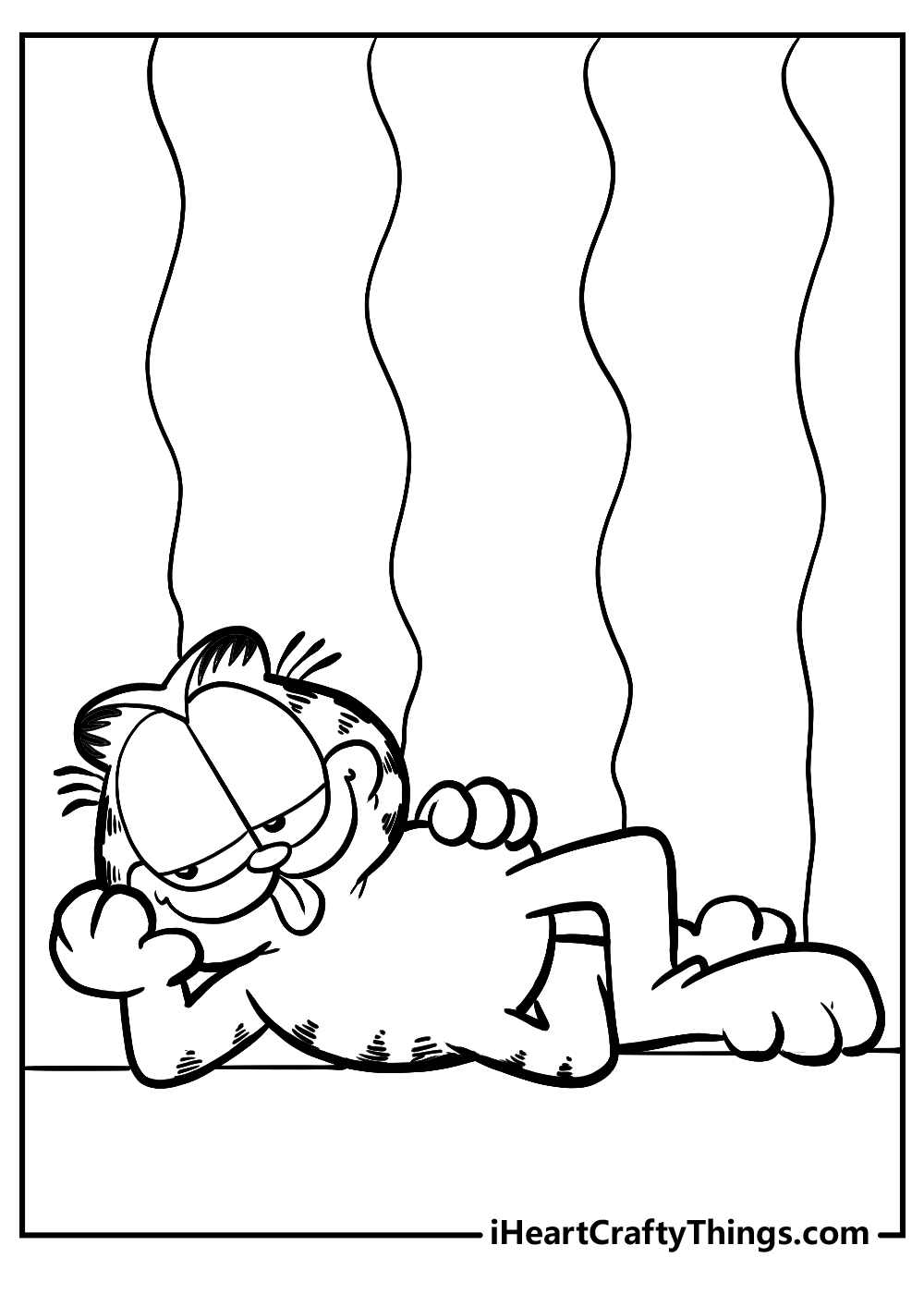 It's fair to assume that Garfield is often dreaming of food, and that is happening here! He is taking a nap, and he is dreaming of a delicious roast chicken.
What a pleasant dream to have, and now you can make it even better with your colors! The chicken will look even tastier once you have added some colors and extra details.
You could even add some sides and maybe a beverage to make this meal look even more delectable. What sides do you think Garfield would enjoy with this meal?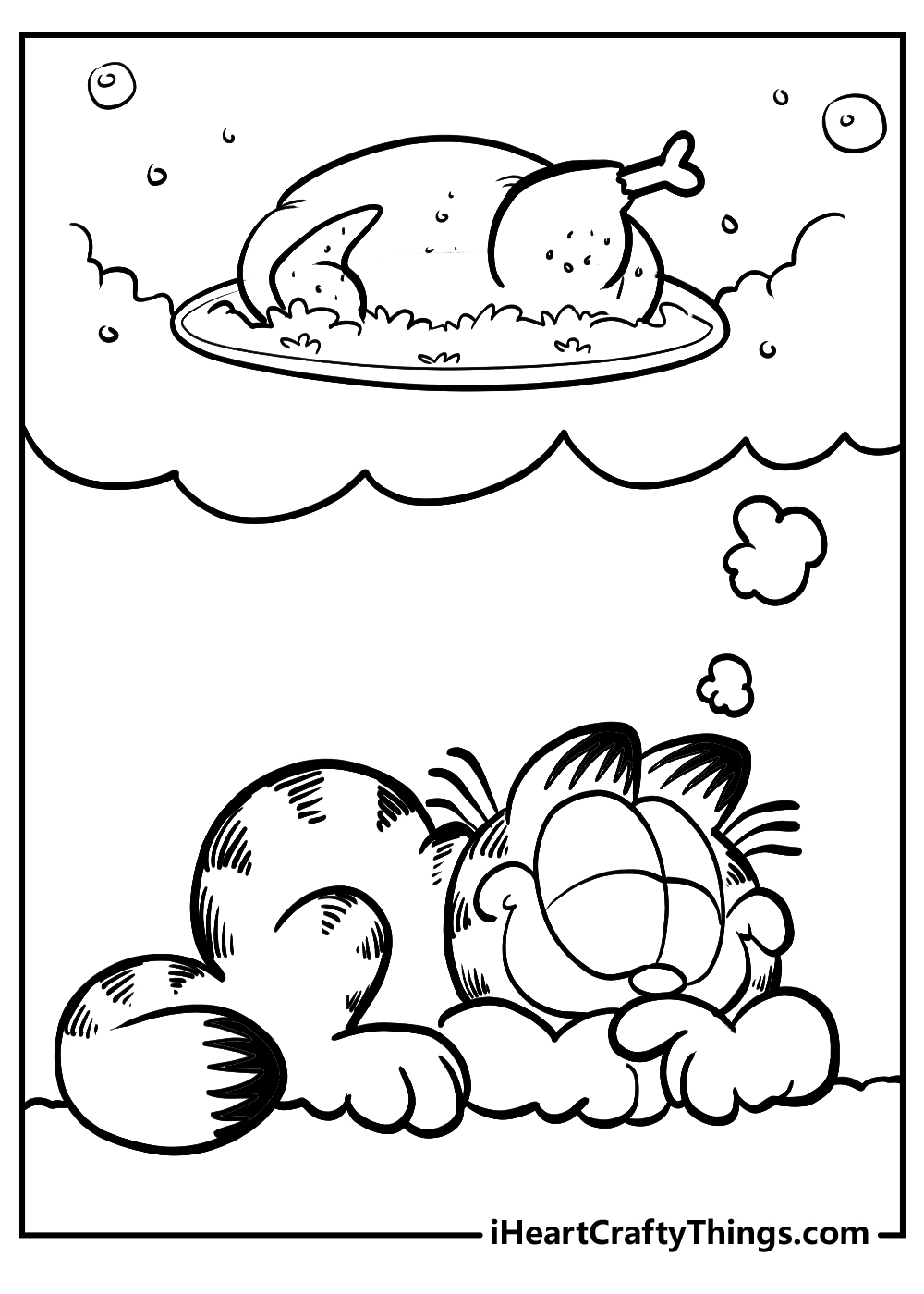 It's always good to express your creativity, although I doubt that Garfield's owner Jon would agree here! That's because Garfield is painting on the wall, and so Jon is in for a rude surprise.
Because Garfield is painting here, it could be fun to use some paint for this page! Common paint would be acrylic and watercolor paints, and these would be perfect here.
They could be used for the whole image, or you could paint the areas that Garfield himself would be painting. What other mediums could you use here?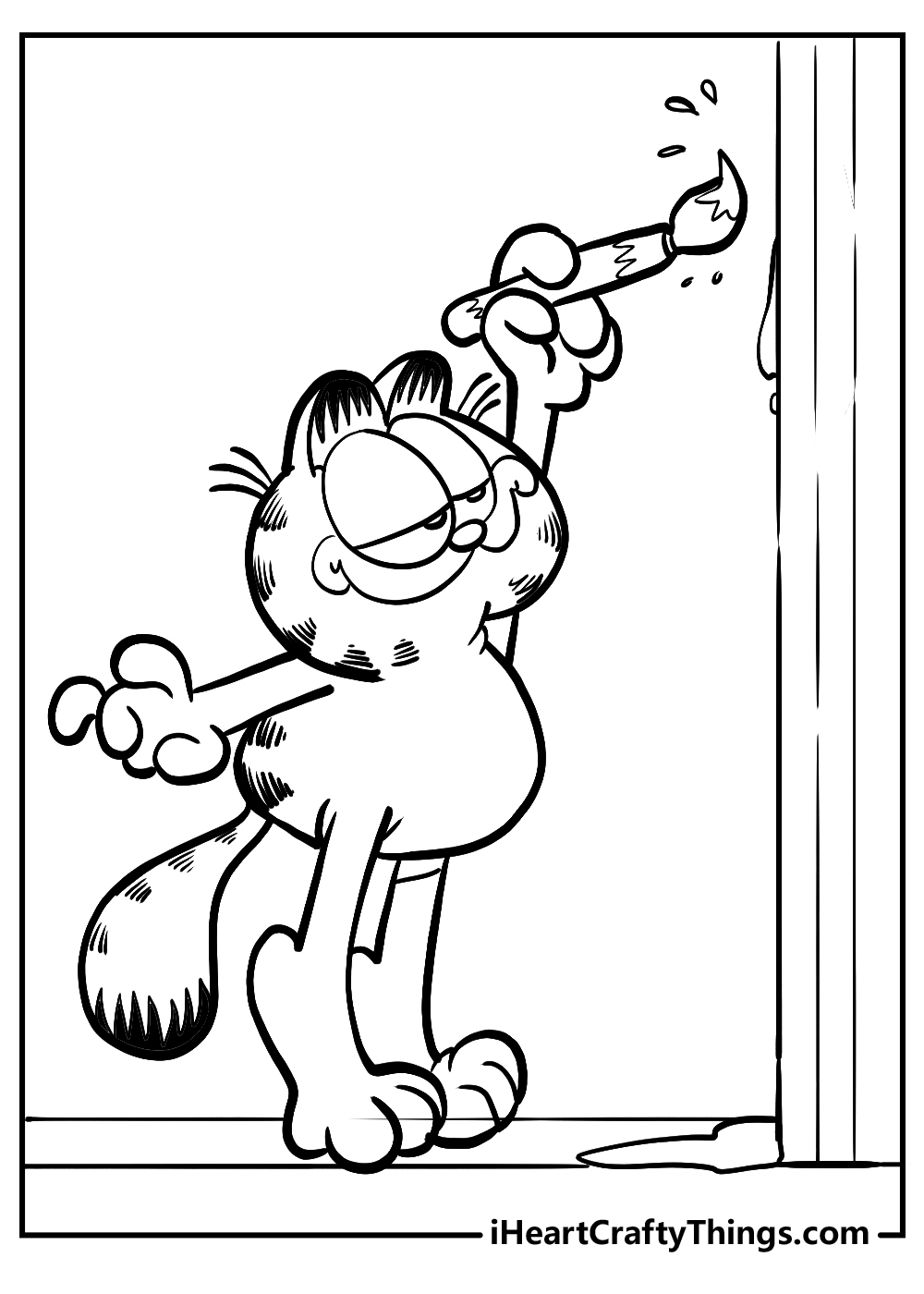 This next page has Garfield planning out a photo as he imagines the framing that the picture will have. What do you think that Garfield would take a photo of?
There is a frame in the background, so you could draw a hint of what Garfield would like to photograph. Maybe it could be a portrait of his favorite food.
He may also like to take a photograph of his beloved teddy bear. Jon and Odie could also be the subjects of the picture, but now it's up to you to decide what you think it could be!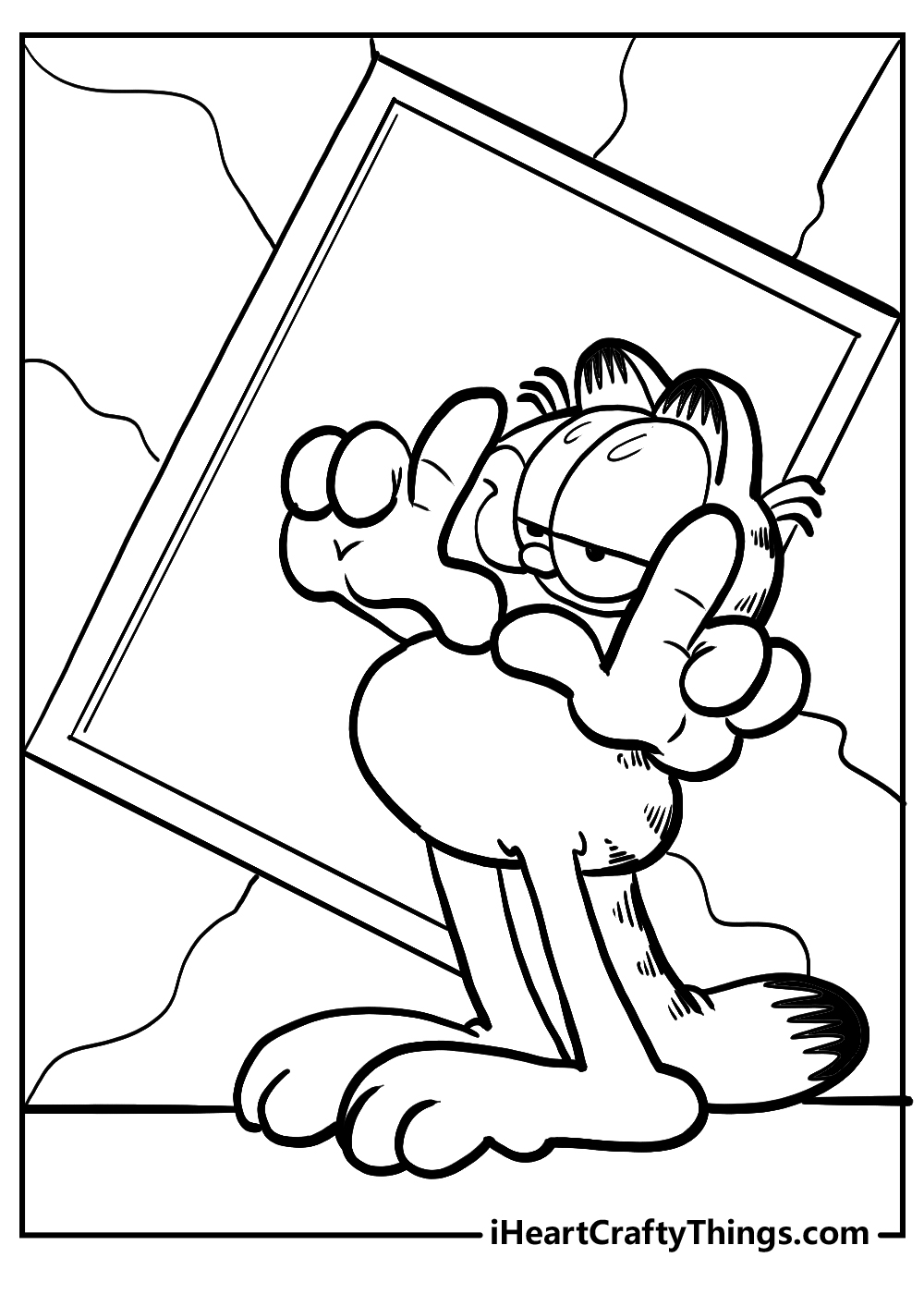 Garfield is looking very thoughtful on this next Garfield coloring page we have for you. It makes you wish you could offer a penny for his thoughts!
We may not know what he could be thinking of, but you can show what you think it could be. Once again, using a bubble above his head would be a great way to do this.
You could draw a picture inside of the bubble, but that is one way to do it. Adding some text would also be a great way to do it, so what do you think he could be thinking?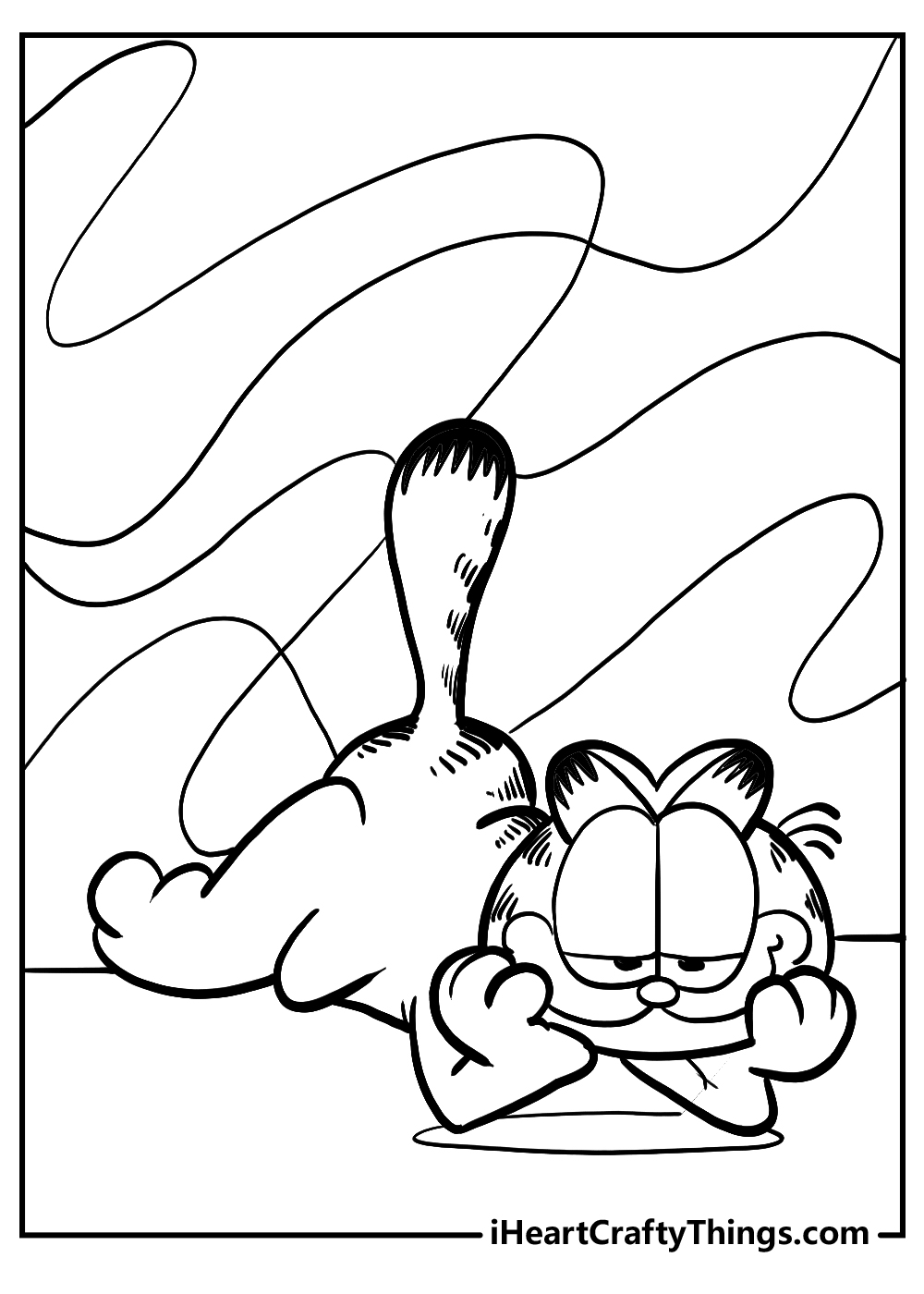 Garfield is once again acting in a way that Jon will not be pleased with! He is clawing his way down the wall, making a lot of damage as he does.
He doesn't seem too bothered by the potential consequences, and he definitely has a look that says "Worth it."
It makes for a really fun image, and there even seems to be some snapping plants beneath him. Maybe he is imagining that he is in some perilous situation!
You could add even more details to make it even more exciting.
On the surface, Garfield seems to hate Odie the dog. He's always insulting him and treating him badly, so it's safe to assume that he must loathe the poor pup!
However, Garfield actually has affection for Odie and does love him, even though it's deep, DEEP down. That camaraderie is shown on this next page, as Garfield and Odie share a rare embrace.
It's a really sweet picture, and it will look even better once you have added some nice colors to the page to finish it off!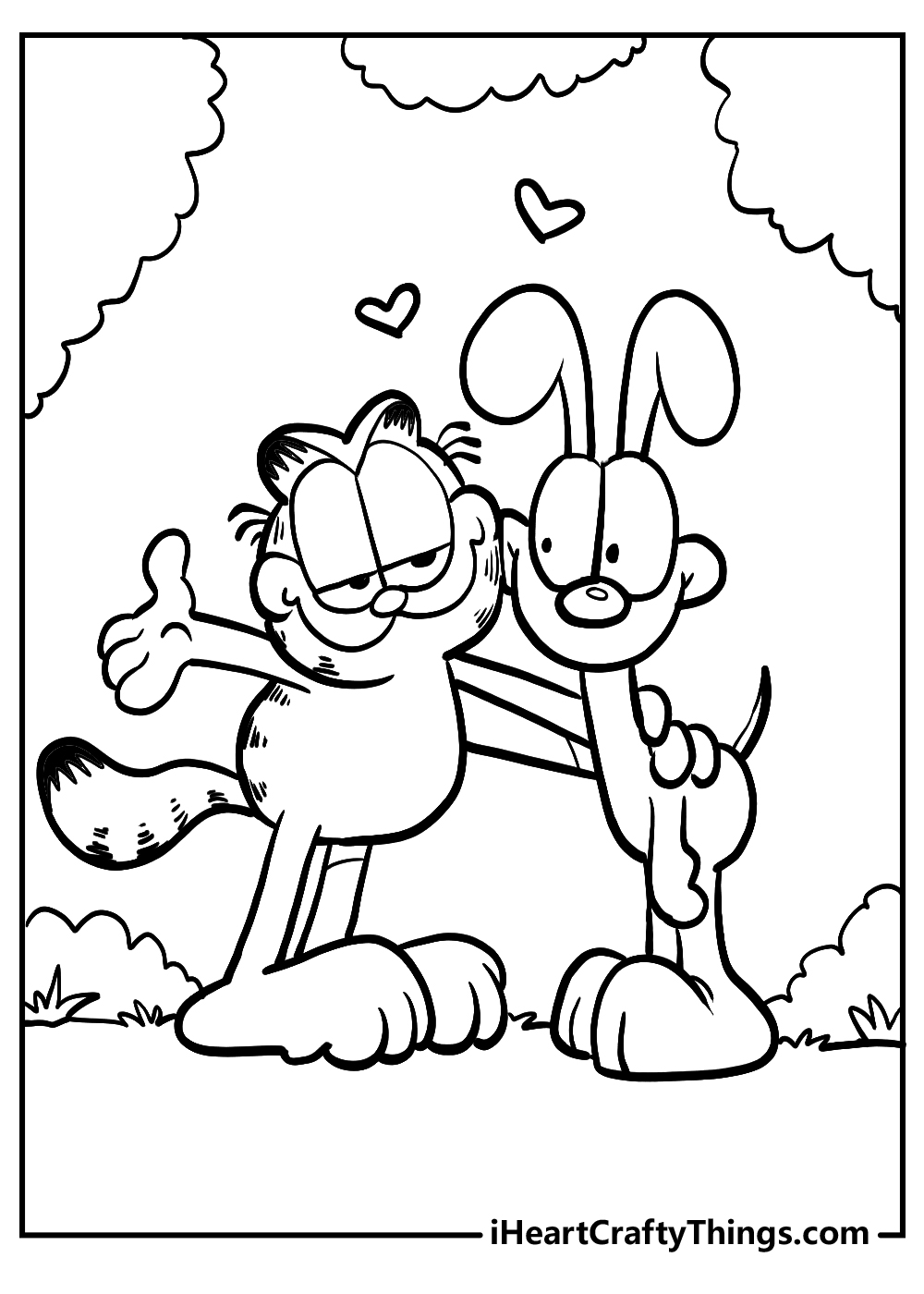 Looking cool is something that comes easily to Garfield, but not so much for poor Odie. He's trying his best though, and it does make for a cool pose that the two pets are pulling!
It's also another moment of peace between the rival pets, so it's a good thing the moment has been captured for posterity!
When you color this page, remember that you can also add some extra details.
Maybe there could be some treats for them to eat, or maybe they have just both successfully destroyed something in Jon's house! What else do you think could have united them?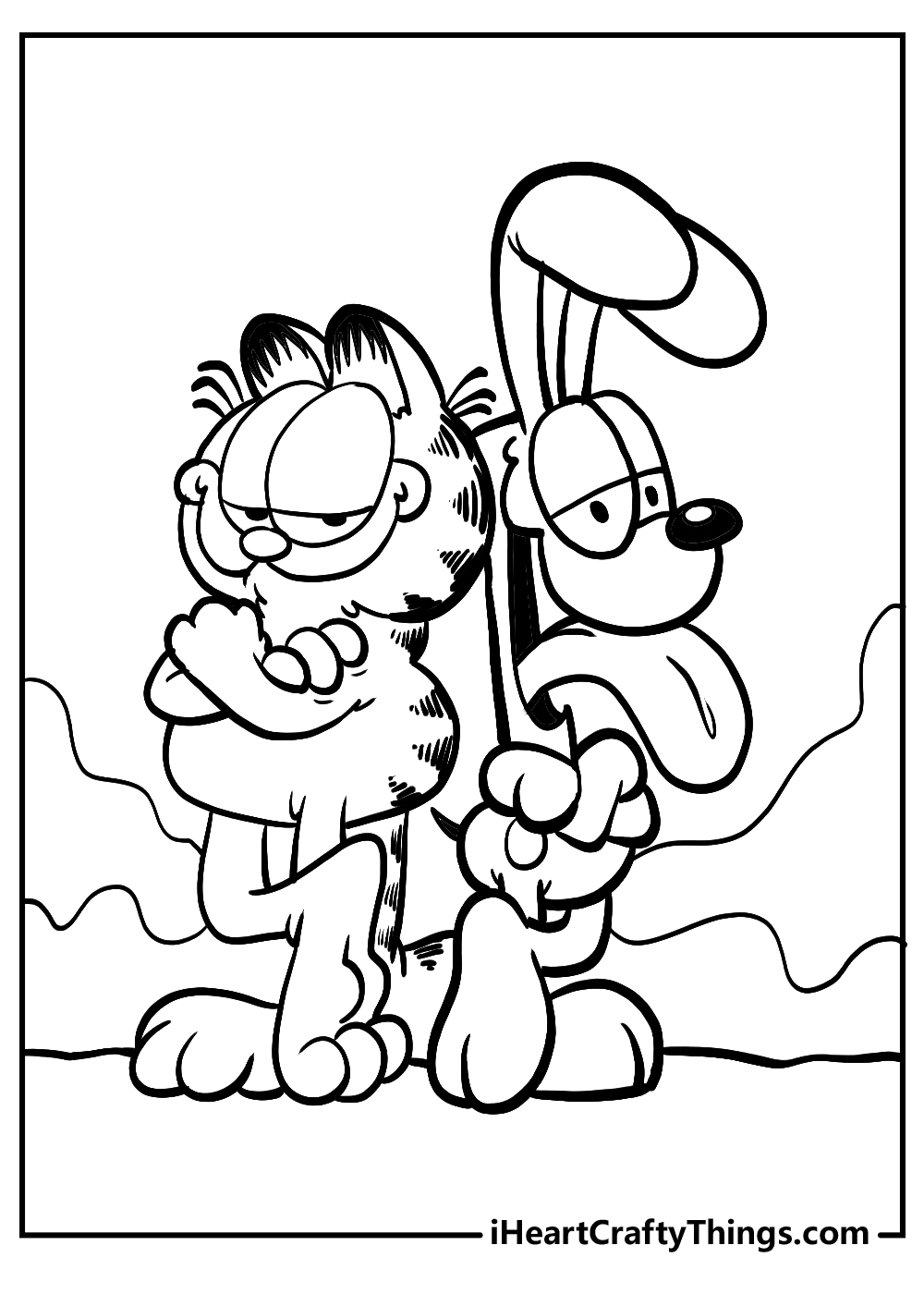 The last few pages have featured guest appearances by Odie, but Garfield is not one to share the spotlight for long.
That's why this next Garfield coloring page brings the focus back to the main man himself.
This page has Garfield doing a pretty relaxed pose, and the background has some space for extra details as well.
If you have some favorite Garfield quotes, it could be fun to add them to this background!
What are some famous Garfield lines or zingers you could add to the page?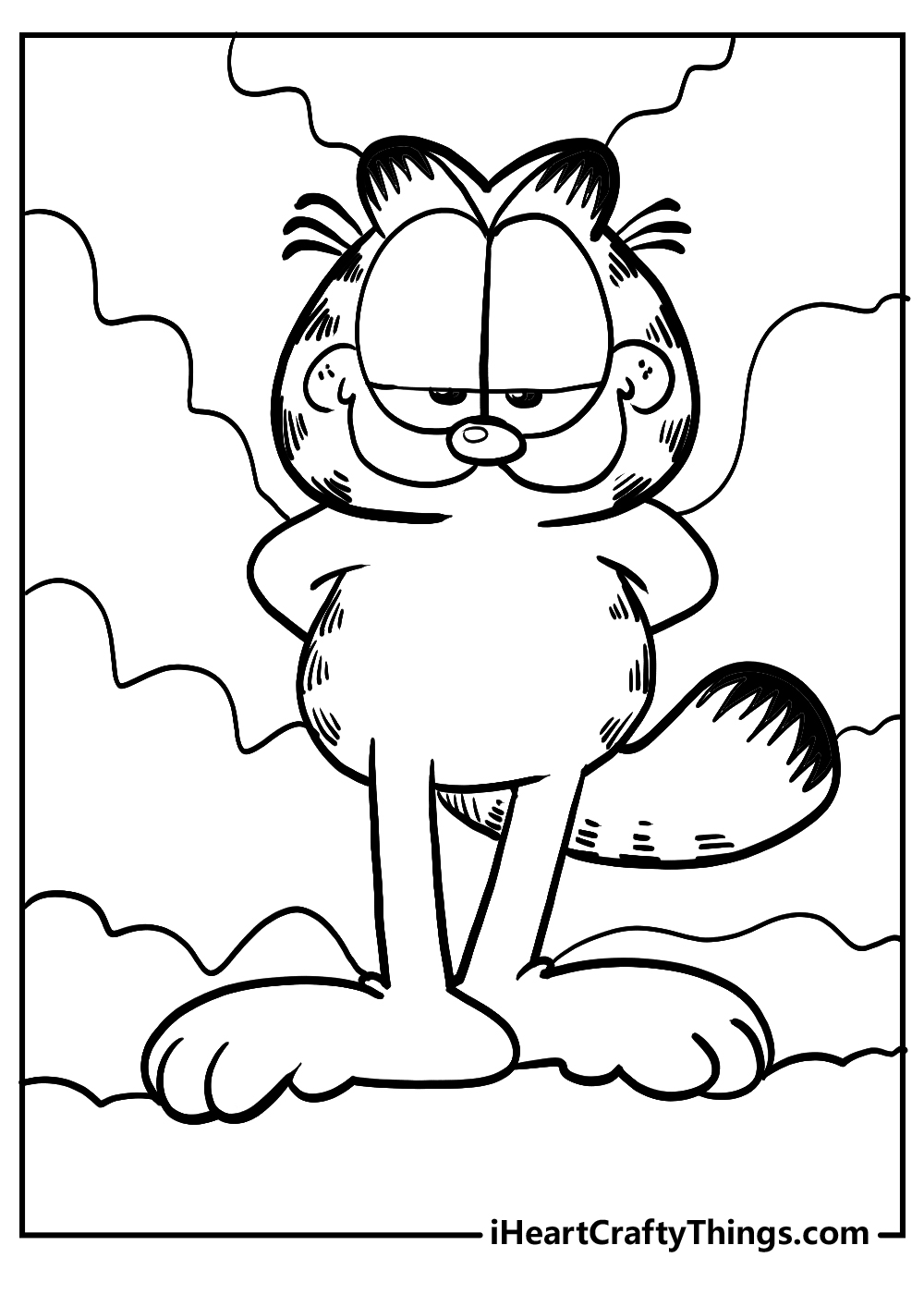 Garfield is looking very cool on this final page, and it's a great way to finish off the collection. If you've ever read the comics, you'll know the colors are very bright and vibrant.
Using colored pens or markers would help to recreate the look of the comic. Darker paint would also do the job nicely.
You of course don't have to replicate the look of the strip, and you could recreate your favorite Garfield appearance or create a brand new look for him.
It's up to you, so have fun with it!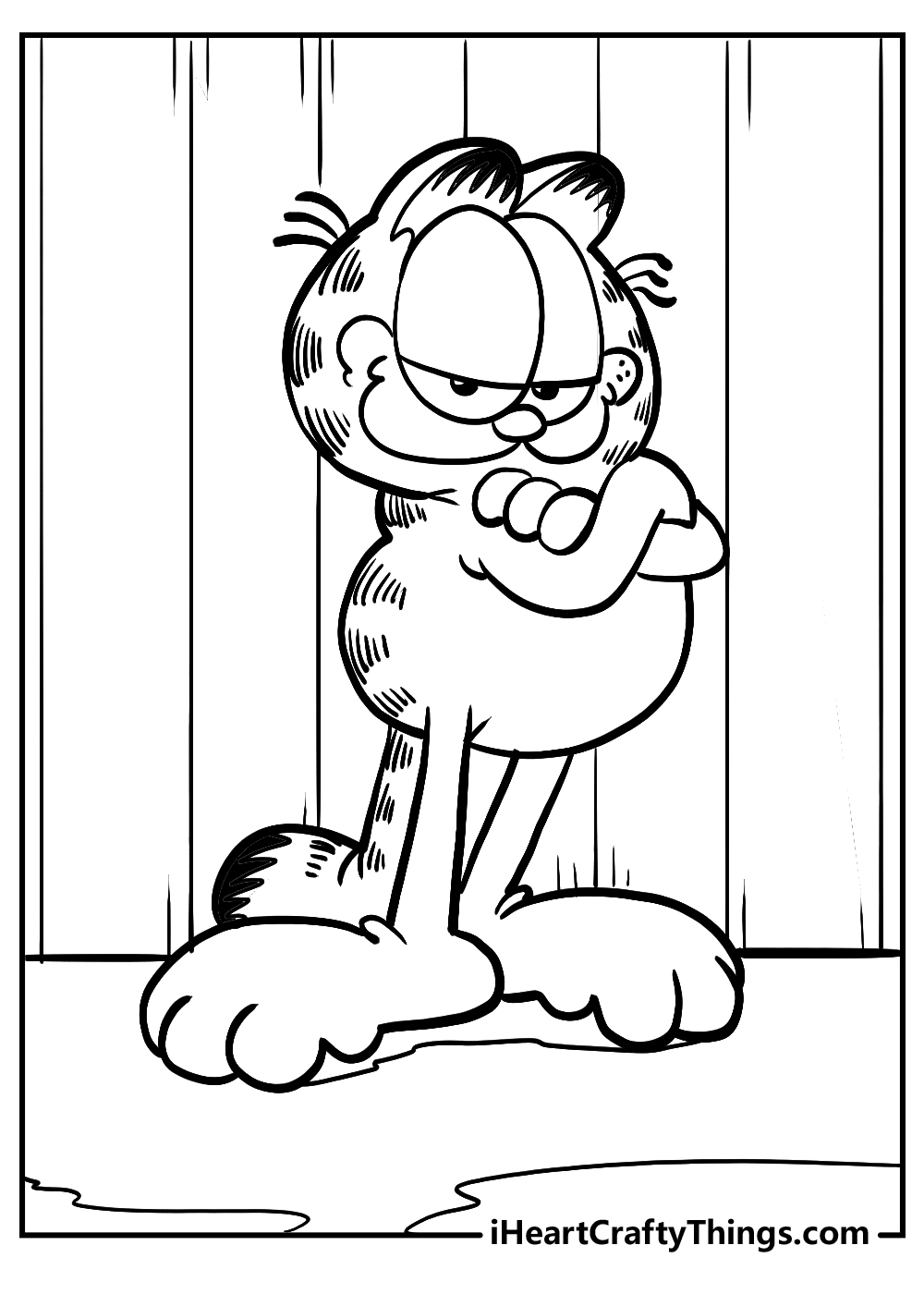 Garfield Coloring Pages – Which will you choose?
That brings you to the end of this collection of free Garfield coloring sheets for kids! Hopefully you had a paw-some time working on this collection of pages.
We wanted to include lots of different poses and scenarios while also leaving room for you to get creative with it. You can color each and every page as many times as you like, too!
It's always more fun to color with friends, so you can share this collection with any other Garfield fans you know so that you can spread the fun.
We would also love to see how you colored this famous fat cat. You can share your creations on our Facebook and Pinterest pages for us to see and admire!