When texting, we have become very used to using emojis to help us express ourselves. It has become a short way of expressing a lot, as a picture says a thousand words.
Sometimes an emoji can express more than we can type, and they have become a big part of our communication culture.
Because of this familiarity, we felt that many would appreciate a collection of free emoji coloring pages for kids! If you love emojis, then this is the collection for you.
We have many different kinds here, and you will be able to use all of your favorite colors and art tools.
15 Brand New Emoji Coloring Pages – Free to Print and Color
We associate sunshine with happiness, and that is the theme we went for on this first page. This sunshine emoji looks very happy, and now you can add some happy colors to finish it off!
When looking at a picture like this, you may think of colors like yellow, orange or red. These would be perfect for this emoji, but you needn't feel constrained by these expectations.
You could use any colors you like in order to finish off this happy picture, so which ones will you choose?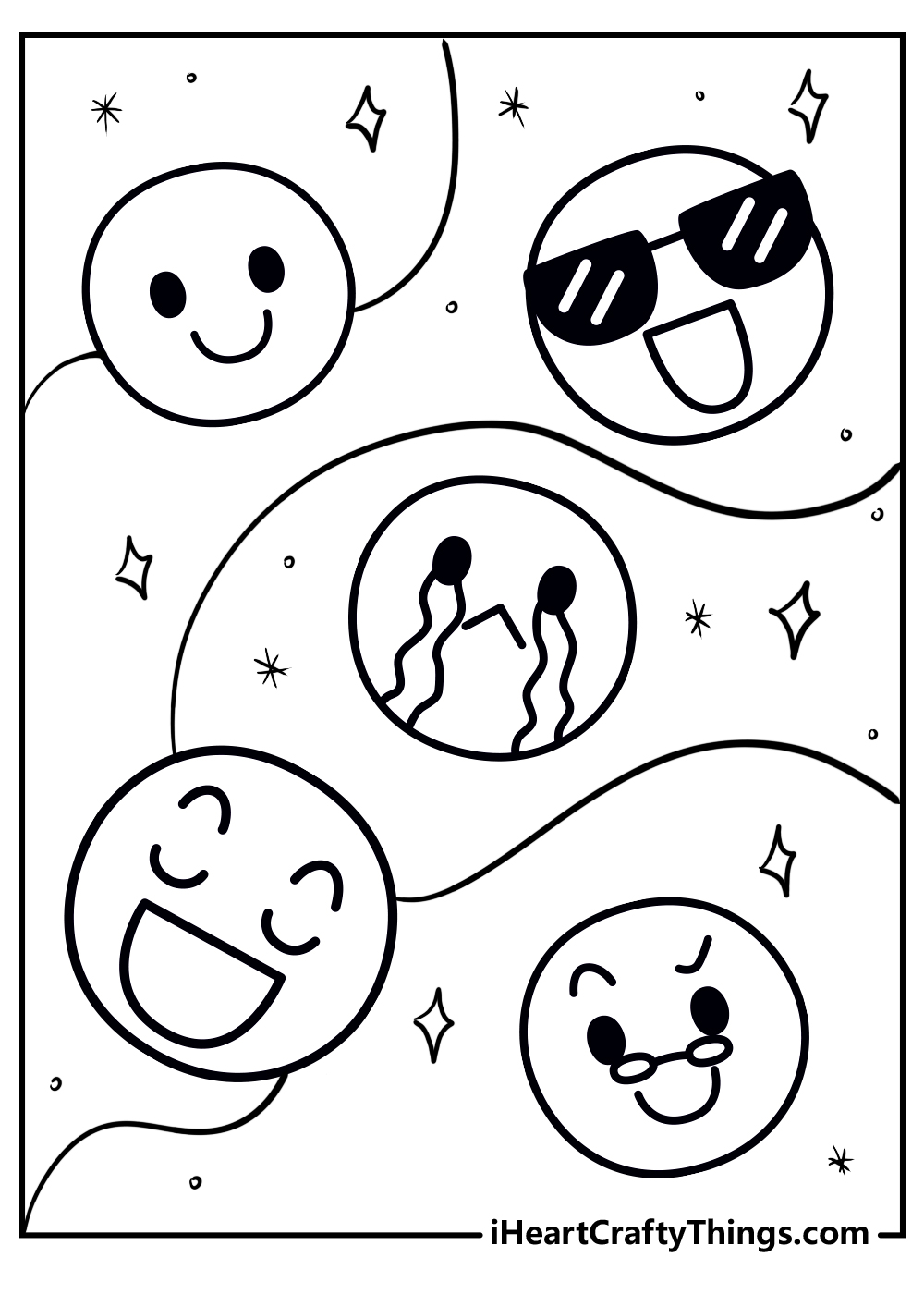 We can feel many emotions in a single day, and this next emoji coloring sheet represents that nicely! Here we have four different facial expressions to show off how much you can experience in a day.
First off, we have a face none of us like to have: a crying face! The next face shows an expression that looks a bit upset as well, suggesting a bad start to the day.
Luckily things get a bit more positive after that as the face gives off a party mood. Finally, the last face is feeling the love with hearts over its eyes.
Now you can represent each mood with the colors you choose.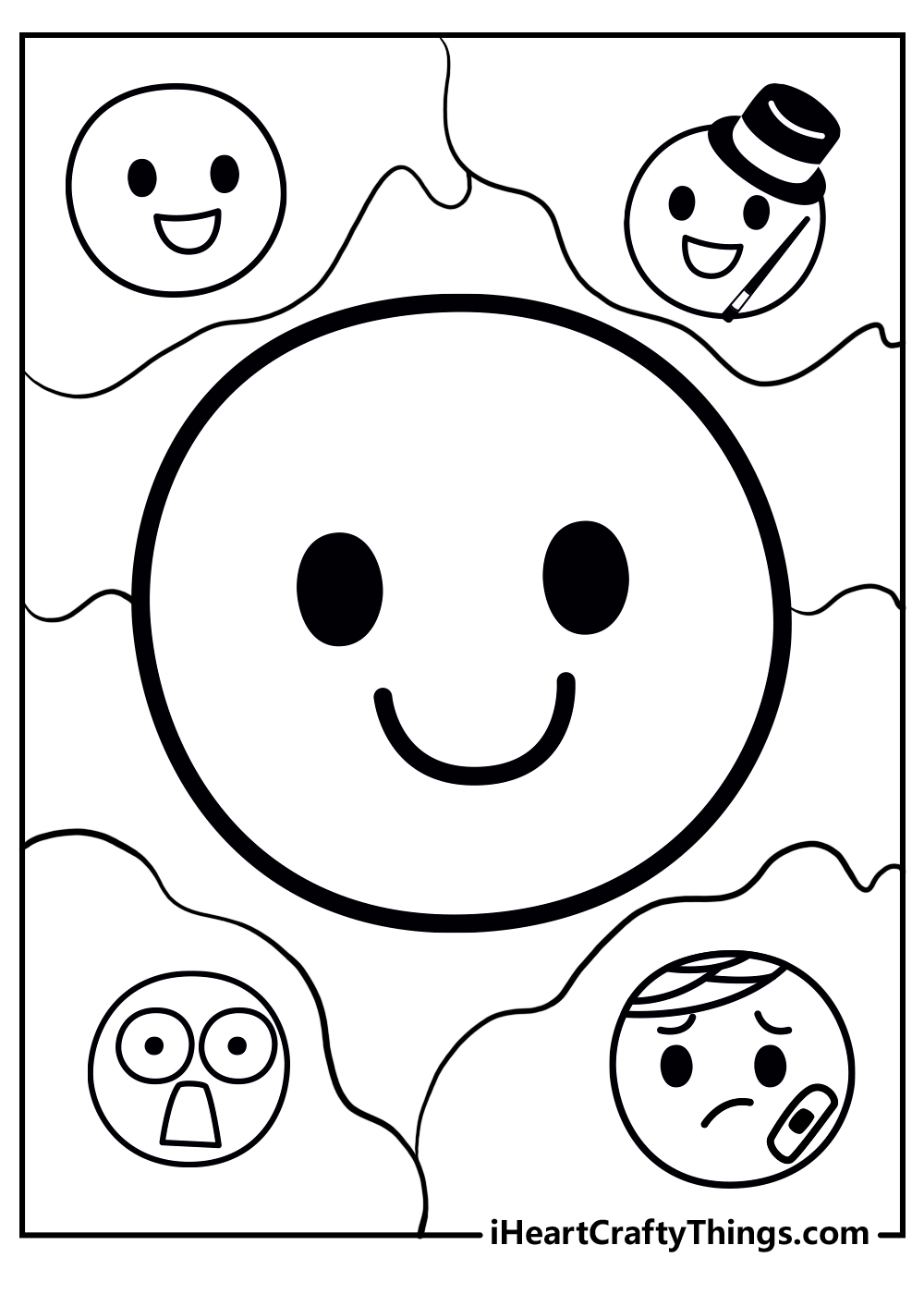 Coloring can be a relaxing experience, but you probably don't want to be as relaxed as this next emoji. This emoji is taking a nap with a sleeping cap, and it makes for a really relaxing image.
If i were coloring this page, I would use lighter colors and art mediums like watercolors or colored pens. This would help to give the picture a relaxing mood that fits the subject matter.
Of course, that is just one of many ways you could color this page! Now you can show which colors you would choose. Whatever you choose will look great in its own way!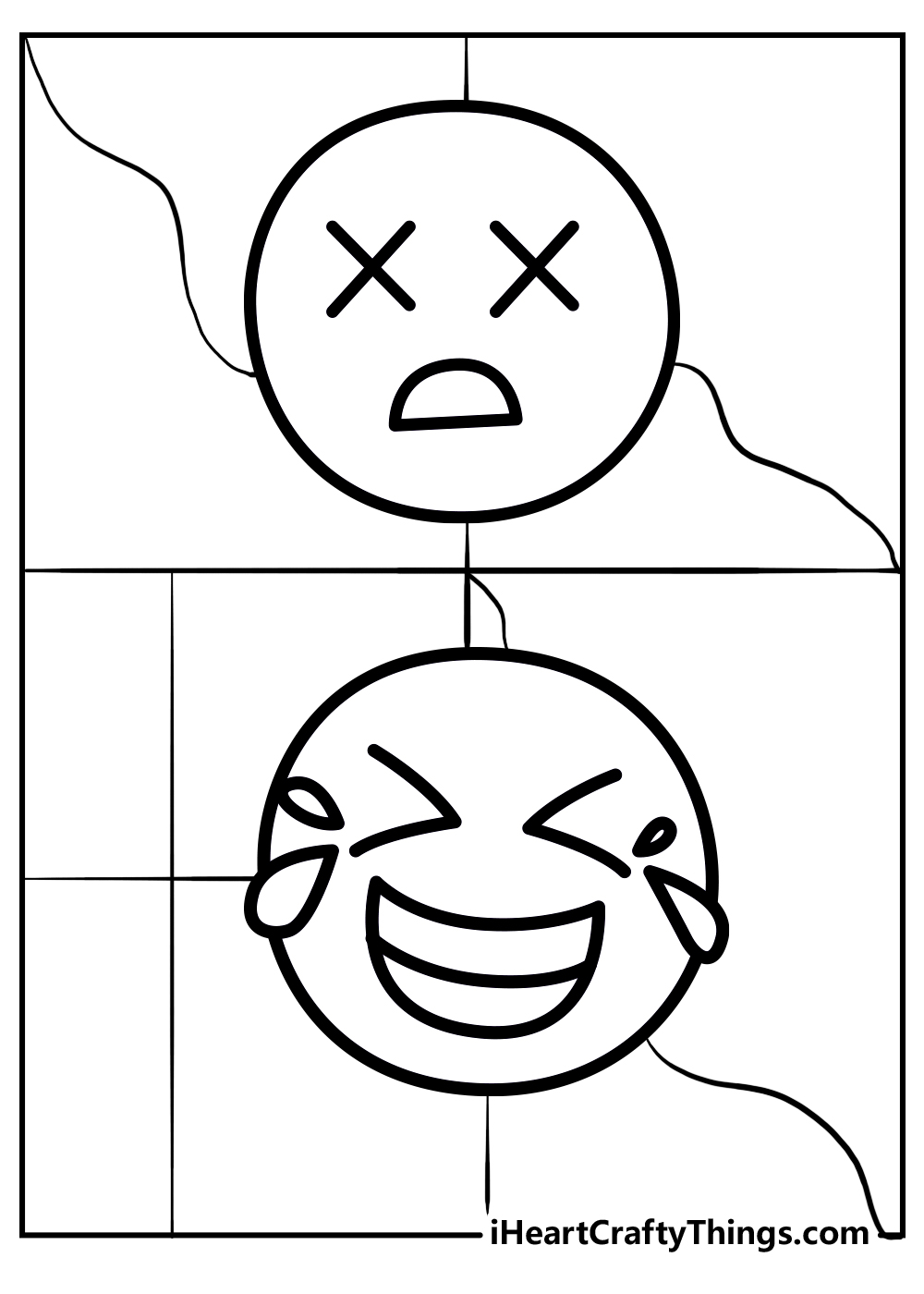 It's always great to have a range of faces, as this allows you to use all sorts of different colors. We have 5 faces for you to color on this next page, and you could use all sorts of colors.
Up top, we have a doctor emoji and an emoji wearing some cool glasses. On the bottom, there is an emoji that looks as if it is saying something it shouldn't.
That one is next to a very confident face. In the center is a mustachioed face, and now you can show us which colors would best suit each face!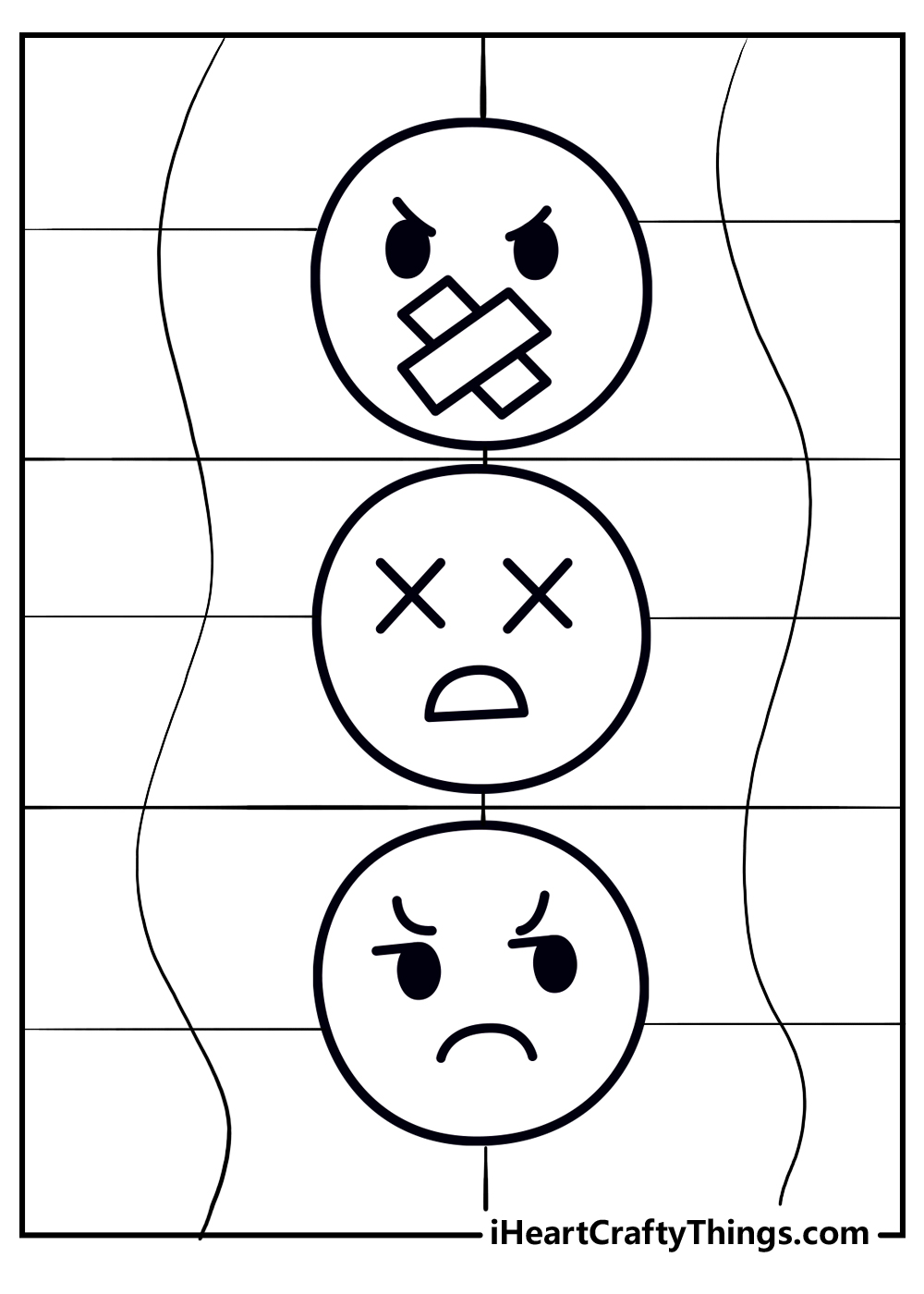 This emoji coloring printable shows off quite a wide range of emotions. The uppermost face is laughing hard, so maybe it heard a really funny joke.
That joke seems to have horrified the central face, but the one at the base looks as if it also found it to be rather amusing. One way you could add to this picture would be to draw some text.
Perhaps you could add a funny joke to the page to show what they are laughing at, which would be a really fun touch!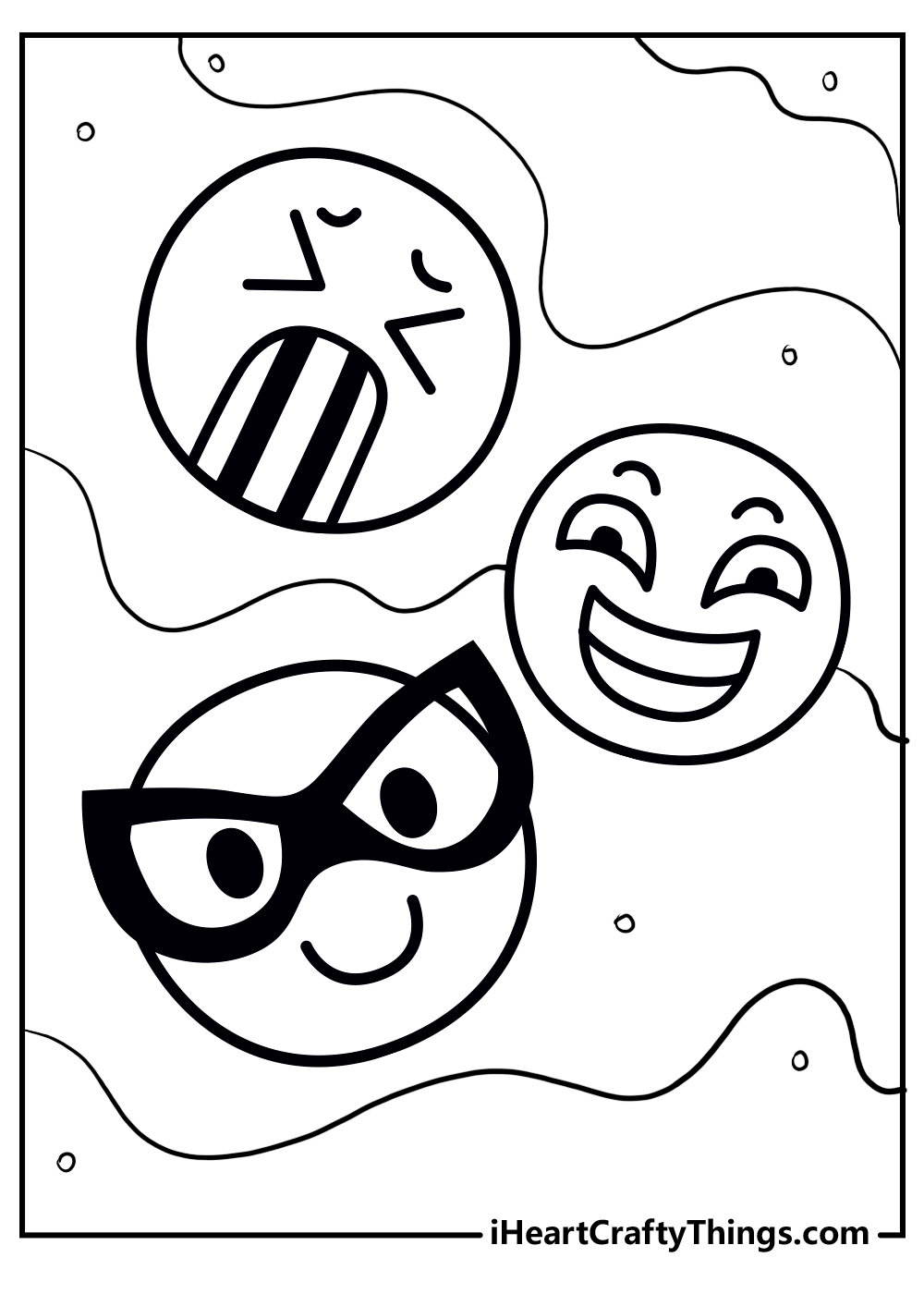 Sometimes it can feel like we have an angel on one shoulder and a devil on the other, and they can give some contrasting advice. This next page showcases that feeling well!
You have an angel on top and a devil below, and this contrast allows you to do some interesting things with colors. I would use softer colors for the angel and brighter warm colors for the devil.
You could do something similar or go for a unique look instead. Which approach will you go for on this page?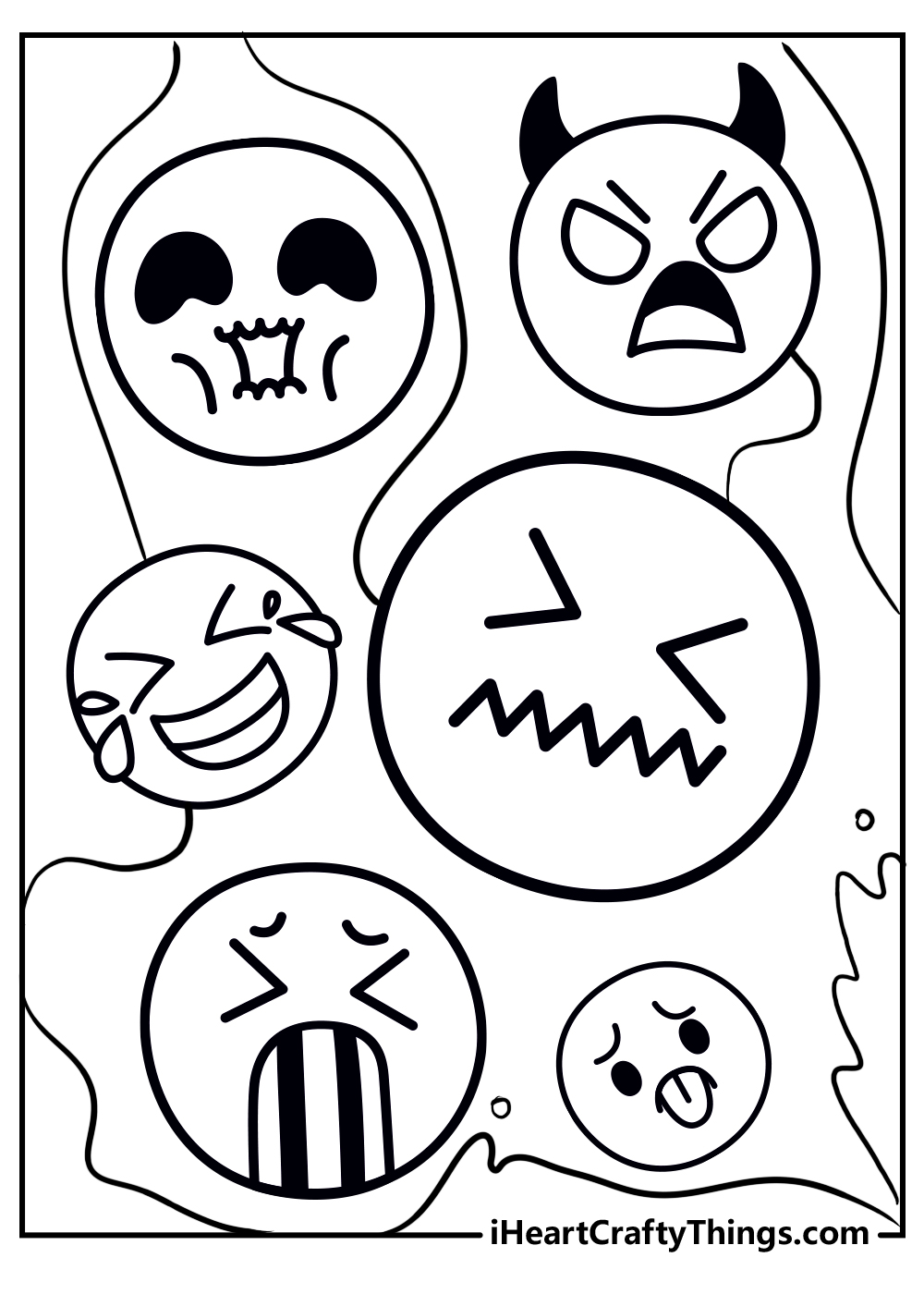 There is some more contrast on this next page. The emoji in the upper area of the page is looking a bit distressed or maybe a bit confused.
Meanwhile, the emoji below is looking a lot more relaxed and happy. This is another case of getting to use some amazing contrasting colors.
The colors you use can really suggest certain moods, and you can use that to your advantage when it comes to pictures such as these.
Now, the question is which colors do you think would best portray the moods shown in this image?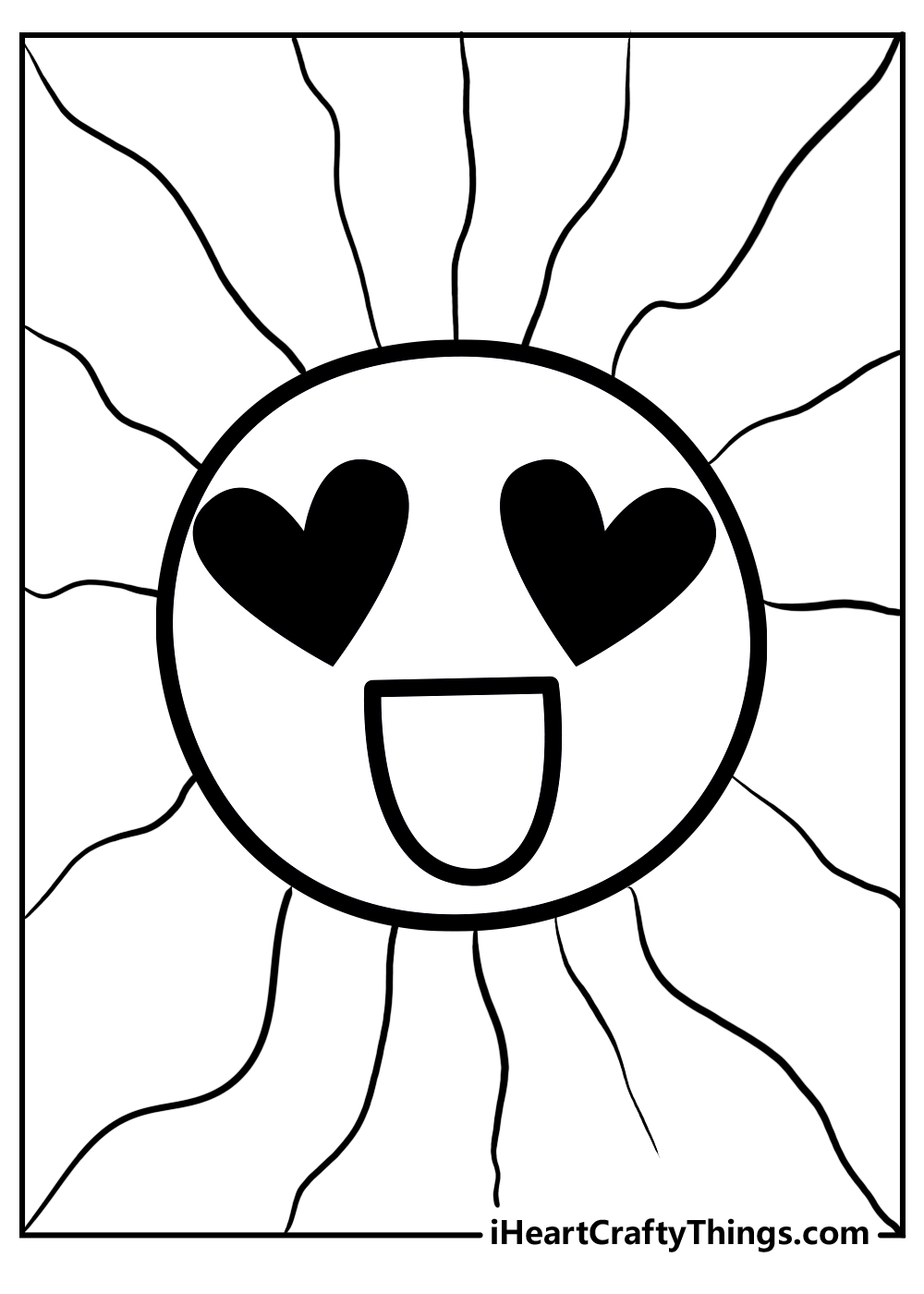 The next picture we have for you to color is one of the wackiest so far! There is a lot of variety here, and you can have a lot of fun as you add some color to the picture.
The two emojis on top look like they could be pirates or maybe ninjas depending on how you look at them.
The two below are normal happy faces, and I immediately thought that the two lower ones are imagining the upper ones.
If you agree with that idea, you could draw a thought bubble around the upper faces to show off this scenario.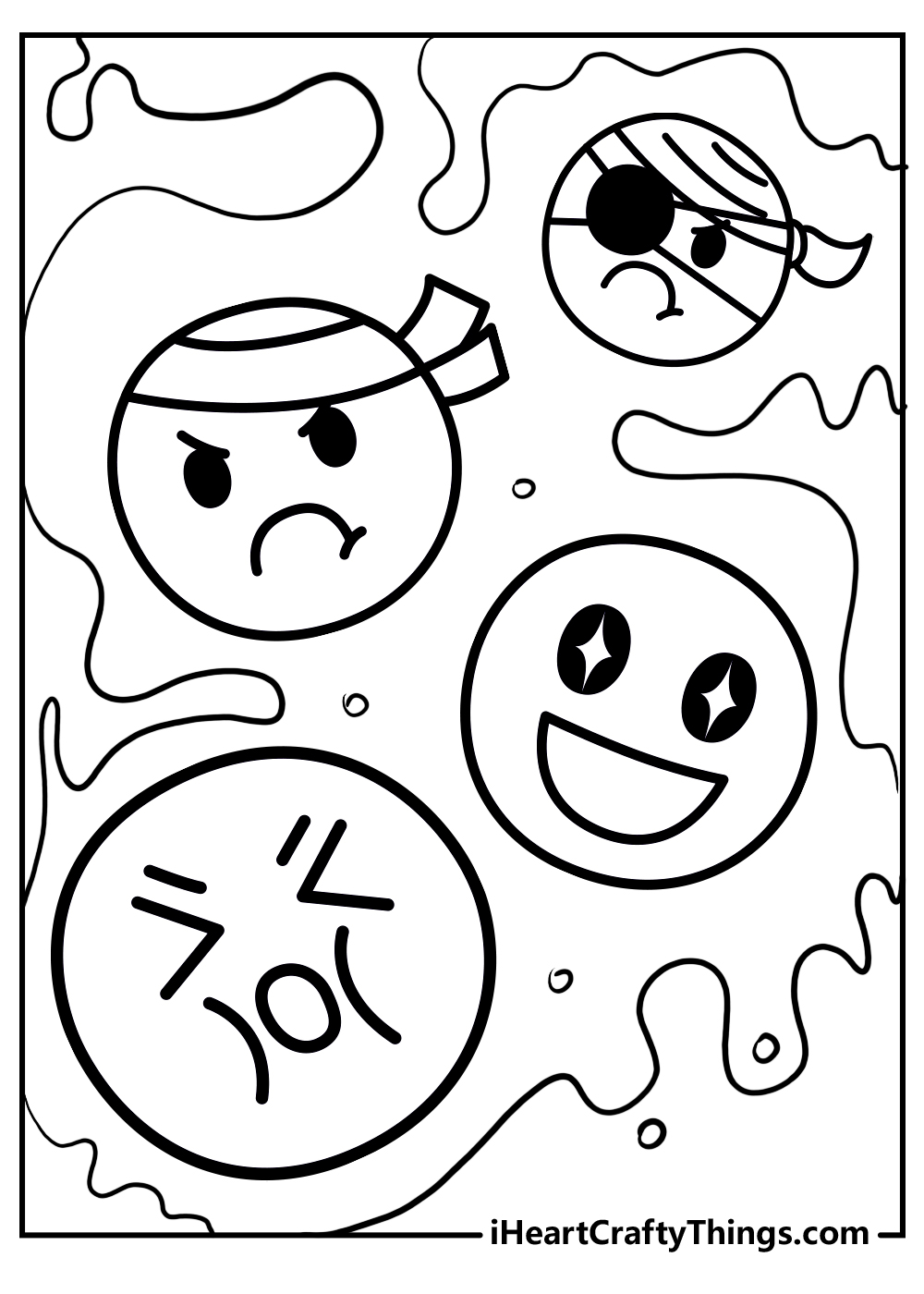 It's hard to not feel the love when looking at this next picture! This emoji has hearts over its eyes and is in front of a segmented background which gives you so many ways to bring color to the page.
If I were coloring this page, I would use colors like red, purple or pink to suggest the loving theme of the picture. It's up to you to decide which colors make you feel the love the most though!
Which lovely colors will you choose for this page?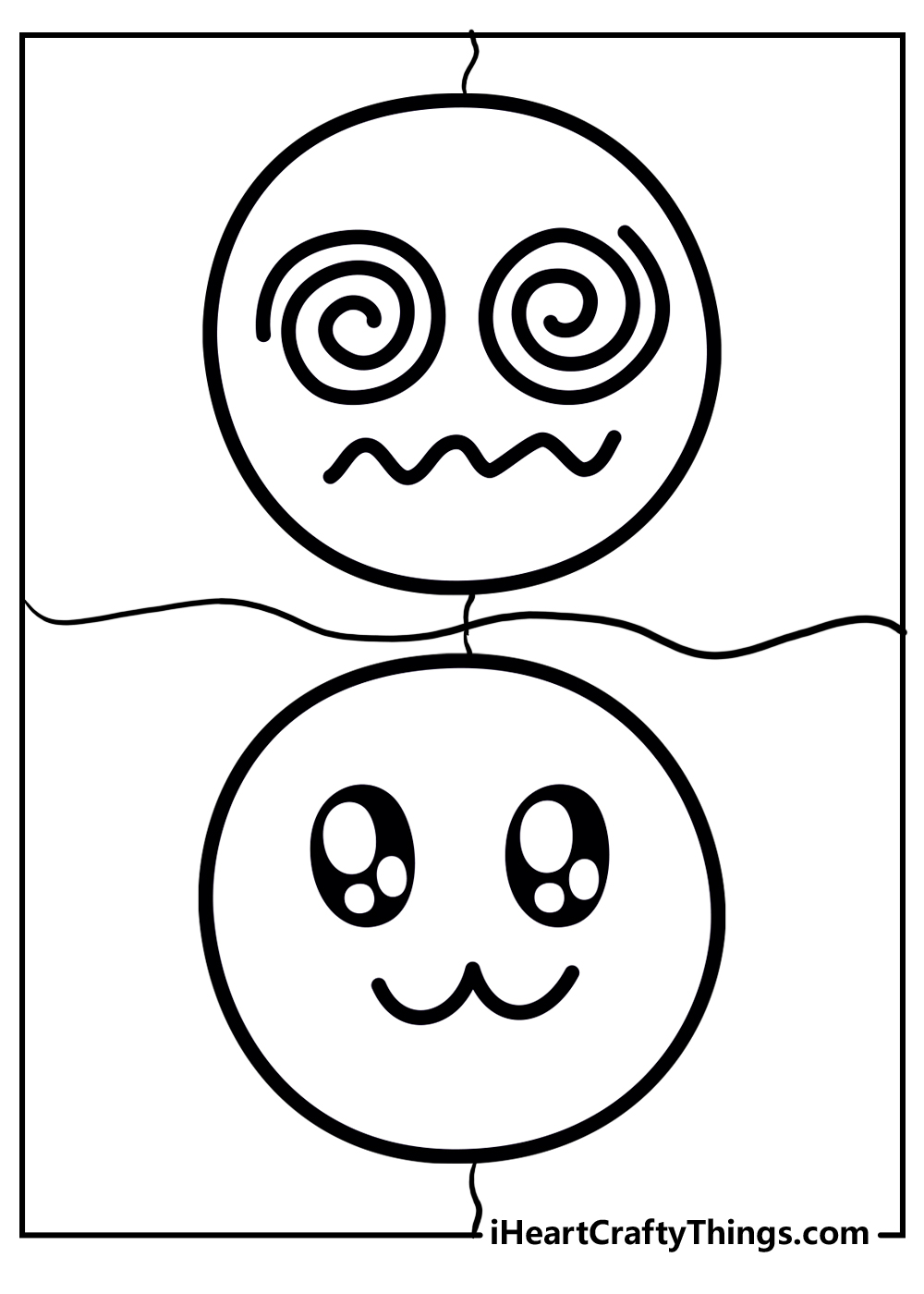 This next emoji coloring page shows a wide variety of emotions! One of the faces is happy, but the rest have more negative emotions shown on their faces.
It makes for a slightly chaotic image, but those can be some of the most fun to color! Not only can you choose the colors you use but also the right art tools and mediums for the job.
By the time it is done, you will have quite an intense image to behold! Which colors would suit the chaotic vibe of this coloring page?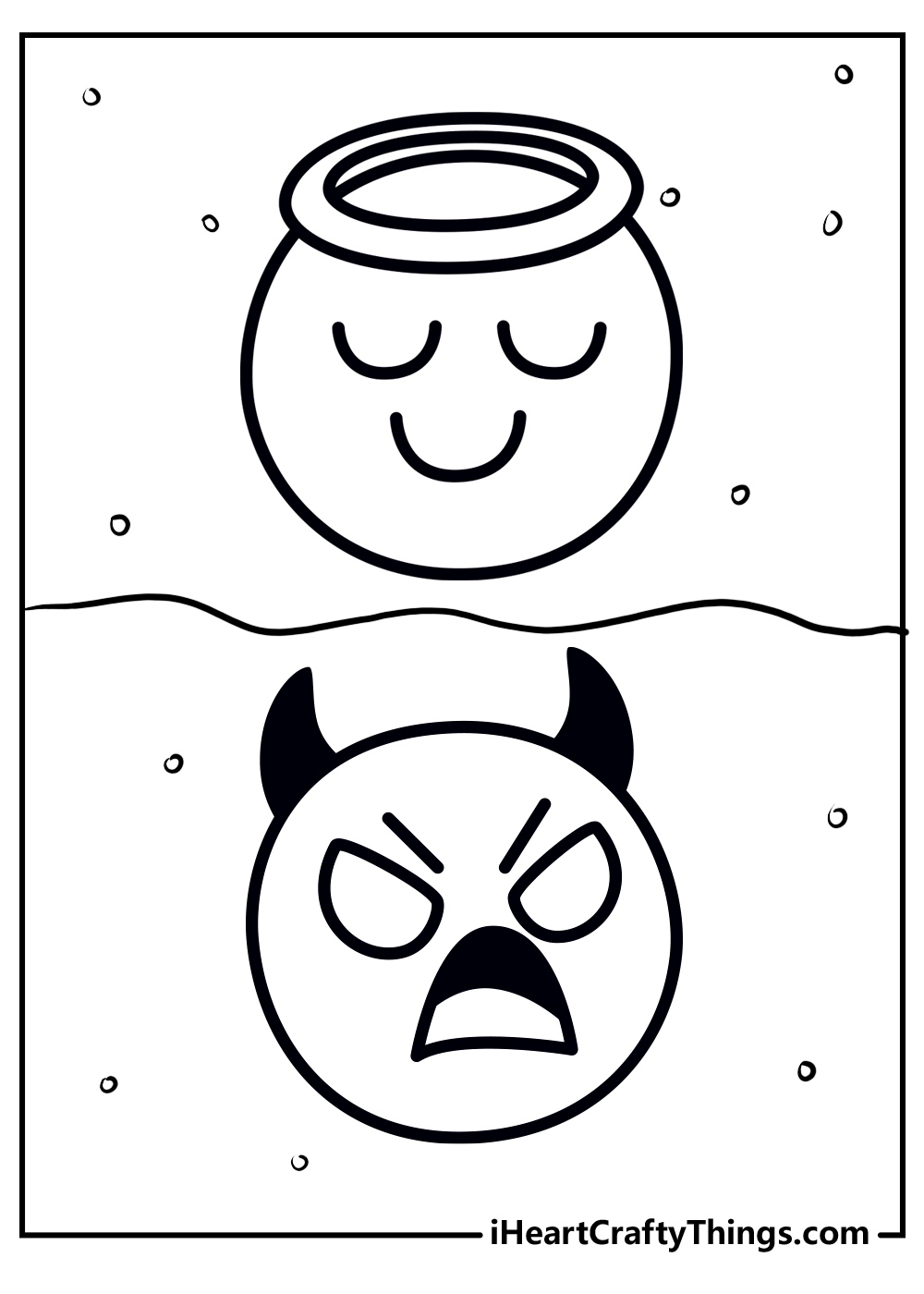 Next up, we have another selection of faces for you to color. They again portray a wide range of emotions, which gives you the excuse to use a good range of colors and techniques.
The first face looks a bit distressed, while the other two look pretty happy and laid back. What do you think could have caused the first face to be so upset?
You could show what you think by drawing some clues to show what could have made this face act this way.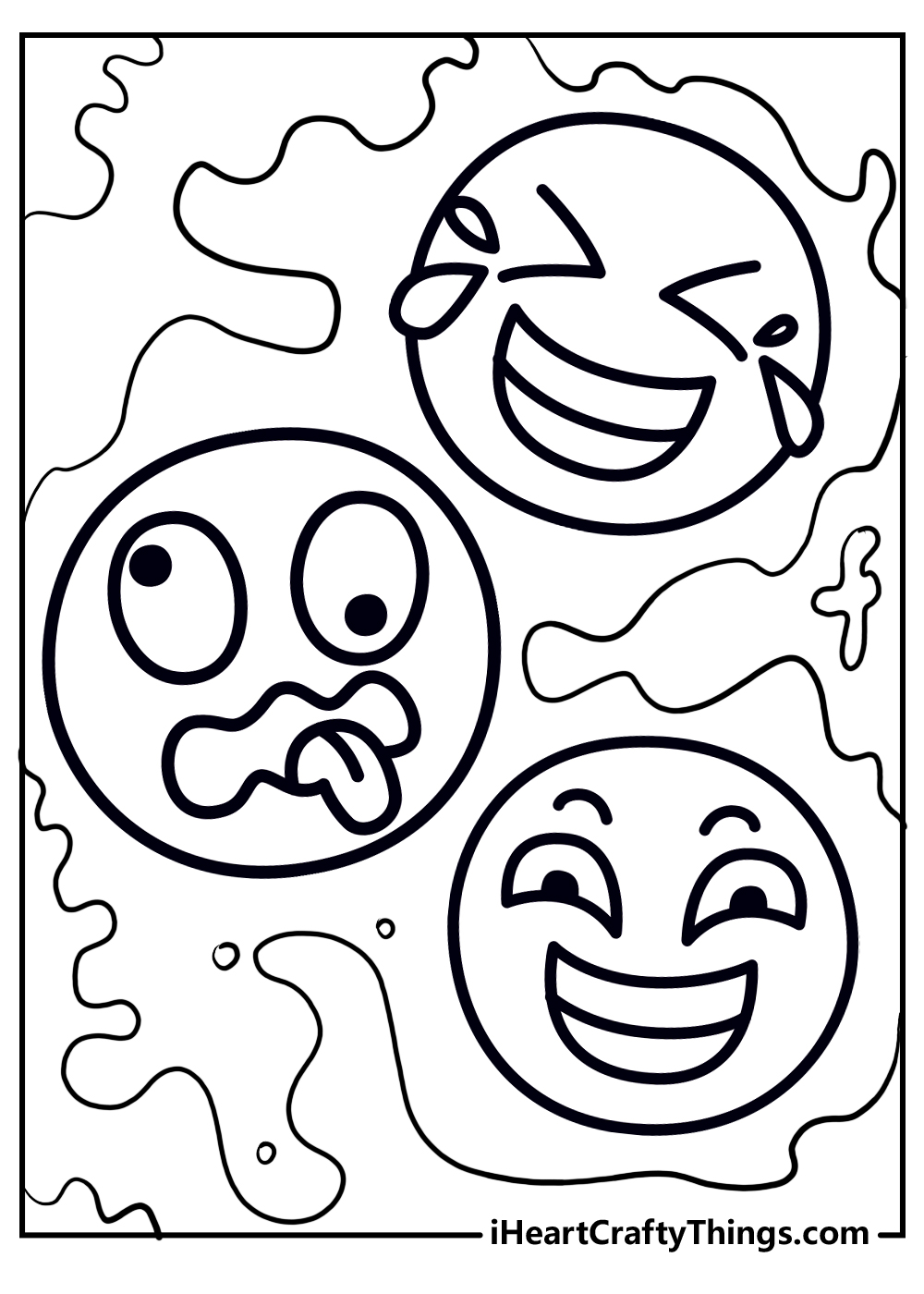 The emotions on this next page are not particularly happy or vibrant, and it makes for a more tense page! You can really express the moods of this page with the colors you use.
For example, I would probably use some stark colors that are bright and striking. Perhaps some black, red and dark green would look good, but that is just one opinion!
You probably had some colors pop into your mind when you saw this page, and now it's up to you to apply the colors you want.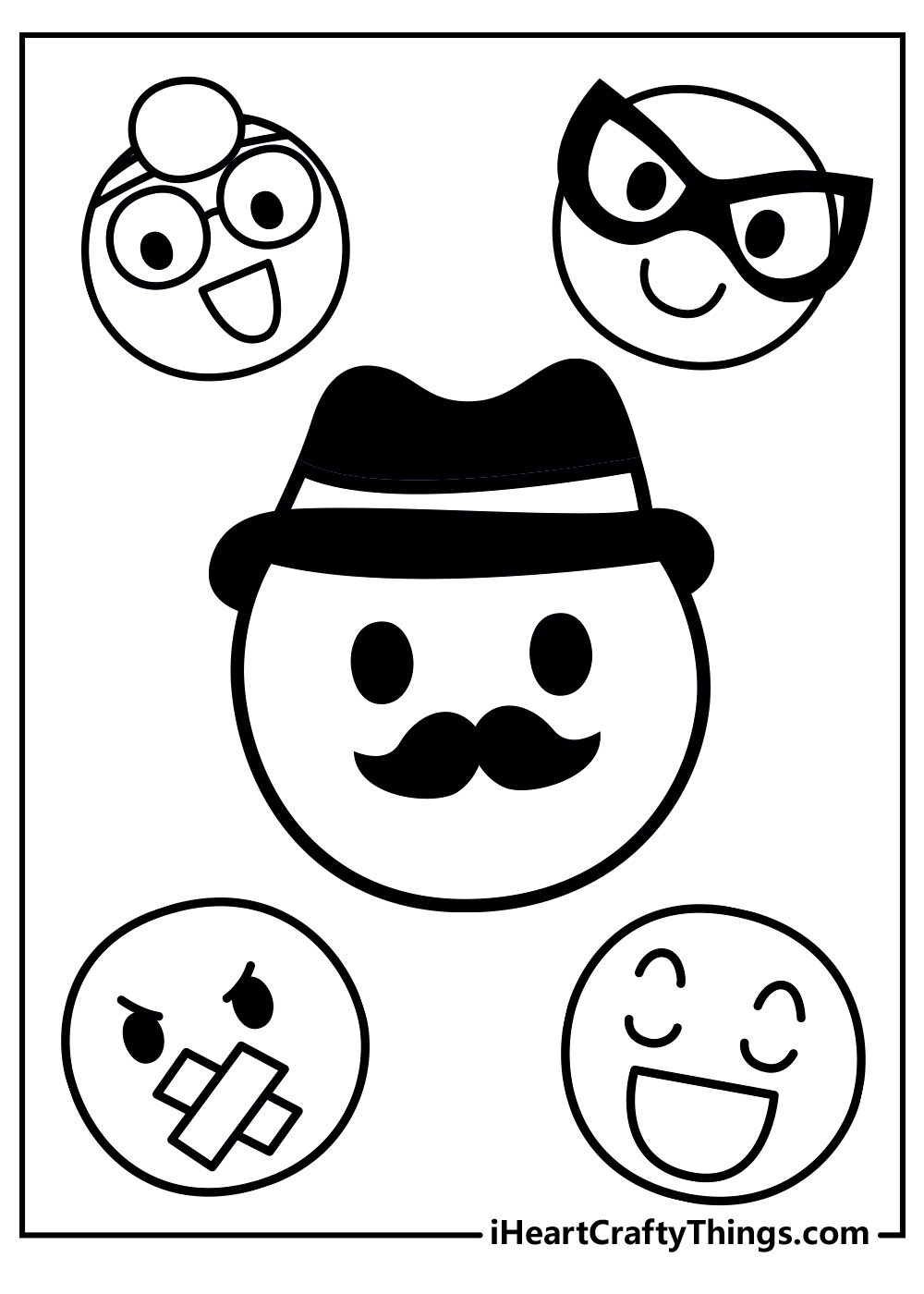 Two faces star on this next page, and they have opposite vibes going on. The first emoji looks as if it has just heard something shocking that it did NOT like.
Meanwhile, the second one looks as if it has heard the funniest thing it's heard in a while. It makes you wonder what made each one have that reaction!
Once again, you could draw some extra details that would show off what has made the faces feel this way. What are some details you could use to make a story around these faces?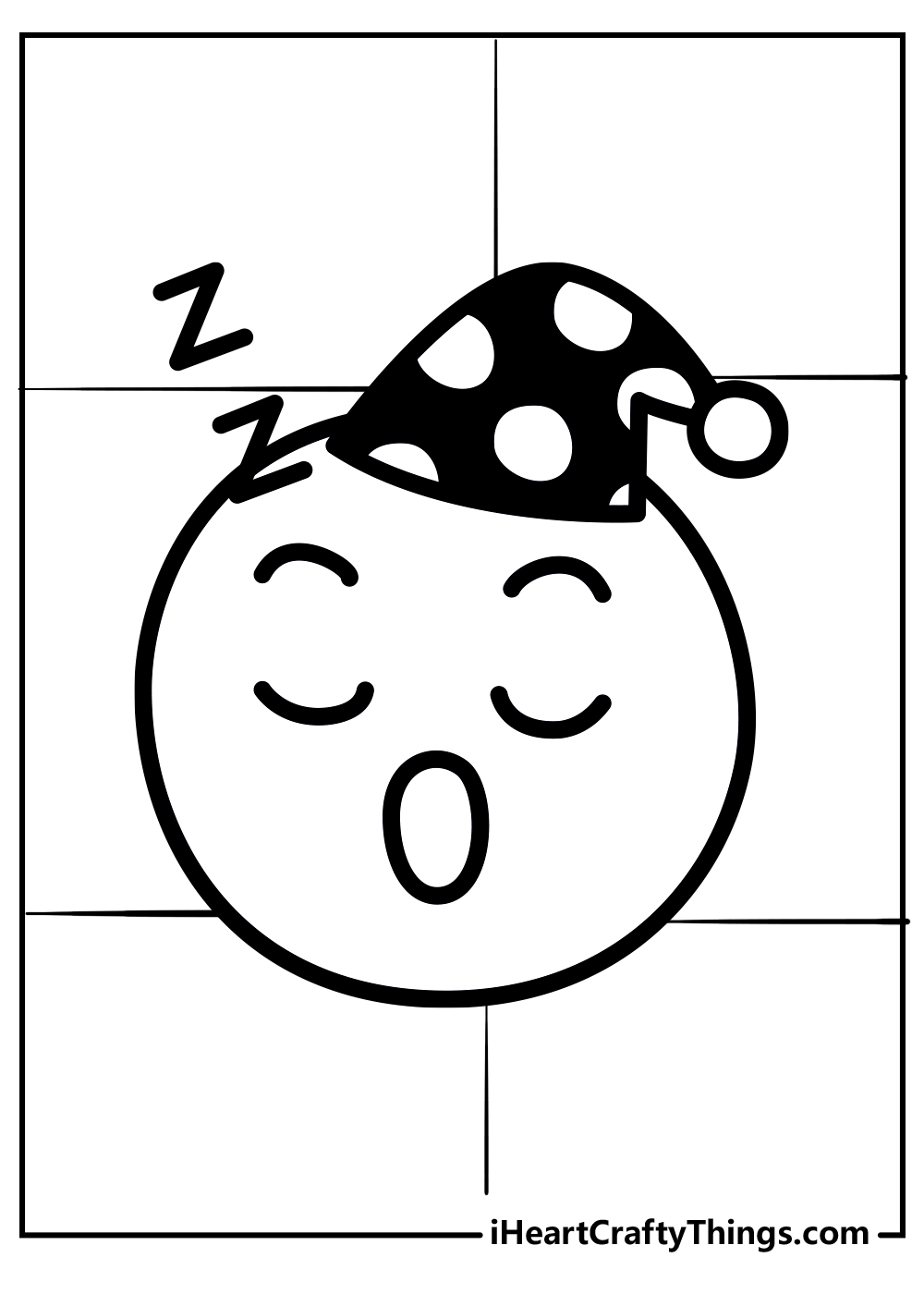 There are quite a few contrasts on this next emoji coloring printable. In the center, we have a big happy face smiling out at us, and that may make you think that it will be a happy face.
The two upper faces are quite happy, while the lower ones are a bit more distressed.
I think that this would be an interesting page to use a wide variety of colors on in order to express the different moods on display.
It should be an interesting picture by the end!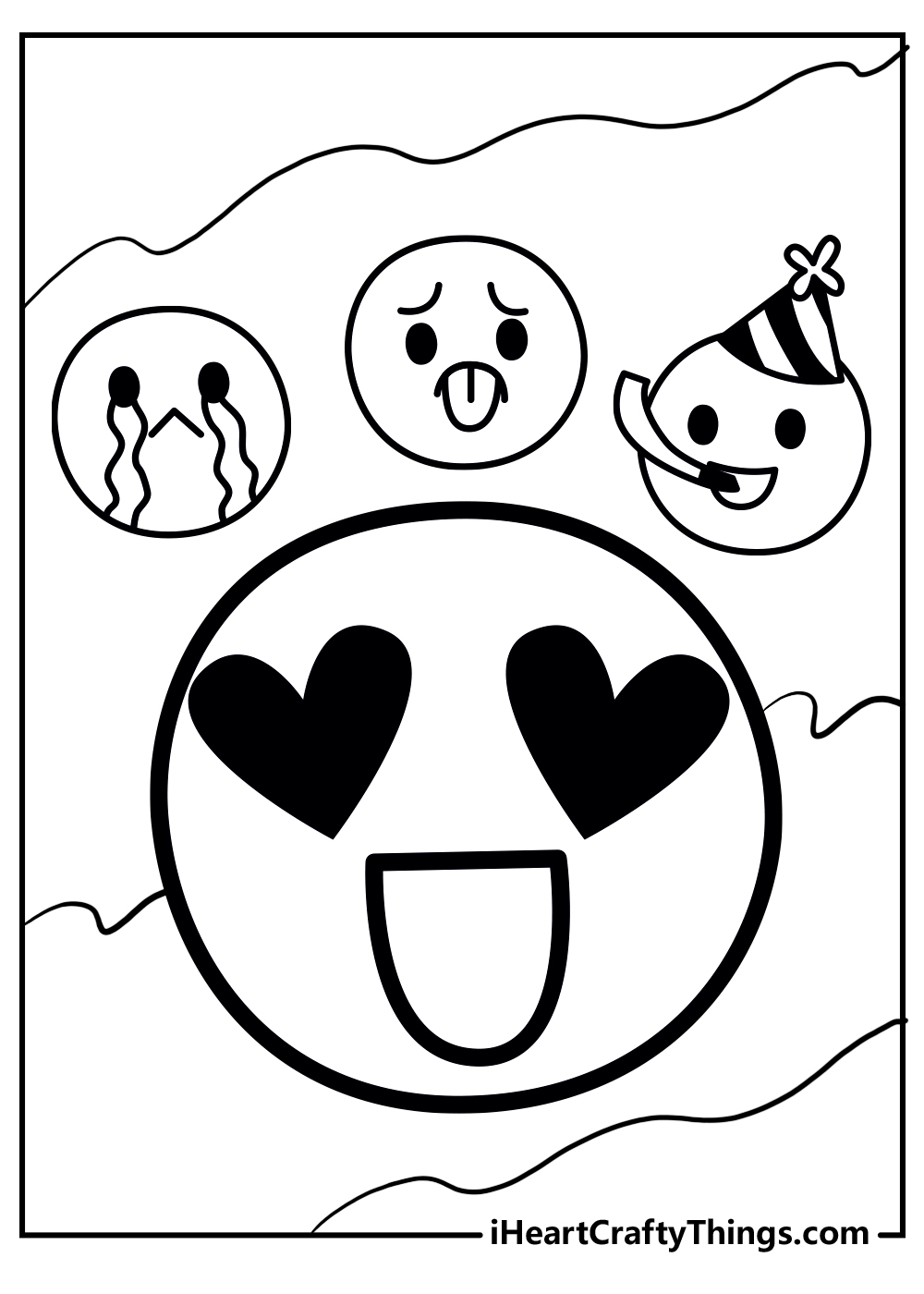 The swirly background of this next page looks really cool behind the faces that are on display. Most of them look fairly happy, but there is one that looks sad.
However, maybe these could be happy tears and the face is actually pleased about something.
It would be up to you to suggest a story for this page if you wanted to, and there are so many ways you could do that.
For this final page, you can really go all out and use some amazing colors and art mediums to bring it to life!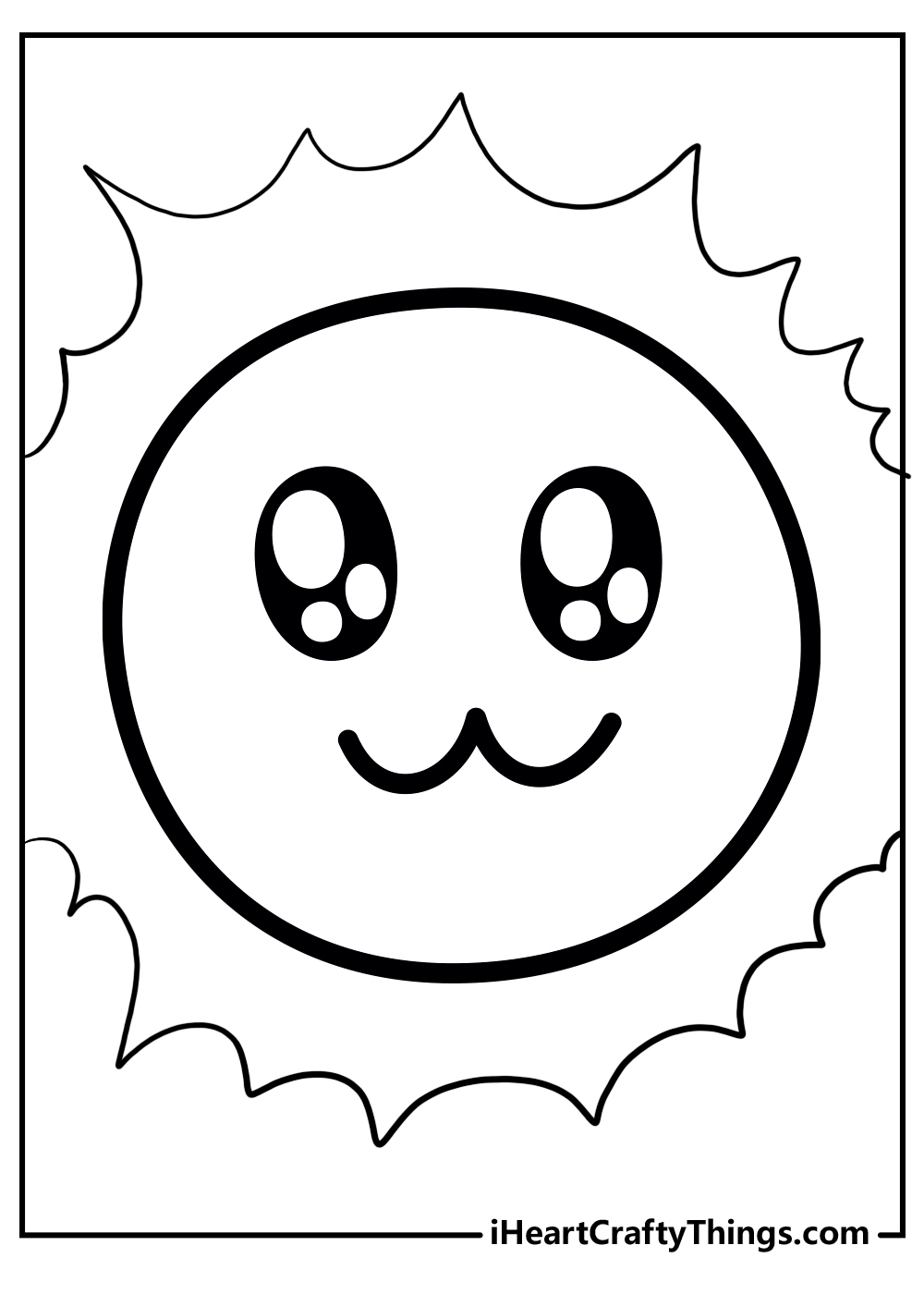 Emoji Coloring Pages – Which will you choose?
While working through this collection of free emoji coloring pages for kids, we hope that there was a smile on your face the whole time!
Not all of the faces in the collection were happy, but that just allows you to use many different colors and color moods. There are so many ways you can express yourself with this collection!
We encourage you to really have fun with your favorite colors and maybe try out some new and unique art tools and mediums to apply them.
Emojis have become such a big part of our lives and now you can use them to express yourself in a whole new range of ways!
When you would like to show off your favorite finished pages, you can share them on our Facebook and Pinterest pages!