Ancient Egypt is one of the most fascinating societies to learn about in history. Throughout many years, the Egyptian empire was a force to be reckoned with.
They were also responsible for many advancements in technology, agriculture, architecture and more that we still benefit from today.
We are here to celebrate this incredible culture in this collection of free Egyptian coloring pages for kids!
In this collection, we will be featuring many different objects and other aspects of ancient Egyptian culture for you to color.
There is a thrilling journey back in time within this collection for you to enjoy, and you will get to use many incredible colors when finishing it off.
This amazing collection is also completely free for you to color and enjoy. This is true whether you go for all ten pages or choose a selection of favorites.
You can have even more fun when you share the collection with family and friends to enjoy too!
So get ready for some ancient coloring thrills as you take on these pages!
When you have chosen and completed your favorite pages, you can share the results of your creativity on our Facebook and Pinterest pages for us to see. We can't wait to see how you finish off these pages!
15 Brand New Egyptian Coloring Pages – Free to Print and Color
Cats were very important and sacred to ancient Egyptians, and we have one featured in this first free Egyptian coloring page for kids! Specifically, we have an artifact depicting a cat.
There are many examples of treasures and depictions featuring cats in Egyptian history, and they would even sometimes get their own sarcophagus.
When coloring this one, we would use some golds and other bright colors to make it look like it is made out of various sparkling treasures. What colors will you use for this first page?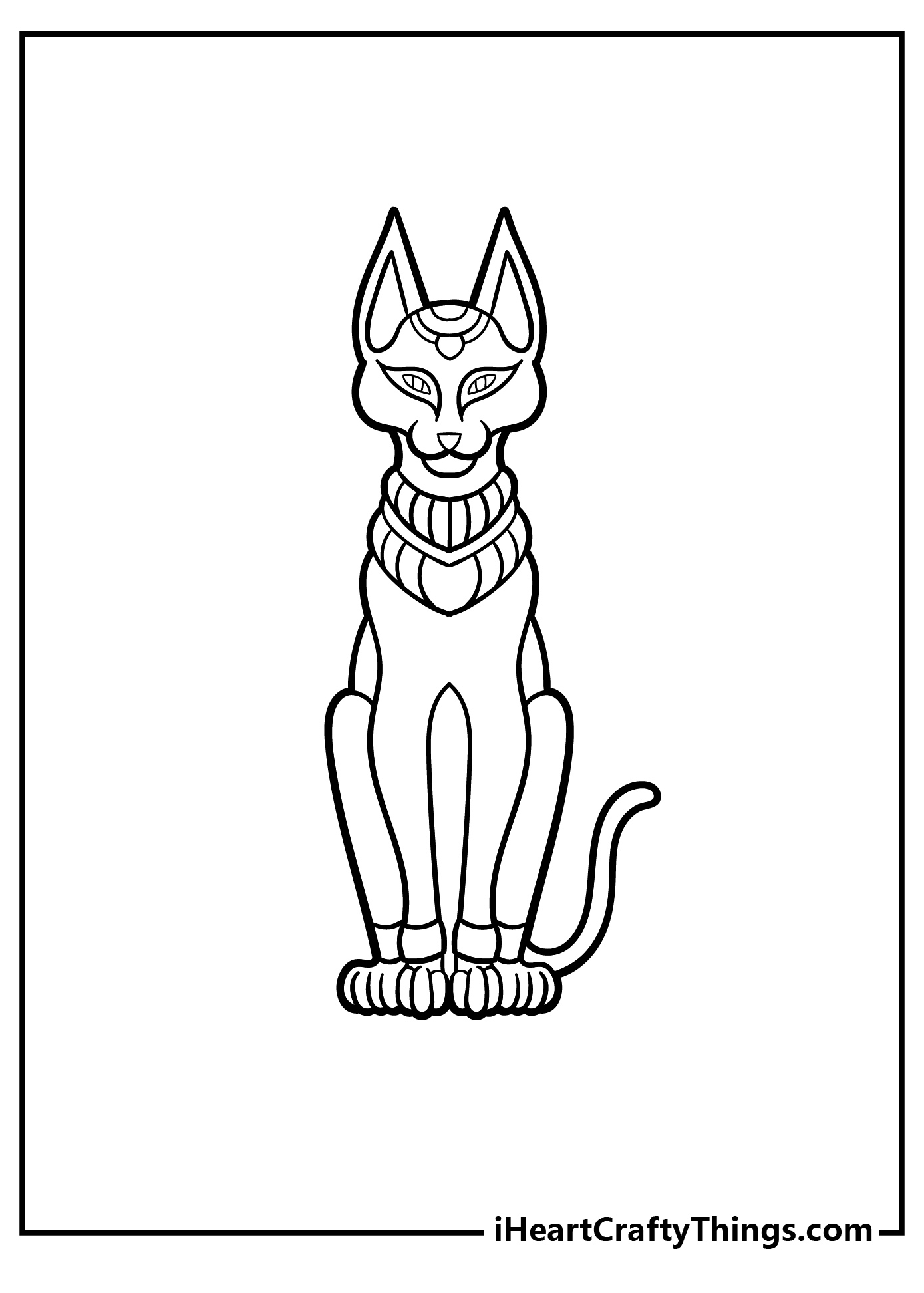 How stunning is this closeup in this Egyptian coloring page? It shows an Egyptian noblewoman, and it could even be Queen Cleopatra herself.
Whoever it could be, it would be perfect to use lots of regal golds and other royal colors for this particular picture. What colors do you think would best suit this fancy person?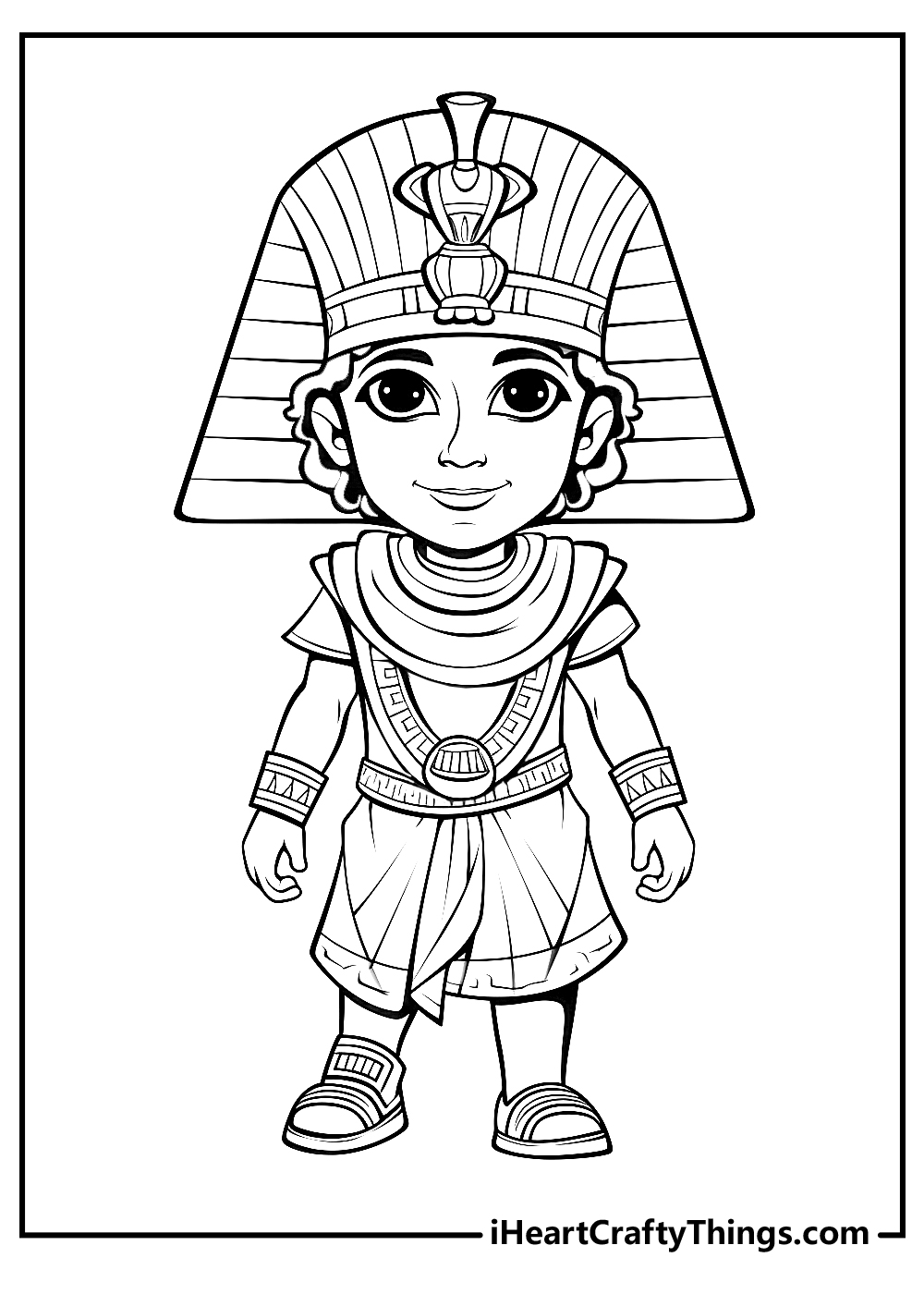 Our second free Egyptian coloring sheet that we have for you features a classic Egyptian headdress.
This kind of sculpture design would often be found on sarcophagi or various statues and other treasures.
They also come in many different colors, so you have a lot of options for how you could color this image.
There are lots of small details to color, so we would recommend some mediums that allow for greater precision such as colored pens and pencils.
What colors and mediums are you thinking of using for this one?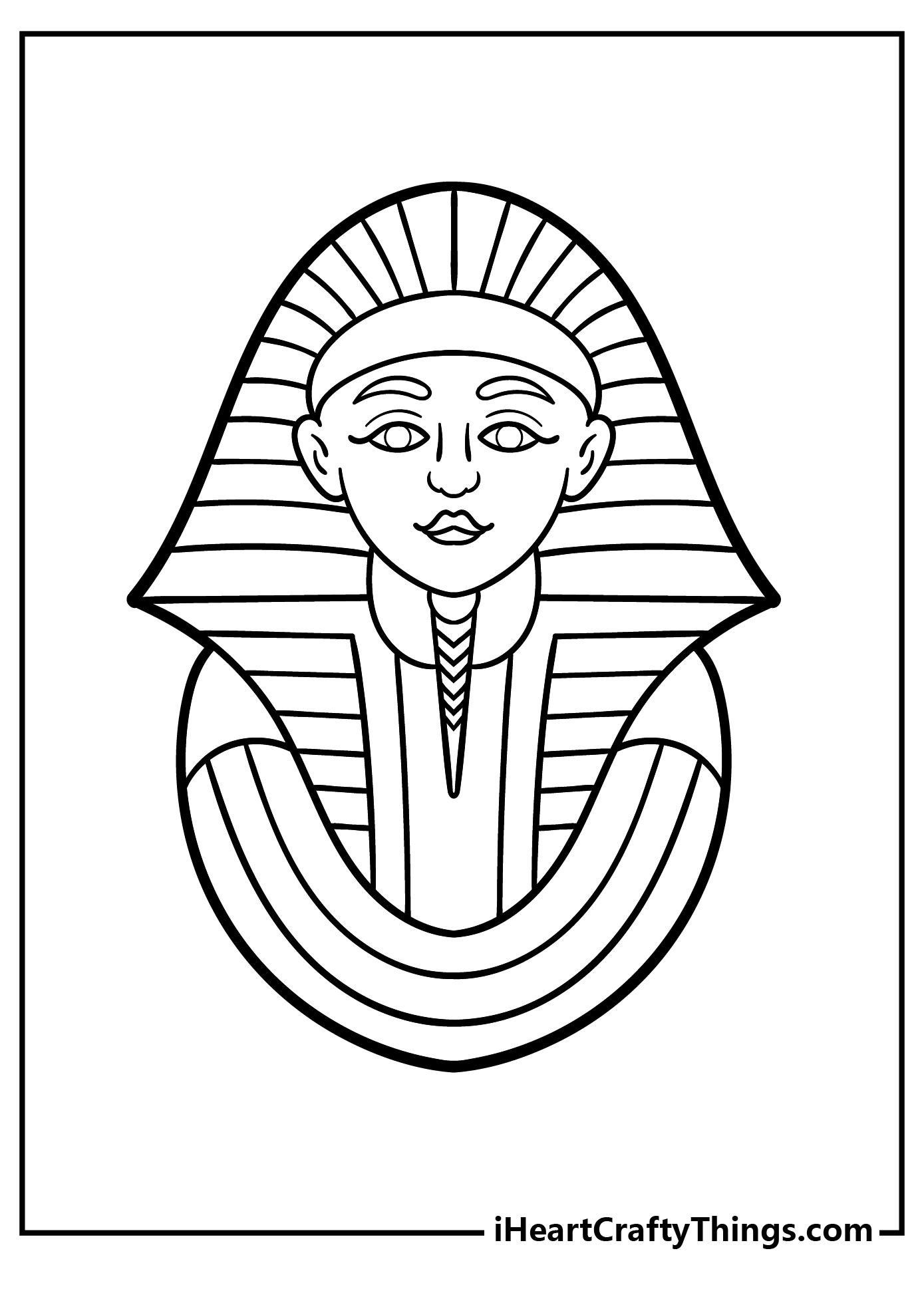 The Egyptians would write using hieroglyphs, a complex alphabet system made up of various visual images. This next page features on of these hieroglyphs, and it is a classic Egyptian symbol.
These hieroglyphs would often have some bright and vibrant colors incorporated, so you have many options for how you could color this one.
You could look up some images of real hieroglyphs as inspiration for how to color it in, but you could also go for some entirely new color choices! Either way, we know it will look amazing.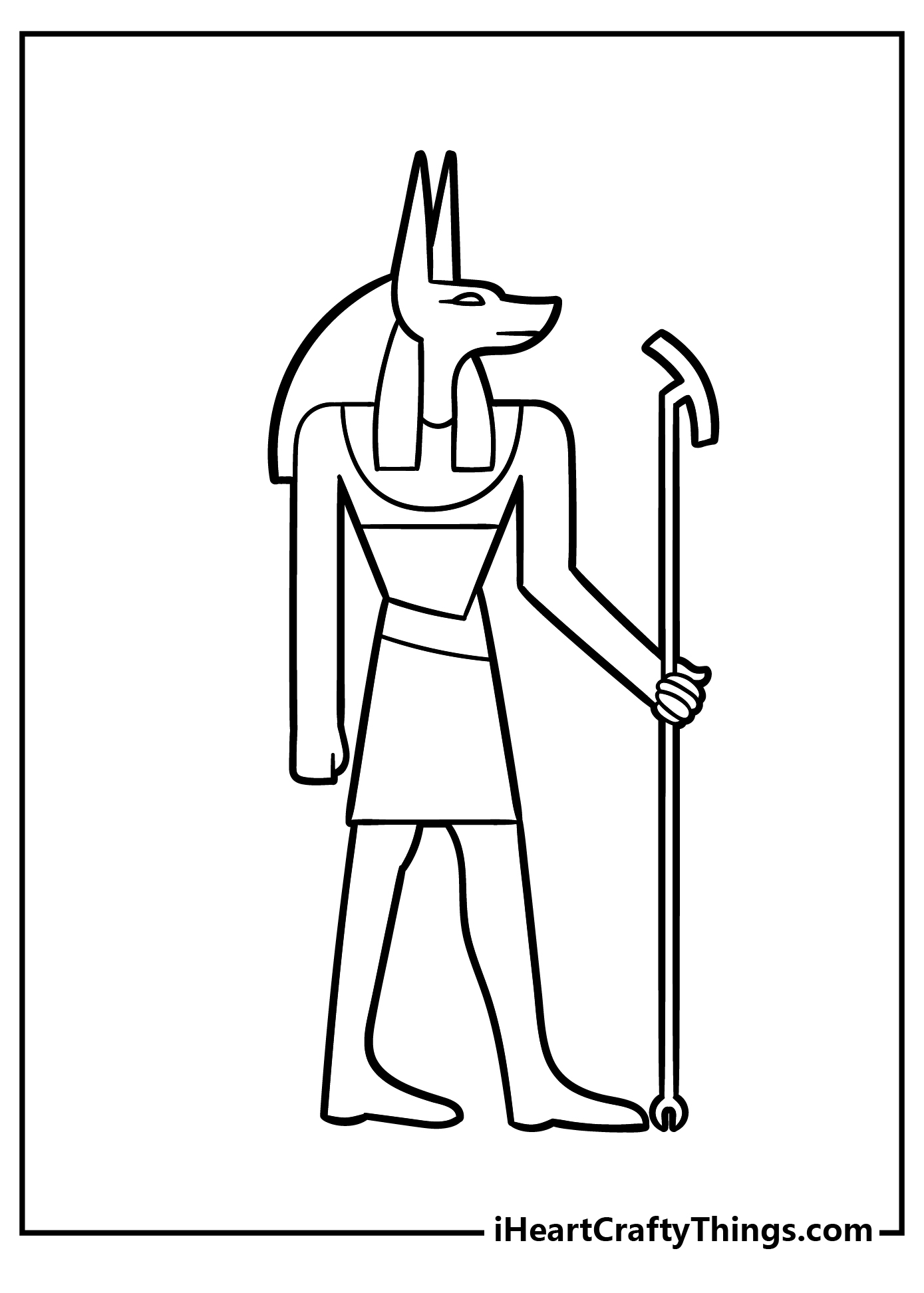 Egyptians made many amazing statues, many of which are still standing today. This next page shows one in its full glory, and it looks amazing.
You can fill in all of the details using your favorite art tools and mediums here. These statues would be brightly painted back in their heyday, so you can try to replicate that look here.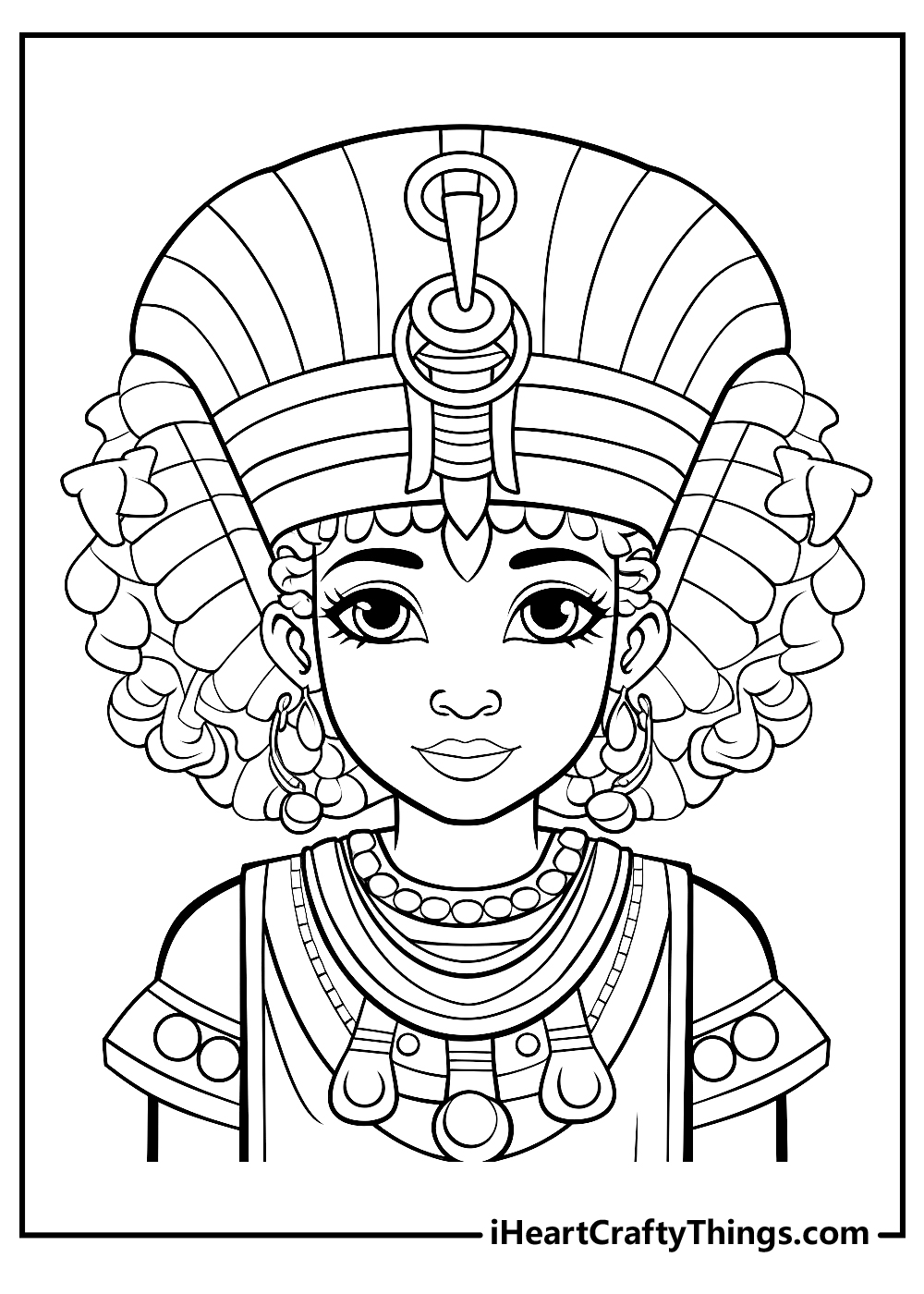 The sphinx is one of the most amazing structures ever built by the Egyptians, and it stands to this day as a symbol of their ingenuity.
It's not in top shape in current days, as many of the details have faded with time. The real one is even missing its nose! This image features the sphinx in its glory days, and it even has its nose.
The sphinx looks brown these days, but back when it was made it would have been a colorful sight. Now you get to show off what you think the sphinx looked like back in its heyday!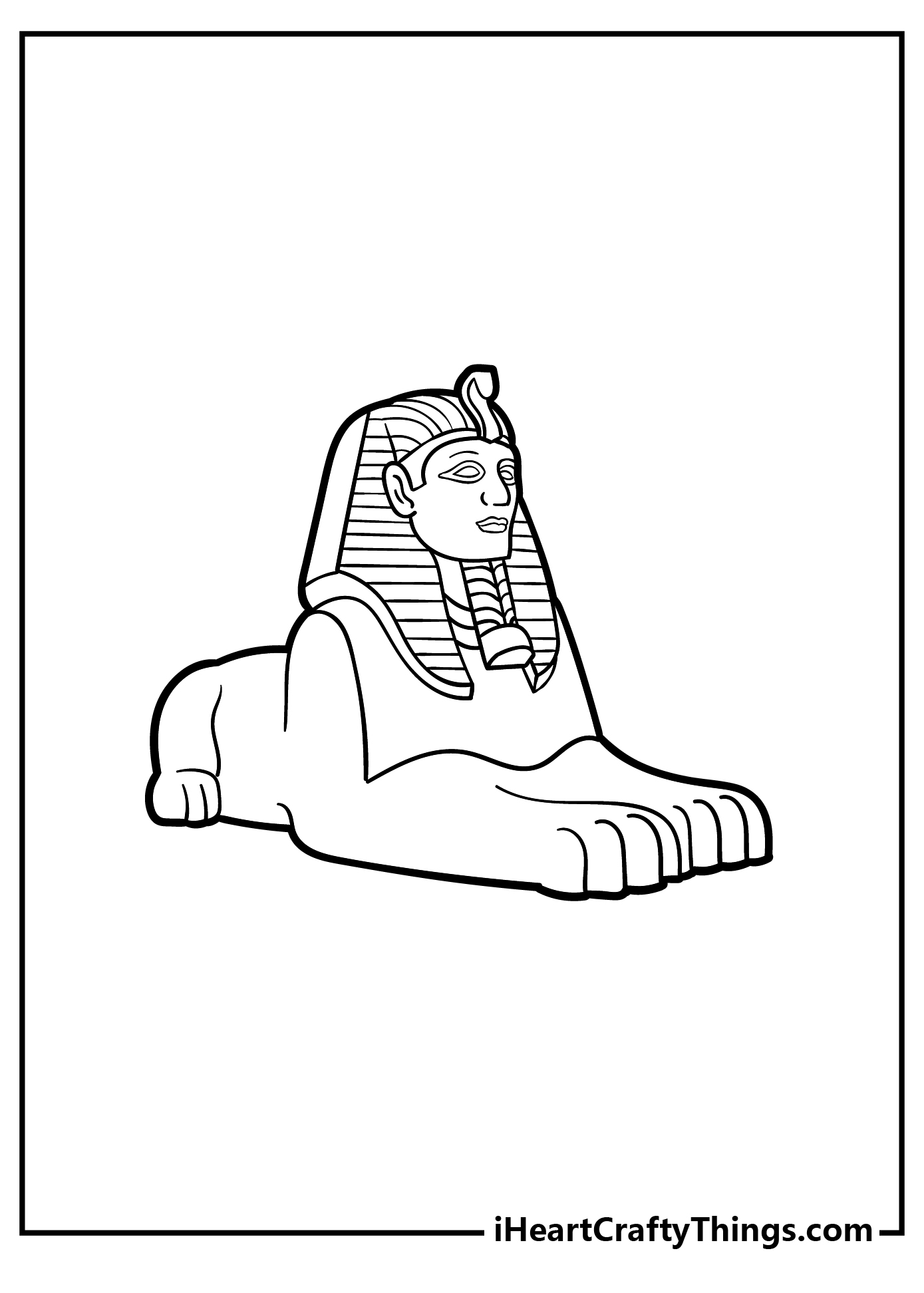 Our next Egyptian coloring printable features another awesome image that looks like it could be another example of a hieroglyph.
Once again, this gives you many opportunities for how you could color it in. There are no wrong answers as you pick your favorite colors to bring this image to life!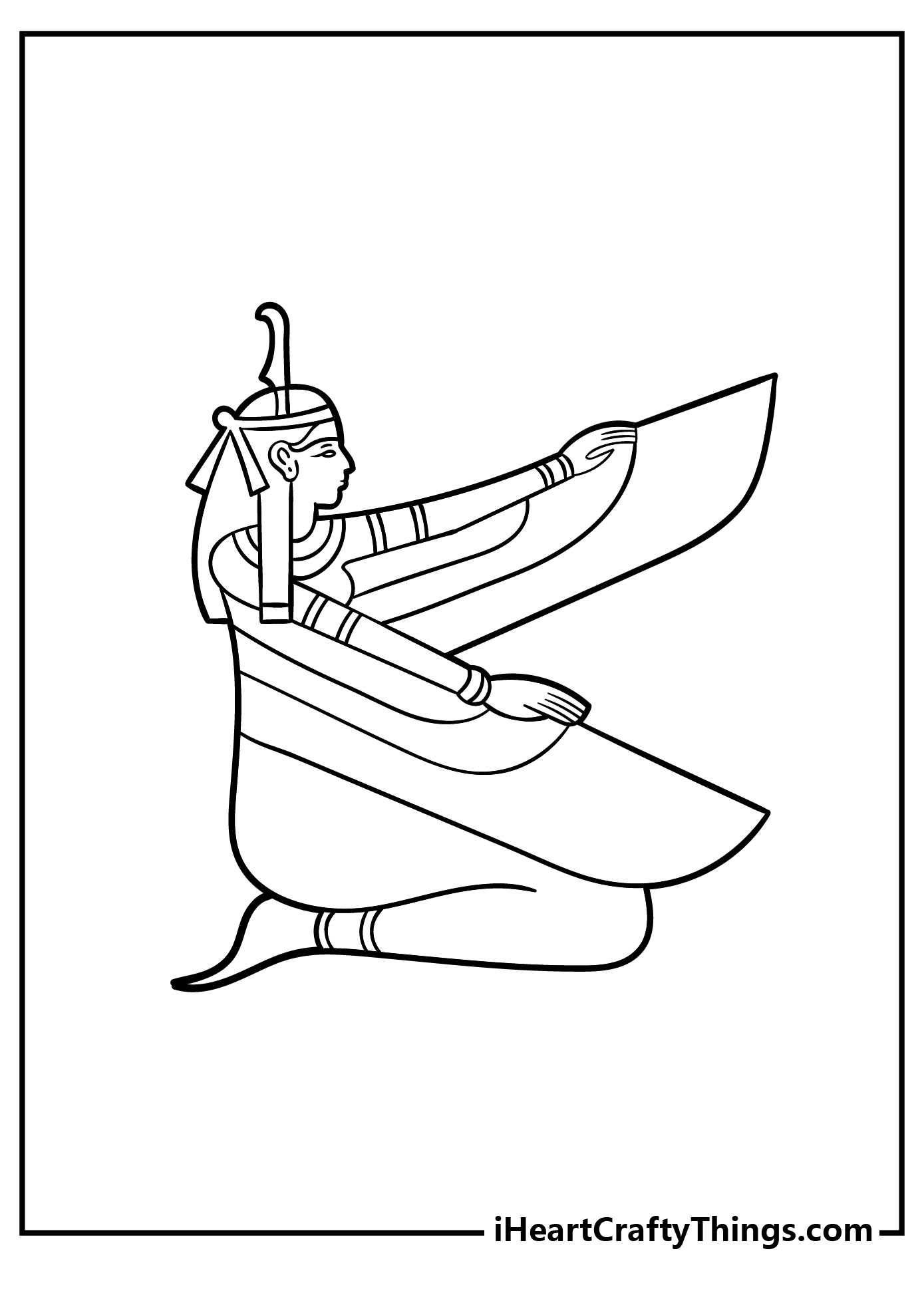 This Egyptian coloring printable shows a dramatic statue scene, and it presents a coloring challenge!
There are so many small details for you to color here, and you may want to use particular tools for the job.
Colored pens would be a good fit for some of the small details present on this picture.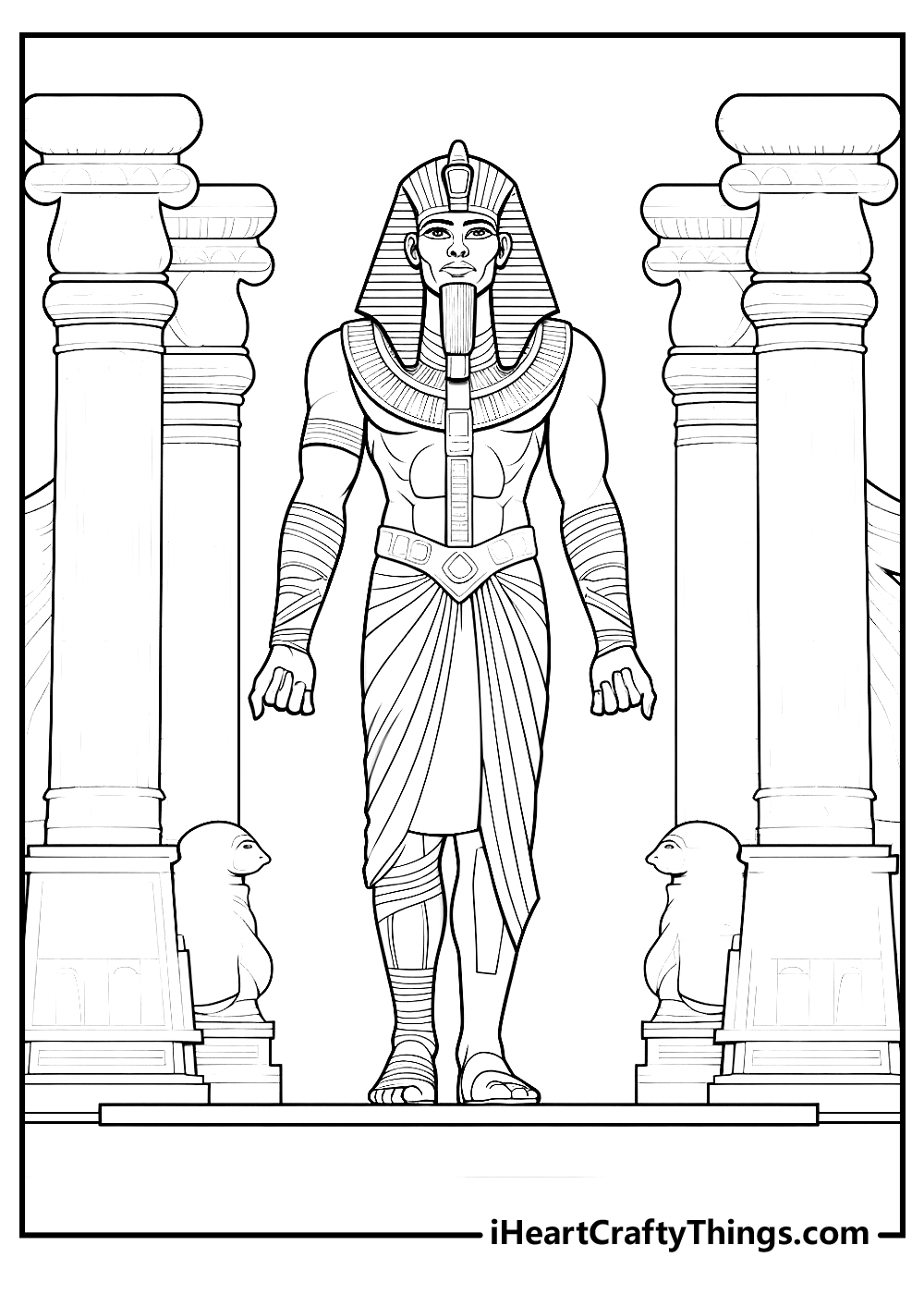 The afterlife was very important to the ancient Egyptians, and they believed that it was important to enter it in the right way.
For royal or people of noble standing, special efforts would be paid to their burial. Some would even get buried in ornate coffins called a sarcophagus, and this is featured on this next page.
These stunning coffins are brilliantly colored and often made out of precious, rare materials. There are so many great details to color here, so how will you finish off this image?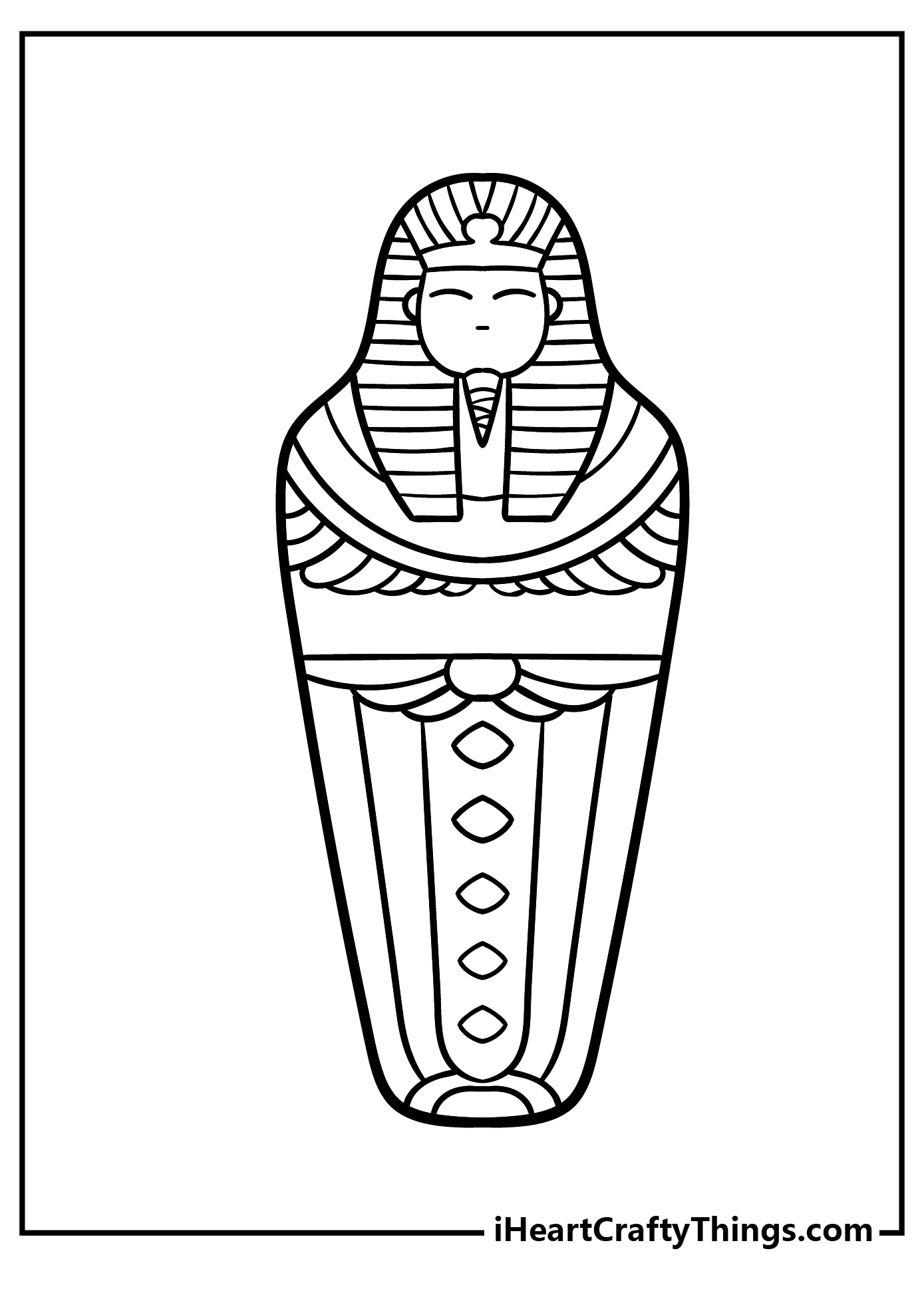 Here's another classic set of incredible Egyptian structures for you to color! The pyramids of Giza are truly a sight to behold, and they have lasted through centuries to stand tall to this day.
These complex structures are essentially very big tombs for various pharaohs, and they are recognizable worldwide.
These days, these pyramids look brown and a bit weathered, but when they were created they were covered in a substance that made them look white and bright.
You could go for either approach when coloring these pyramids!
There's even a camel thrown in for good measure to finish it off.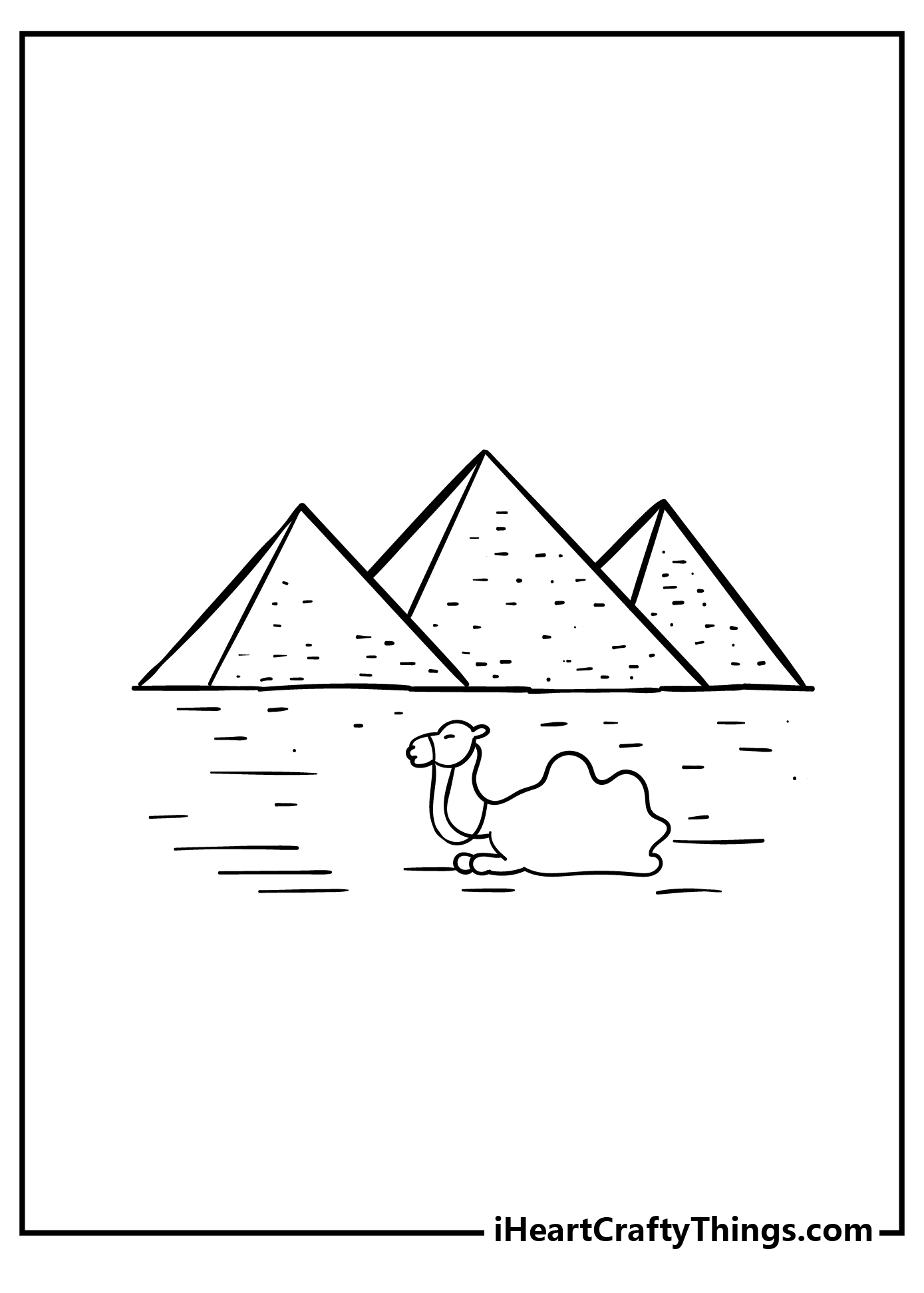 This next picture shows a more stylized take on an ancient Egyptian person, but there are still so many amazing details!
You could really use a lot of different colors, art mediums and techniques here.
Feel free to let your creative energy take over in order to make this a stunning picture to behold! What do you think you will go for?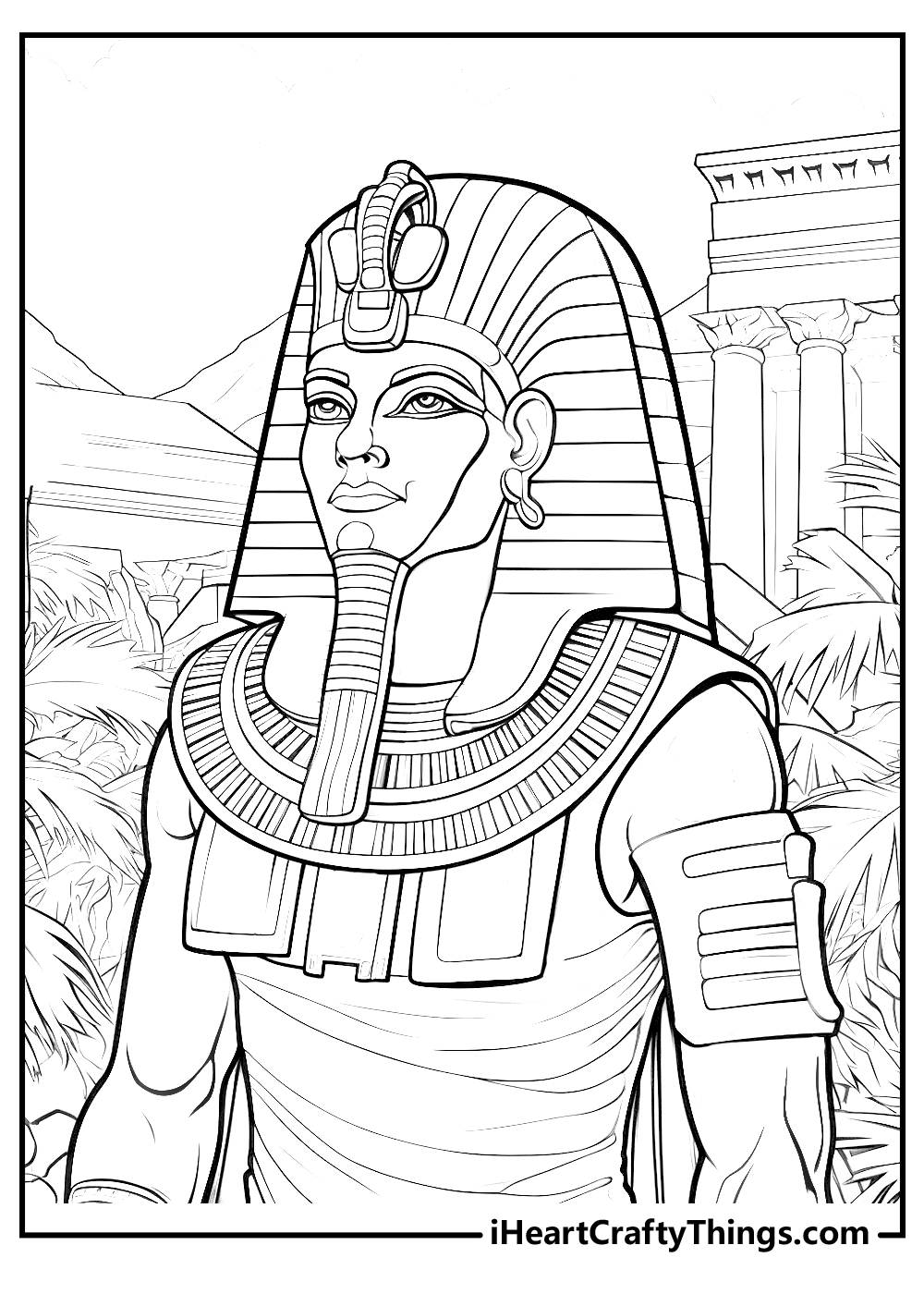 It's time for another hieroglyph in this next Egyptian coloring page. This one is depicting one of the famous Egyptian gods, and it makes for a fascinating image.
There are again so many great small details to fill in, and it's up to you to decide how you will finish off this incredible picture.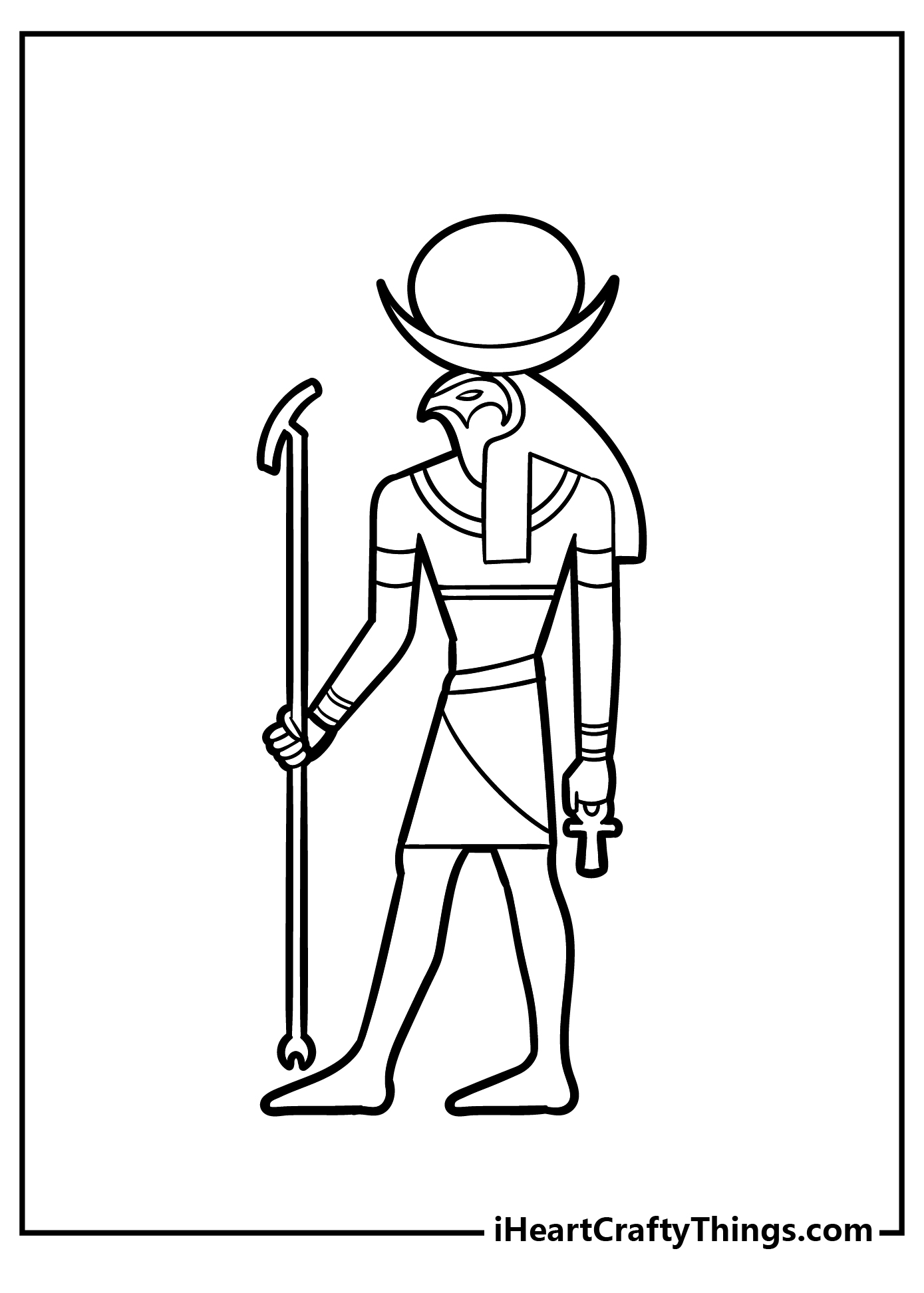 This next page features a really unique composition. We have an Egyptian lady in a traditional outfit, and there is a circle behind her head.
It's a great-looking composition, and there are so many ways you could color it in.
We think it would look amazing to use some bright yellows or oranges for the circle behind her head to make it look like the sun.
Then, there are some great details in her clothing for you to color. What colors are you thinking for this one?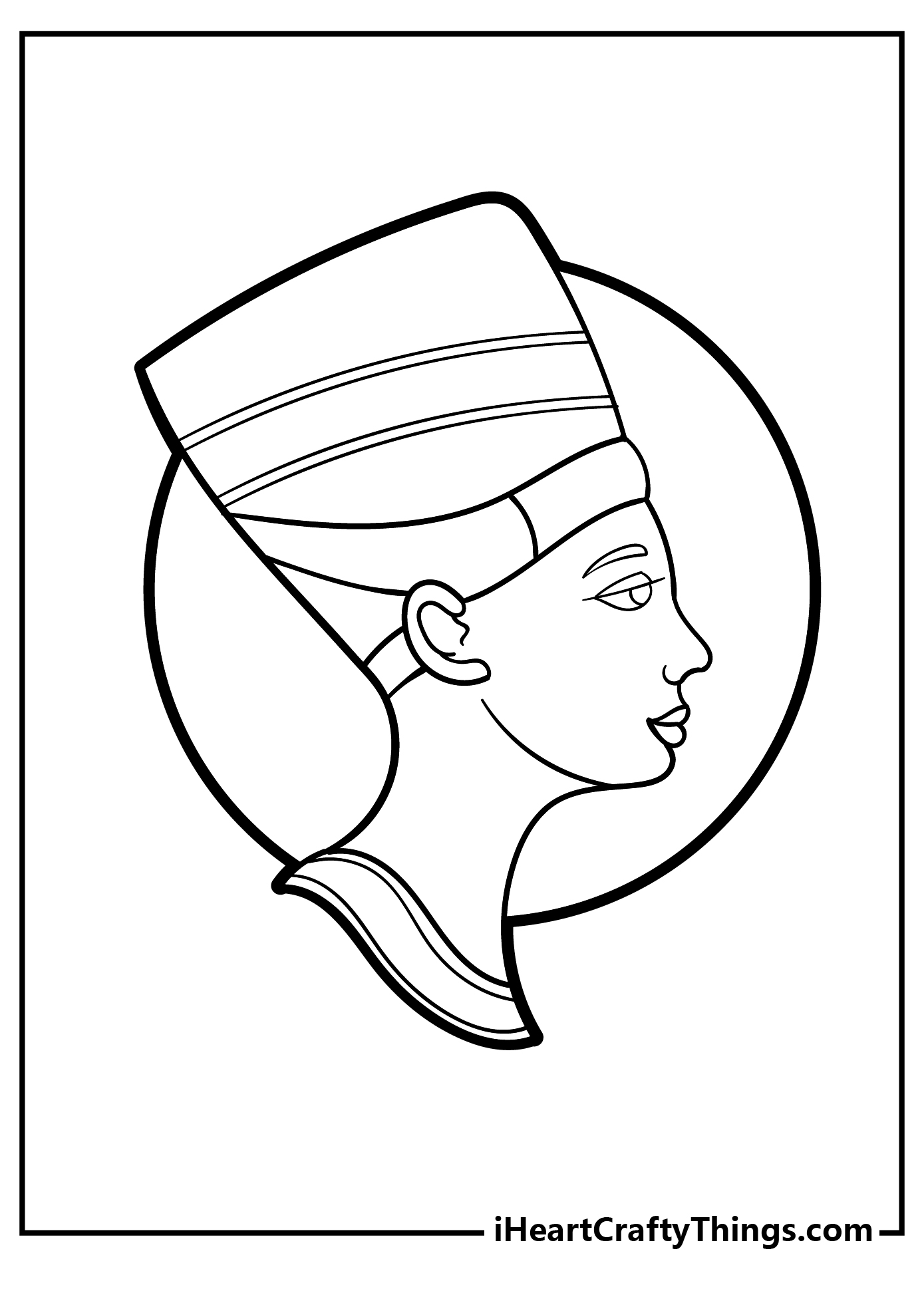 We have a very happy character starring in this Egyptian coloring sheet for kids. Some bright and happy colors would be perfect for this particular character.
Or, you could create a contrast with some more subdued colors and mediums. Either way will look great, so it's up to you to decide what you would like to go for.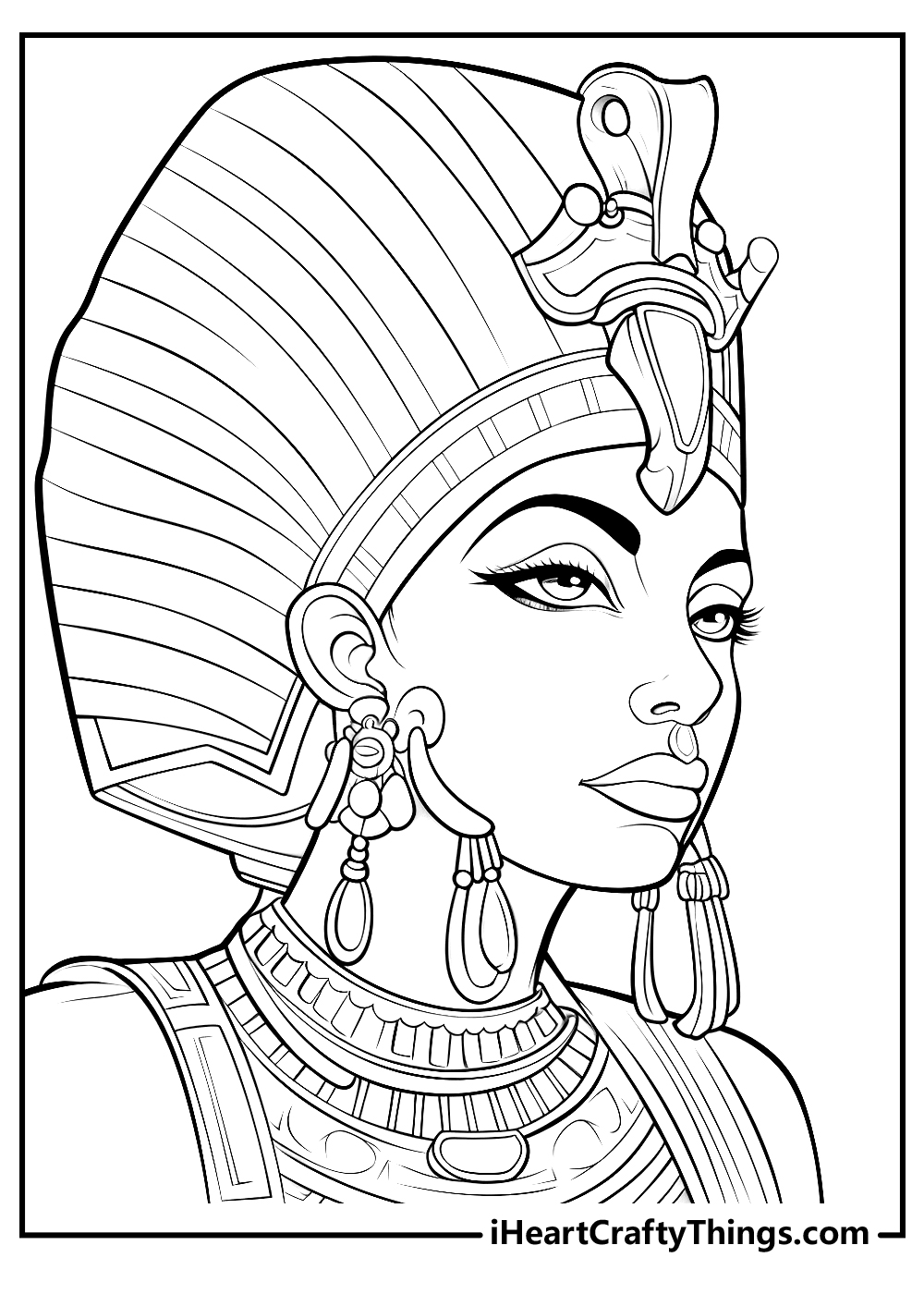 We have one final hieroglyph for you to color in this final page of the collection! It's another incredible image, and it again features an Egyptian god.
When coloring this final image, we think it would be loads of fun to use some colors and mediums you haven't used in this collection yet.
It would also be great if you stuck to some of your favorites, and the best part is that it's completely up to you!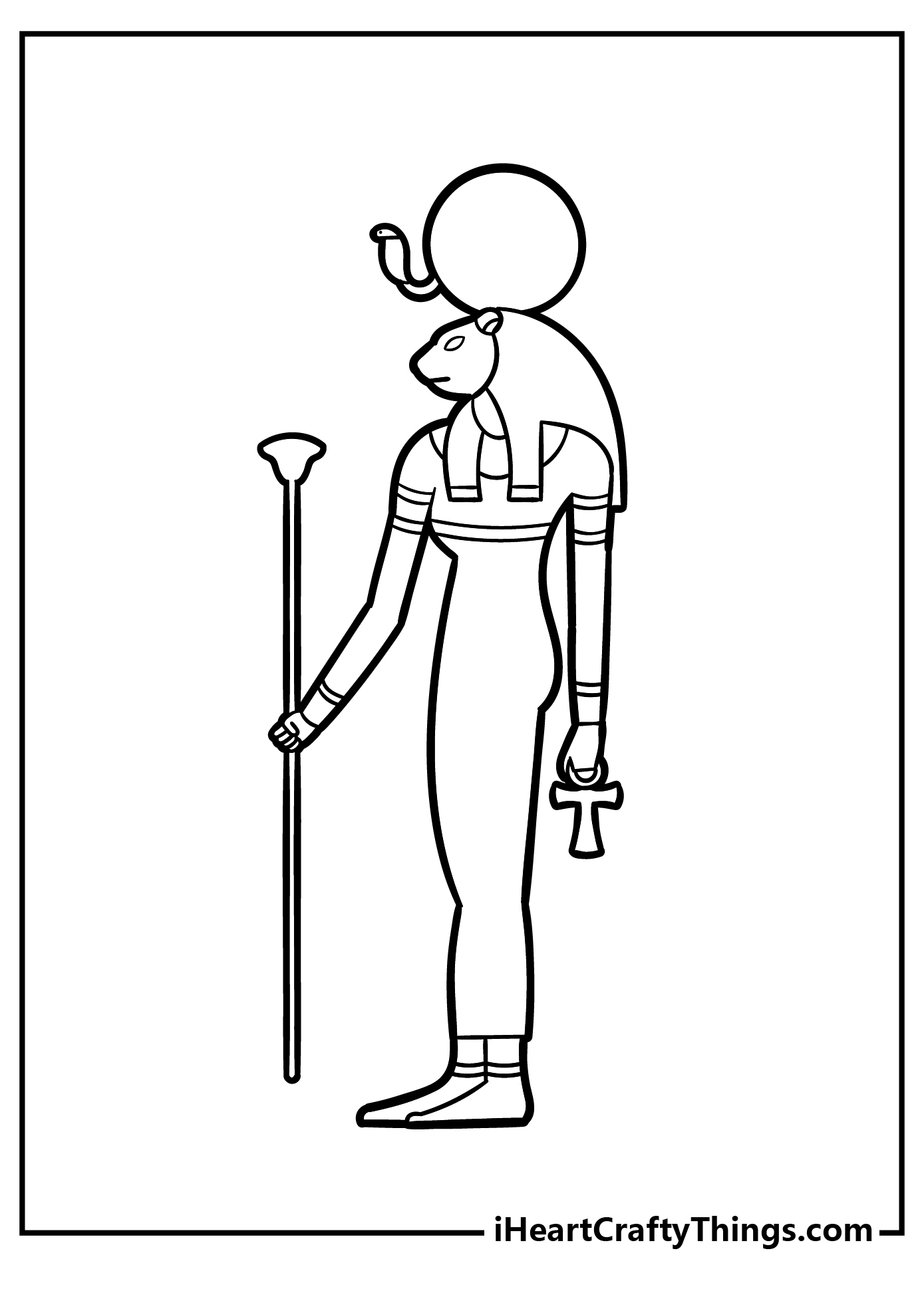 Egyptian Coloring Pages – Which will you choose?
We hope you had an absolutely incredible time working on this collection of free Egyptian coloring pages for kids!
There were so many wonderful images celebrating this fascinating period of history that you could really unleash your creativity on.
Don't forget to regularly check out our website for many more coloring pages and other activities to enjoy.
We can't wait to see how you finished these pages, so please share some of your finished pages on our Facebook and Pinterest pages to show them off!