It's always so much fun to get to wear a fancy dress and feel like a movie star on the red carpet!
Whether you're going to a wedding, fancy party of maybe a fashion show, there are an infinite number of beautiful designs and colors that dresses can come in.
You can choose lighter colors or go bright and breezy with these designs, and if you'd like to then maybe you could draw on some patterns and use glitter glues for an even more fancy feeling!
These free dress coloring page printables for kids are the perfect way to put on your very on fashion show! Remember, once you've finished your colorful dress designs be sure to share them on our
Facebook page for us to see! We'd love to share in the fashion fun by seeing your beautiful designs and creations!
REMEMBER: You can get the COMPLETE set of these coloring pages >> HERE
10 Brand New Dress Coloring Pages – Free to Print and Color
The first dress in our series of free coloring pages features a pretty gown with sparkling diamonds on it.
This dress makes me think of a sparkling Winter ball in an ice palace, and I think some cool blues, purples and pinks with the lightest shades for the diamond shapes would make for a stunning Winter ball gown.
Maybe you could add some glitter for a sparkly effect!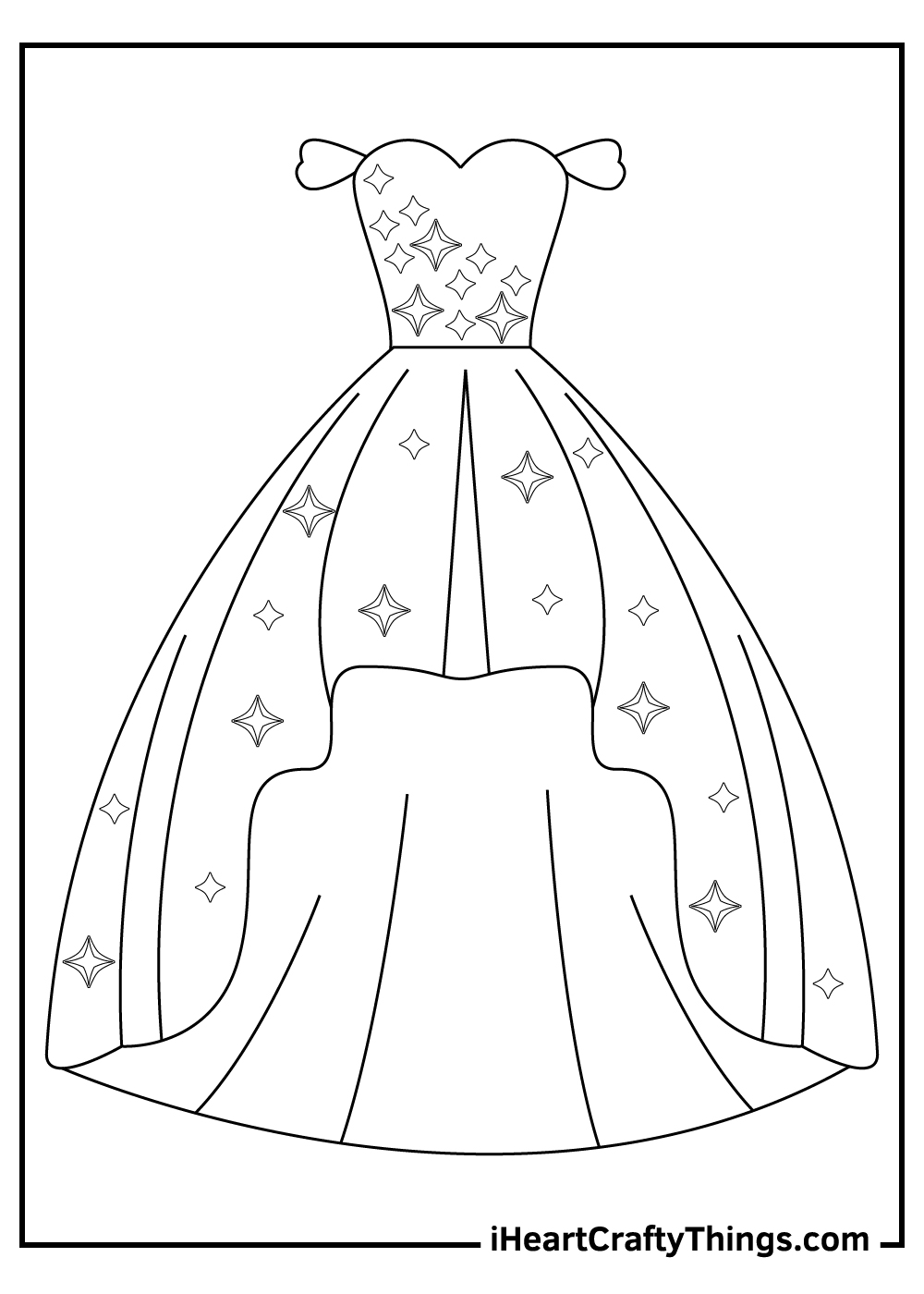 From a Winter gown to a Springtime one, the dress in this coloring page is surrounded by pretty flower patterns and designs. I think for this coloring sheet a bright and vibrant color scheme would make it fit in with a beautiful Summertime vibe.
What are your favorite colors that make you think of Spring? We can't wait to see how you incorporate them into this coloring sheet.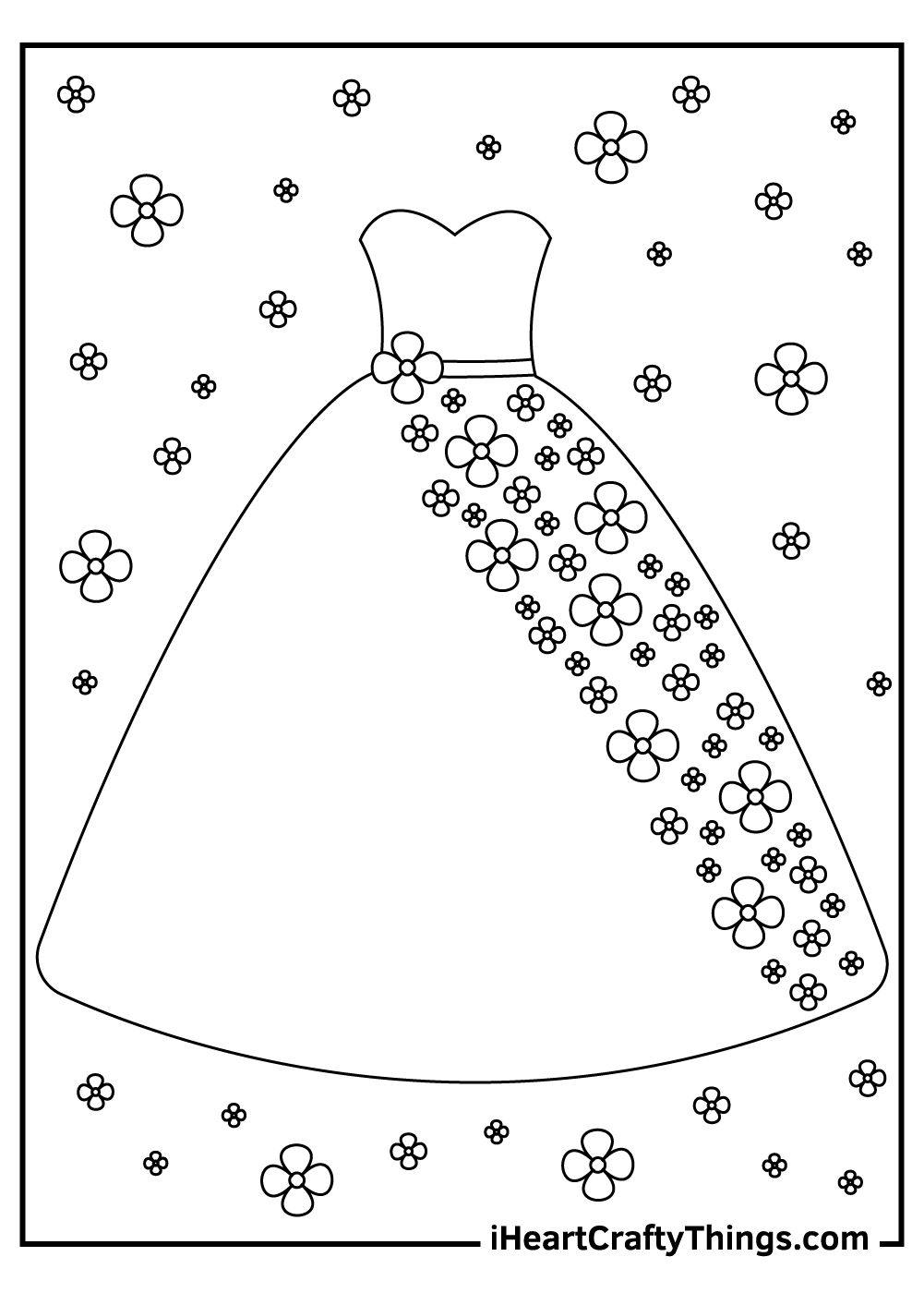 The next coloring sheet features a dress that also has a Spring or Summer feel to it. There's an intricate floral design at the top, and maybe you could draw in more flower shape designs for the lower half of the dress to finish it off.
You could get extra creative and stick on some flower beads or crafts for a multimedia Spring gown!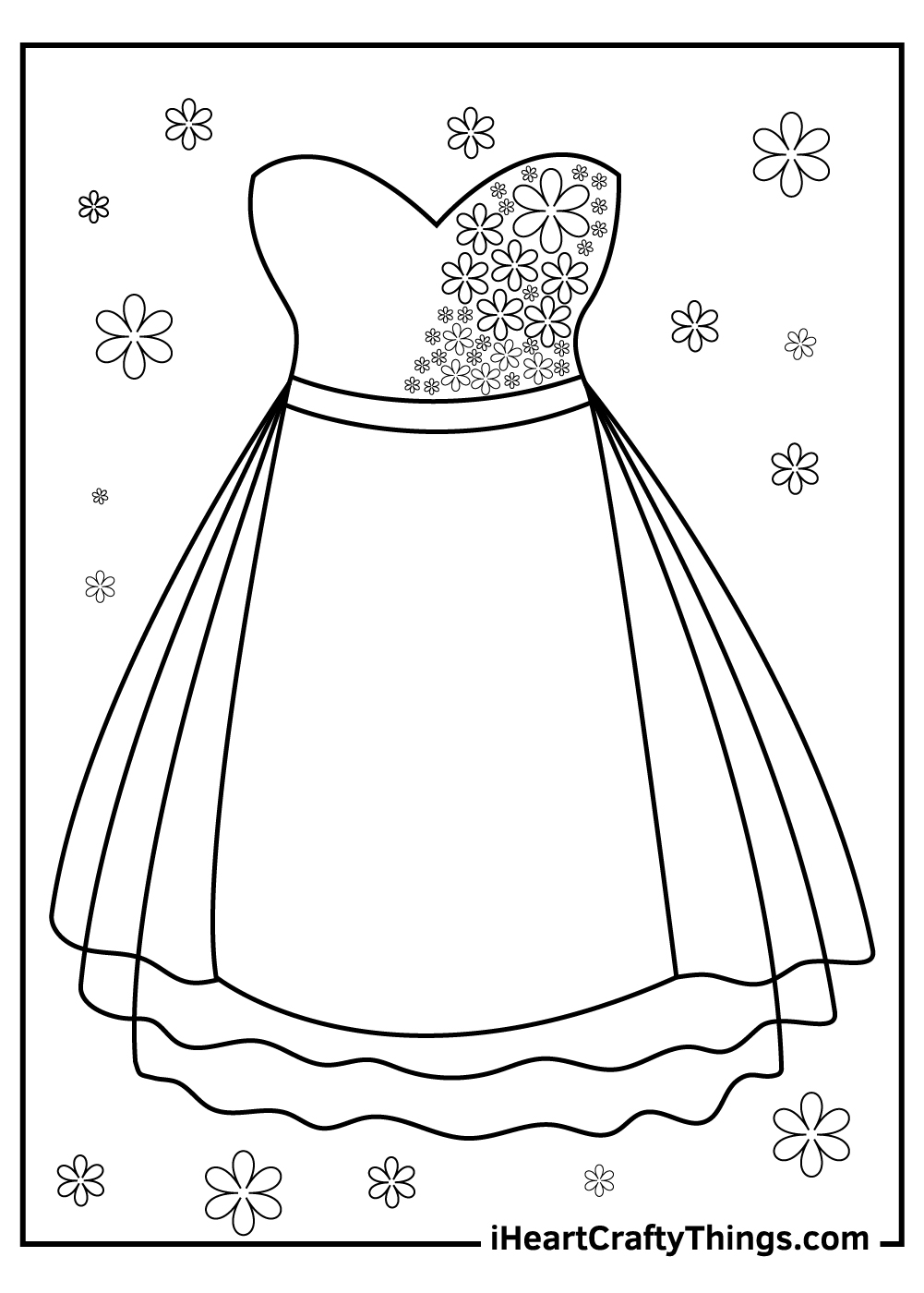 This pretty dress is surrounded by bubble shapes, so it makes me think this could be a gown for a pool party.
Maybe some deep blues and yellows for this coloring page printable would give off the feeling of a glamorous pool party. You could use a wavy pattern for the background if you want to make it more of a beach party look!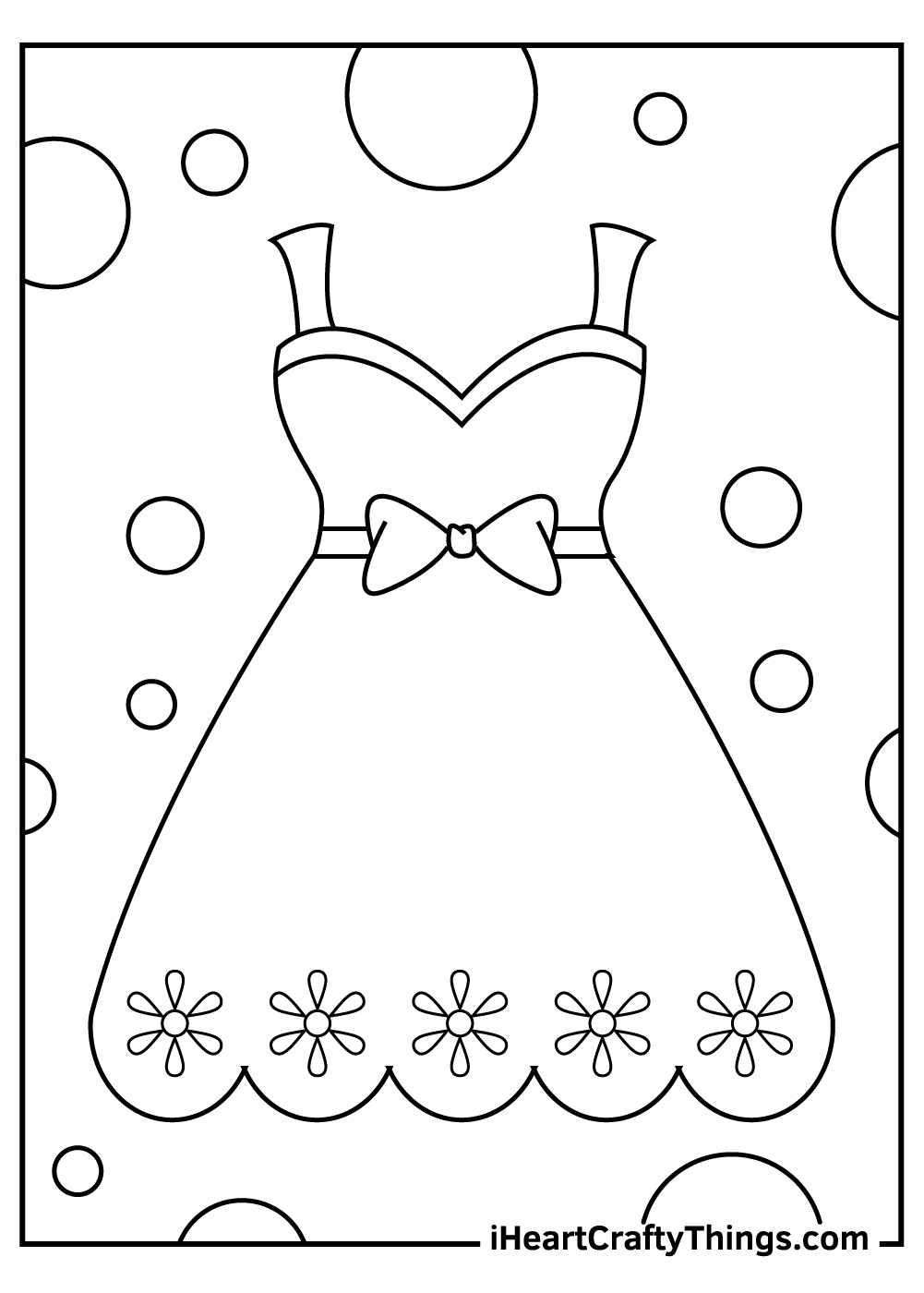 The design in this next coloring page is a bit unique from the others! The collar is quite pretty and unusual! This dress is surrounded by snowflake designs, so I think it would be fitting to use more winter themed cool colors to create a beautiful Winter ballgown.
Where would you like to wear this beautiful dress to?
REMEMBER: You can get the COMPLETE set of these coloring pages >> HERE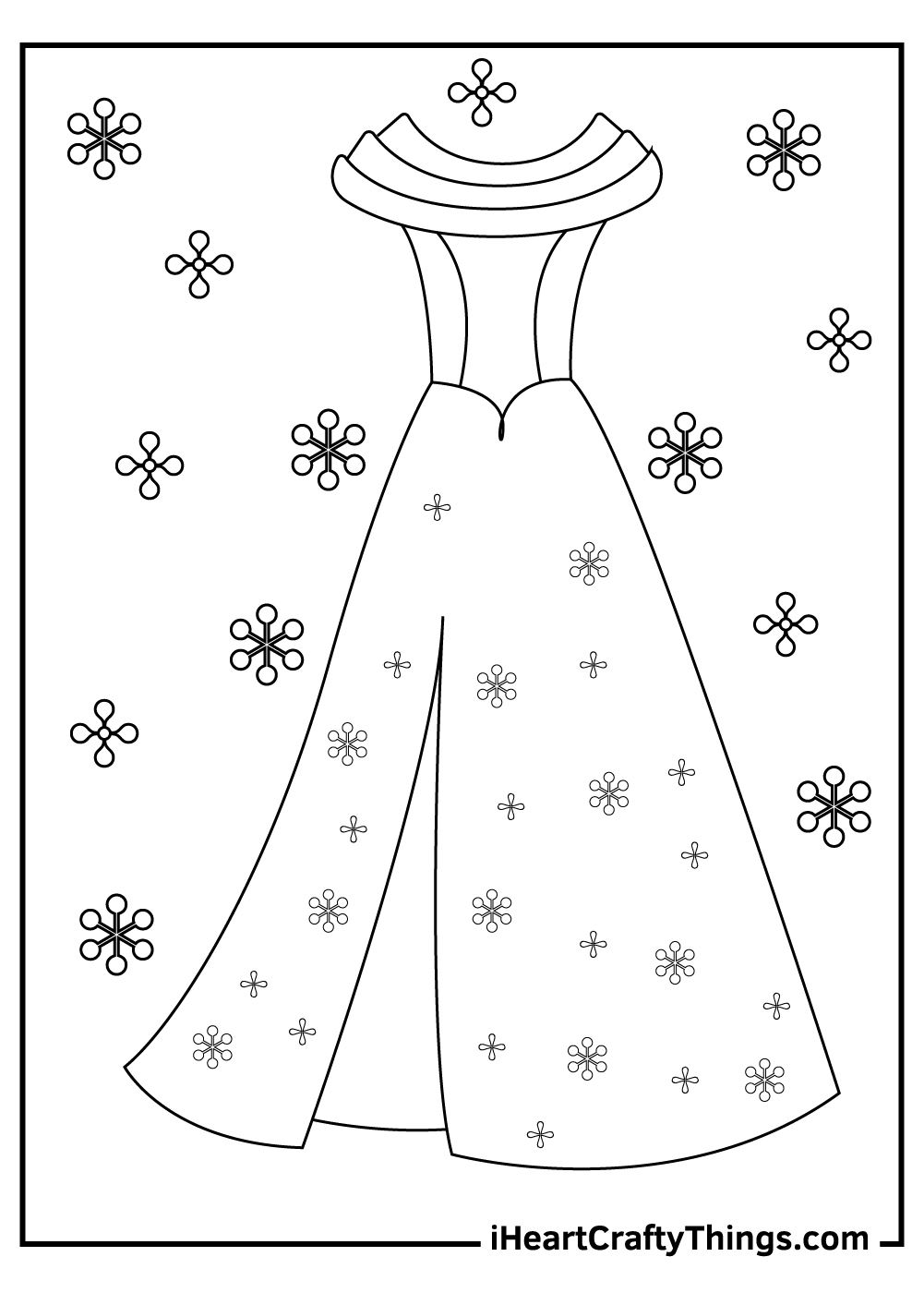 We've had a few seasonal designs for the previous coloring sheets, but this next page is more open to interpretation.
The diamond shapes surrounding it bring to mind a pack of cards, wouldn't you say? With this in mind, don't you think a combo of reds, blacks and whites would make for a stunning and elegant dress design?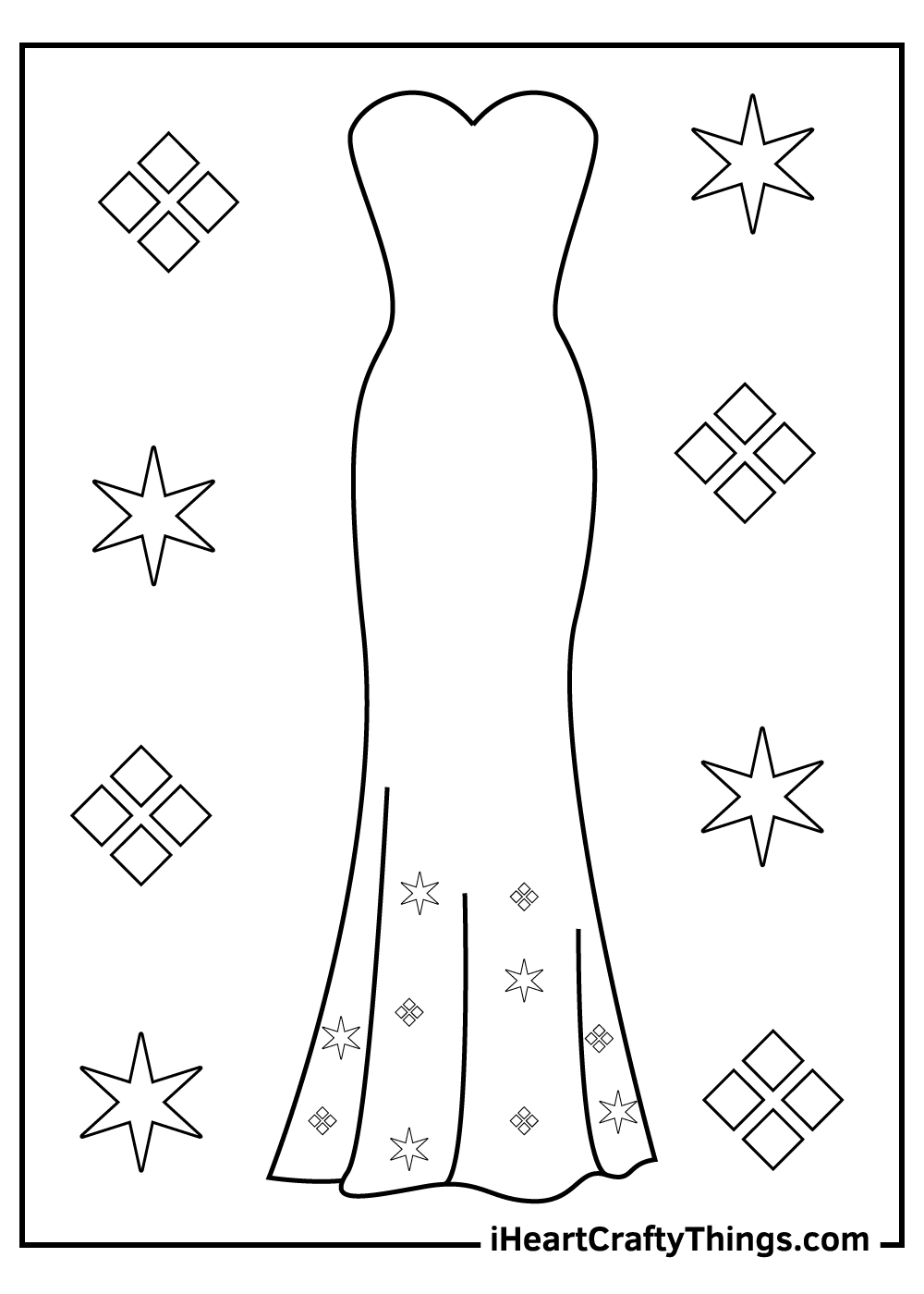 This cute dress design looks like it would be perfect to dance in at a Summer wedding! The intricate flowing skirt and flower patterns definitely give me that feeling.
Maybe it could be used in an outdoor ballet performance, too! What do you think would be the perfect occasion for this dress and how would you color it in?
We can't wait to see!
REMEMBER: You can get the COMPLETE set of these coloring pages >> HERE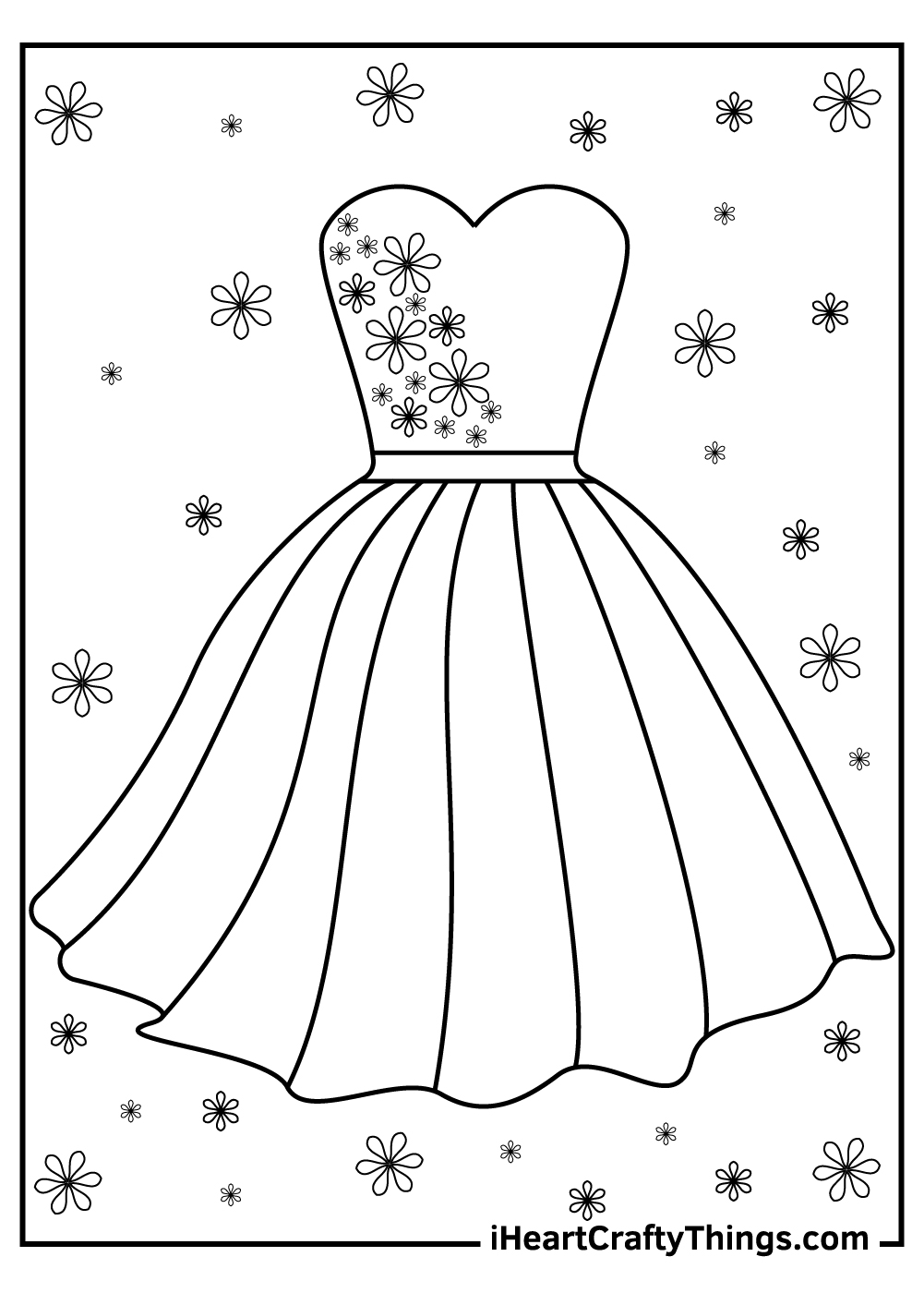 I can almost hear wedding bells in the background of this coloring page! This looks to me like it could be a beautiful wedding dress, and the shapes incorporated bring to mind that it could be a glamorous Winter time wedding.
Maybe some variations of blues and light pinks and white would really complete the look, and you could incorporate the colors into the segmented background.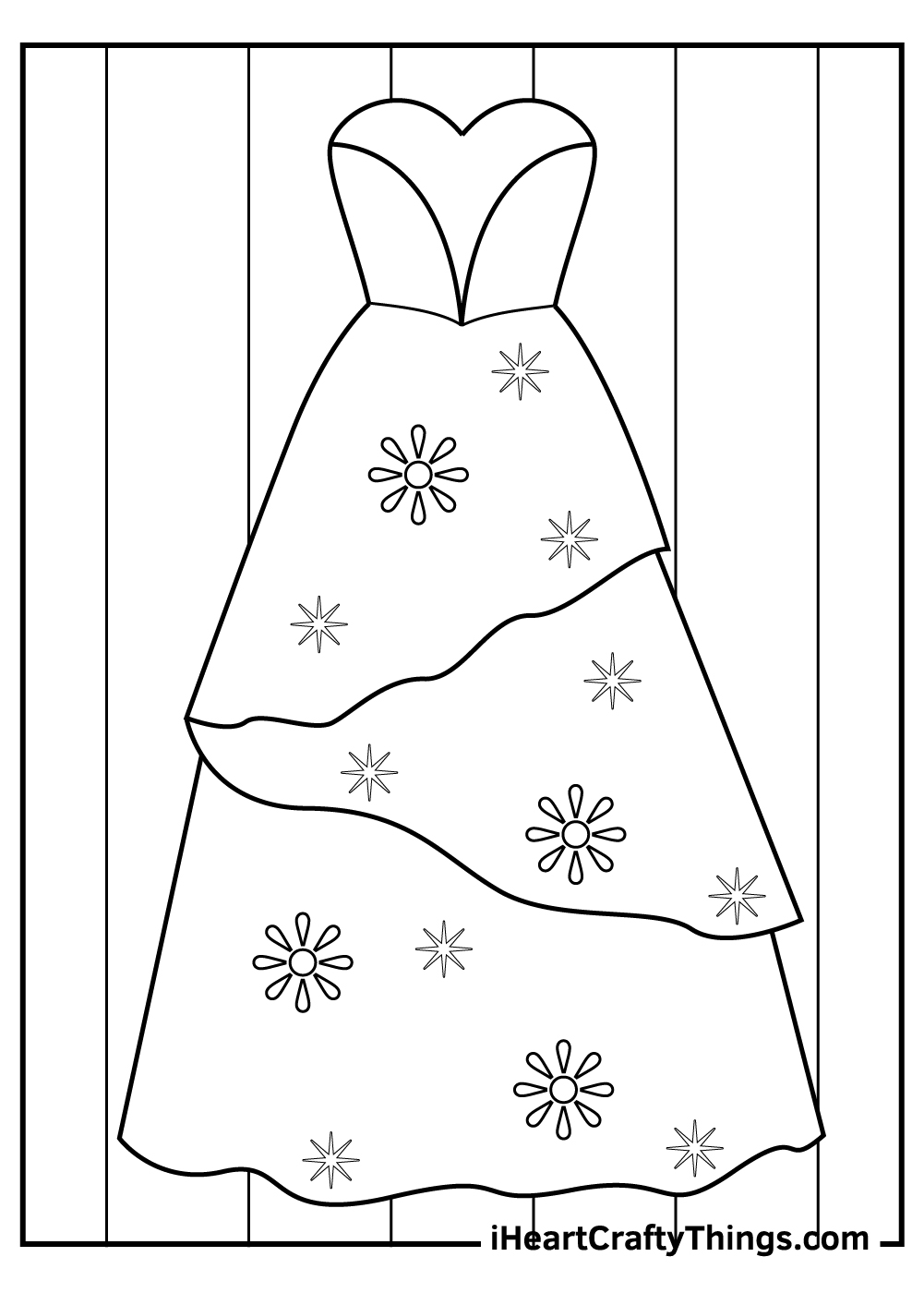 The simple yet elegant design is just begging for some bright colors that would match the floral designs on it.
This coloring page would look stunning with the brightest reds, yellows, pinks and greens you have for a Summertime explosion of color!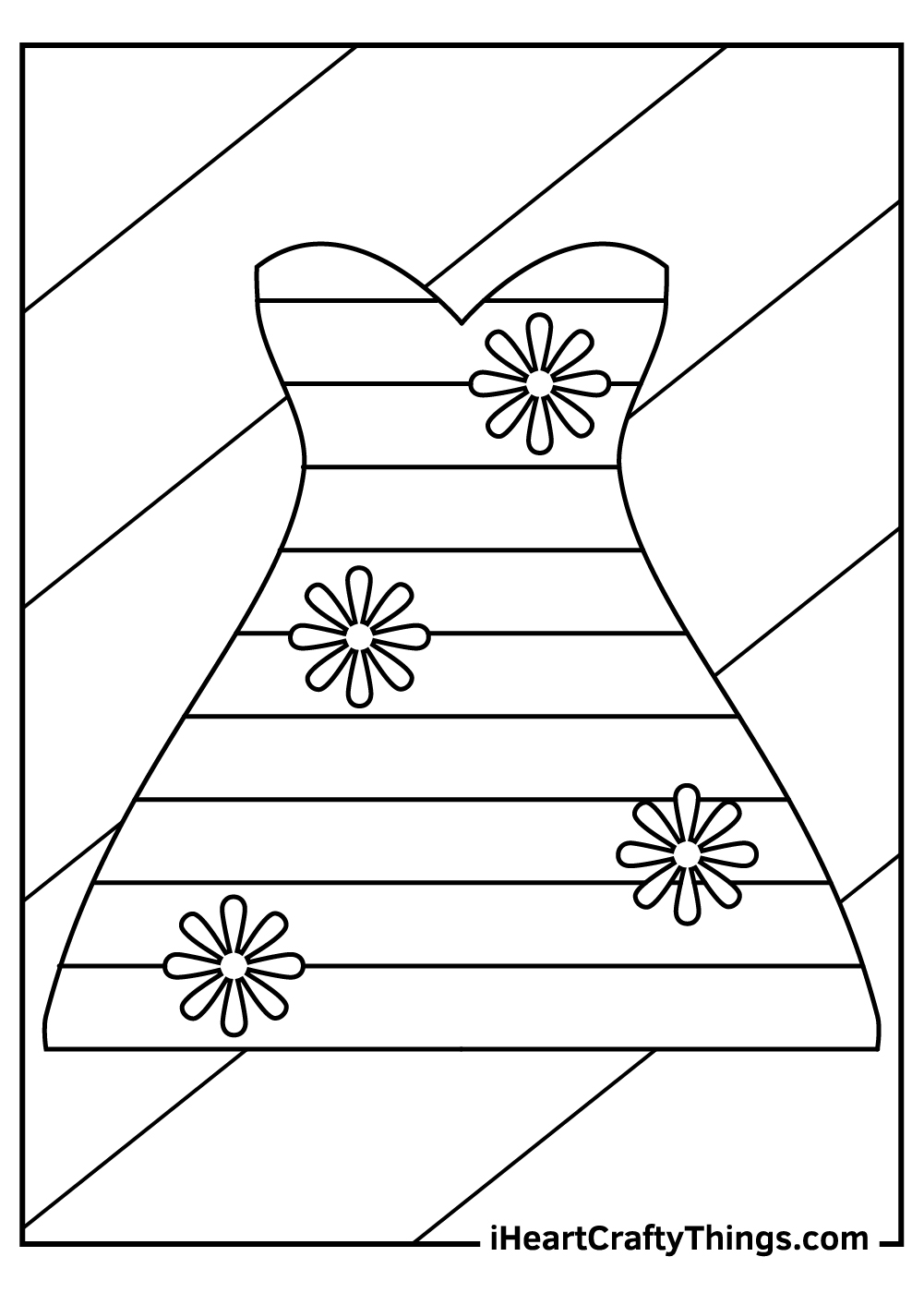 For the final dress coloring page printable in this collection, we have a more vintage looking design that's really gorgeous! The color scheme looks like it would be another bright and colorful one, judging by the shapes.
If we're going for a more old fashioned theme, you could use some bright yellows and oranges for this dress design, and then it could double as a Fall themed dress, too!
What colors will you use to finish off this fashion collection of coloring sheet printables?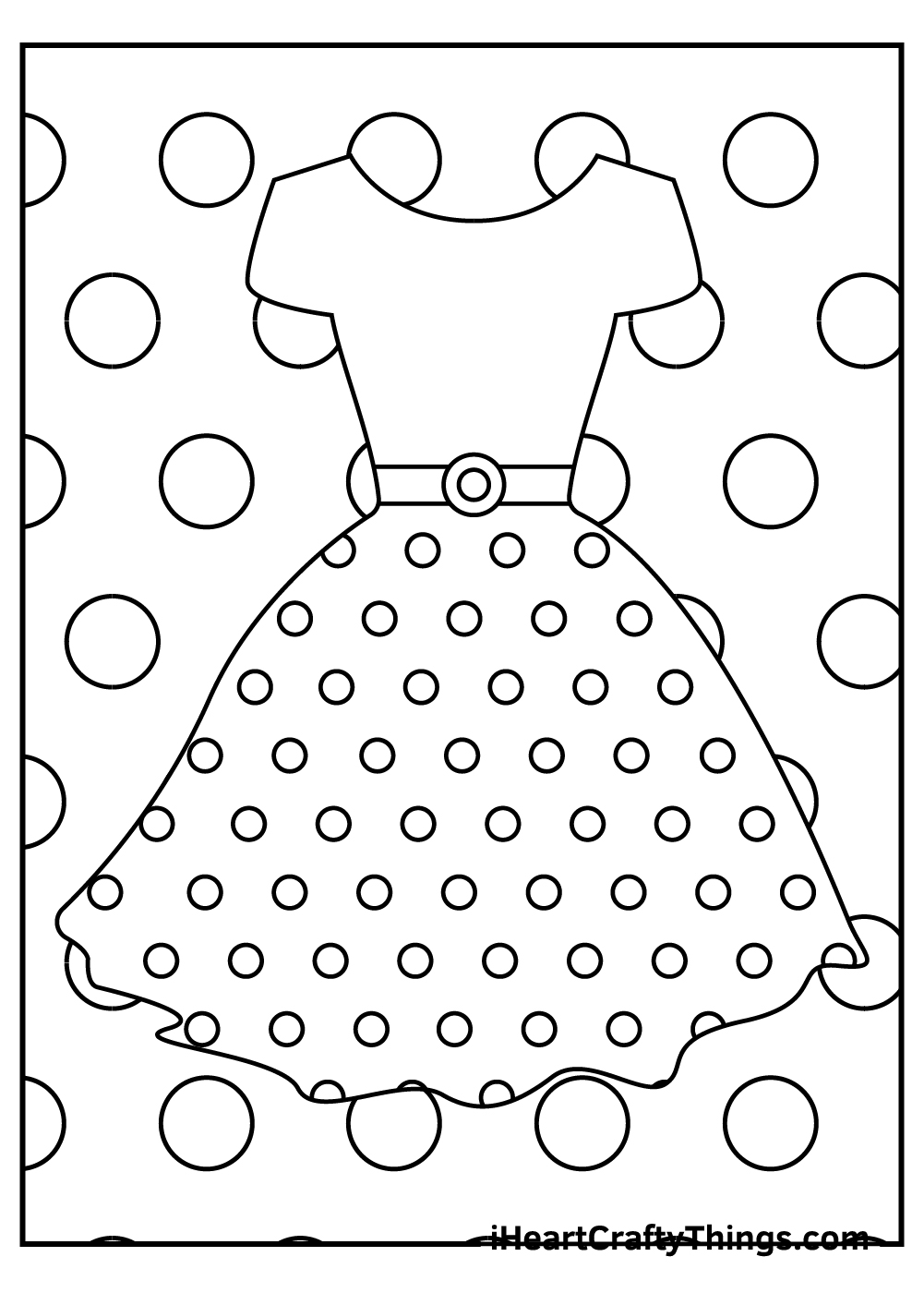 Dress Coloring Pages – Which will you choose?
We hope you had a fun and fashionable time with the dresses in these free coloring page printables!
All of our coloring designs and printable goodies are 100% free to print and color, so be sure to print out multiple copies so you can experiment and unleash your inner fashion designer.
These coloring pages would be the perfect opportunity for you to use other crafts and mediums to make them pop and really catch the eye.
Please be sure to like and share our Facebook page so that you won't miss out on more beautiful and fun free coloring pages and printables. Also, please go ahead and share your favorite coloring pages once you've finished them for our Facebook page for us to see!
We'd really love to see what talented budding fashion gurus we have by seeing all of your amazing, colorful designs and creations.
REMEMBER: You can get the COMPLETE set of these coloring pages >> HERE