This shop has been compensated by Collective Bias, Inc. and its advertiser. All opinions are mine alone. I hope you and your kids enjoy our DIY Cardboard Superhero Masks. #AvengersUnite #CollectiveBias
When my boys are busy playing Superheroes vs. Villains with their toys you will always find my daughter right in the middle of the fight showing her amazing action moves and proclaiming how she has the best superhero powers of all. Since she loves all things superhero, it came as no surprise last week when she asked me if we could buy some of The Avengers new snacks she saw at Walmart while we were shopping. In anticipation of MARVEL's The Avengers: Age of Ultron coming to theaters on May 1st, we decided to turn The Avengers snack boxes into DIY Cardboard Superhero Masks.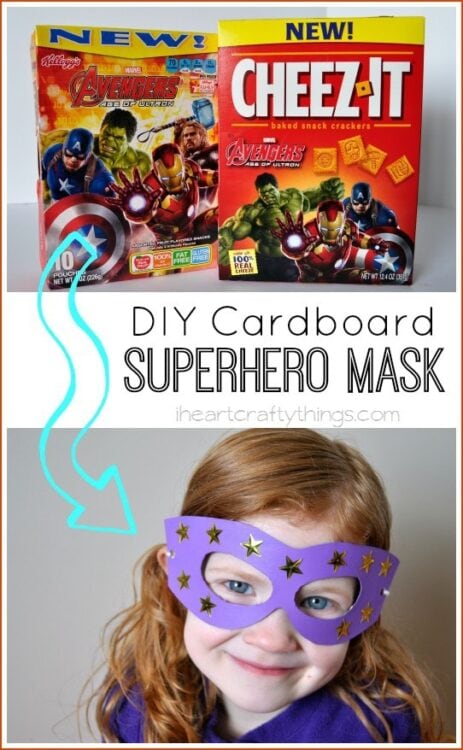 We also picked up some of The Avengers new toys while we were at Walmart. My daughter loves to play dress up and put herself into character so she chose to purchase a few of the dress-up items. She has a special thing for Thor (who can blame her, right?!) and she is mesmerized by Captain America's awesome shield. I love the confidence she has in herself and how she knows that superheroes aren't just for boys…girls make amazing superheroes!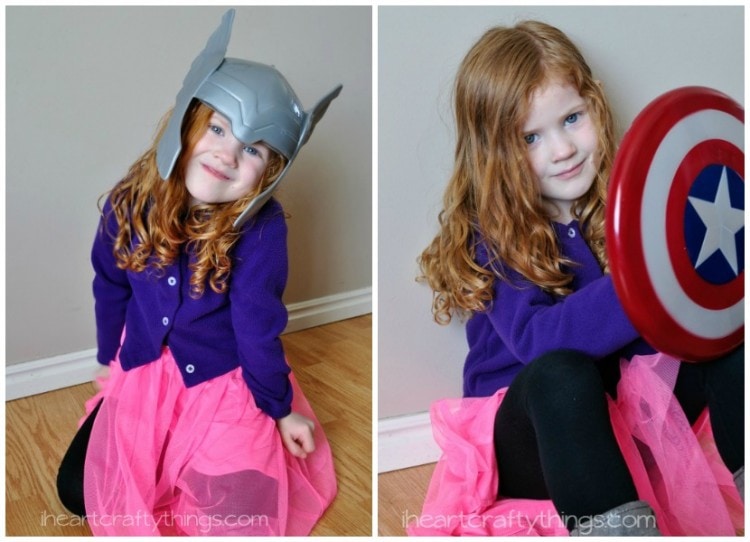 My daughter's new toys have already accompanied us on several outings. With her new superhero gear she helped to protect me while walking into the library during a pretty wicked wind storm and I'm pretty certain she made everyone at the pharmacy feel extra safe while we were picking up some prescriptions the other day. I feel pretty lucky to have such a strong and beautiful superhero in my life!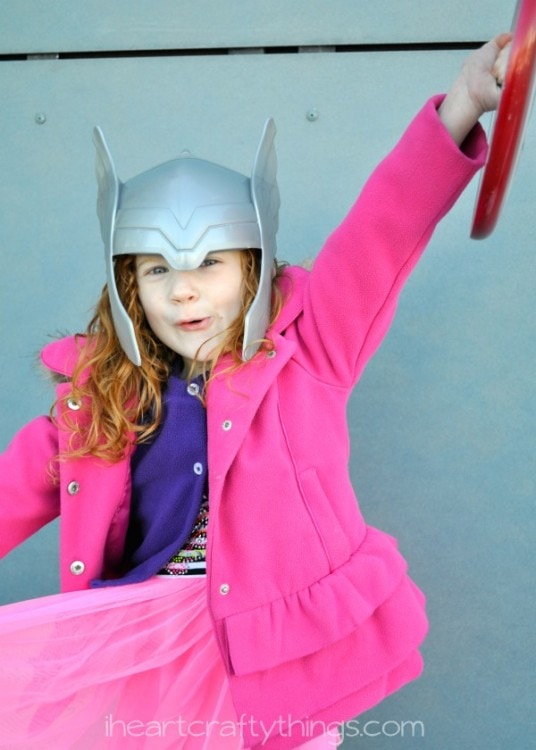 Your little superhero fans will love making snack time extra fun by creating their very own super hero mask! They can paint and decorate it however they choose, come up with their own special super hero name and have so much fun pretending to be a superhero.
HOW TO MAKE A DIY CARDBOARD SUPERHERO MASK
Supplies you will need:
Kellogg's Avengers Fruit Snacks or Cheez-it Avengers Baked Snack Crackers
Superhero Mask pattern (I found mine at The Diary of Daves Wife)
pencil
scissors
craft knife (for adult use only)
paint (color of your choice)
sponge brush
sequins and embellishments
tacky glue
hole punch
yarn
Directions:
1. Start by picking up your
Kellogg's Avengers Fruit Snacks
and
Cheez-It Avengers Baked Snack Crackers
at your local Walmart. Don't forget to walk over to the toy aisle and pick up some of
The Avengers toys
and gear for your little superhero while you are there.
You can also download the new Super Heroes Assemble App available in the iTunes and Google Play Store before you head to Walmart. It's a fun app that turns your phone into a portal to exclusive MARVEL's The Avengers: Age of Ultron content. Find The Avenger's special displays at Walmart that you can scan to become your favorite character, have photo ops with your favorite characters and so much more.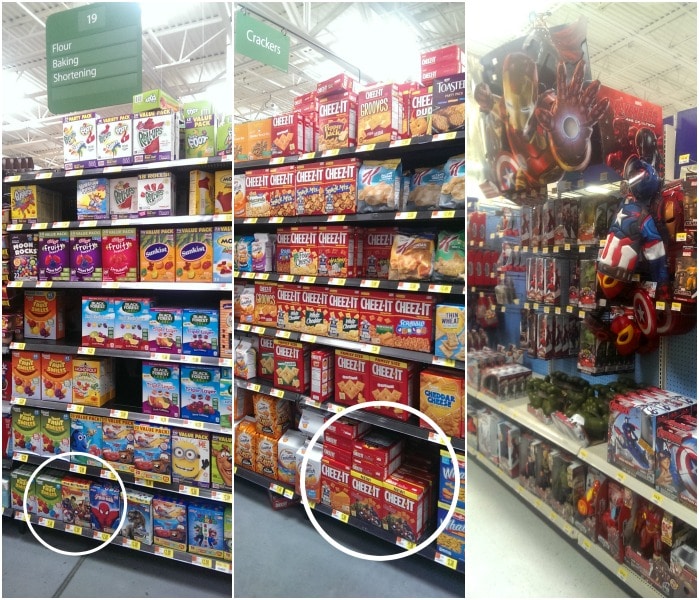 Both the crackers and fruit snacks come in fun packaging and have superhero shapes on them to get you in superhero mode. They are perfect for snack time at home, for movie snacks or for snacks on the go. My kids love when I put crackers in fun cups so I threw some in The Avengers cups we have to make snack time even more cool.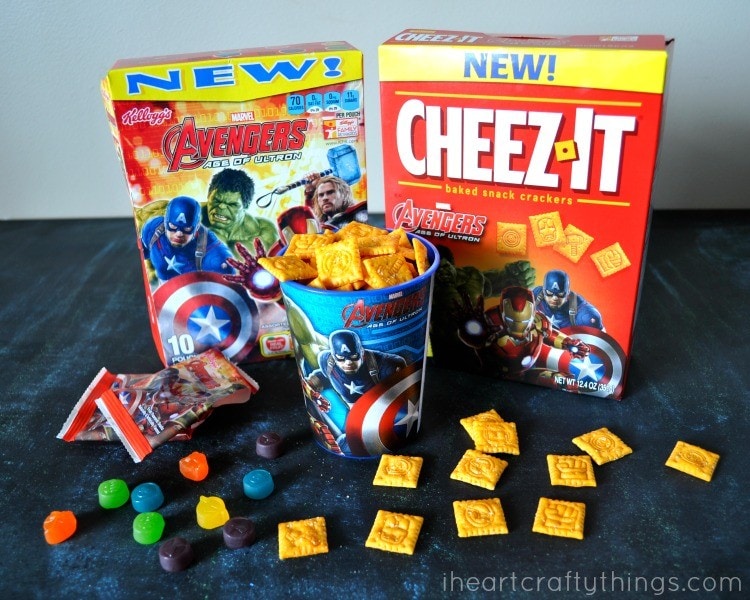 2. After you are finished enjoying your snacks, cut open your cardboard box so it lays flat. Use your superhero mask pattern to draw the pattern onto the cardboard and cut it out. An adult will need to assist in cutting out the eye holes with a craft knife. Punch a hole on the sides of the mask.
3. Paint the super hero mask and let it dry completely.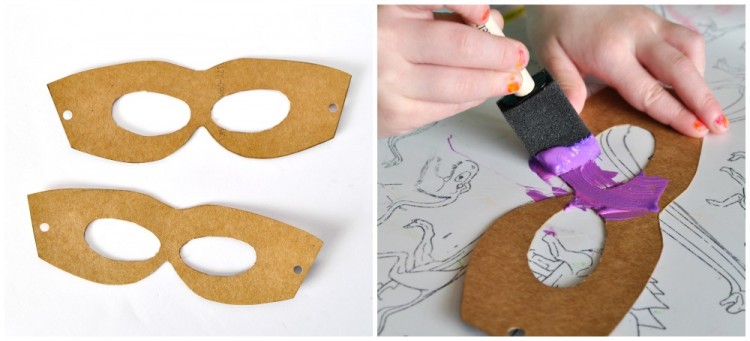 4. Use sequins and any embellishments of your choice to decorate your superhero mask.
5. Tie a knot in one end of the superhero mask with your yarn. Put the yarn through the other hole and measure what size you'll need by putting it onto your child. I made mine a tiny bit smaller than my daughter's head so it would be a snug fit.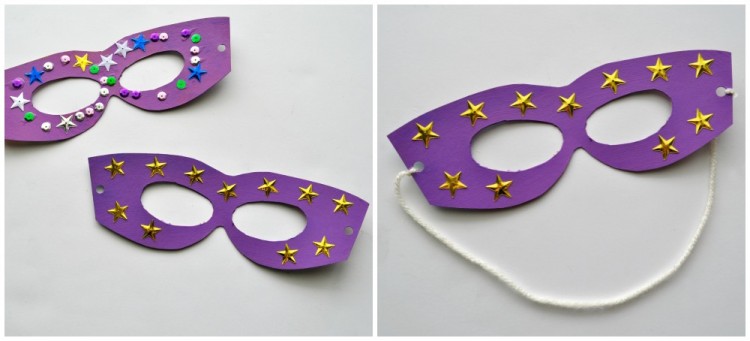 Now your child can enjoy pretending to be their favorite superhero! Better yet, have everyone in your family create one so you can all have an evening of fun pretending together! How is your family getting ready for the release of MARVEL's The Avengers: Age of Ultron movie?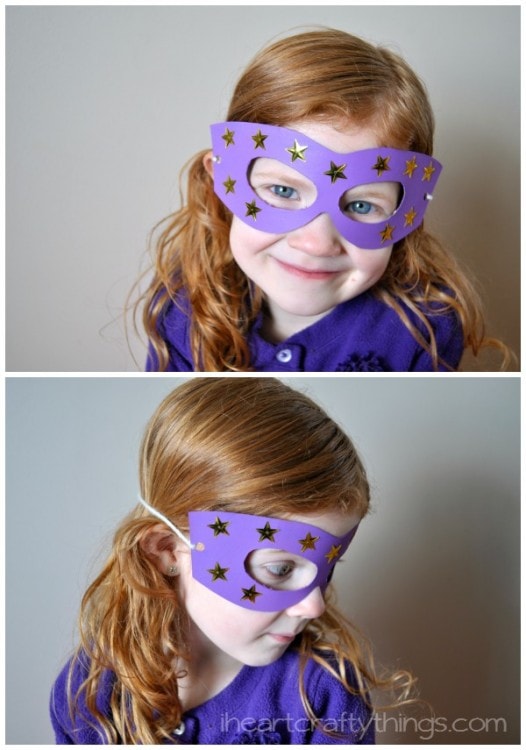 Follow I Heart Crafty Things on Facebook, Pinterest,
Google+, Twitter, and Instagram for more crafty fun!