On this page, you will find 15 all new Crown coloring pages that are completely free to print and download.
We have all dreamt of wearing a crown to somehow experience what it's like to be a King or a Queen.
Sadly, our chances of even catching a glimpse of a real crown is very little. Fortunately, you can create your very own unique dream crown with these crown coloring pages.
With these free crown coloring printables, coloring activities with your friends and family are made more fun and easy.
Simply choose the image you would like to color, download it, print it out, and finally—the most fun part—color it!
Feel free to mix and match colors to design these exquisite crowns any way you like! You can even try experimenting with different coloring tools such as watercolors and brush pens to make these artworks stand out!
Have fun transforming these colorless crowns into colorful ones!
REMEMBER: You can get the COMPLETE set of these coloring pages >> HERE
Crown Coloring Pages — 15 All-New Printable Sheets
Crowns, as seen on this crown coloring page, are usually very colorful or shiny and appealing with all the exquisite materials adorning them like gold, silver, and other precious metals and crystals.
Aside from kings, queens, and other esteemed personalities of a special bloodline, crowns are worn these days by beauty queens in pageants around the world.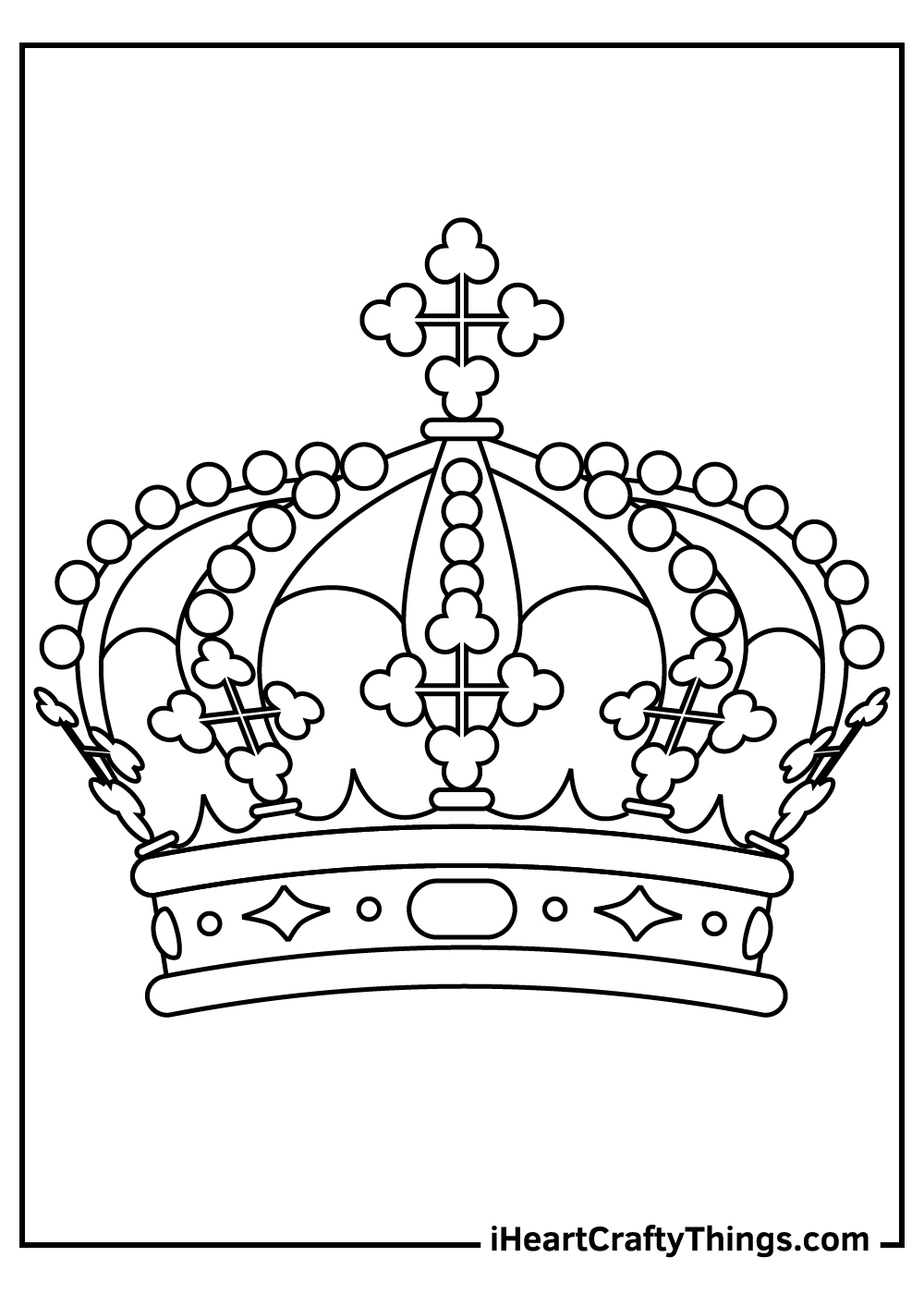 This crown coloring page is for the simple and elegant. It features a crown with a zigzag pattern on the top and a curved base.
The crown is a symbol of royalty, power, and authority. It can also represent honor, glory, and achievement.
What kind of king or queen would you be if you wore this crown? What would you do with your kingdom?
I would use color gold, ruby red, emerald gold, or light purple to make this crown coloring page regal and unique.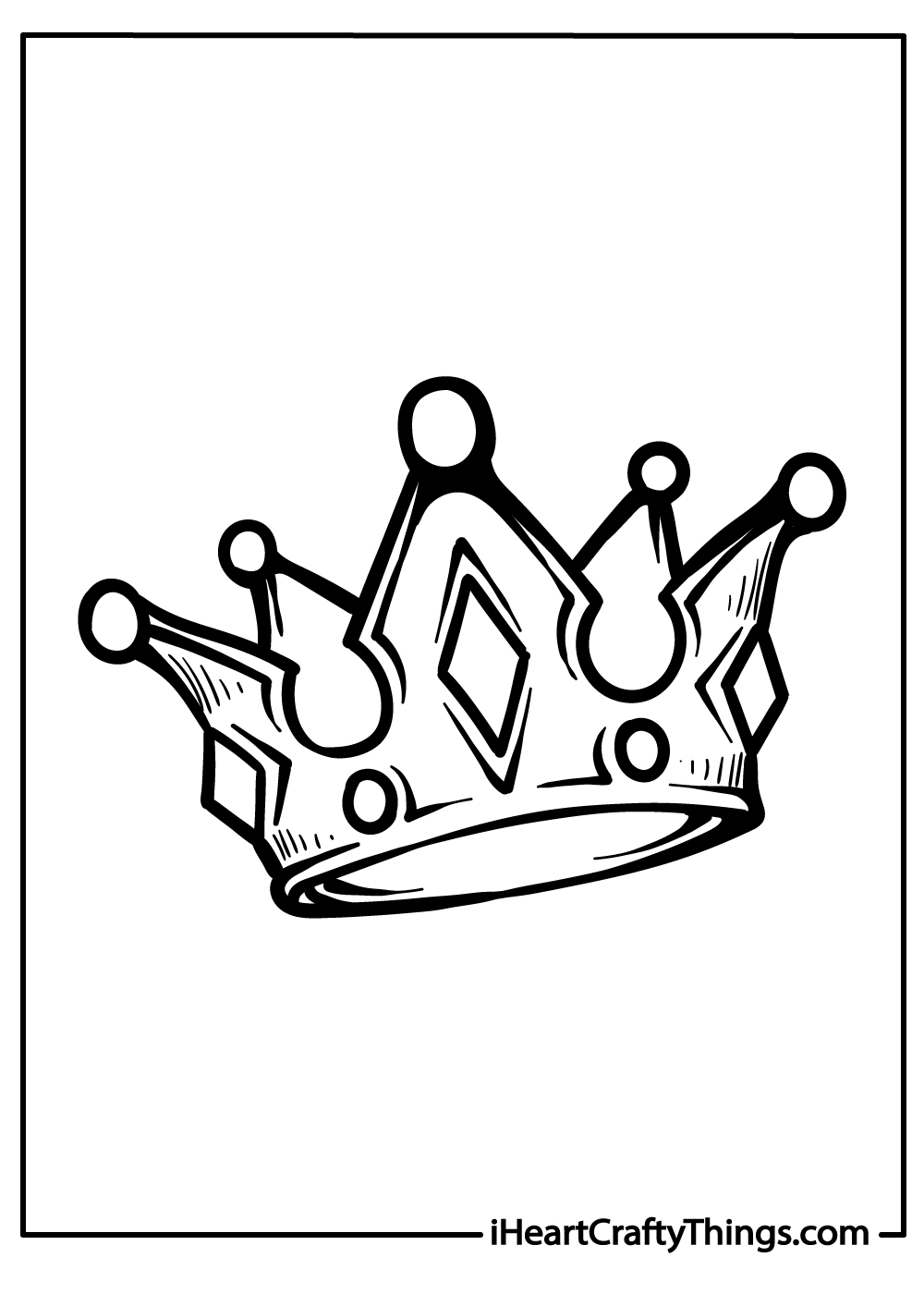 This crown coloring page exhibits a beautiful ornate crown that is filled with a lot of precious stones or metals. The stones could be a type of crystal or even precious diamonds.
We are confident that you will pick the right colors for this exquisite crown so you can make it "shine bright like a diamond"!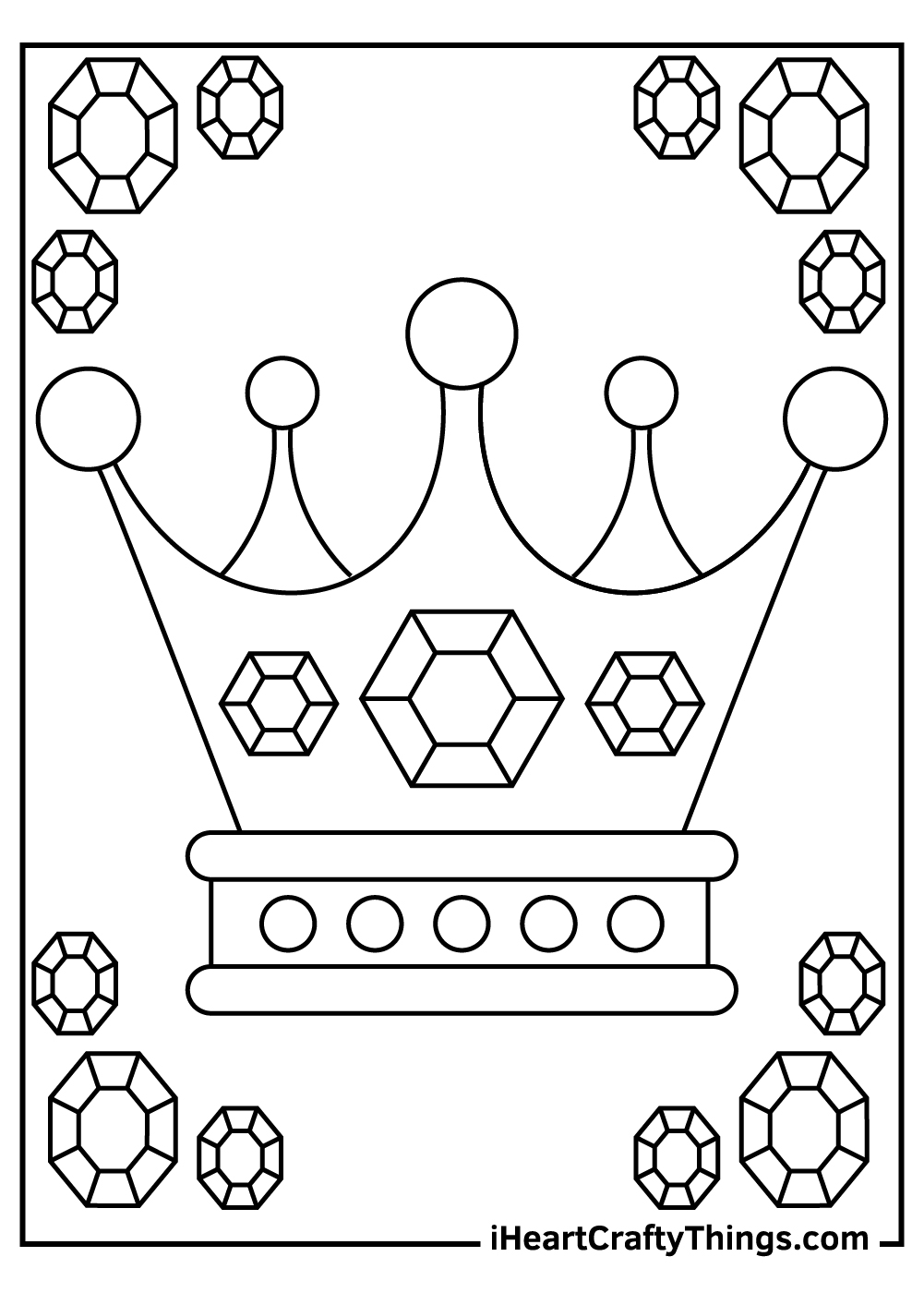 The crown on this crown coloring page looks like it is designed for a queen. It seems to be adorned with at least three kinds of precious metals, gems, crystals, or stones.
This is just one of many colorful crown coloring sheets we have in our catalog, so we can't wait to see which colors you will use to bring this majestic crown to life!
REMEMBER: You can get the COMPLETE set of these coloring pages >> HERE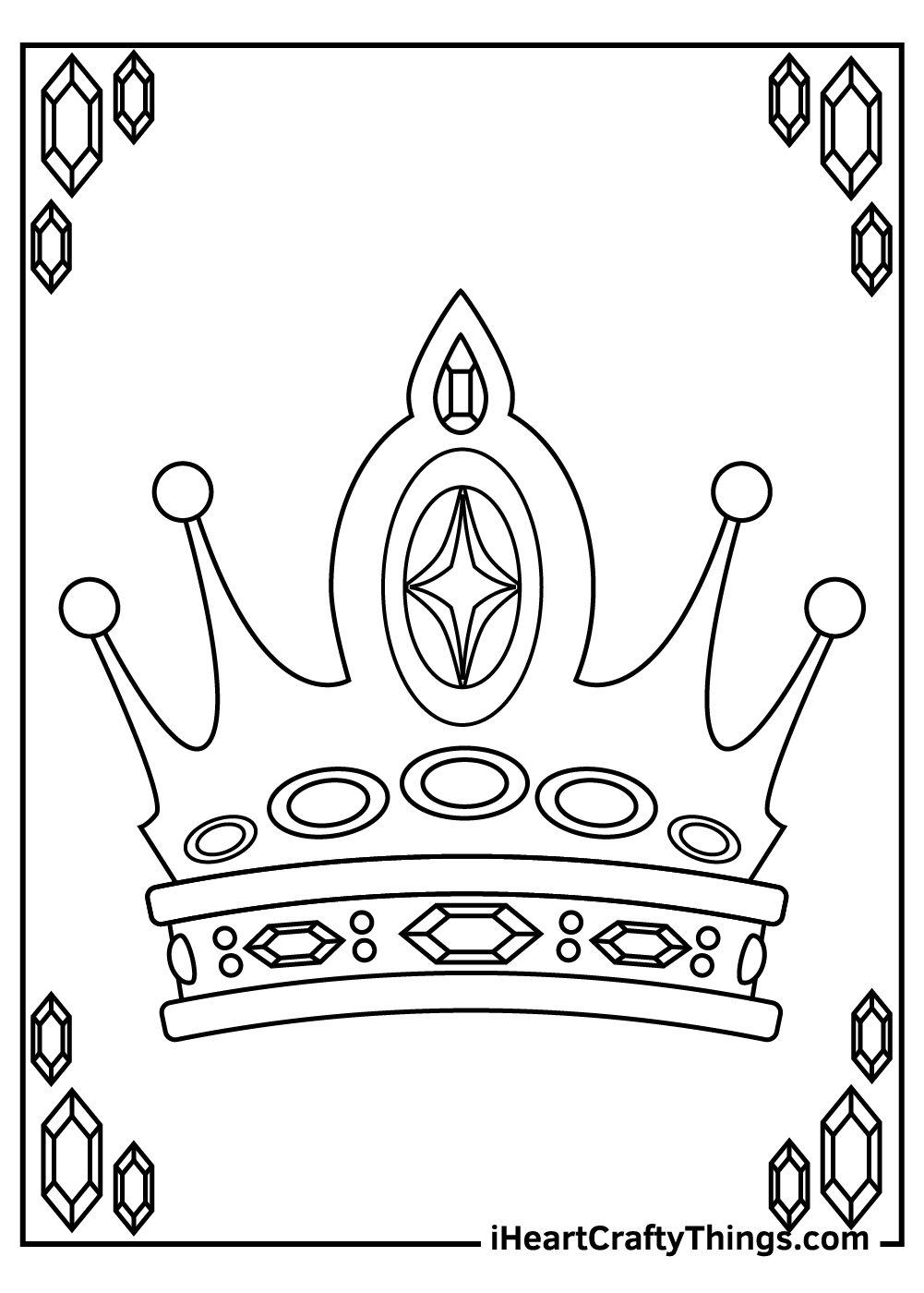 Wow, look at this exquisite crown coloring page. This one has a lavish crown with nine points that look like little suns.
The crown has a lavish crown with nine points that look like little suns. The crown is also embellished with diamonds that add some glamour and elegance.
This crown is perfect for coloring with bright and vibrant colors. Add majestic details like plush red velvet lining, ornate etchings, or a royal crest.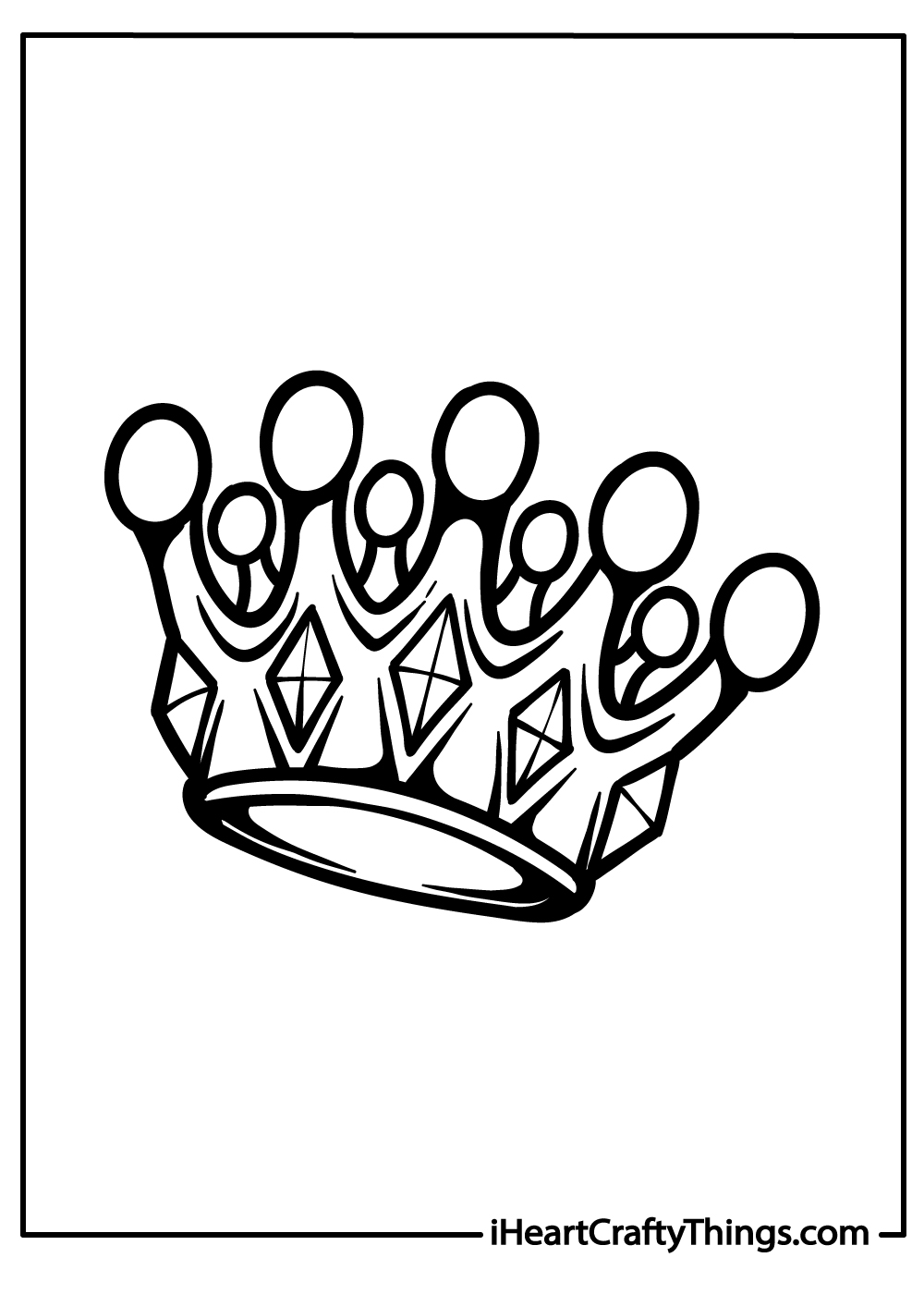 On this simple yet exquisite-looking crown coloring page, you can see what seems to be a crown suitable for a king, the leader of a kingdom.
This crown looks lavish with a fleur-de-lis symbol on top of it. The fleur-de-lis is used as a decorative symbol or design and has been used in the heraldry of many European nations.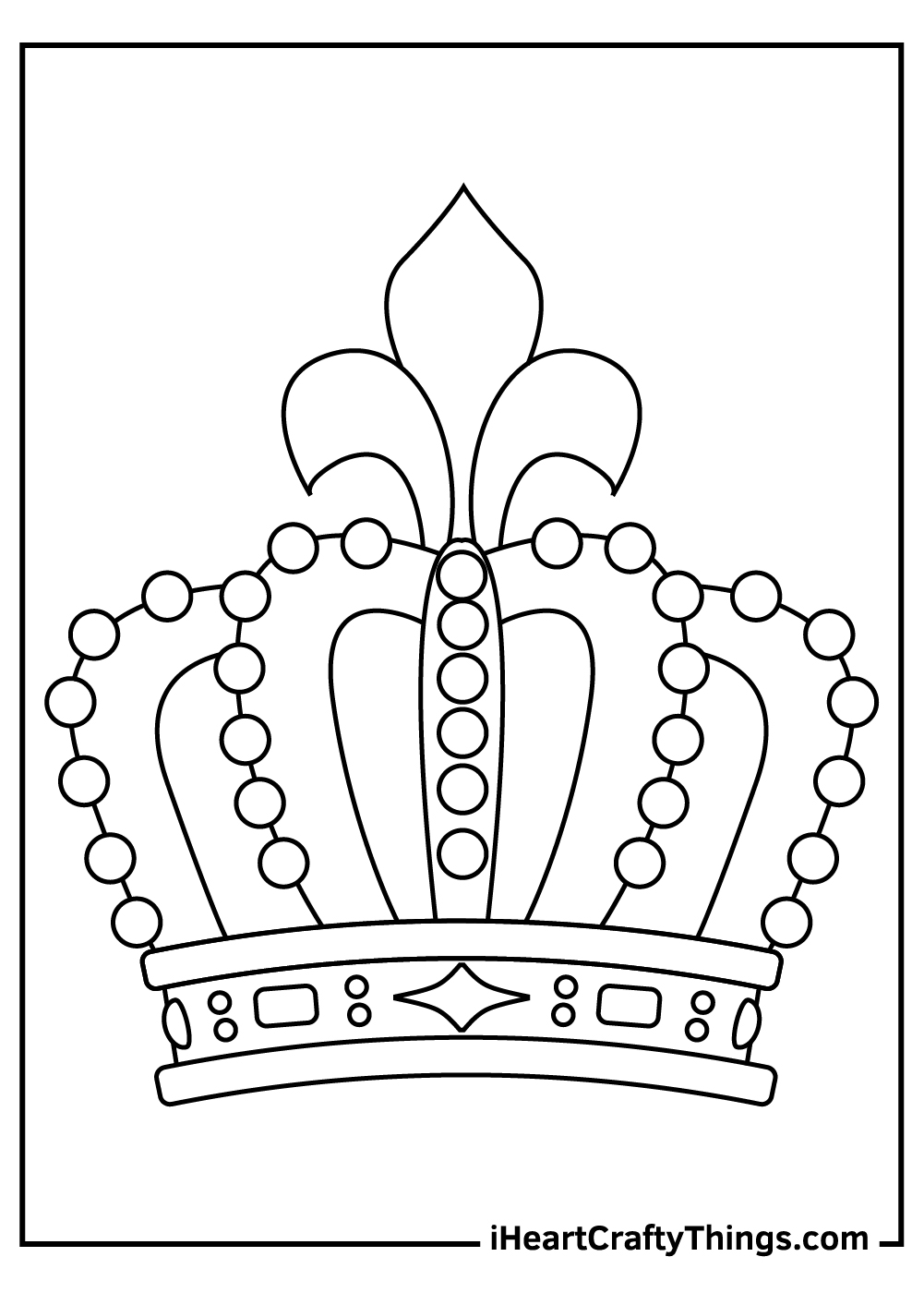 This crown coloring page displays another crown that is sporting the unique fleur-de-lis design. However, this time, the crown on this coloring page is adorned with several fleur-de-lis patterns around the entire crown.
That signifies that the owner of this crown is of a much higher ranking. Make it look even more dashing by using a variety of bright colors!
REMEMBER: You can get the COMPLETE set of these coloring pages >> HERE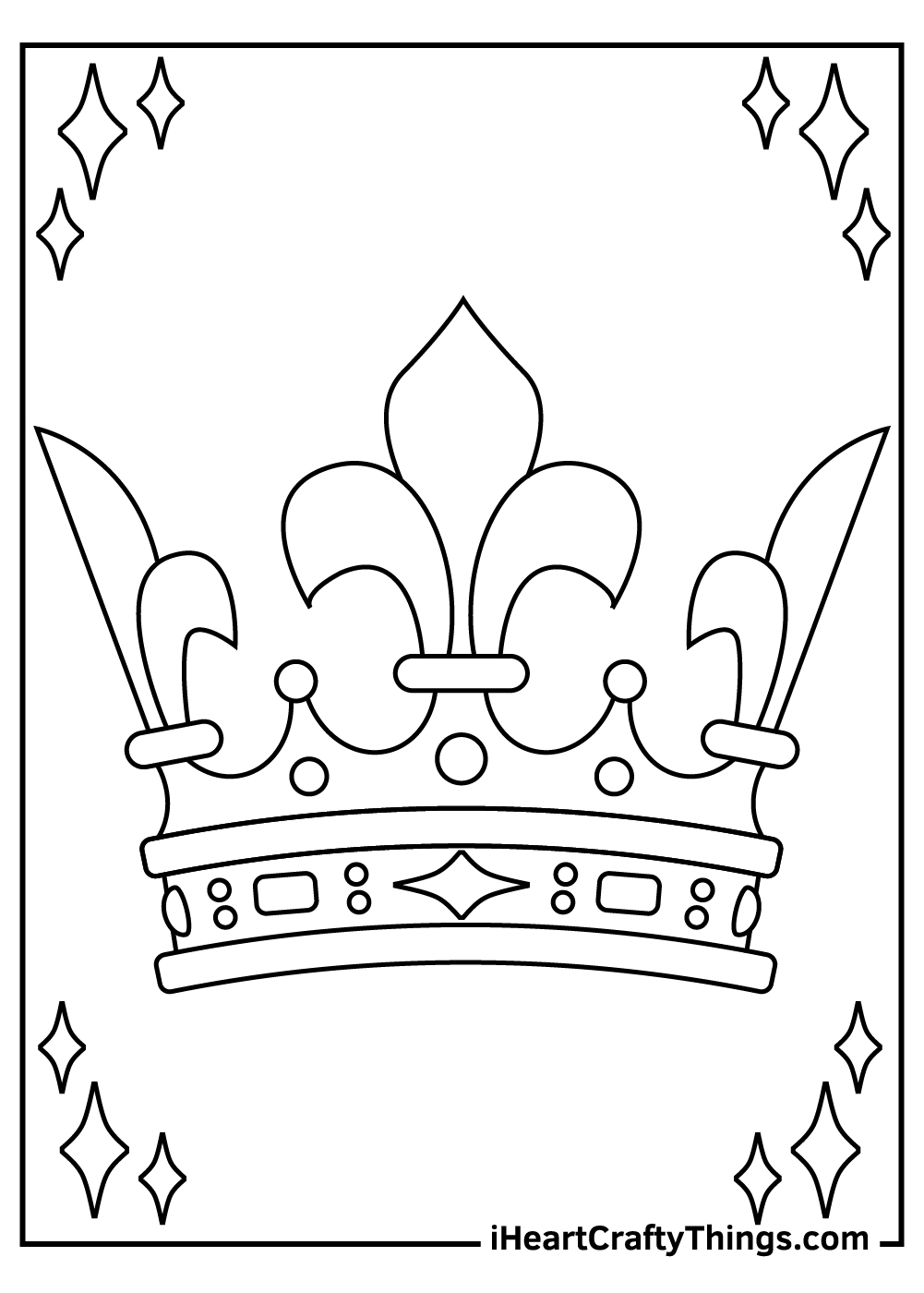 Reign over creativity with the crown coloring page. This page features an elegant yet approachable crown design waiting to be colored by you.
Let your imagination run free as you personalize this crown. Fill the rounded points with golden yellow, rose pink or your color of choice.
As you color, envision yourself leading with fairness and compassion. Hosting joyful feasts for all, championing your subjects' well being and spreading light throughout the land.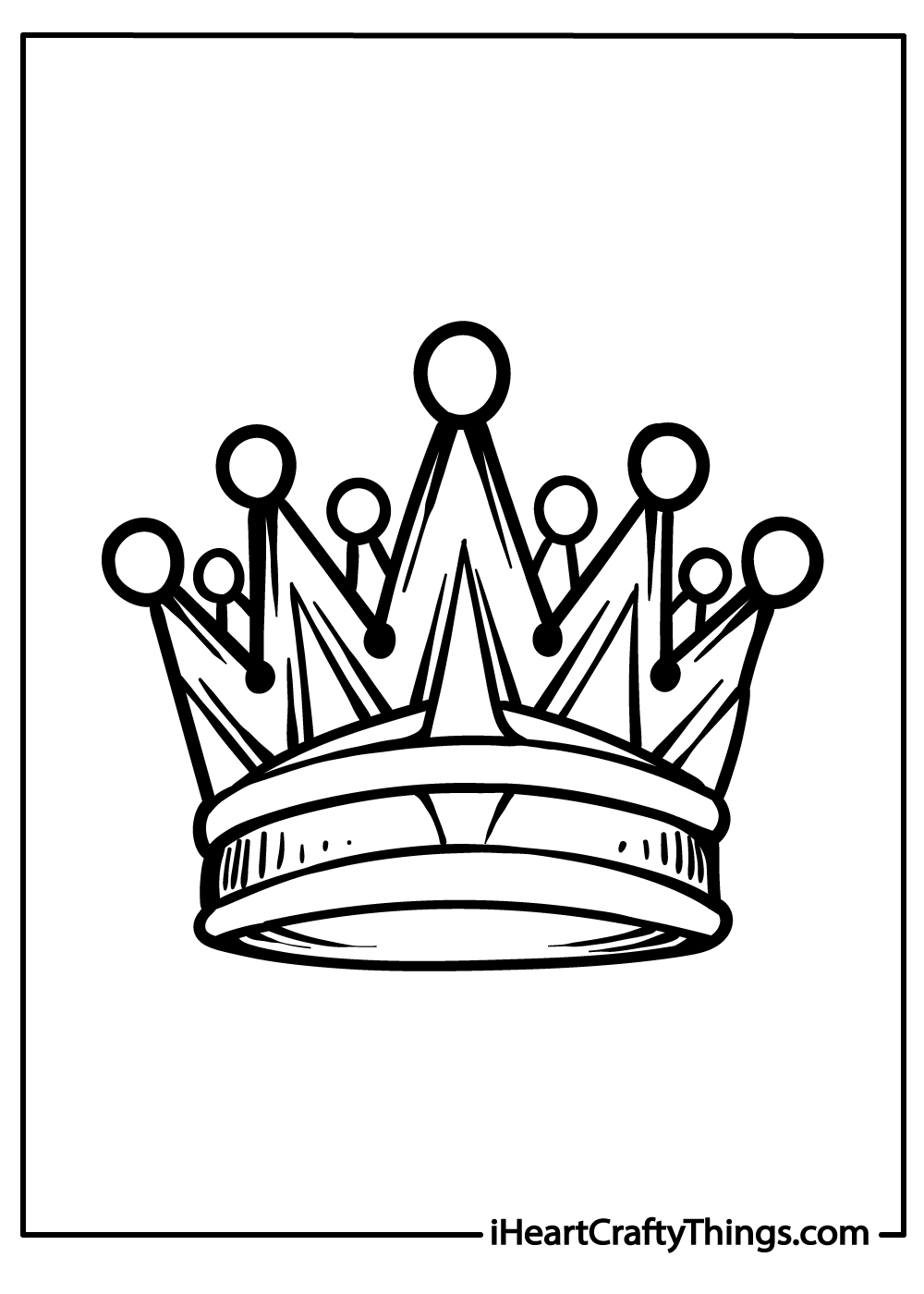 This crown coloring page shows a really grandiose crown with a cross right on top and what looks like precious beads all throughout the crown.
The fleur-de-lis symbol is apparent yet again in this specific crown, which means that the one wearing this crown is most likely of the highest nobility.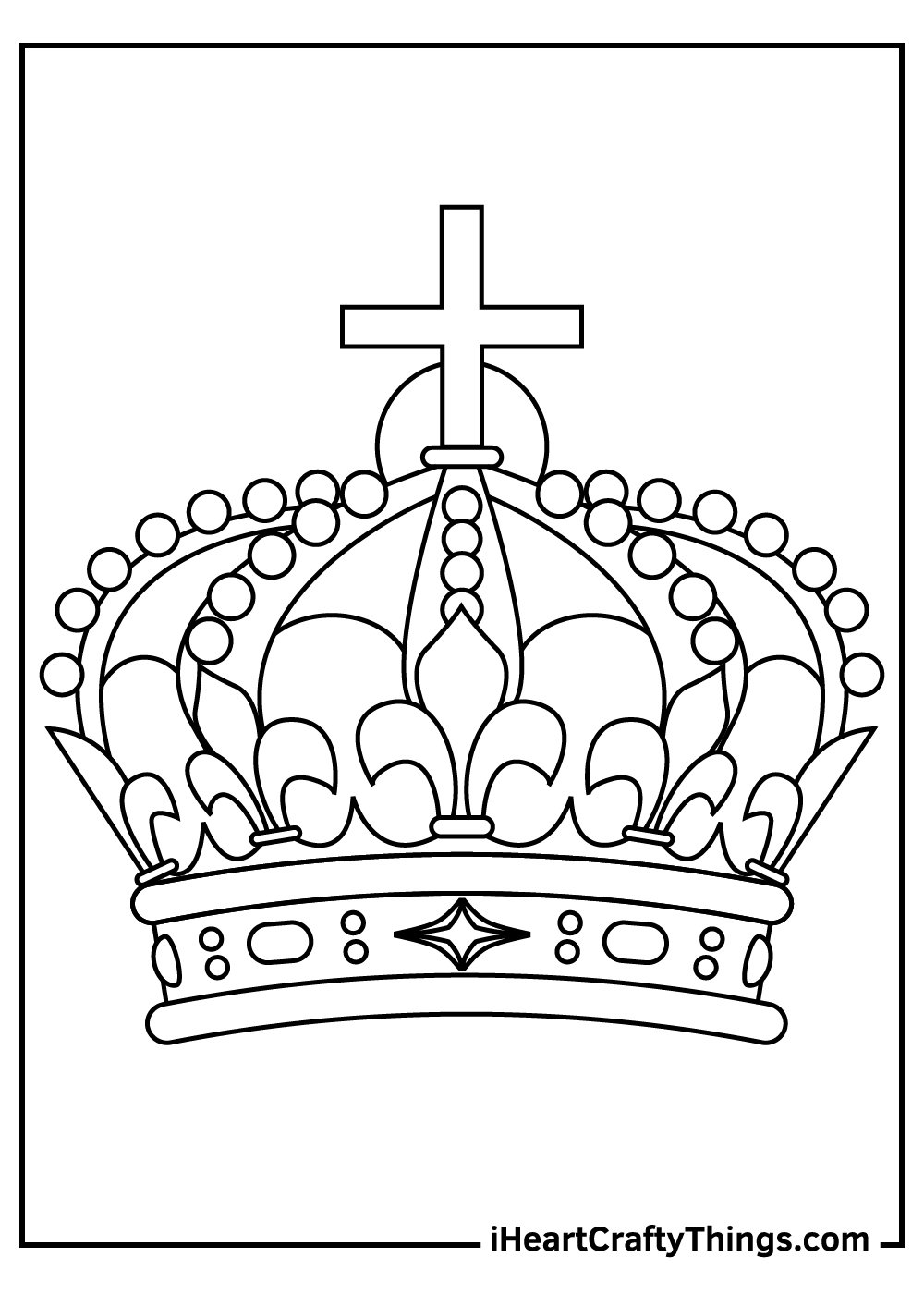 Not all crowns have to be extravagant. Sometimes, even the most expensive crowns can be as simple as the one shown in this crown coloring page.
However, don't be deceived by its minimalistic appearance because it contains three massive diamonds!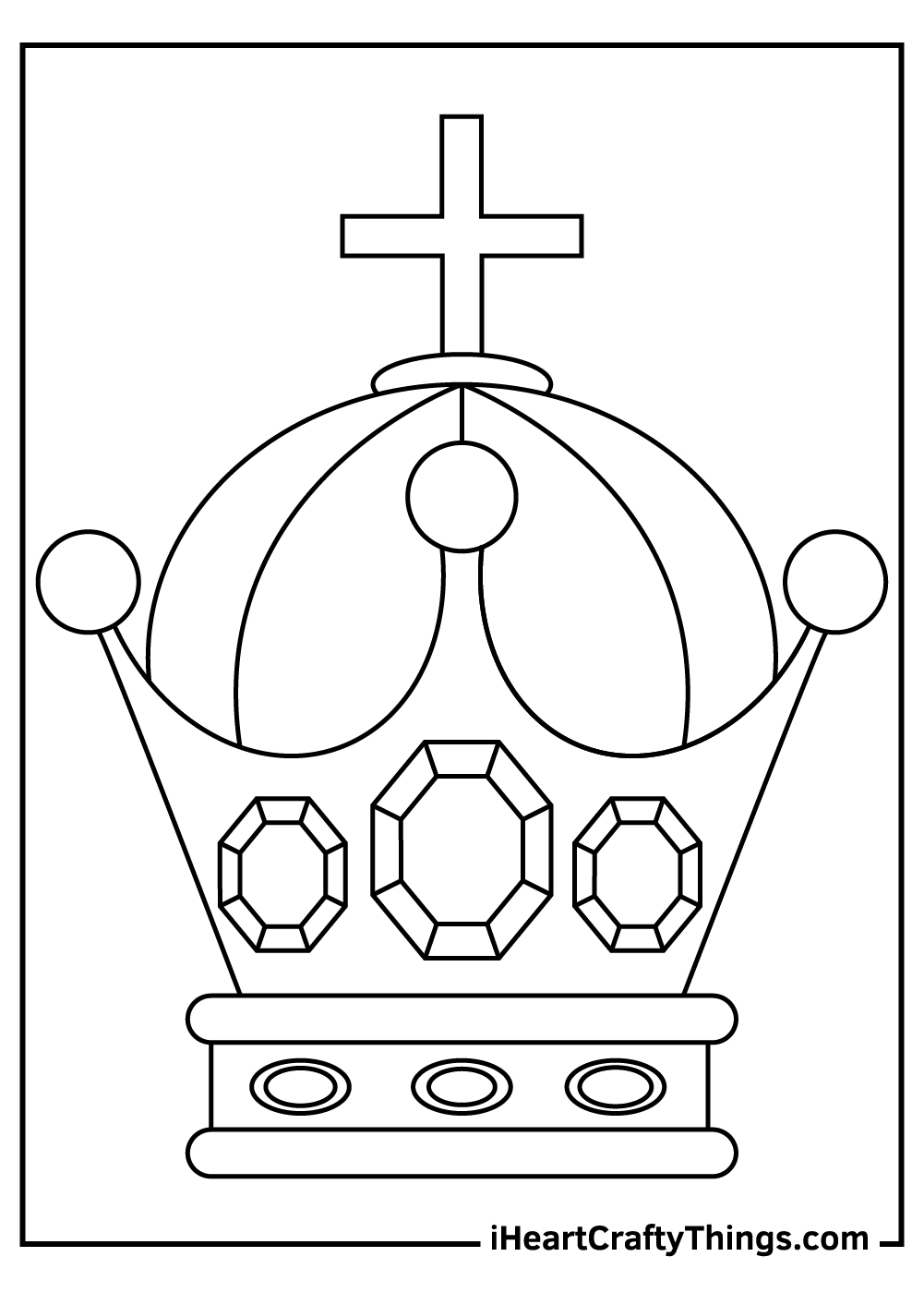 In this crown coloring page, the crown seems to have a lot of pearls or pearl-like precious stones all around its front part.
The top part has the typical fleur-de-lis design, while the band, as well as the "reverse arch" part of the crown, is filled with crystals, precious stones, or pearls.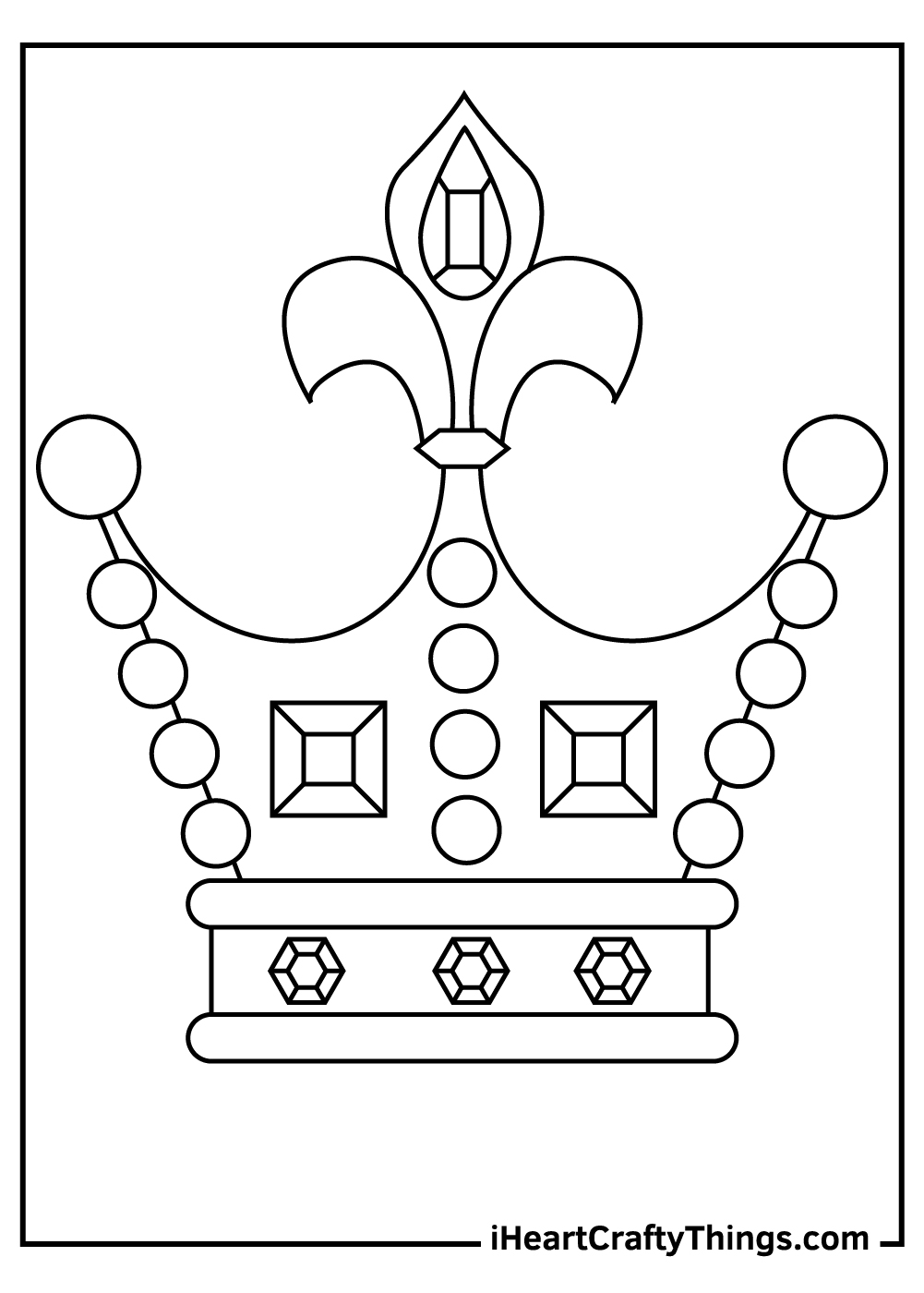 Look at this gorgeous crown coloring page. This one has a curved base with five points that have balls on top. The center point is the largest and has an oval in the middle.
What kind of crown is this? This type of crown has a metal framework that is covered with a layer of porcelain or ceramic.
The crown is symmetrical and elegant. Pick any colors you like for the crown – classic red and green for a traditional look or bold, vibrant hues for a fun pop of excitement.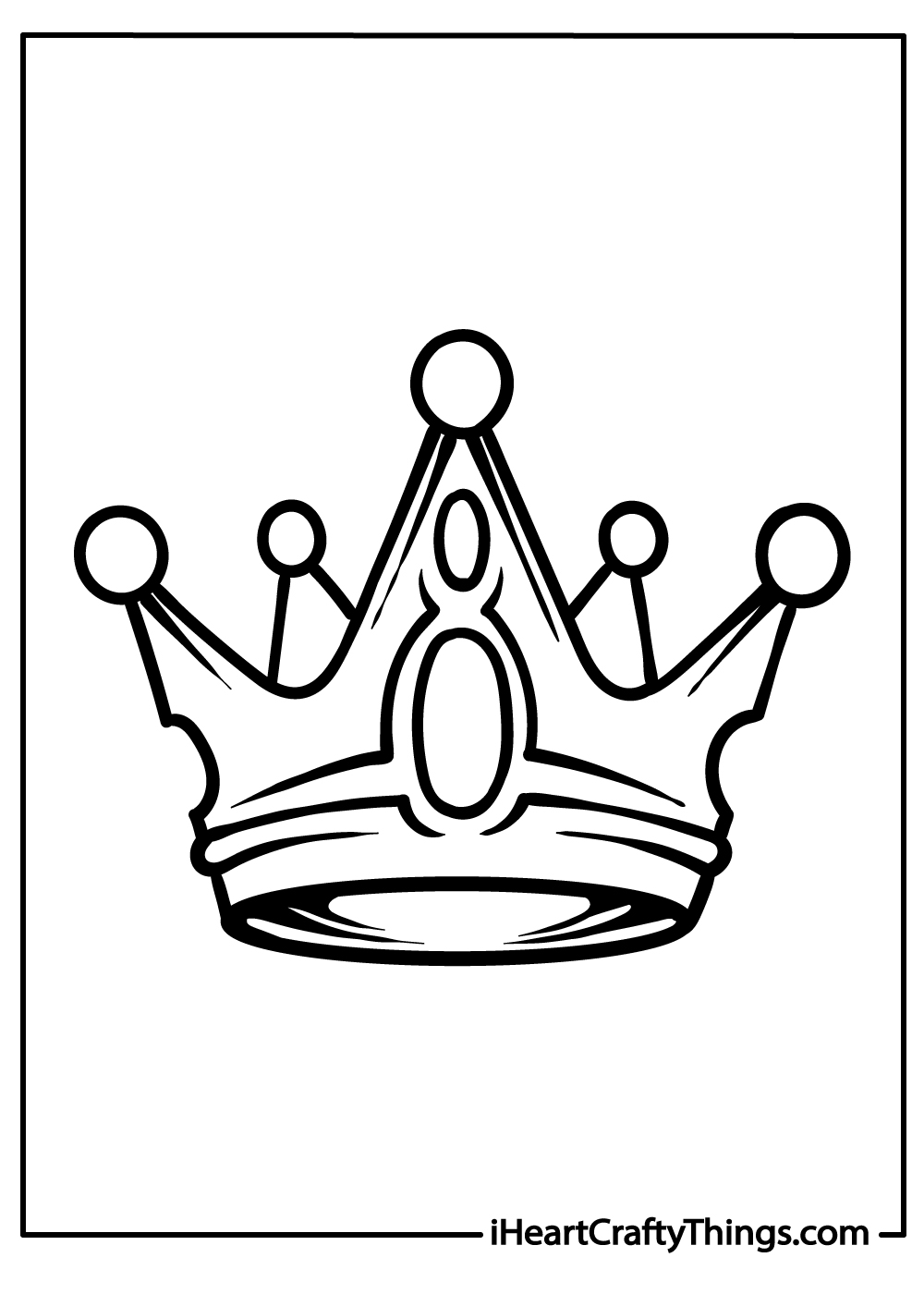 Another simple, minimalistic, yet very elegant crown is displayed in this particular crown coloring page. The top of the crown has a star-like structure instead of a fleur-de-lis design or a cross.
The "reverse arch" part as well as the band is filled with pearls as well as diamonds or precious stones. This crown truly looks exquisite!
REMEMBER: You can get the COMPLETE set of these coloring pages >> HERE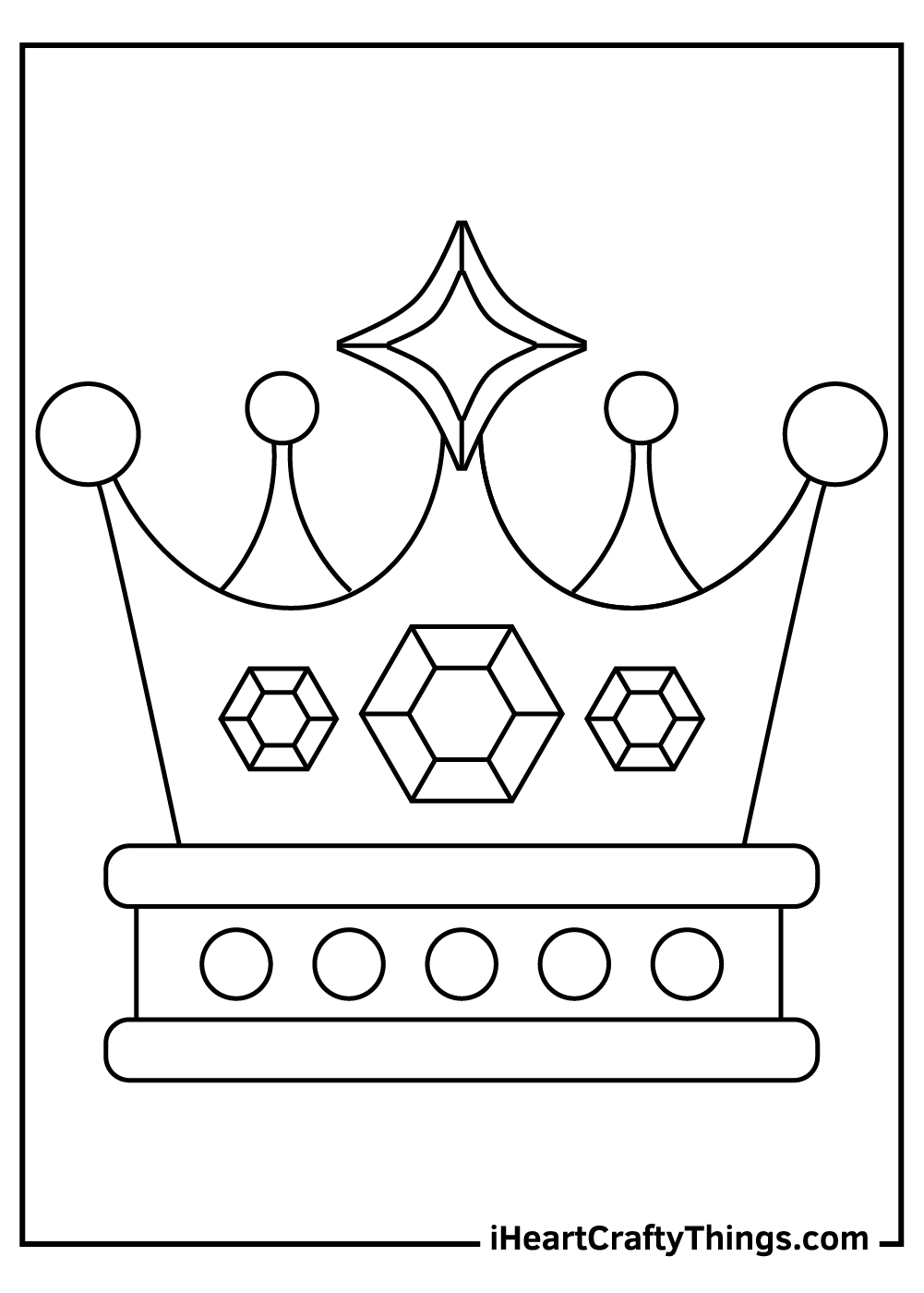 This is the most peculiar crown among the crowns found in these crown coloring pages. It looks like the crown a princess would choose to wear.
The crown is covered with several diamonds in various shapes and sizes, making the crown look luxurious! Can you imagine the amount of money, time, and passion that was put into crafting this stunning crown?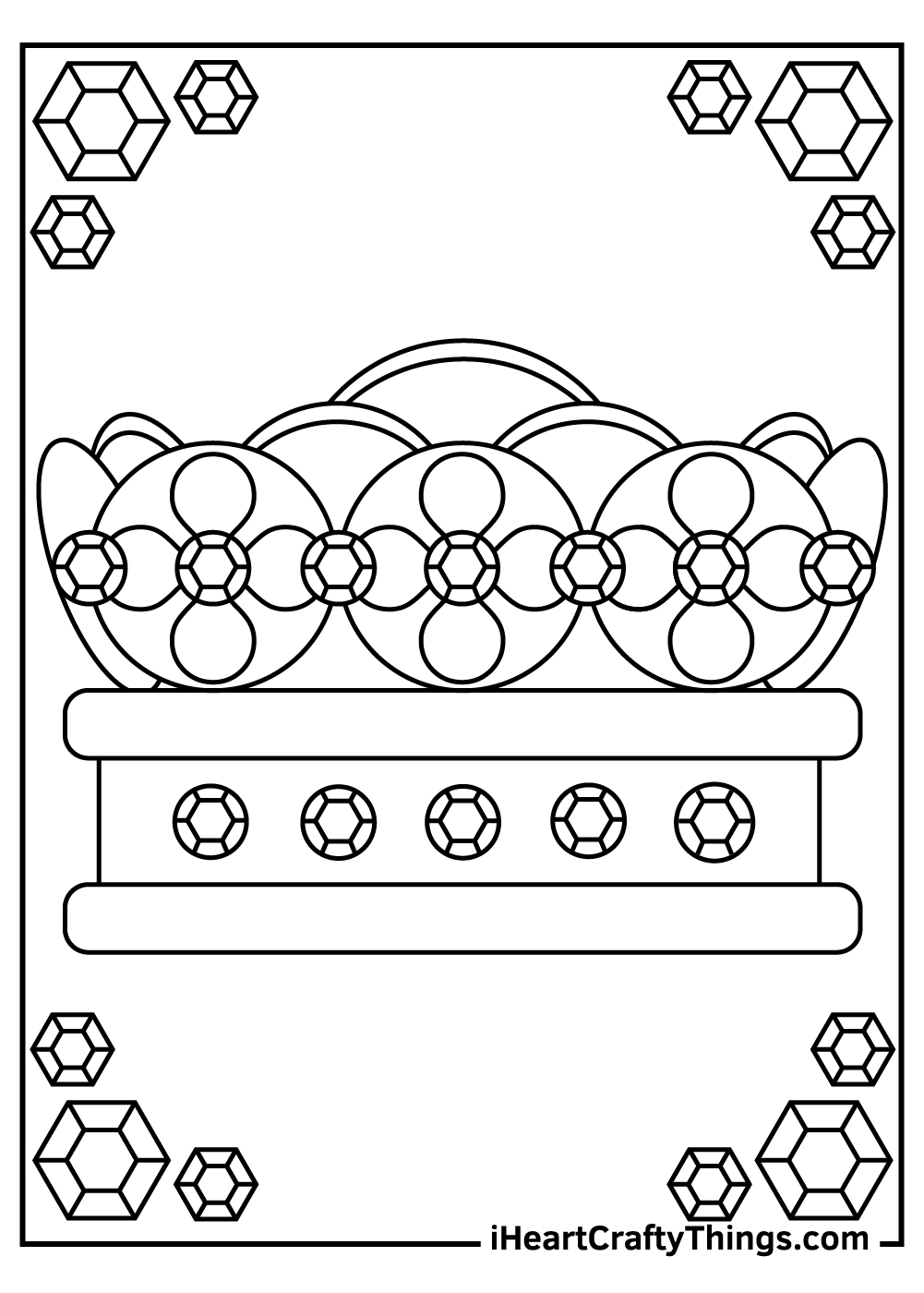 This next coloring page shows a stunning crown with nine points that look like stars. Each point has a small circle that you can fill with glitter, gems, or anything else you can imagine.
The crown also has beautiful curves that connect the points, making it look elegant and royal. This crown is ideal for anyone who loves to shine and sparkle.
You can use bright and vibrant colors to make it stand out, or try to match it with your favorite outfit or accessory.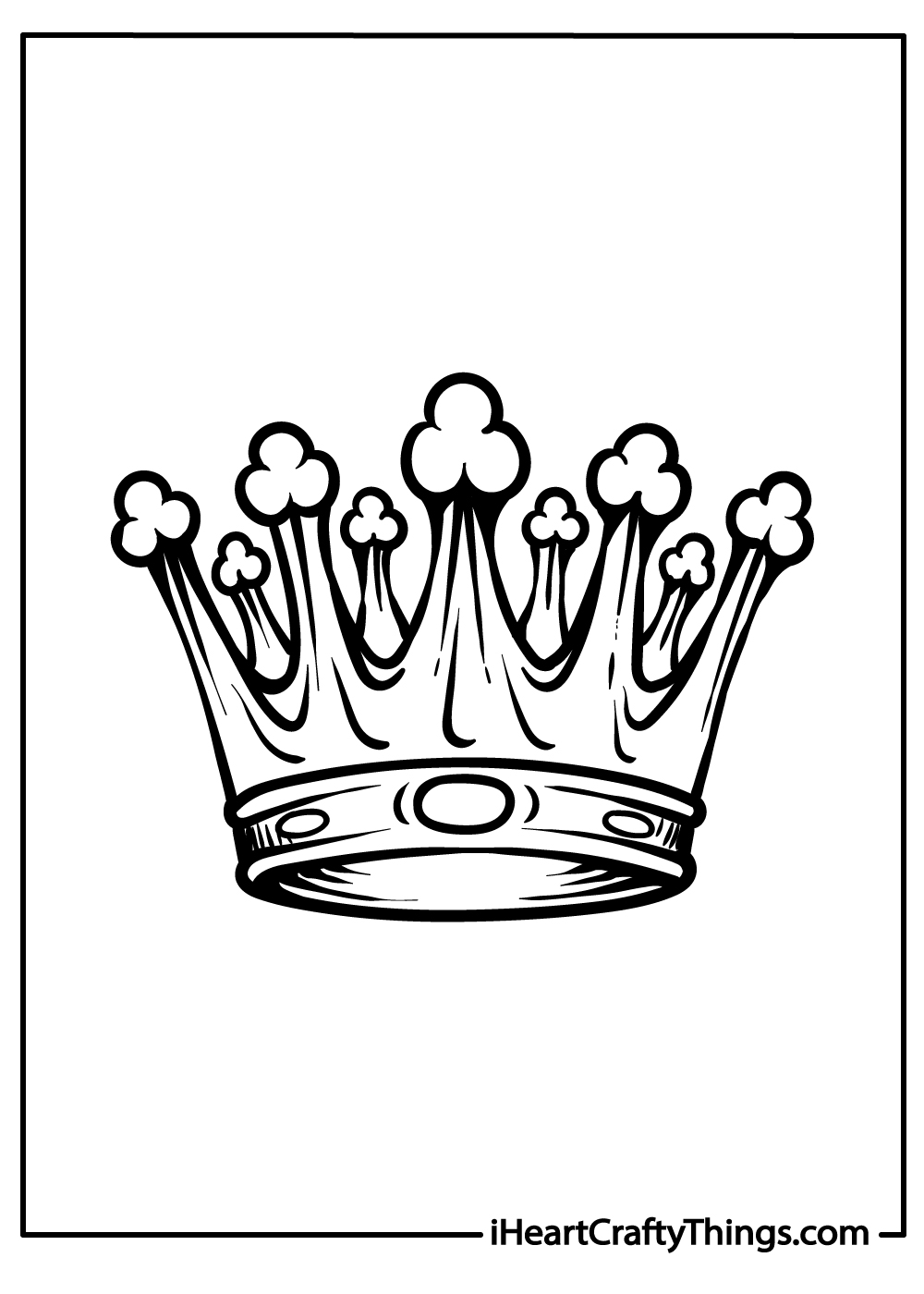 Crown Coloring Pages — Which crown will you choose?
We hope you enjoy these crown coloring pages. It consists of simple and intricate illustrations of extravagant crowns with different designs.
Coloring these crown coloring sheets is the perfect activity for kids of all ages who are dreaming of becoming a Prince or a Princess someday.
Remember, all of our crafts and coloring printables are 100% free for you to download, print, and color. We are always updating our catalog and uploading new content to our catalog. So, don't forget to keep re-visiting our website to continuously enjoy all-new coloring pages.
Once you've finished coloring your crown coloring printables, you must be very proud of yourself for completing a masterpiece—as you should be! Make sure to show off your work of art and share it on our Facebook page. We're sure it looks amazing!
We can't wait to see all of your colorful and majestic crowns!
REMEMBER: You can get the COMPLETE set of these coloring pages >> HERE