I don't know if my house has ever been in such a state of chaos…I thought about tackling it yesterday but after I saw this idea on No Time For Flashcards, I decided it would be more fun to make Chinese New Years Dragons.  hahaha  🙂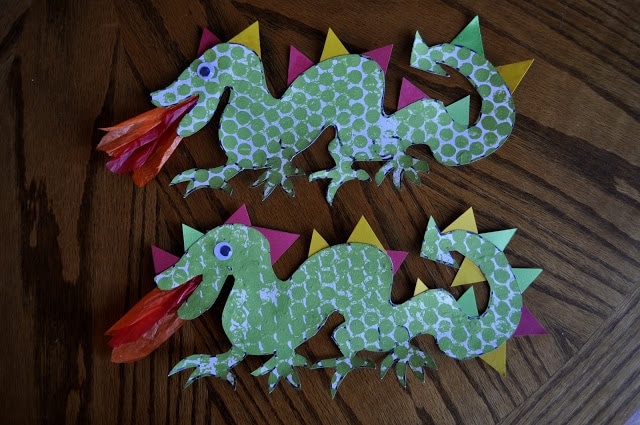 We made a much smaller version of the craft and instead of making it a combined family craft, each of my boys completed their own. We used bubble wrap to paint the dragons. Love this technique. It is so fun and fast!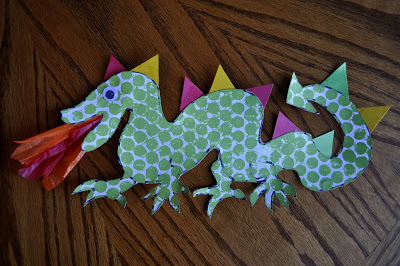 Since I decided to add feet to the dragons, I ended up having to cut them out for the boys after the paint was dry. We cut out different colored triangles to add spikes to the dragons. We also added a googly eye to him and finished him off with crinkled red and orange tissue paper glued to the back of his mouth for the fire. They turned out super cute! If you are interest in making this craft, I saved my dragon pattern and you can find it HERE.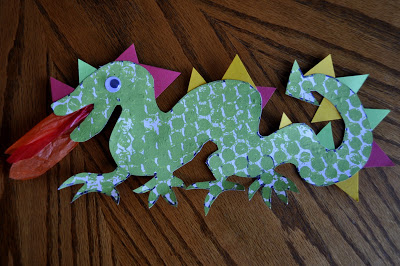 The best part about this craft was that knowing the Chinese New Year was coming up, I picked up some dragon books at our trip to the library last week.
Max's Dragon Shirt by Rosemary Wells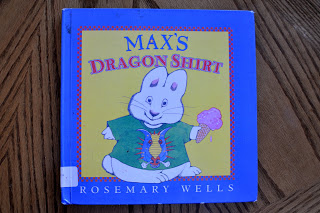 Max's sister takes him to the Mall with $5 to buy a new pair of pants since his are frighteningly overused. Max keeps saying he wants a dragon shirt instead but his sister insists they only have $5 and that's how much new pants costs. His sister takes a detour to try on dresses and while she is out getting a different dress to try on, Max wakes up to find his sister gone. He slips out of the dressing room to find her, following a girl in a yellow dress (that he thought was his sister). He puts on a dragon shirt he finds in the boys section and when the girl in the yellow dress turns around and it isn't his sister, he screams. He ends up sitting with the security guards eating ice cream waiting for his sister and ruins the dragon shirt. Long story short, Max ends up getting a $5 dragon shirt instead of the pants he desperately needed.
Dragon Dancing by Carole Lexa Schaefer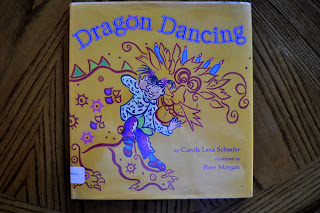 After a group of Preschool students finish reading a book about Dragons, they go into the art room to make decorations for Mei Lin's Birthday. They soon discover that they can use their imagination and put the decorations together to make a big dragon. When their dragon is complete they take in on an adventure outside in the playground. I love the imagination in this book. I recommend it for ages 3-5. I thought my first grader was a little too advanced for the book.
Life-Size Dragons by John Grant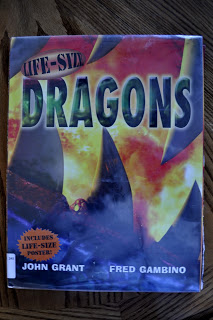 This is a HUGE book talking about different kinds of dragons and offers pages that fold out with life size images of what size dragons would be. My boys have brought this book home several times from the library in the last year. They love this book!
Happy Crafting!!