Does your family have any special traditions for celebrating the new year? I host my family at my house for a New Year's party every year and it's a night full of games, movies, snacks, lots of laughter and of course, waiting for midnight to roll around. A party is never complete without some festive decorations so this year we made this paper plate New Year's Eve Banner to liven up our party. It's the perfect festive compliment for a New Year's Eve party since it is made with black, gold and colorful confetti, and you won't believe how easy it is to put together. Grab some gold plates and colorful confetti and get ready for some fun New Year's Eve crafting!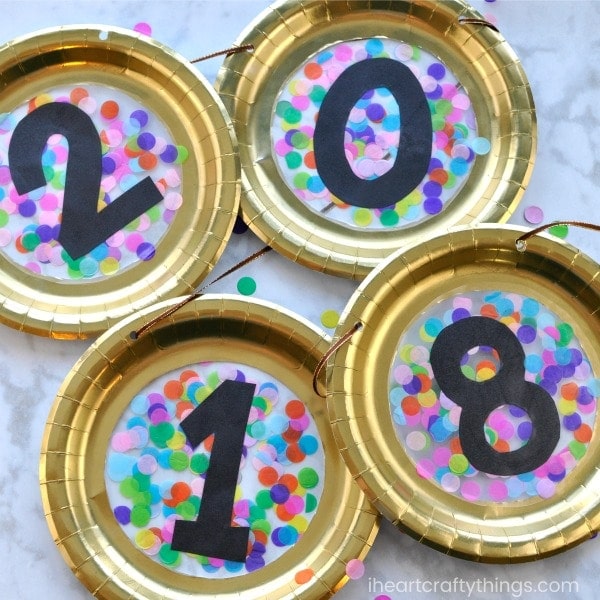 How to Make a Paper Plate New Year's Eve Banner
This post contains affiliate links to the products mentioned. I Heart Crafty Things is a participant in the Amazon Services LLC Associates Program, an affiliate advertising program designed to provide a means for sites to earn advertising fees by advertising and linking to amazon.com.
Supplies:
tissue paper confetti
bowl for tracing
ribbon or string
scissors
pencil
Watch the full tutorial before you get started. Don't forget to subscribe to our YouTube channel so you never miss a new video!
Paper Plate New Year's Eve Banner Instructions:
1. Begin by tracing a circle on the back of your gold paper plates with a bowl. Poke a hole in the middle of the paper plate with your scissors and cut out the circle on the inside of your 4 gold paper plates.
2. Print out the 2018 number printable and use it to cut out the numbers 2, 0, 1 and 8 from your black cardstock.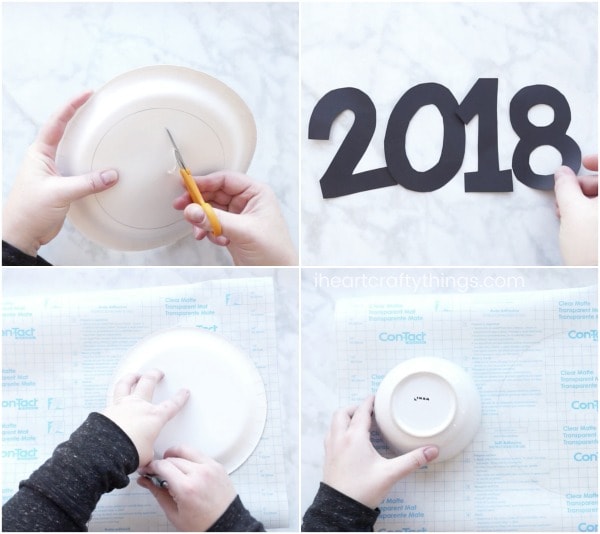 3. Trace circles on the back of your clear contact paper with a gold paper plate and the bowl you used in step 1. You will need 4 of each circle. Cut out each circle.
4. Turn your gold paper plate upside down. Peel the backing off one of your larger contact paper circles and stick it onto the bottom of the paper plate with the sticky side facing down.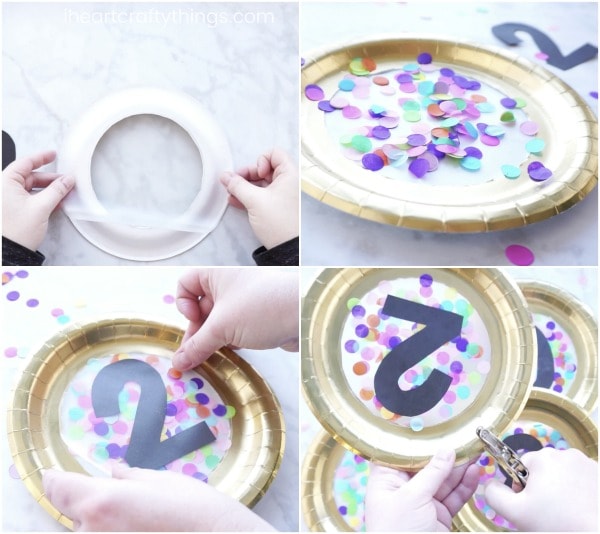 5. Turn your paper plate right side up and sprinkle tissue paper confetti on the sticky contact paper circle. Place your number 2 in the middle of the paper plate.
6. Peel the backing off one of the smaller contact paper circles and place it down on the front of your paper plate to seal the confetti and number to the gold paper plate. Continue steps 4-6 to make each number.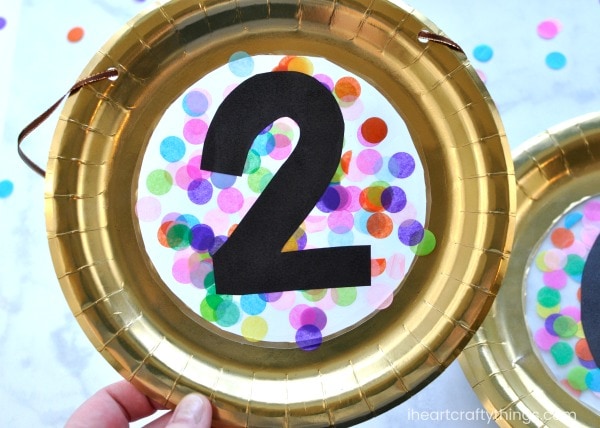 7. Use a hold punch to punch two holes at the top of each paper plate. String the paper plates together to make a New Year's Eve banner.
Your Paper Plate New Year's Eve Banner is complete!
The confetti showing through the clear contact paper gives this pretty New Year's Eve banner a stained glass effect and helps the colorful confetti pop out against the black and gold of the paper plate and number. Hang your colorful New Year's Eve banner in a window or on a wall for a fabulous decoration for your New Year's Eve celebrations.
Here's a fun to use this same technique to create gorgeous Christmas Ornament Banner.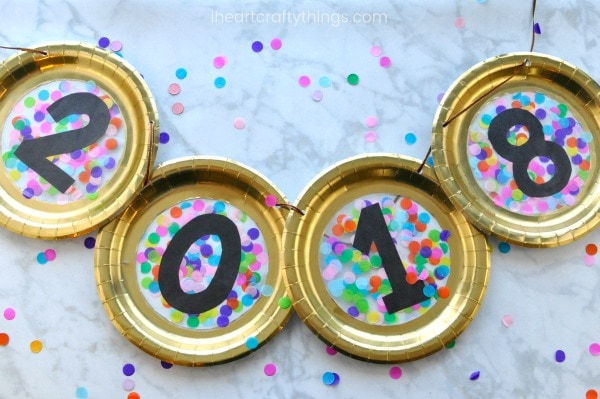 Looking for more New Year's Eve crafting fun?
This New Year's Eve Fireworks Craft is a great art project for kids to make while waiting for midnight. Kids might also enjoy playing with this sparkly New Year's Eve play dough.