Pumpkins are a type of vegetable that certainly have a big presence! They are big and brightly colored, and this certainly helps them to grab attention.
They have also come to be associated with Halloween, as they are carved up each year into spooky jack-o-lanterns.
Learning how to draw a cartoon pumpkin can be more difficult than you may expect, however! They may not have a hugely complex structure, but getting the shape right can be pretty tricky.
The steps in this guide will aim to break it down for you so that you can see just how easy it can be when you know what to do!
With all that said, we hope you have a great time working on this step-by-step guide on how to draw a cartoon pumpkin in just 6 easy steps.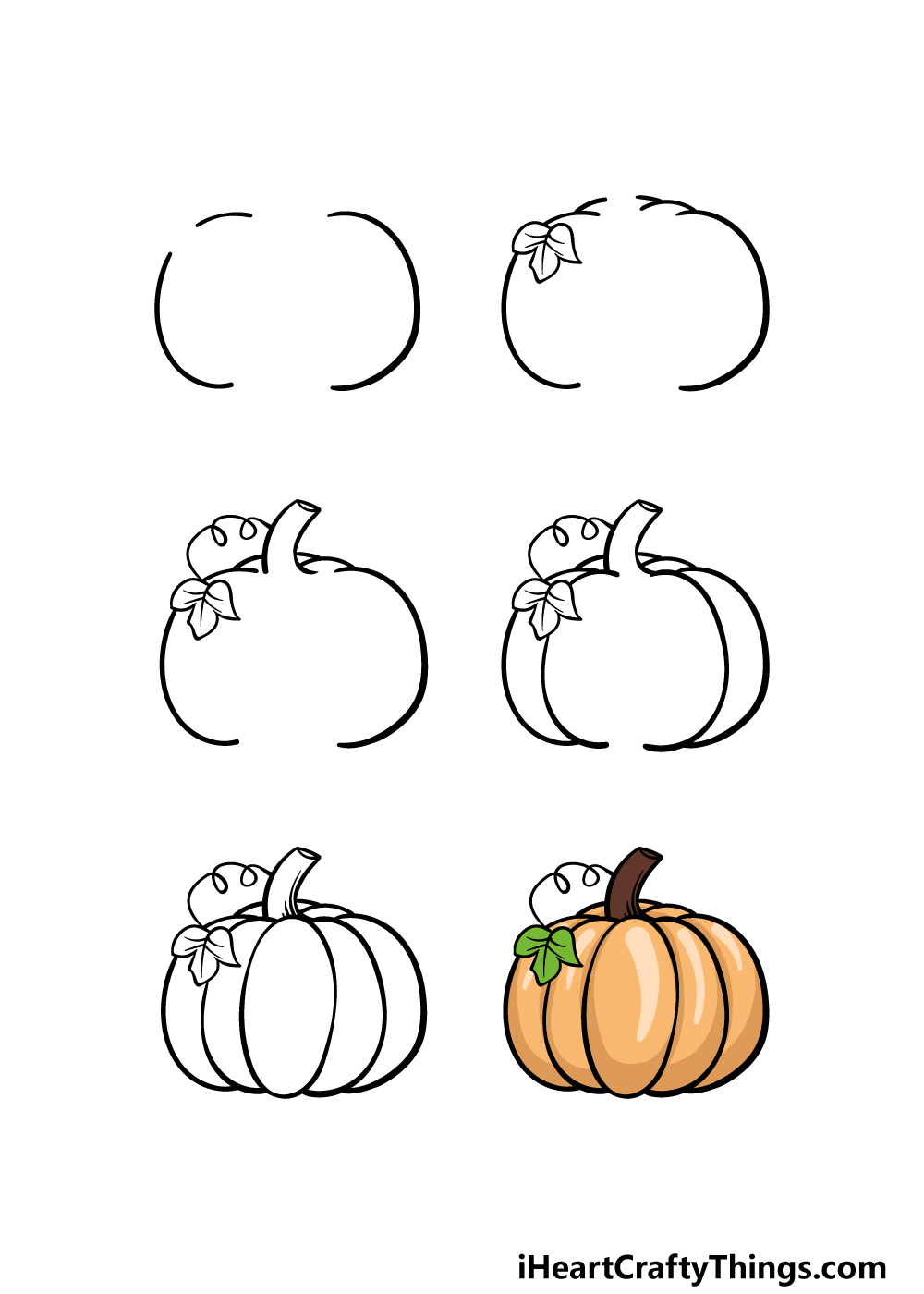 How to Draw A Cartoon Pumpkin – Let's Get Started!
Step 1
The first lines we will be creating for this cartoon pumpkin drawing may not look like much now, but you will see how they fit into the grand scheme of things as we move through the guide.
We will be building the basis from which the outline of the pumpkin will be built later, and we will be doing this with lots of curved lines.
There will be one long curved line on the right, and then there will be two on the left. The upper left one will be smaller while the bottom one will be longer.
Once you have it looking as it does in our reference image, we can move to step 2.
Step 2 – Now, draw some details for the pumpkin
For the second step of this guide on how to draw a cartoon pumpkin, we will be adding some smaller details to the sections you began in the previous step.
First, we will fill the space between the two lines on the left. We will do this using a leaf, and this leaf will have three tips on it.
There will also be a central curved line that has four smaller ones coming off of it.
Finally, you can add some smaller curved lines connecting to one another on the top of the pumpkin. There will be a small space left at the top, and we will fill that in soon.
Step 3 – Next, draw the stalk
It wouldn't be much of a pumpkin without a stalk, so we will add that element now!
The stalk is rather simple to draw. It has curved lines on the sides, with a small oval shape at the top of it where it was cut off.
Before we head on to step 4, you can draw a loopy, twisty line coming down from the stalk towards the leaf. That's all you need to do for step 3!
Step 4 – Now, draw the sections of the pumpkin
As you will have noticed on real pumpkins, they are separated into several different sections, and we will be doing the same for your cartoon pumpkin drawing.
Adding these sections should be easy enough to do, and for now we will be adding two lines to start them off.
These two lines will extend down from the base of the stalk that you drew, and they will be a mirror image.
The one on the left will go behind the leaf, and the one on the right will have no such obstructions.
Once you have drawn these lines, we will add the final sections and details in the next step of the guide!
Step 5 – Add the final details to your drawing
This fifth step of our guide on how to draw a cartoon pumpkin will see you adding the final section of the pumpkin. To do this, we will be drawing a vertical oval shape at the center of the pumpkin.
This will go between the two lines you drew in the previous step, and it will also fill in the space left under the stalk.
You can then finish off with some simple curved lines on the stalk, and then you can add some of your own details!
There are so many ways that you could put your own spin on this image. Drawing a background is a great way, and creating a Halloween setting would be the obvious choice.
Just that theme alone presents so many opportunities, but there are many other themes you could choose!
What do you think you will choose to finish off this drawing before we color it in?
Bonus: Add More Food To This Cartoon Pumpkin Drawing
In this guide on how to draw a cartoon pumpkin, we focused on just this one vegetable. If you're feeling extra creative, you could have some fun adding some other kinds of food!
There are so many options for how you could do this, and you could get really creative with it. The obvious option would be to add some more vegetables to the scene.
These could be vegetables that are similar to the pumpkin, or you could go for entirely different ones. They could be drawn as they would grow naturally, or you could show them prepared and cooked.
Adding other things like fruits and different kinds of food would work as well. In a later step, we talk about creating a scene for this cartoon pumpkin drawing.
If that is something you're planning on doing later, then you could work any additions that you like into the scene. So for instance, if you were making a Thanksgiving food spread, then they could all be a part of the meal.
It would be a great way to show off what Thanksgiving dinner looks like in your house if you celebrate that. It doesn't need to be themed to the holiday if you enjoy eating pumpkin just in general!
If you need help drawing these additional items of food, you could look up some images online and use them to guide you as you draw. If you happen to have them in your house, then you could use the actual objects to draw from.
These are a few ideas to get you started before you start coloring in the final step. After that step, we have a few more ideas for how you can build the scene, so definitely look out for those!
Step 6 – Finish off your drawing with color
Pumpkins are well known for their amazing bright colors, and this drawing will be no exception!
We will be using several shades of oranges for the body of the pumpkin, and this helps to sell that bright look they're famous for.
We used various shades of orange to create some shading and the look of light hitting the surface.
Then, we used some bright green for the leaf, and then we added some brown for the stalk. These are the colors we chose, but you can add any others that you think would suit this drawing!
We would recommend using some bright mediums such as colored markers and pens for this one, but it's up to you to decide what you think would suit it best.
Do this to take your cartoon pumpkin drawing to the next level
Make this cartoon pumpkin sketch look even better with these tips to try out!
When you see a real pumpkin patch, you will usually see multiple pumpkins growing. To show this, you could add a few more to this drawing of a cartoon pumpkin.
Now that you have drawn one, you could fill this image with as many more as you like! It could be one or two more pumpkins, or you could show a massive field of pumpkins growing.
How many pumpkins do you think would be needed to complete the scene you're creating here?
Another way of adding some life to this setting would be by adding some other kinds of vegetables or fruits. These could be growing alongside the pumpkin, and you could add any you think of.
This would be a great way to show off all of your favorite natural foods! It would also be a great way of adding some color to the image.
Some tomatoes would add some brightness while cabbages would allow for some light greens. What are some other fruits and vegetables you could add?
Next, there are a few ways that you could make a scene out of this cartoon pumpkin drawing. One would be by adding a background setting.
There are loads of background settings that you could use, and you could take it even further by adding some human characters as well!
Who do you think would be tending to this pumpkin you have created?
Pumpkins are often associated with Halloween, so you could add a spooky twist to this cartoon pumpkin sketch. First, you could begin by turning it into a jack-o-lantern design.
Once that is done, you could show where this spooky pumpkin is. It could be on the porch of a house with other Halloween decorations or maybe somewhere scary like a graveyard or a haunted house.
What are some other ways that you could add a Halloween touch to this artwork that you have created?
Your Cartoon Pumpkin Drawing is Complete!
The pumpkin is a really famous vegetable, and we hope that you had a great time recreating it in this guide on how to draw a cartoon pumpkin!
The simplicity of a pumpkin's body can make it seem easier to draw than it often can be, so the steps in this guide were designed to make it easier and even more fun.
Now you can add your own details, background elements and color choices to make it even more personalized and awesome!
When you would like to try out a brand new drawing challenge, you can check out our website for many more drawing guides to enjoy. We have more coming soon, so keep checking in to never miss out!
It would be great to see your finished cartoon pumpkin drawing, so please share it on our Facebook and Pinterest pages. We can't wait to see how it turned out!