When it comes to getting from point A to point B, you have many options for getting yourself where you need to go in speed and style!
For many people, motorcycles are the best vehicles that you can choose for this purpose, and many people rely on them for transport and fun every day.
They can be really difficult to draw, however, and learning how to draw a cartoon motorcycle isn't much easier!
While it is a challenge, it can be made much easier when you have the right steps to follow, and that's what we're here to provide for you.
This step-by-step guide on how to draw a cartoon motorcycle in just 8 fun, easy steps will help you to overcome this drawing challenge!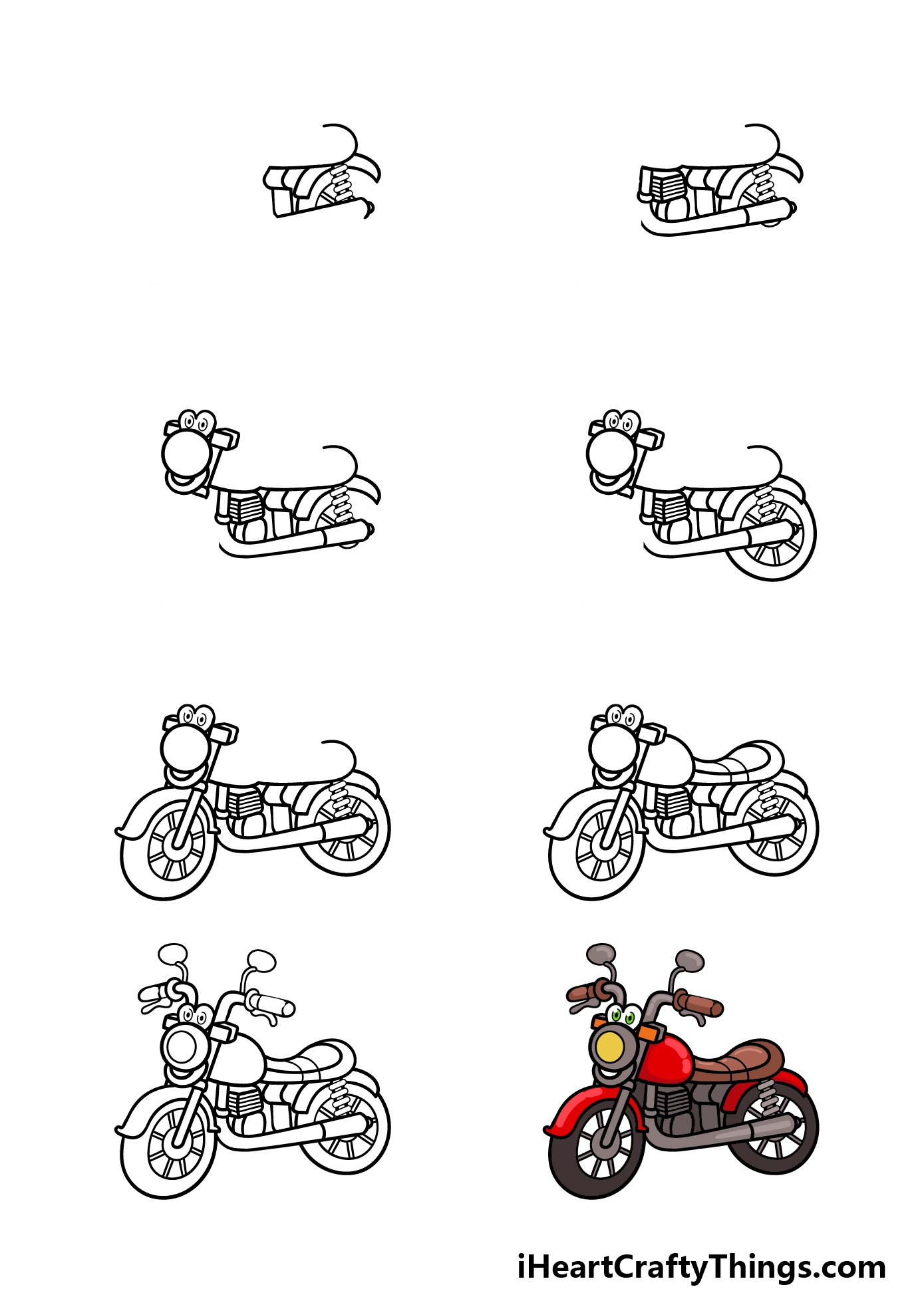 How to Draw A Cartoon Motorcycle – Let's get Started!
Step 1
While learning how to draw a cartoon motorcycle can be rather challenging, as long as you closely follow the images we provided you will see that it can be made much easier!
For now, we will focus on the back portion of the cartoon motorcycle, and there are lots of smaller details to add even in this smaller portion.
We will be using mainly curved lines with small, thin shapes at the back for the spring of the suspension. That's all for now, and then we can proceed!
Step 2 – Next, draw the next section of the cartoon motorcycle
This next part of your cartoon motorcycle drawing will be focused on adding some more details to the engine and underside of the motorcycle.
There are more small details to draw in this section, but you can make these ones easier as well as long as you go slowly and closely follow the reference image!
Once you have drawn these curved details, we can move on to the next step of the guide.
Step 3 – Now, draw some eyes for this cartoon motorcycle
We aren't just drawing any motorcycle in this guide, as this one will have eyes and a face to finish off the fun design!
To begin this face, you can begin by drawing a circle for the 'nose' of the face that will also serve as the headlight. Then, draw some rounded eyes on top, and then add some large dots for the pupils.
Finish off by drawing some rounded lines for the mouth beneath the light, and then we can proceed.
Step 4 – Next, draw the back wheel
A motorcycle won't get far without some wheels, so we shall start adding them in this step of our guide on how to draw a cartoon motorcycle.
To do this, draw some circular shapes for the outline of the wheel. Then, add some small, thin shapes for the spokes inside the wheel.
Once that back wheel is drawn, we will then draw the front wheel in the next step.
Step 5 – Now, draw the front wheel
As we mentioned in the previous step of this cartoon motorcycle drawing, this step will be focused on drawing the front wheel of the bike.
This one will look very similar to the back wheel, except the rubber portion will be slightly wider.
There will also be a mudguard drawn with some curved lines above it. With both wheels drawn, we can move on to the next step!
Step 6 – Finish off the seat of the cartoon motorcycle
Soon, we can finish off the final details of this drawing in the next step, but first we will draw the seat of the motorcycle.
As you can see in our reference image, this will have a curve near the front and will have curved line details going across it.
Then, we can move on to those final details we mentioned!
Step 7 – Next, finish off the final elements of this cartoon motorcycle
Soon, you will be ready to add some colors in the final step of this guide on how to draw a cartoon motorcycle, but first we will finish off the final details of the drawing.
First, we will keep things simple by drawing a circle at the front of the bike for the light. Then, we will use some curved lines with some handles at the ends for the handlebars.
Finish off by drawing some small mirrors on some thin curved shapes for the mirrors, and then you're done!
You could also draw a background or add some extra fun details to take this drawing even further, so be sure to have fun getting creative with it!
Step 8 – Now finish it off with some color
You've finished the hardest parts of this cartoon motorcycle drawing, and now you can have some fun coloring it in!
This is a step where you can really show off your incredible creativity as you choose your favorite colors for this image.
In our reference image, we showed you just one way that you can go about coloring this fun cartoon motorcycle.
While you could also go for these colors, you can definitely have some fun experimenting with your own colors and mediums.
What will you choose to finish off this great drawing?
3 More tips to make your cartoon motorcycle drawing easy!
These tips for your cartoon motorcycle sketch will make completing it a smooth ride!
Even though this drawing of a cartoon motorcycle is done in a fairly simple cartoon style, it still has some intricate details.
You could make these details easier to draw by making the motorcycle even simpler.
There are a few different kinds of cartoon styles you could use to portray this cartoon motorcycle. Or, you may prefer to make it more realistic!
It would depend on your own drawing preferences when deciding what kinds of styles to use for this cartoon motorcycle.
Do you have any drawing styles that come to mind when it comes to adapting this cartoon motorcycle?
If you are struggling with this cartoon motorcycle drawing, you could maybe make it a bit easier on yourself by incorporating it into a larger image. This would be useful as some of the attention would be taken off the cartoon motorcycle.
For example, maybe there could be a cartoon person sitting on the cartoon motorcycle as they ride it along a street. It would mean a lot more to draw, but you would also have less focus on the motorcycle.
That way, there would be less pressure to have it looking perfect. Plus, you would land up with an even more complete and interesting picture to behold!
Finally, you could use a photo of a real bike to help you as you draw this cartoon motorcycle. Even though it is not a realistic portrayal, using a real motorcycle could still be helpful.
If you happen to know someone who owns a real motorcycle, then even better! This real one does not need to look exactly like our design in order to help you.
Different motorcycles may look rather different, but they all tend to have the same general design. You could look up some pictures of real ones if you don't have a physical one to look at.
Doing this would also allow you to turn this design into a brand of motorcycle you like!
Your Cartoon Motorcycle Drawing is Complete!
At the beginning of this guide on how to draw a cartoon motorcycle, we mentioned that drawing a motorcycle is a notorious challenge in the best of times.
Our hope is that the steps in this guide helped to show you that it can not only be easier but even more fun than you expected!
Learning how to draw it is just a part of the fun, however. Now you can take this to the next level by adding your own fun details, background elements and other fun ideas to really finish it off.
We gave a few suggestions for this, but what else can you think of to really put your own spin on this image?
If you enjoyed conquering this drawing challenge, we're sure you will find many more to enjoy on our website!
There are tons of drawing guides with more on the way soon, so keep checking in to never miss out.
We would love to see how amazing your cartoon motorcycle drawing looks, so please share it on our Facebook and Pinterest pages for us to see when it's done!