On this page, you will find 15 all new Candy coloring pages that are completely free to print and download.
Everybody loves candies!
Kids (and even adults alike) will always have a special place in their tummies (and hearts too!) for a good candy! No matter the age, a good candy will always be a good candy.
Candies are sweet, fun, and can be a good source of great activity too!
These colorful and sweet-to-the-taste goodies come in all shapes and sizes. And kids love them! That's why we created these new candy coloring pages, designed for kids and kids at heart, to be downloaded and enjoyed for free!
Download these cute and free candy printables and let kids use their creativity, focus, and color recognition skills all while having fun!
REMEMBER: You can get the COMPLETE set of these coloring pages >> HERE
15 Brand New Candy Coloring Pages – Free to Print and Color
This very cute candy apple is on the first candy coloring page for kids! Candy apples have become popular in recent years because of the complementing taste of the apple and the sugar coating.
The candy apple is looking happy with lots of stars and clouds in its background. This combination of design will surely unleash the creativity of any child!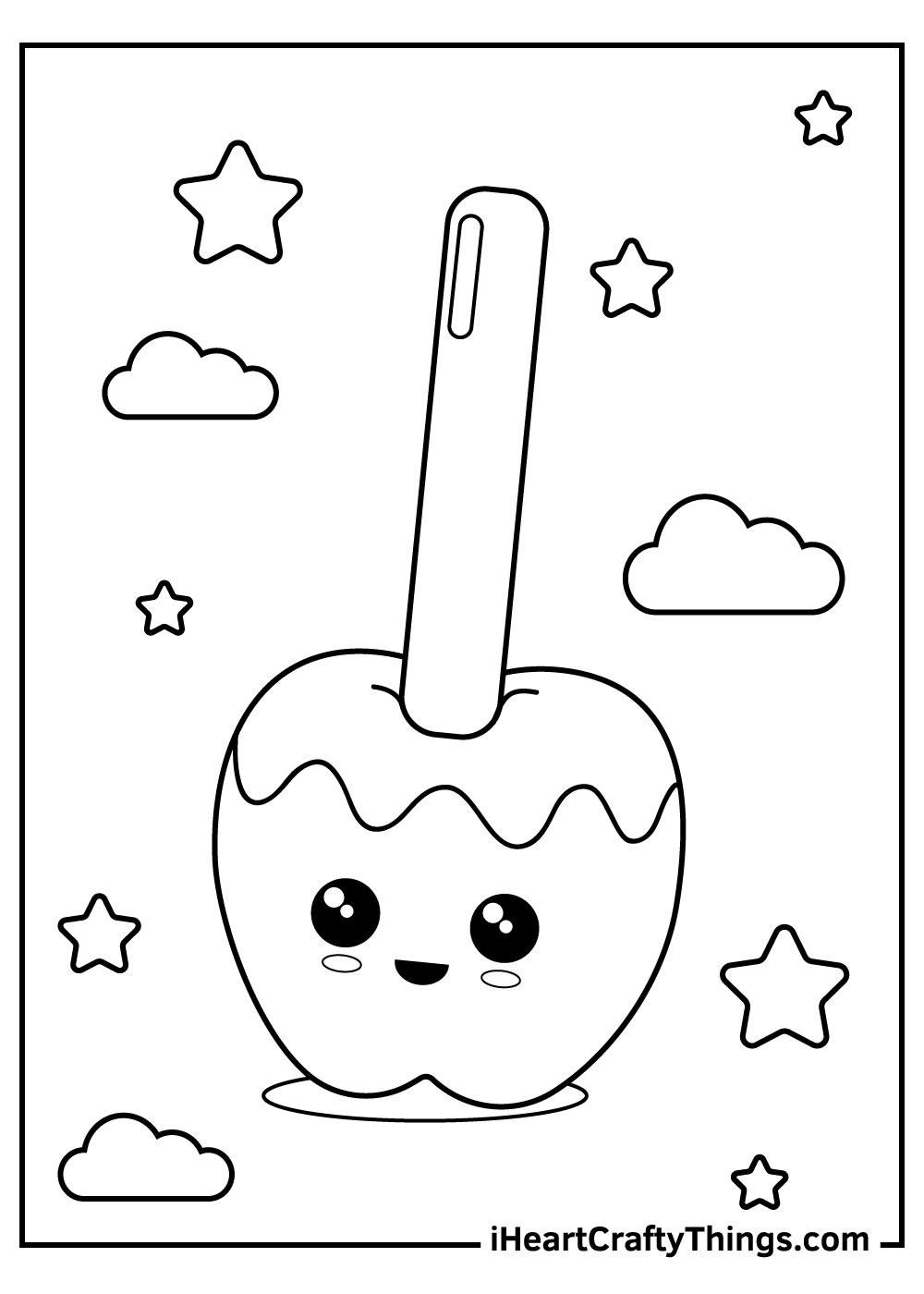 There are three swirling candy lollipops on this second free candy coloring page. This page uses many geometric lines and patterns of circles and triangles.
This printable offers an activity for a kid to determine the colors that would work best as well as an activity to introduce the shapes triangle and circle. It's a simple yet fun way to engage a kid!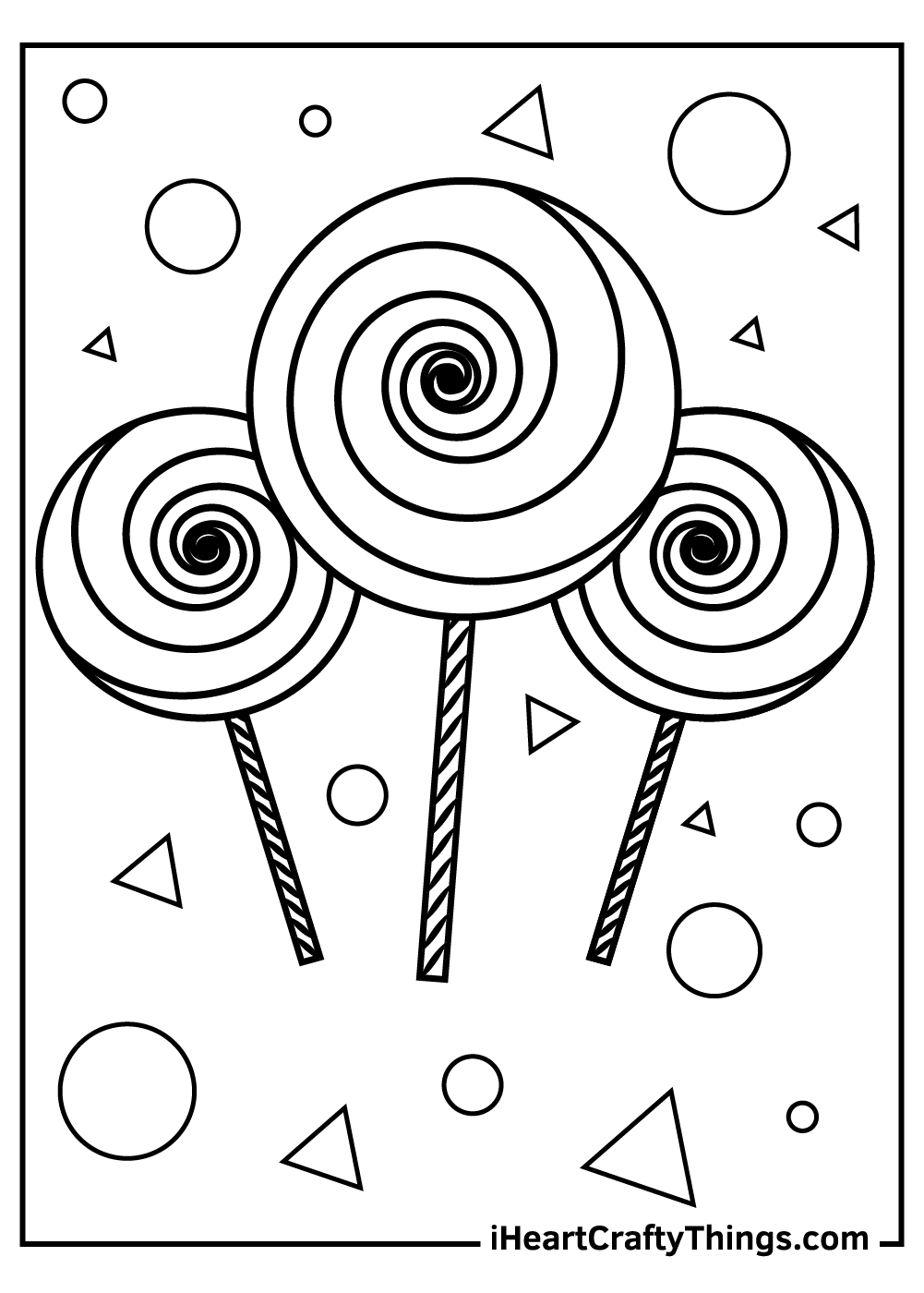 Are you ready for some sweet fun? This candy coloring page features a spiral candy that is sure to make your mouth water.
It has a beautiful swirl pattern with small circles around the edge, giving it a festive and colorful look
This lollipop is waiting for you to color it with your favorite colors. You can use colors like pink, red, yellow, or blue.
You may also want to make it look like a rainbow, or a candy cane, or a chocolate chip cookie.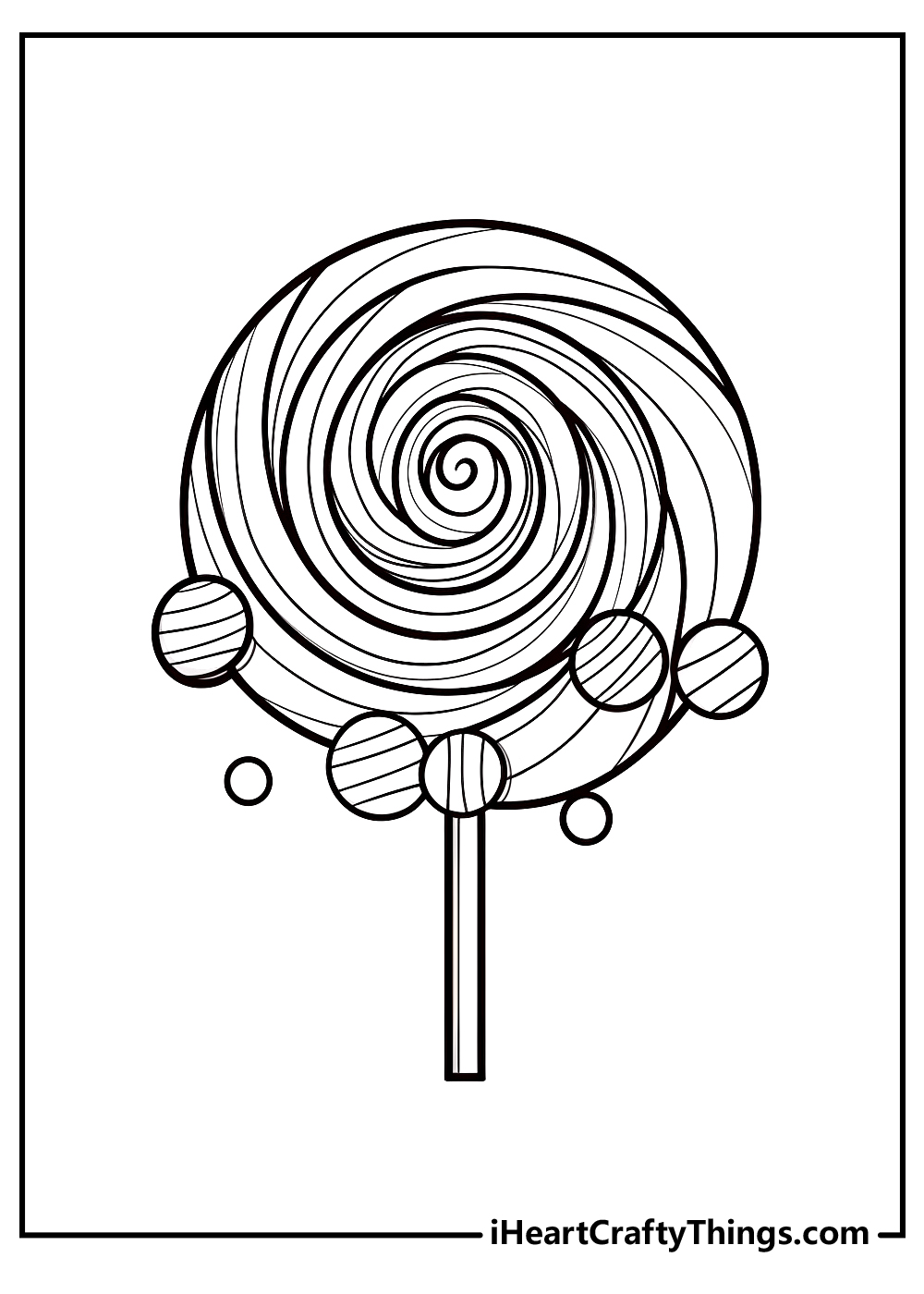 Welcome to the world of candies!
This candy printable highlights the shapes and colors that candies come in. They can be round, rectangular, wheel-shaped, and even star-shaped! Different colors for different candies can also work on this page.
Associating colors with shapes is a good learning activity for kids too! And kids can do that once they get to this candy coloring page.
REMEMBER: You can get the COMPLETE set of these coloring pages >> HERE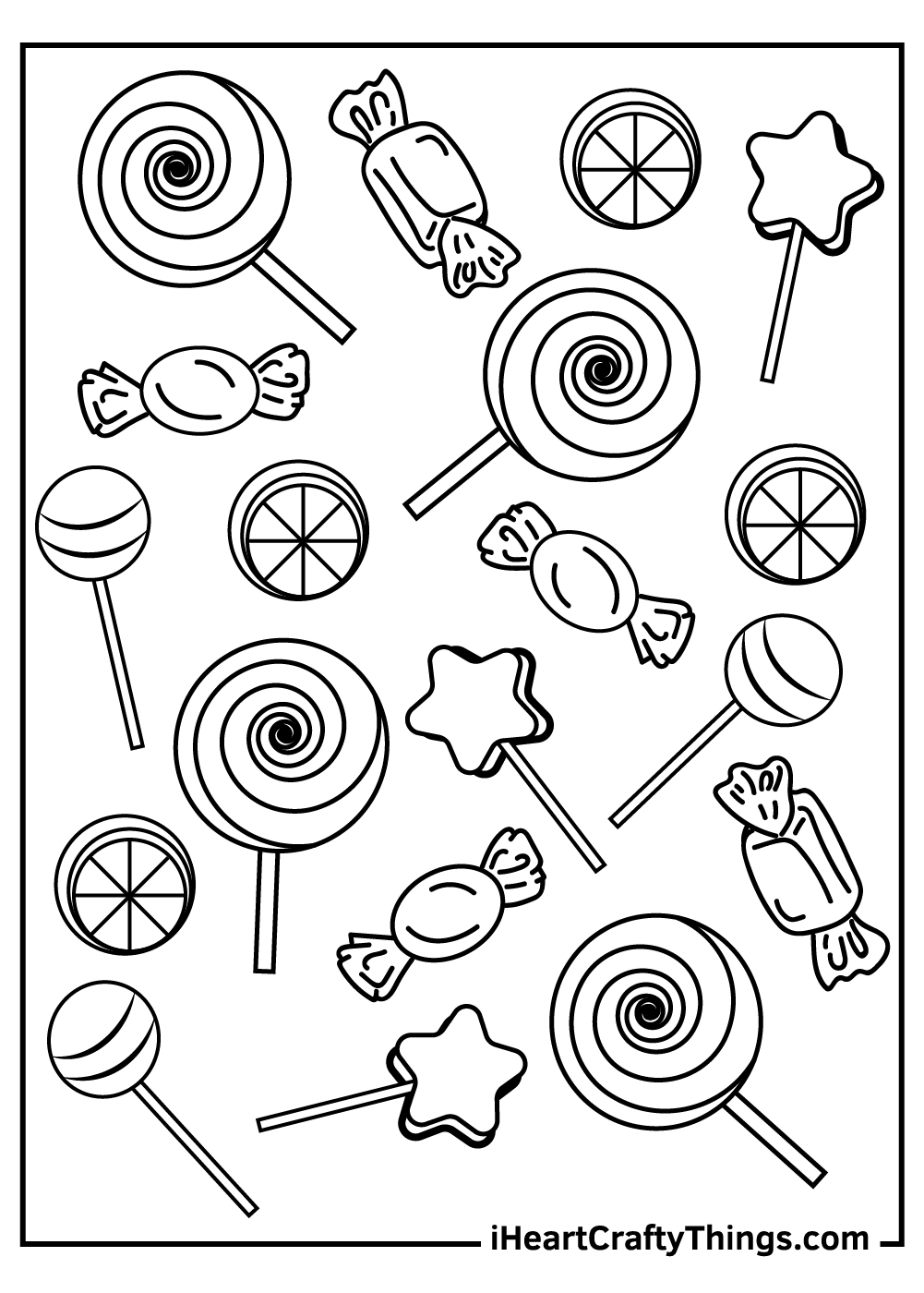 Now is the time to visit candy wonderland.
Take out all the amazing colors you have and use them on this free candy printable. A massive chocolate candy bar with a ribbon on top welcomes you to this page. There is a biscuit fence and behind it are round lollipops of various sizes, some big and some small! And they've all got a ribbon on them.
The sun in the background is also happily smiling and welcoming all guests to candy wonderland.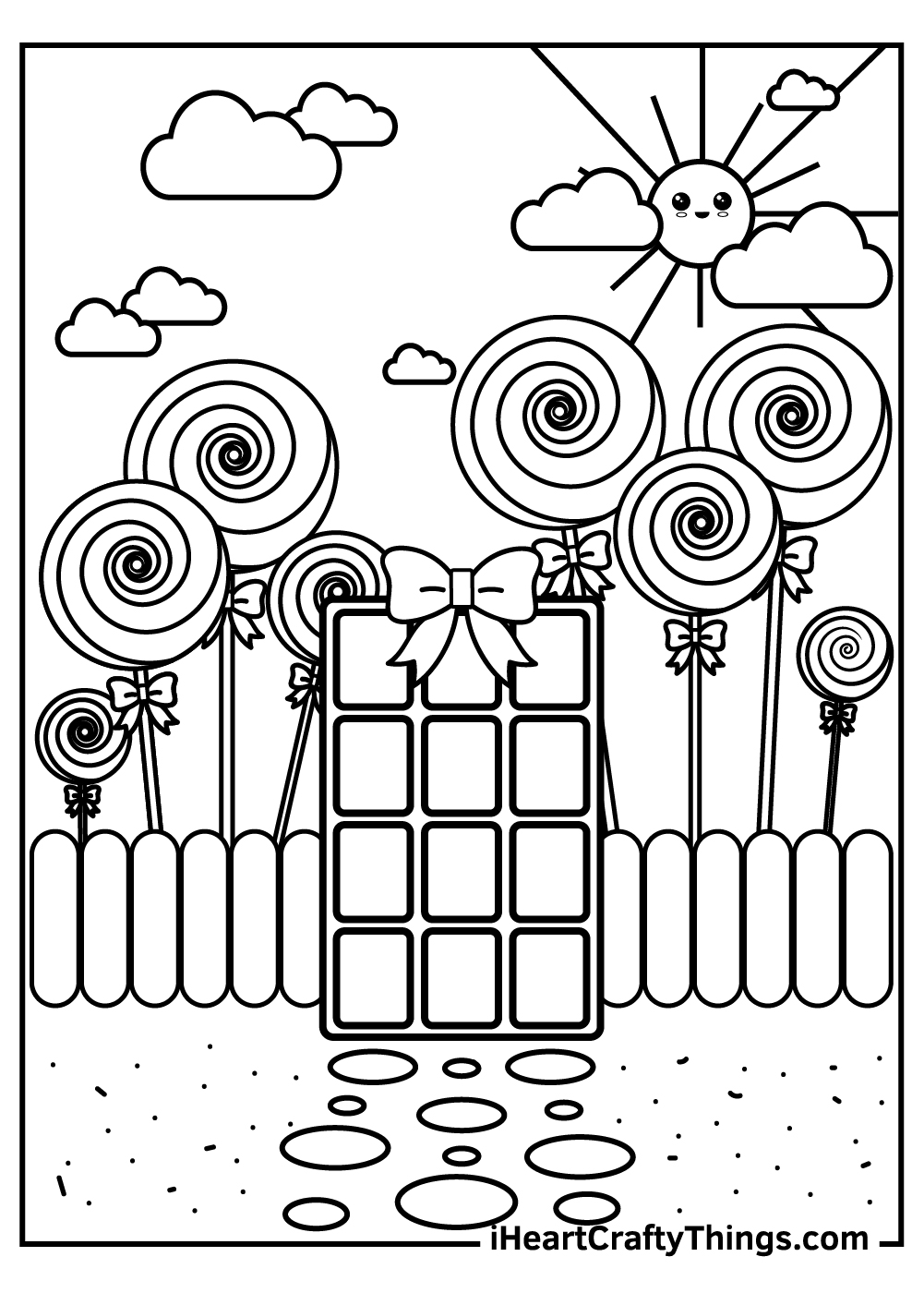 Next, we have a bucket of candy overflowing with delicious treats. It looks so tempting and fun to color.
You can use bright and bold colors, or soft and pastel colors. You can also color the bucket and the background to match the candy theme.
Solid colors, patterns, gradients, or textures can also help to make them more interesting. You can even add some extra details to the bucket, such as stickers, ribbons, or labels.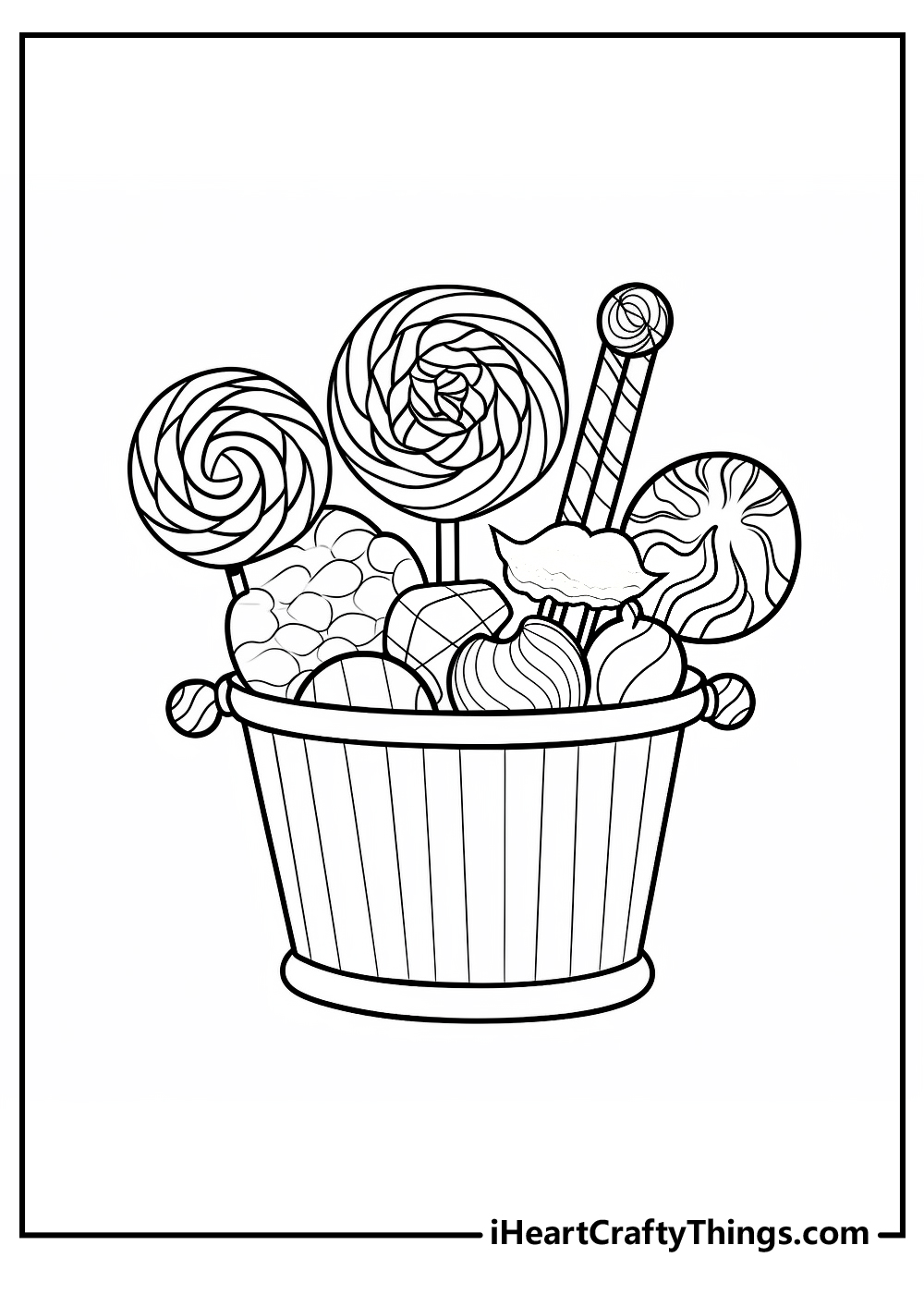 A gumball machine candy will always put a smile on a kid's face!
The iconic machine candy on our candy coloring pages is sure to bring in lots of fun. Stars are also included on this page.
And while it's enjoyable to color this page, a child's attention to detail and focus will also be a great help in this coloring activity!
For the gumball candies, you can try choosing different colors or stick to a single color – it all depends on you! The stars can also be in different colors. What do you think?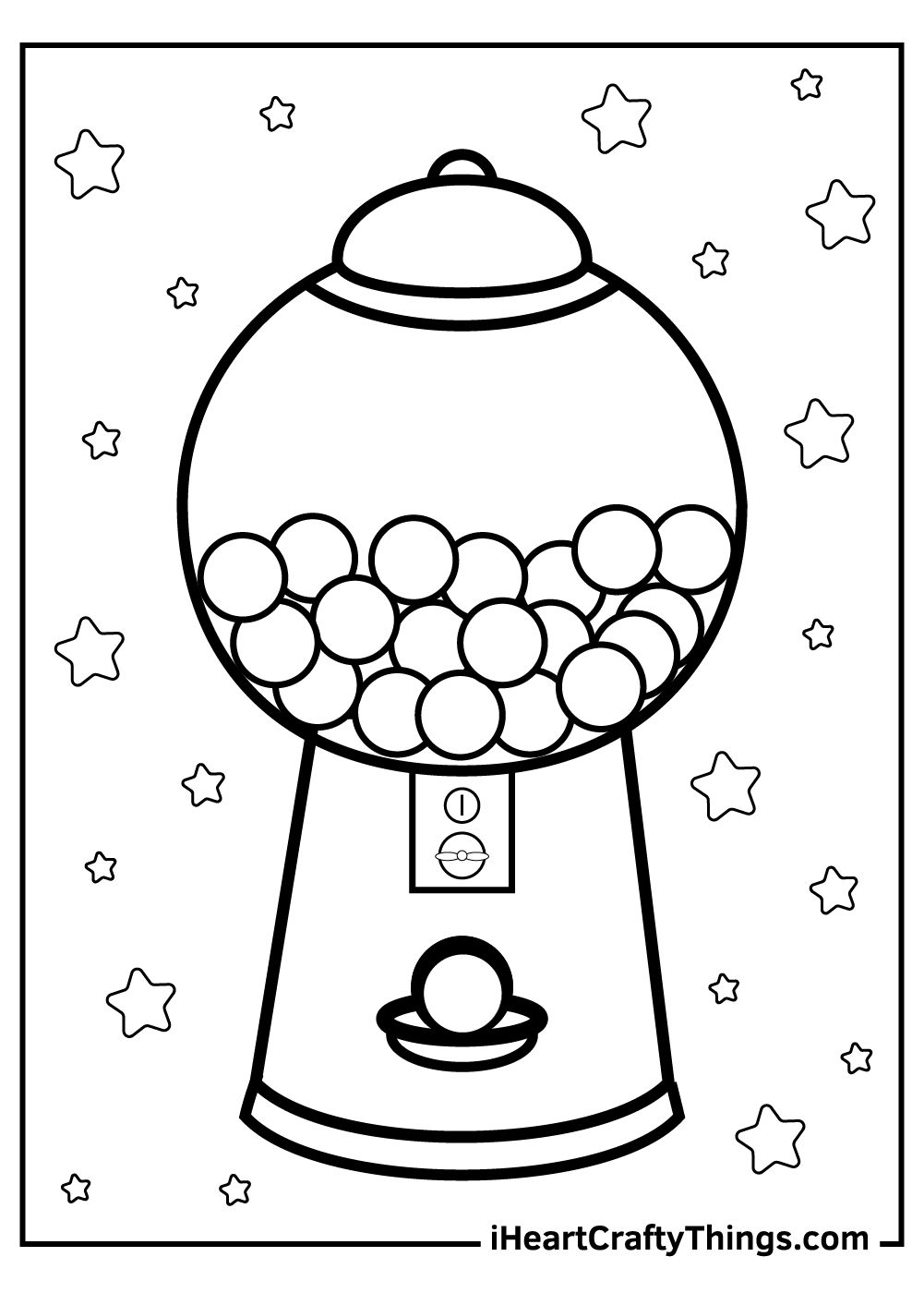 This free coloring page for kids is a cotton candy cloud island filled with cute different lollipops!
There is a round lollipop, a pinwheel lollipop, a heart-shaped lollipop, and even a flower lollipop!
Kids will surely enjoy playing around with vibrant colors on this one!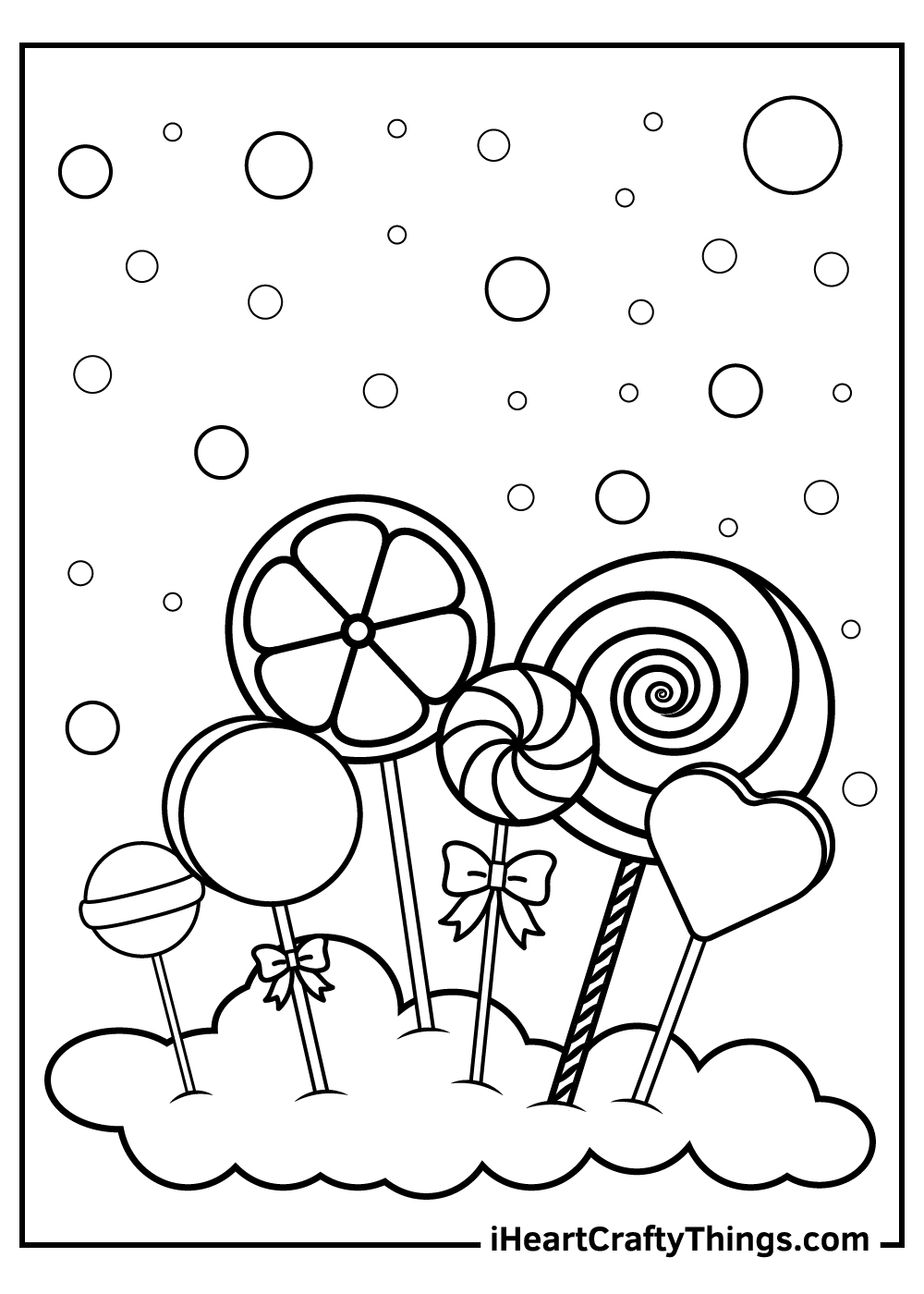 These three candies are ready to be colored by you. The main attraction is a huge swirly lollipop in the center.
Color it like a candy galaxy with pinks, purples and blues! Add colorful stars and planets for an intergalactic look.
Flanking the sides are two smaller candies ready for your creative touch. One is a striped candy cane, perfect for red and white or your own crazy color combos.
The dotted one can become any flavor you imagine. Strawberry, lemon, or even pizza flavored – you decide!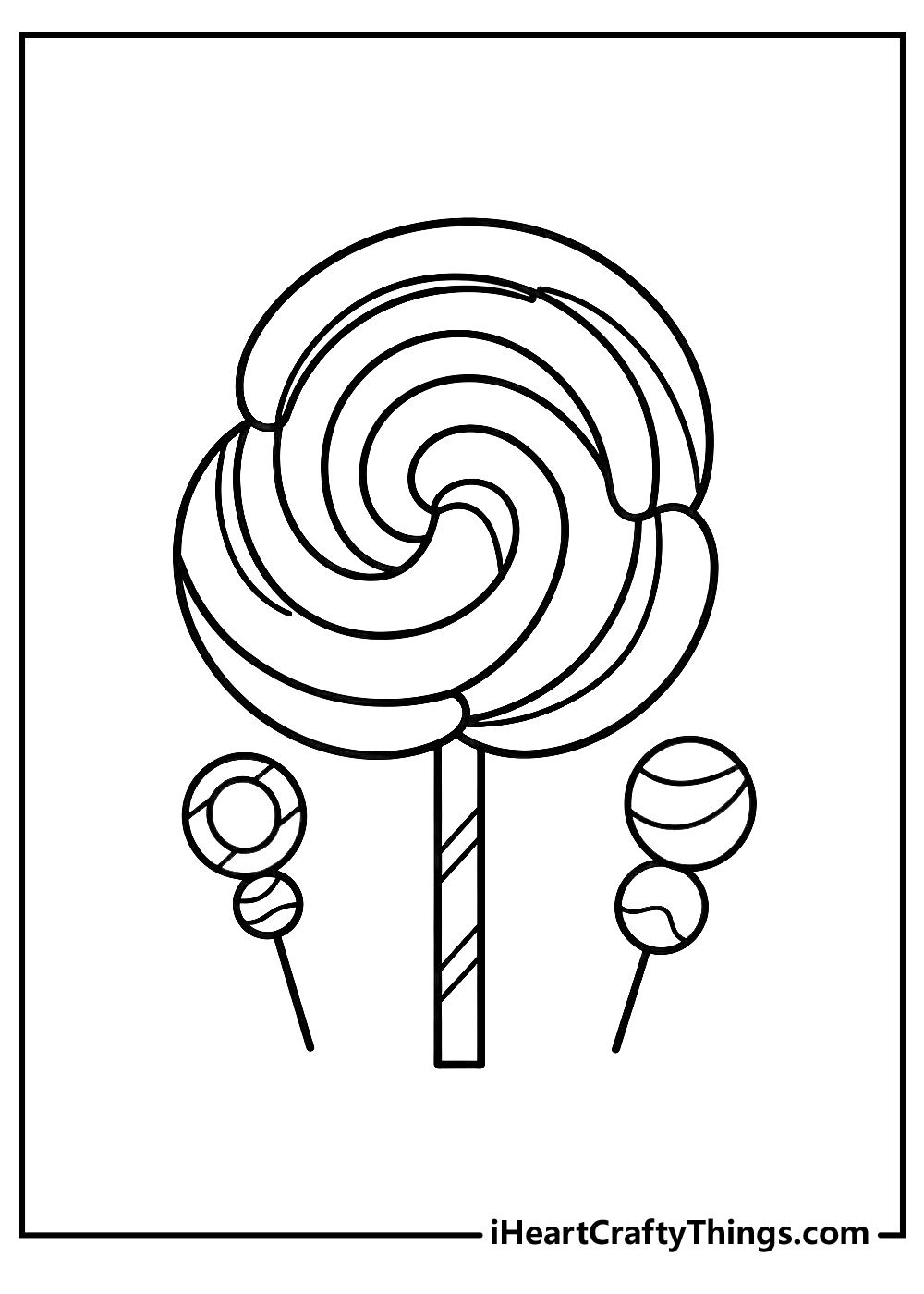 Our candy coloring pages offer cute and fun candy characters that kids can enjoy coloring like shown here on this free printable.
This page showcases a cute and smiling chocolate bar. She looks happy and contented as hearts filled the page as well.
What colors do you think would match well on this cute page?
REMEMBER: You can get the COMPLETE set of these coloring pages >> HERE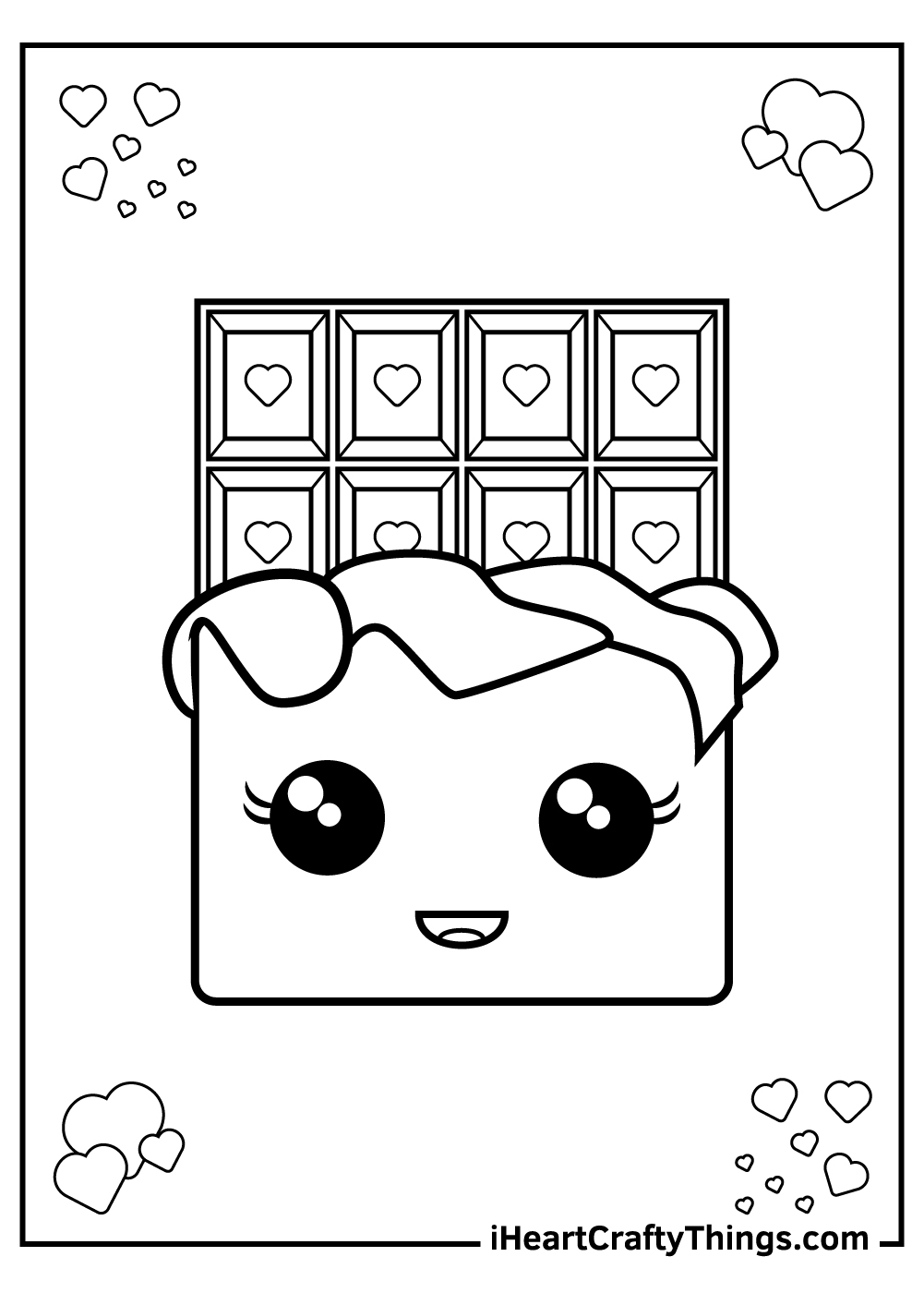 This candy coloring page features a yummy candy. It looks so whimsical and fun to color. You can see four lollipops on the stand, each with a different shape and size.
The largest one is in the center has lots of intricate patterns that would be really fun to color. The other three are smaller and have round, striped, and dotted patterns.
You can color these candies with any colors you like, but we suggest using bright and cheerful colors to reflect the festive mood of this occasion.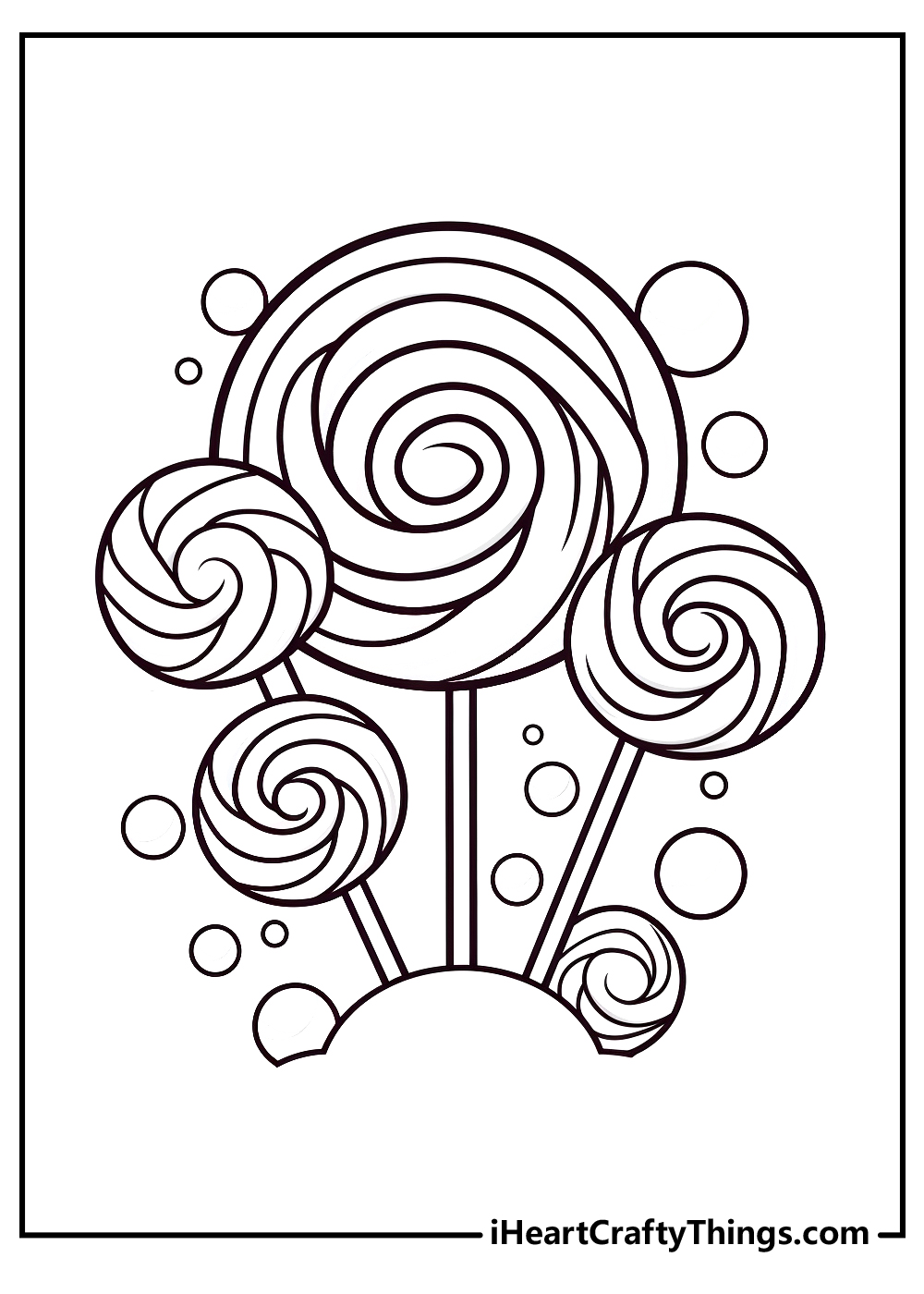 Get ready to activate a kid's motor skills and focus on this free candy printable.
On this coloring page is a massive candy swirl illustration. Small swirl candies are scattered all over the page – creating an illusion.
Download this free candy printable if you want to test a child's focus and coloring techniques. But don't forget to enjoy yourself and have fun!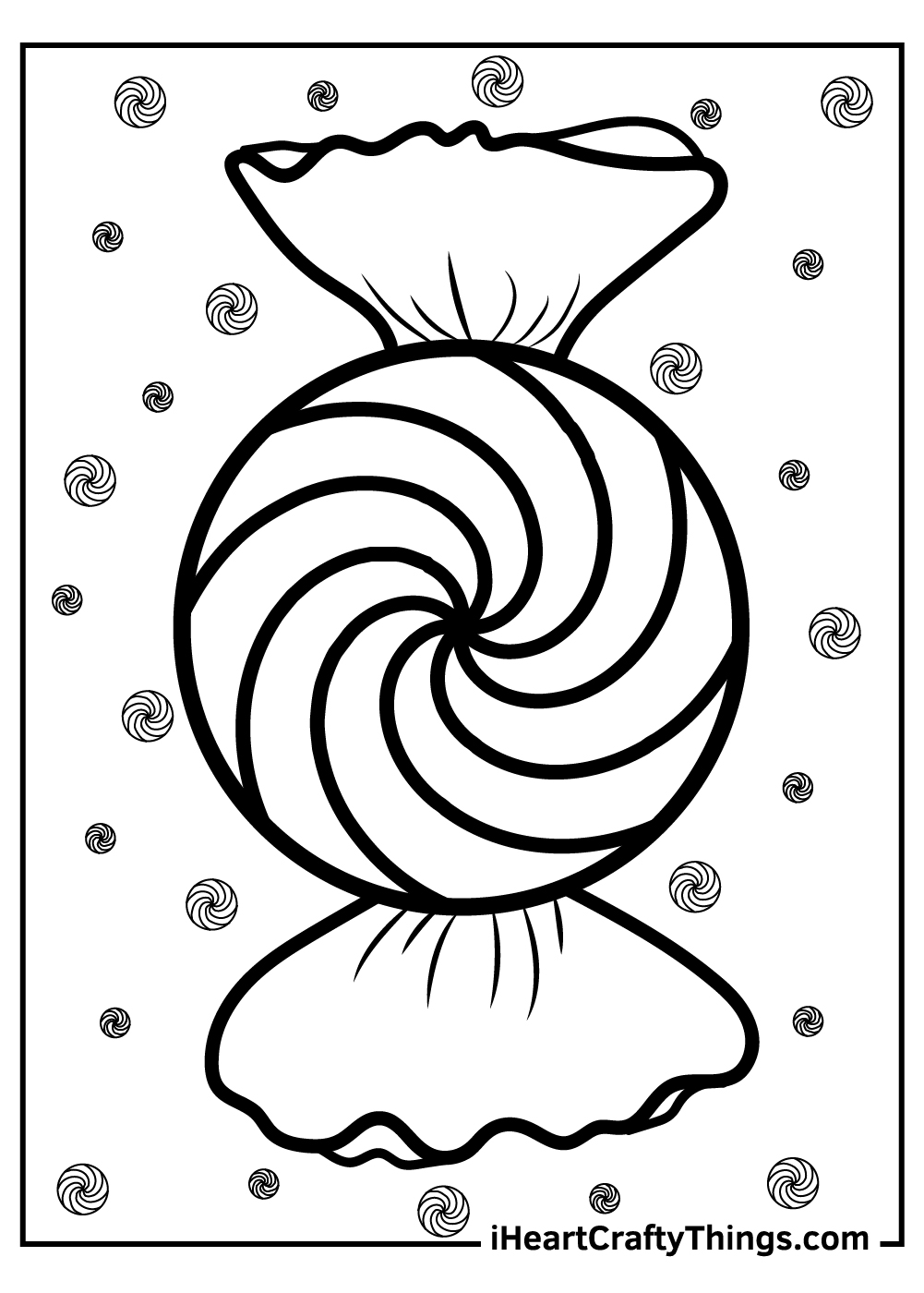 This vase of flowers and candy is a delight to the eyes and mouth. Practice your coloring skills by mixing bright shades for the candies.
Add some rainbow candy like yummy gumdrops and lollipops throughout the bouquet.
The possibilities are endless when coloring the vase and background too. Make the vase pink polka dots or swirling tie dye.
The background could be rainbow stripes or solid gold – you can experiment as much as you want.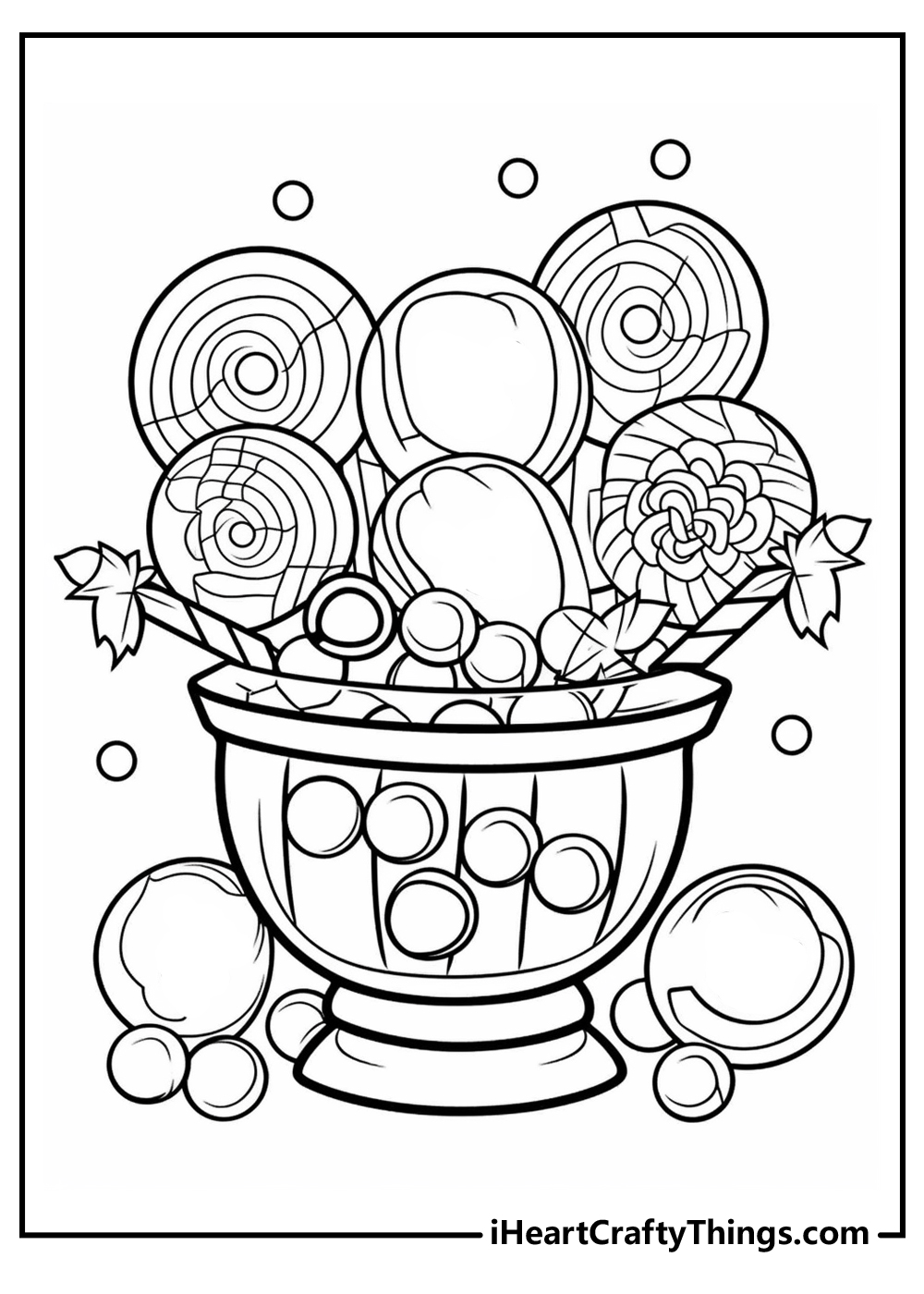 Candies are sweet and what other thing to related candies with than with another sweet thing – love.
This printable is filled with candy hearts with words true love, one love, be sweet, miss you, be true, my love, be good, it's love, forever, and love!
Kids will surely enjoy and be comfortable coloring this free candy coloring page.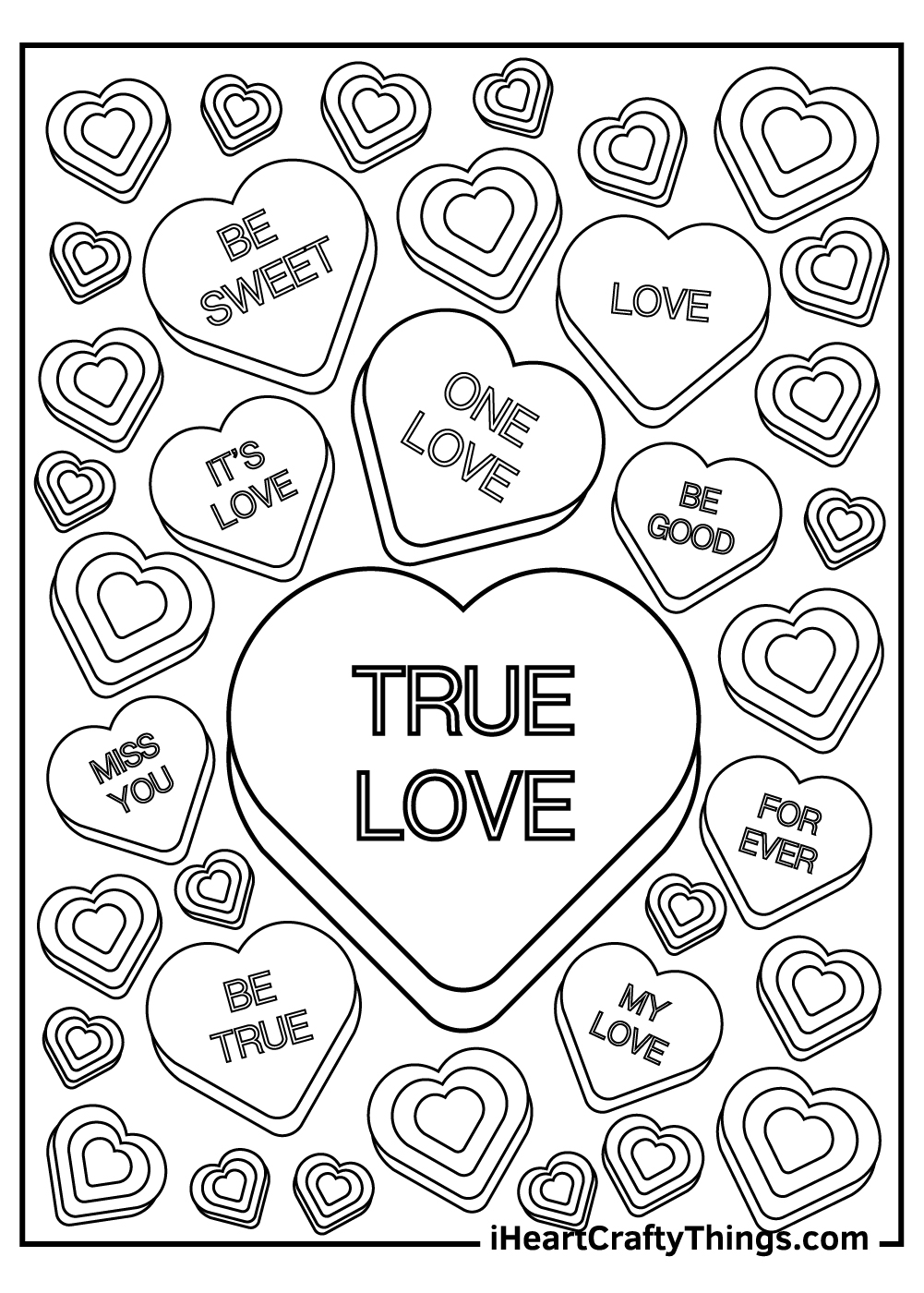 The last page of our candy coloring pages is nothing short of fun and exciting!
It's a candy house filled with different types of goodies – lollipops, candies, biscuits, and chocolates! Harness your coloring skills with this printable.
Choose colors that blend well with the different shapes here. You can try mixing and matching vibrant colors or stick to more neutral colors.
Don't forget to have fun!
REMEMBER: You can get the COMPLETE set of these coloring pages >> HERE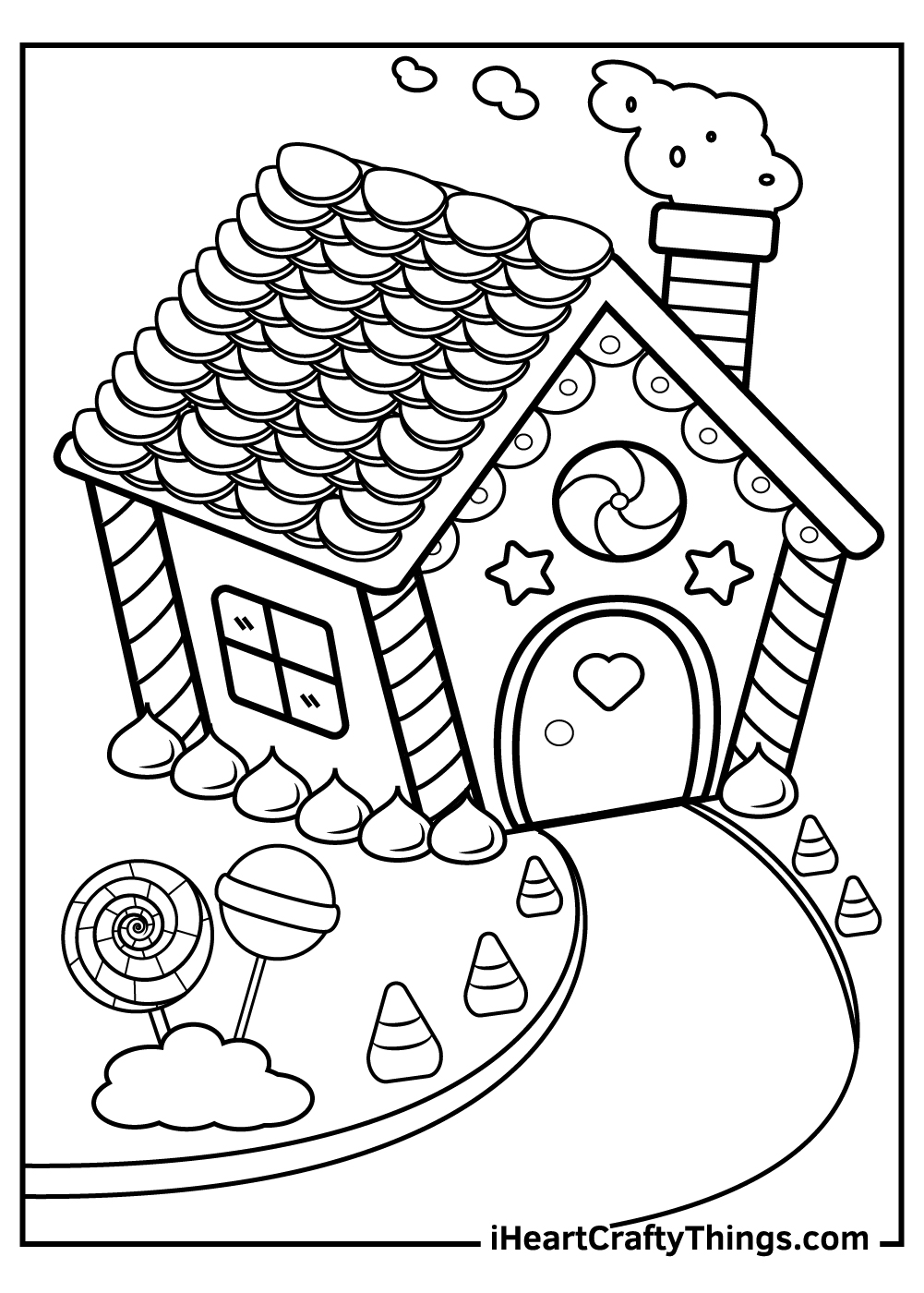 Candy Coloring Pages – Cute and Easy-to-Color Free Printables
Candies will always be a part of our lives. They come in all shapes, sizes, and colors! Some are made from candies, chocolates, or biscuits. And they seem to make everything else better.
We know how much kids love candies! And what a great way to introduce colors and other skills to a child than by starting at what they already love, right?
We created all these cute and easy-to-color free candy printables for kids of all ages (even kids at heart!) to make sure you get to enjoy doing this activity.
How did your candy coloring pages turn out? Let us know by posting it on our Facebook page. We would love to see your cute and colorful works!
If you want to see more coloring pages that are free, fun, and easy to color, you can keep checking back or explore our other pages. We have tons of different themes that kids and adults can enjoy.