On this page, you will find 15 all new Banana coloring pages that are completely free to print and download.
A banana is an elongated, edible fruit—botanically a berry—produced by several kinds of large herbaceous flowering plants in the genus Musa.
In some countries, bananas used for cooking may be called "plantains", distinguishing them from dessert bananas.
Fruits are undeniably fun to color because of their vibrant and rich colors. The sweetness and appealing appearance of bananas have made it one of our reader's favorite subjects to color.
Thus, we have created and compiled 10 brand-new bananas coloring sheets that you can enjoy with friends and family.
Bananas can either be green or yellow in color, depending on its ripeness. You can opt to color them exactly how they look like or use a customized set of colors!
Feel free to mix and match colors to your liking! Why not try experimenting with different coloring materials as well?
Have fun and use your imagination to make these bananas colorful!
REMEMBER: You can download a COMPLETE set of these coloring pages >> HERE
Bananas Coloring Pages — 15 Fun Printable Sheets
There are so many bananas in this bananas coloring page. Different colors might look great here, so which colors will you use in each of them? Or will you use the typical "yellow banana" color only?
We can't wait to see you finish your masterpiece for this coloring page here!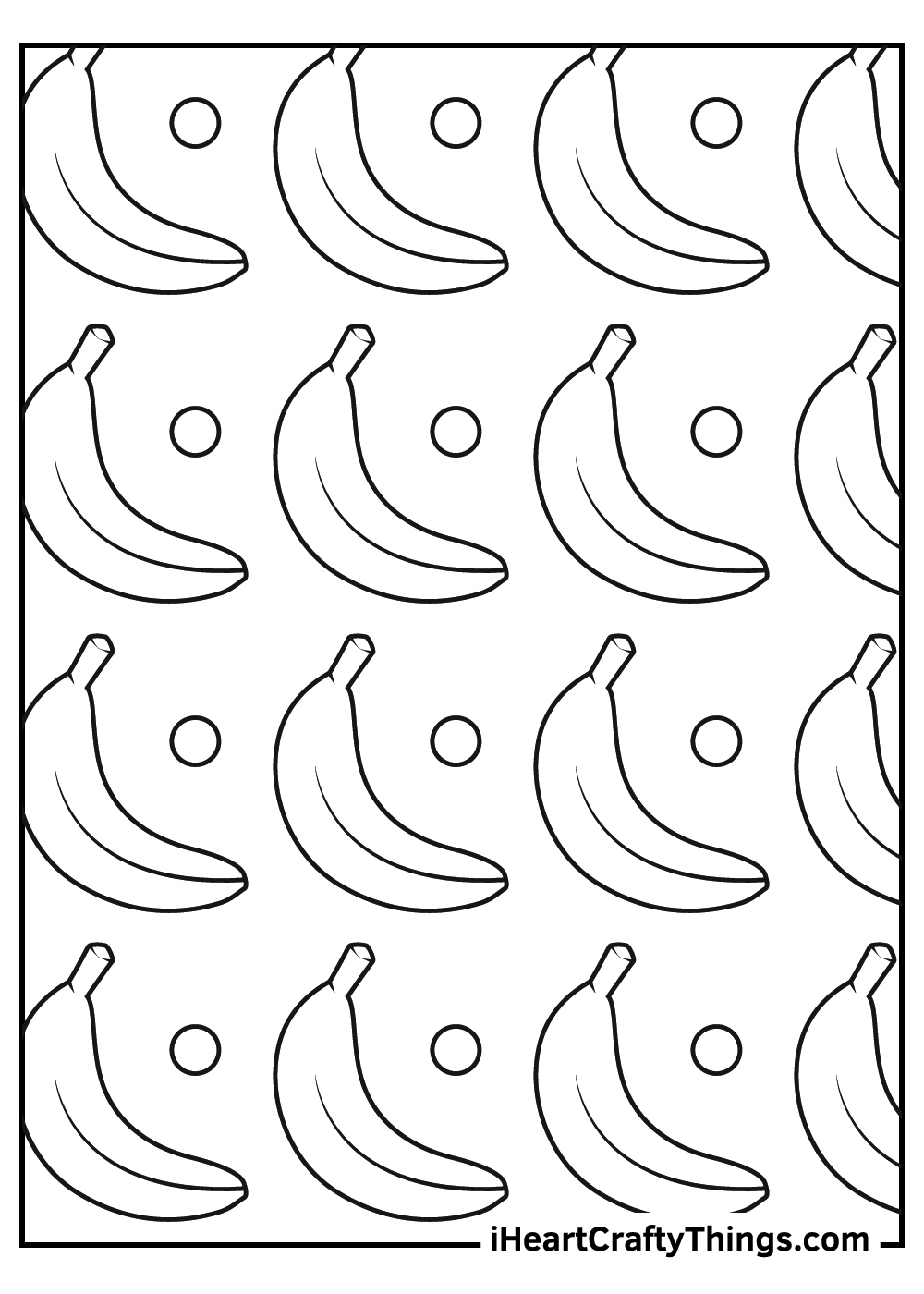 Are you ready for some more fun with bananas? We have a special treat for you today: a banana with a personality!
This coloring page shows a delicious and nutritious, and also very friendly and cheerful. Look at that big smile on its face! It seems to be very happy and confident.
Did you know that bananas are rich in potassium, fiber, and vitamin C? They can help lower your blood pressure, improve your digestion, and boost your immune system.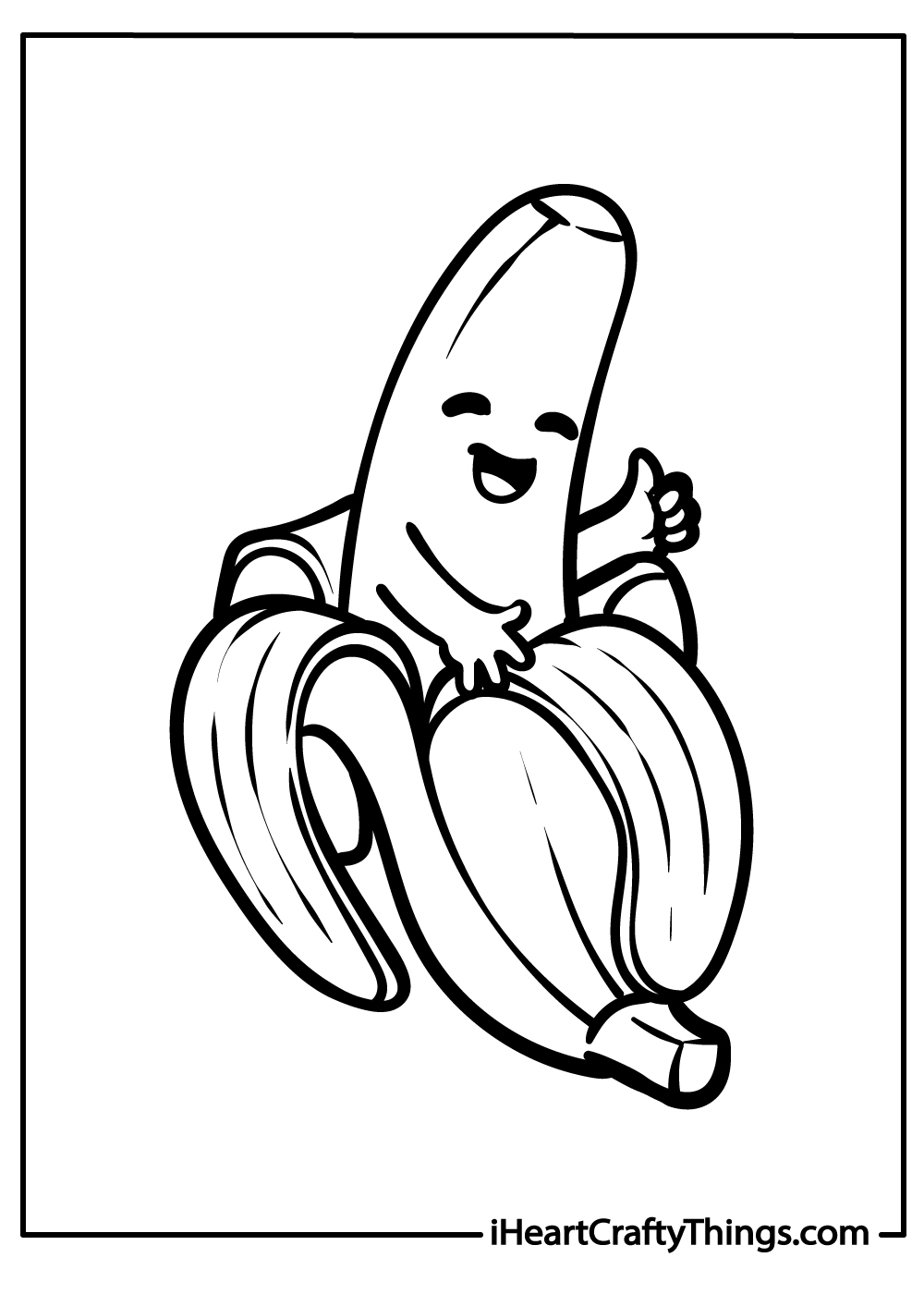 The banana in this bananas coloring page is peeled halfway through and looks really soft, sweet, and of course, delicious!
Here's a fun fact: Did you know that bananas are a common and rich source of healthy B vitamins and other nutrients? They are particularly rich in Vitamin B6 (or also known as pyridoxine)?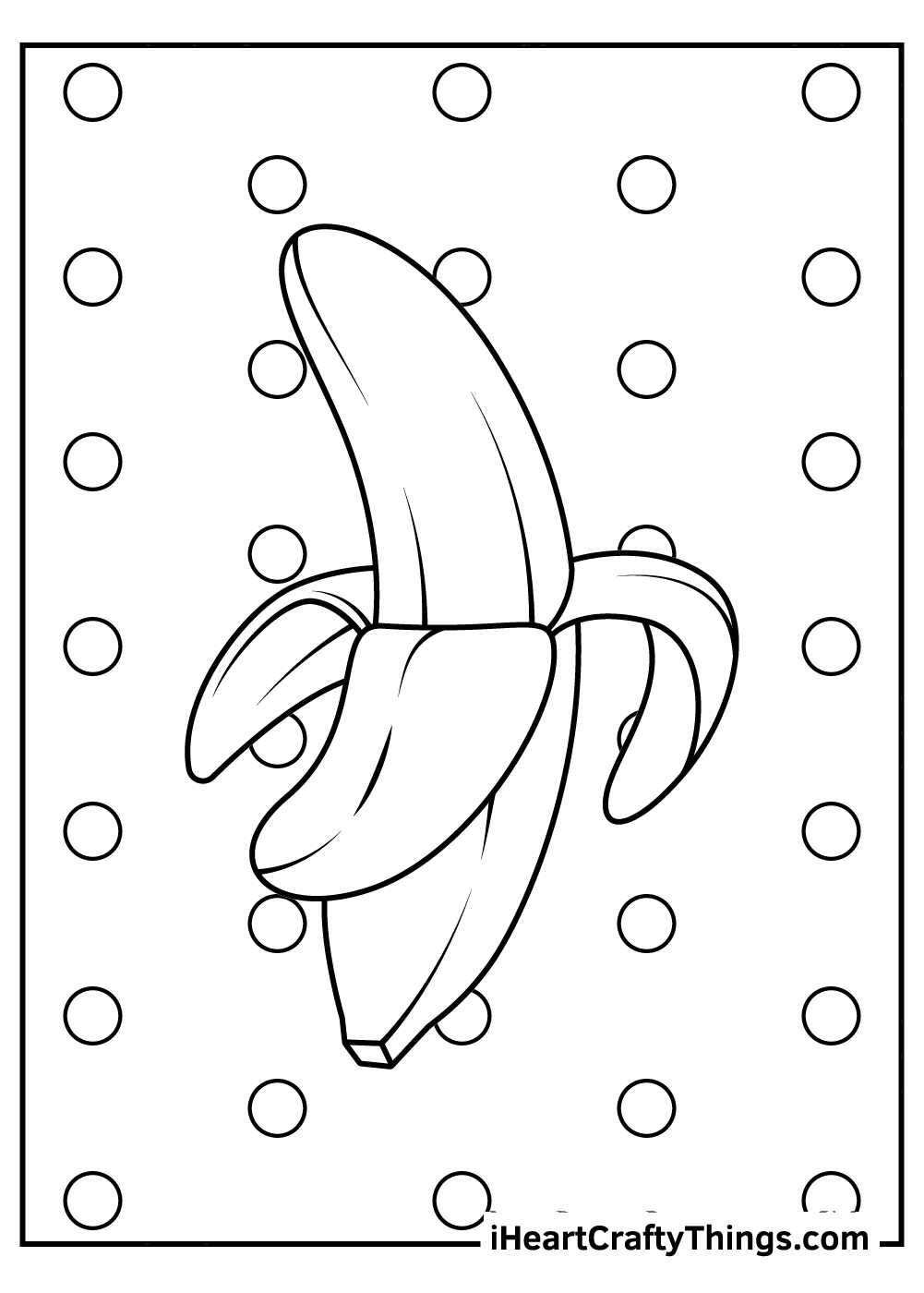 Bananas are typically yellow or green in color. We can imagine some yellow bananas and at least one greenish (still not-so-ripe) banana in this bunch found in this bananas coloring page.
The leaves and the plate holding the bananas can add strong color contrast to all these bananas on this printable sheet! What colors will you use?
REMEMBER: You can download the COMPLETE set of these coloring pages >> HERE <<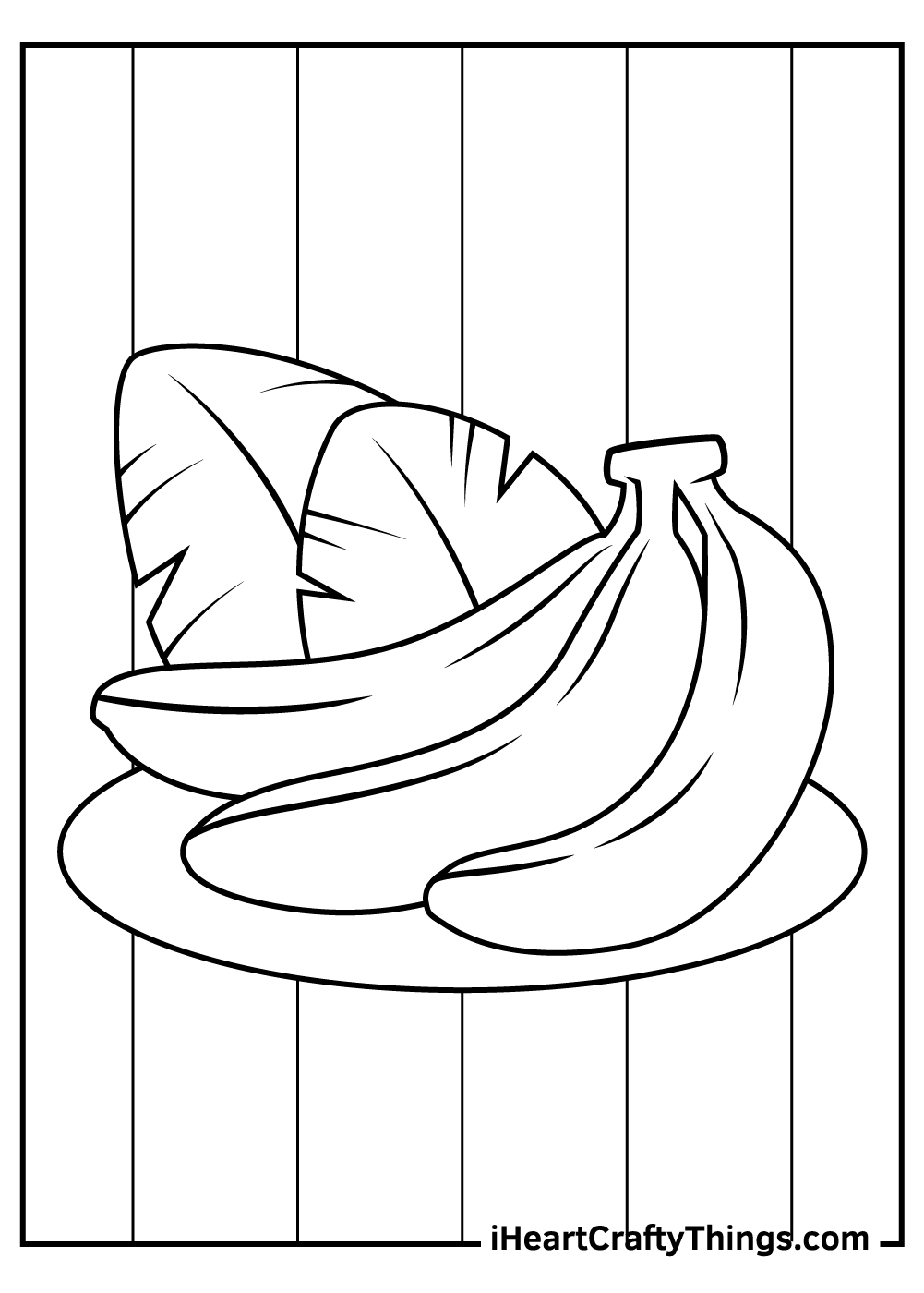 Are you ready for some superhero action? This banana is not just any ordinary fruit, it's a banana hero! It has a cute face, arms, legs, and a cape that makes it look like it can fly.
It is smiling and waving at you, inviting you to join its adventure. What color do you think its cape is? How about its skin?
You can use any colors you like to make this banana hero come to life. Have fun coloring this awesome image.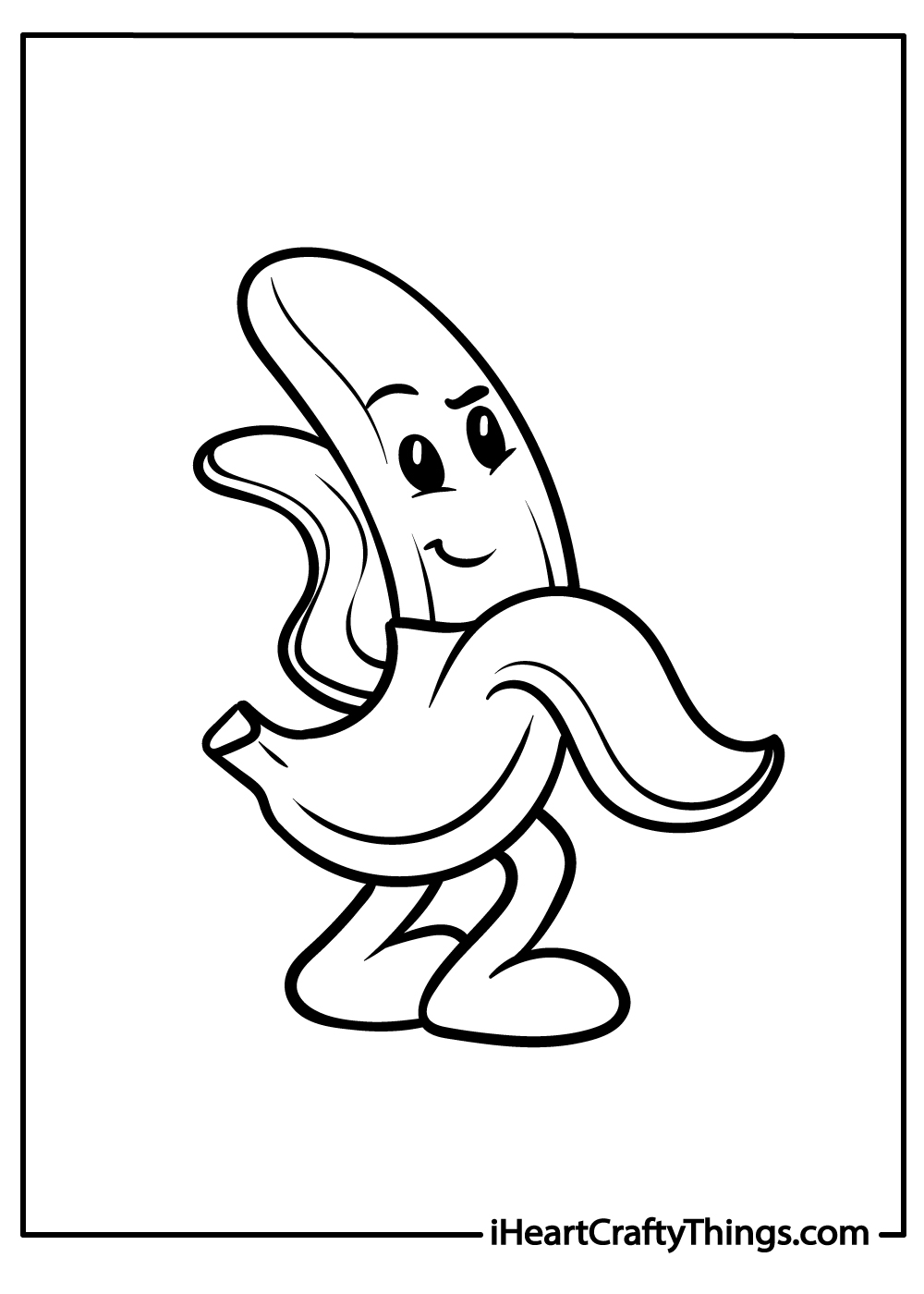 It is a beautiful and sunny day on this bananas coloring page—a great time to eat a banana! The truth is, you should eat at least one banana a day. Why?
Not only is banana cheap (especially in developing countries where they are abundant), it is also packed with so many nutrients!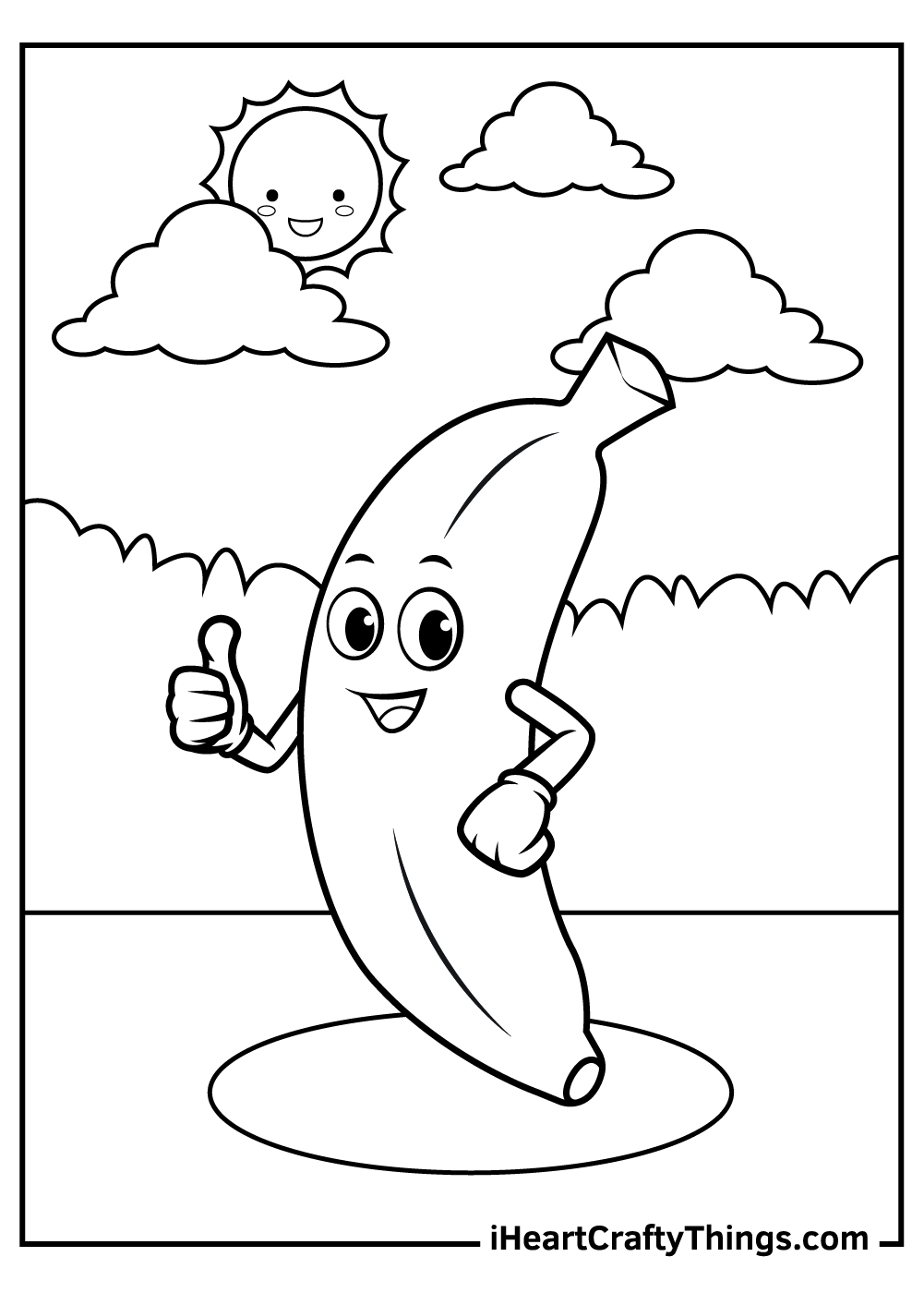 So many bananas to choose from on this bananas coloring page! A bunch of bananas are sitting at the top of what looks like a wooden table in this particular coloring page.
Green or yellow, it does not matter which color you choose for them. They are all delicious, soft, and nutritious! Get a good dose of potassium, fiber, vitamin B6, vitamin C, as well as various antioxidants and phytonutrients!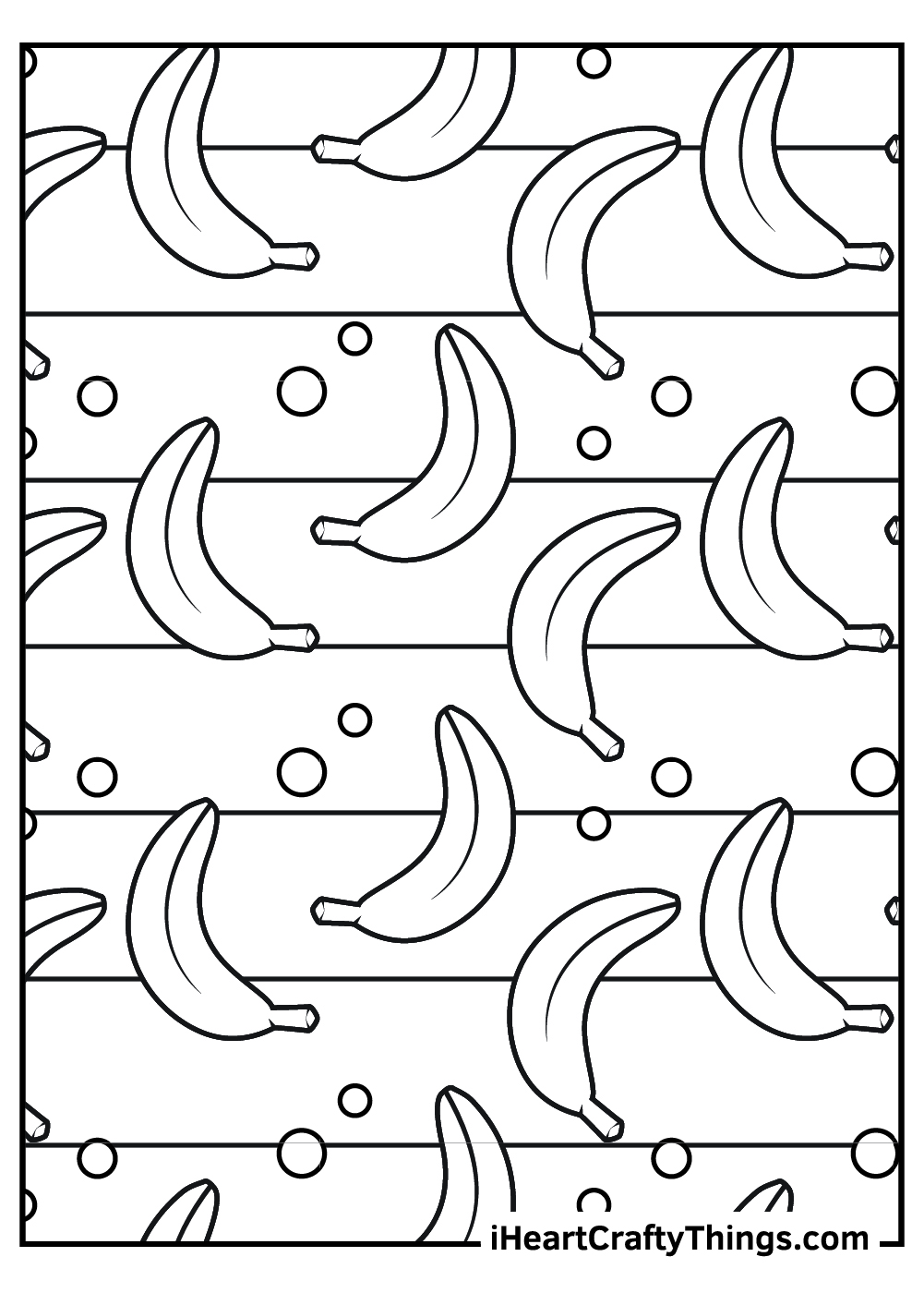 This coloring page shows a friendly banana that is standing on two legs and waving at you.
It also has a small stem on top of its head. This banana looks very happy and cheerful.
I would use color yellow, brown, gold, or green to color this banana. You can also add some details or accessories to make it more unique. Maybe you can give it a hat, a bow, or some sunglasses.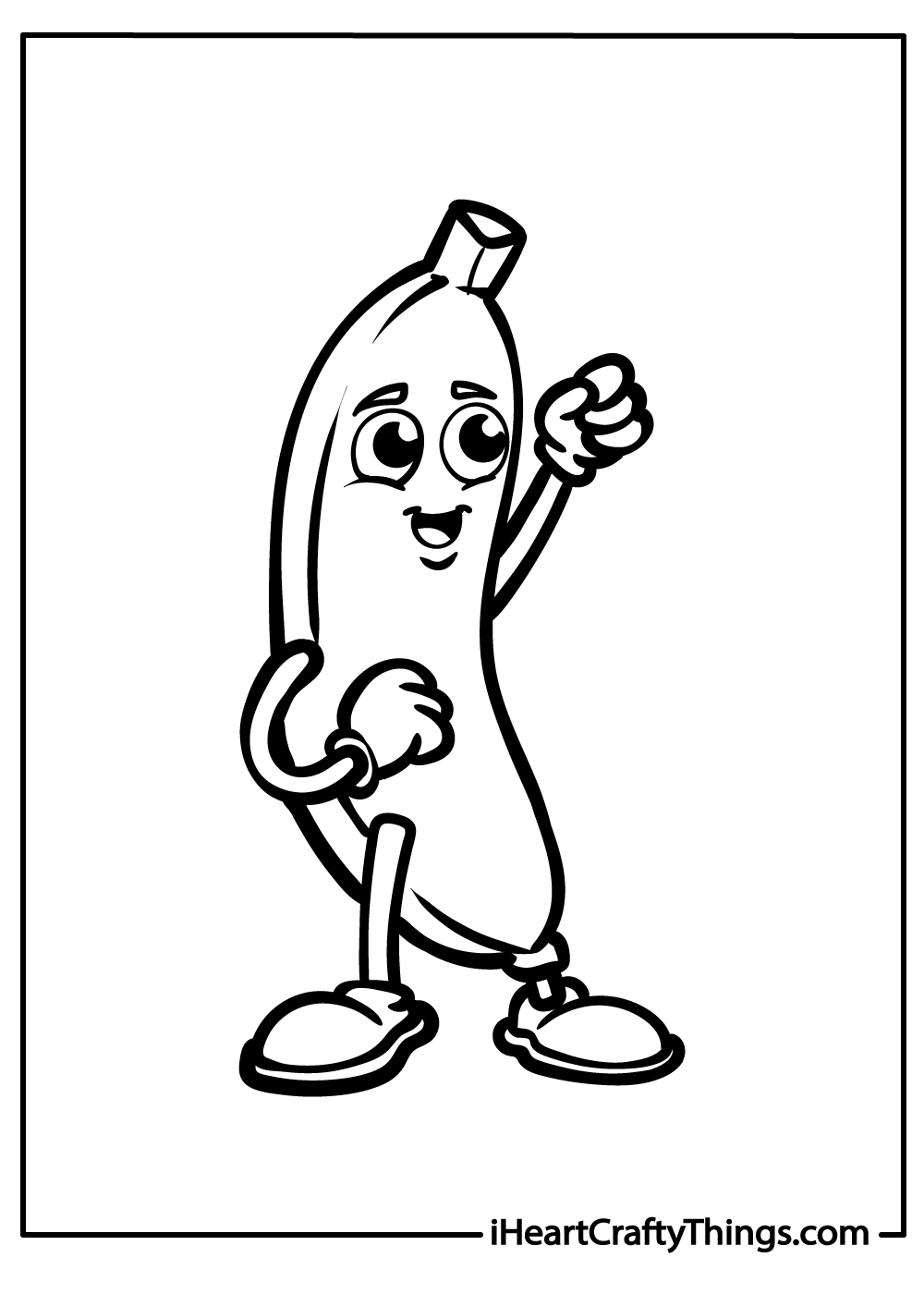 On this simple yet beautiful bananas coloring page, we can see a bunch of soft and yummy bananas placed on a plate. We can't wait to see which colors you will use here.
Which color or colors will you use on the text "BANANAS" at the bottom of the image?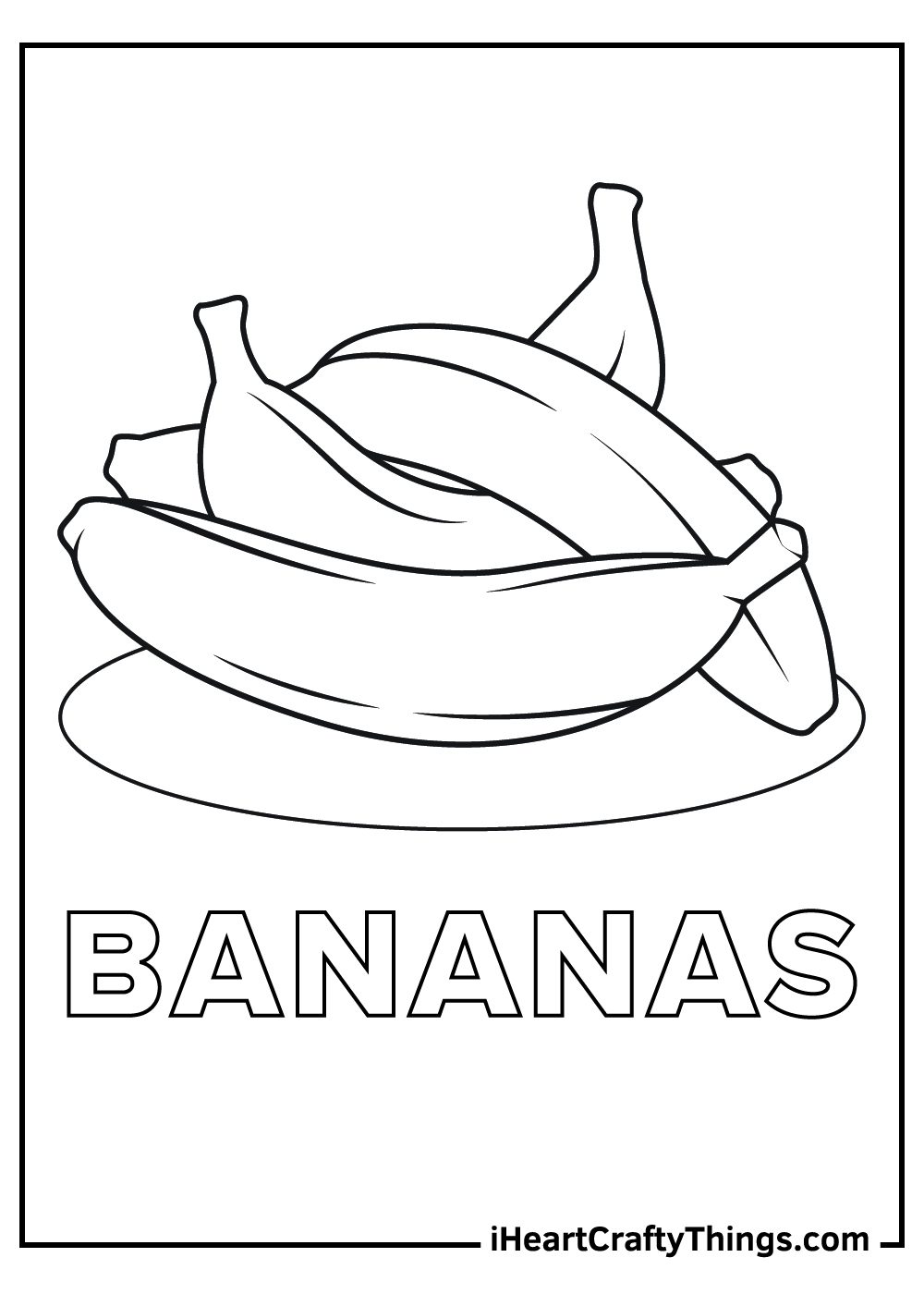 This could be one of the most colorful artwork out of all the bananas coloring pages. The banana on this warm and sunny printable sheet is chilling out right out on the beach!
The right colors will make this coloring page stand out for sure! Do not forget to add a dash of colors to the starfish!
REMEMBER: You can download the COMPLETE set of these coloring pages >> HERE <<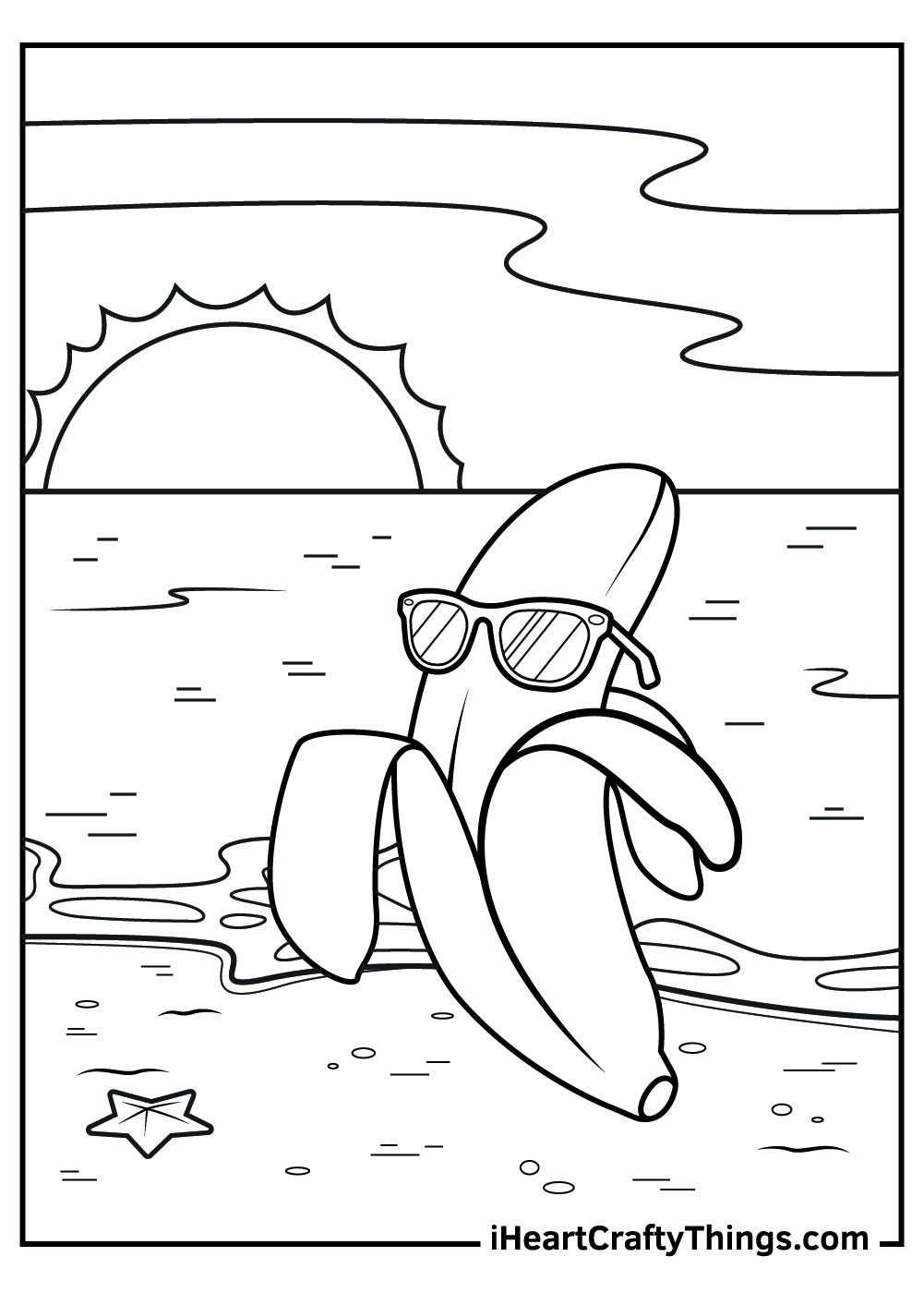 Bunch up your crayons and get ready to go bananas with this playful coloring page. A lively bunch of anthropomorphic bananas are having a swinging good time amongst the trees.
How would you like to color this image of a banana bunch? You can use yellow or similar you want to make them look more fun and lively.
You can also add some details or accessories to make them more unique.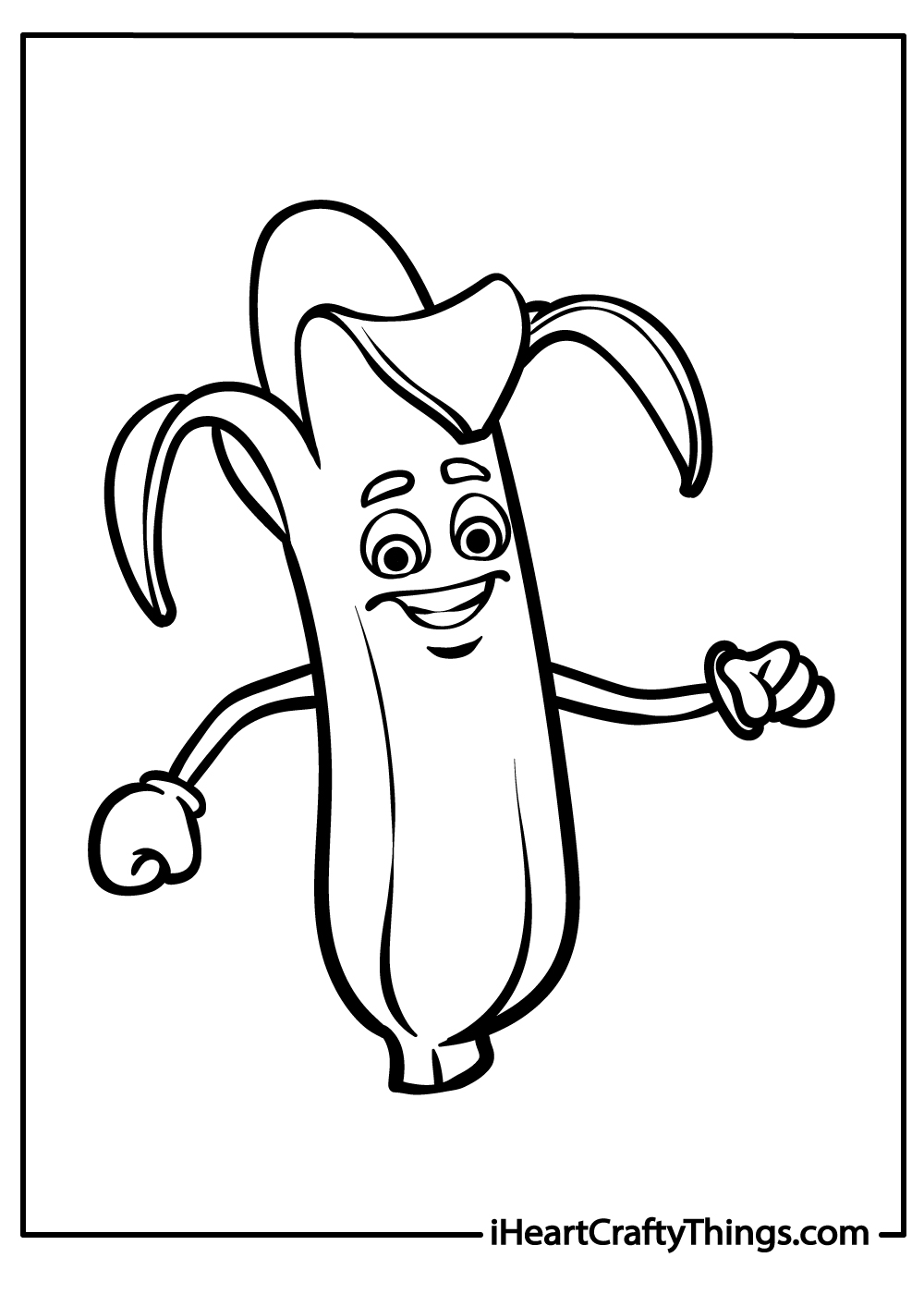 This particular banana coloring page is arguably one of the most colorful and beautiful pages in this "Banana series".
There are so many leaves, flowers, and perhaps yellow and green bananas. We can't wait to see how you will beautify this image with all the colors you have in mind!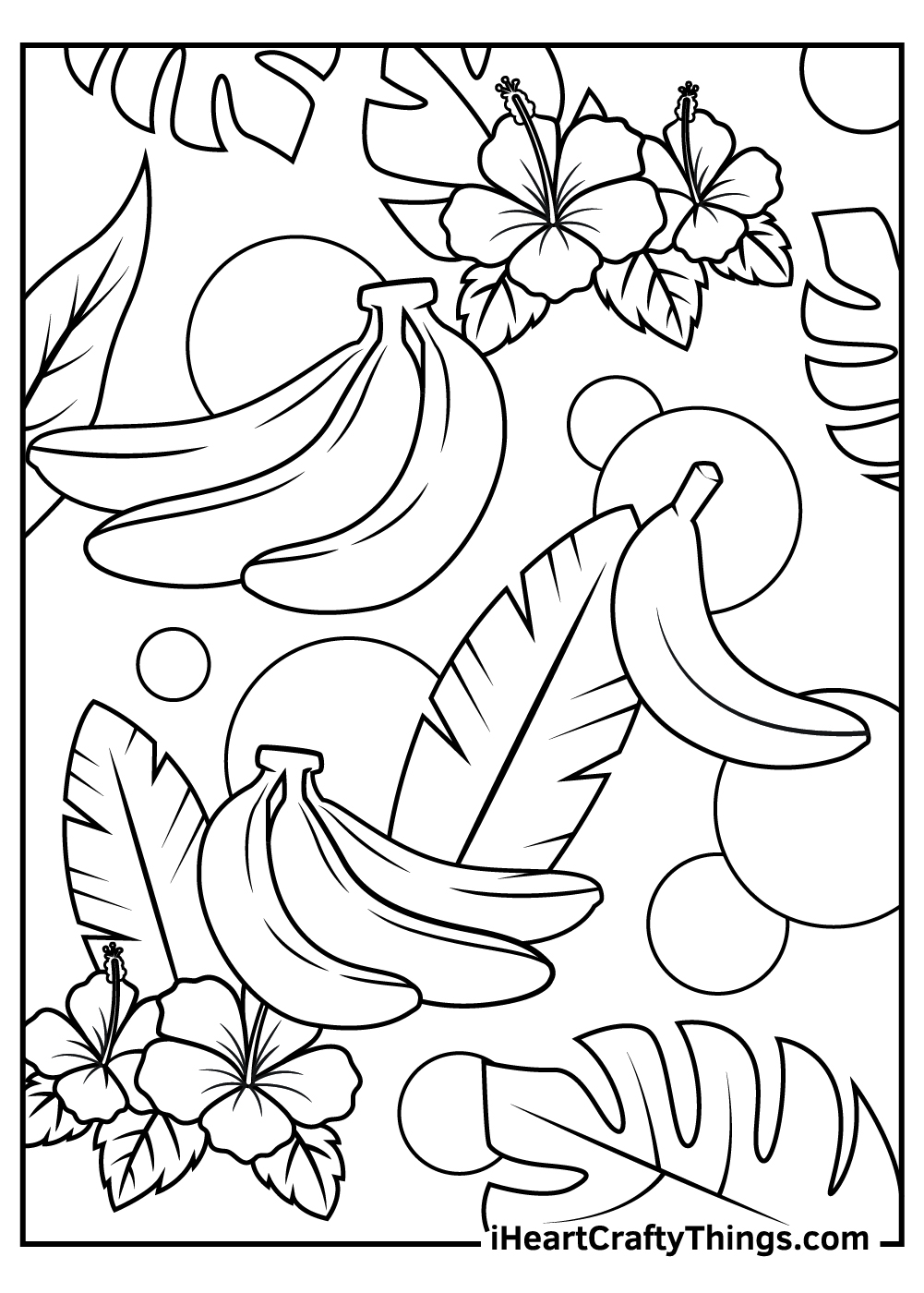 This bananas coloring page shows that the letter "B" stands for "banana". The half-opened banana is standing comfortably beside a huge letter "B".
The two figures seem to be standing on top of a hill with all those beautiful flowers and grass, and with a beautiful horizon on the background to boot! What colors do you have in mind for this artistic printable?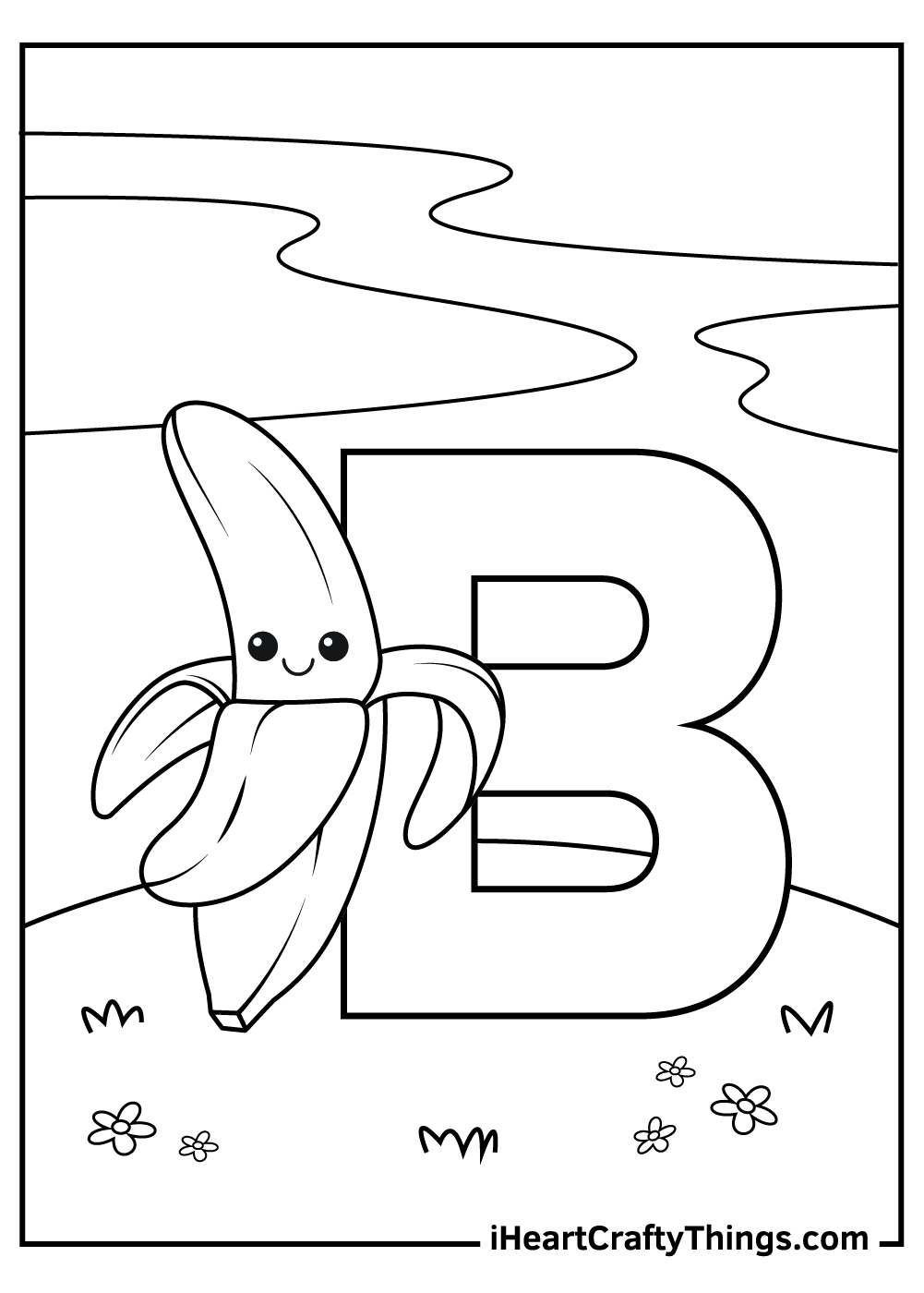 We saved the best for last. This last printable in these banana coloring pages will surely not disappoint with all the colors that you can add to the Aztec design or patterns!
Don't be shy; use as many colors as you want. Make it beautiful. The sky's the limit here!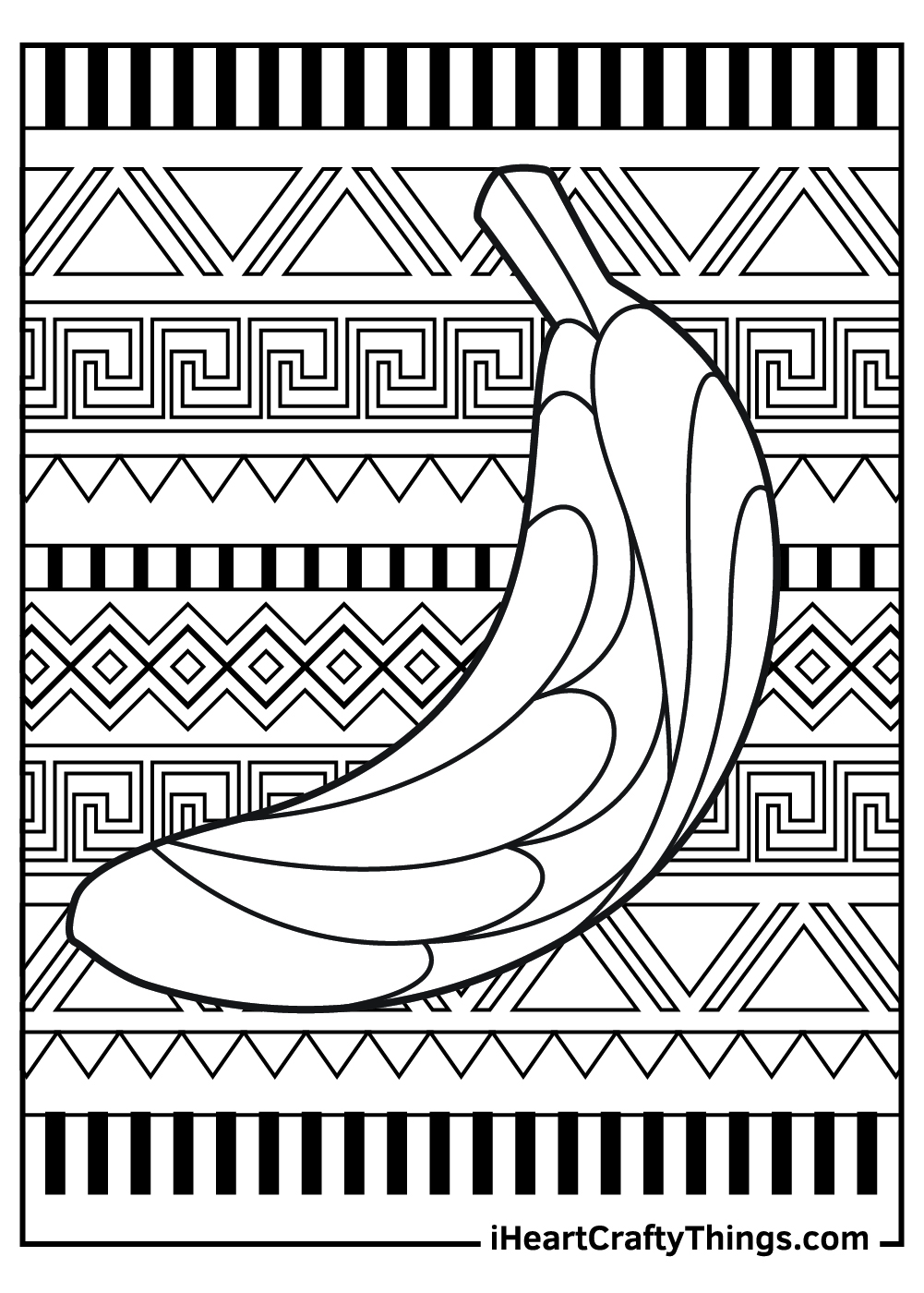 Do you like to exercise and stay healthy? If you do, you will love this image of a banana that is working out.
It is sitting on a pair of dumbbells and drinking from a glass with a straw. It has a small smile on its face and looks relaxed.
This coloring page features a banana that is very good for your health, especially if you exercise regularly.
What colors will you add to this printable? I think I would add some bright and cheerful colors to this printable bananas, such as yellow, green, and orange.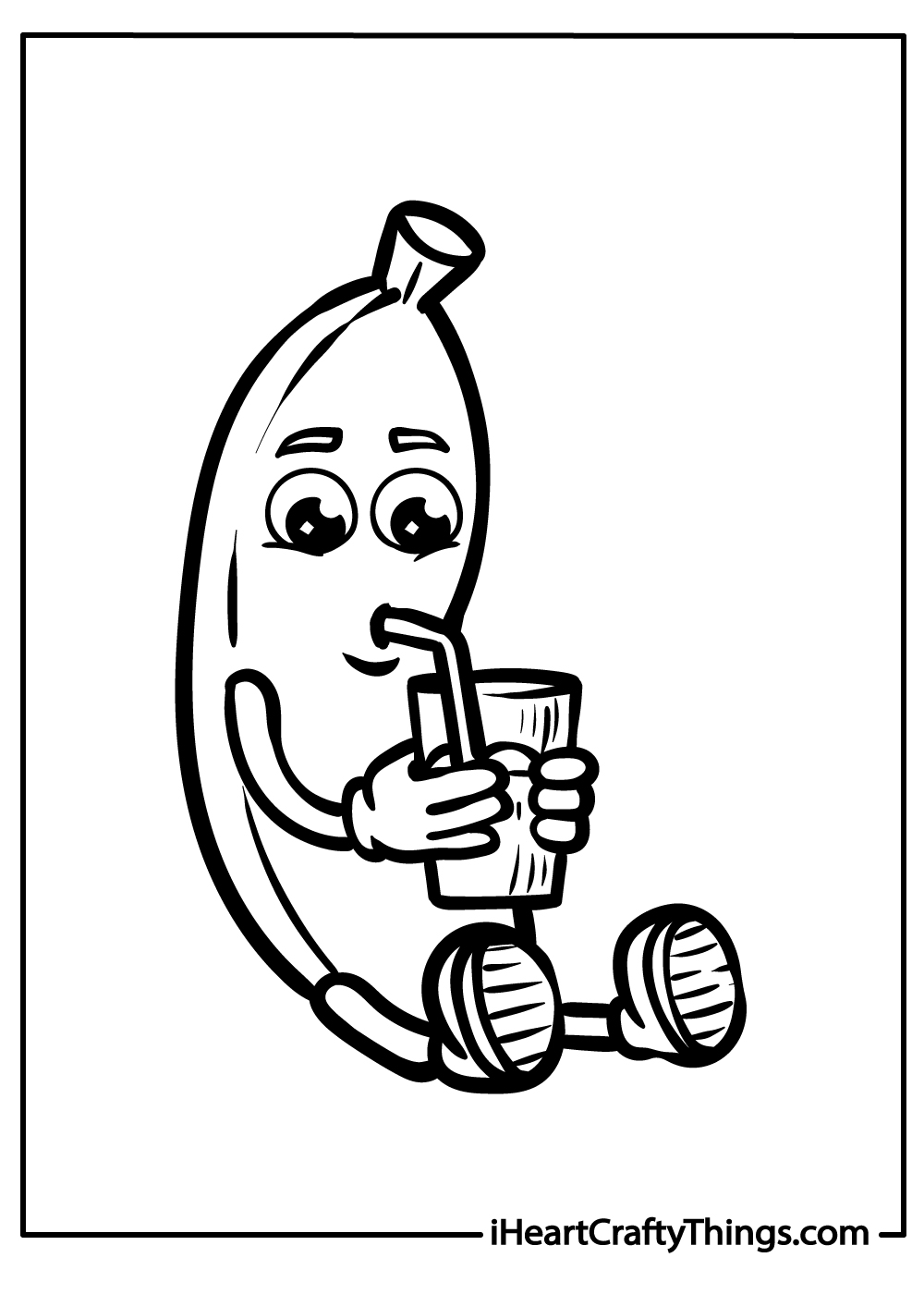 Bananas Coloring Pages — Which image will you choose?
We hope you enjoy these bananas coloring pages. It consists of simple and intricate illustrations of delicious bananas. Coloring these bananas coloring sheets is the perfect activity for kids of all ages who eat bananas or love fruits in general.
Remember, all of our crafts and coloring printables are 100% free for you to download, print, and color. We are always updating our catalog and uploading new content to our catalog. So, don't forget to keep re-visiting our website to continuously enjoy all-new coloring pages.
Once you've finished coloring your bananas coloring printables, you must be very proud of yourself for completing a masterpiece—as you should be! Make sure to show off your work of art and share it on our Facebook page. We're sure it looks amazing!
We can't wait to see all of your colorful banana artworks!
REMEMBER: You can download the COMPLETE set of these coloring pages >> HERE <<