A favorite summer activity my family enjoys every year is pulling out the telescope and observing the night sky on a clear summer night. It's an activity that always inspires us to make gorgeous space themed crafts. If your kids love learning about the solar system and outer space like mine do, your kids will love this awesome list of space crafts for kids.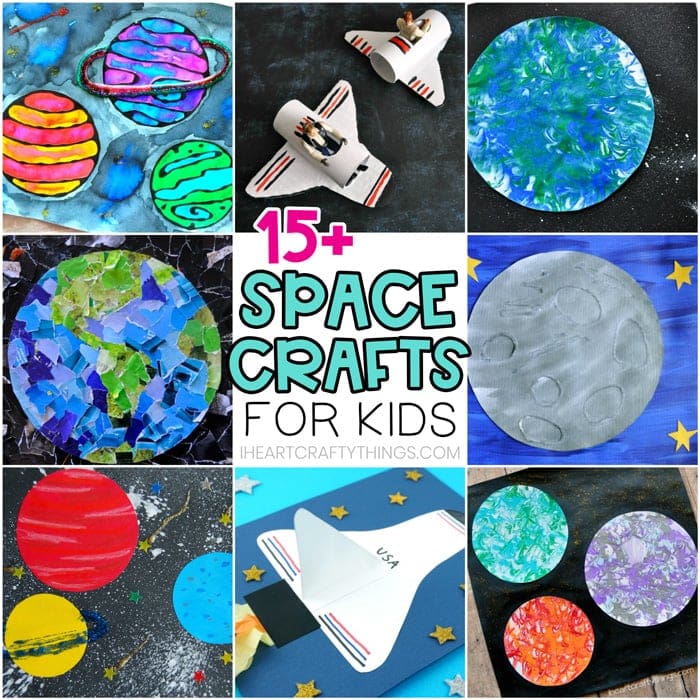 15+ Gorgeous Space Crafts for Kids
Our collection of space crafts and activities has something for everyone to have lots of fun! From planets to the moon to spaceships, preschoolers and kids of all ages will find something they will love crafting on our list.
Click on the title links underneath the photo collages to be taken to the full arts and crafts tutorials. If you would like to share this post (please do!) we would appreciate if  you would use the top square image for social shares or the vertical image at the bottom for pinning.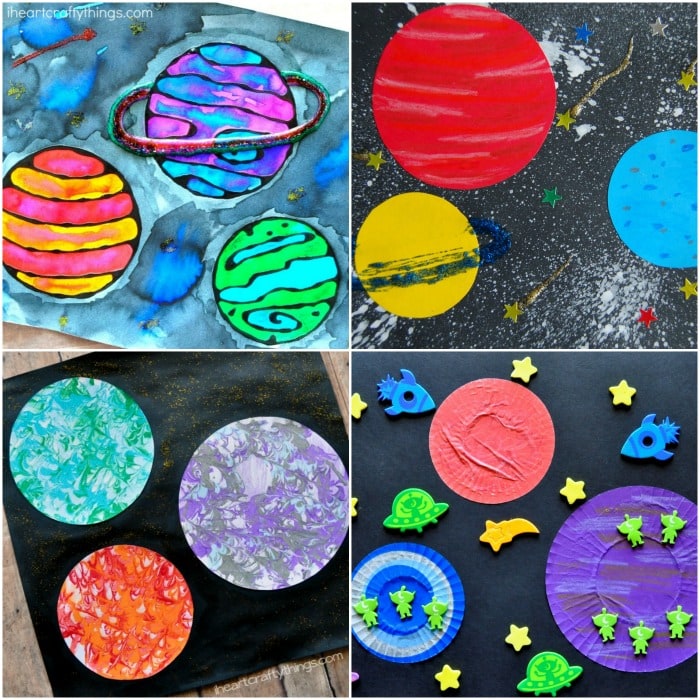 Beautiful Planets and Galaxy Crafts for Kids
Black glue and watercolors are a unique art technique that yield stunning results. The combination mixed with our free template make this Galaxy Black Glue Art Project a show stopper.
Toddlers and preschoolers will love the fun process of designing and making their own galaxy. The end result of this kids craft is out of this world!
Have you ever tried painting with shaving cream and paint to create a marbled effect? If not, you'll want to put it on the top of your to-do list after seeing how we used the technique to create this beautiful marbled planets art project.
This cupcake liner space craft is another easy project for preschoolers and toddlers to enjoy making, and it's great for using up any leftover cupcake cases you have up in your kitchen cabinets. The addition of the alien and flying saucer stickers makes it extra fun for little ones.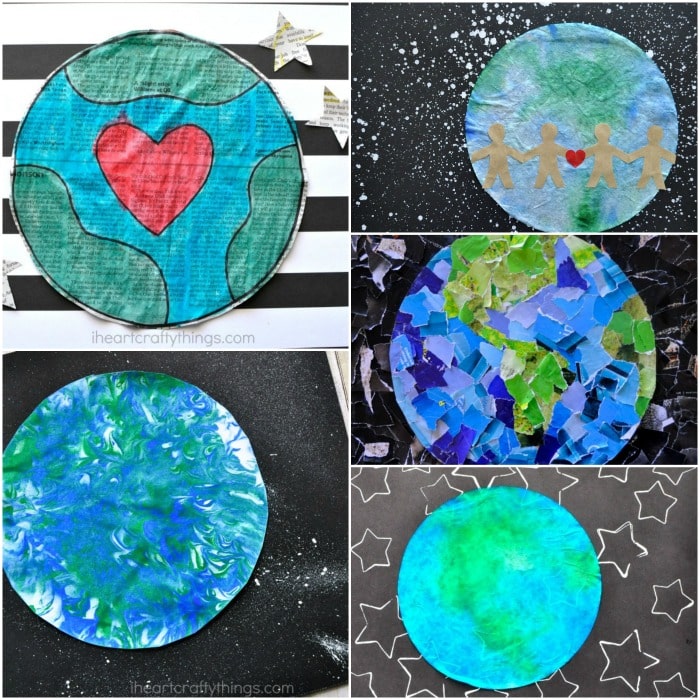 Fun and Easy Earth Crafts
If you are big fan of using recyclable materials for crafts, this newspaper Earth craft is right up your alley. All you need to make the craft is newspaper, watercolors and a black marker. The craft is also great for celebrating Earth Day in April.
This coffee filter Earth craft is another craft inspired by Earth Day. Include a writing prompt with it for kids to write about what they can do to help make the Earth a cleaner place.
Gather some old magazines and use green, blue, black and white paper scraps to create a stunning
Earth collage
. The different shades of the colors adds so much texture and beauty to this process art activity. We used a cardboard circle for the backing of our Earth but you could also easily use a paper plate.
Here's another fun to make an Earth art project out of a coffee filter again, but this one is especially fun for toddlers and preschoolers by adding the stamped cookie cutter star background.
Use a special art technique with shaving cream and paint to create this colorful marbled Earth art project. Such a great project for kids learning about the solar system.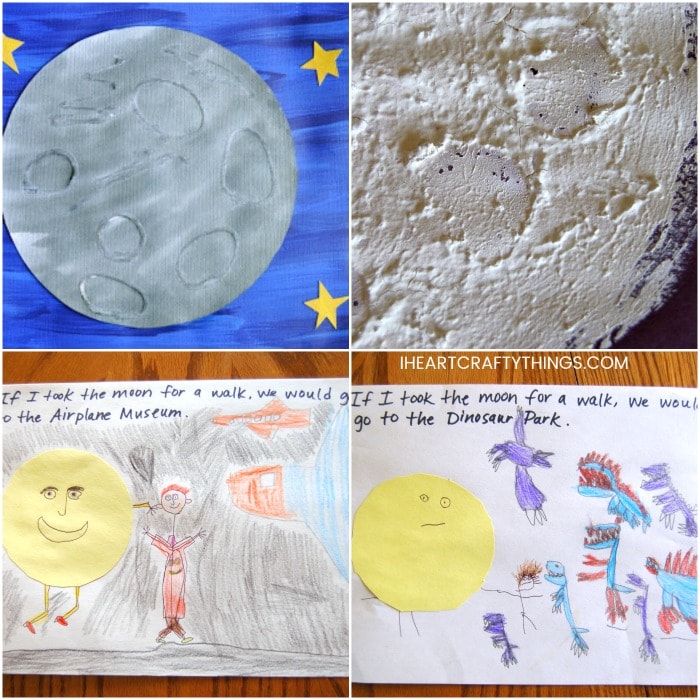 Awesome Moon Crafts for Kids
Eric Carle's book, Papa Please Get the Moon for Me, was the inspiration behind this gorgeous textured moon art project. Children will especially love the touch and feel aspect of this craft.
Explore the textures of the moon with this unique moon masterpiece craft. Click through to see the tutorial of how to make the thick paint concoction that kids stamp their moon craters into.
Another lovely moon project for kids inspired by a children's book, I Took the Moon for a Walk by Carolyn Curtis. This moon drawing activity is a great way for kids to think and express themselves creatively through art.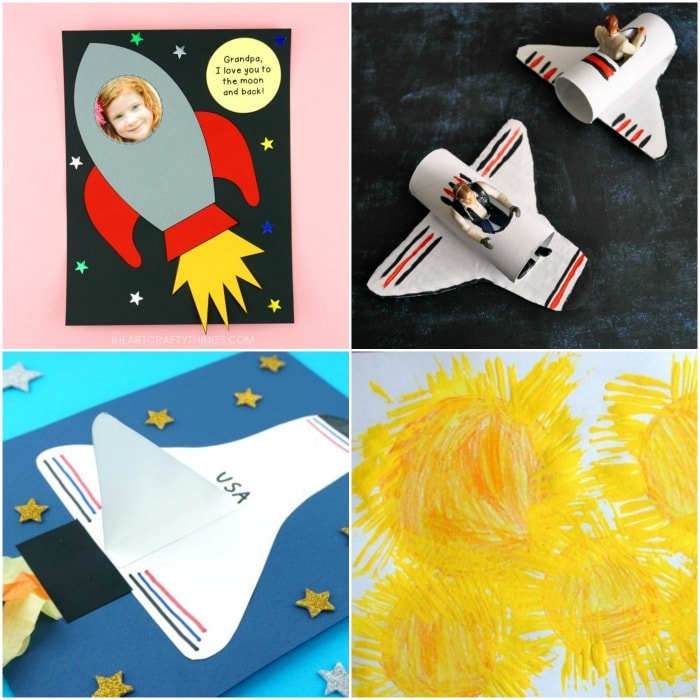 Space Shuttle and Rocket Crafts
We made this adorable paper rocket ship craft as a Father's Day card but you could easily replace the fun moon message with a plain yellow moon and make it any time of the year for a space themed craft.
Learning about space exploration at school? If so, this paper space shuttle craft is a perfect compliment to the unit. It's super easy to create and the 3D effect of the wing popping off the page makes it super fun for kids.
Pull out all those empty toilet rolls you've been collecting and add some cardboard to make some of this
easy space shuttle craft
. Kids can add figurines from their collections inside the space shuttle and fly them around high in the air.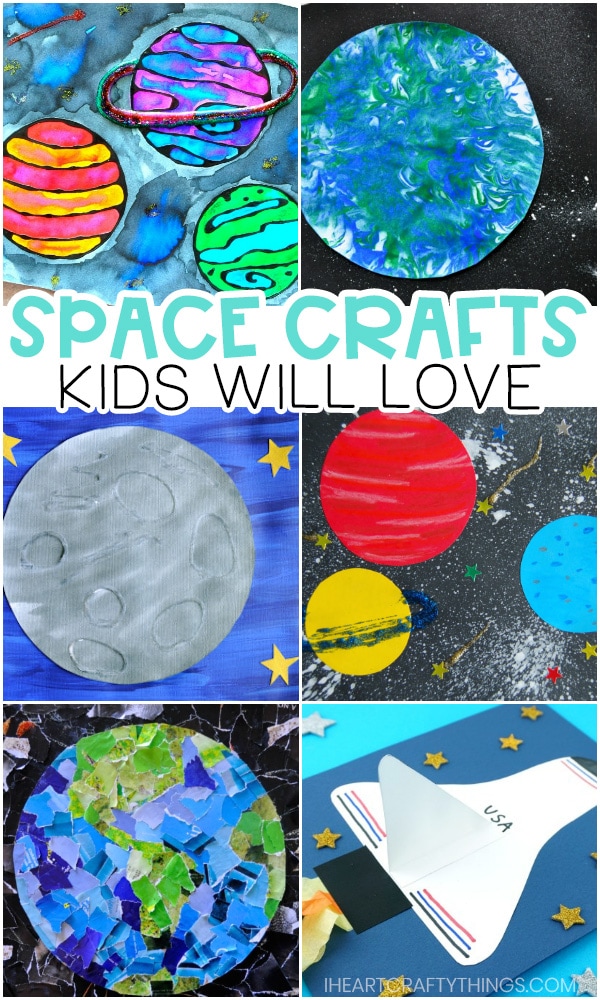 More Space Crafts for Kids
Kids will absolutely adore the entire process of creating this starburst craft. We have a video linked in the tutorial kids will enjoy watching. It gives children a great perspective of the different sizes of our planets and stars.
Add some sensory play into your solar system learning with this coffee beans space sensory bin. It smells fantastic and is so much fun for kids to explore and play with.
Want to add a fun science activity to go along with your space crafts? If so, kids will love these erupting moon rocks. Super easy to make and great for preschoolers!
Looking for more fun arts and crafts ideas to make with your kids this summer? Check out over 100 summer crafts for kids.