When it comes to video games, there are tons of iconic characters and series that have become recognizable even by people who've never wielded a controller in their lives.
Of these characters, you'd have a hard time finding characters more recognizable and beloved than those from the various Mario games.
While the Italian plumber himself is definitely the most recognizable, the colorful roster of characters accompanying him have achieved much fame and recognition too.
Princess Peach is one of these characters, and she is well known worldwide.
Learning how to draw Princess Peach can be a bit of a challenge for her many fans, however, but this is what this tutorial is here to address.
Our step-by-step guide on how to draw Princess Peach in just 6 steps will show you how you can easily recreate this famous character yourself!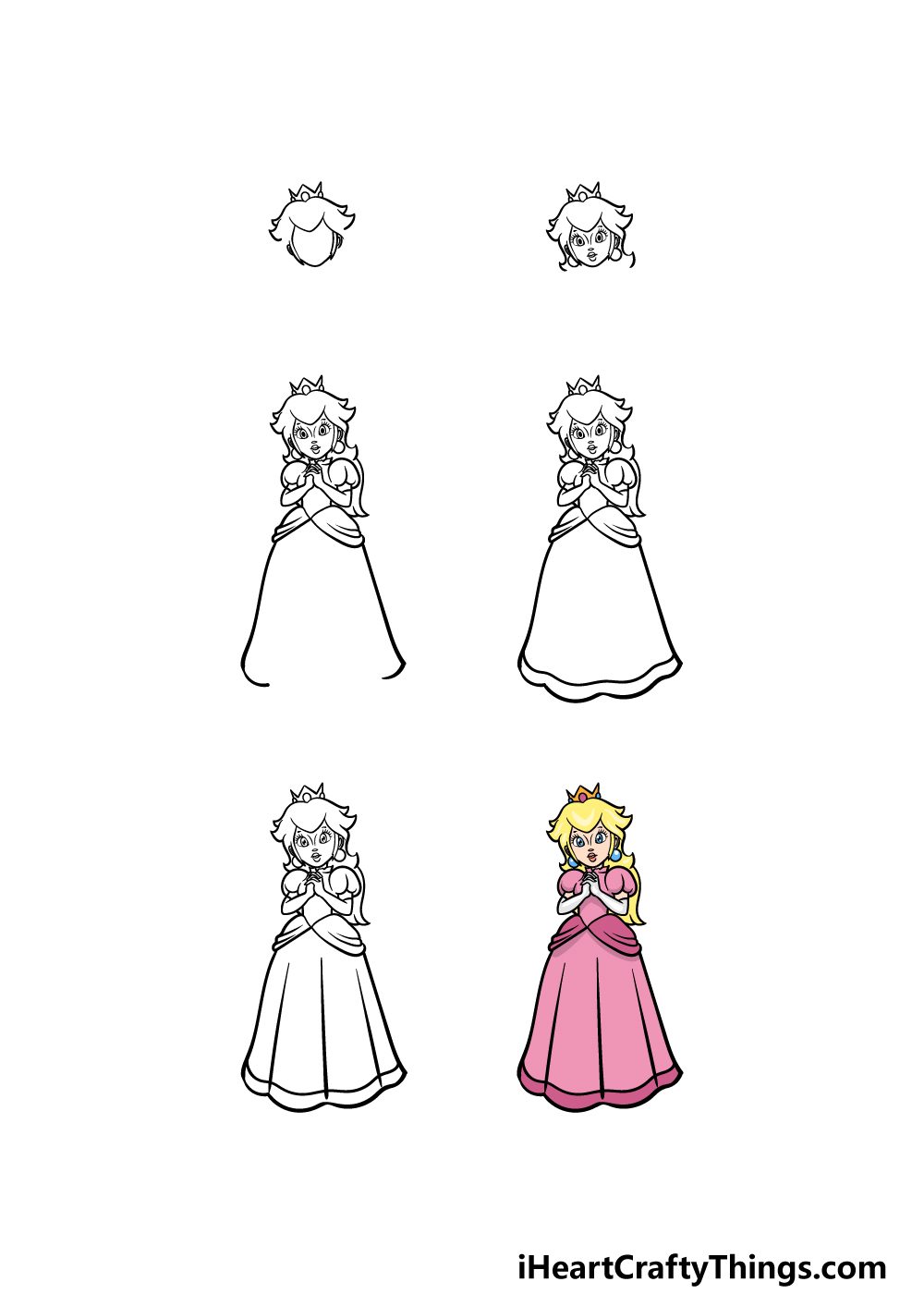 How to Draw Princess Peach – Let's Get Started!
Step 1
We will start this guide on how to draw Princess Peach by drawing two of her most recognizable visual traits.
These would be her long blonde hair and the crown that she wears on her head. First, draw a curved line with a bit of a point to it for the bottom of her chin.
Then, we will be using some curved lines for the outline of her hair.
Some of these ahir outlines will have pointy tips to them on the other edge, and there will be a sharply curved line over her forehead.
Finally, use some straight lines to draw the pointy tips of her crown, and then add some small circles to the base of it. That's all there is to it, so now we can proceed to step 2!
Step 2 – Now, draw some facial features and more of her hair
This character usually has a rather specific set of facial features and expressions, so that is what we will be drawing in this step of your Princess Peach drawing.
Draw some rounded shapes with slight corners at the edges for her eyes, and then draw the pupils inside of them. You can also extend some curved lines off of the eyes for her long eyelashes.
Her nose is drawn using some simple curved lines with a small diamond shape at the base. She also has a distinctive tiny mouth, and you can draw that as well.
Finish off this step by drawing some round shapes for her earrings and then draw some more wavy lines for her hair at the back of her head.
Step 3 – Draw her arms and the outline of her body
We will be adding quite a lot to the picture in this step of our guide on how to draw Princess Peach.
This may seem intimidating, but if you take it slowly and follow the reference image closely then you should have no problems with it!
Draw some rounded lines for the puffy shoulders of her dress, and then you can have her hands extending from them to clasp each other in front of her chest.
Then, draw some lines down for her waist, and then you can draw the top of the waist of her dress. Finally, extend some long, slightly curved lines down from the waist for the sides of her dress.
Step 4 – Next, draw the base of her dress
This next part of your Princess Peach drawing will see you adding the base rim of her dress.
This should be quite a simple step to complete, as all you need to do is connect the two sides of her dress with two wavy lines running parallel to one another.
That's all you really need to do for this part, and when we move on to the next step we shall finish off the final details and elements.
Step 5 – Add the final details to your Princess Peach drawing
In the final step of this guide on how to draw Princess Peach, you will not only be finishing the final details of this guide but will also have a chance to add some details of your own!
For now, you can create a flowy look to her dress by drawing three lines inside the outline of her skirt. Add some small glinting details to her eyes, and then you're ready to color in!
Before you do that, you could also add some touches of your own such as a background or more characters from the Mario games. How will you finish up this image with your own ideas?
Step 6 – Finish off your Princess Peach drawing with color
Now we are ready to finish off this Princess Peach drawing with some colors.
This character has a distinctive color scheme that she is almost always seen in, and we went with these classic colors in our reference image.
For her clothing, we used shades of pink for her dress and some cream colors for her gloves. Then, we used yellows for her hair, orange for her crown and blues for her eyes and earrings.
Will you go with her usual color scheme like we did, or will you choose a unique color scheme for Princess Peach?
This is your drawing, so it's up to you! Be sure to have fun getting creative with it and see what happens!
Do this to take your Princess Peach drawing to the next level
Take this Princess Peach to the next level with these fun tips!
In the Mario games, Princess Peach is joined by many other iconic characters. These characters would be great to add to this drawing of Princess Peach!
We have already mentioned the man himself, Mario, and he would be a great addition to the drawing.
There are also characters like Luigi, Captain Toad and Yoshi. Which of these famous characters would you like to add to this drawing?
There are also plenty of baddies that you could add to this drawing. The main bad guy that is faced off against in the games would be Bowser, so you could draw him here as well.
He is always kidnapping poor Princess Peach, so you could make a fun scene out of it. There are also smaller villain characters such as goombas, ghosts and turtles.
These are just a few of the bad guys from the games, but there are so many more. Which villains would you like to add to this drawing?
This Princess Peach drawing shows her in her iconic pink dress. This is how she appears most often, but she has had many other outfits in the series.
You could show her in a different dress or outfit she has worn in the games for some variety! There are lots to choose from, so you could start by picking your favorite Princess Peach look from the games.
You could even design a brand new outfit for her!
The Mario games are famous for their fun and creative levels. These would be perfect to use as a background for your Princess Peach sketch!
Once again, you could look to the games themselves to get some inspiration for a background. You could even pick a stage that you played through as Princess Peach specifically and recreate a cool moment.
This could also be a chance to unleash your inner game designer as you design a brand new unique background level for her to be a part of!
Your Princess Peach Drawing is Complete!
This is such a famous and beloved character that we were depicted in this guide on how to draw Princess Peach!
We hope that you had a ton of fun recreating this character alongside us, and we also hope that these steps made it much easier for you to take on.
Now that you can draw Princess Peach, you can keep it going with your own details and elements!
We mentioned a few ways that you could add even more to this image, and now it's up to you to add your own creativity to the picture.
Then, you will want to visit our website for access to some truly awesome drawing guides that cover a huge selection of topics.
This list of guides is updated often, so please remember toi keep checking in!
We would be thrilled to see how your amazing Princess Peach drawing turned out, so you can show us by sharing it on our Facebook and Pinterest pages.