Summertime is when things heat up and it's time to relax on a beach or a pool to ward off the Summer heat.
In these times, a nice refreshing pineapple is great as a thirst quenching Summer treat, and these free Pineapple coloring pages for kids are the perfect way to have hours of coloring fun while getting ready for the fun times of Summer!
These pineapple printables will have plenty of room for bright and vibrant Summer colors along with some cool blues to bring down the heat a bit. You could try incorporating other mediums and other color variations to add even more variety to these cool pineapple coloring sheets.
Once you've finished your favorite pineapple coloring pages, we'd love it if you'd share them on our Facebook page! We love to see your colorful creativity and look forward to sharing in some fun Summer times with you.
REMEMBER: You can get the COMPLETE set of these coloring pages >> HERE
15 Brand New Pineapple Coloring Pages – Free to Print and Color
This pineapple is looking very cool in our first free pineapple coloring sheet. It's relaxing by the ocean with some cool shades and I'd certainly like to be on the beach along with it for a swim in the water!
Coloring in this pineapple with bright yellows, oranges and greens will contrast really beautifully with the blue of the ocean and sky, and we can't wait to see what colors you use to bring this image to life!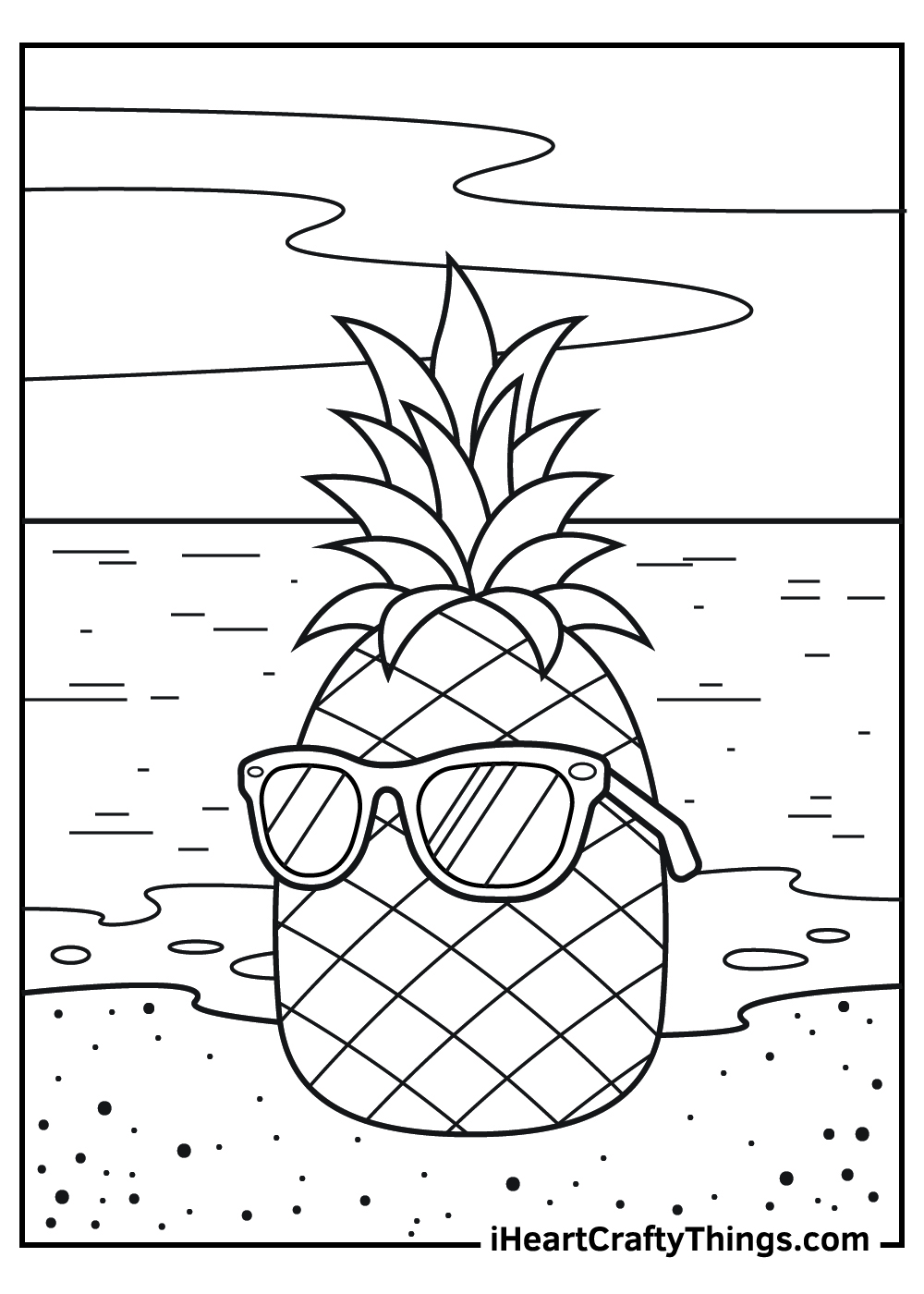 In our second pineapple coloring sheet, we have a really cool and interesting design for this pineapple. It has patterns and shapes on it, and it makes me think that this image would benefit from lots of fun and vibrant colors.
You could try use bright colored pens and pencils and see how many different colors you can fit by doing each segment of the pineapple a different crazy color!
REMEMBER: You can get the COMPLETE set of these coloring pages >> HERE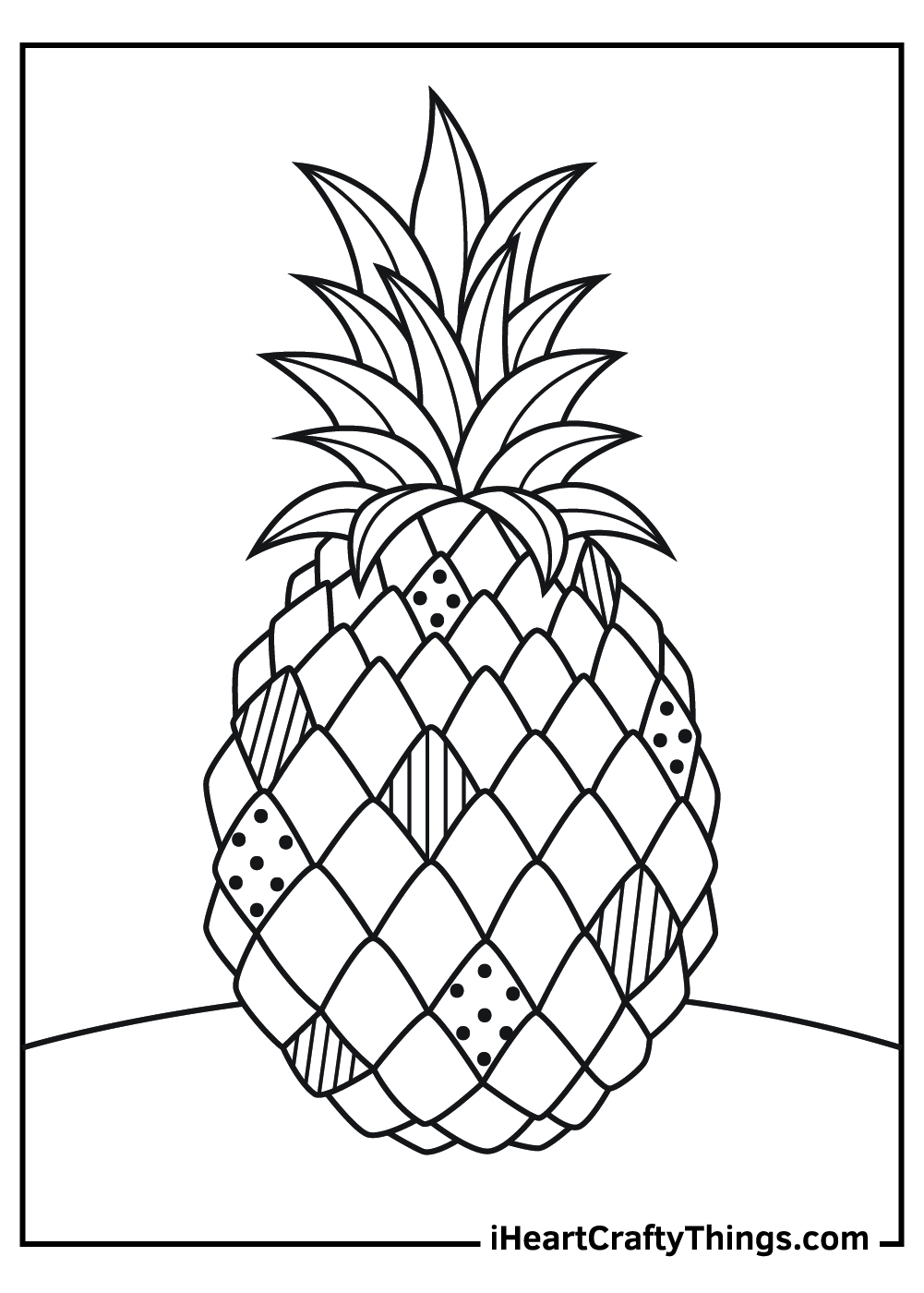 Meet the smartest pineapple in town. This pineapple likes to read books and learn new things. He wears glasses to help him see better, and he always has a big smile on his face.
This pineapple is always smiling because learning new things makes him so happy!
Can you color this pineapple with glasses and make him look even more intelligent? What kind of books do you think he likes to read? Maybe he enjoys science fiction, or history, or poetry.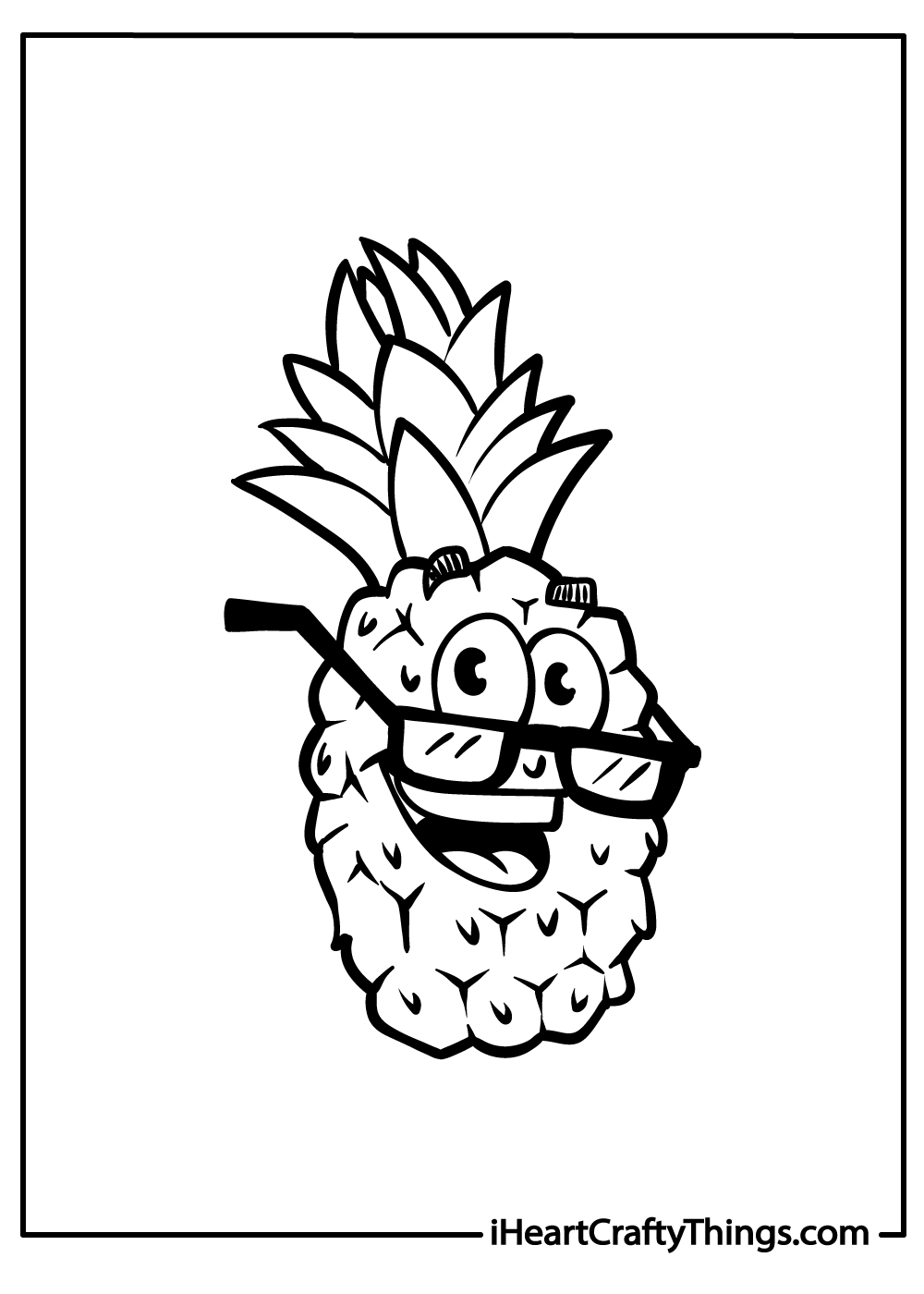 This cool pineapple is catching a suntan on the beach in our third pineapple coloring page.
You could try incorporating some subtle red onto the pineapple to make it look like he's getting a bit of a sunburn for an extra fun touch.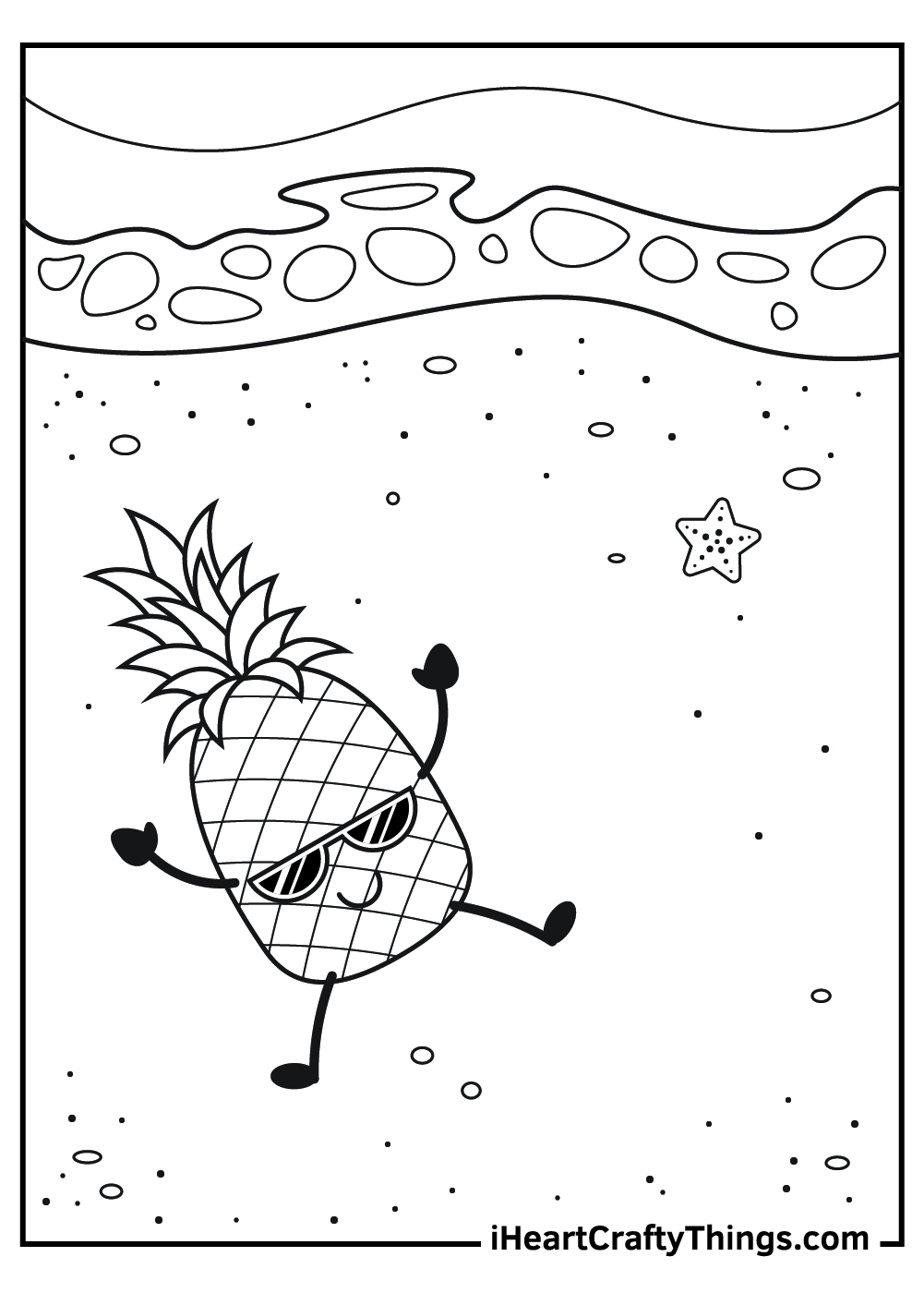 We're going all out with the pineapple theme in this pineapple printable! We have full pineapples along with slices and segments for a really distinct and stylish image.
I think this pineapple coloring sheet would look great with a lot of yellows and oranges or just as good with more stylistic colors.
You could use reds, pinks and blues to create a bit of a party feel for this page!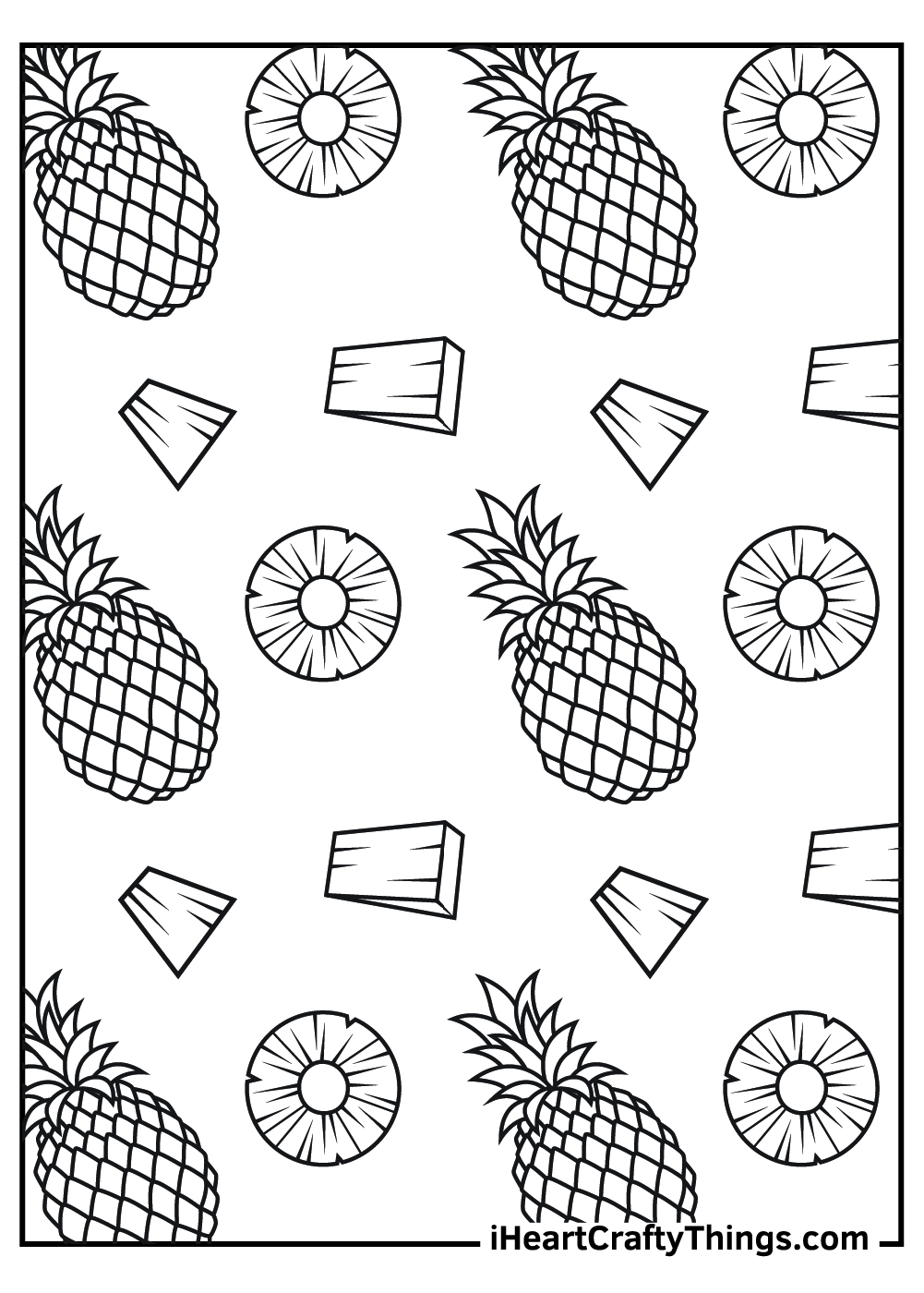 Get ready to smile with this nerdy pineapple coloring page. This pineapple has a big grin and is wearing glasses with thick frames.
Its glasses are resting on the its nose, giving it a cute look. The pineapple also has leaves on top of its head that are pointing upwards, like a spiky hairstyle.
Kids who wear glasses will love customizing this bespectacled pineapple's look. You can color the pineapple with different shades of yellow, green, or brown.
You can also color the glasses any color you like, such as blue, pink, or purple.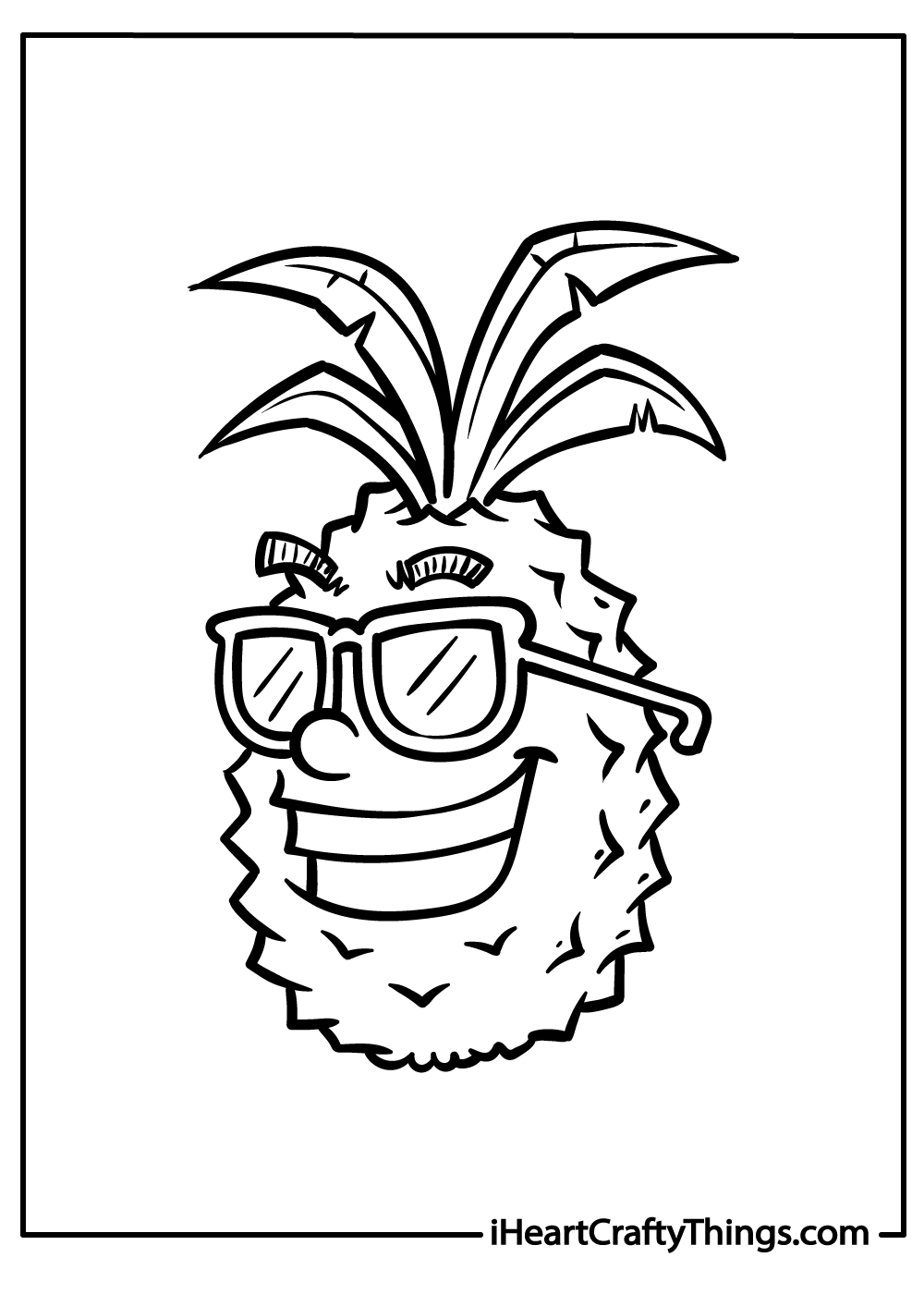 This cute pineapple coloring sheet for kids shows a happy pineapple with a giant 'P.' I'm sure you know what that stands for!
There's a lot of empty sky space in this pineapple printable, so there's plenty of room for some pretty and vibrant blues to balance off the warmer colors of the sun and pineapple.
What color will you use for the 'P' to finish this image off?
REMEMBER: You can get the COMPLETE set of these coloring pages >> HERE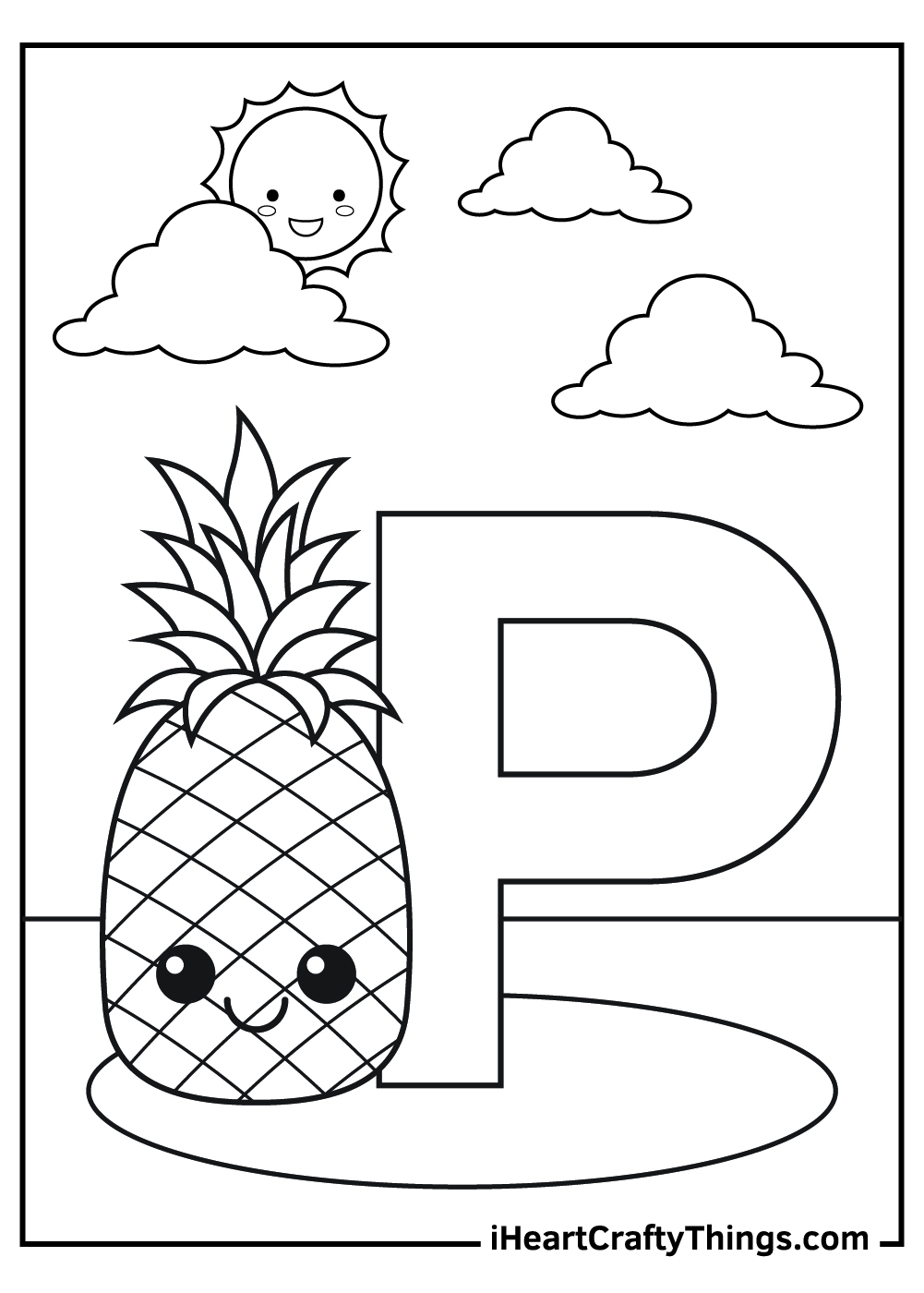 An extreme pineapple closeup is the focus of our next free pineapple coloring page for kids!
The creative way this pineapple has been drawn makes me think of more bright and unusual colors both for the pineapple and the segmented background.
How will you make this cool pineapple printable pop with color?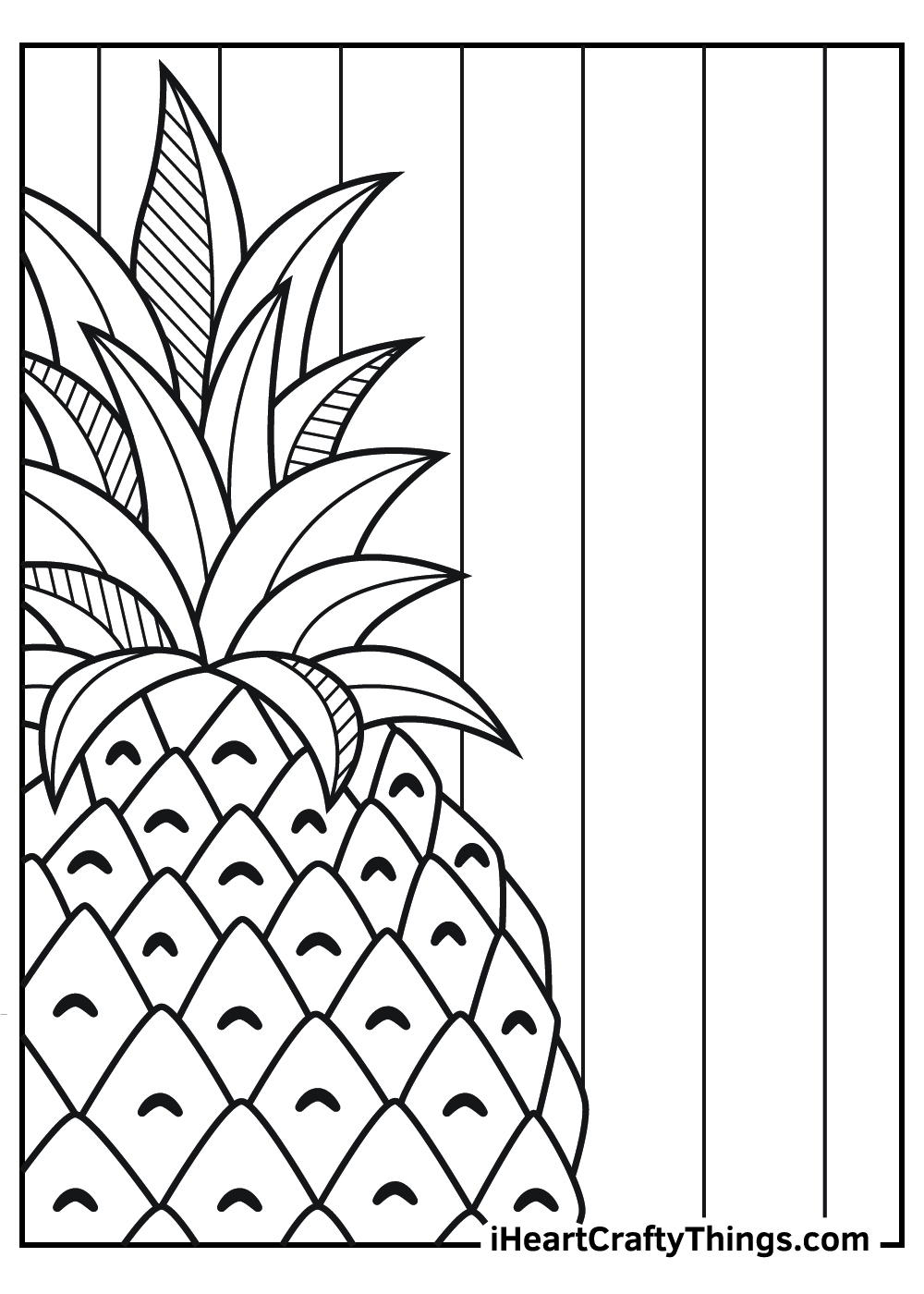 Another pineapple is chilling by the seaside with a refreshing beverage in this pineapple coloring page.
A nice cold drink is always great to have on a hot Summer day, and you could color his drink in the color of your own favorite Summer beverage!
I would color it in with a bright orange to represent some delicious orange juice, but how will you color in this cool pineapple?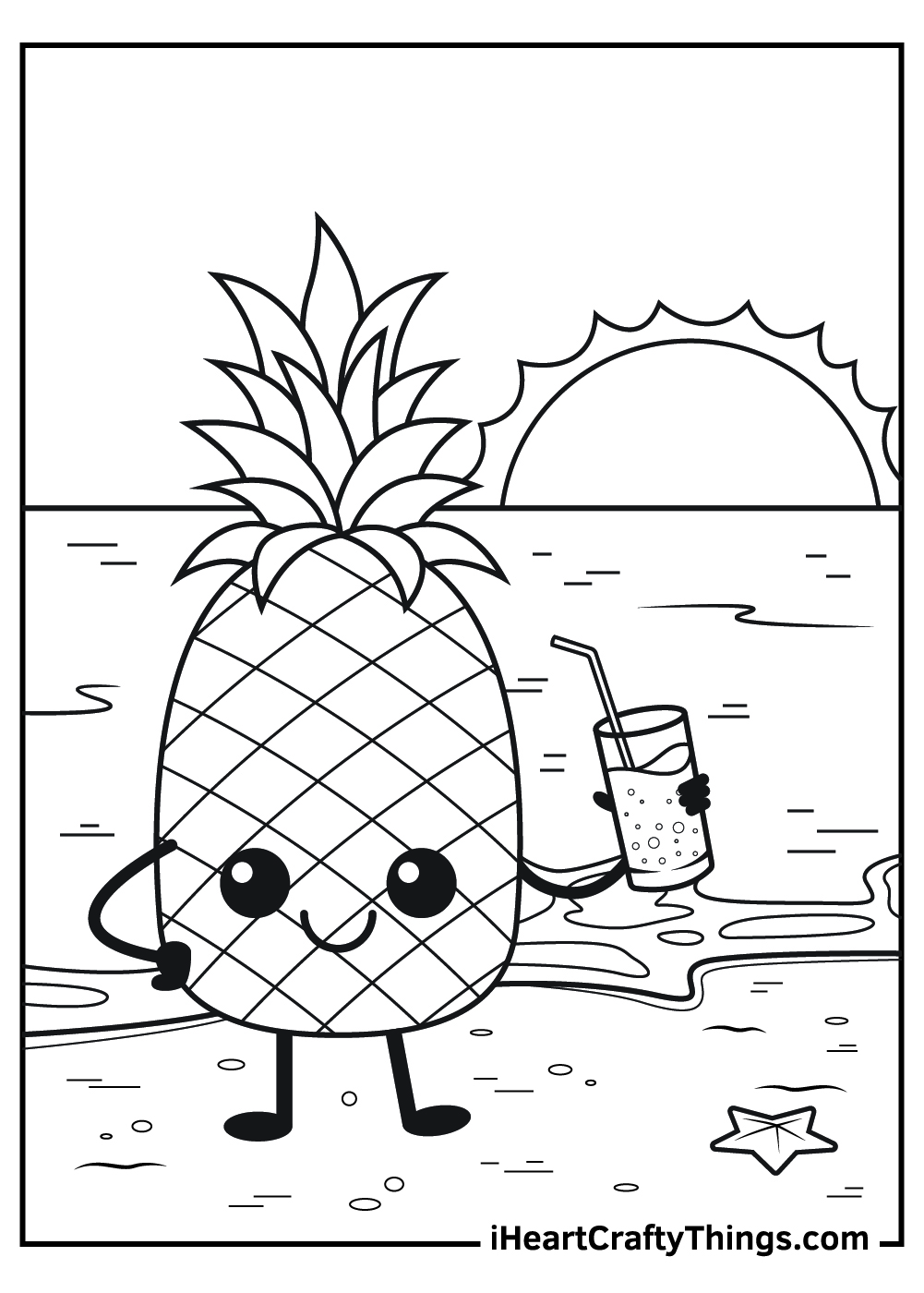 Our next character in this pineapple coloring page has a huge grin and wide sparkling eyes. The leaves on top of the pineapple are large and spiky, giving it a lot of personality.
The bumpy texture is perfect for coloring creativity. This pineapple coloring page is perfect for kids who love fruits and cartoons.
You can print it out and color it in different shades of yellow, orange, or green.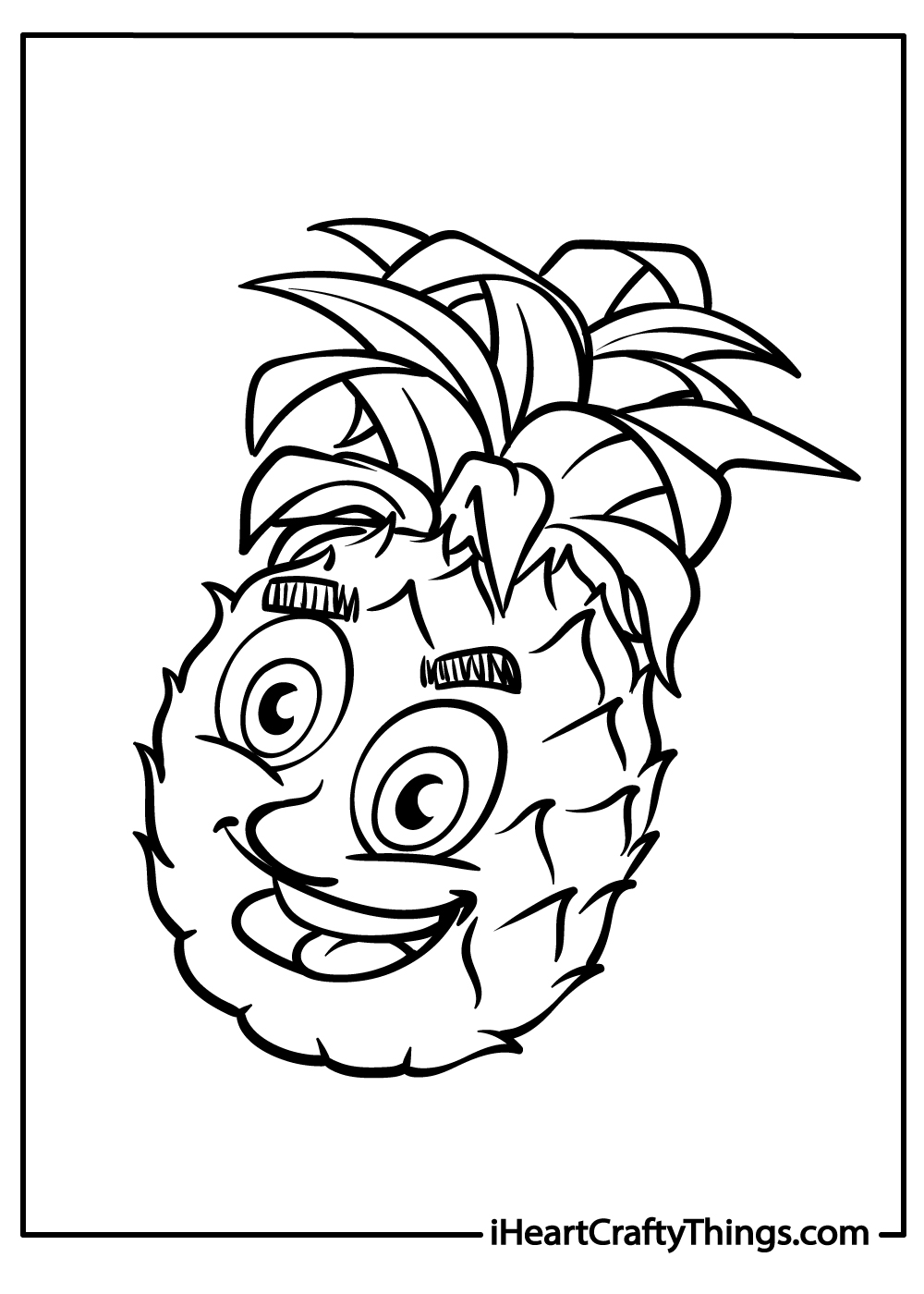 These pineapples are feeling the love in this pineapple coloring sheet.
The hearts surrounding these pineapples would provide a good chance to incorporate some lovely reds into this image, and I think a nice vibrant purple would finish off the loving mood of this pineapple printable in a really stunning way.
REMEMBER: You can get the COMPLETE set of these coloring pages >> HERE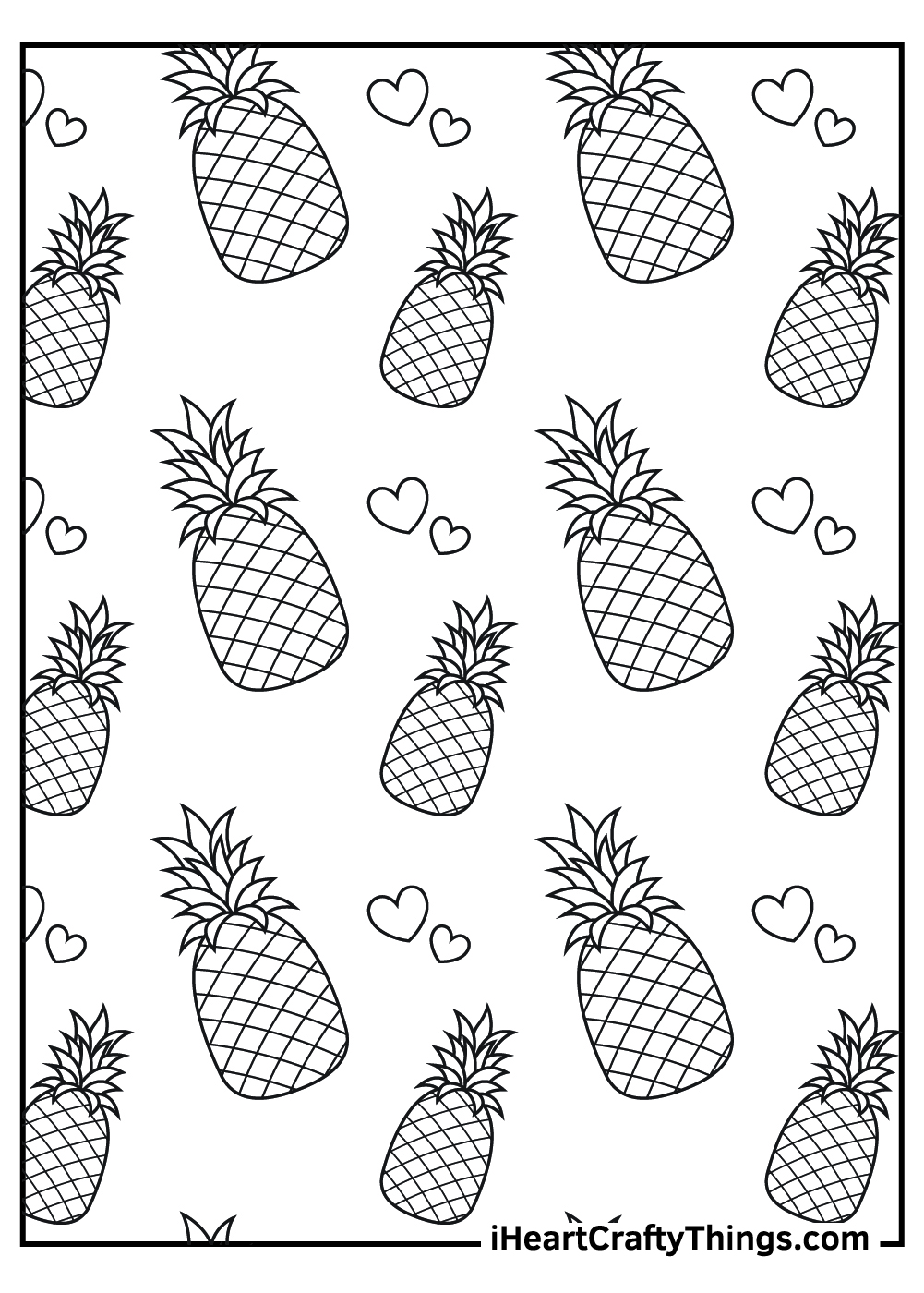 Soak up the summer sunshine with this cool pineapple. This tropical fruit has a smiley face and is wearing heart-shaped sunglasses to beat the bright rays.
Color the pineapple's spiky leaves a lush green. Use yellow, orange, and brown crayons to make the pineapple's skin look super sweet. Add glitter, gems, or stickers for an extra splash of fun!
In the background, draw a bright blue sky with a beaming sun and puffy clouds. Palm trees, beach balls, and other summery objects would look pineapple-tastic!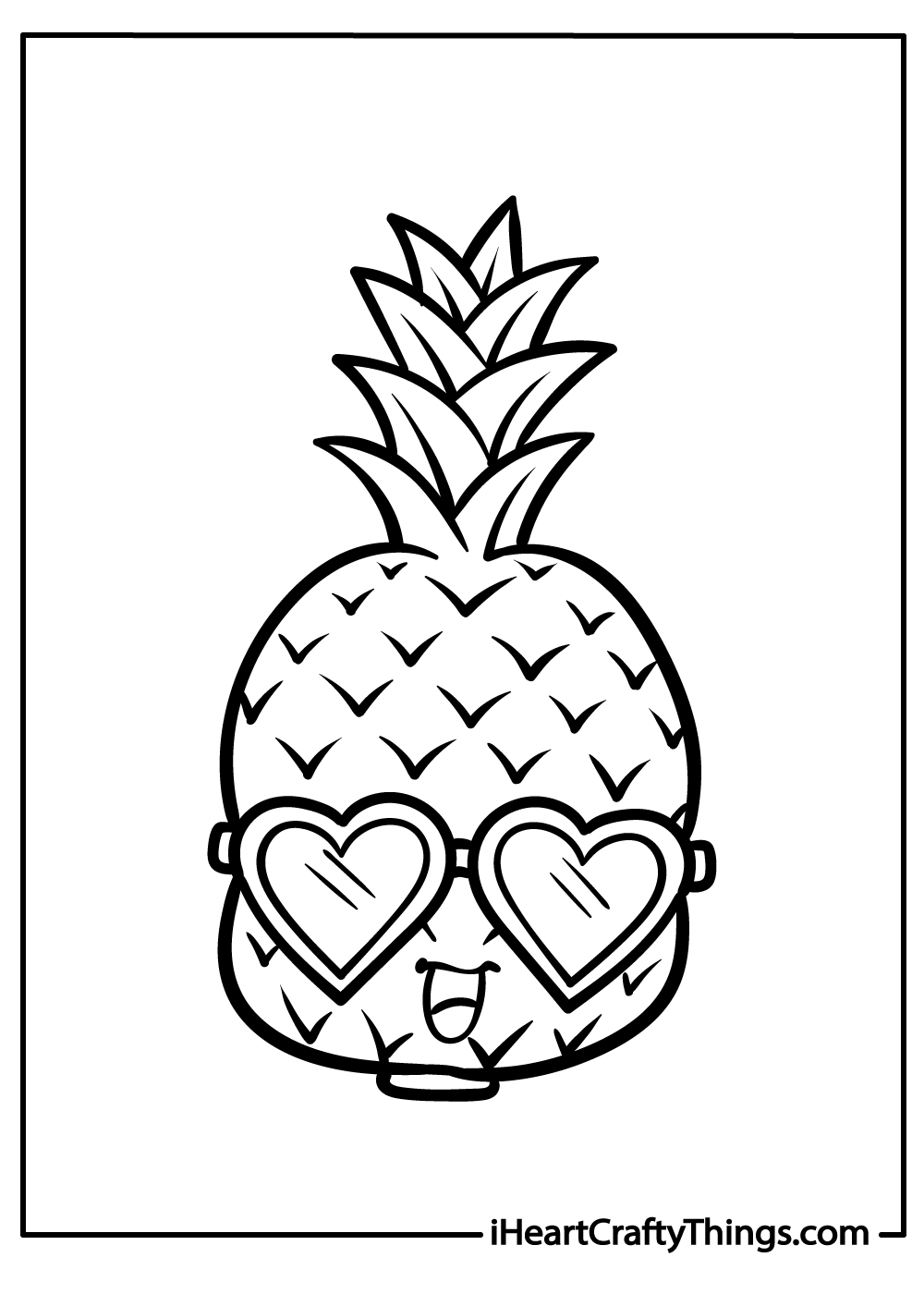 This next pineapple coloring sheet shows a pineapple looking very cool as he enjoys his day at the beach in some sunglasses.
You could color in the sky a brilliant bright blue, or you could make it more orange to make it a beautiful sunset on the beach.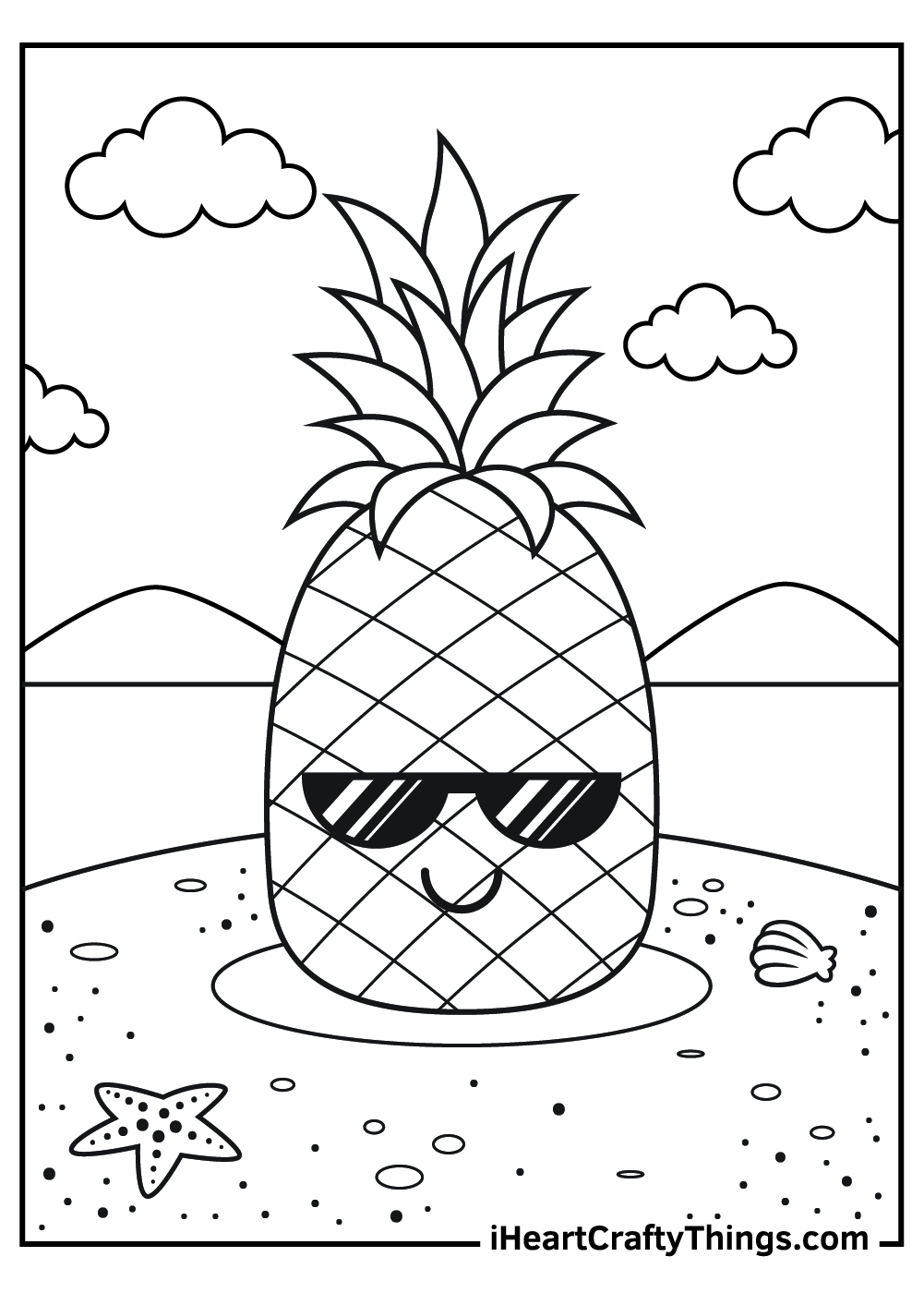 For our last free pineapple coloring page for kids in this collection, we have a more realistic depiction of a pineapple with pineapple in bold beneath it.
I think this pineapple printable would look really cool if you used your favorite bright colors for the letters of pineapple, and then used a beautiful blue for the solid background.
Will you go with similar colors or try out some more of your favorites for this pineapple coloring sheet?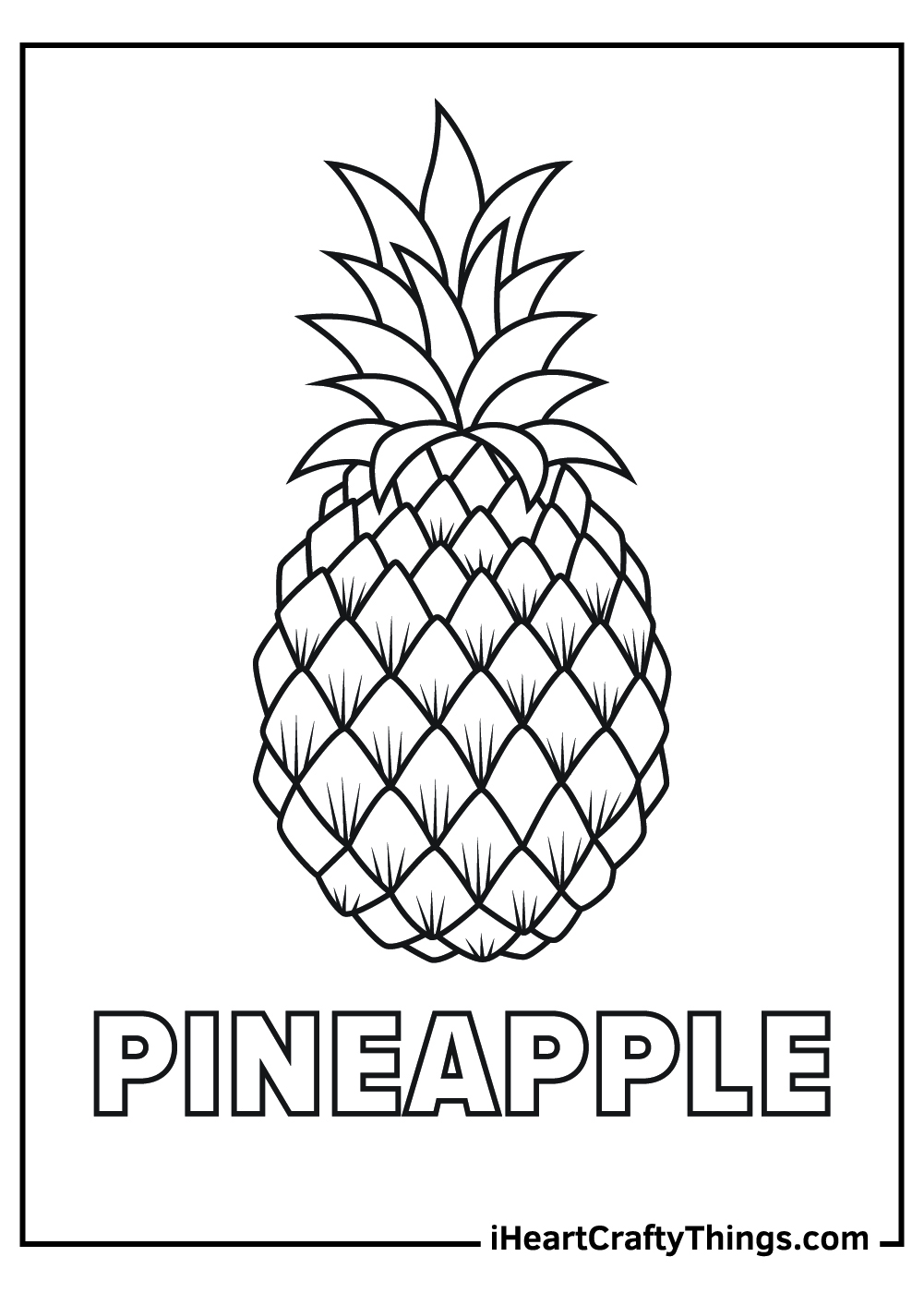 Our pineapple coloring page features a delicious pineapple that is ready to be eaten. This printable is great for foodies who love tasty pineapples.
The pineapple has a spiky top and a rough, diamond-patterned body. The image has a white background, so you can choose any color you like for the pineapple.
You can use shades of sunny yellow and emerald green for a natural pineapple look. The pineapple also has a green leafy crown that adds some contrast to the yellow color.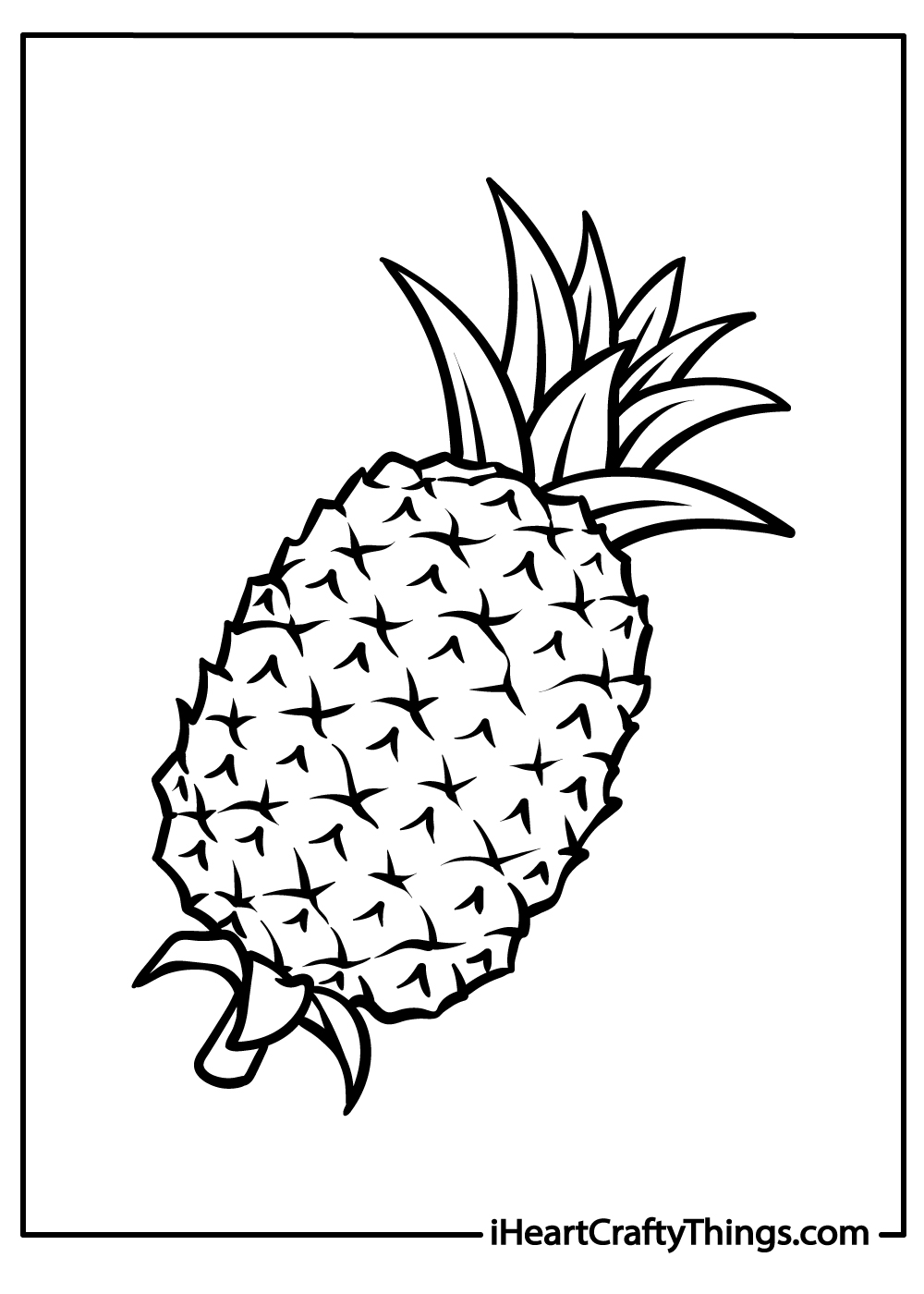 Pineapple Coloring Pages – Which will you choose?
We hope you had a lot of Summertime coloring fun with these free pineapple coloring pages for kids no matter what time of the year it may be!
Remember that all of our coloring printables and art goodies are free for you to print as many times as you like, so feel free to print multiple copies of your favorites so that you can really go wild with your favorite colors to bring these pineapple printables to life!
Please be sure to like and share our Facebook page so that you never miss out on our great free coloring pages and printables. We have new ones coming out all the time, so it's the best way to never miss out on the fun!
Also, please do share your pineapple coloring pages once you've finished coloring them in. We always love to see your colorful creativity and look forward to seeing some really cool Summer pineapples!
REMEMBER: You can get the COMPLETE set of these coloring pages >> HERE