Summer is a time of fun days out in the bright sunshine having good times with friends and family.
When you're out in the bright, hot sun enjoying a day on the beach or by the pool it's great to have a refreshing treat to keep you cool while having fun.
One of the best Summer treats you can hope for is a juicy watermelon, and these free watermelon coloring pages for kids are the perfect way to get some Summer vibes going no matter what time of the year it is!
For these free watermelon printables, we're sure to see lots of bright and cheerful colors for a Summertime feel, and we think it would be great to use other mediums like watercolors or acrylic paints for a beautiful varied look to these images.
Once you've colored in these free watermelon coloring sheets, be sure to share your favorites to our Facebook page so we can have some Summer fun along with you!
10 Brand New Watermelon Coloring Pages – Free to Print and Color
Our first free watermelon coloring page for kids really has that Summer feeling! There's a lovely watermelon with a slice next to it with flower shapes in the background to color.
I think this would look so good with bright pinks and some beautiful greens for the watermelons along with yellows and lighter blues. That kind of background would really finish off the Summer vibe.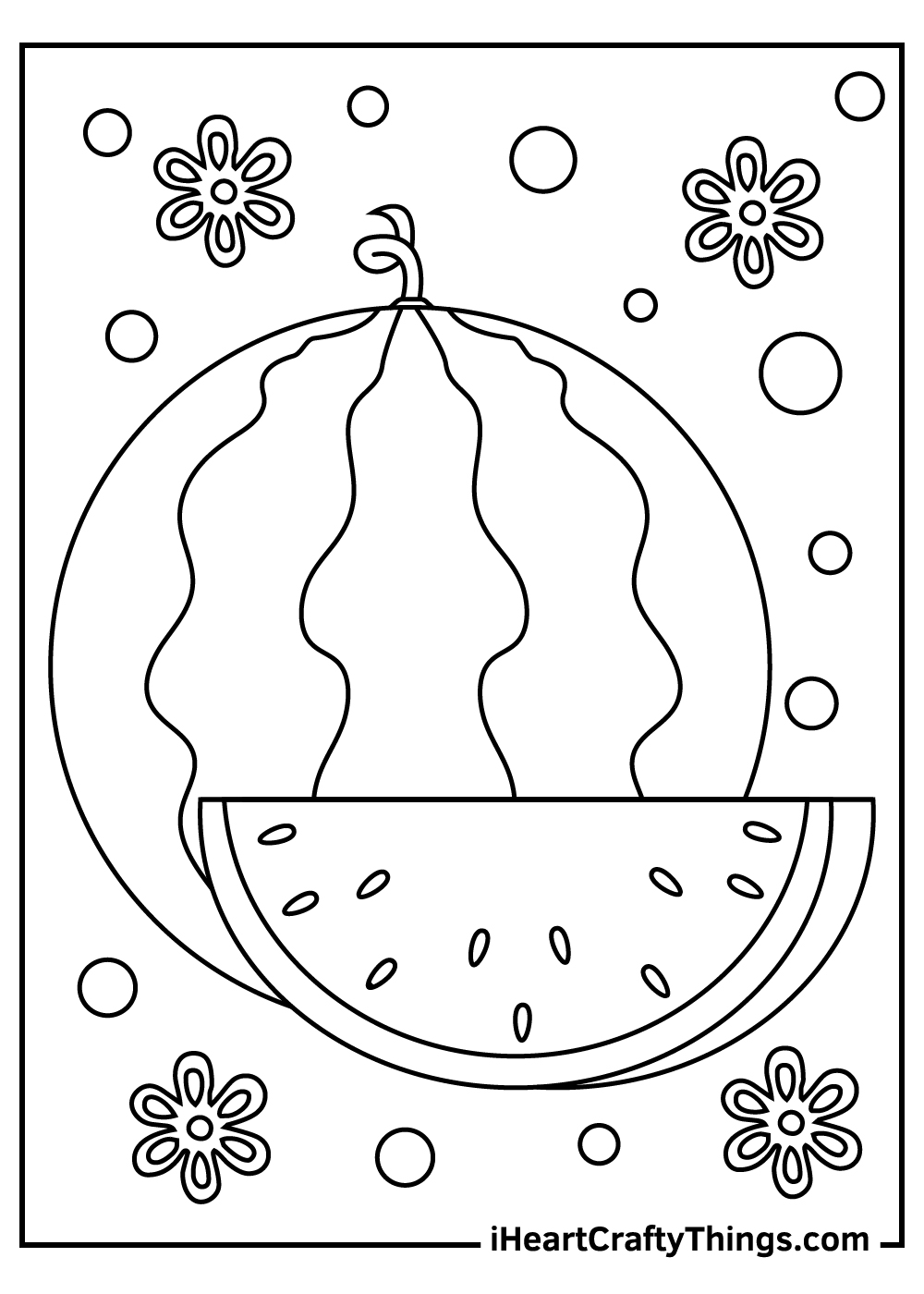 If you love watermelon as much as I do, you'll have no problem coloring in this watermelon printable!
We have "I love watermelon" written in a cool watermelon font, and the heart is made out of one, too! For this creative image I would incorporate some reds into the background to represent the love for watermelons.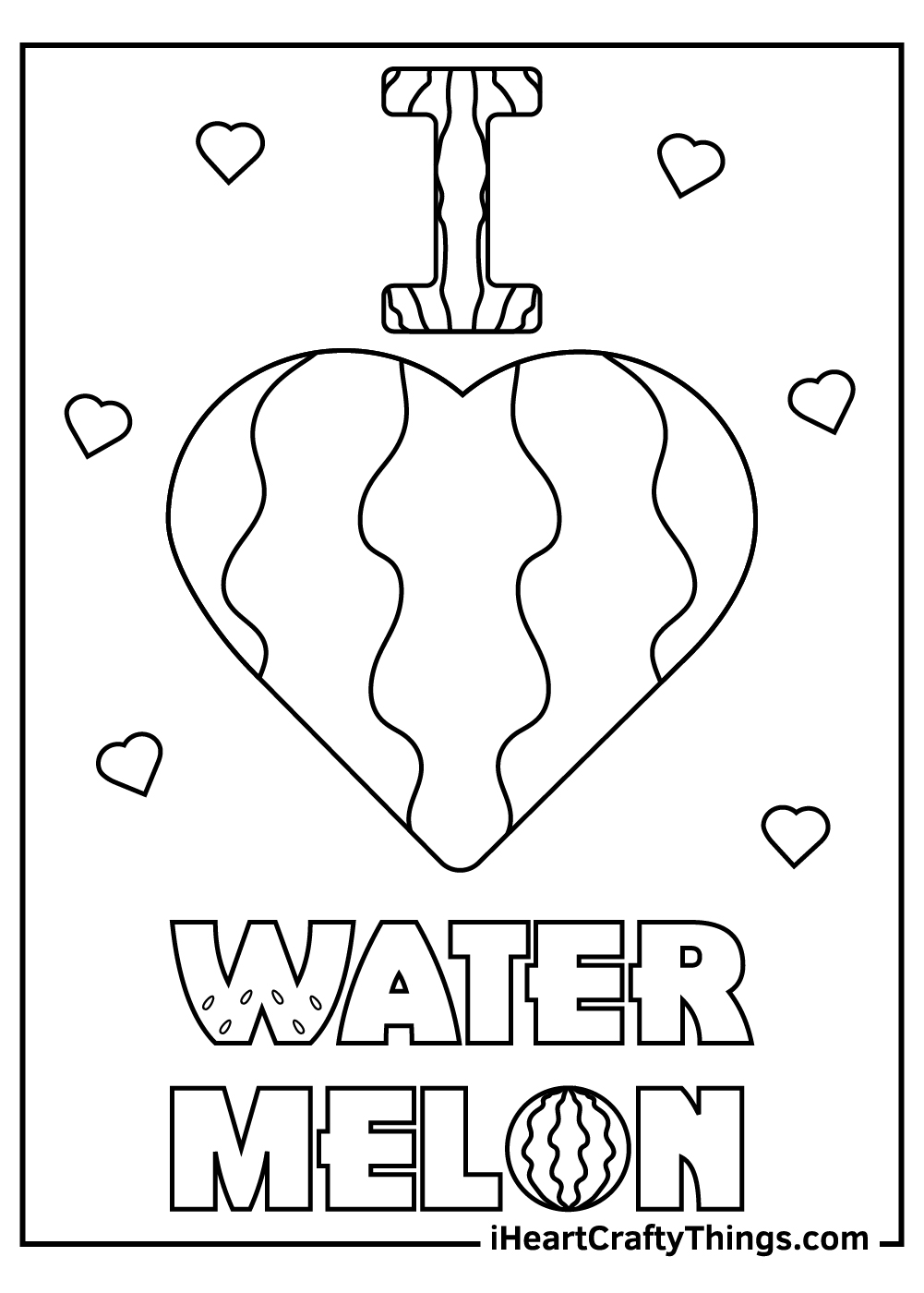 It's a happy watermelon bonanza in the next watermelon coloring sheet!
There will be lots of opportunity for some beautiful bright pinks in this image, so to balance it off maybe you could use a nice blue for the background to balance off the brighter colors.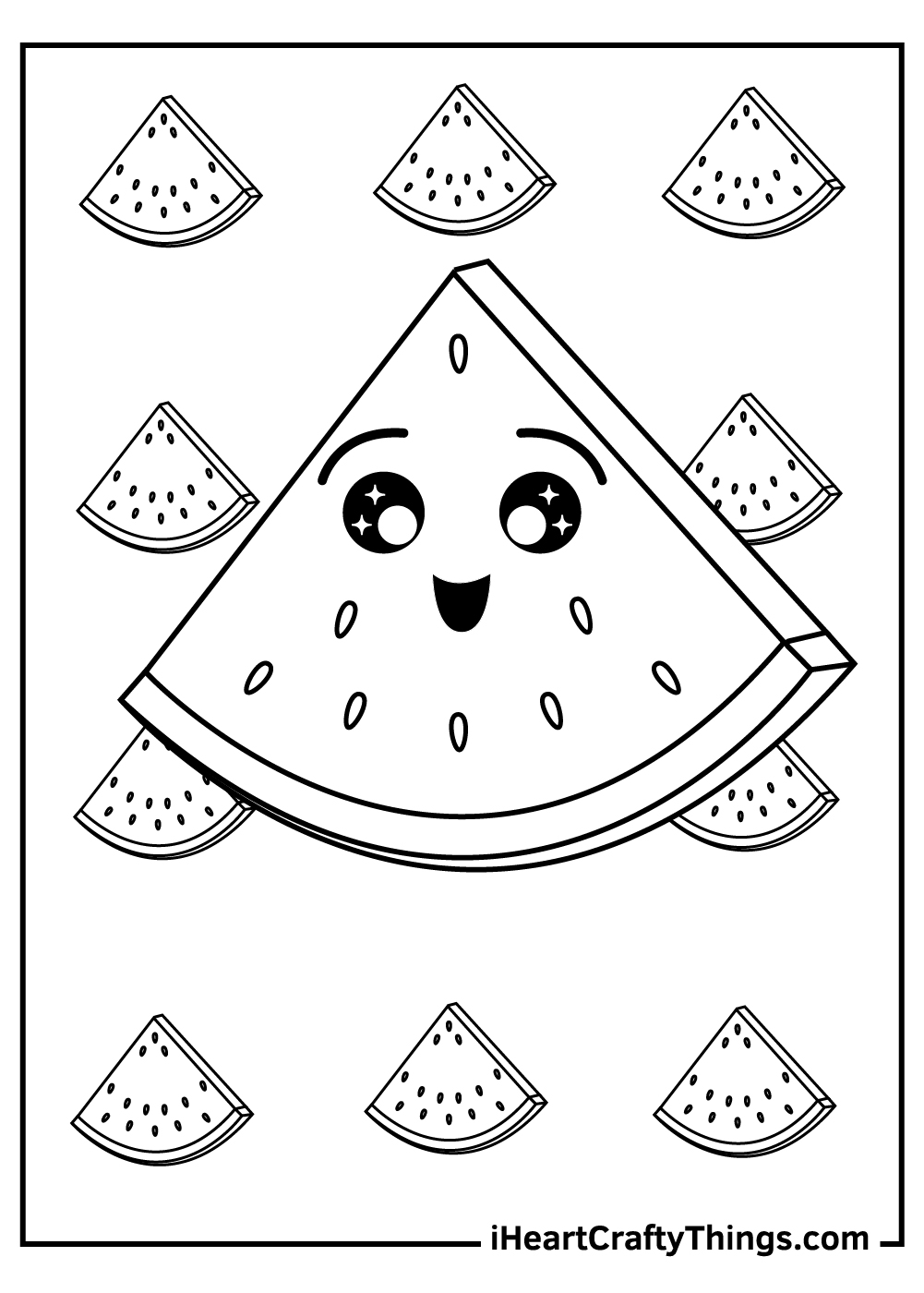 This watermelon coloring page has some cool star shapes in the background, which gives you a chance for some nice yellows mixed in to provide some great bursts of color.
What colors will you use for the background and the watermelon shapes in this watermelon coloring printable?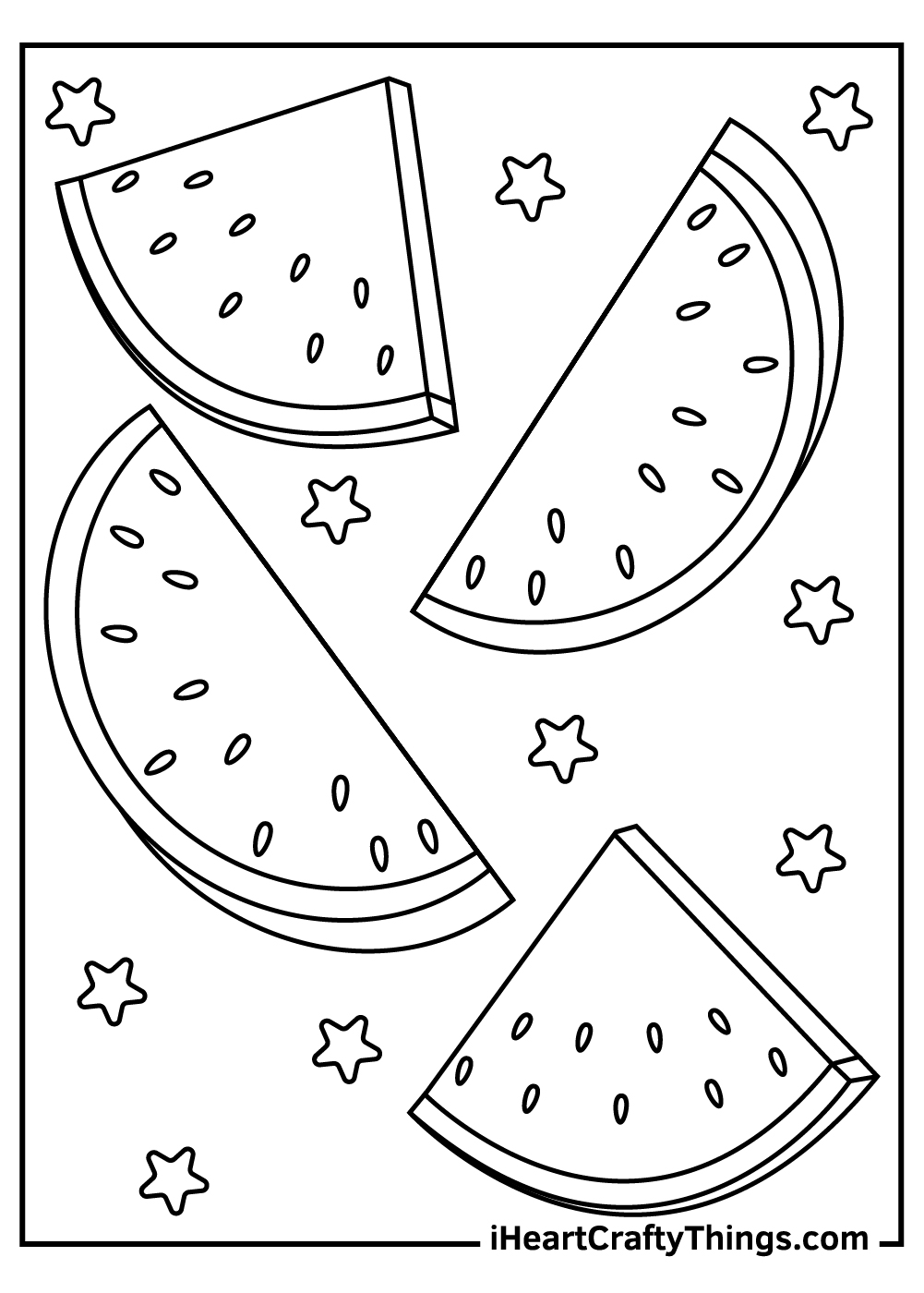 It's time to grab a slice in this next watermelon coloring sheet! The way this picture is arranged provides a great chance for contrasting colors of greens and pinks.
Maybe you could try out a new medium like watercolors for a softer, more subtle look to the colors. I bet it will look really cool no matter what you use!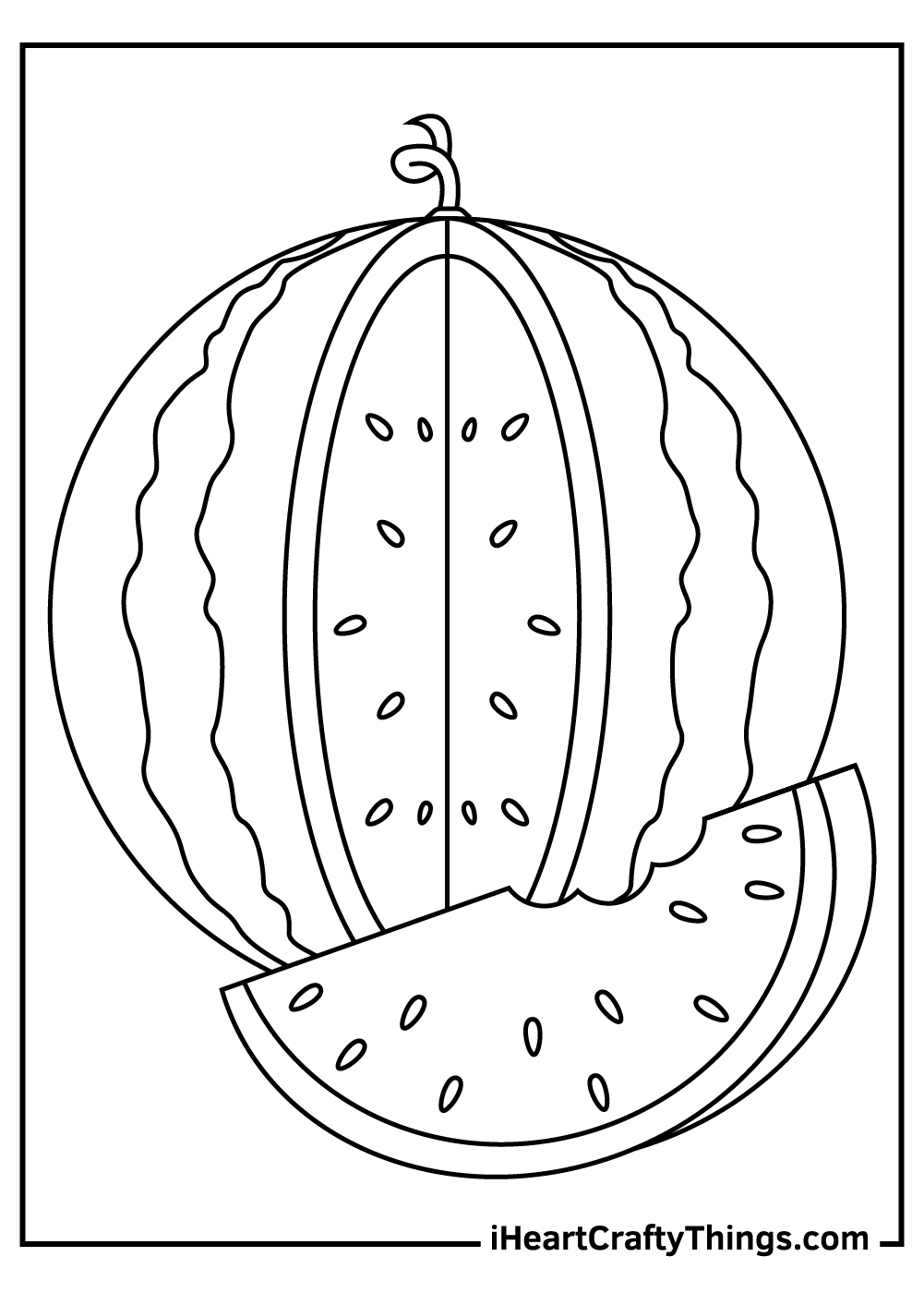 We have another happy watermelon in this free watermelon coloring page. If you're feeling more creative, you don't necessarily have to stick to pinks, greens and reds for the watermelons.
You could also use some of your other favorite bright colors instead to give this watermelon printable a funky look.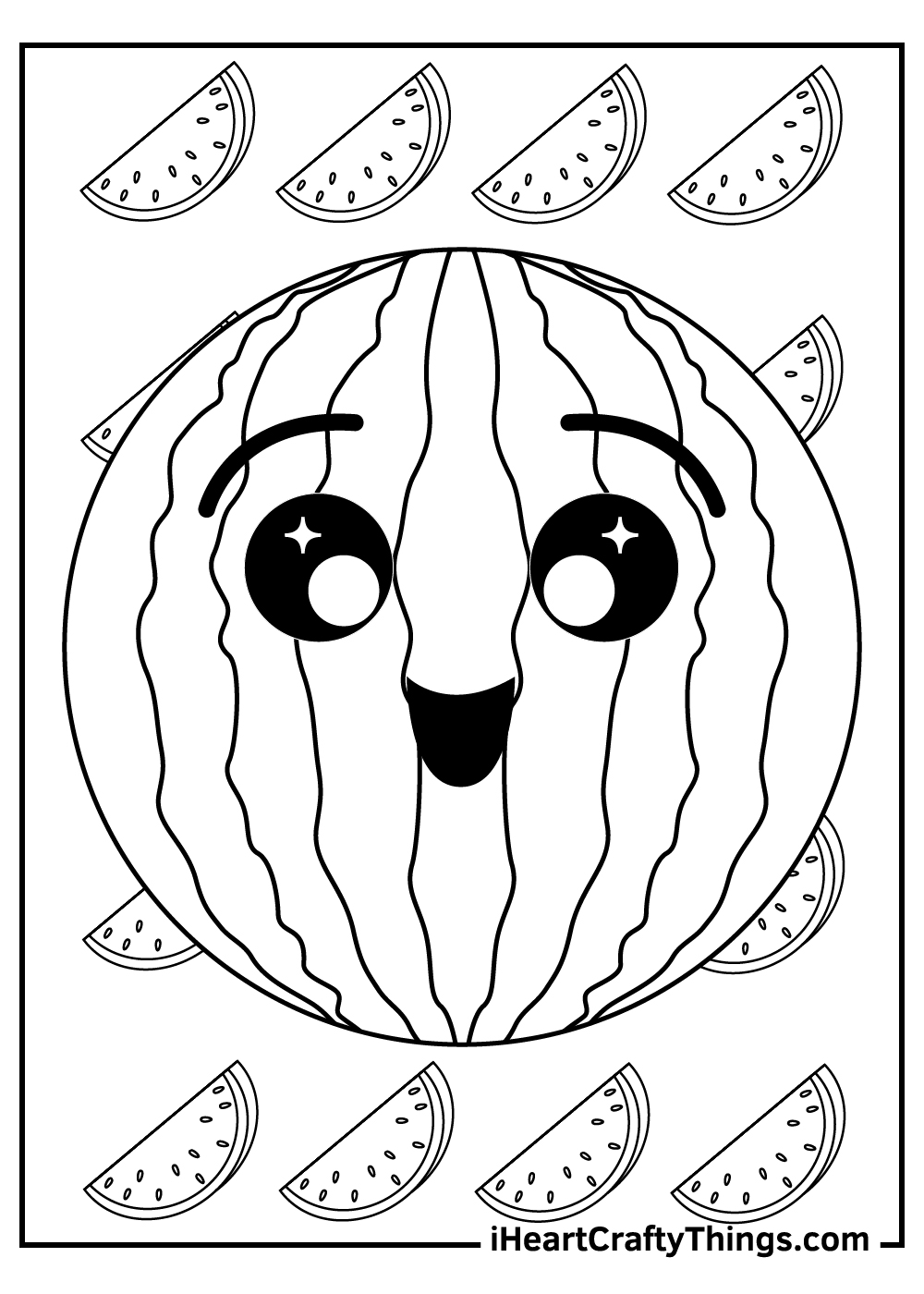 This next image could make for a great watermelon poster for your wall, as it has a really cool pattern made up of watermelons.
I bet that this watermelon coloring page would really pop with the brightest shades of your favorite colors, and it could look even more colorful if you worked in mediums like colored pens and acrylic paints for even brighter color!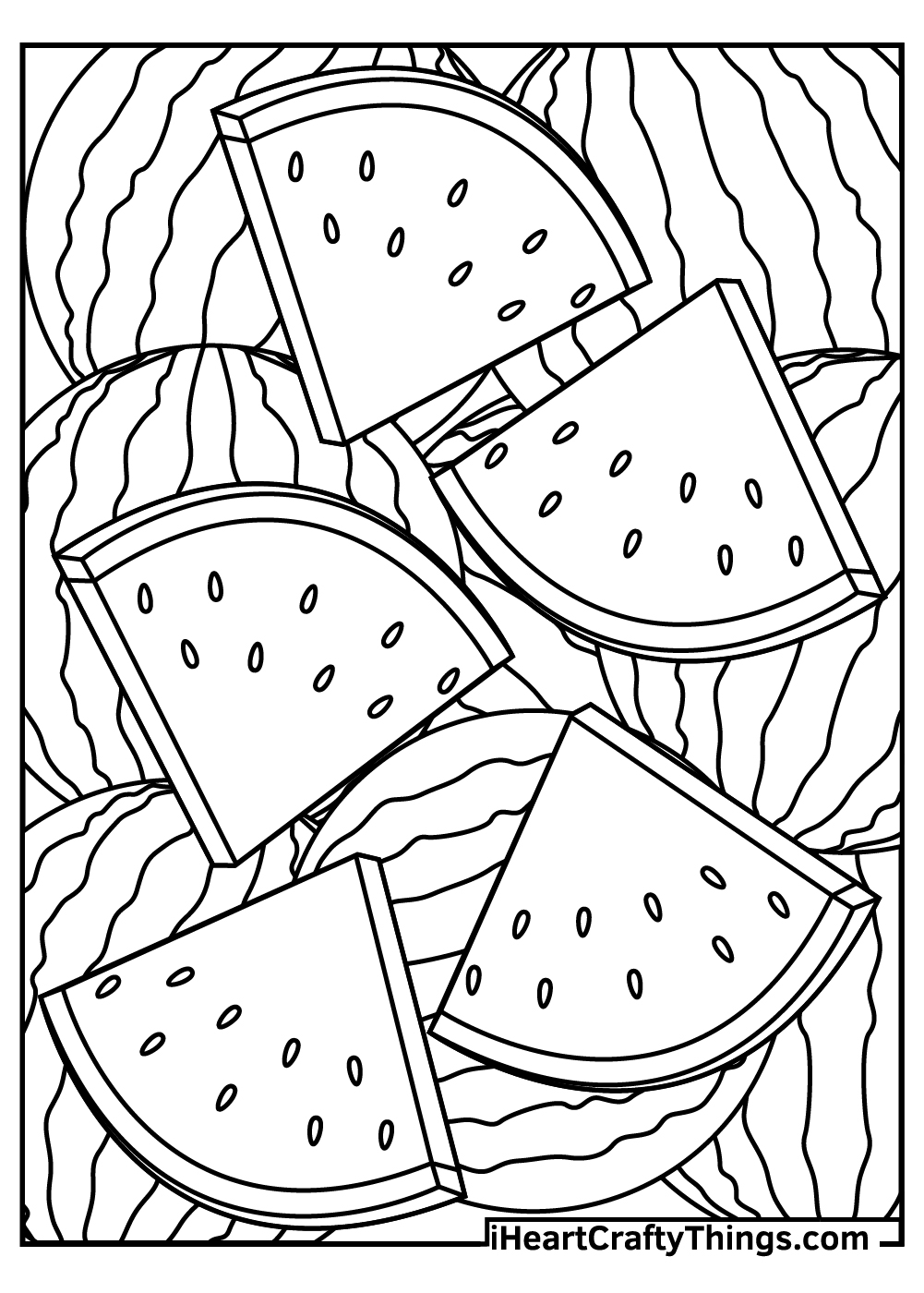 We have a cute watermelon friend in this sweet watermelon coloring sheet! There are some star shapes behind this watermelon character, so you could color them in with yellow to have a color contrast between the colors of the watermelon and the background, or you could use any of your other favorites to make a beautiful variety!
What colors will you use for this fun watermelon coloring printable? We can't wait to see!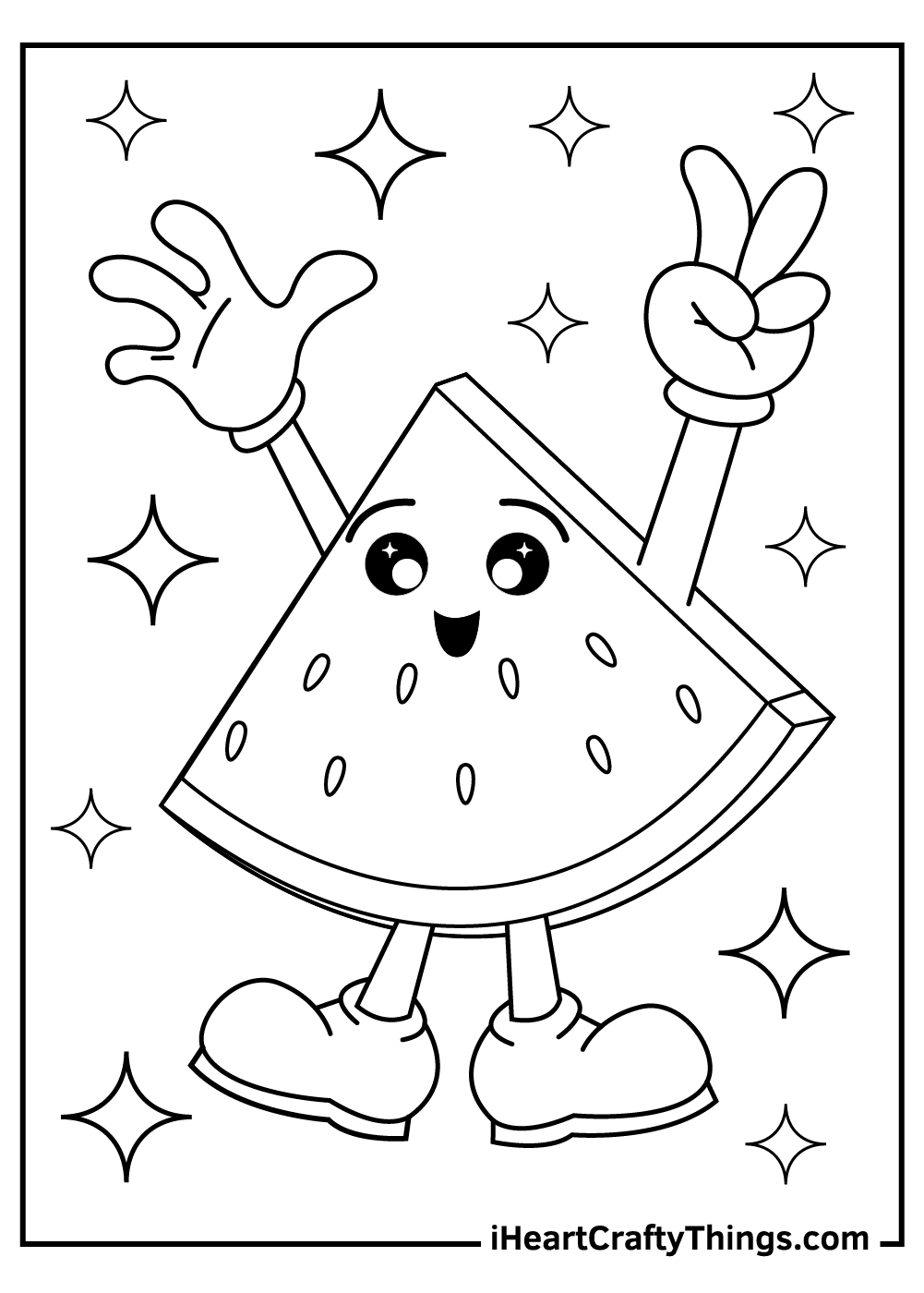 This next watermelon coloring page has a great pattern made up of some watermelons and slices.
You could pick a few colors and alternate these colors throughout the different watermelons for some symmetrical color fun! This could be another image that would be fun to try out some other mediums with as well.
What will you use to finish off this watermelon image?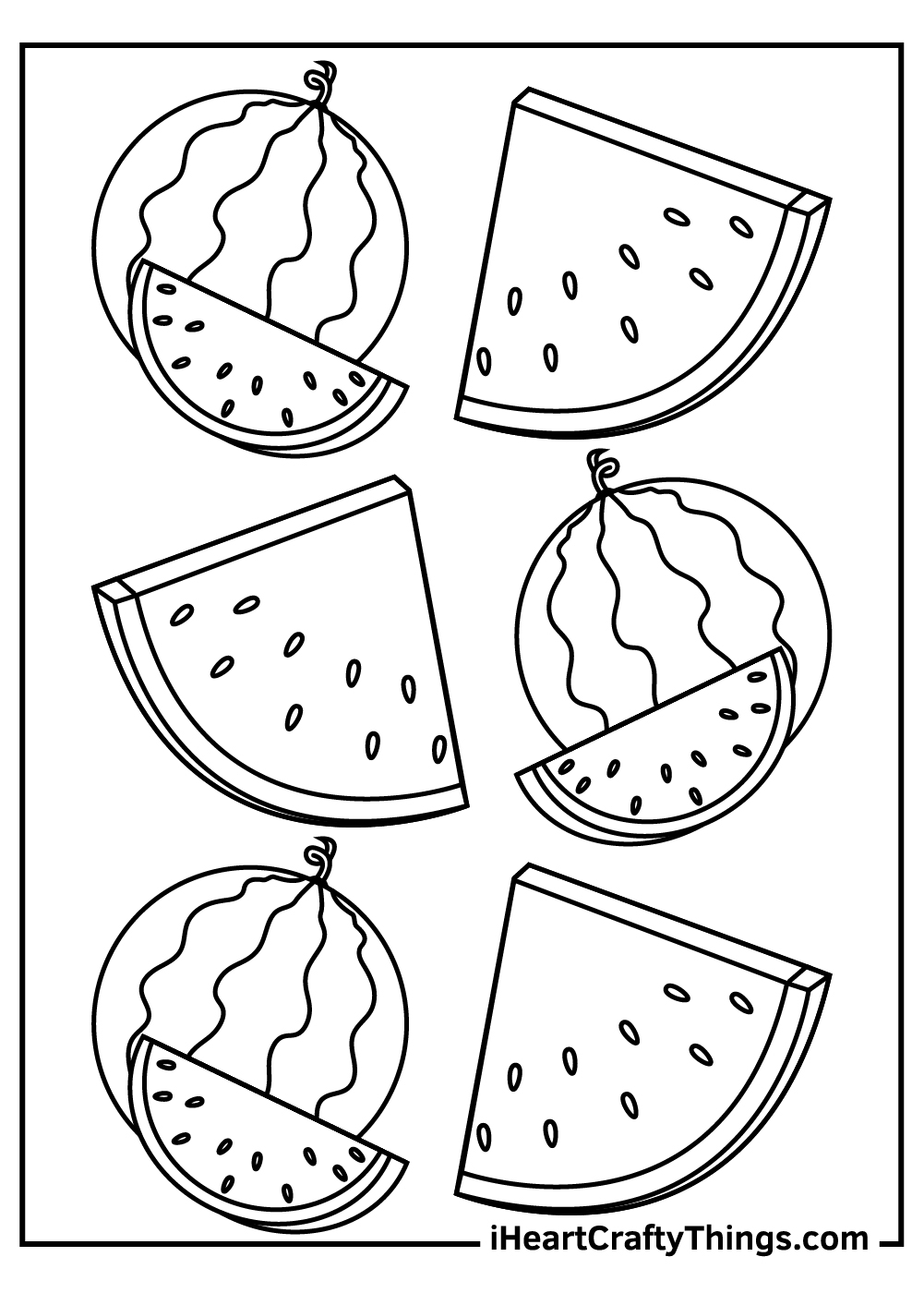 It's hard to resist taking a bite of a juicy slice of watermelon, and that's why there's a bit of each slice featured in this last free watermelon coloring sheet for kids!
There will be a lot of pretty bright colors for the watermelons in this image, so what colors will you use for the background?
I would use a darker color like a nice dark blue, green or purple as a contrast to the brighter watermelon colors.
What colors are you feeling for this watermelon printable?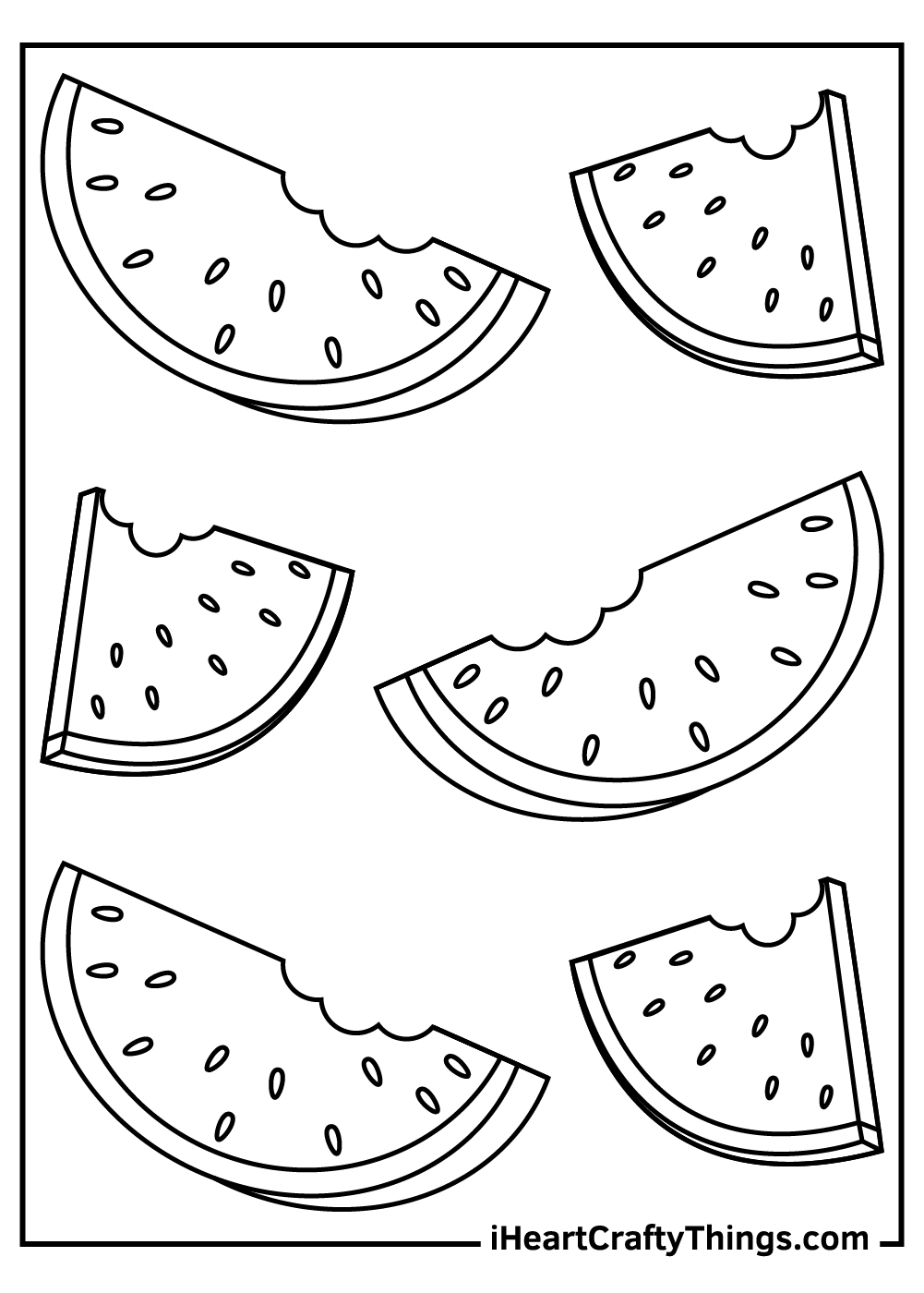 Watermelon Coloring Pages – Which will you choose?
We hope that you had a wonderful fun time with this collection of watermelon coloring pages for kids!
It's great to get into that fun Summer mood, so even if Summer is a few months away you can get ready for the good times with these free watermelon printables.
Remember that all of our coloring pages and printables are completely free for you to print, color and enjoy, so why not print out a few copies to try out some new mediums and color variations for hours more coloring fun.
Please be sure to like and share our Facebook page to be notified of new coloring pages and printable goodies that we'll be bringing out in the future.
Also, please share some of your favorite completed watermelon coloring printables once you've finished them to our Facebook page for us to see!
We love to see your wonderful color creations and look forward to seeing how you completed them.