Welcome to the first edition of the 12 Months of Sensory Dough Series. Each month 12 Bloggers will bring you their own unique spin on a popular sensory dough. Go
HERE
to read more about the series and to meet the Co-hosts and read about the spin they will be sharing each month. I intend on setting up our dough experience each month as an "Invitation to Play" and will couple our play with a children's book.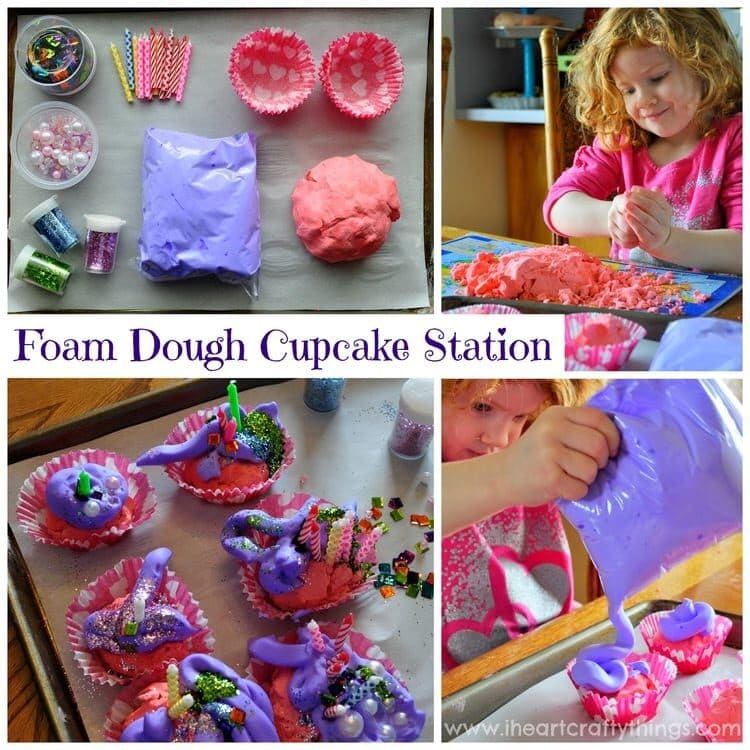 The theme this month is Foam Dough and it was our first experience with it. I have to say…we LOVED it! If you have never made Foam Dough before it is made with roughly equal parts of corn starch and shaving cream. The best recipe I found to follow is at
Fun at Home with Kids
(towards the bottom of the post). I found Asia's instructions easy to follow since I had never made it before.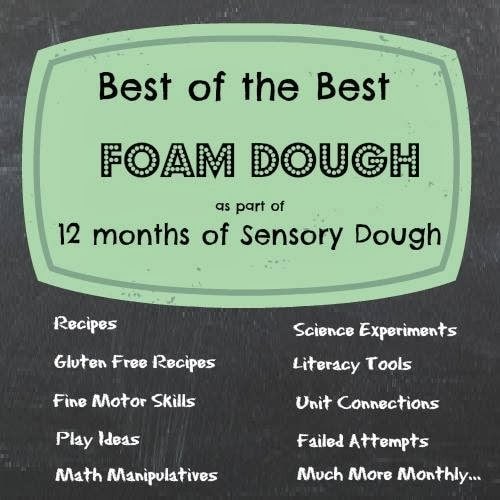 Before digging in with our activity we enjoyed reading "If You Give a Cat a Cupcake" by Laura Numeroff. Such a silly story! You can't help but want to read the story all over again once you are finished reading it the first time, which is exactly what we did. 🙂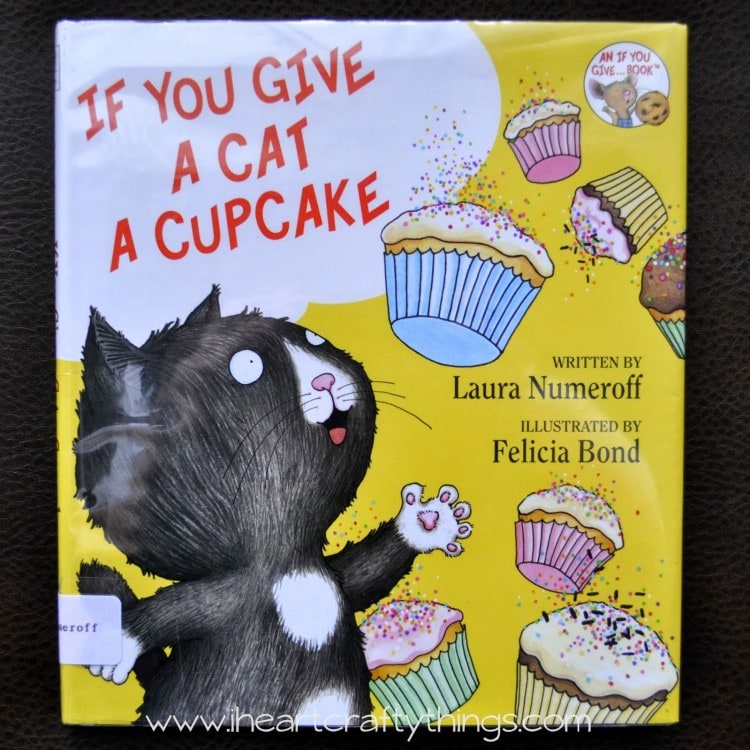 Then after reading it the second time you can't help but wish you had some freshly baked cupcakes to frost and decorate with all kinds of sprinkles. That is how we came up with our Foam Dough Cupcake Station.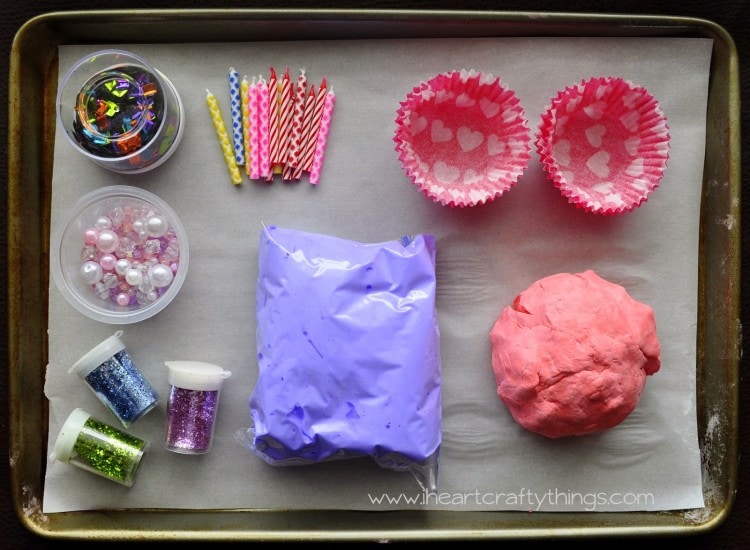 Our Cupcake Station was placed on a large baking tray lined with parchment paper (for easy clean up) and included a large ball of Foam Dough, 6 cupcake liners, candles, glitter, sequins, beads and a sandwich bag full of dyed shaving cream.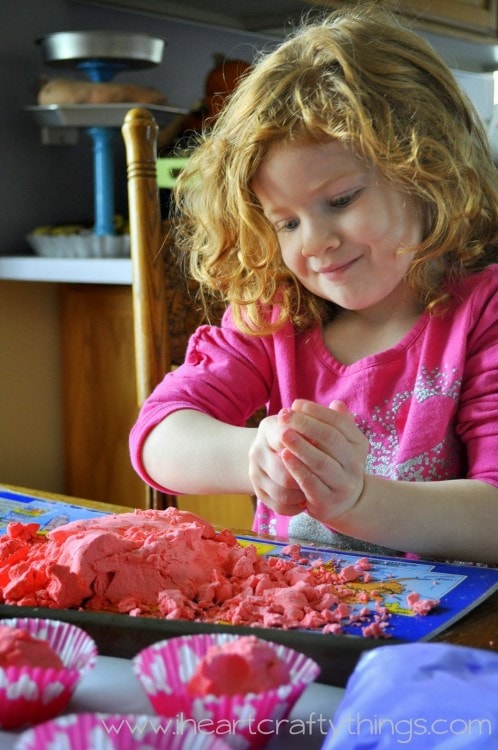 My daughter started by removing the Foam Dough from the baking tray onto a placemat to play with and explore the dough. We learned that it crumbles easily but also holds together quite nicely when formed into a ball. I told her we were going to make some cupcakes like in the story so she formed large balls in her hands and pressed them down into the cupcake liners.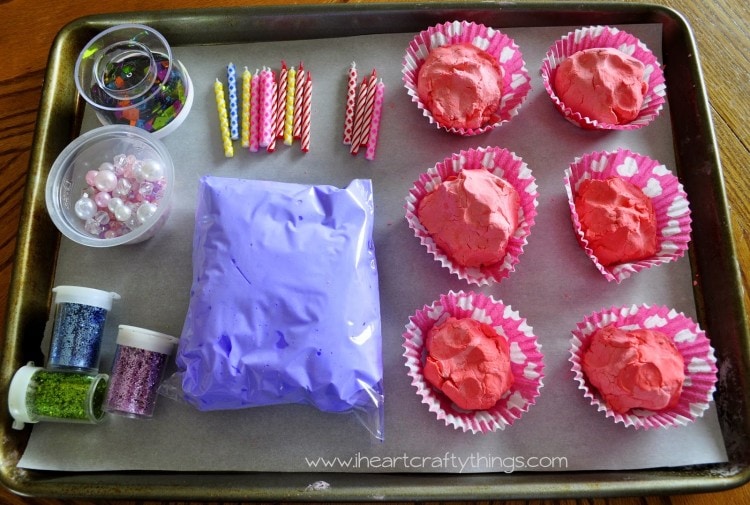 The frosting was simply shaving cream dyed with liquid watercolors and placed inside a sandwich bag. I cut the corner off one end and my daughter just squeezed the bag to pipe frosting on her cupcakes.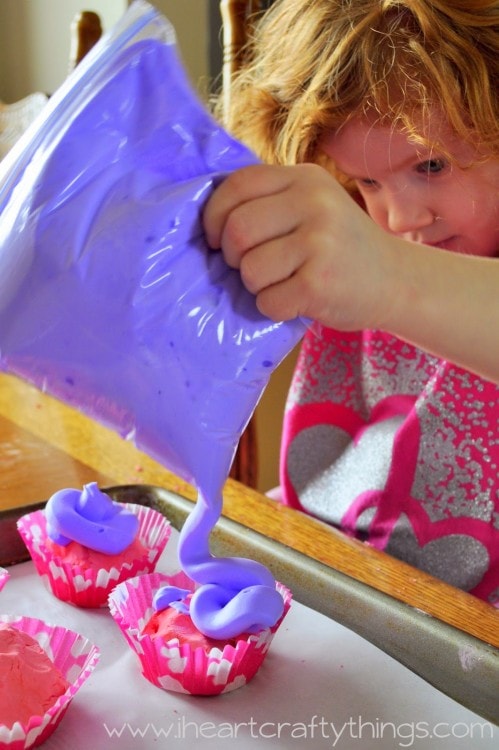 Next came the fun part of decorating the cupcakes with all those sprinkles and adding candles on top. She started very frugal with the decorations but by the end she had removed the tops from the glitter and literally poured the glitter on some of her cupcakes! A girl from my own heart!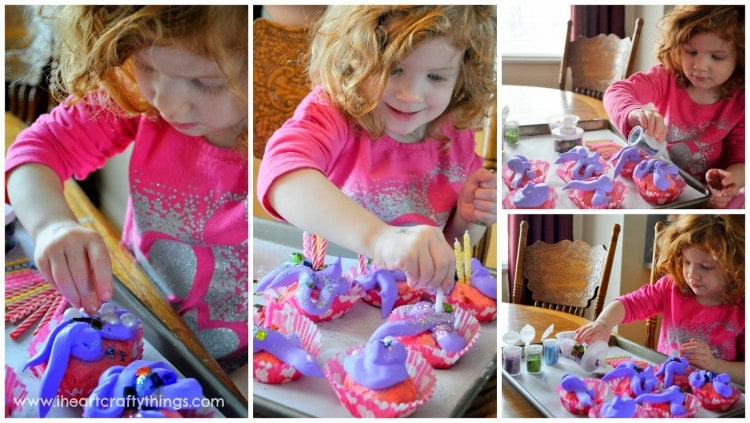 "If You Give a Cat a Cupcake" + Foam Dough + Cupcake Decorations =
The Best Afternoon Ever!!!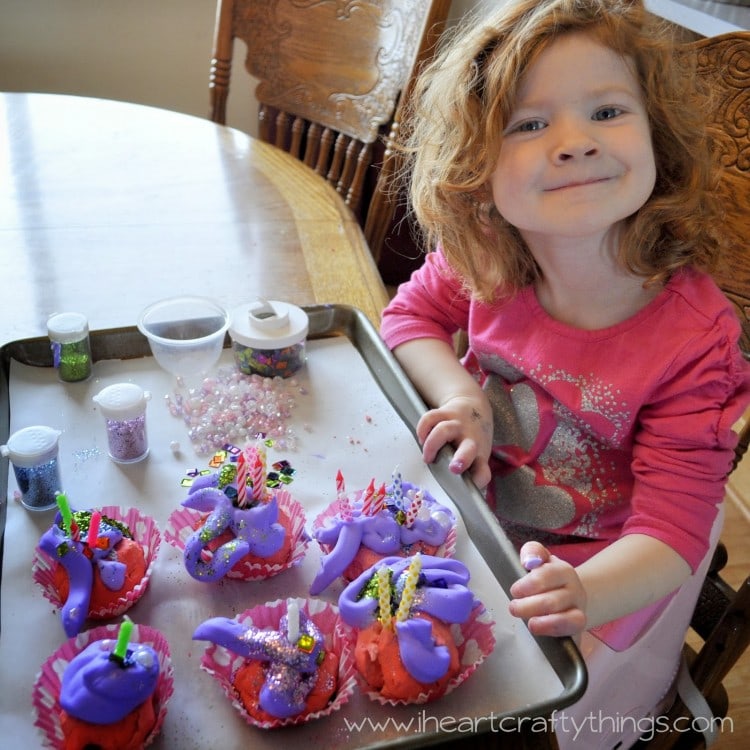 I invite and encourage you to visit all of the Co-hosts as each will have a different take on the dough and you don't want to miss out on all of the great ideas and insights!
Meet the Co-hosts:
Now it's your turn…
Do you have a favorite Foam Dough recipe, activity or post you would like to share? We would love to see! Have you ever had a Foam Dough Fail? We would love to see those too! Please link up your posts below in the link party. You can also post a picture on Facebook, Instagram, Twitter or Google+ with the tag #ilovesensorydough.
Please read the following guidelines before linking up.
Share family-friendly posts related to the month's theme. Feel free to link old or new posts that highlight your favorite recipes for sensory dough. Failures and unsuccessful attempts are welcome.
We ask that no posts are linked with copy/paste recipes from other sources. If you use a recipe from another source, please link back to the original recipe.
By linking up, you give permission to share your post and one photograph in future posts and through social media channels.
Visit 2-3 other posts that others have shared. Discover new ideas and meet new friends!
(function() {
var po = document.createElement('script'); po.type = 'text/javascript'; po.async = true;
po.src = 'https://apis.google.com/js/platform.js';
var s = document.getElementsByTagName('script')[0]; s.parentNode.insertBefore(po, s);
})();