On this page, you will find 25 all new Five Nights at Freddy's coloring pages that are completely free to print and download.
On the surface, there shouldn't be anything scary about animatronic animals at a restaurant, and this is a feature that many people enjoy in real life.
The Five Nights At Freddy's game series showed how this can be a creepy concept, as it features sinister versions of these robotic animals that torment the player.
These 15 free Five Nights At Freddy's coloring pages for kids aim to showcase the most iconic characters from this series!
These pages are all free for you to enjoy, and it's even more fun when you share them with friends to enjoy as well!
So get ready for some creepy coloring fun as we begin this collection.
25 Brand New Five Nights At Freddy's Coloring Pages – Free to Print and Color
For this Five Nights At Freddy's coloring sheet, we are featuring the man himself: Freddy Fazbear.
Freddy can turn into a terrifying robot monster, but in this image we see him in his more wholesome form he takes during the day.
Because this is focusing on his less sinister side, we would probably go for some brighter, happier colors for Freddy here.
You could also use mediums like colored pens and markers to make the colors seem brighter and more cheerful.
That is what we would go for, but will you use darker colors to hint at things to come?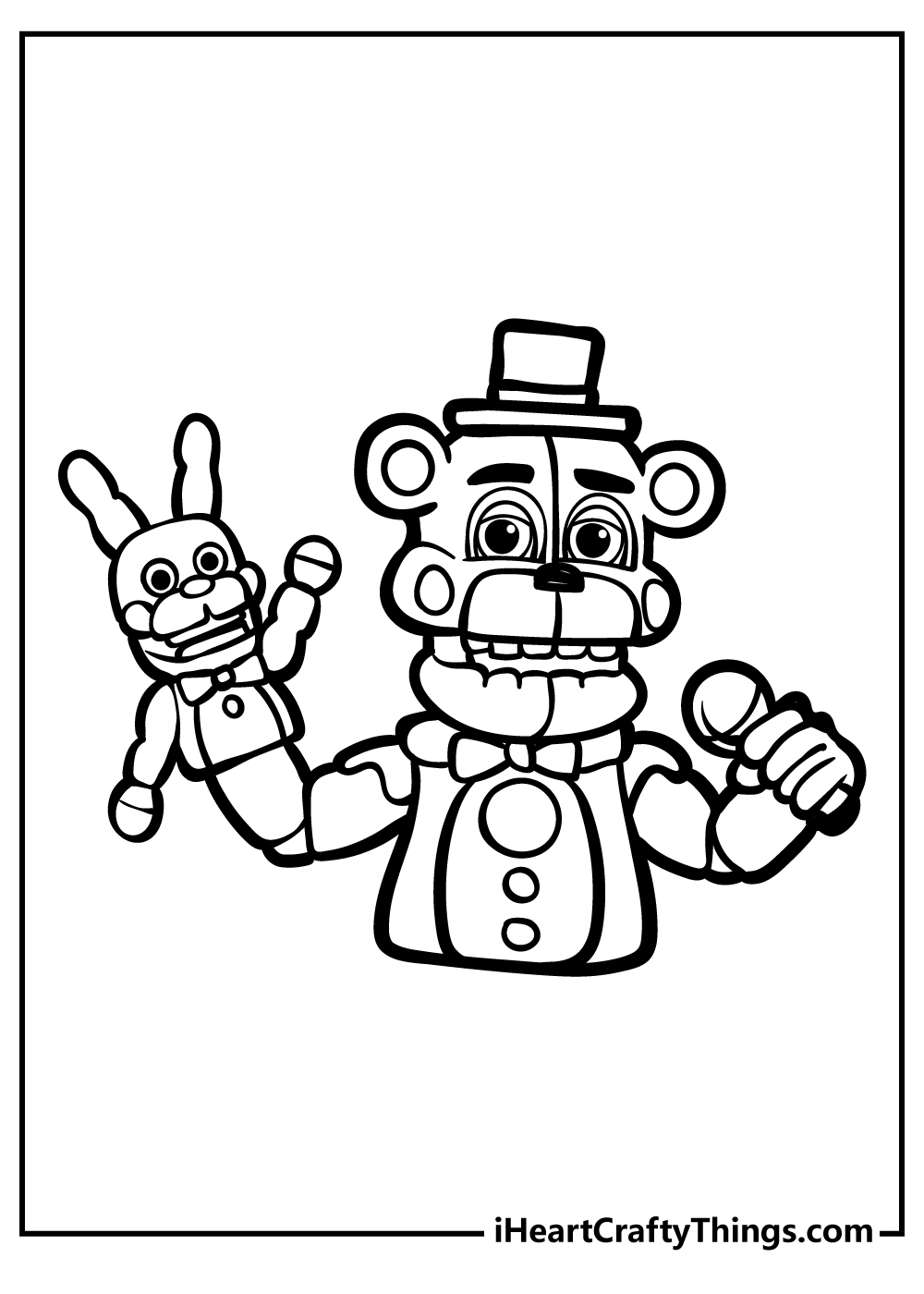 The Circus Baby is one of the newer additions to the Five Nights At Freddy's roster, but she makes quite an impression with her unique look.
She looks a bit like a harlequin in her normal form, and she really manages to stand out from the crowd.
She also manages to stand out thanks to her white and red color scheme, and you can use that for this depiction to make this page really pop!
You could also give her a color makeover if you prefer, it's completely up to you.
How will you color in Circus Baby?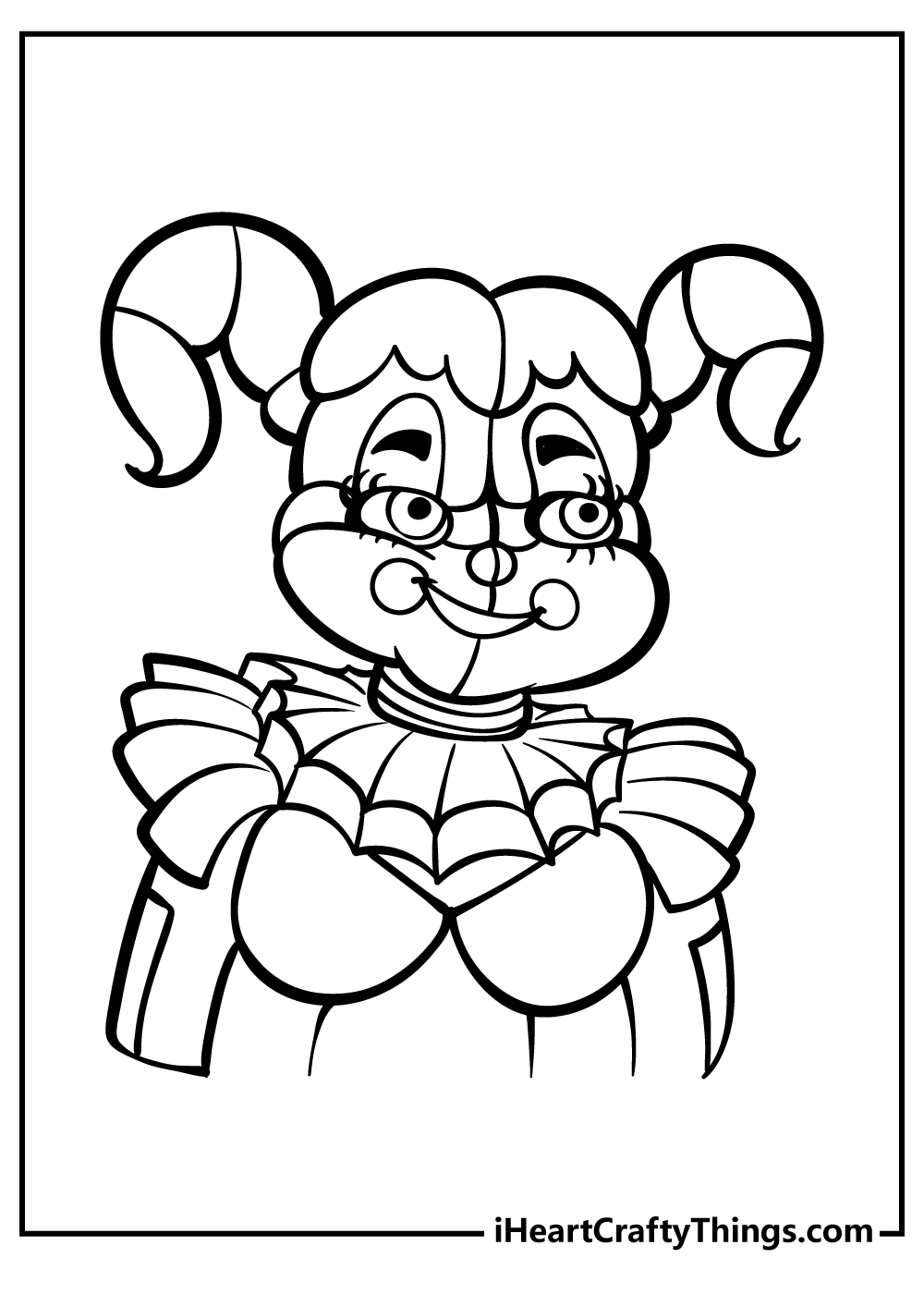 This first page in our collection of free Five Nights At Freddy's coloring pages for kids features the main bear himself: Freddy Fazbear.
This image shows him before he has transformed into his scarier form, so he still looks pretty cute and friendly here.
What kinds of colors do you think you will use for this more innocent version of Freddy?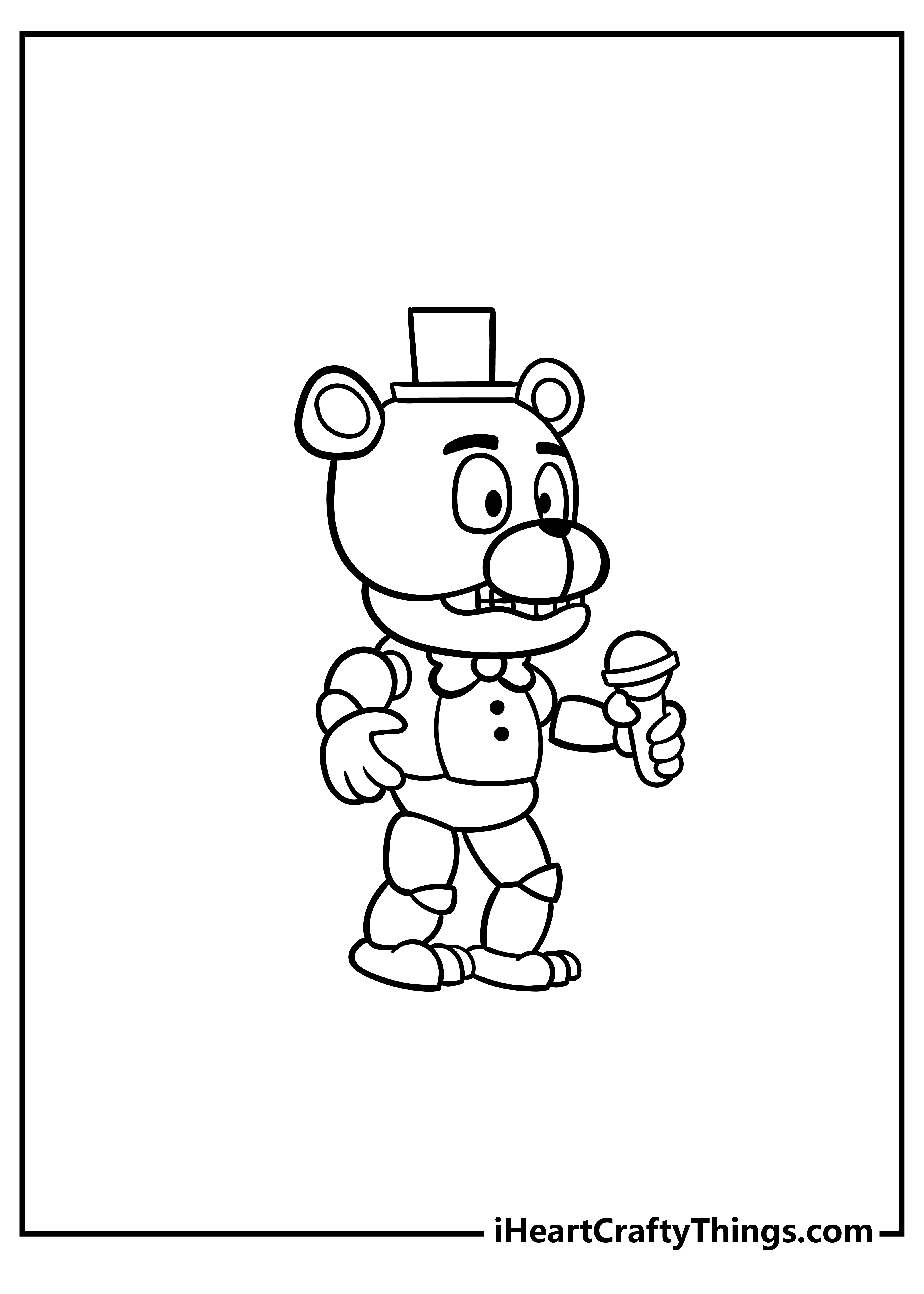 The first page may have featured a more normal version of one of these characters, but this next one brings up the creepiness by a large margin!
This time, we are looking at a close-up of the villain Foxy. As the name suggests, this is a disturbing rendition of a fox, and it's not a character you would want to meet in a dark restaurant!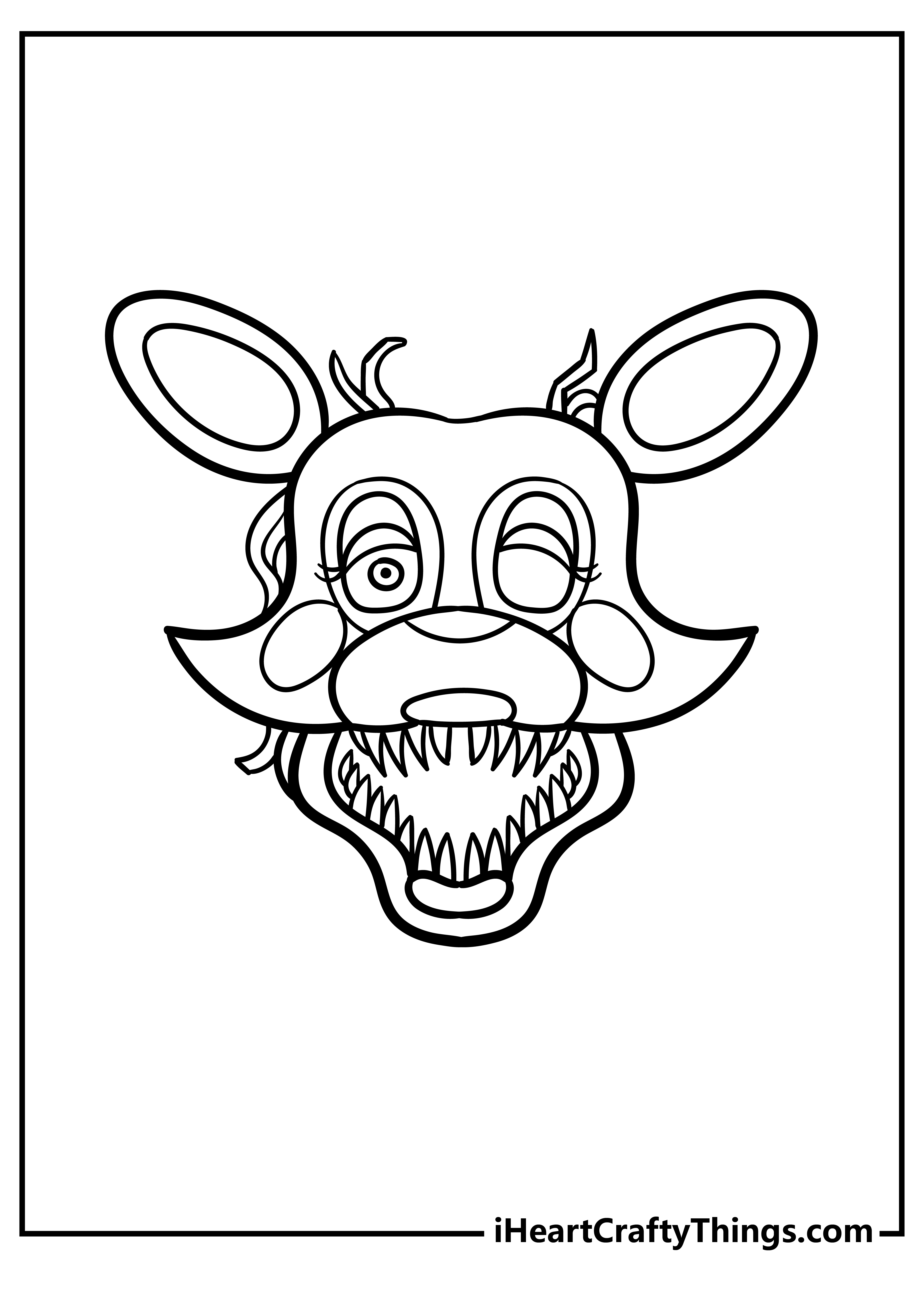 We have another rendition of Mr Freddy Fazbear himself in this third image. He's drawn in a more cartoony fashion here, and it manages to capture some of the creepier aspects of the character.
Will you color this rendition to look as he does in the games, or will you create a unique color scheme for Freddy?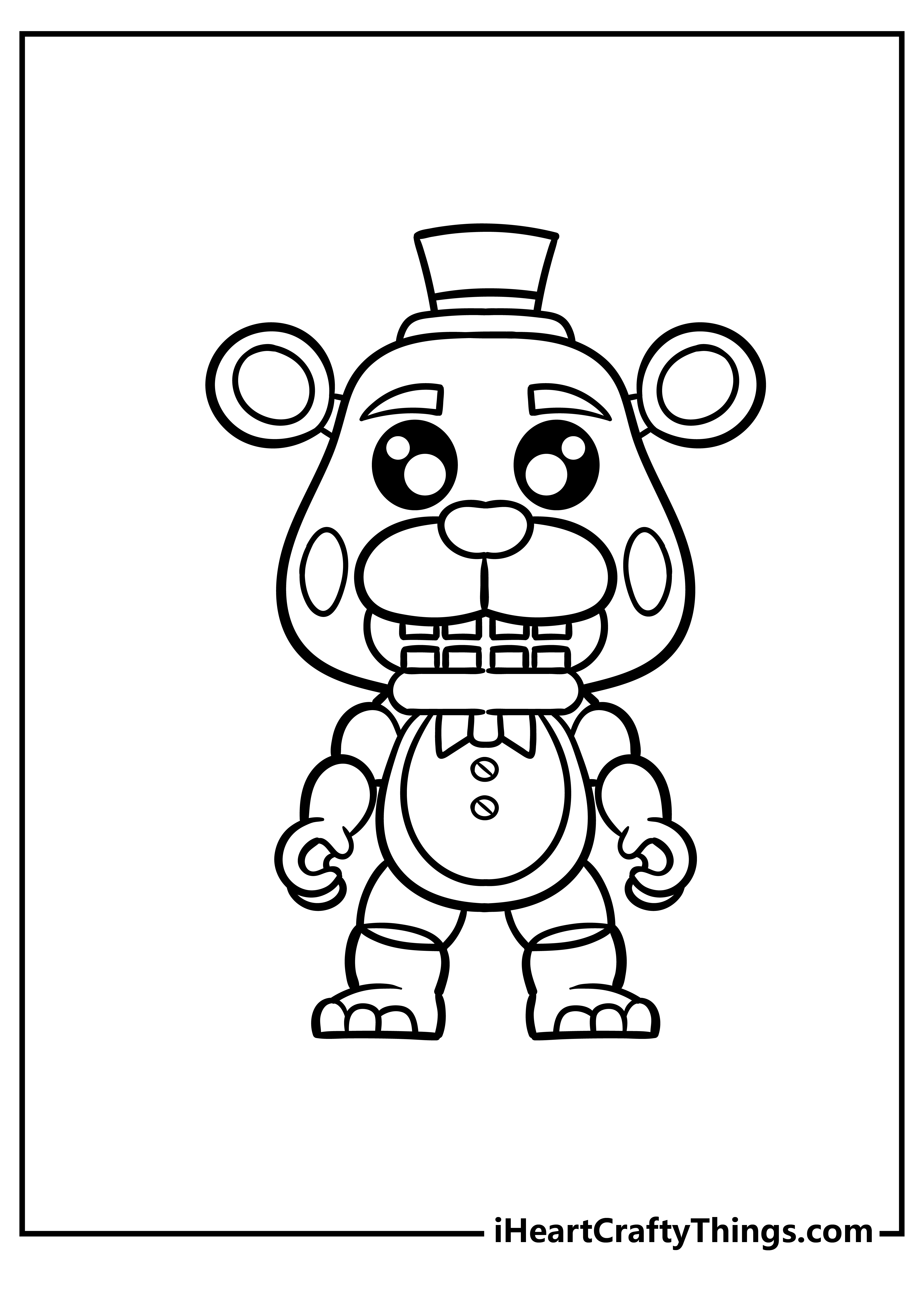 Freddy is back for more in this image, and he is looking a bit more sinister this time. He hasn't fully transformed into his most horrific form, but he is on the way and looks quite menacing.
Because this is showing him in his more villainous form, we would use some darker shades and colors to make him look a bit more menacing.
There is also some empty space around him, and you could fill it by drawing some more of his body and adding to the background setting.
You could make a really creepy scene with the details you add to this one!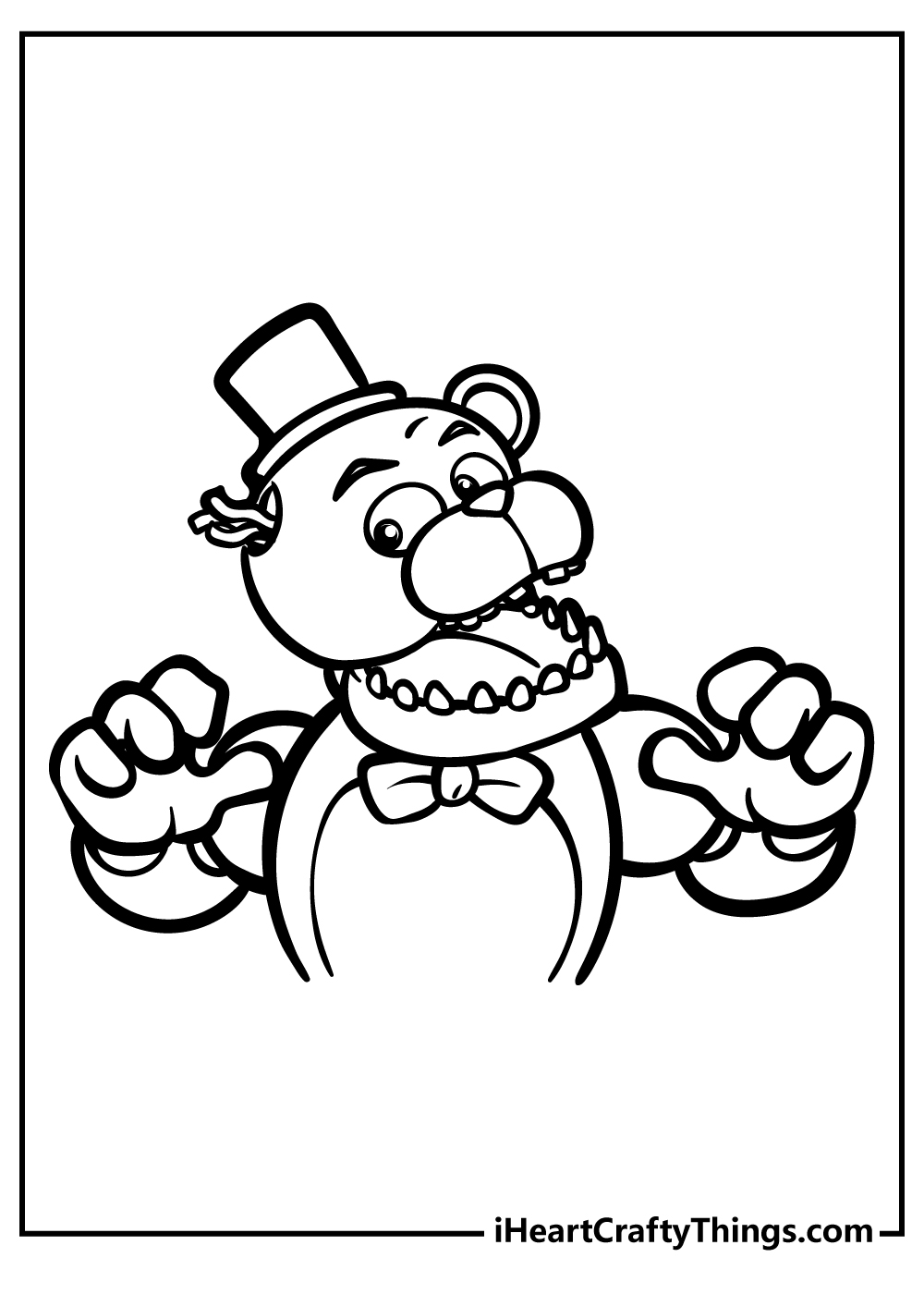 You wouldn't want to find yourself in the situation we are depicting on this next page in our collection of free Five Nights At Freddy's coloring pages for kids!
When Freddy is on the hunt, you definitely don't want to be in his way, and he is lunging forward in this image.
This is another page where we would use some really strong and intensive colors on, and we would use some contrasting shades to make a really striking picture.
How will you portray this fearsome image of Mr. Freddy Fazbear?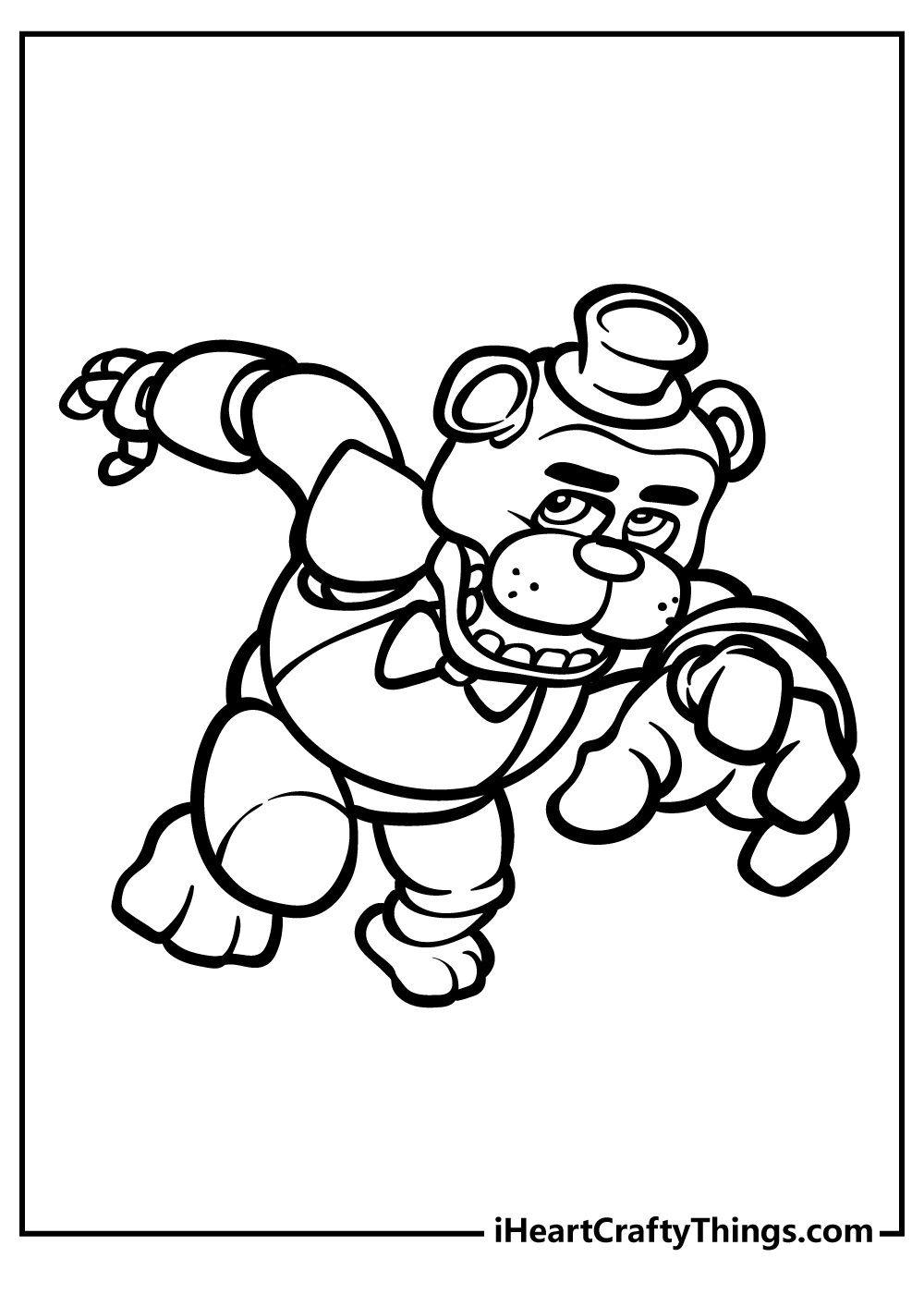 Rabbits are usually cute, but Bonnie the rabbit presents an exception to this rule. This is one terrifying bunny, and there are some great details included in this portrayal.
When coloring in these smaller details, you can use mediums like colored pens or pencils to help make coloring these details much easier.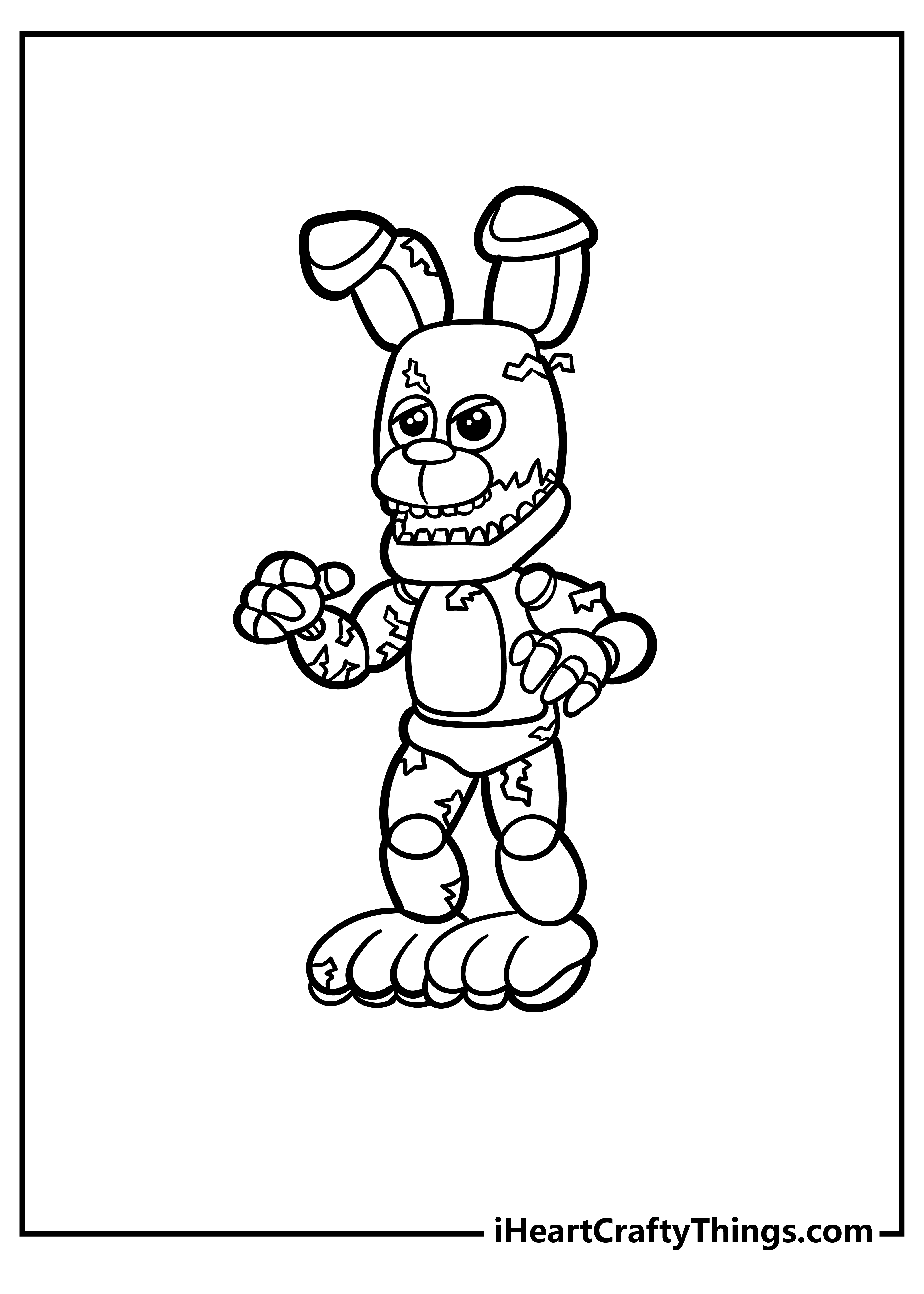 Our next Five Nights At Freddy's coloring sheet features the nightmarish chicken character, Chica. This character is always a creepy one to behold, and that is certainly true of this rendition!
Chica usually has a lot of yellow in her design, so that should help to brighten up this image if you go for that color.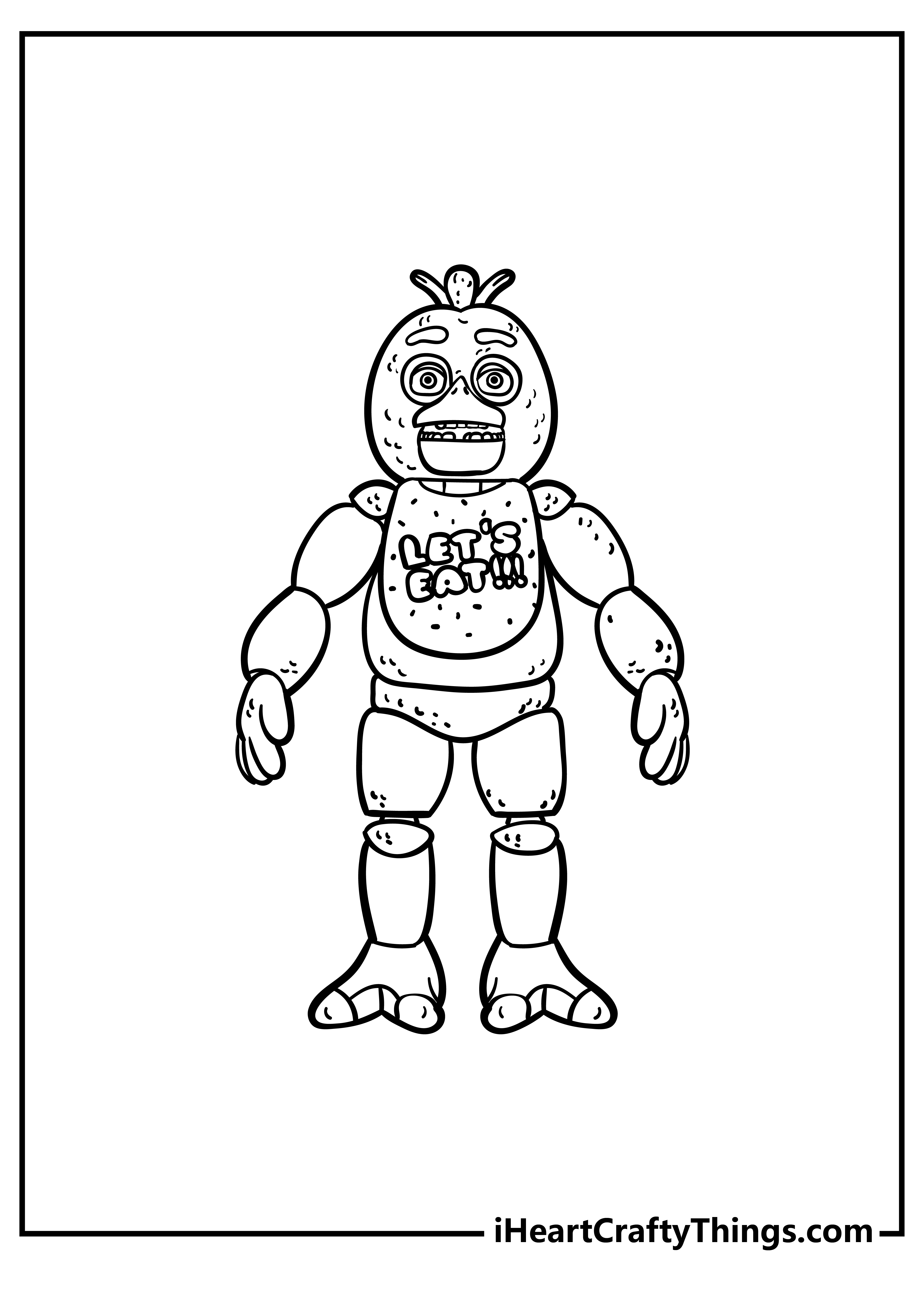 Next, we are portraying a more innocent and wholesome view of Freddy. He looks rather cute here, and it's hard to believe he could ever go on a monstrous rampage!
Because of the way he is shown here, this is another one that we would use some flat, bright colors on.
You could color the usual shades of brown that he's seen in using some colored markers or pens in order to make him look friendly and inviting.
Do you think you will try to make him look colorful and cheerful, or will you color him to look a bit darker and more sinister?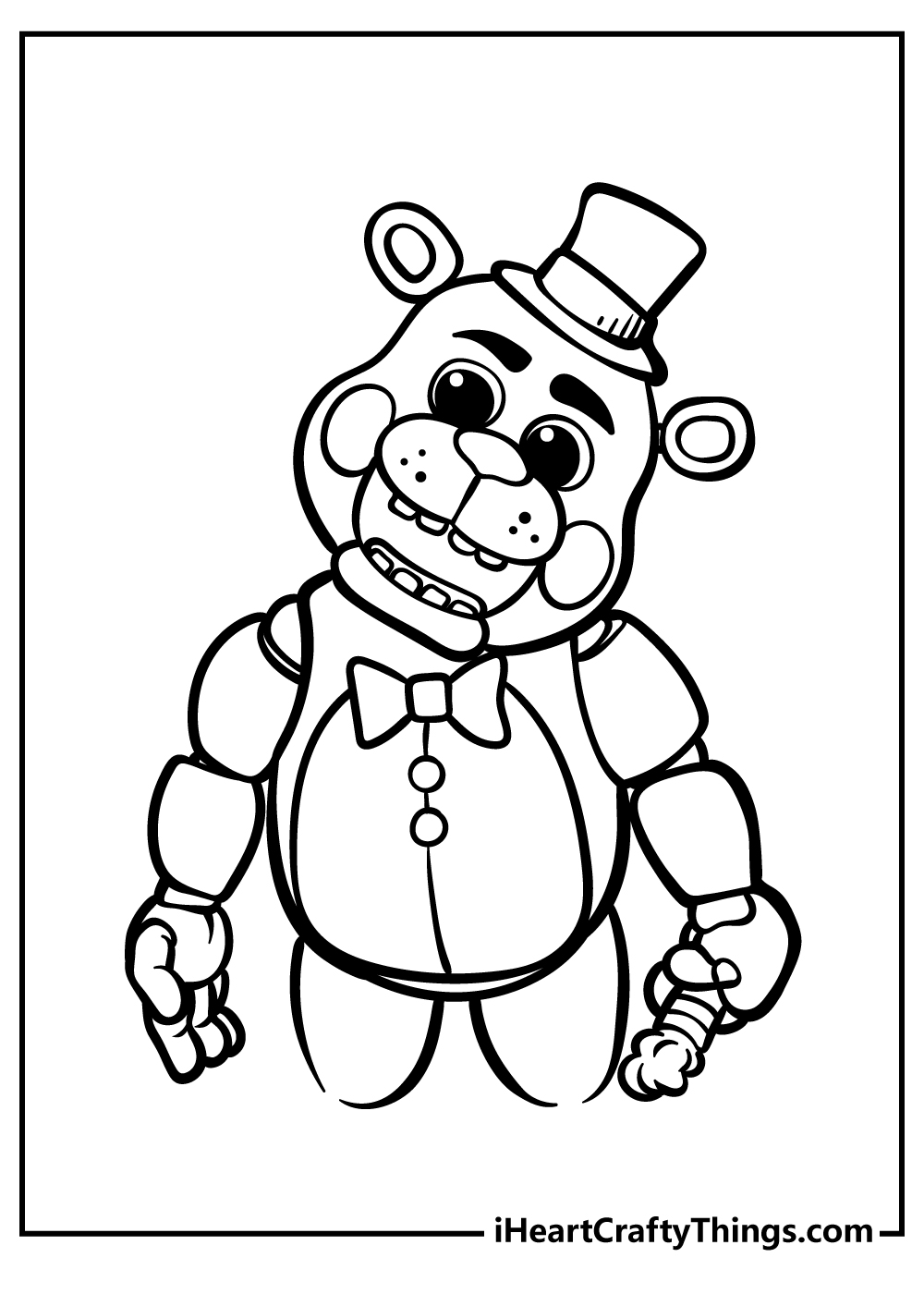 At first glance, you could never believe that this teddy bear animatronic character could be at all sinister.
But you look a bit closer and see that it has got a bit of a mischievous look in its eyes, and suddenly it looks a whole lot less harmless!
If you recognize this character from the games, you could either color him to match his game counterpart or give him a whole new unique look.
Do you think you will try to match him to how he normally looks or will you try to create something brand new?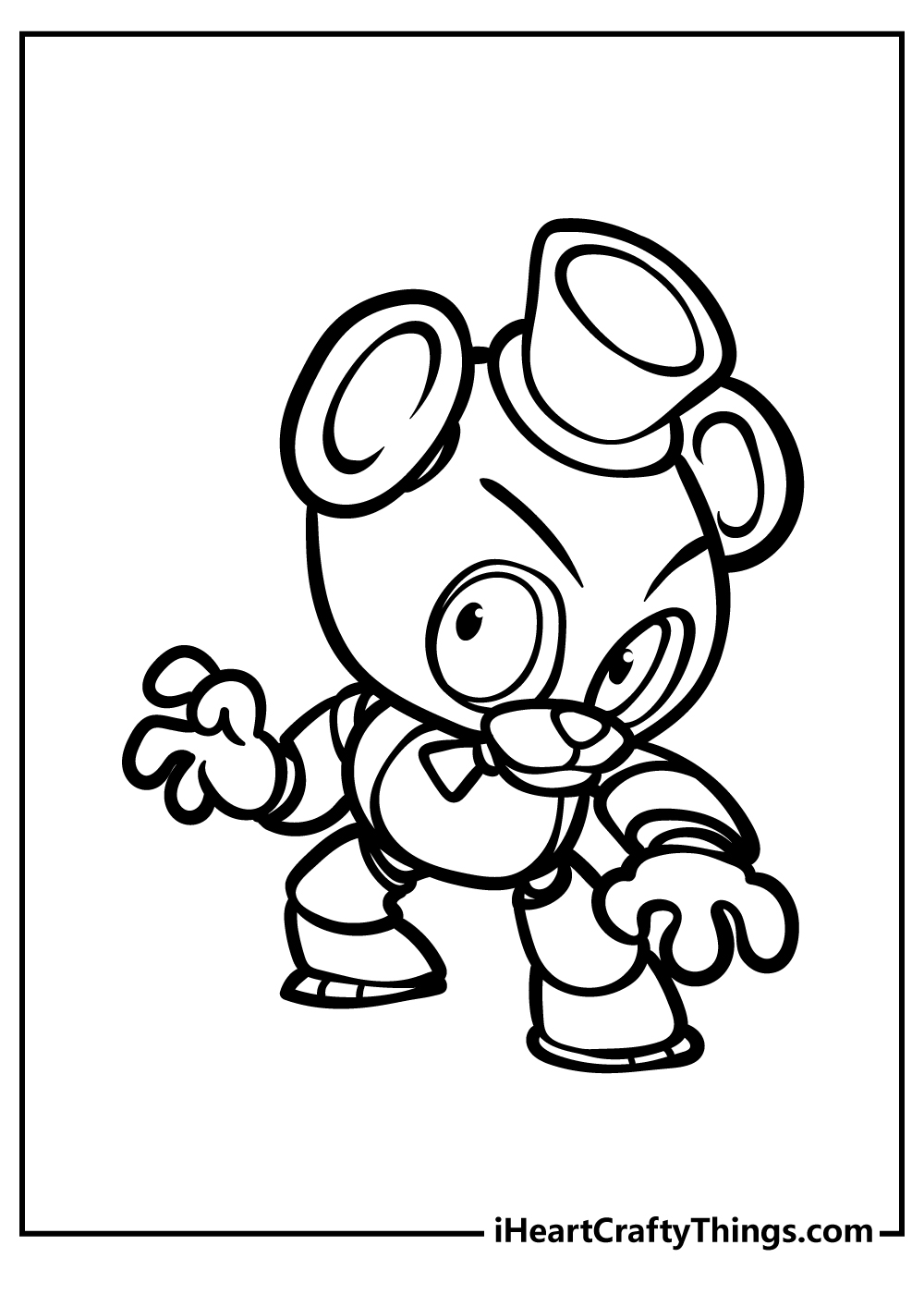 We have our creepiest version of Freddy Fazbear yet with this next image! He is in a monstrous robotic form here, and you would not want to face off against this version of the character.
He already looks creepy enough as is, but you can make him look even more sinister when you have added your favorite colors to this portrayal.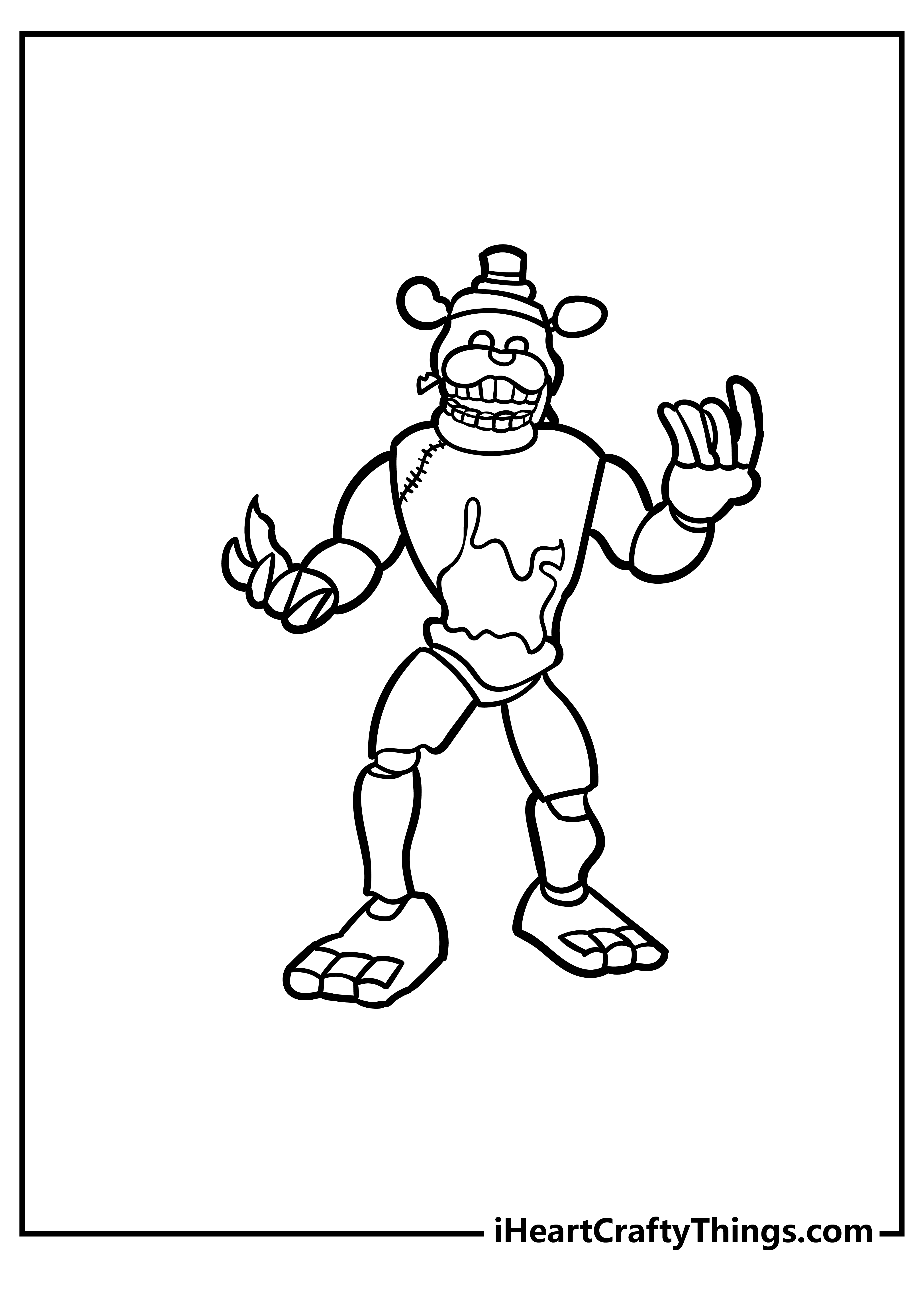 This next page features one of these robotic villains in a rather beat-up state. This character is missing most of its outer layers, exposing the robotic skeleton underneath.
We think that using some darker shades of grays and browns would be perfect for this character to show how metallic and rusted they are.
Is that the approach you think you will take?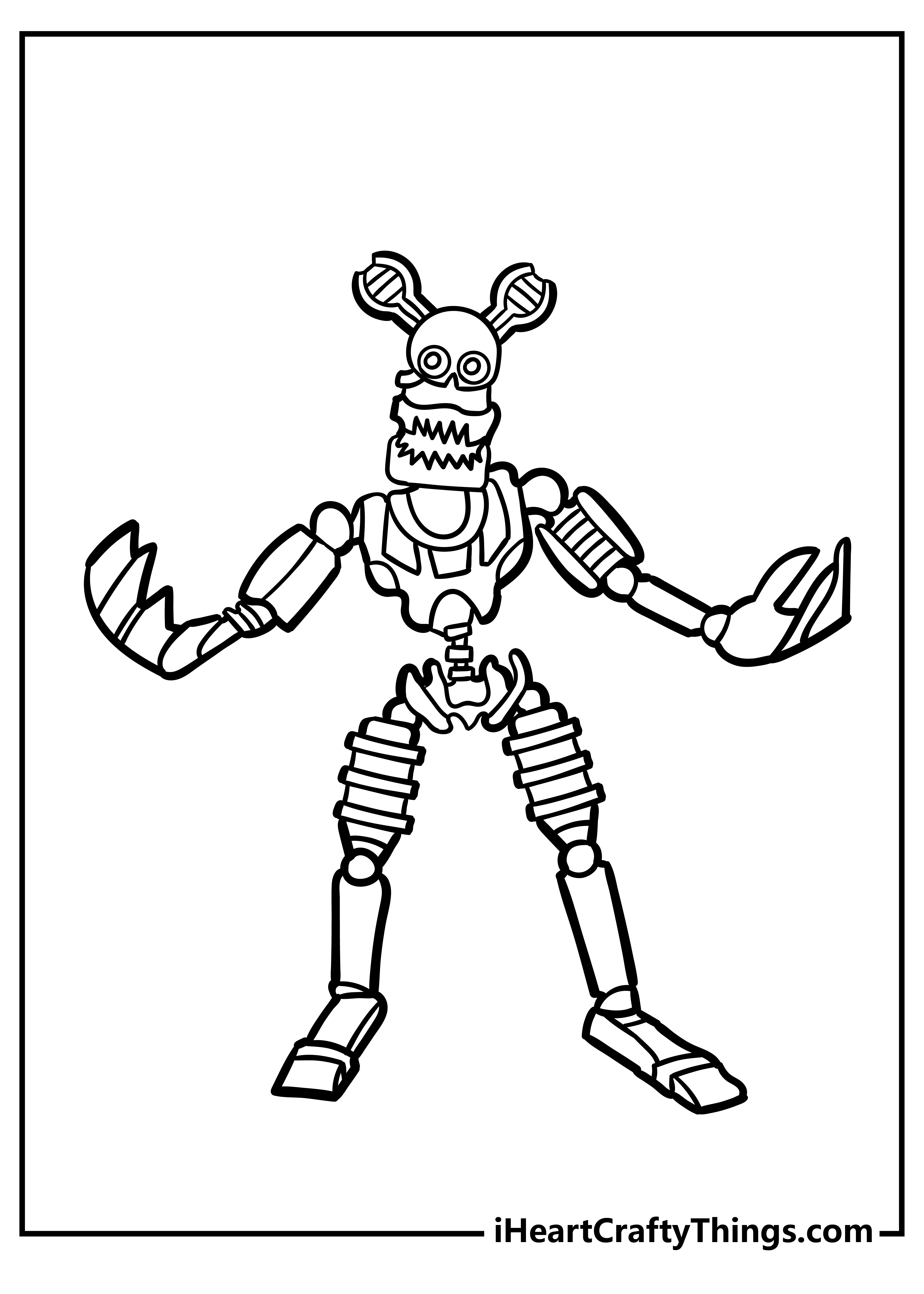 Freddy is quite the showman, and he is displaying that on this Five Nights At Freddy's coloring printable. He is at the mic with his mouth open wide, and it looks like he is yelling something.
If you have an idea for what you think he is yelling, you could draw a speech bubble over his head and write what you think he could be yelling.
He also has some cool details on his design such as the lightning bolt on his chest, so you can use all kinds of awesome colors while filling this one in!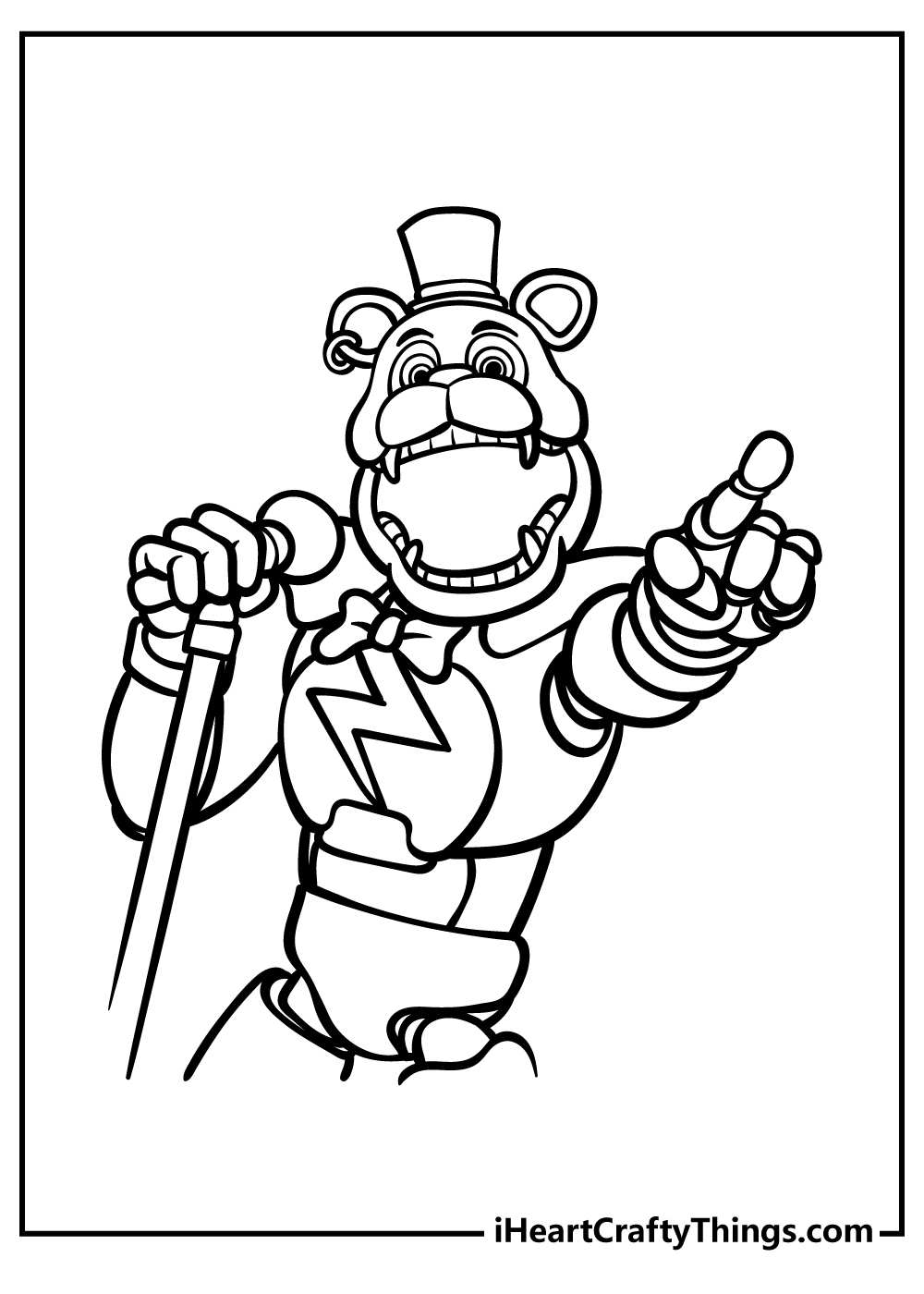 This next little guy is quite creepy even though he's styled to look like a little bunny! Any semblance of cuteness it may have is lost when you see the big sharp teeth and claws he is brandishing.
He may look creepy, but he also looks really cool! He will only look even cooler once you add some colors, too.
It's a design that would look really cool whether you went with bright and vibrant colors or keep things darker and more sinister.
It all depends on what you prefer, so let your creativity flow!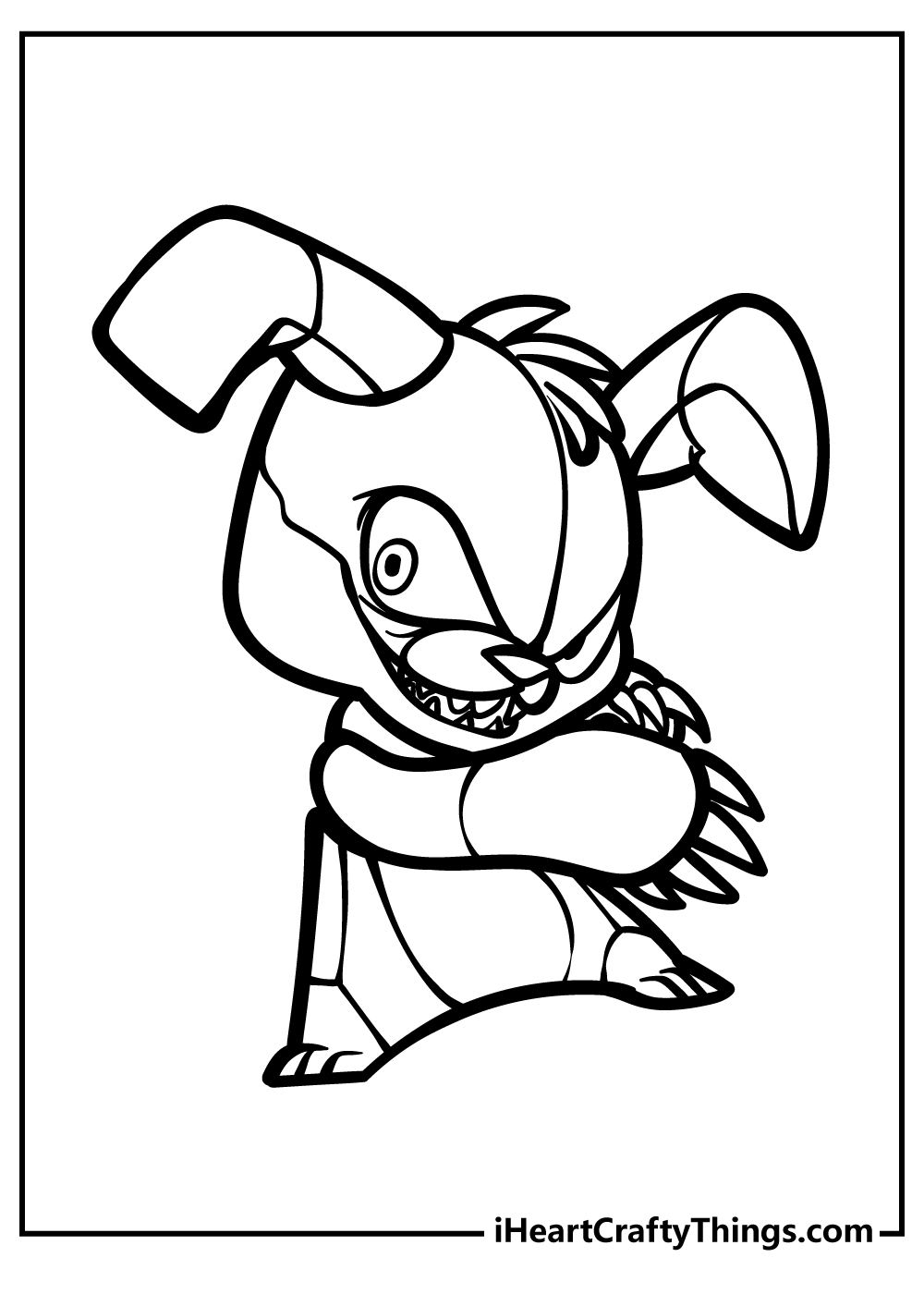 Balloon Boy is one of the more unique characters in the series, and he looks slightly less intimidating than many of his robotic pals.
This character can also become an ally to the player in certain circumstances, and he has a more colorful appearance.
If you color him as he appears in the games, then you should end up with a great brighter image!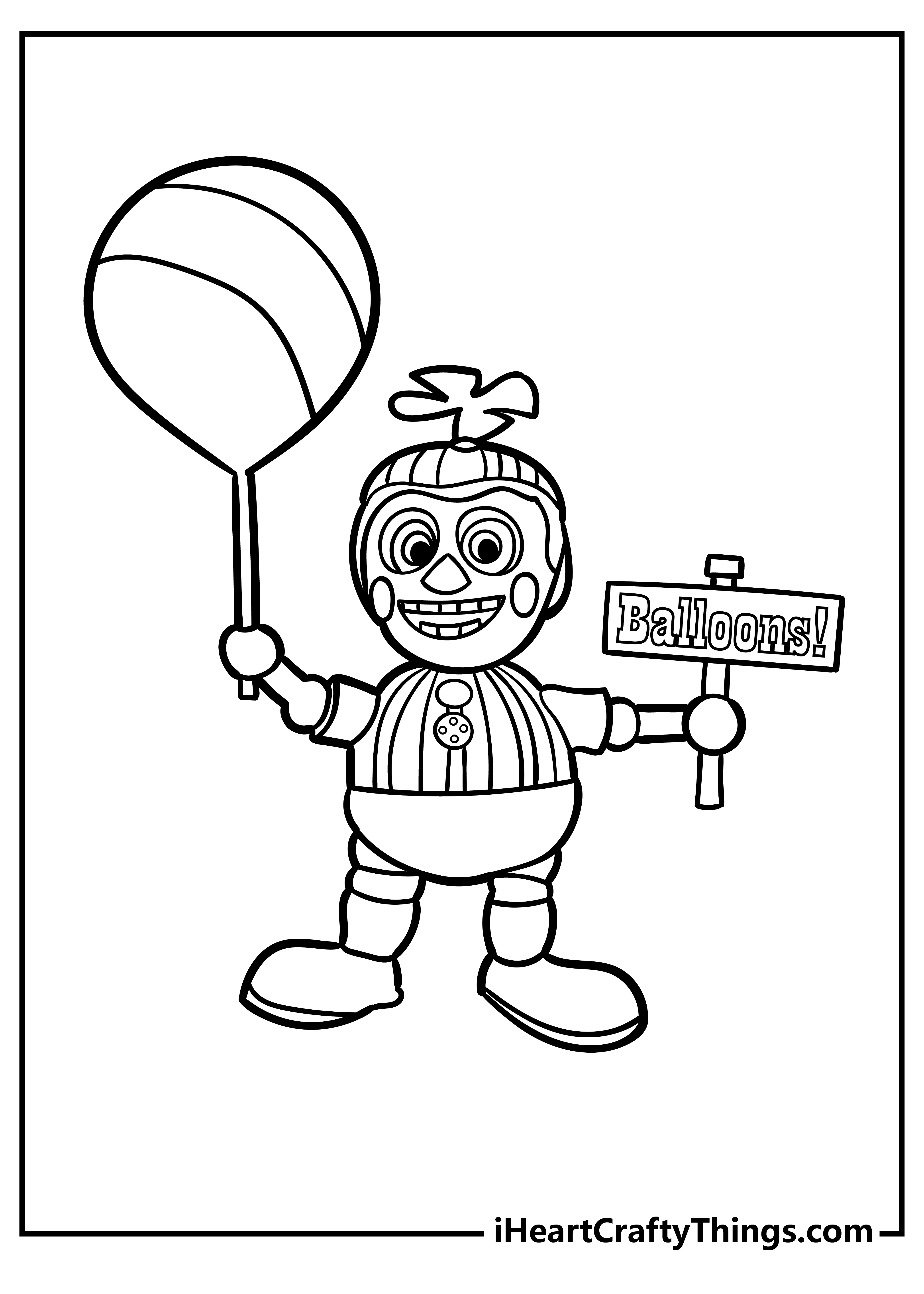 We're not done with scary bunnies quite yet! The villainous Vanny has one of the spookier designs of all the characters, and that is saying something.
She is also starring in this next Five Nights At Freddy's coloring printable, and you have a few options with regards to how you color her in.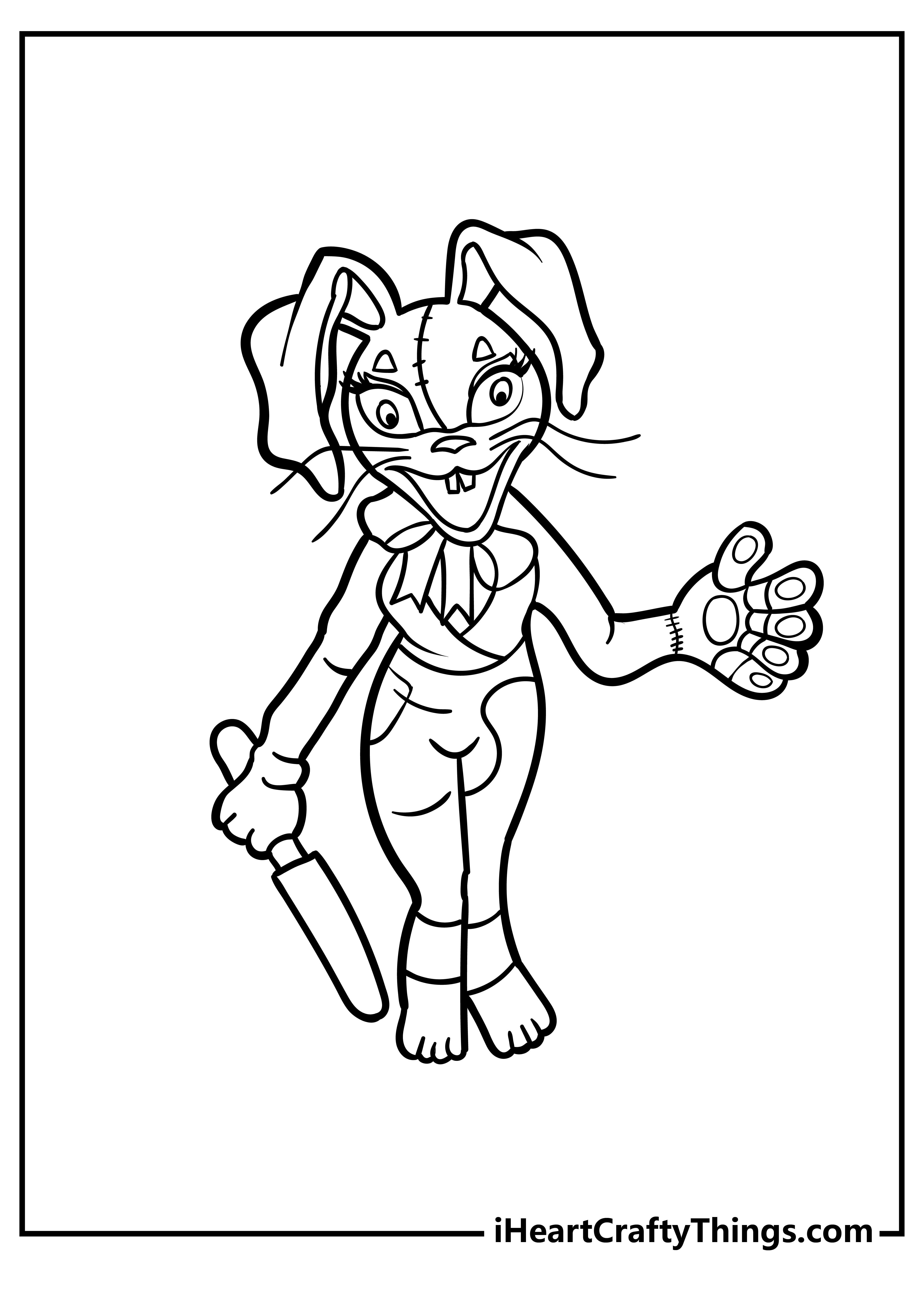 There's a great close-up on this next character, and this also seems to be a version that is before the horrific transformation these animatronics undergo.
For that reason, we would use some brighter, more vibrant colors when filling this one in.
That's what we would do, but it's up to you to decide how you would like to color in this particular character!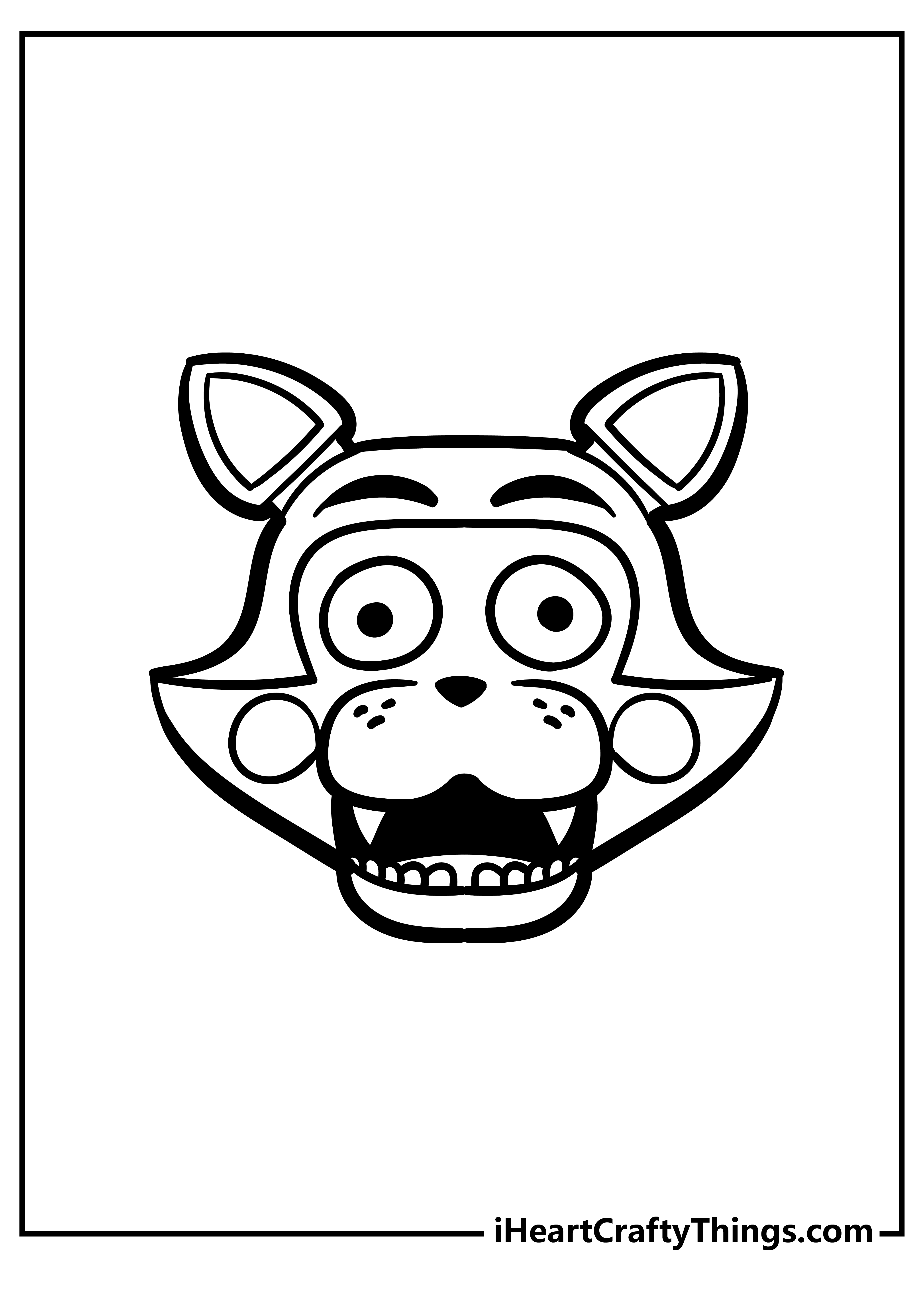 The depiction of Freddy on this page will be familiar to anyone who has played the first game! This image is what was used as the cover for the game and was often used to promote it.
Now you can color it in any way that you wish! Do you think you will color it to resemble the game cover or maybe give Freddy a whole new look?
You could also add some background details to further personalize the picture.
We will be interested to see how you color this iconic image!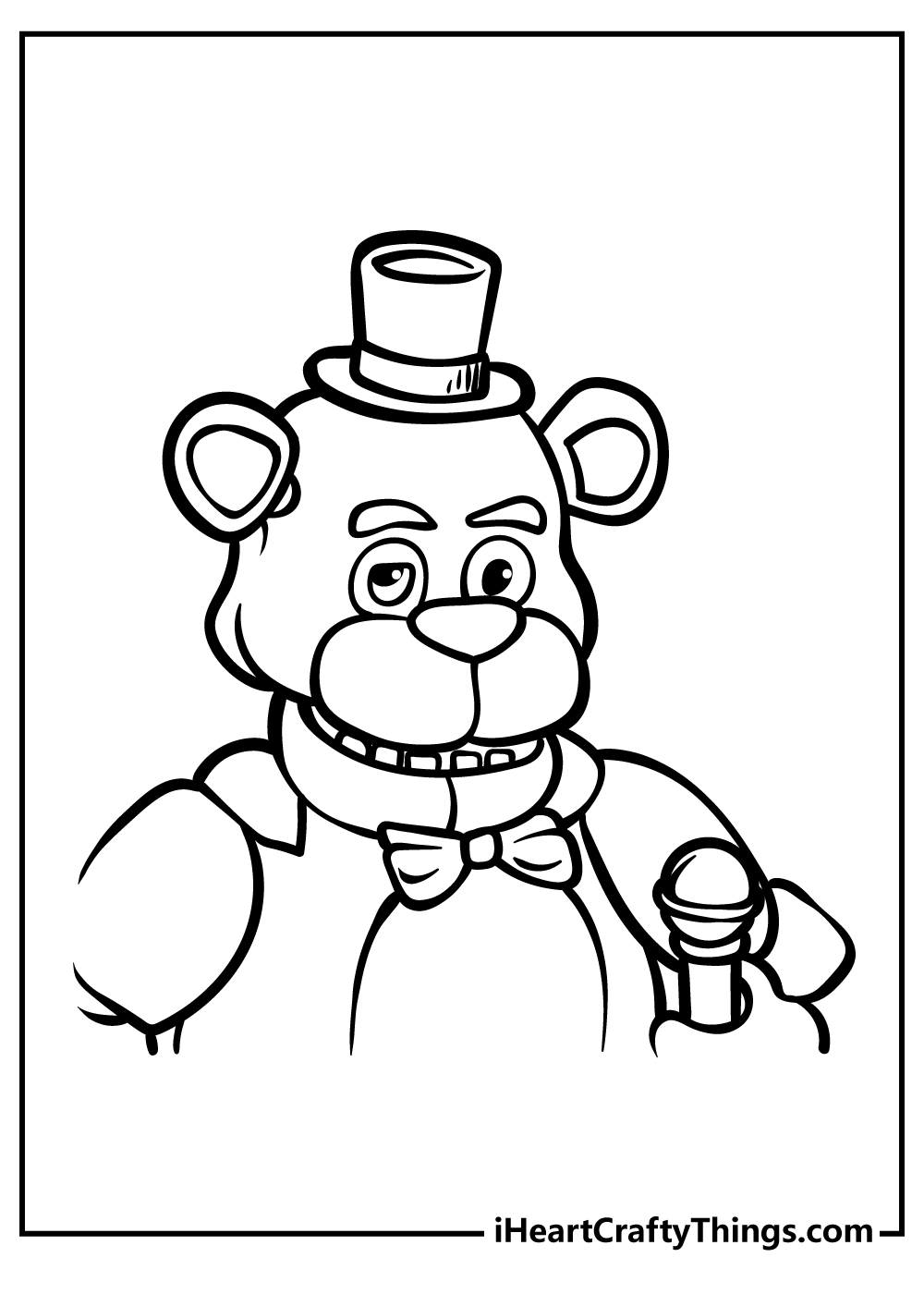 Bonnie the bunny animatronic is one of the many adversaries you will face in the video games.
He has a mainly purple color scheme, and this image shows him before he has transformed into a scary pursuer!
Even so, there is still a bit of a creepy look to him, and you can make it look even cooler as you color this Five Nights At Freddy's coloring page.
You could stick to simpler purples, but you could also draw some extra details onto him or give him a new look with some unique colors!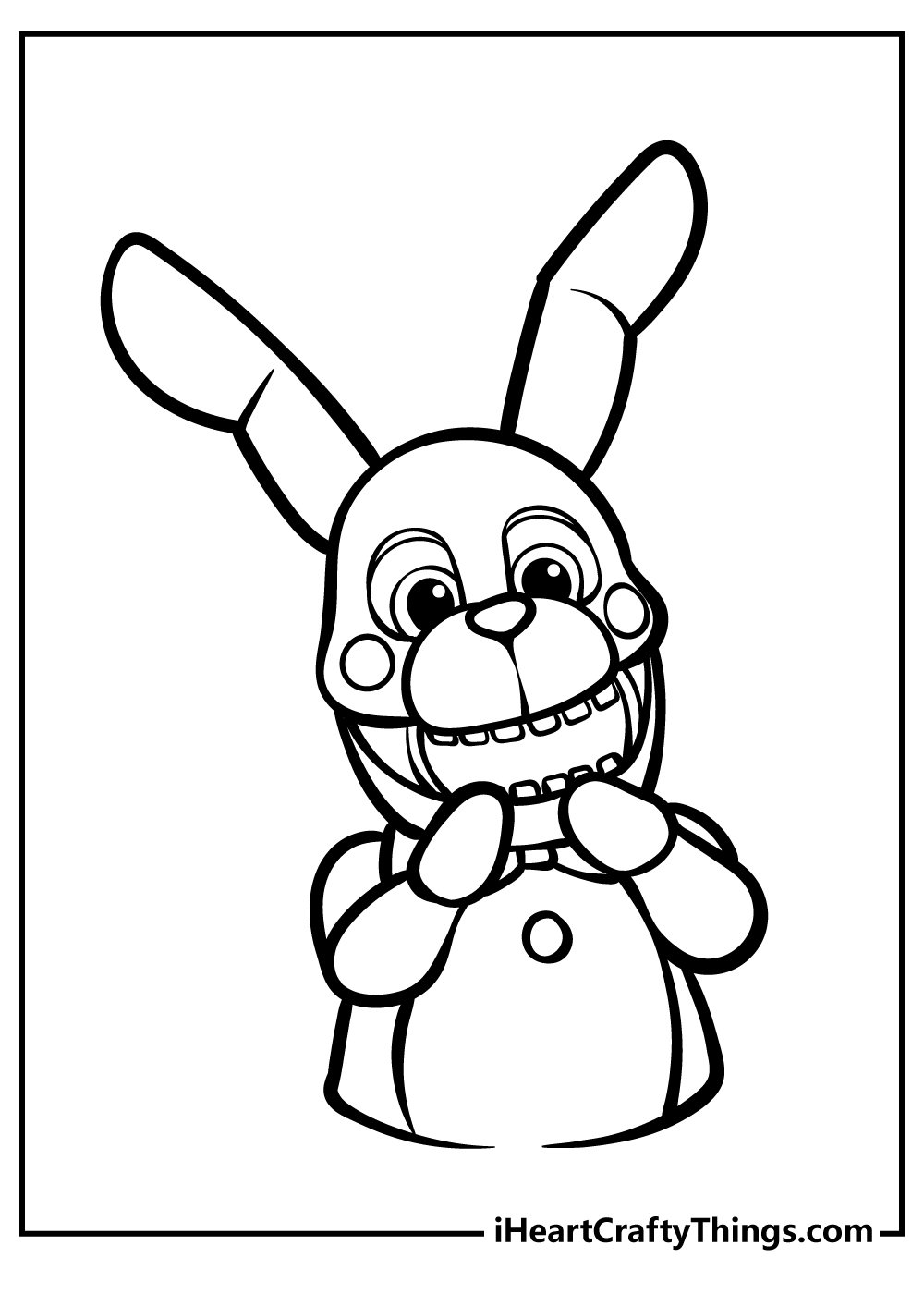 This next page features a fun, cartoony version of Foxy. This is an interesting look at this character, as he is more detailed than we would usually get to see him.
With more details, you have more to color, and you could work in some great color details with this image.
Do you think you will draw a nice background to finish this one off?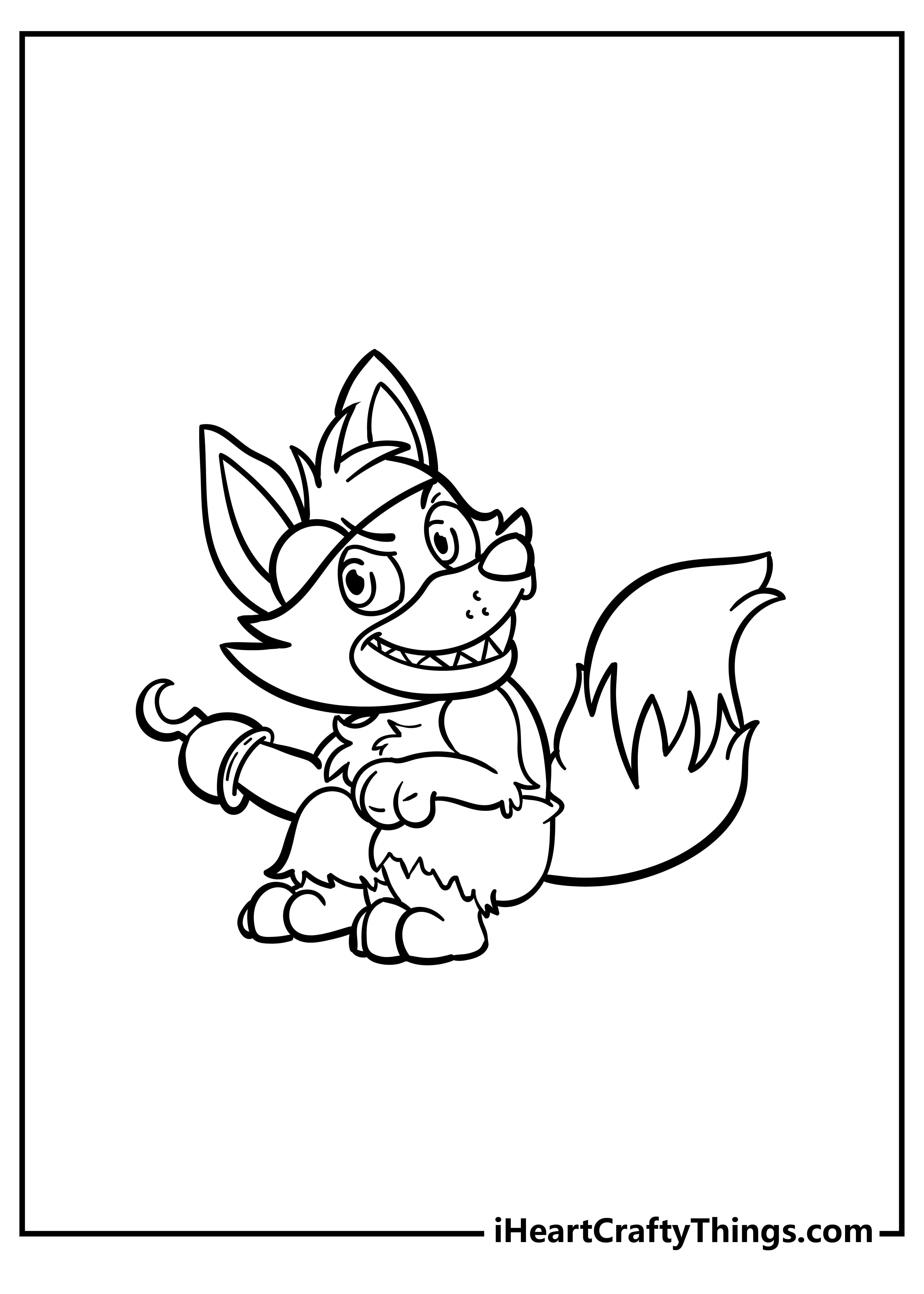 Foxy is back to his normal self in this one, at least he is if you can call how he looks here normal! Even though he is looking rather creepy again, he is still giving a friendly wave.
Under the circumstances, it somehow makes the image even creepier!
Which colors do you think you will go for with this one?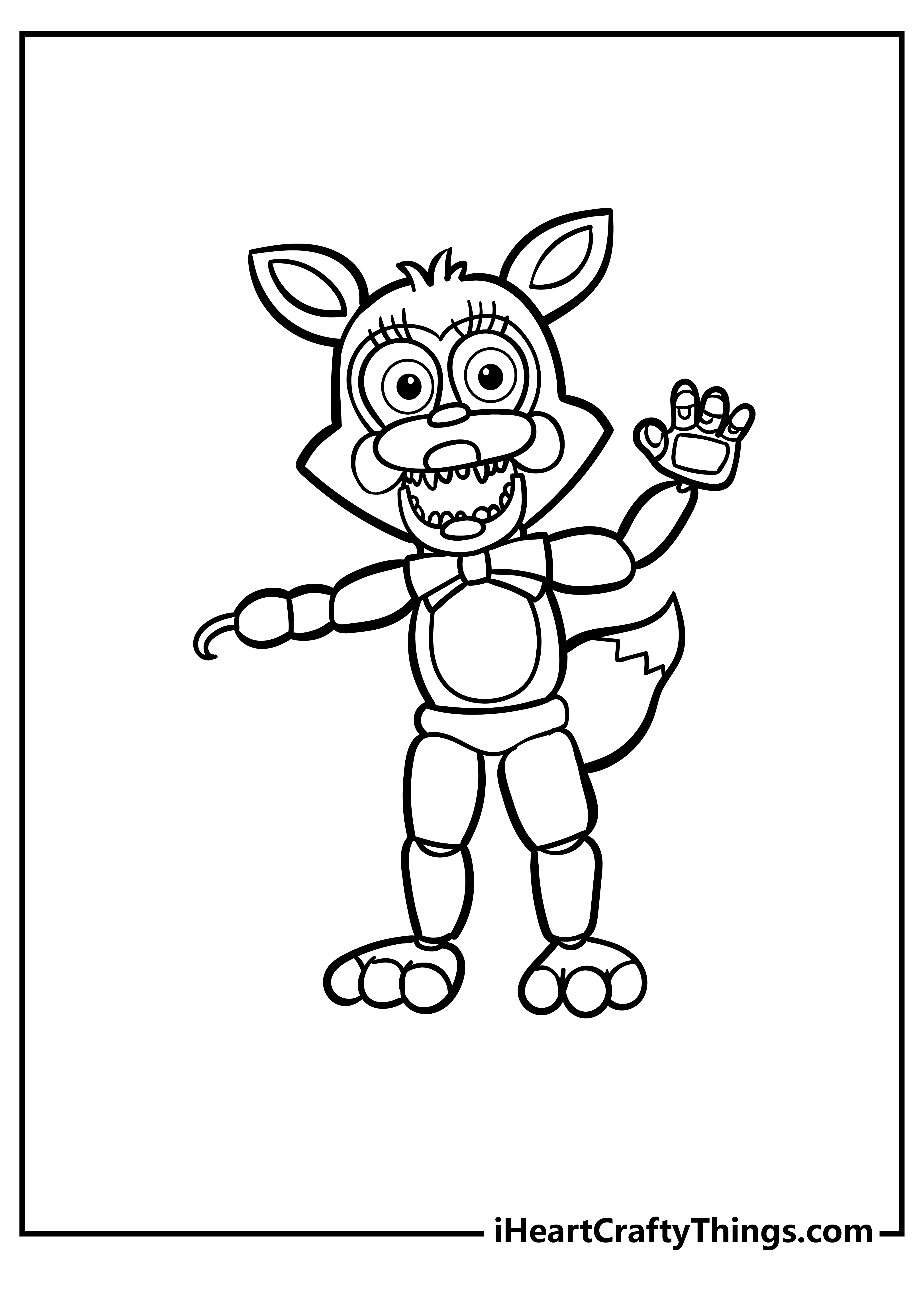 We're back with another detailed image as we look at Freddy Fazbear once again.
This highly detailed version of Freddy gives us a great look at the sinister bear, and the way he is posed opens up some possibilities as well.
This would be a great one to add a background to, as there are plenty of creepy scenes you could create around this rendition of Freddy!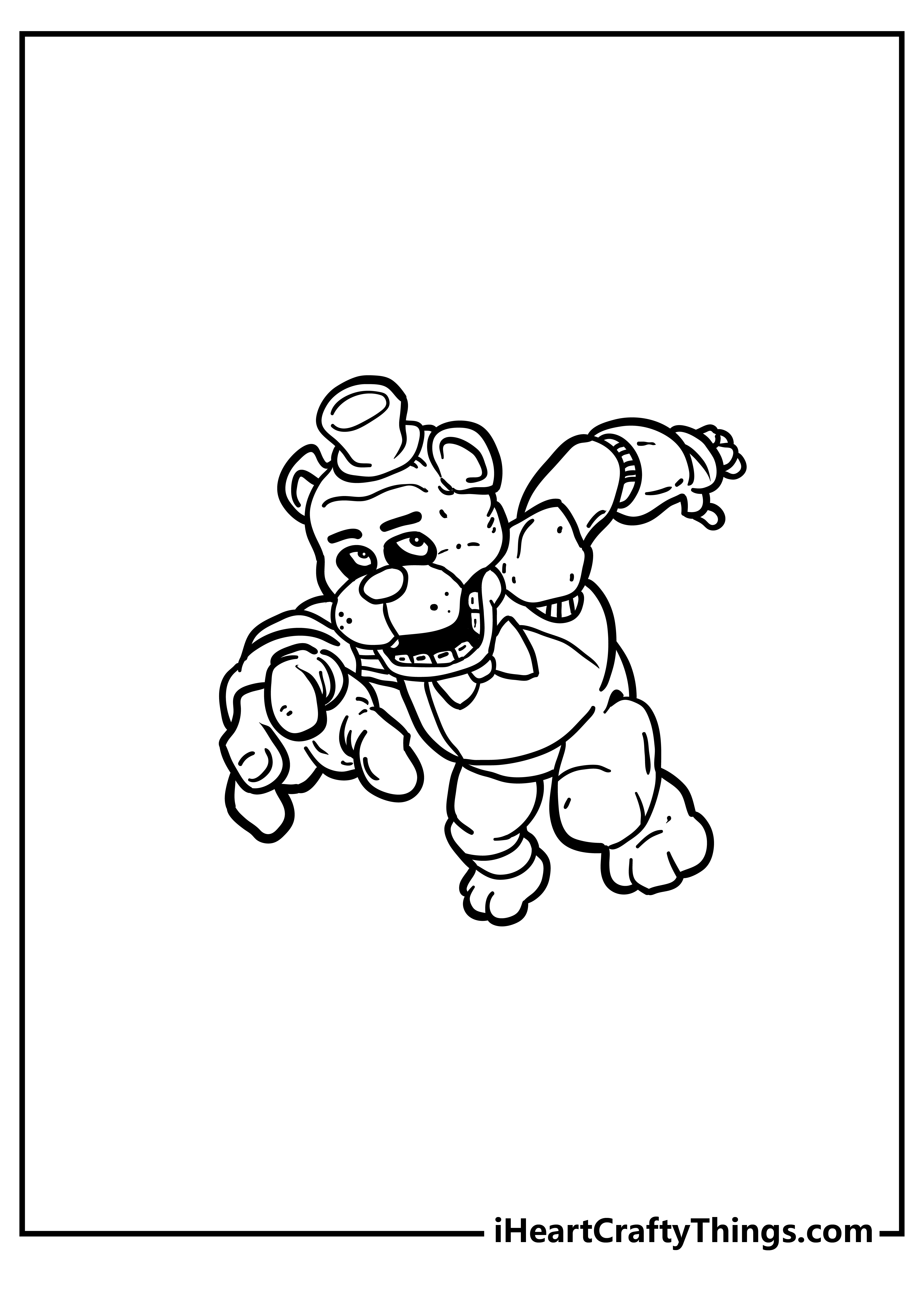 Bonnie the rabbit is back for another appearance in this next image. It's another closeup, and there is a lot of empty space in the background.
You could color in the background, add some shapes or maybe draw some words or objects that relate to Bonnie for a few ideas.
What else can you think of that would add to this image?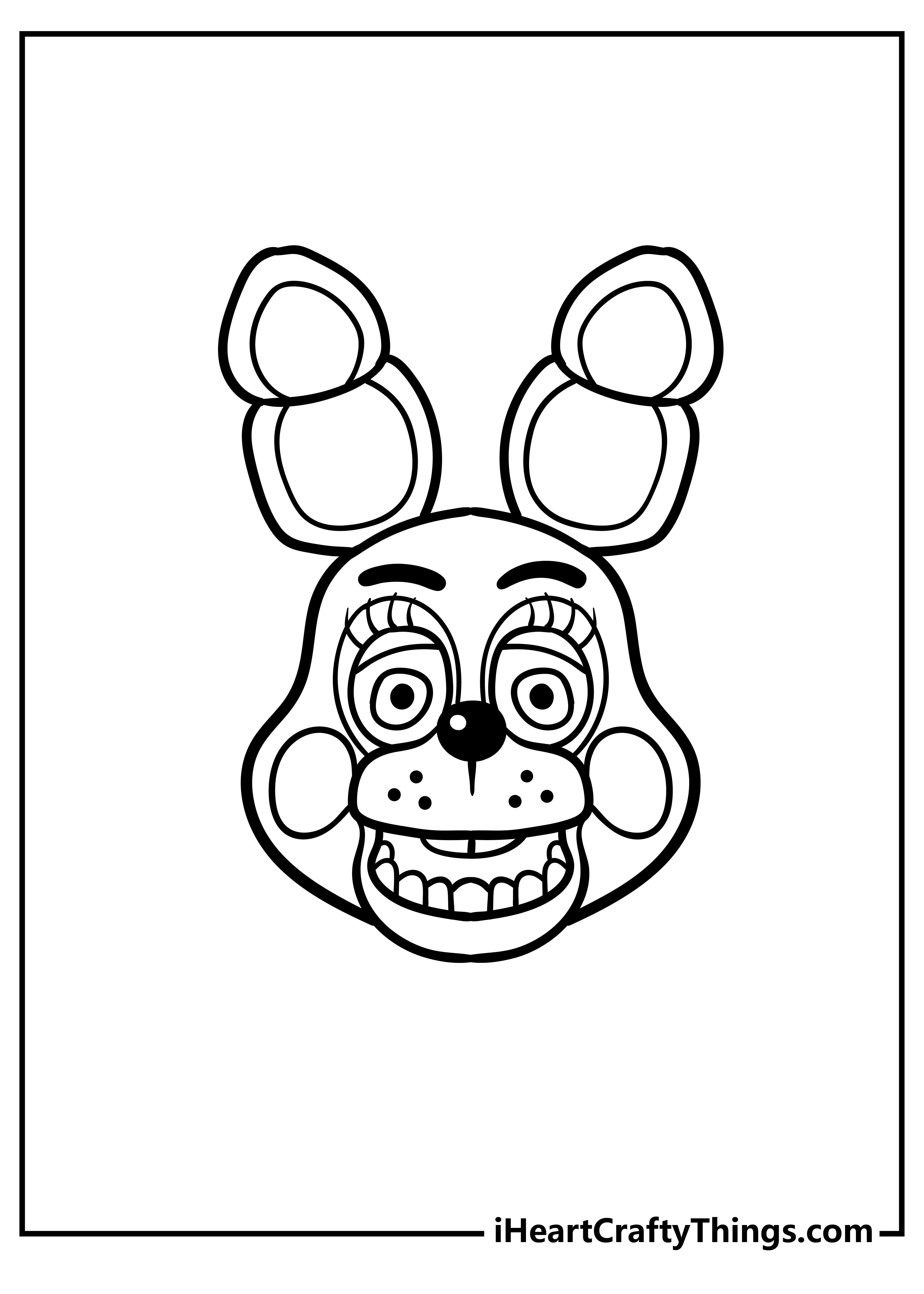 We shall close off this collection with one more Five Nights At Freddy's coloring sheet featuring Bonnie.
We get a much better look at this character this time, and there are some more awesome details to color in here.
You could maybe try out a new art tool or medium that you have yet to use in this collection to make Bonnie really stand out!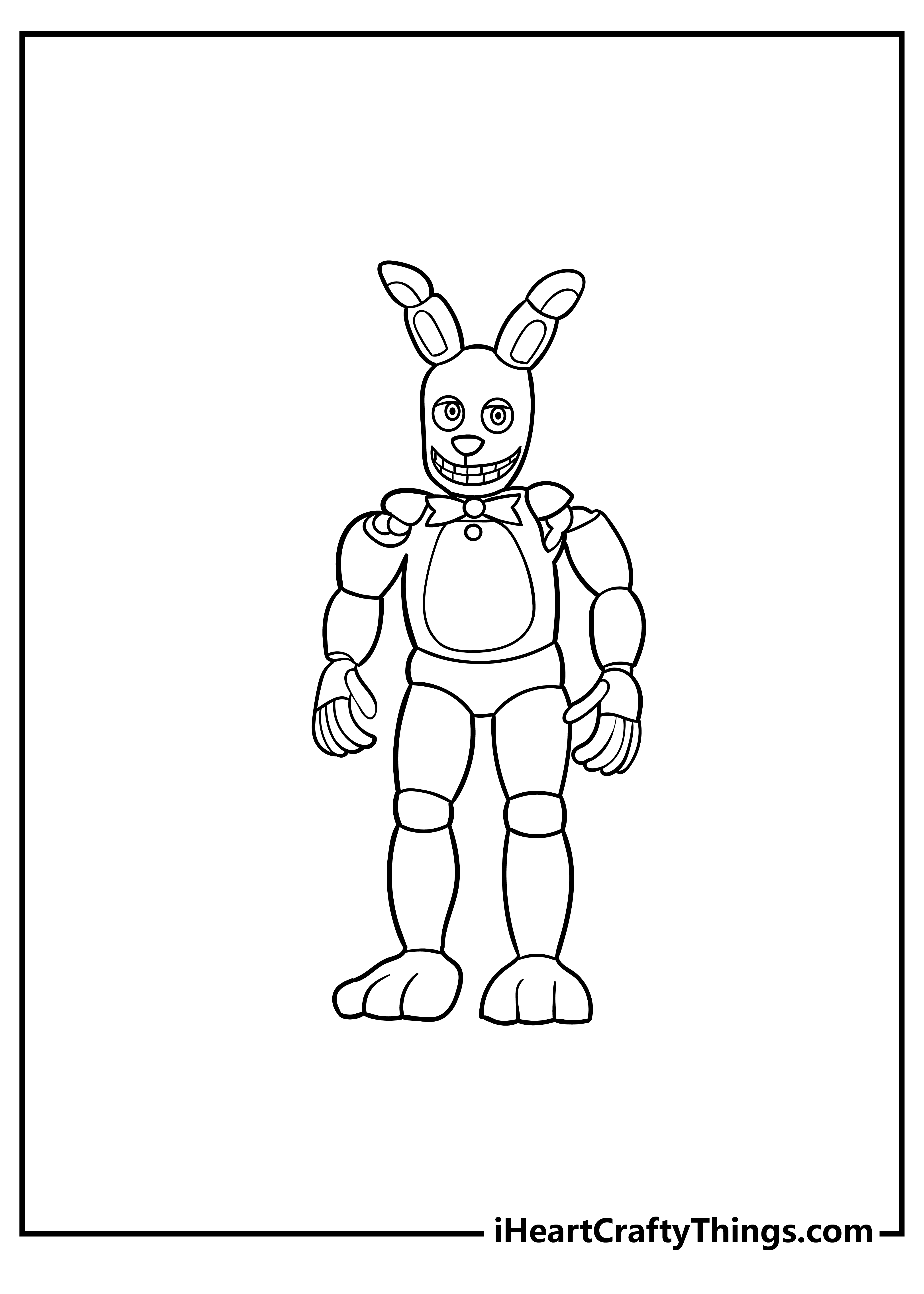 Five Nights At Freddy's Coloring Pages – Which will you choose?
This was a super spooky collection of free Five Nights At Freddy's coloring pages for kids, and we hope you had a scary amount of fun working on these pages!
It's fun to do some coloring, but it's even more fun when you share the pages with others to enjoy alongside you.
It would finish off the process nicely if you were to also share some of your finished pages on our Facebook and Pinterest pages, so we hope you will do just that!