On this page, you will find 20 all new Donut coloring pages that are completely free to print and download.
Who doesn't love a good donut? These tasty treats come in many different forms and variations, and even those without a sweet tooth have some savory options to try out.
It can be fun to design and imagine your own tasty creations, and this collection of free donut coloring pages for kids will allow you to do just that!
These  20 pages are free for you to enjoy in any way you wish, and you can share them all with friends and family to enjoy as well.
You can also share some of your finished pages on our Facebook and Pinterest pages for us to see!
20 Brand New Donut Coloring Pages – Free to Print and Color
Our first page in this collection of free donut coloring pages for kids features a great treat to get things going!
This donut has plenty of delicious icing on it, but the base is bare so that we can see the donut itself. How will you color the icing and sprinkles that adorn this very first donut of the collection?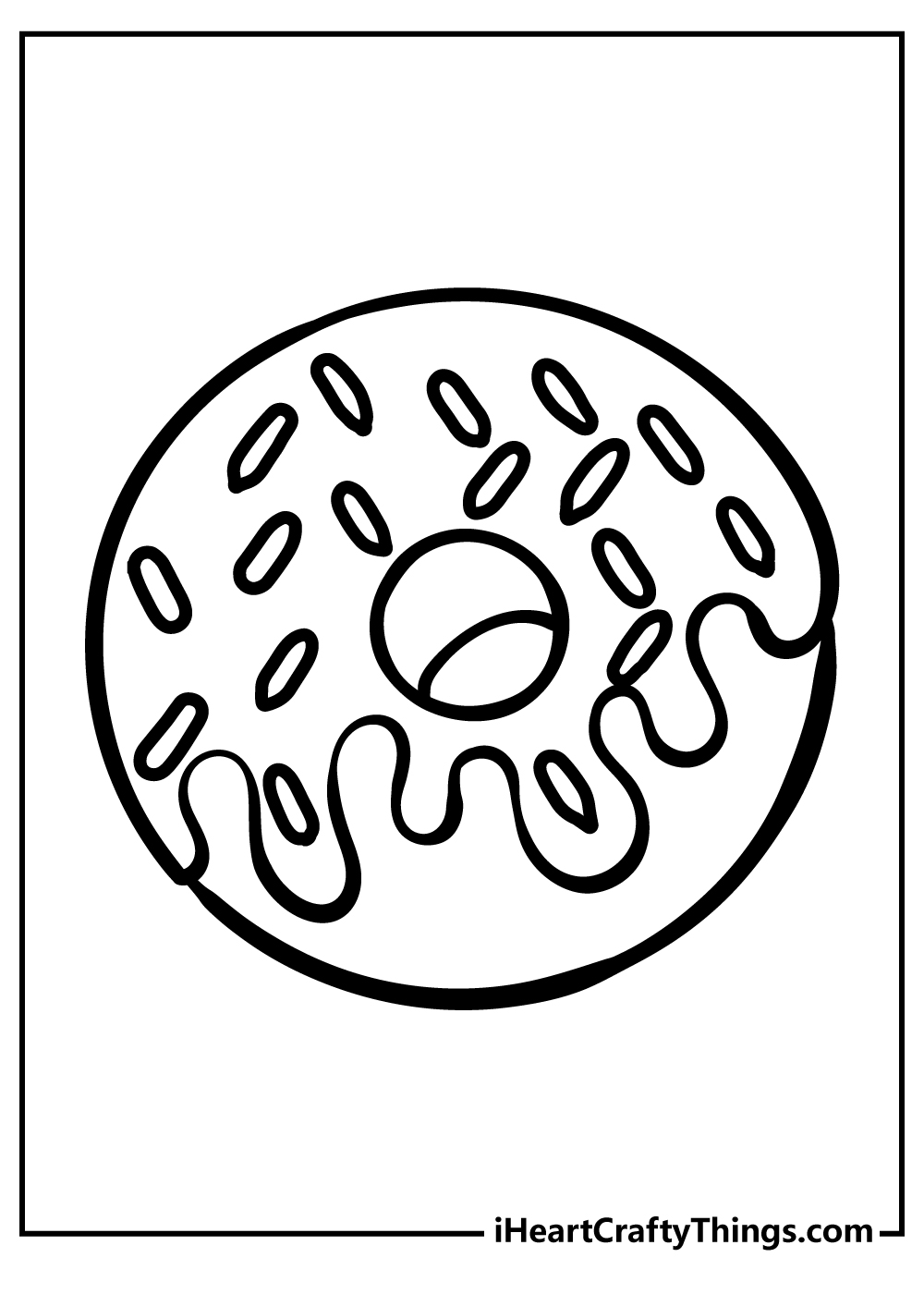 This yummy donut coloring page features a white plate with a few remaining crumbs and smears of frosting.
It looks like someone enjoyed a tasty treat and now it's your turn to imagine what was on this plate.
Was it a choco-sprinkled donut that left behind drops of chocolate frosting? Or maybe it was a strawberry glazed donut with bits of red glaze?
You can color the plate any way you like and use your imagination to recreate the half-eaten donut. Add sprinkles, drizzles, or any toppings you want.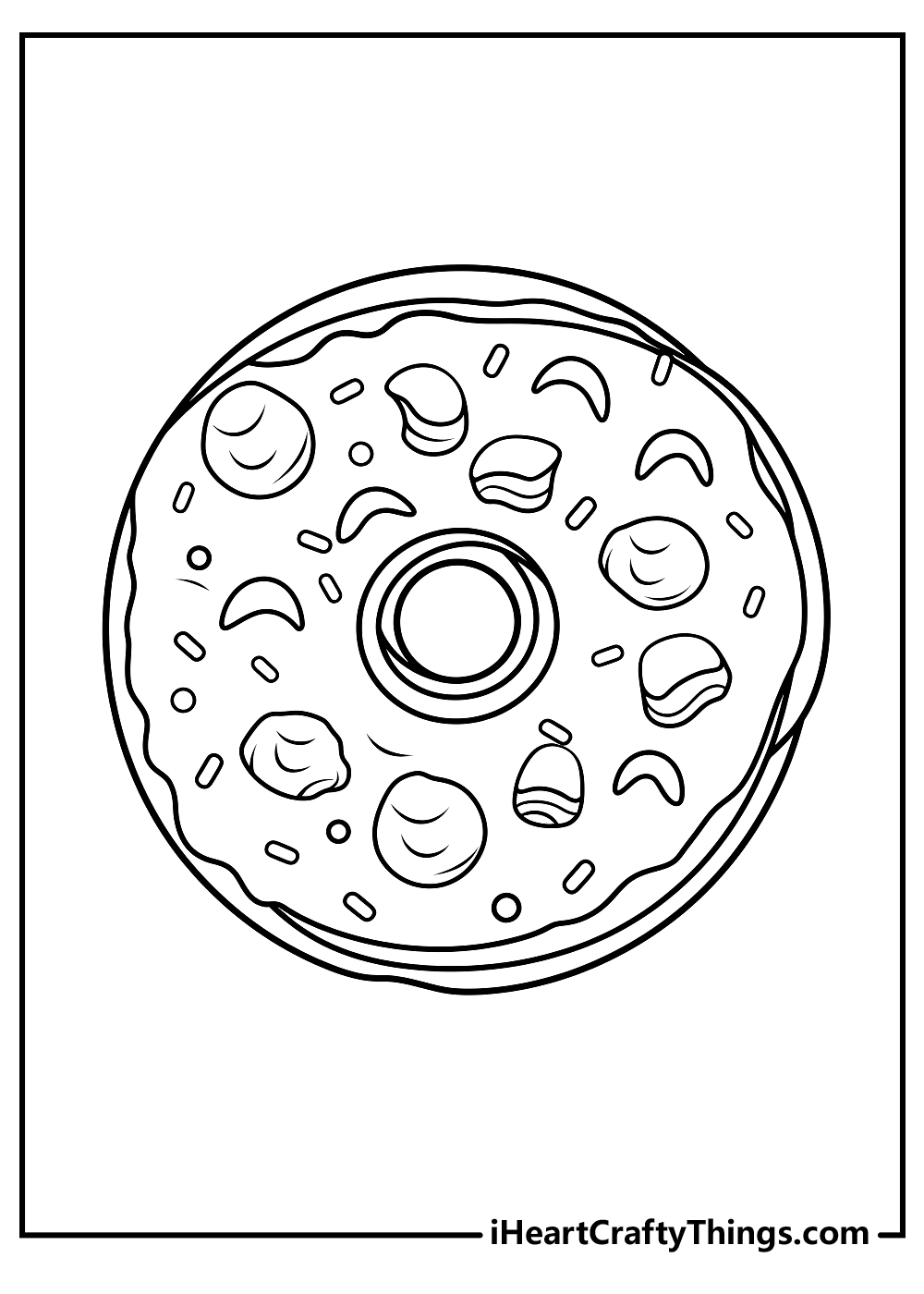 This next donut is quite unusual! It is covered with some icing as well, but it also has some star shapes decorating it.
These stars bring the US flag to mind, so maybe you could use some red, white and blue to create a patriotic donut! What other colors can you think of for this second donut?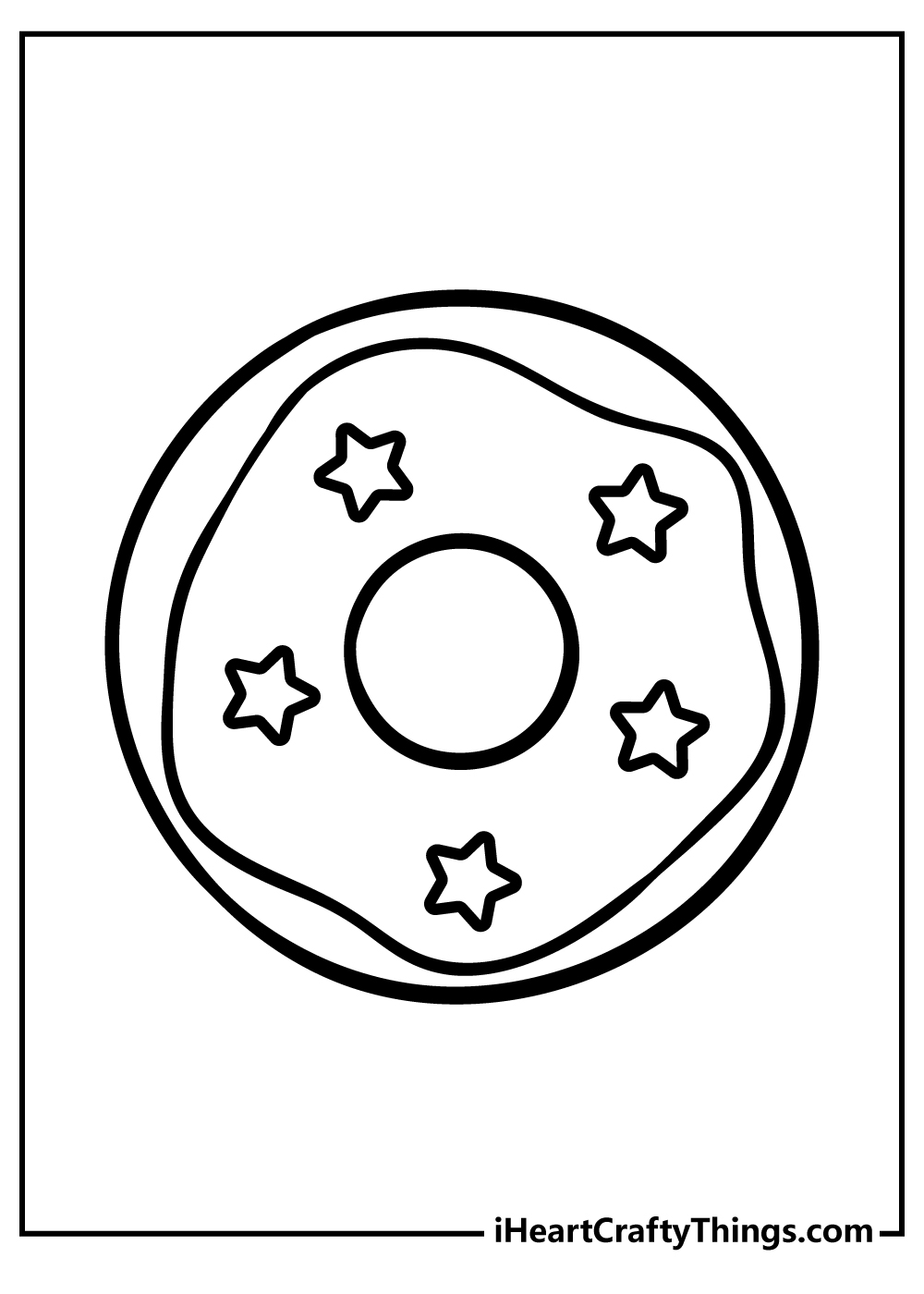 Get ready to imagine your own amazing donut with this slice coloring page. It features a thick donut slice with an outer ring and an empty center space just waiting to be filled in.
The outer edge has been decorated with fun toppings like circles, squares, hearts, and stars.
You can color the donut's doughy background, add your own pattern to the center hole, and color the toppings any way you wish.
Will you use rainbow colors, metallics, neon, or pastels?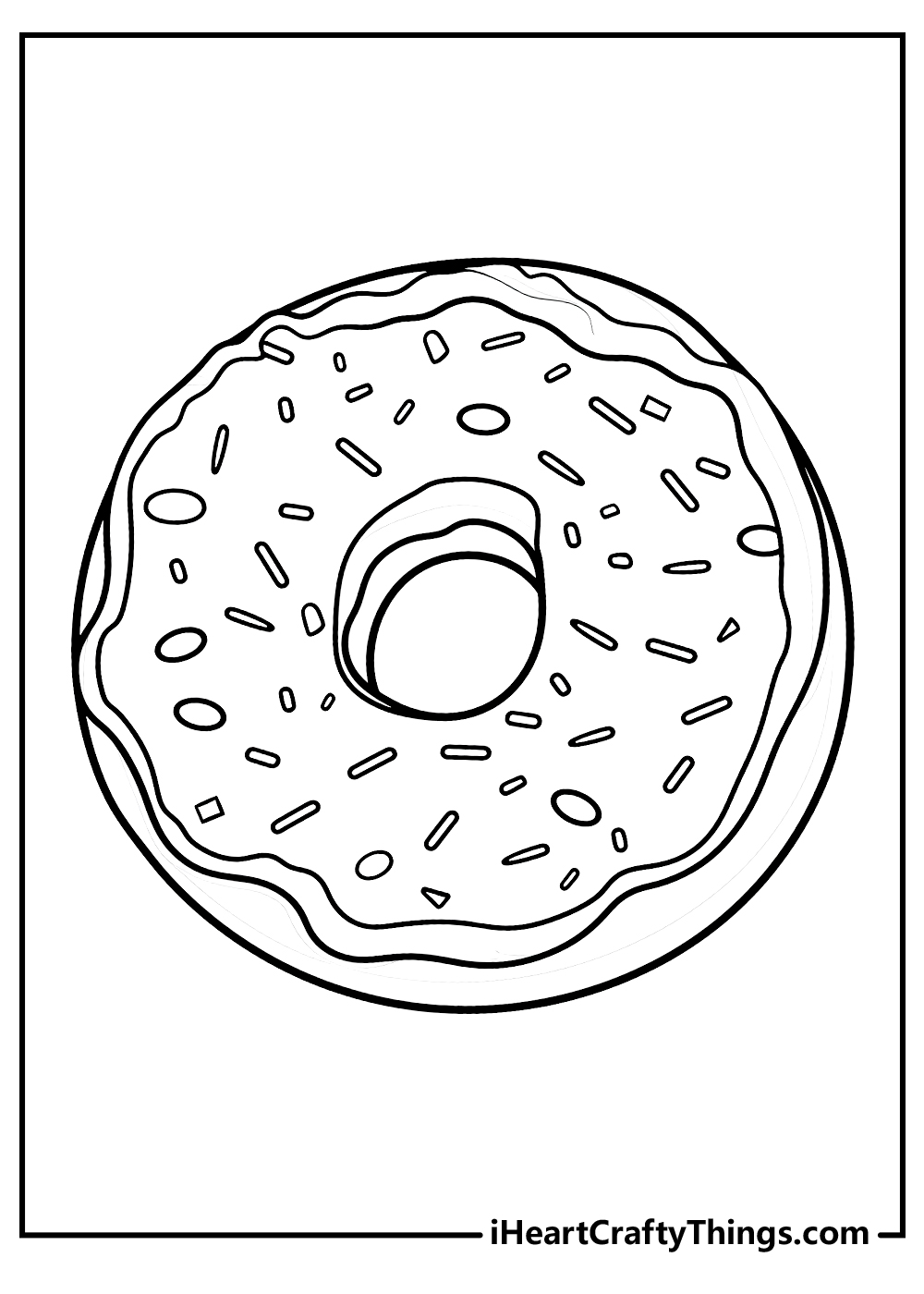 It's hard to resist taking a big bite out of a donut, and that is certainly true for this third one!
There is a big bite taken out of this one, and this also allows for some color variations between the outer and inner textures of the donut.
What kind of topping will you create for this particular donut?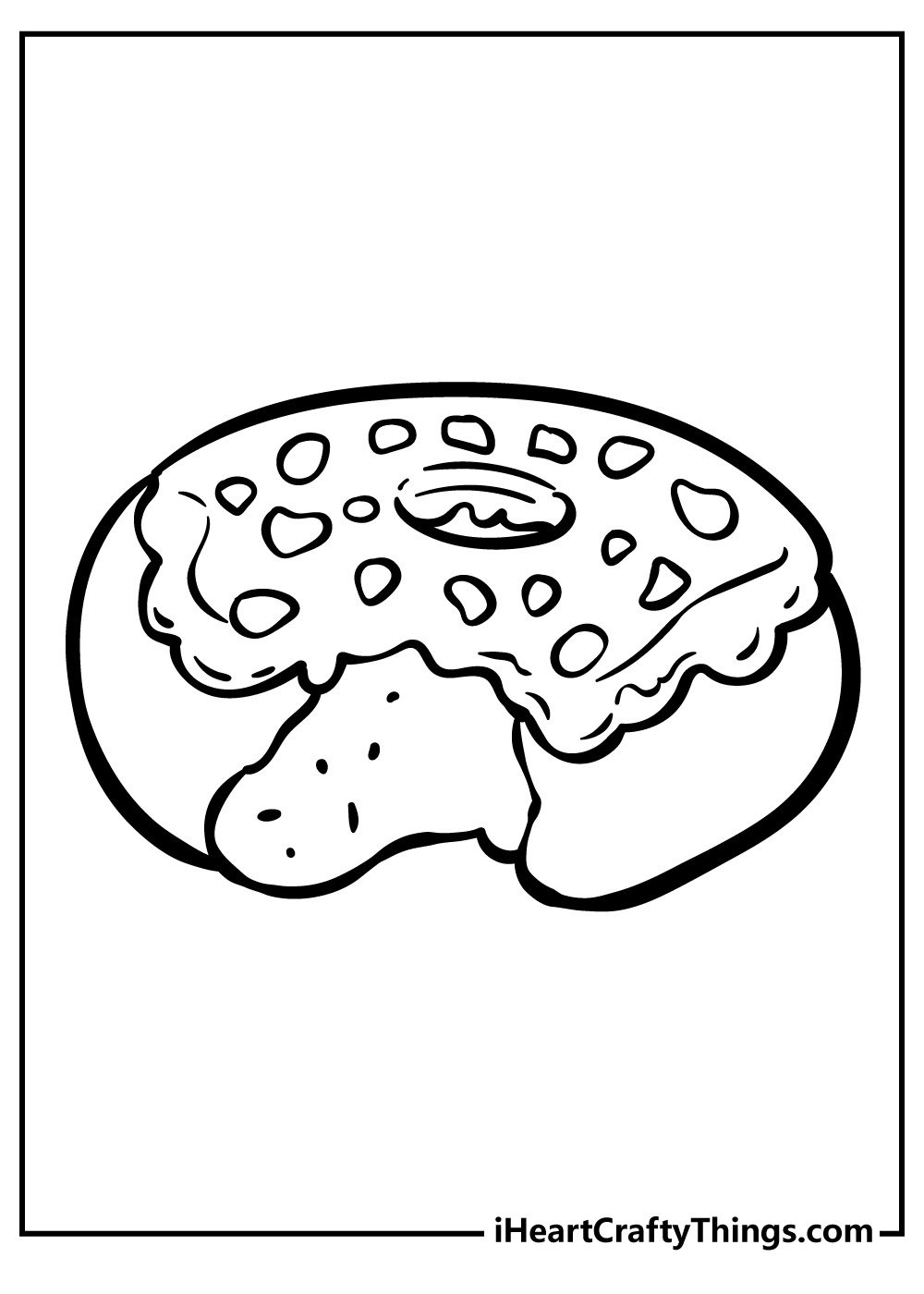 The fourth donut that we have for you to color is simple, but there are so many great ways that you could color this one!
It is covered in sprinkles, and you could really make this a wonderful image to behold by using a huge range of bright colors for the sprinkles.
They're pretty small and thin, so we would use some colored pens or pencils to color these small shapes.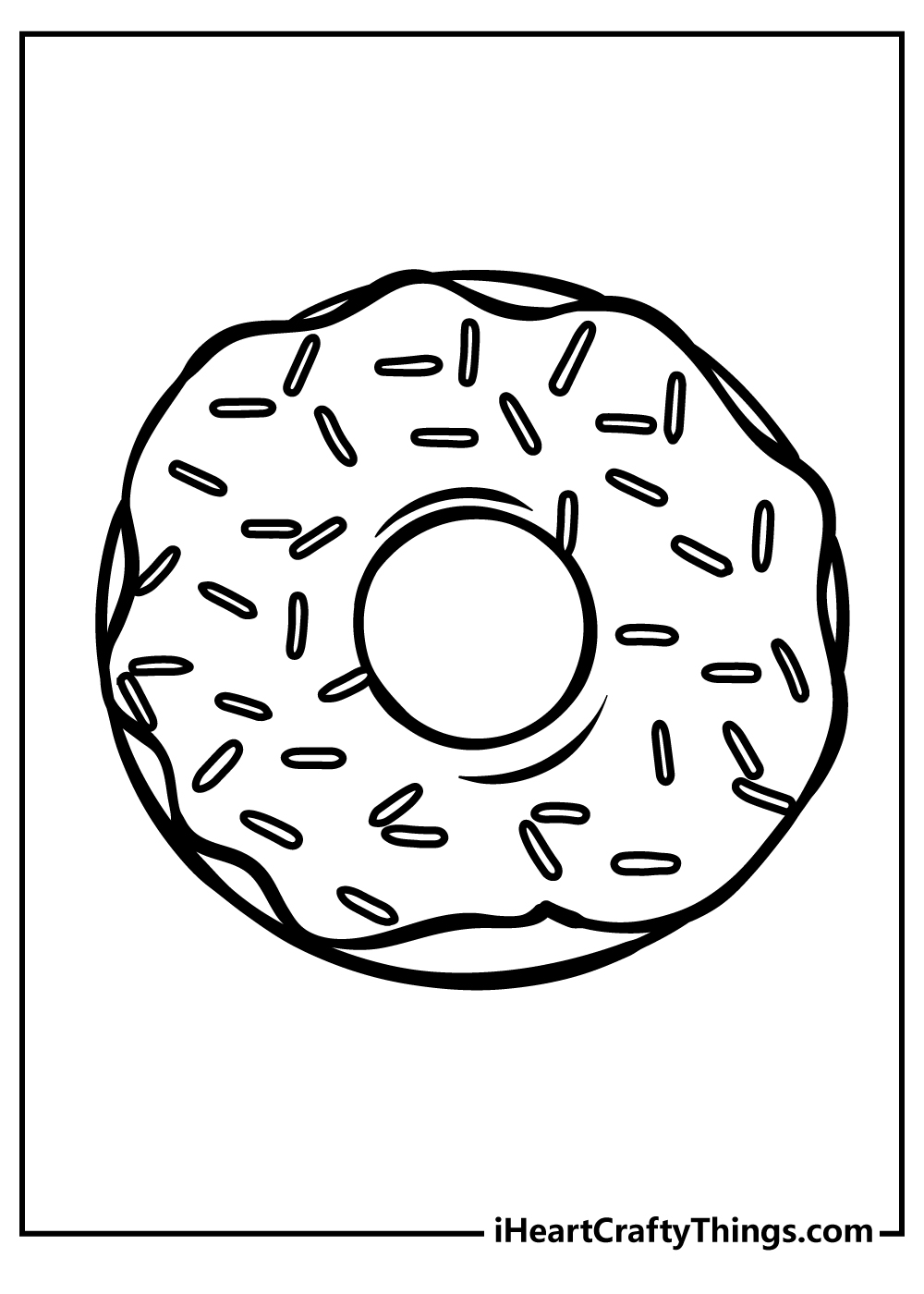 This cheerful donut printable shows a round donut with a center hole and a lightly glazed exterior. The glaze features swirls and drips for extra texture.
Decorating the top are sprinkles in assorted shapes like circles, hearts, stars, and flowers.
I would color the donut any flavor I like – pink frosting, brown glaze, white powdered sugar. The sprinkles allow you to use every color of the rainbow to make this donut page pop.
This is a joyful and flexible page for donut lovers.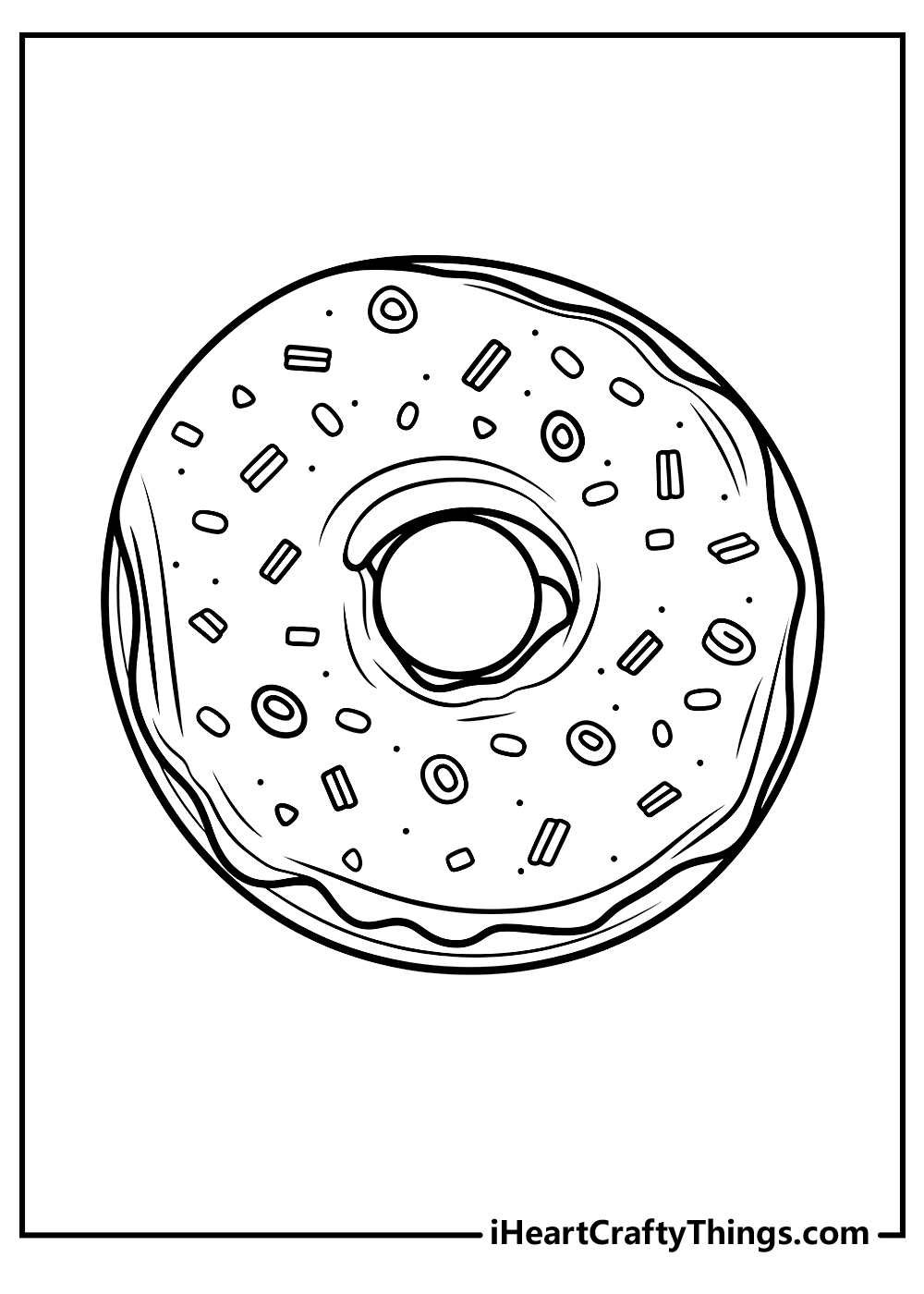 What's better than enjoying a donut? The answer would be enjoying many, and that is the case in this next donut coloring sheet.
We have three donuts for you to have fun coloring here, and you have a few options. Perhaps they could all be the same color, or maybe you could make each one unique!
Which approach do you think you may take?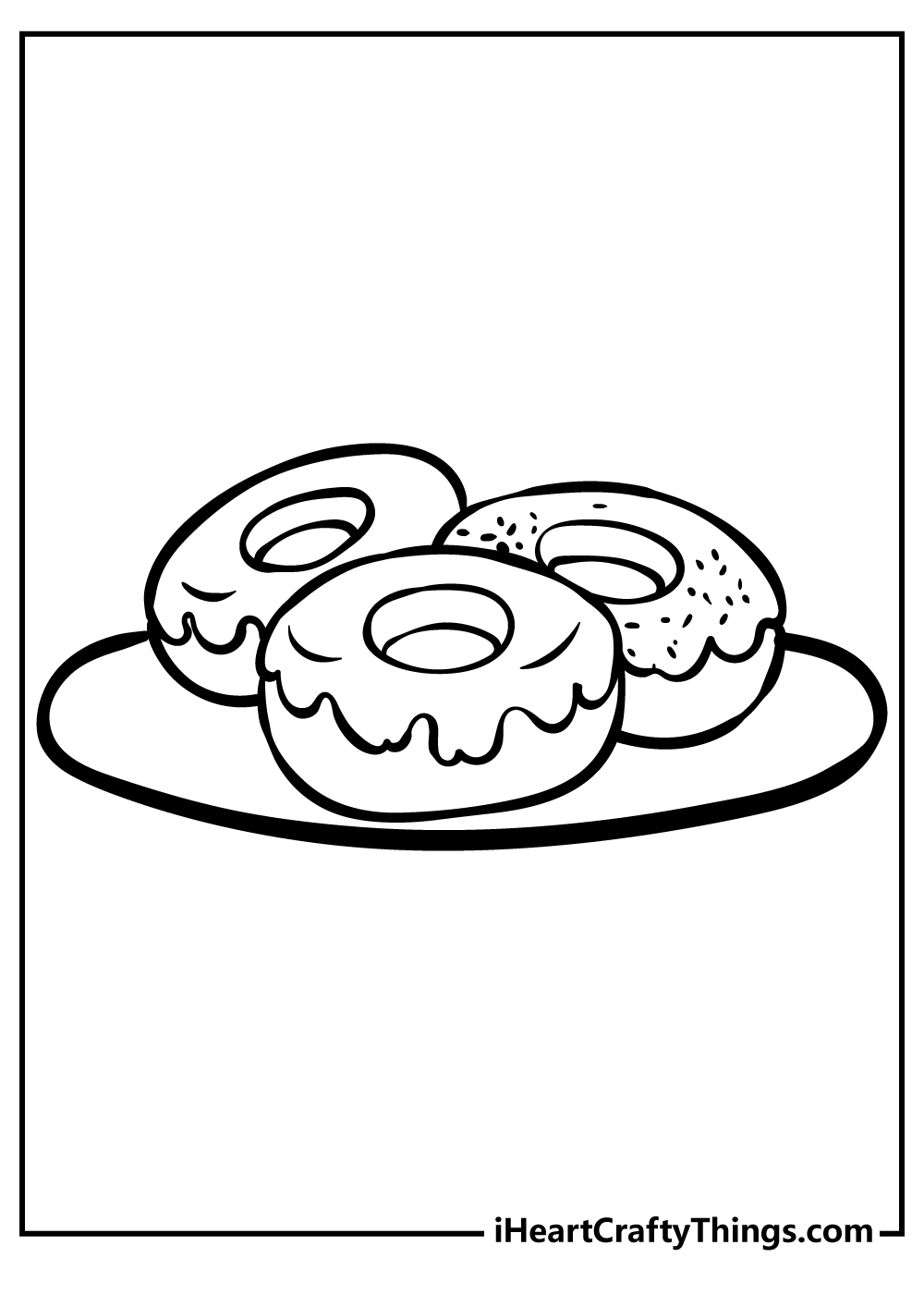 We have another unique donut for you to color this time. This one is covered in a few different types of icing to create a dynamic look for this tasty treat.
It also opens up a lot of opportunities for you to work in some great color details!
We will be interested to see which colors you choose for this one.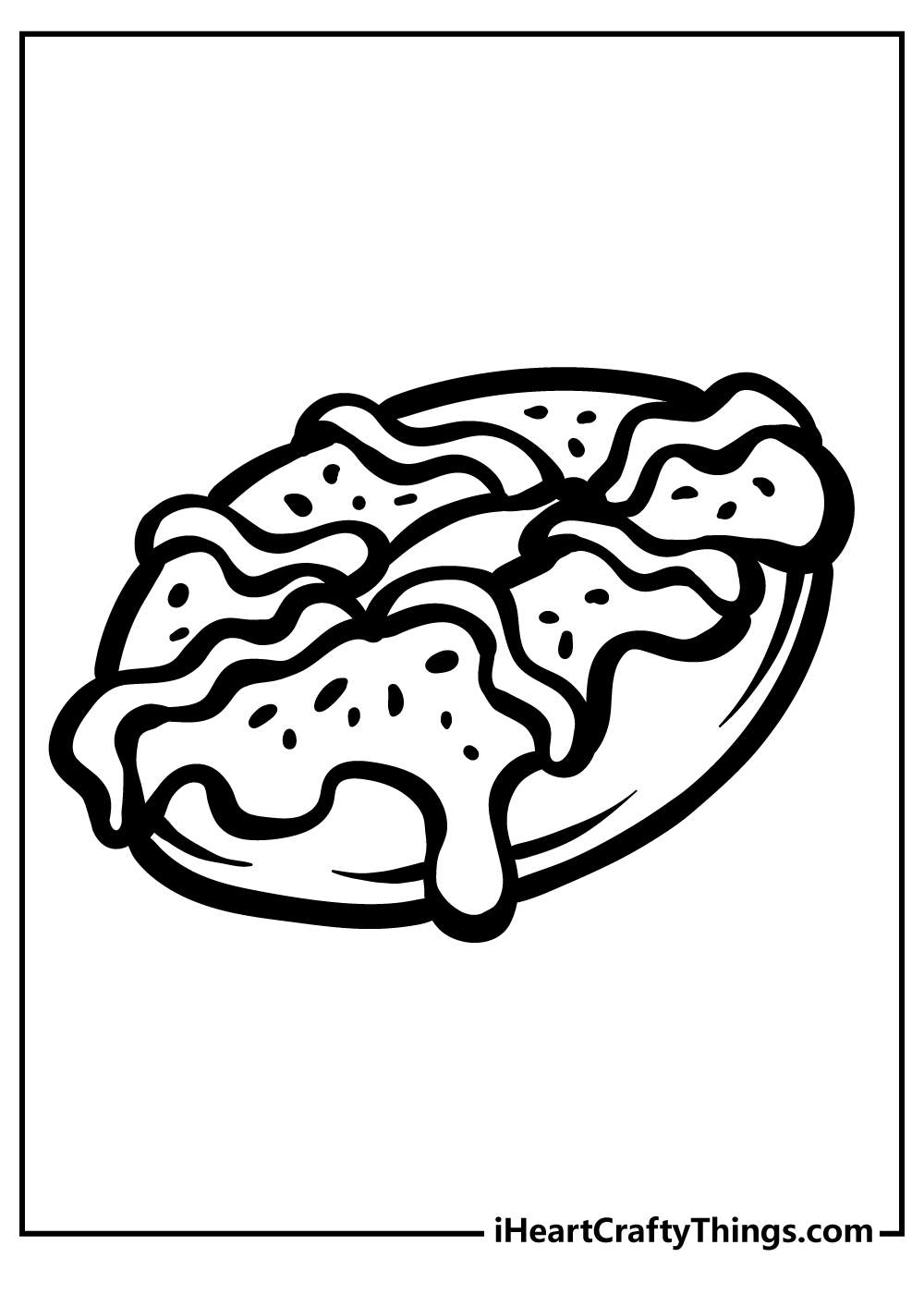 Get ready to decorate a delightfully detailed donut with this coloring sheet. It features a donut from above, with a round center hole and a ring of thick, yummy dough.
The donut is coated in a swirly glaze that looks glossy and irresistible. Colorful heart, star, and circle shaped sprinkles dance across the glaze in a celebratory sprinkle explosion.
You can color the glaze any flavor you like – chocolate, strawberry, vanilla, or more. Add glitter gel pens or metallic crayons to make them shine.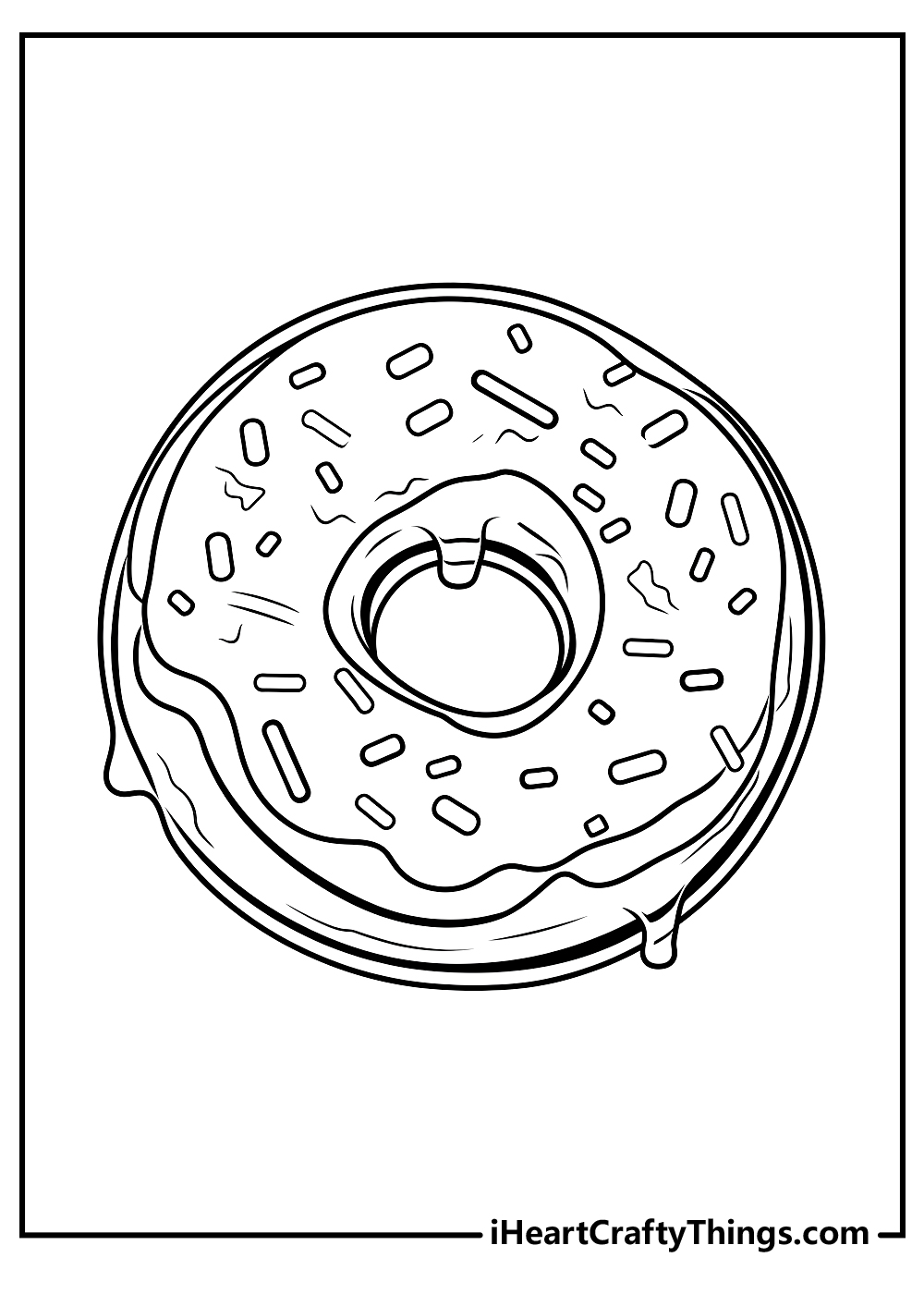 It's time for another donut extravaganza! This time we have five donuts, and there are some unique variations when it comes to the icing details on each one.
This is another one where we would probably go for different color combinations for each one, but that is just one way you could go about it!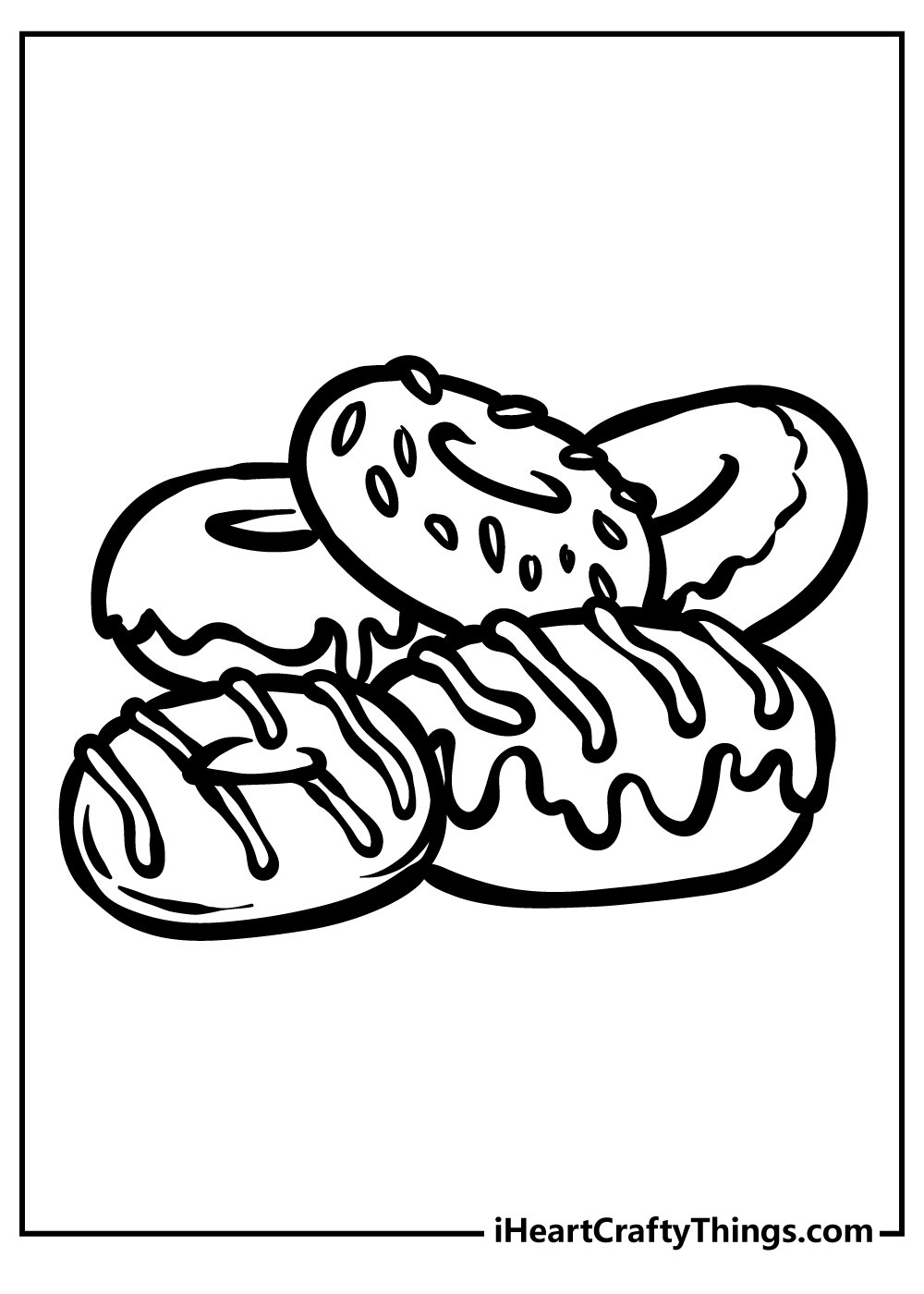 This next donut is another one that has a simple design, but sometimes the simplest designs allow for the most creativity!
Perhaps for this one you could try out some new art mediums or techniques that you haven't used yet, as that would help this tasty donut to stand out even more from the rest!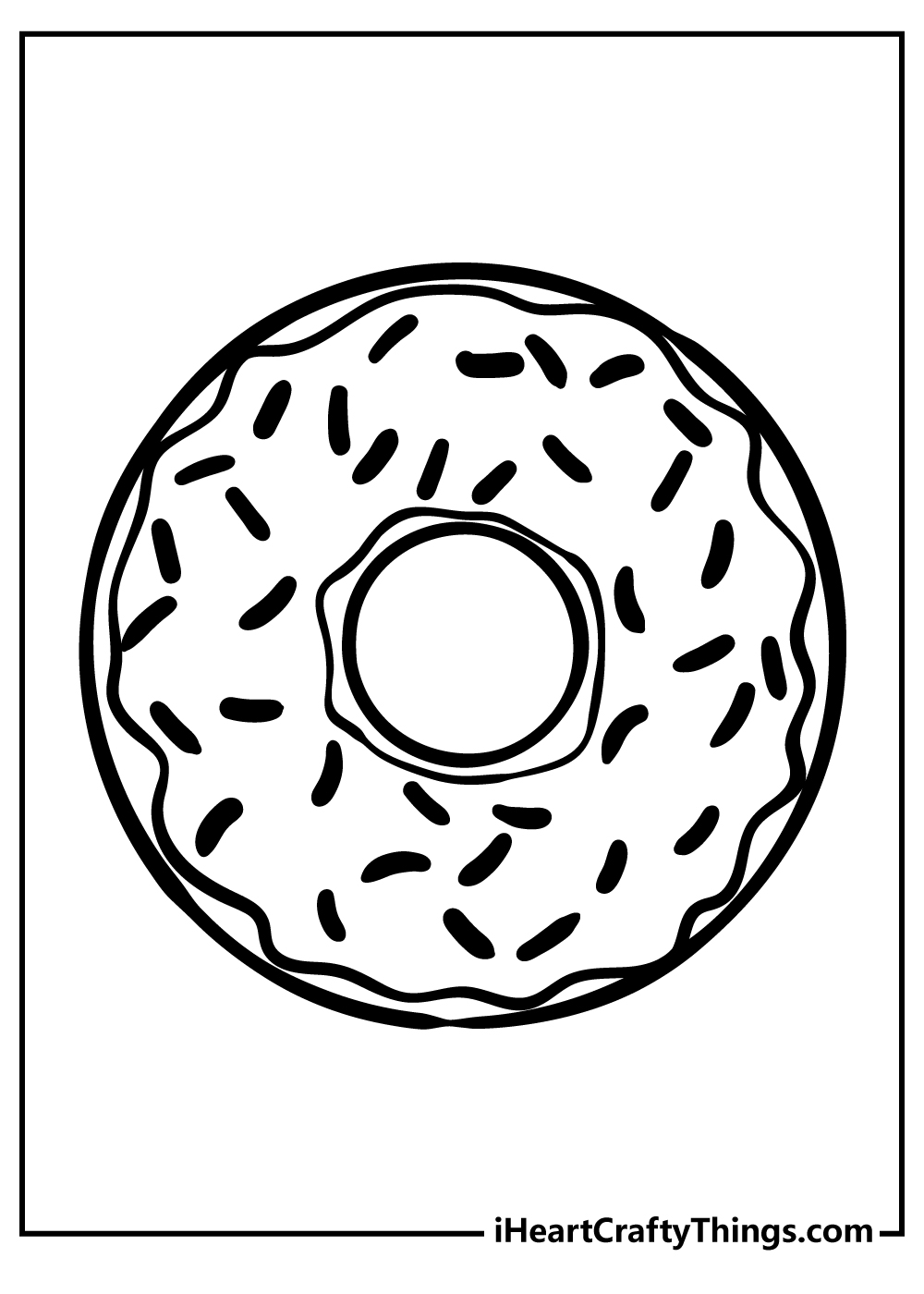 This donut printable is positively sprinkle-tastic. It features a round donut with a center hole viewed from above. The frosting boasts fun swirls and grooves for added texture.
You can go wild with color choices on this page. Yellow or brown frosting, rainbow or metallic sprinkles – any combo you dream up will look amazing.
Consider using neon, pastel, or glitter gel pens to make your sprinkles pop.
The sprinkle-loving donut lover in your life will adore personalizing this coloring page with their favorite flavors and colors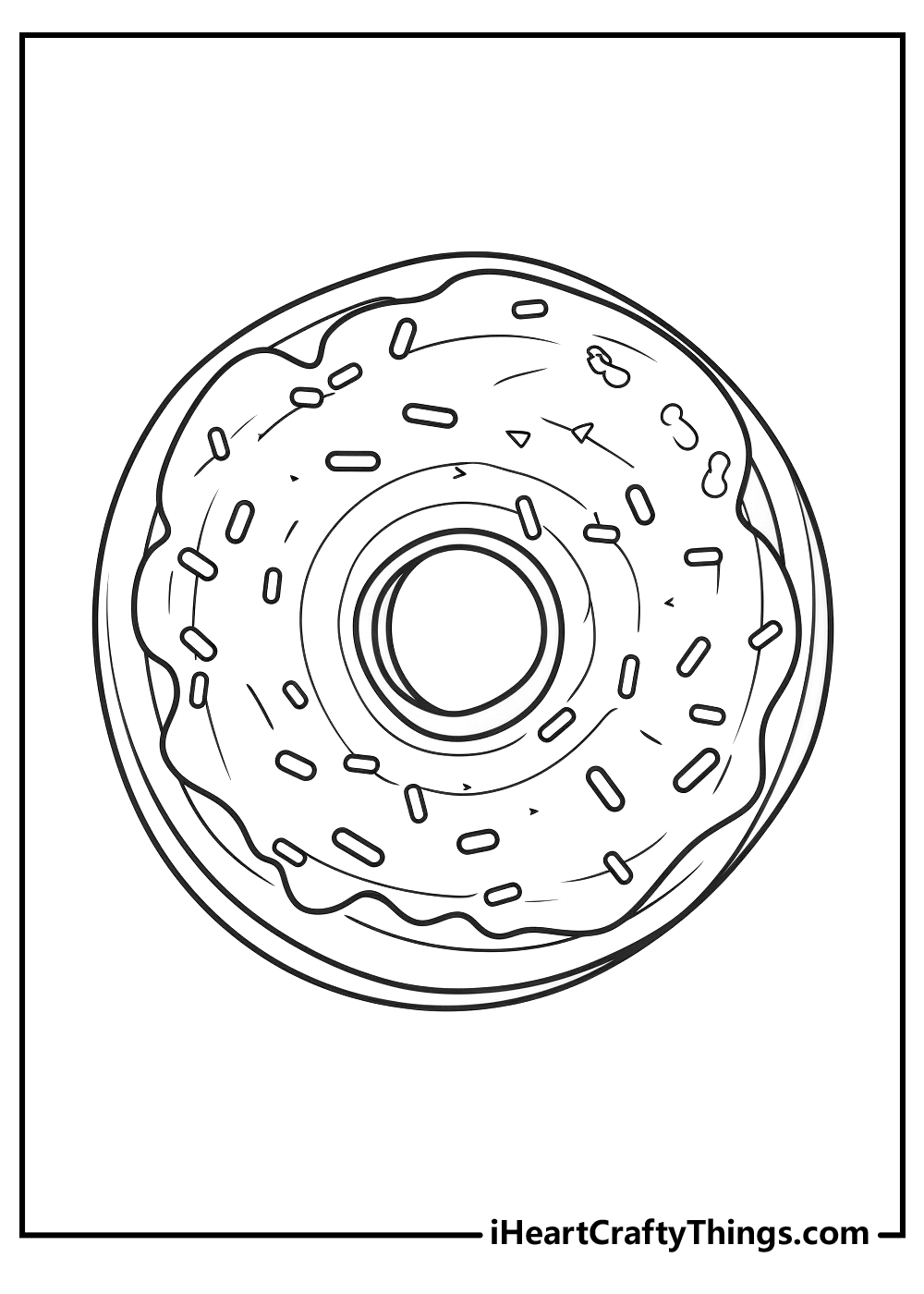 We have something a bit different featured on this next donut coloring printable!
Donuts will sometimes be styled to look like different things, and this one has been made to look like an adorable unicorn.
We would probably use some lighter pinks and purples for this one to give it a cute look, but which other colors come to mind for you?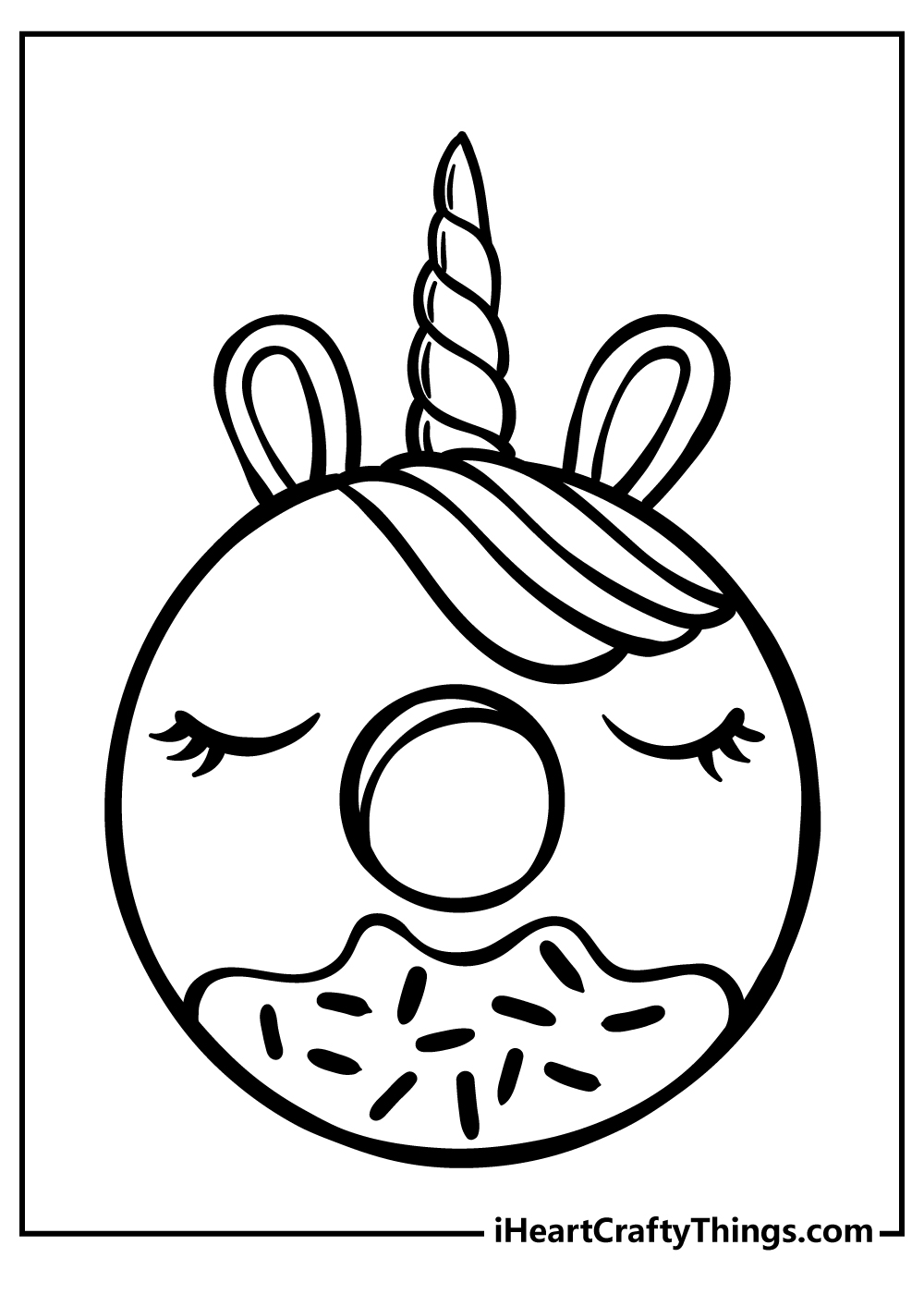 There is an interesting design to this next donut. It has an erratic covering of icing, and it makes for a great-looking treat! We would go for some bright, vibrant colors for this one to fit the design.
Do you think you will try a similar approach or use some other color approaches instead?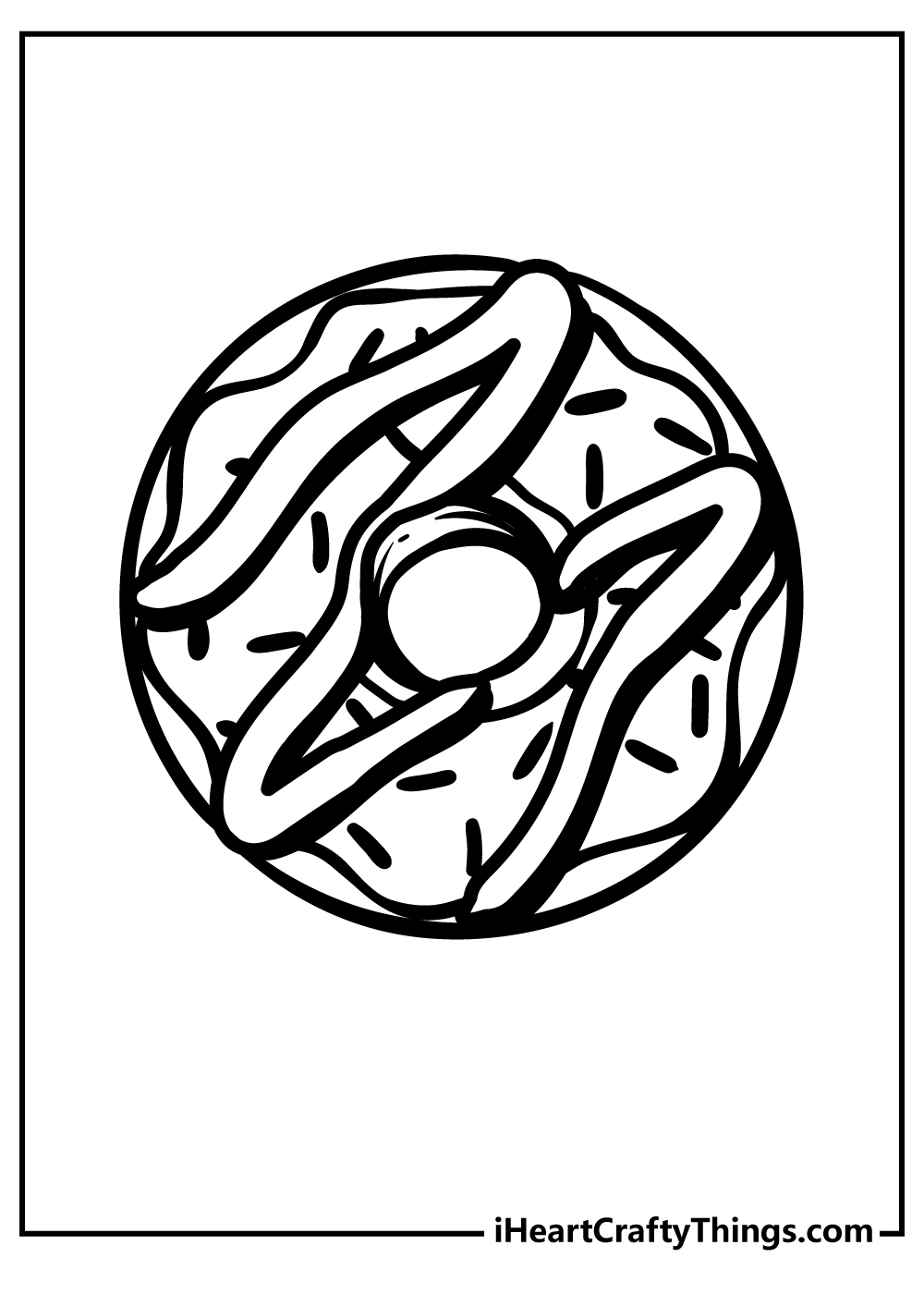 The way that the icing is applied on this donut is quite intricate! There are some small spaces to color in here, so this is another one where we would recommend certain art mediums over others.
Once again, we think colored pens, pencils or thin-tipped brushes would be great for this particular one.
These mediums would make coloring these thin shapes much easier, and they would look great!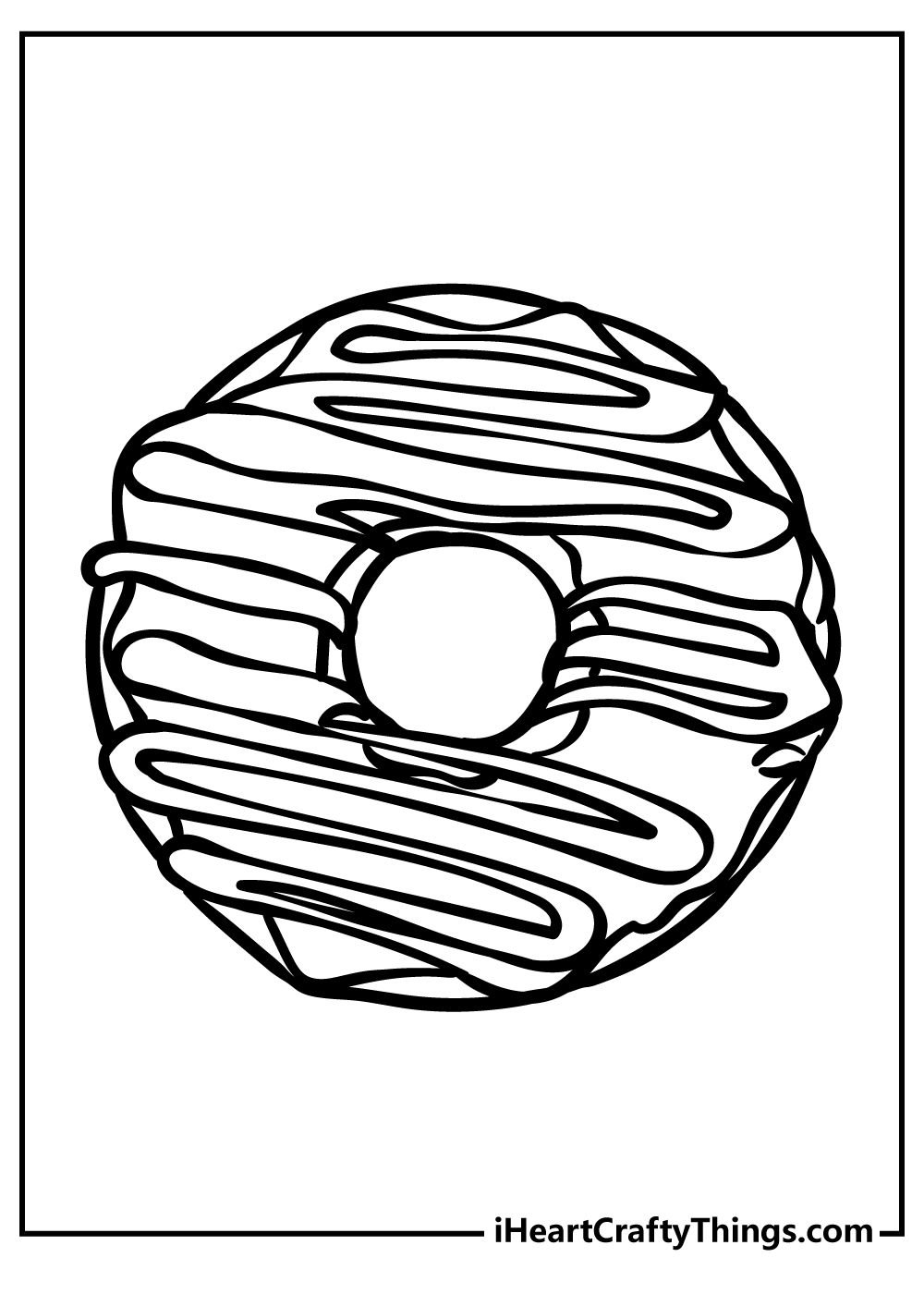 This next donut we have for you to enjoy has also had a big bite taken out of it, and now you get to show why it looked so enticing by using your colors.
Will you go for a bright and vibrant donut or keep it looking a bit more muted? It's up to you, so be sure to show us how this one comes out!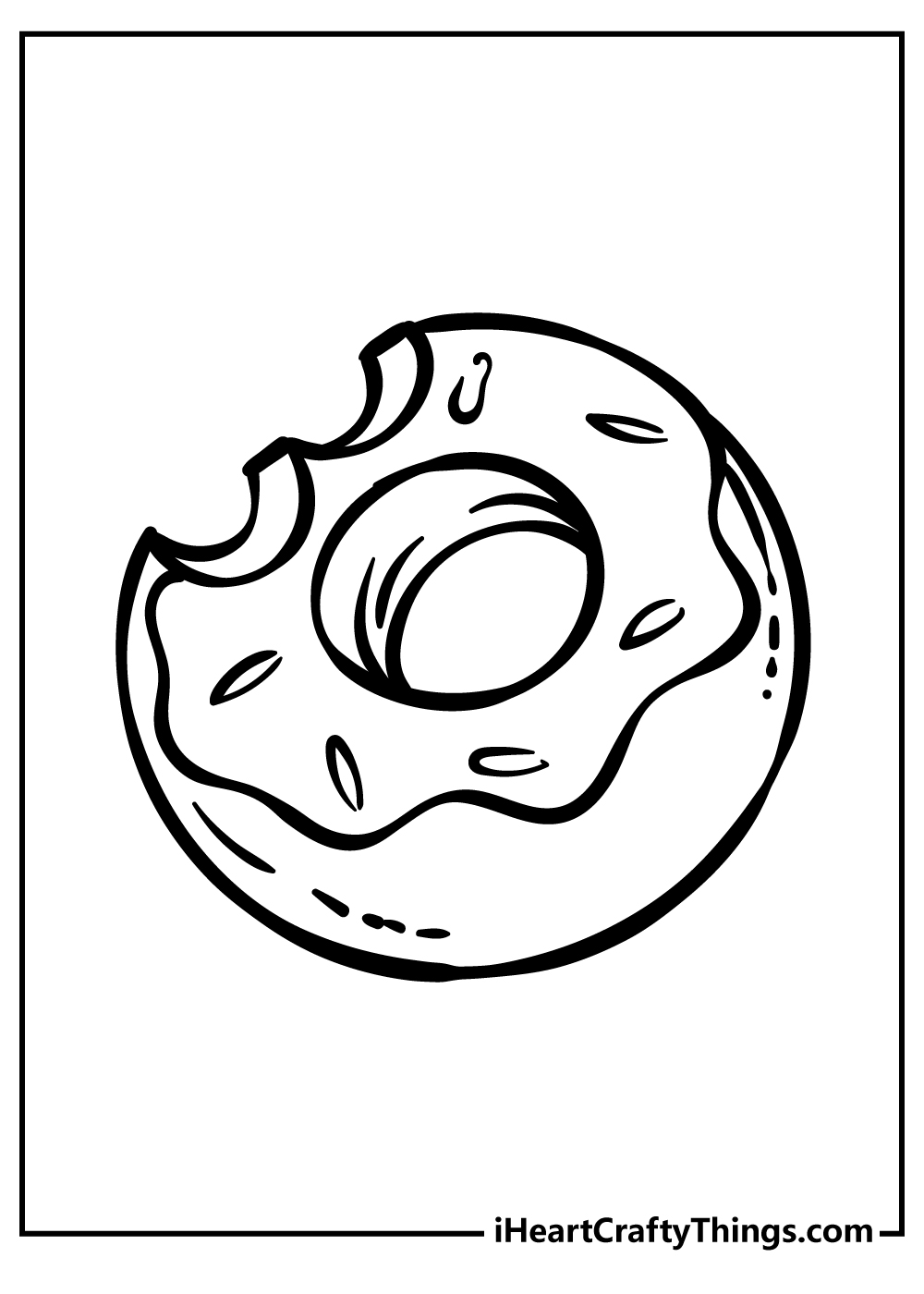 There are plenty more sprinkles to color in with this thirteenth donut we have prepared for you.
Sprinkles are always a great feature to have when you want lots of color variation for your drawing, so there are plenty to enjoy here.
Maybe you could also draw a background that shows where you would like to be enjoying this donut!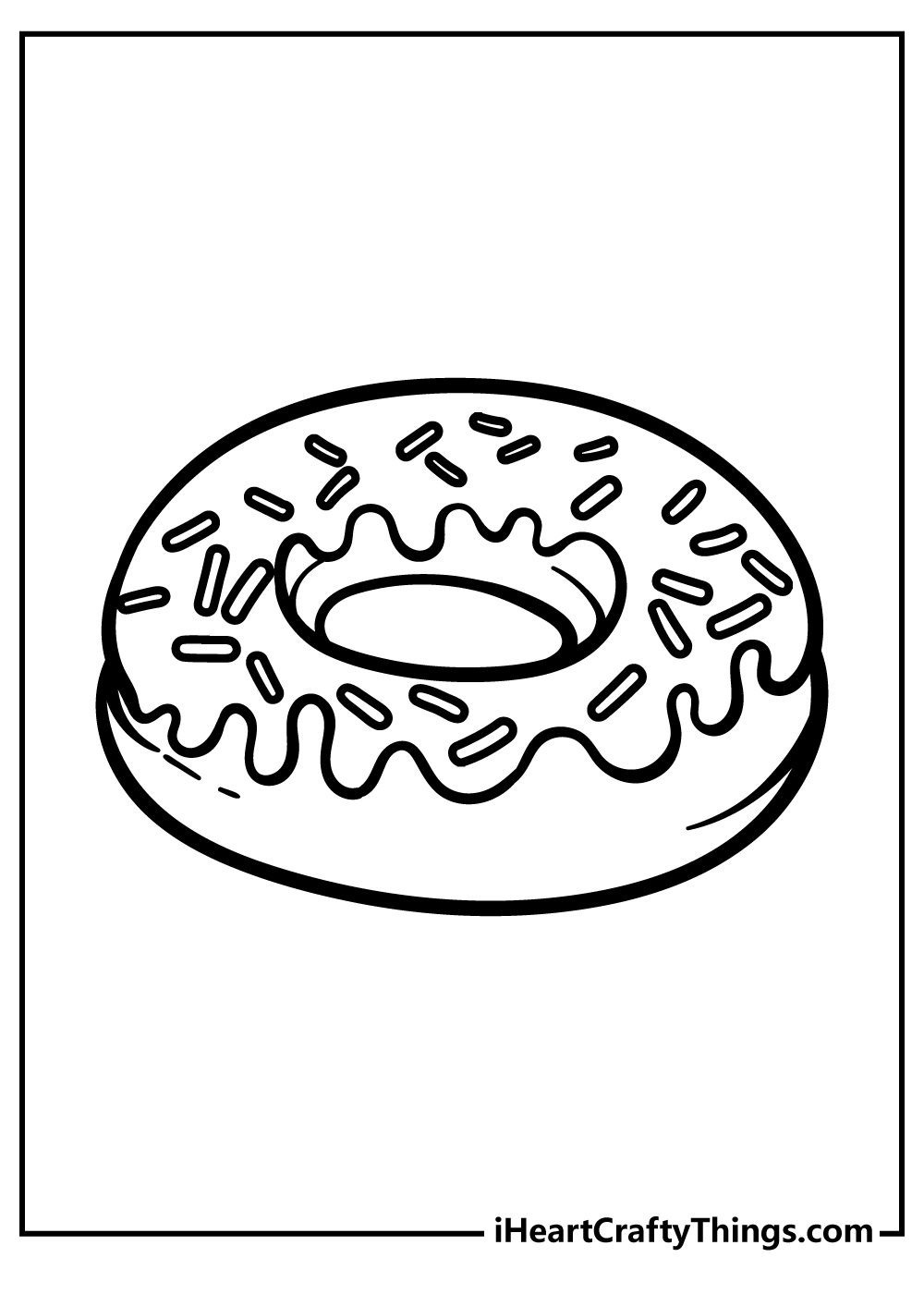 This next donut is simple but still looks incredibly tasty!
It has some simple icing with some round sprinkles, and when you have added some color to it you will have a delicious-looking treat on your hands.
How will you make sure that this donut is looking its best?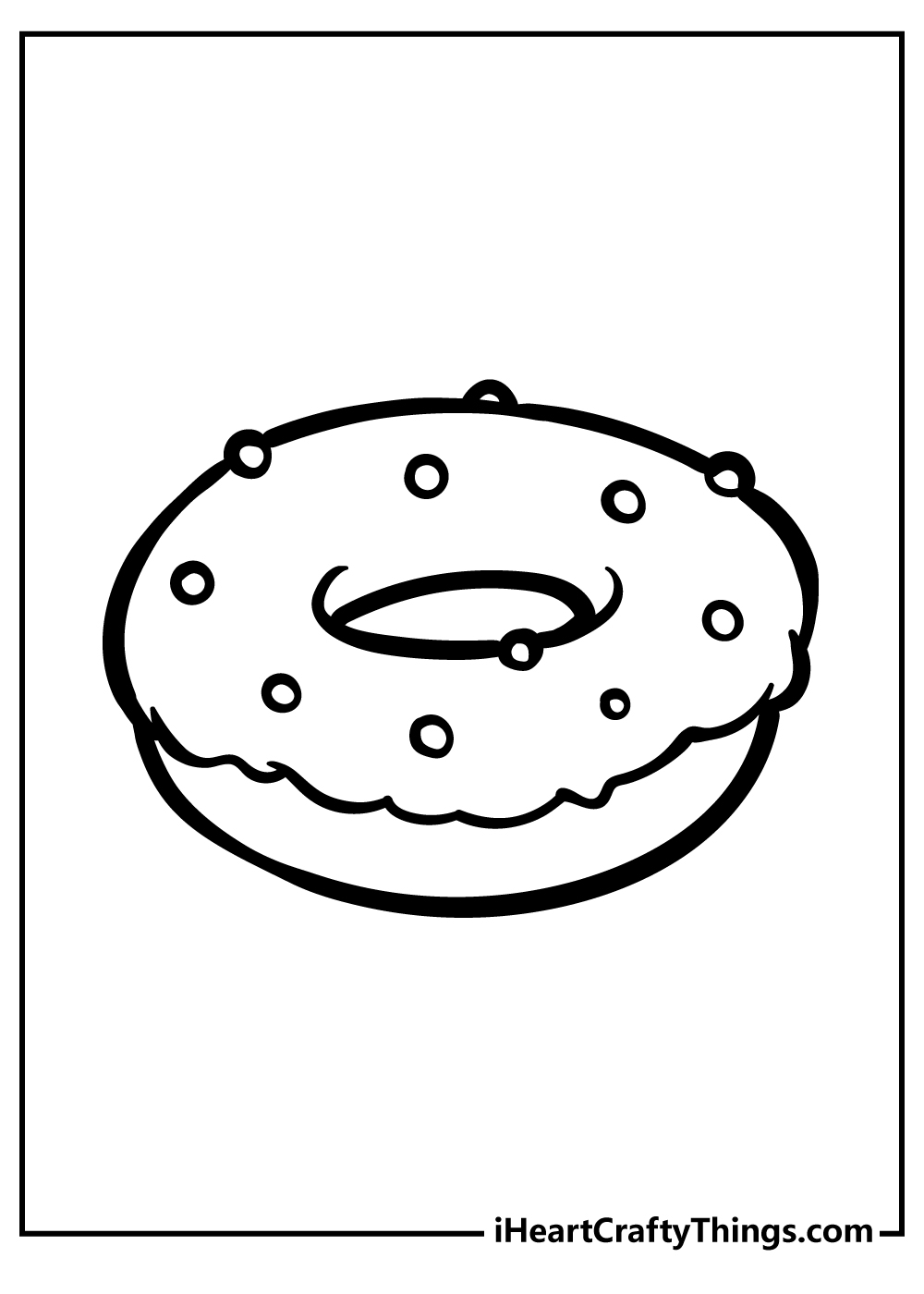 For the last donut coloring sheet we have prepared for you, we have another selection of three donuts for you to enjoy!
Once again, we would probably try to color each donut in a unique color scheme, but it would look equally good with more unified colors.
If you can't decide which one to try, you could print out a few copies so you can experiment!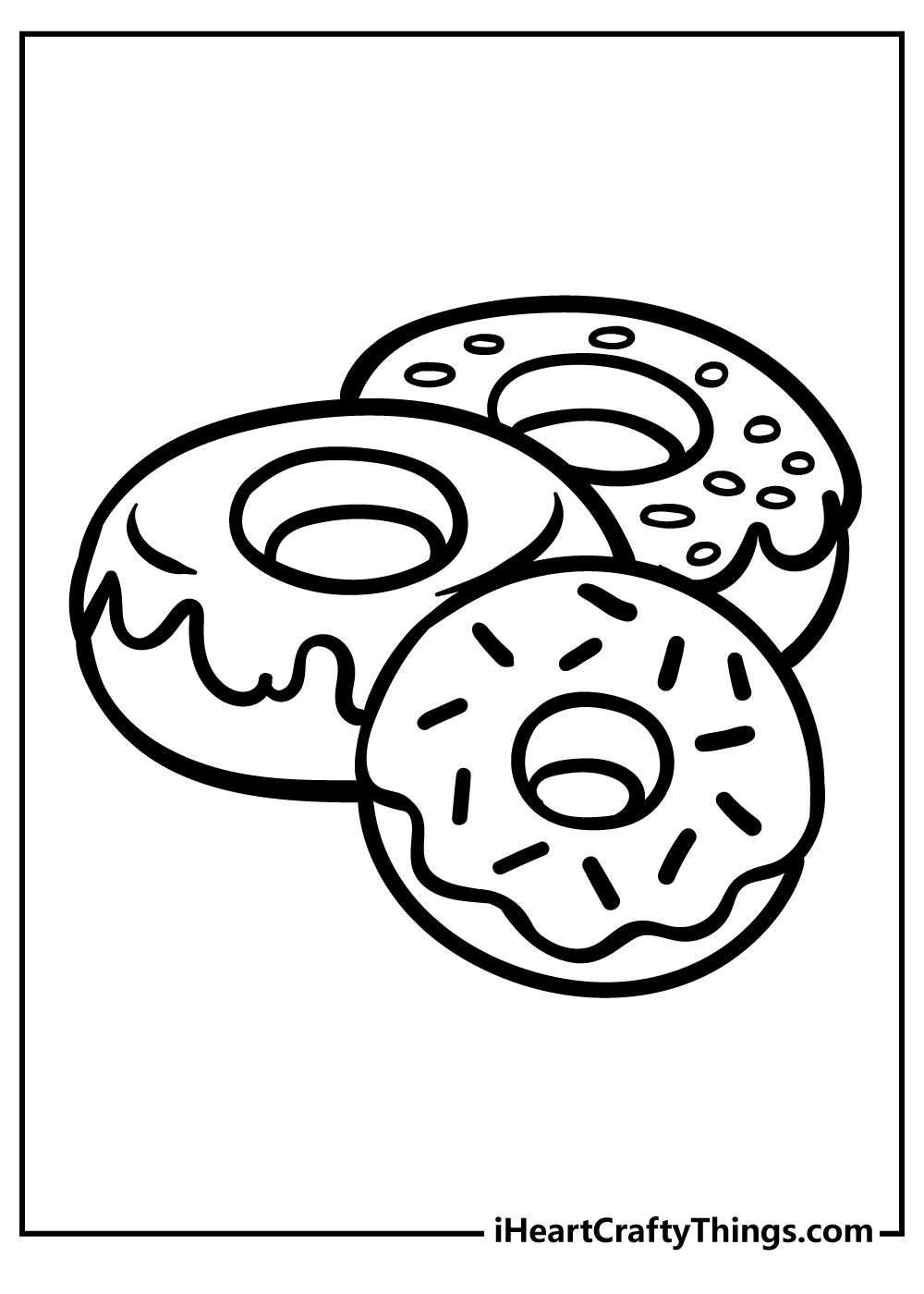 Donut Coloring Pages – Which will you choose?
That will finish up this tasty set of free donut coloring pages for kids. We hope you had a great time and that these treats didn't work up too much of an appetite!
When you have finished your favorite pages, you have a few ways to keep the fun going.
You can find more coloring page collections on our website, and you can also share some of your finished pages on our Facebook and Pinterest pages for us to see.
You can also share the collection with others to enjoy as well!
We can't wait to see how some of your awesome donuts turned out!