They say that Christmas is the most wonderful time of the year, and it's hard to disagree!
When Christmas starts to get nearer, there are many beautiful decorations to behold and Christmas trees to marvel at.
The festive season is a very special time for many people, and this collection of free Christmas coloring pages for kids is here to help commemorate this special time of year!
This wonderful collection of free printables covers a wide range of different Christmas scenes and scenarios for you to work your creative magic on!
This would be a great chance to get out your favorite bright colors and art mediums as you work through these charming coloring sheets.
Whether Christmas is just around the corner or still a few months in the future, there is never a bad time to have some creative Christmas fun!
That is exactly what this collection is here to do, so you'll definitely want to see it through to the end.
When you have completed some of these awesome Christmas coloring sheets, you can share your favorite artworks on our Facebook and Pinterest pages!
We hope you have lots of fun working on this festive color celebration.
10 Brand New Christmas Coloring Pages – Free to Print and Color
We're kicking off this collection of free Christmas coloring pages for kids with a truly stunning image!
One of the most wonderful aspects of this season is getting to decorate a beautiful Christmas tree, and this is what we have for you in this first printable.
There are so many incredible decorations and presents to color, and there's even a cute sleeping cat to finish off the cozy feeling.
We're sure that this will be an image absolutely exploding with color once you're done with it, and we can't wait to see it!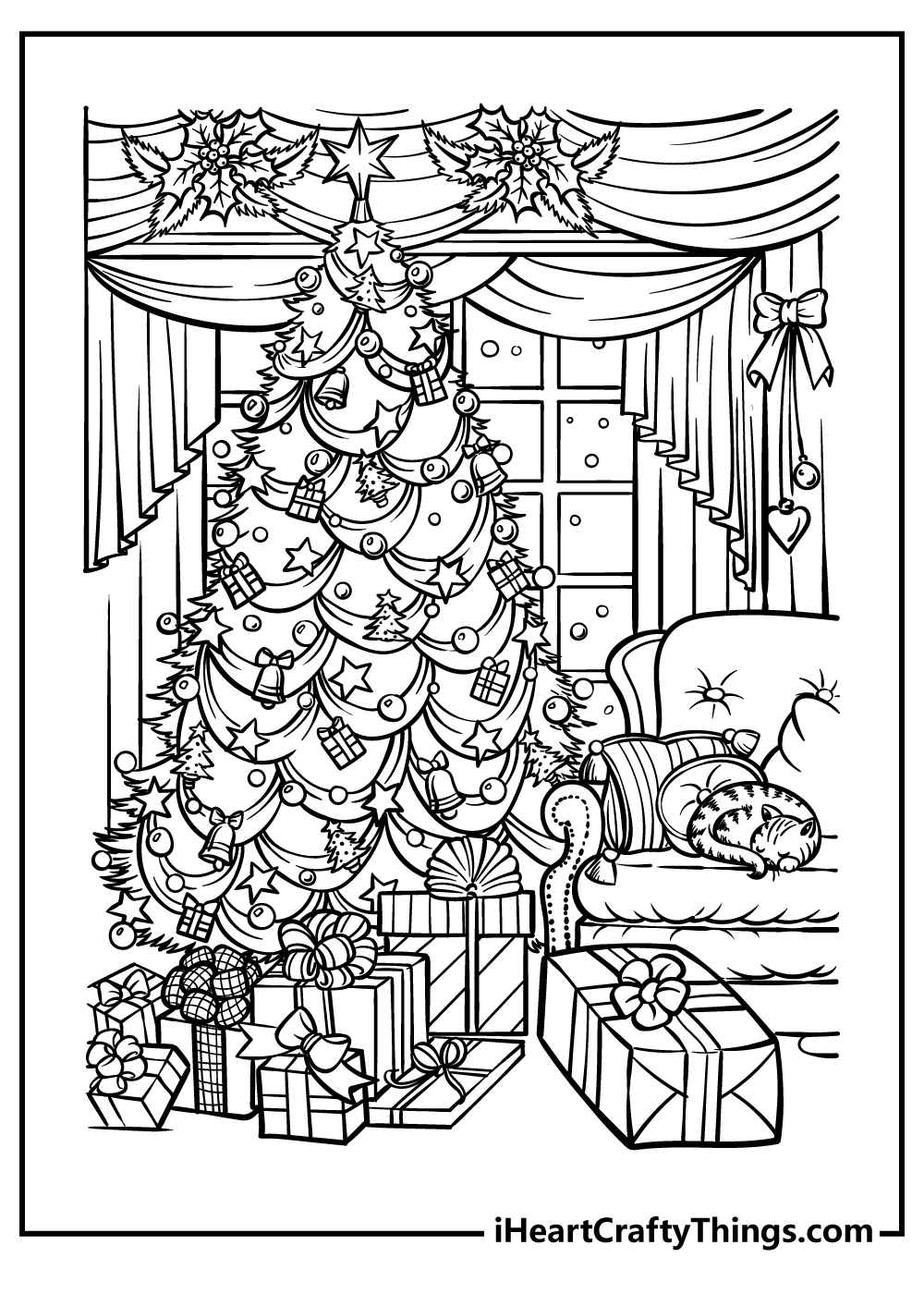 We had a zoomed-out scene for the previous Christmas coloring sheet, and in this second one we shall zoom in a bit on one aspect.
In this second picture, we have a charming Christmas stocking for you to color. These lovely stockings are hung up around the tree so that Santa can place some smaller gifts within.
What would your perfect Christmas stocking look like? You can show us by how you color this image!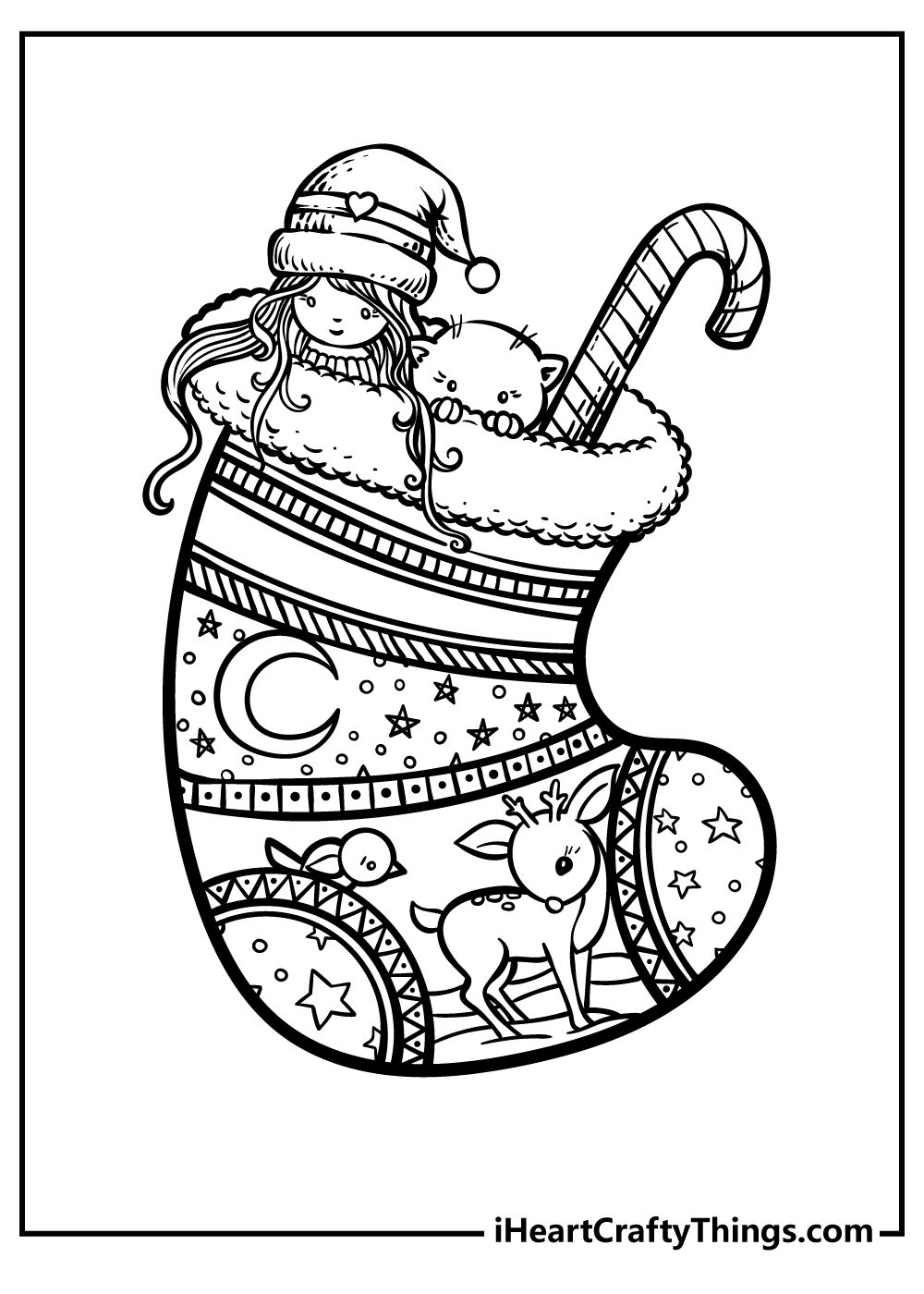 There's another gorgeous Christmas coloring printable for you to enjoy in this third picture! Here we have tons of gorgeous Christmas decorations, and they're surrounding an adorable owl.
There are so many small details with this image, so you may want to use mediums such as sharp colored pencils or thin-tipped brushes and pens.
These mediums will allow you to get some intricate color details in.
What colors and mediums will you choose to finish off this coloring sheet?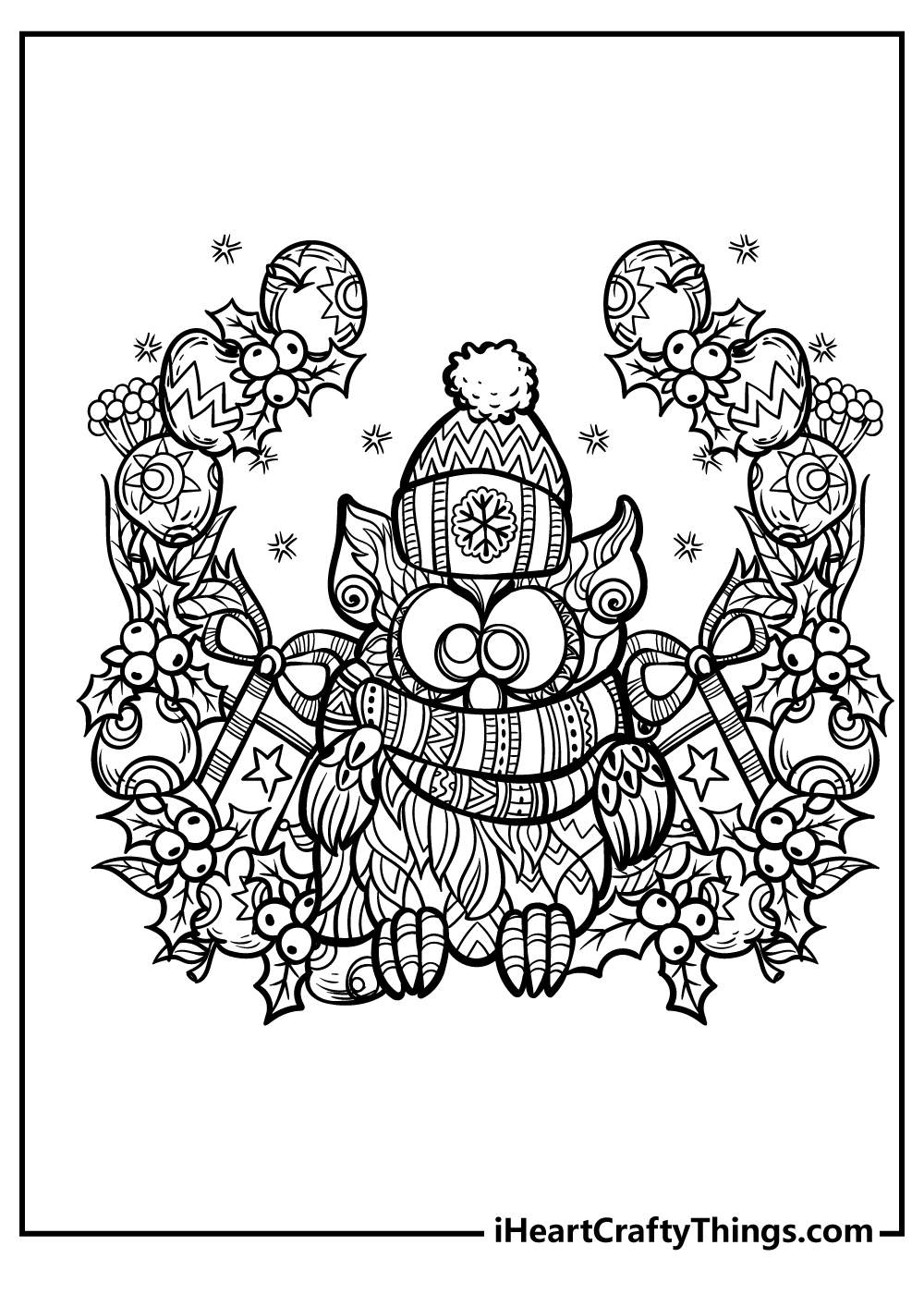 The fourth free Christmas coloring page that we have prepared for you is a wonderfully creative picture!
Two arms are closed around a big clump of delicious Christmas treats such as cookies, gingerbread men and candy canes.
This kind of image can work up an appetite, so why not enjoy your favorite Christmas snack as you work on it?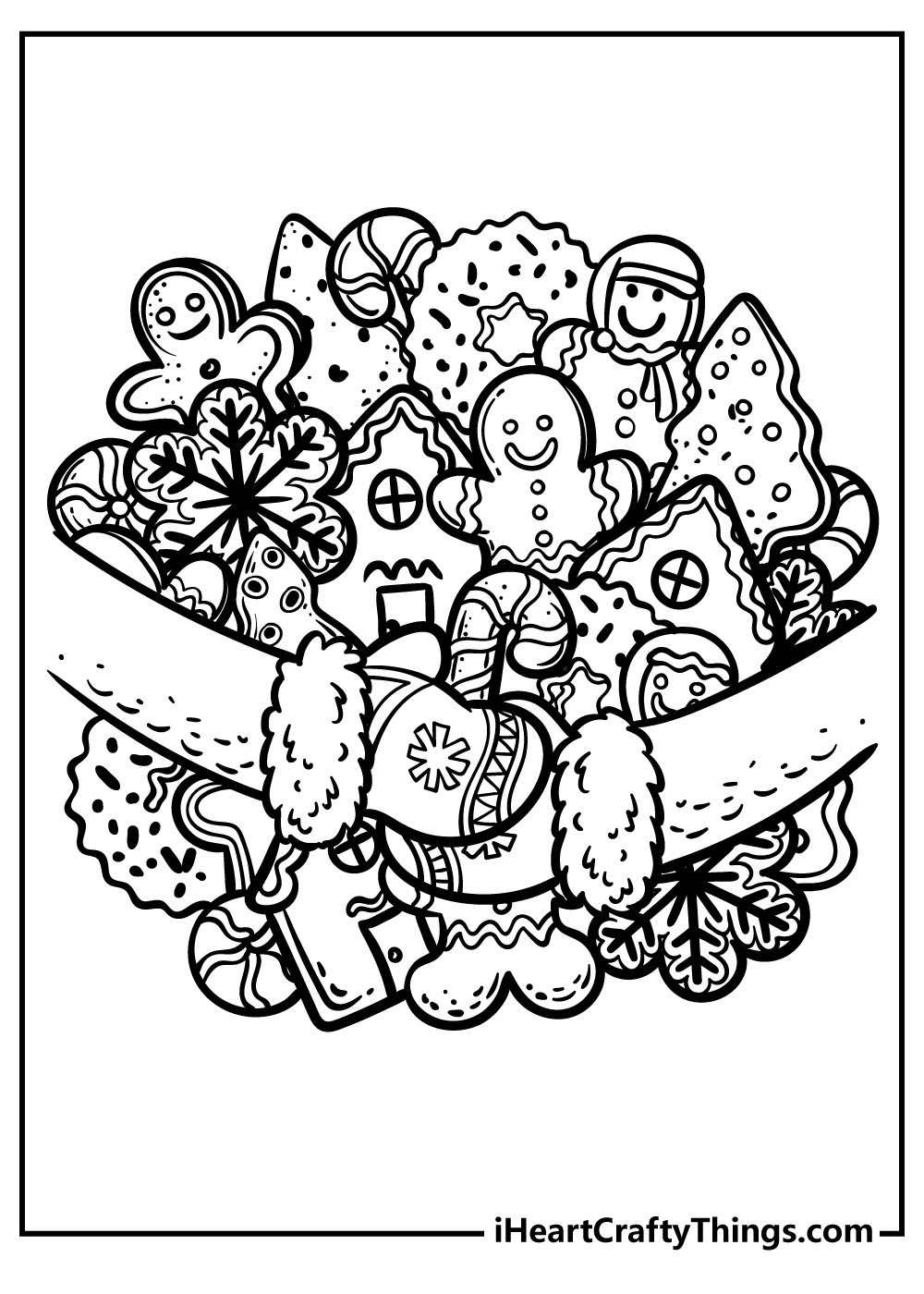 We have had some very detailed and intricate pictures in the previous few Christmas coloring sheets, so in this one we have a bit more of a pared-down image for you to color.
Many people will have lovely Christmas wreaths above their doorways during the festive season, and in this printable we have one for you to color.
This wreath may be simpler than some of the previous coloring sheets, but there is still plenty of room for some bright, beautiful colors!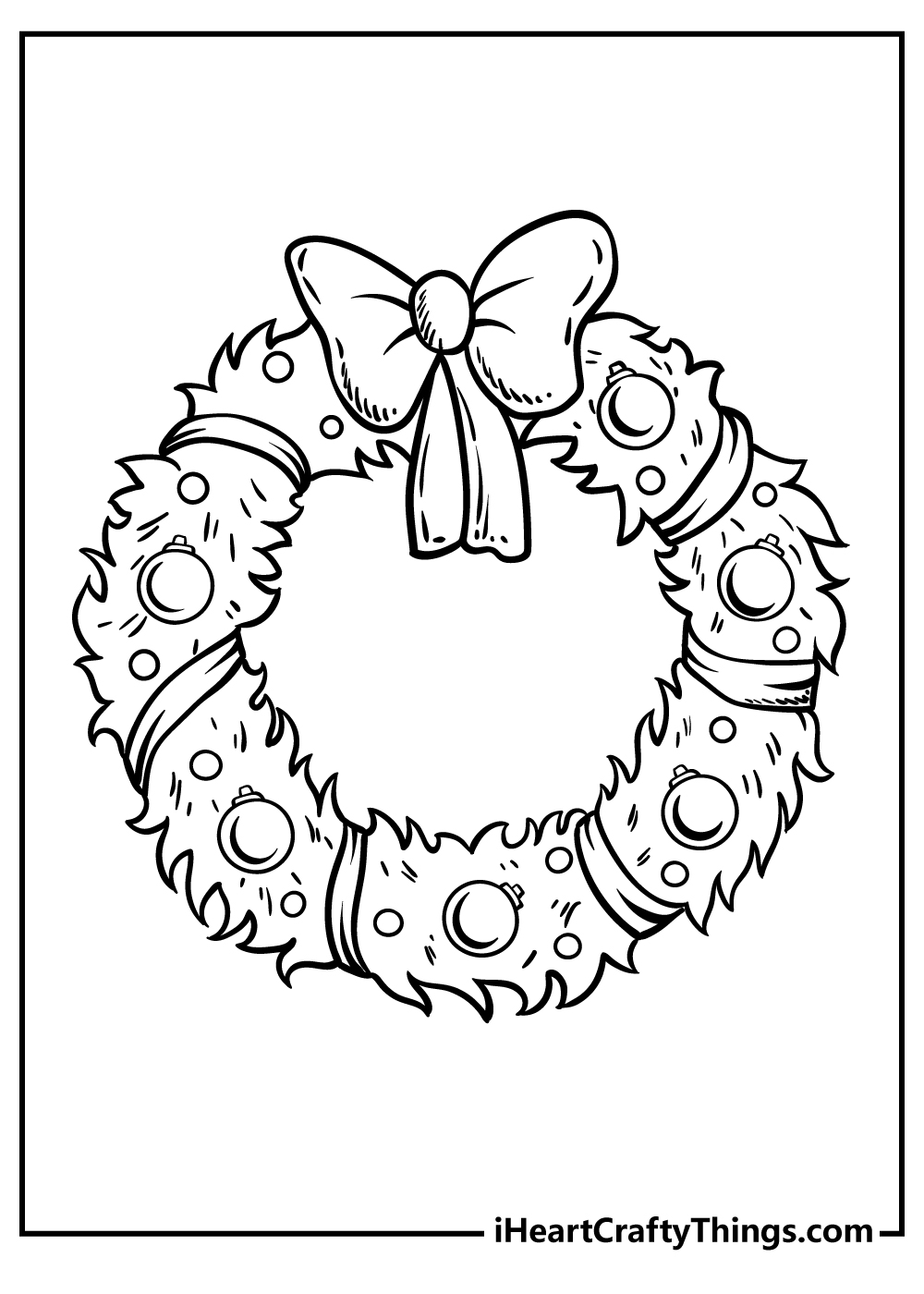 There's another big collection of delicious treats to color in this free Christmas coloring page!
We have some tasty cookies, gingerbread men and other delights that are ready for some coloring, and the only limit is your imagination.
When coloring, remember that it can also be lots of fun to change up the art tools and mediums that you use for your pictures, so what do you think you will use?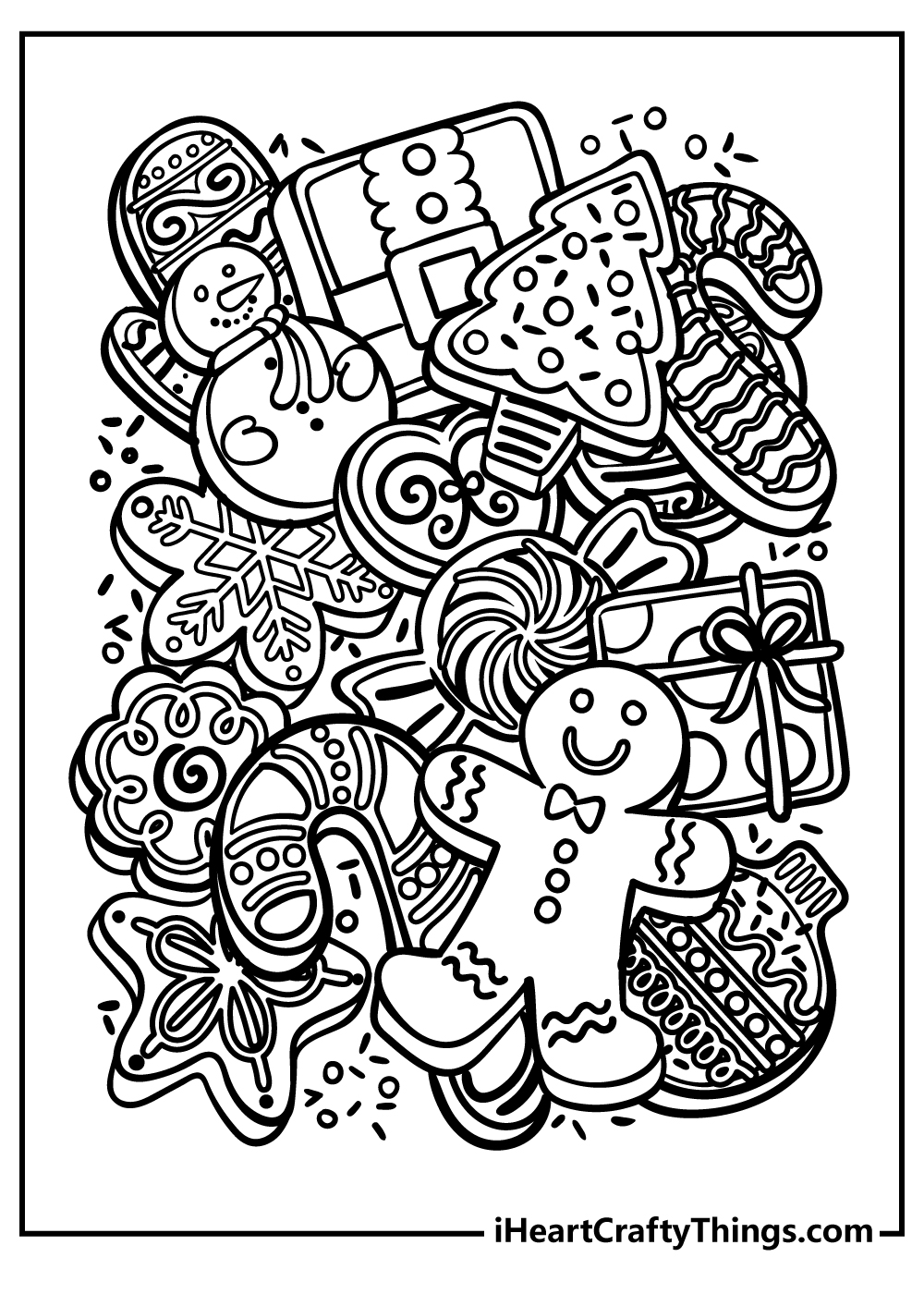 When Christmas eve rolls around, kids around the world will anxiously await a visit from Santa with his reindeer as he will deliver some amazing gifts to enjoy.
This is the scene that we will be depicting in this next Christmas printable for kids.
If you used some bright colors for Santa and the reindeer, you could create a stunning contrast by painting a rich dark sky behind them.
What colors and art mediums will you choose when completing this lovely image?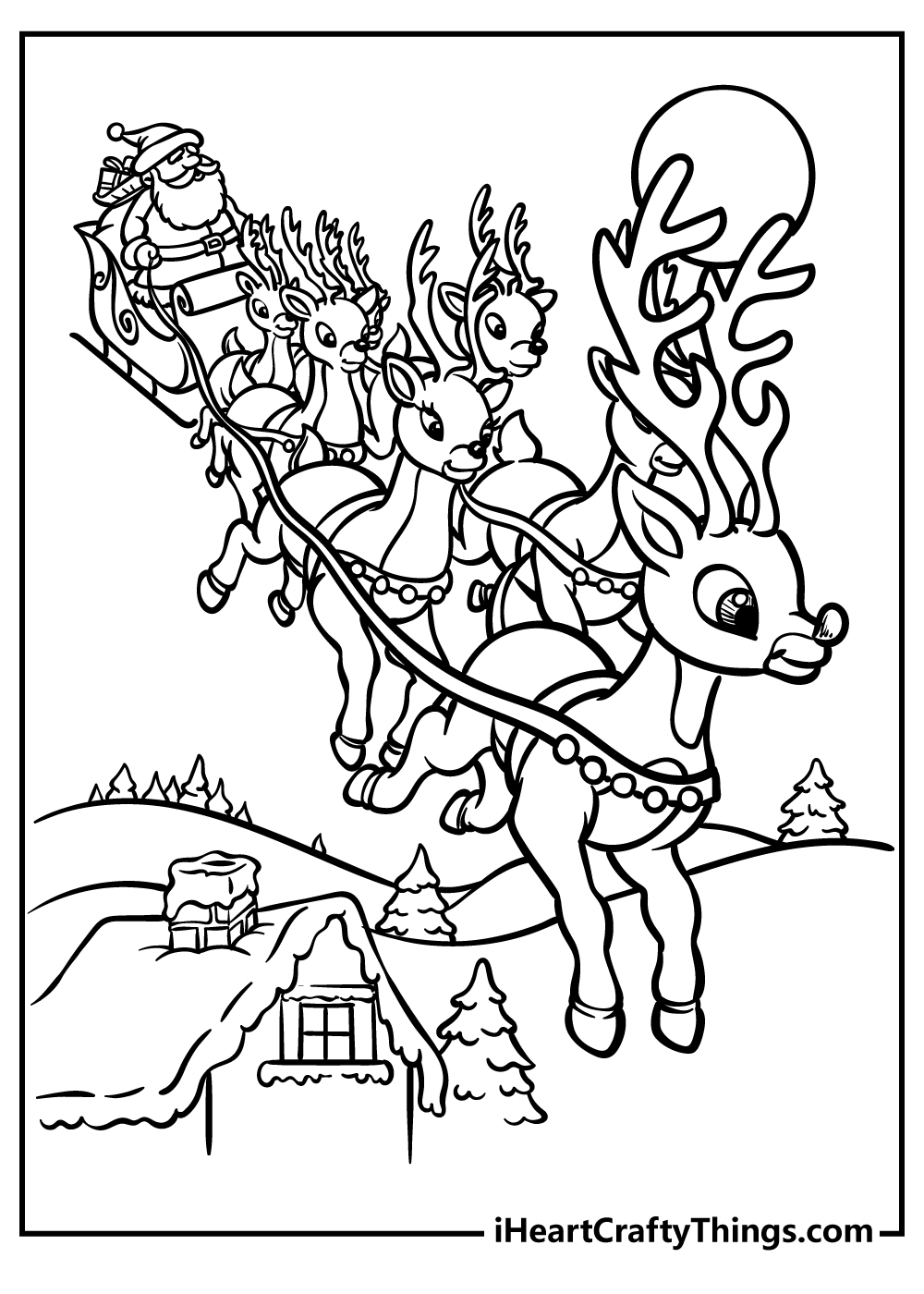 There's another lovely image of Santa and his sleigh for you to enjoy in this eighth Christmas coloring page!
Santa is ringing a bell, and the back of his sleigh is full of amazing gifts for some lucky kids.
This printable is full of little details and elements that will allow you to use your favorite colors and mediums, so you can really let your creativity flow for this one.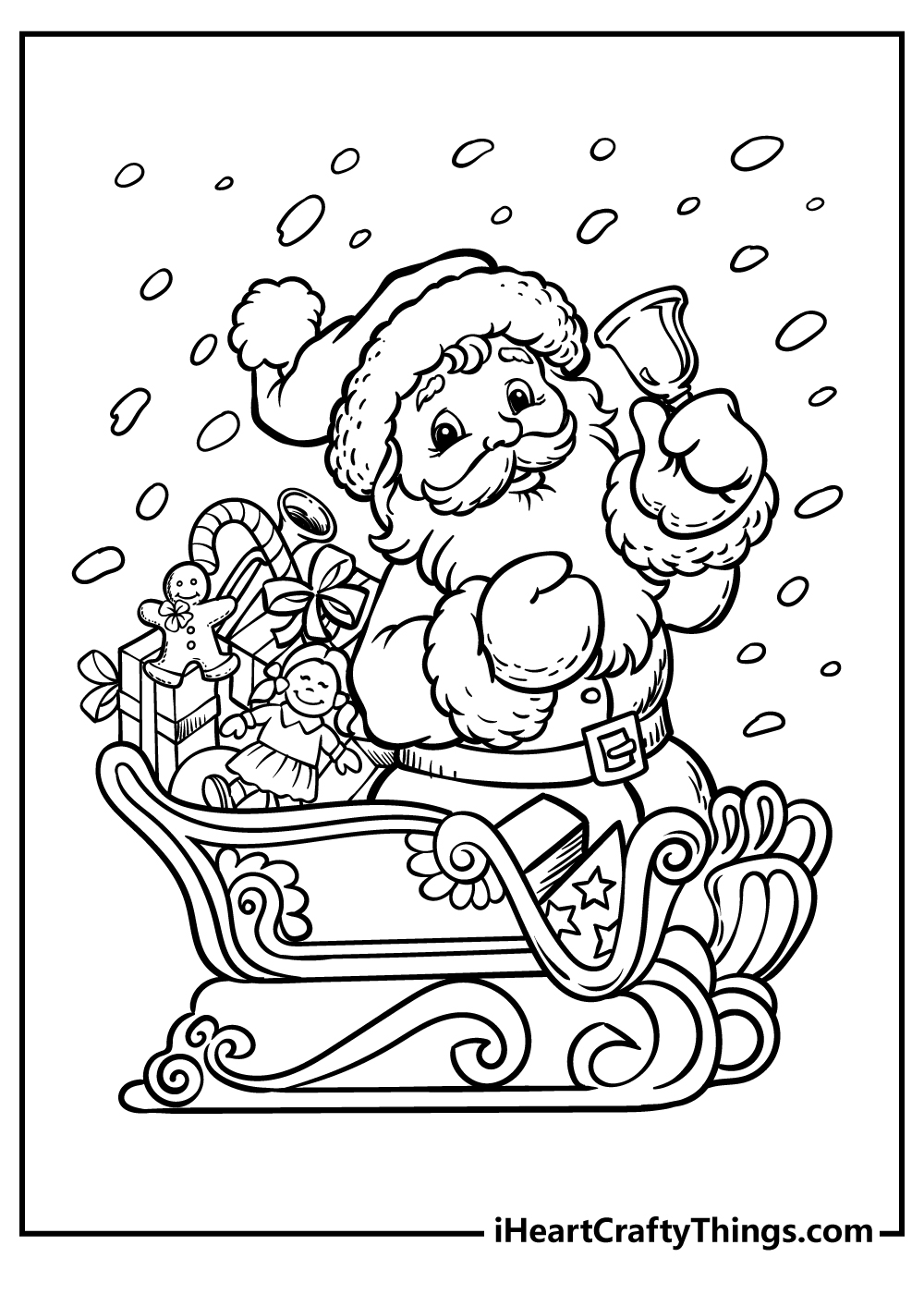 We have some more decorations for you to color in this beautiful Christmas coloring printable.
There is a lovely bow above some bells and holly, and that leaves a lot of room for some bright and striking colors.
For the bells, you could maybe use some golds and yellows, and that would contrast nicely with some bright reds and greens for the holly leaves and berries.
These colors are just suggestions, however, and you should feel free to use any colors that you like for this charming image!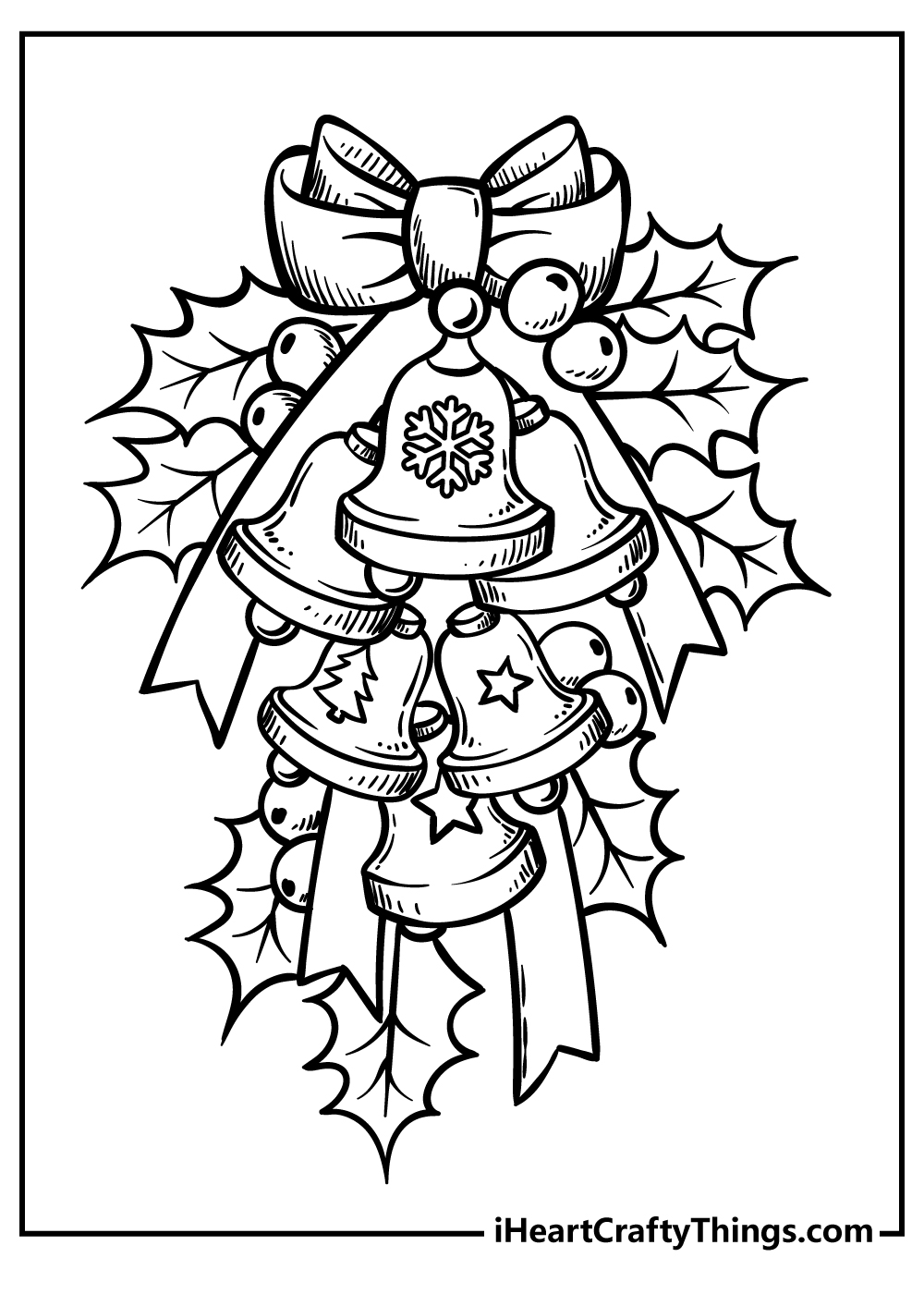 It's Christmas morning at last in this final free Christmas coloring sheet for kids! The kids in this image look very pleased with their presents, and it makes for a delightful festive scene.
All this scene needs is some beautiful colors, and that means it's up to you now!
All of these coloring pages are free to print out as many times as you like, so you could print out a few copies to experiment with different colors and mediums.
Christmas Coloring Pages – Which will you choose?
That brings you to the end of this wonderfully festive selection of free Christmas coloring pages for kids!
Hopefully you had a ton of fun working on these wondrous Christmas printables, as we tried to make a varied selection that would allow you to use all your favorite colors.
This collection is one of many we have in store for you on our website! We have a huge library of coloring page printables for you there, and we will be uploading more soon. Check in often to never miss out!
It would be amazing to see how your Christmas coloring sheets turned out, so when you're done you can share your favorites on our Facebook and Pinterest pages!
This is the best way to show off your amazing artistic skills. We really can't wait to see all of your incredible artworks when they're done!