There are many great places you can go to experience a relaxing and fun vacation. These places can also just be a great place to head to when you need to get away from it all!
The beach is possibly the best example of one of these places. Because the beach can simultaneously be such a relaxing and fun location, it has become the quintessential holiday destination.
Because of this, many people like to learn how to draw a beach so that they can recreate their favorite beach memories.
If you are a beach lover that would also like to create some fun artwork featuring this location, then this will be the guide for you!
Our step-by-step guide on how to draw a beach in just 6 steps will show you how to have a great time recreating this awesome destination!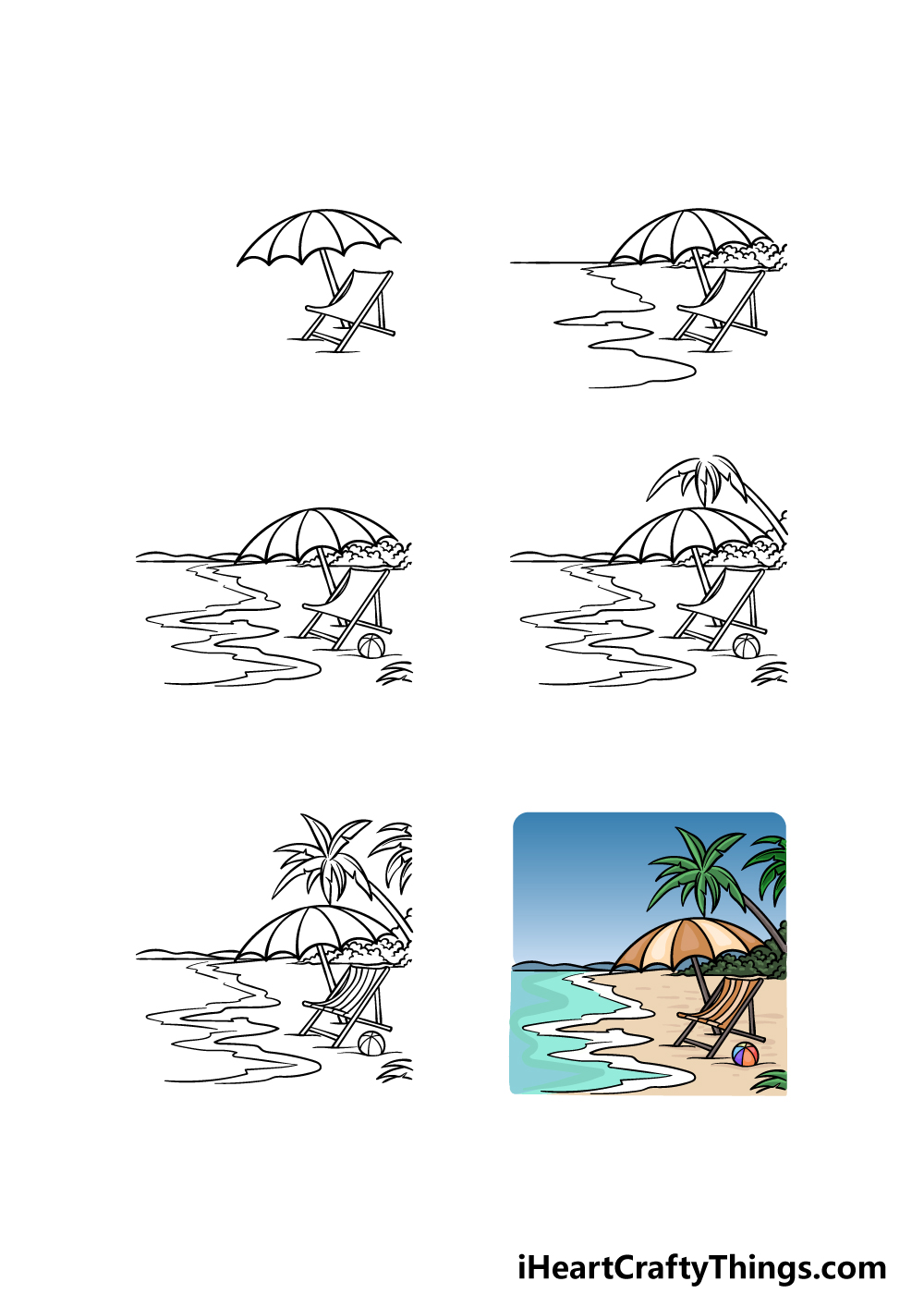 How to Draw A Beach – Let's Get Started!
Step 1
Heading to the beach is all well and good, but to optimize your beach trip you will probably want to bring some tools and beach accessories to make it even better!
We shall start this guide on how to draw a beach by drawing some of these accessories to finish off this scene. These accessories will include a beach chair and an umbrella.
First, let's begin with the chair. The frame of the chair will be drawn using some thin, straight shapes. Then, use some slightly curved lines for the fabric of the chair.
The frame can be a bit tricky to draw, so try your best to copy it as it appears in our reference image.
The umbrella will be on a long, straight pole, and then you can use some curved lines for the fabric of the umbrella itself. Then, we can move on to step 2!
Step 2 – Now, draw the start of the beach itself
You have some accessories for this artistic beach trip, and now we can start adding the beach itself to this beach drawing!
First, draw a straight horizontal line for the horizon of the image. Then, you can show the water on the beach by using a very wavy line coming down from the horizon and down to the bottom of the image.
Then, we will be drawing some bushes on the shore, and these will be drawn using lots of smaller bumpy lines to create the shapes.
These bushes will go near to the top of the umbrella, and once they're drawn we can move on to step 3!
Step 3 – Draw some more of the beach scene
This third step of our guide on how to draw a beach will show you how you can build some more details and elements onto the beach scene you've been working on.
First, draw some curved lines over the horizon line for some hills in the distance. Then, we will draw some more curved lines running parallel to the lines that you used for the waves on the beach.
Finally, we will be adding another classic beach accessory! Draw a beach ball next to the chair using a circle with some lines inside of it, and then you will be ready for step 4.
Step 4 – Next, draw some palm trees for the scene
Another classic fixture of any beach scene would be some wonderful palm trees, and we shall start adding some in this fourth part of your beach drawing.
First, draw some curved lines for the trunk of the palm tree.
This will start on the right-hand side of the image, and it will be curved in such a way as to show the weight of the end of the tree is making it bend.
Finally, use some more curved lines that end in some sharp points to depict the large leaves at the end of the trunk.
Then it's time to finish up some final details and touches in the next step of the guide!
Step 5 – Add the final details to your beach drawing
This fifth step of our guide on how to draw a beach will be all about adding some final details and elements to finish it off.
First, draw some more of those large leaves on top of the palm tree you just started.
Then, finish off this step by drawing some more palm leaves near to the other one, and then draw some line decorations onto the fabric of the beach chair.
Once you have finished off these final details, you'll be ready for the final step of the guide! Before moving onto that step, you could also add some cool details of your own.
This is all about showing off your perfect beach destination, so be sure to show us what you would bring along to make this the perfect beach for you!
Step 6 – Finish off your beach drawing with color
Now you're ready for some colors to finish off this amazing beach drawing you've worked so hard on! We showed you some colors that you could go for in our reference image.
We used lots of lovely bright colors to give it a nice tropical feel. You could go for all manner of color choices, though!
When coloring, you could also play with different art mediums depending on the kinds of colors you would like.
We would recommend watercolors for a softer, more relaxing image, but mediums like acrylics would be perfect for more vibrant colors. What will you choose for your beach drawing?
4 More Ways To Make Your Cartoon Beach Drawing Unique
Relax with these tips we have for your cartoon beach sketch that will make it even better!
This drawing of a cartoon beach shows an umbrella with a beach chair, and it already looks very inviting! There are many other objects you could add to the scene as well, however.
Adding some extra objects would show what you think is necessary for a perfect day at the beach!
Some ideas would include a picnic basket or maybe a big glass of your favorite vacation beverage.
What are some other items that would make this cartoon beach scene more complete?
In the background, we can see a sailboat sailing across the horizon. Another way that you could make your drawing even more unique would be to add a different kind of boat or vessel.
For example, you could have a massive cruise ship in the background.
Whatever kinds of boats or ships you would like to add, you can find pictures online to help you as you draw your chosen vessel.
You could also have several vessels on the horizon to make it look like a busy ocean scene!
The weather in this cartoon beach drawing is pretty calm, but you could make it look more distinct with some different weather effects. This could be as simple as adding a shining sun to the sky.
Or, you could make this scene even more dramatic by adding storm clouds while making the waves more turbulent. What sort of weather would you like to portray in this scene?
Finally, we think you should play around with different art tools and mediums to really bring this cartoon beach sketch to life! For this one, we would suggest some watercolor paints.
These would be perfect for creating a softer look to the picture which would make it look more inviting. This is just one of the many mediums you could try out though!
It depends on your preferences, so don't be afraid to try out a few different mediums and styles.
Your Beach Drawing is Complete!
We hope that this guide on how to draw a beach was as fun and relaxing as an actual visit to the beach!
By breaking it down into smaller steps, we hoped to show you that creating this image can be a fun and easy experience, so we hope that it really helped you.
Now you get to take over and show us what you can do as you create your very own perfect beach setting.
You could add elements to the scene or show us what accessories you would bring to the beach for a few ideas!
Please also remember to visit our website for access to many more drawing guides to enjoy. We have more coming soon, so be sure to check in regularly!
Lastly, we hope you will share your finished beach drawing on our Facebook and Pinterest pages for us to see!