There is no denying how beautiful the colors of spring are with all of the pretty bulbs and flowers in bloom. It's one reason we love celebrating the beginning of the spring season with a beautiful flower craft. Since spring is now on the horizon, here are some fun and colorful 3D Flower Crafts kids will love creating this spring season. Several of them can double as a handmade gift so keep Mother's Day in mind as you browse through all of these beautiful 3D flower craft ideas.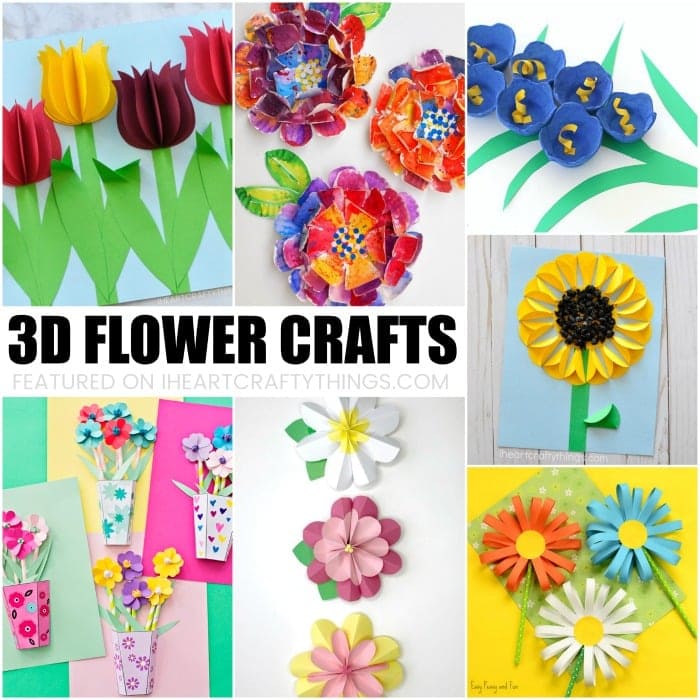 Beautiful 3D Flower Crafts for Kids
Click on the title links underneath the photo collages to be taken to the full 3D flower crafts tutorials. If you would like to share this post (please do!) we would appreciate if you would use the top square image for social shares or the vertical image at the bottom for pinning.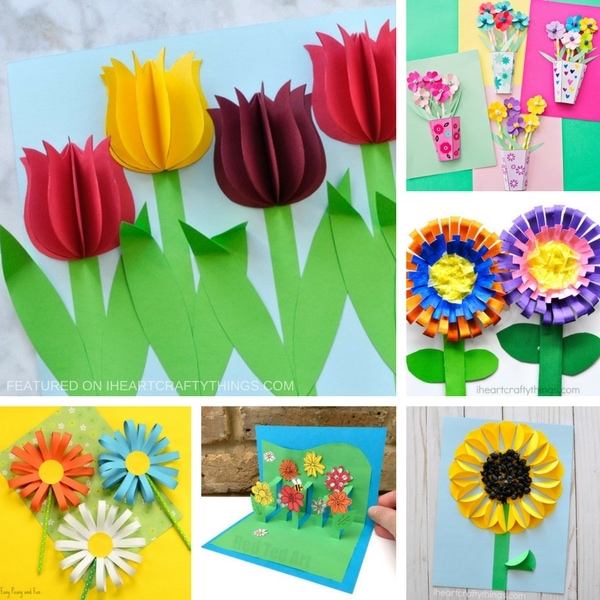 This gorgeous 3D paper tulips craft is a perfect craft to welcome spring. Grab the free tulip template and spend an afternoon creating a beautiful tulip garden.
Combine paper hearts and straws together to make some these pretty 3D flowers and then add them into the pretty vase printable for a pretty Mother's Day gift.
Who knew paper bowls could create such gorgeous flowers. Paint the bowls with bright, contrasting flowers and layer them together to create a 3D effect.
These simple paper flowers are cheery and perfect for spring kids craft.
Here is a creative idea for how to create a 3D flower card for someone special. It is sure to brighten someone's day.
This technique of folding paper circles into perfect flowers petals is a unique way to create a 3D sunflower craft.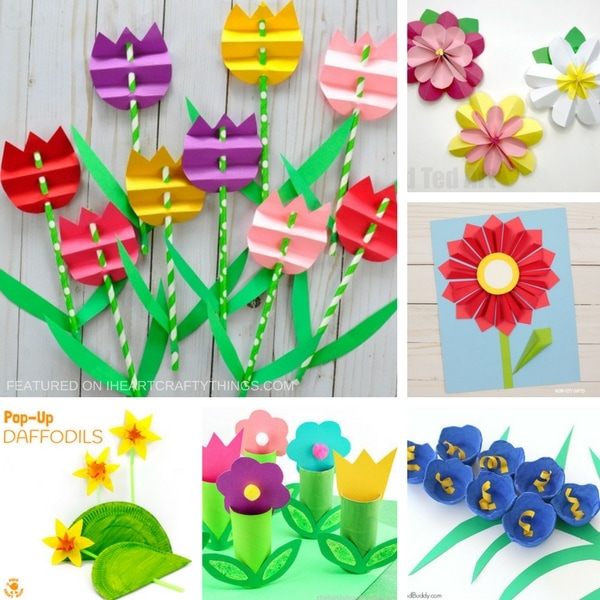 Not only are these paper straw tulips bright and cheerful but they also make a a great craft for strengthening those fine motor muscles in the fingers and hands.
Aren't these 3D paper flowers gorgeous?! It's incredible how real they look even though made from paper.
Here is another way to fold paper shapes into pretty petals to make a simple 3D flower craft.
Kids will have a blast making their paper daffodils pop out of the paper ground just like in the spring time.
Start saving up those empty cardboard rolls to make some of these simple spring time flowers.
Transform an empty egg carton case into a beautiful bluebell flower craft!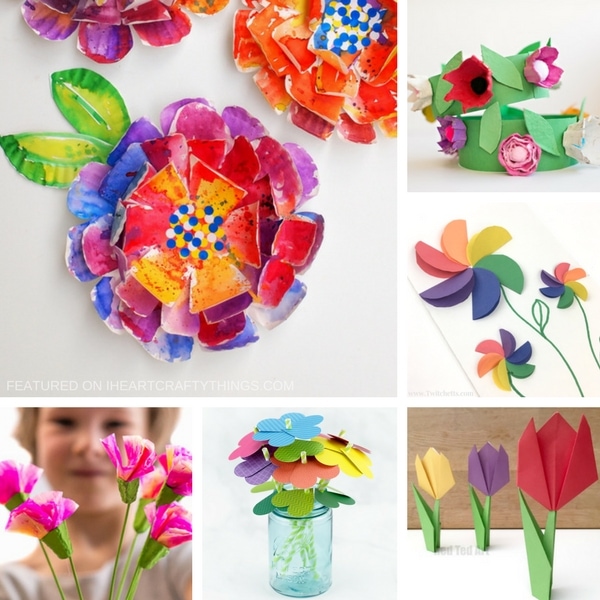 It's hard to believe these hyper colorful flowers are made from paper plates huh?! You definitely want to add this one to your spring to-do list.
Here's another lovely way to recycle an egg carton by making this pretty flower crown craft.
Rainy day got you down? Head inside and make some colorful construction paper rainbow flowers.
These pretty cupcake liner flowers could not be any more sweet! Put several of them in a vase and use them for a handmade gift.
Another fun way to combine paper hearts and straws to make a pretty spring flower bouquet.
These pretty paper tulips are a great craft for children who love origami. They would make a darling little paper gift for Mother's Day.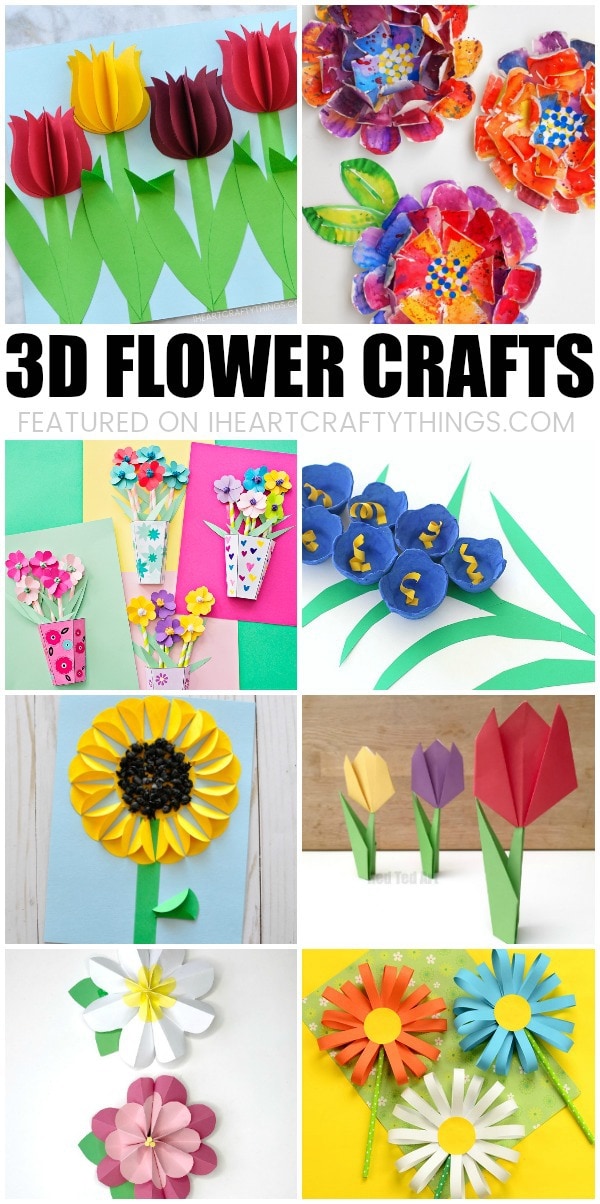 Looking for more spring crafting ideas like these 3D Paper Flowers?
These rainbow washi tape cards are a simple way to brighten a friend's day this spring.
Turn some bubble blowing artwork into a pretty butterfly craft!
We love bird crafts during the spring season. Here's a super fun way to turn paper plates into adorable bird hats.