This is a sponsored post written by me on behalf of Sterling for IZEA. All opinions are 100% mine.
Bath time has always been a favorite for my children. If the water didn't eventually turn cold, I'm pretty sure they could take up permanent residence in the bathtub. I really can't blame them because I love taking baths too! Not only can bath time be soothing for kids (and adults) but there are also so many incredible ways to create the ultimate playtime experience for your kids using the bathtub. My daughter's recent favorite way to play in the bath is with her plastic tea set. She enjoys filling up all of the teacups with her little kettle and setting them up on the ledge one at a time. Then she giggles as she pushes the teacups back into the bathtub and watches water splash everywhere. Since we are all about getting the most out of our bath experience at my house, I'm excited to introduce you to the new Sterling shower doors with ComforTrack technology and share 10 of my favorite Bath Activities for Kids that you can enjoy with your children.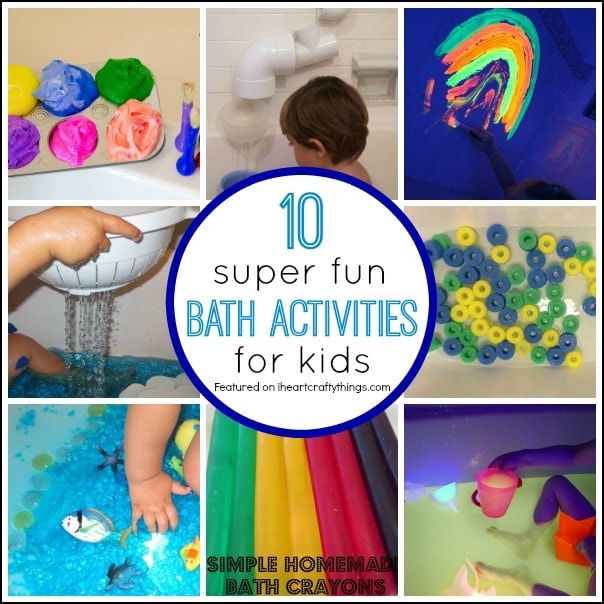 When I'm helping to bathe my kids or cleaning my shower, the last thing I want to deal with is a hard shower door threshold. They hurt! This is why I think the Sterling shower door with ComforTrack technology is so amazing! It has a flexible track, which is comfortable and easy to clean so it makes a smart addition to any showering space. The new flexible track technology is also extremely durable. The heavy-duty material has withstood rigorous testing, ensuring that it will outlast day-to-day wear and tear.
The ComforTrack's cushioned threshold bends to applied pressure making it easier and more comfortable to lean, kneel or even sit on the track. So unlike a hard shower track, the Sterling shower doors with ComforTrack technology is great for bathing kids, washing your dogs and even putting your feet up during those relaxing baths. No more worries about little ones slipping and hurting themselves on a hard threshold either. Kids will love stomping their dinosaurs and toys around on the cushioned threshold. The Sterling Prevail shower doors are available for both bath doors and shower doors so they are the perfect touch for every bathroom.
Being equipped with the perfect shower door makes bath time especially fun for kids! Here is a great list of bath activities for kids that we have either already tried and given a thumbs up, or they are on our list to enjoy this summer:
10 SUPER FUN BATH ACTIVITIES FOR KIDS
1. If your kids love creating arts and crafts like mine do, why not bring art inside the bathtub? Painting in the bath has been a longstanding favorite for my kids. We love this easy Homemade Bathtub Paint recipe from The Realistic Mom. We have tried it both with washable paint and with food coloring.
2. What child doesn't love things that glow in the dark? Here is an edible and safe way to make a glowing bath that will make your kids think you are the most awesome parent ever!
3. Another way to make bath time extra fun is by including out of the box type of objects in it that you normally wouldn't find in the bathtub, like in this Sky Themed Bath. Including a kitchen strainer creates an awesome raining experience for children.
4. Challenge your child to a game of tic tac toe while they wash off. This fun bath water game floats making it even more exciting at bath time.
5. Pool noodles are a staple during summer aren't they?! Make this Pool Noodle Bath by cutting several of them into small sections and then throwing them into the bath. This was a hit with my kids when we tried it and I'm certain yours will enjoy it too!
6. Have more glow in the dark fun with this 2-ingredient Homemade Glowing Paint. This is a bath experience your kids are sure to remember forever.
7. Jell-o in the bathtub? Yep, it's really a thing and I've heard it's incredibly fun for kids. Use Jell-o to help create an Ocean Sensory Bath for a truly unique bath experience.
8. Bring learning into the bath by creating Alphabet Soup. This activity is perfect for toddlers and preschoolers who are learning their upper and lowercase letters!
9. Kids will love taking a trip to the hardware store with Dad and then helping him create these towering water tunnel bath toys. Keep rearranging them for hours of bath time fun!
10. Glycerin soap is the perfect base to create Homemade Bath Crayons. I love this idea for elementary-age children who will enjoy drawing more intricate pictures than you can with traditional bath paint.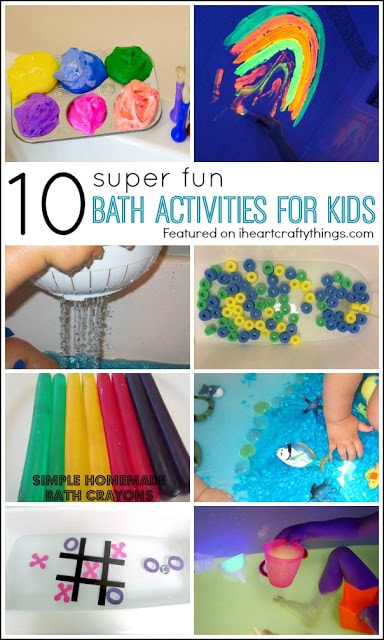 How do you make bath time extra fun for your kids? Leave a comment below and share some of your favorite bath time tips, routines or activities.
Watch this video to learn more about the Sterling shower doors with ComforTrack technology!