Video games started out as a pretty niche hobby for computer enthusiasts, but in recent years it has become one of the biggest entertainment industries in the world.
There are games to suit every taste, and there are many gaming consoles to choose from that you can use to play these games.
One of the most popular lines is the Xbox series of consoles, and they have one of the most well-designed controllers on the market.
Playing video games is lots of fun, but learning how to draw an Xbox controller is a great way to fuse the hobby and art together!
This step-by-step guide on how to draw an Xbox controller will show you how you can draw this popular gamepad.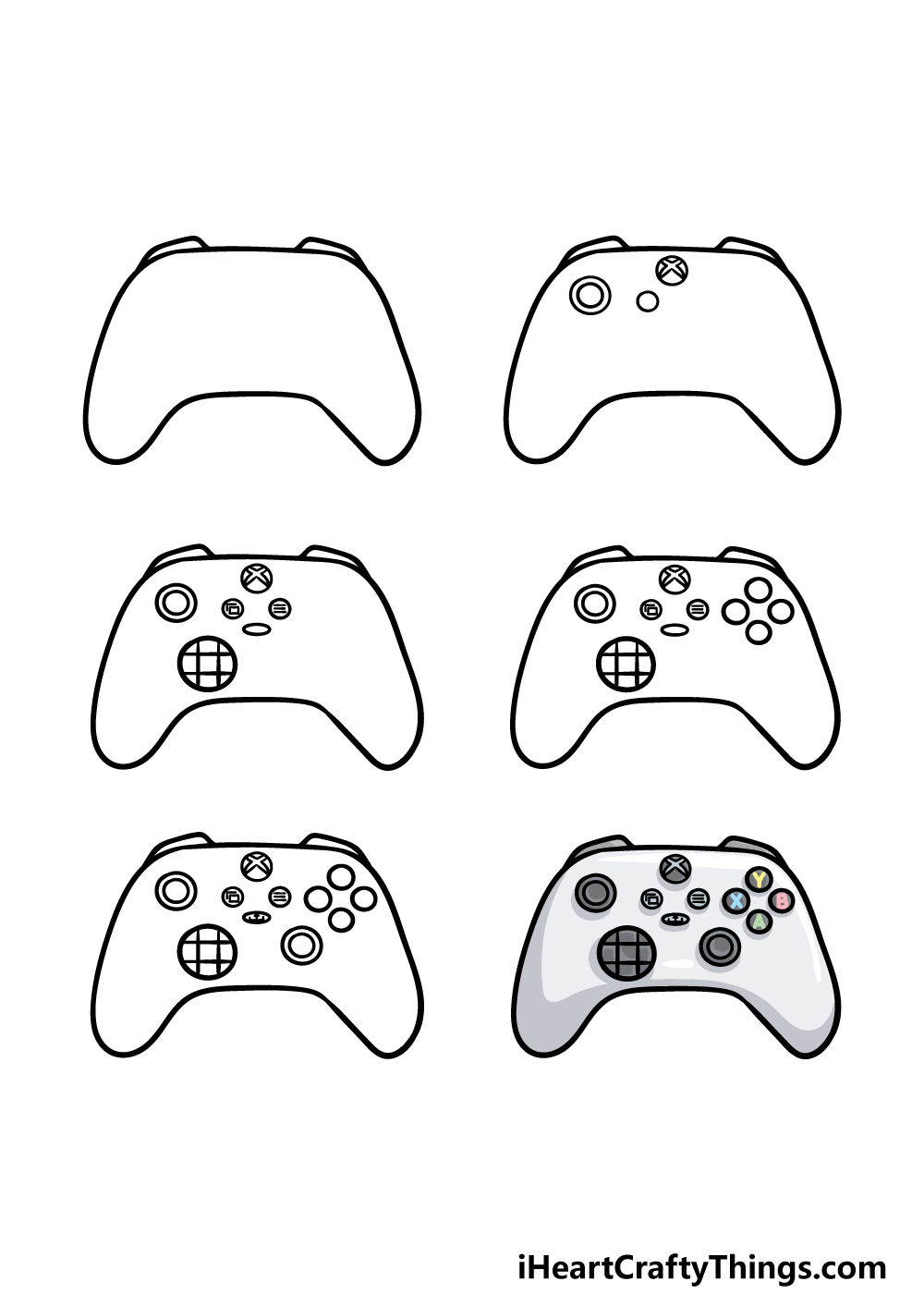 How to Draw An Xbox Controller – Let's Get Started!
Step 1
The Xbox controller has been specially designed to sit comfortably in the hands for long gaming sessions.
This is largely due to the shape of it, and we will draw that shape outline in this first step of our guide on how to draw an Xbox controller.
The controller has two parts dropping own on either side for your palms to rest against, and you can draw these with some rounded lines.
There is then going to be a fairly flat line with only a very slight curve to it between these two rounded sections.
The sides and top of the controller will also only have a very slight curve to them, so try your best to copy the lines as they appear in our reference image.
Finally, draw two flat, angular shapes on either side of the top of the controller for the trigger buttons of the controller.
Without buttons, a video game controller would be pretty useless. That's why we shall start adding some buttons onto your Xbox controller drawing in this second step.
First, draw a circle on the upper left-hand side of the controller, and then draw another circle inside of it. This will form the first analog stick of the controller.
Then, add another smaller circle to the right of the stick. This circle won't have detailing on it for now, but we will be adding that later.
Finally, we will be drawing another circle in the upper central part of the controller.
This button is used to access the home screen of the console, and it also has an X on it to fit the Xbox theme.
You can draw this X using some curved lines. These lines are placed in a pretty specific way, so be sure to refer to our example image.
We will be adding some more buttons and details in this step of our guide on how to draw an Xbox controller.
First, draw another larger circle near the bottom left-hand side of the controller. Then you can draw two vertical lines and two horizontal ones inside of this circle. This will create the d-pad of the controller.
Then, draw some small square shapes inside of the small button you drew earlier. You can then draw another equally small circle beside it and then draw three horizontal lines inside of it.
Finally, finish off with a flat, oval shape beneath these two buttons.
This step and the next one will be all about adding the final buttons and features to your Xbox controller drawing. For now, draw four more buttons onto the top right-hand side of the controller.
These buttons have colored letters on them, so if you're going to color your drawing in you can leave these buttons alone for now as we will add the letters in the coloring step.
Otherwise, you can simply draw a Y in the top one, a B in the right-hand one, an X in the left one and finally an A in the bottom one.
Step 5 – Add some final details to your Xbox controller drawing
Now you're ready to add the final buttons and details in this step of our guide on how to draw an Xbox controller.
First, draw another analog stick by drawing another circle within a circle on the lower right-hand side of the controller.
Then you can finish off by drawing some detailing inside the flat oval button you drew near the center of the controller.
Before you move on to the next step, you could add to this image by drawing some details of your own. Maybe you could draw a background showing a TV screen displaying your favorite video game!
Step 6 – Finish off your Xbox controller drawing with some color
We will close off this Xbox controller drawing by adding some color to it. Xbox controllers come in a base color of either light grey or black, and we went with the grey option for our example.
There are also some custom controllers and skins that allow for other colors and patterns, so you could use any colors you like to color this one in!
You can also use colors to draw the letters inside the buttons on the right.
These will be yellow for the top one, red for the right, green for the bottom and blue for the left. How will you color your picture in?
Your Xbox Controller Drawing is Complete!
As we mentioned in the introduction, playing video games is definitely a lot of fun! We hope that this guide on how to draw an Xbox controller was also a lot of fun for you to do.
Even if a real controller has spent a lot of time in your hands, it can still be a challenge to sit down and draw one.
Hopefully this guide made it easy and fun for you! What details, background elements and colors can you think of to add for it?
We have some incredible drawing guides on our website that cover a huge array of subjects, so be sure to check it out when you're ready for more fun.
Please also share your finished Xbox controller drawing on our Facebook and Pinterest pages! We would love to see how you finished off this picture.