Shoes are an item of clothing that we wear pretty much every day. Despite this familiarity, it can be surprisingly hard to actually sit down and draw them!
This is especially true of any shoes with a specific design, and the iconic Vans shoes are certainly no exception.
Started as skateboarding footwear, they have since led to many different styles and products. Even with so many different types, learning how to draw Vans shoes can be a fun way to imagine your very own designs!
This is the guide that you will need in order to do just that.
Our step-by-step guide on how to draw Vans shoes will teach you how to draw some of this awesome footwear yourself!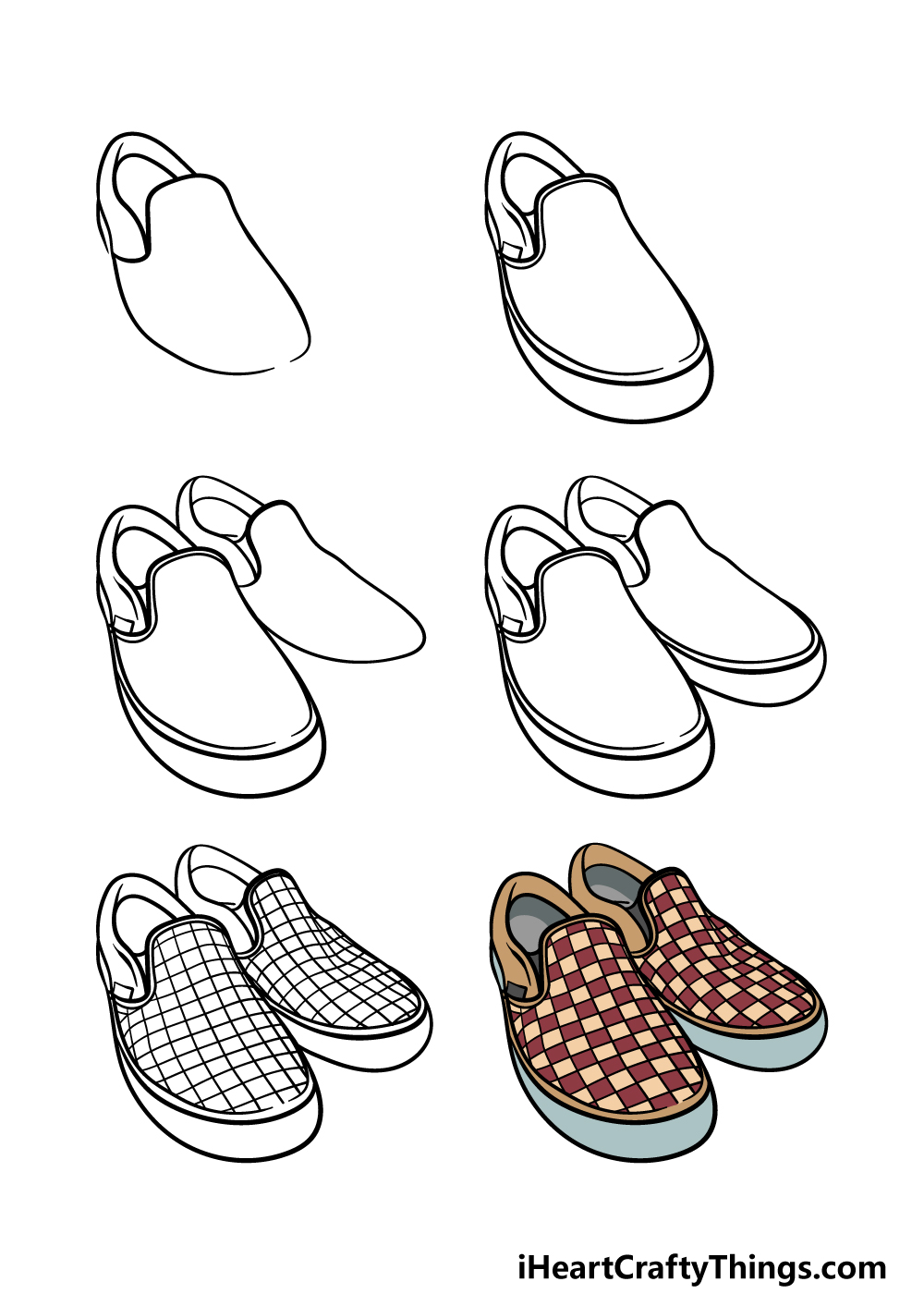 How to Draw Vans Shoes – Let's Get Started!
Step 1
To get this guide on how to draw Vans shoes started, we shall begin with the outline for the first shoe.
As you probably know, Vans shoes typically don't have laces and slip onto the feet almost like slippers. This is worth keeping in mind as we start this outline.
The front section of the show that would encase the front and top sides of the food will be drawn with some rounded lines, and there will be a jutting rim over the top of the foot.
Try your best to follow the reference image as best you can, as getting the proportions of the shoes right can get a bit tricky!
Finally, finish off by drawing the back of the shoe and the hole that your foot would go in.
Step 2 – Next, draw the base of the first shoe
Another characteristic common with this footwear is that they have rather thick bases. This is the section that we will be adding to your Vans shoes drawing now.
First, draw some lines inside the perimeter of the outline for the top and front of the shoe that you drew previously.
Then you can draw the base itself. To do this, extend a rounded line down from the front of the shoe around the base until it reaches the back of the shoe.
Once you're happy with how closely it resembles our reference image, you'll be ready for step 3!
Step 3 – Draw the top outline for the second shoe
You've pretty much completed the outline for the first shoe, but before you decorate it we must first draw the other one in this step of our guide on how to draw Vans shoes.
You will essentially be replicating what you did in the first step, and this means drawing the top and front of the shoe with some curved lines.
Then, use some more rounded lines for the hole of the shoe. As seen in the reference image, the shape of this second shoe will be a little different as it is not at the same angle as the first one.
Step 4 – Now, draw the base for the second shoe
This step of your Vans shoes drawing will again see you replicate what you did in a past step for the second shoe. Specifically speaking, we will be drawing the thick base for the second shoe.
Because this shoe is behind the first one, we won't see the back of the base as we could for the first one.
Once that is done, we can move on to some final details in the next step!
Step 5 – Finish off your Vans shoes drawing
When it comes to this brand of shoes, they can come in many different patterns and styles.
In this fifth step of our guide on how to draw Vans shoes, we will be drawing a grid-like, almost plaid pattern onto the shoes.
Drawing this pattern can be a bit trickier than one might think, as you will be drawing straight lines that still need to follow the curvature of the shoe.
When drawing a pattern on a surface like this, you'll definitely want to take it nice and slowly as you carefully decorate the shoes with this grid.
As mentioned, these shoes come in many styles, so you could also choose another pattern style for the shoes! Maybe there can be a different pattern or even none at all.
You could also draw a background for this image to further personalize it. This is your chance to let out your inner shoe designer, so have fun getting creative with it!
Step 6 – Finish off your Vans shoes drawing with some color
This is the final step of your Vans shoes drawing, and in this one you can finish it off with some amazing colors.
In our reference image, we used a red and beige color scheme for the grid pattern of the shoes. Then we used a tan brown for the rims of the shoes and shades of grey for the base and interior.
These colors are just a suggestion that you could use, but you should also feel free to use any colors that you like for it!
This is your own shoe design, so you should definitely use any colors that would make the perfect shoe for you.
Then you can also experiment with various art mediums and tools to achieve the colors that you want, so have fun finishing off this awesome drawing!
4 More Ways To Make Your Vans Shoes Drawing Unique
Here are 4 fun ways you can make your Vans shoes sketch look even more incredible!
This drawing of Vans shoes looks great with the checkered pattern it is sporting. If you wanted to personalize the shoes, you could add a different pattern to the shoes.
This would depend on your own preferences, and it could be based on a real pair of Vans shoes you have seen or you could create a brand new design of your own.
You don't have to go with a pattern, and you could also simply use a solid color to decorate them.
These Vans shoes look great as they are, but it would look even better if they were being worn by someone. This would be a simple way to make this drawing more dynamic.
You could simply draw some ankles or shins above the shoes to create the impression of a person wearing them. Or, you could draw the entire person wearing them.
The person could even be based on yourself to show what you would look like in these stylish shoes!
Whether you added a person to this Vans shoes drawing or not, it could look even better if you added a background. There are many different places that you could wear these shoes to.
If you decided not to add a human character, then maybe they could be on the floor of a bedroom. Or, they could be worn to a party or other social occasion.
These Vans shoes are highly desired by many people, and they go well with other luxury items. We don't always get to own all these items, so adding them to your Vans shoes sketch would be the next best thing!
There are so many clothing items and accessories that you could add to the image. These could be a pair of socks or some stylish jewelry.
There is no financial limit here, so you can really go crazy with the accessories you add for these Vans shoes. What would you wear with them? 
Your Vans Shoes Drawing is Complete!
You have completed this entire guide on how to draw Vans shoes!
We mentioned at the start of this guide that drawing shoes can be trickier than expected, so that's why in this guide we tried to break it down into smaller, more manageable steps for you.
That helps to achieve the various shapes and proportions of the shoes, so we really hope it was helpful and fun for you to use!
This guide is just the start though, as you can also experiment with various extra touches, details and creative choices. You can also play around with your favorite colors, shades and art mediums, so be sure to have fun with it!
We also have lots of guides like this one on our website for you to enjoy. Be sure to keep checking in, as we upload new guides frequently.
Once you have finished up your Vans shoes drawing, please feel free to share your artwork on our Facebook and Pinterest pages, as we would love to see it!