A flower bouquet can be the perfect gift for many different occasions. They can be used for joyful events like weddings and birthdays, but they can also work at more somber affairs such as funerals.
A flower bouquet can come in many different forms and flower combinations, and learning how to draw a flower bouquet can be a great way to design your perfect arrangement!
This is the guide to be on if you would like to know how it is done.
Get ready to create some beautiful flower arrangements in this step-by-step guide on how to draw a flower bouquet in just 6 steps.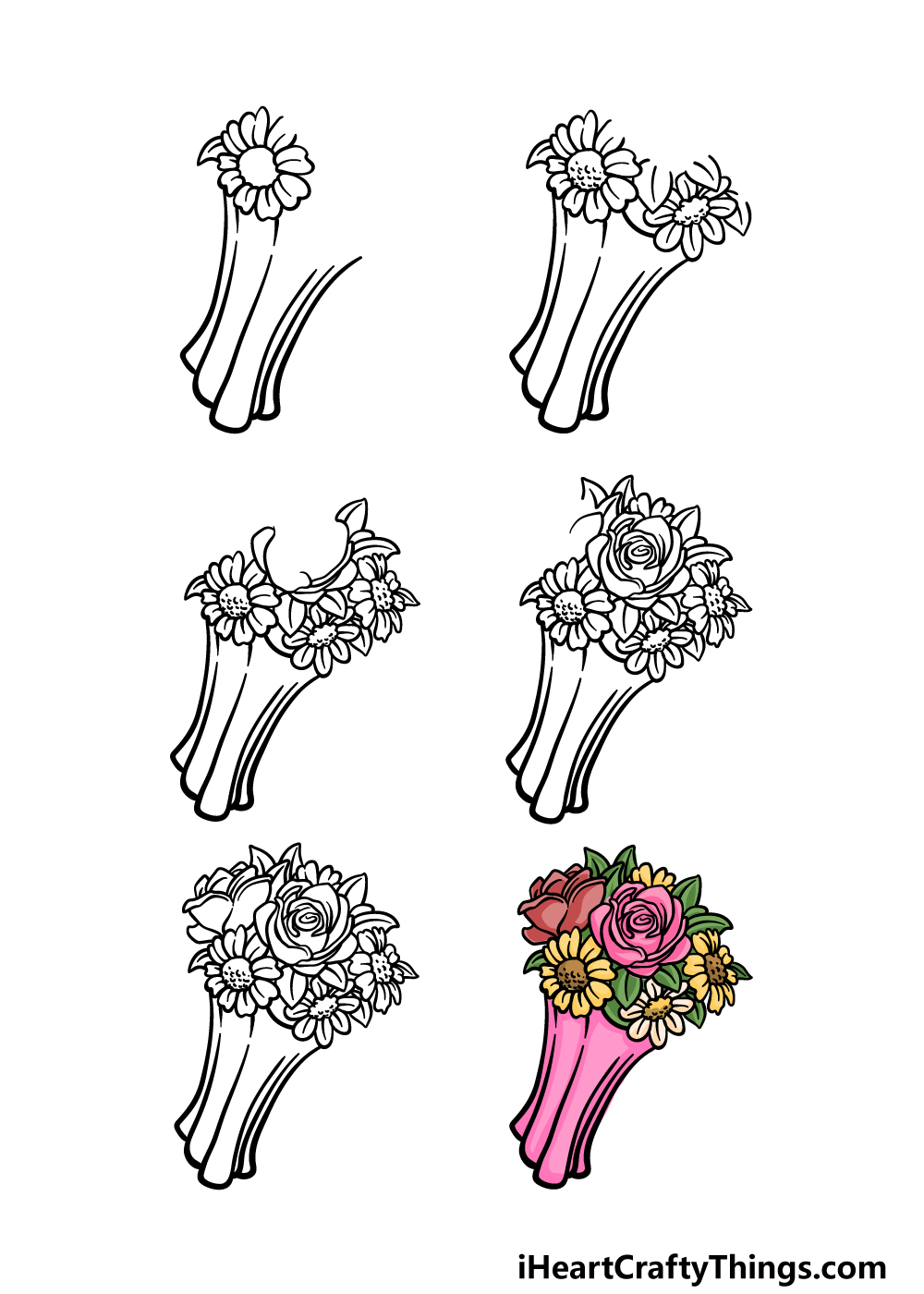 How to Draw A Flower Bouquet – Let's Get Started!
Step 1
We will start this guide on how to draw a flower bouquet by drawing the first flower for the arrangement along with the wrapping holding the bouquet together.
The first flower we will be creating will have a circular center surrounded by lots of rounded petals.
Each petal will also have a line at the center of it, and you can also draw a small leaf poking off of it.
Once you have drawn that first flower, you can then draw the wrapping holding the flowers together.
These will be drawn with some curved lines to create the crinkled-up wrapper. This wrapper will also be thicker at the top and get thinner as it goes lower down.
Be sure to leave some spaces on top of the wrapper as we will be adding some more flowers there shortly. Then we can move on to the next step!
Step 2 – Next, draw some more flower details
This second part of your flower bouquet drawing will see you adding another flower with some additional detailing as well.
First, you can draw another flower into the space that you left at the top of the wrapper in the previous step.
This flower will look very similar to the first one that you drew, but the center will be a bit bumpier than the previous one.
Once that flower is done, you can then draw some rounded leaf shapes surrounding the flower and filling up some of the empty space.
Finish off by adding some simple detail to the center of the first flower, and then it's time for step 3.
Step 3 – Draw some more flowers
When it comes to a bouquet, the more flowers that you can add the better! For that reason we will be adding some more flowers in this step of our guide on how to draw a flower bouquet.
Start this step by drawing another flower similar to the second one on the right-hand side of the picture. This one will also be surrounded by some leaves to fill in the gaps.
In the next step, we will be drawing a large rose for the arrangement, and you can start to draw it now.
Use some curved lines to begin the outline for this rose as it appears in our reference image, and then we will finish it in the next step.
Step 4 – Next, finish off the rose that you started
You can now finish off the rose that you began for your flower bouquet drawing in the previous step. Using the outline that you began, start building up the various petal layers for the rose.
These will lead up to the twisty center of the rose, and once it is drawn you can also add some more leaves and petals around it for even more volume to the bouquet.
Then we will just have a few final details to add in the next step before you start to color it in!
Step 5 – Finish off your flower bouquet drawing
This part of our guide on how to draw a flower bouquet will be all about finishing off the final flower details for the image.
To do this, we will be adding another rose onto the picture, but this one will be facing the side, unlike the first one.
Even though it is at a different angle, it will still be drawn with layers of petals connecting to one another.
Once you have drawn this second rose, you will be ready for the final step! There are some additional details that you could change or add before moving on, and this can be a great way to personalize your picture.
You could add some of your own favorite flowers to the bouquet or draw a background to show where this bouquet is being gifted.
What can you think of to finish off this beautiful flower bouquet drawing of yours before you complete it with color?
Step 6 – Finish off your flower bouquet drawing with some color
One thing that almost all flowers have in common is that they have beautiful colors to them, and that's why for the final part of your flower bouquet drawing we will finish off with some color.
We showed you some beautiful colors that you could use in our example image, but these colors are just a suggestion, and you should feel free to use any colors that you like for it!
You could also experiment with different art tools and mediums to achieve the colors that you want, and you have tons of options for what to use.
This is really your chance to show off how creative you can be, so be sure to have fun with it!
Your Flower Bouquet Drawing is Complete!
You have reached the end of this guide on how to draw a flower bouquet, and you have created a stunning flower arrangement!
As with any new drawing, breaking it down into smaller steps is the best way to make it more fun and easy, so that's what we attempted in this guide.
Now that you know the basics, you can also use what you learned to create your own unique flower arrangements.
This is your chance to show off your creativity, and we can't wait to see what you come up with!
Be sure to check out our website for more fun, free drawing guides like this one. We also have more coming your way, so definitely stay tuned for that!
When your flower bouquet drawing is complete, please do share it on our Facebook and Pinterest pages so we can appreciate your beautiful arrangement!