My Hero Academia is one of the most popular and unique manga and anime series ever created. Full of gripping storylines and memorable characters, this series has fans around the globe.
One of the most popular characters is Todoroki, a hero with dual ice and fire powers.
On top of being an interesting and compelling character, he also has a cool design that can make it fun to learn how to draw Todoroki.
If you are a fan who would like to know how it's done, then this is the guide for you!
This step-by-step guide on how to draw Todoroki in just 6 easy steps will have you recreating this character in no time.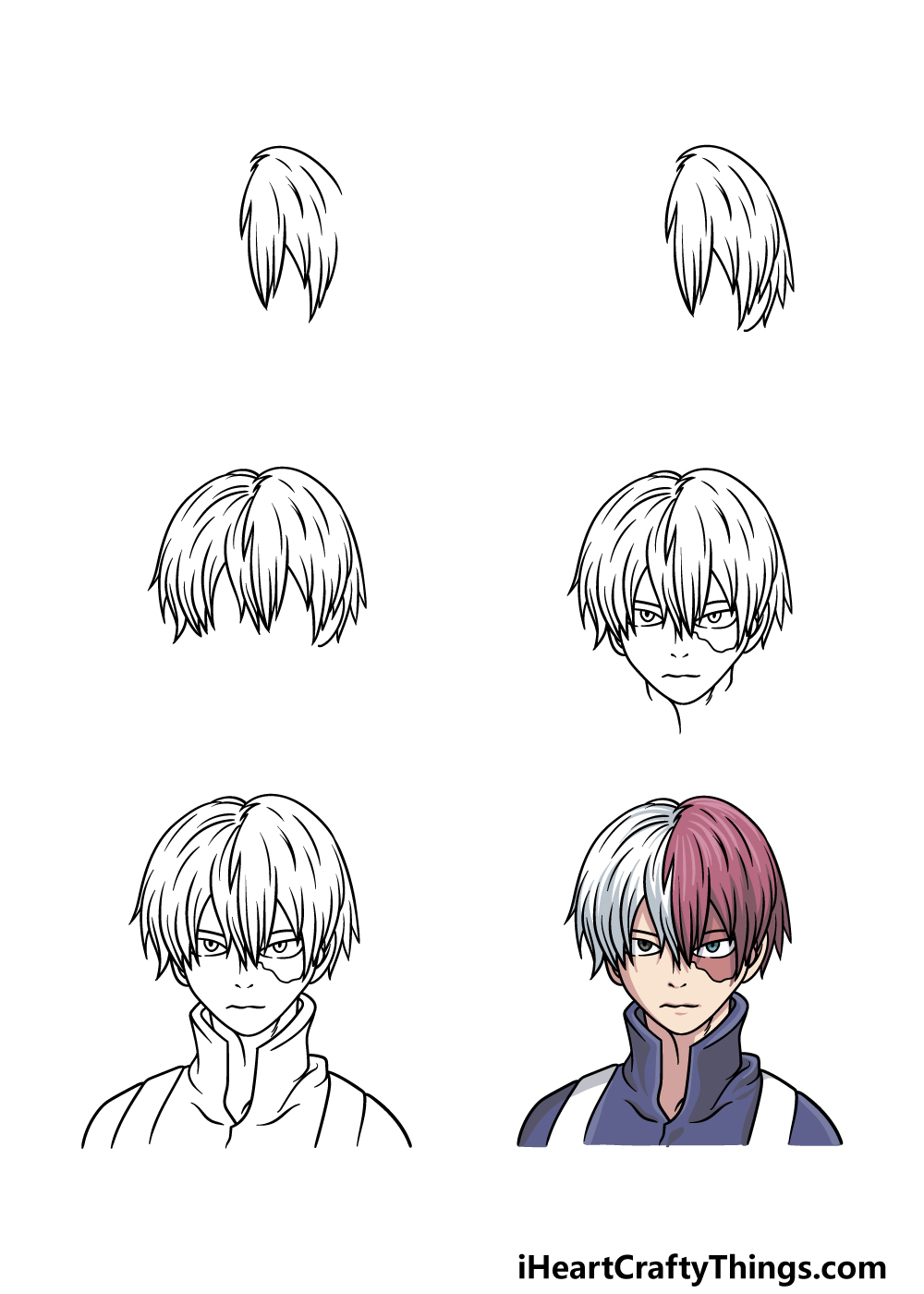 How to Draw Todoroki – Let's Get Started!
Step 1
One of the most notable and recognizable aspects of Todoroki's design is his hair that flops down over his face. His hairstyle may look cool, but it can also be a bit tricky to draw!
Luckily, this guide will show you how to break it down into simpler steps to make sure it isn't frustrating.
The hairstyle will be drawn with some rounded lines on the top, and there will be lots of straighter lines that curve down into sharper points for the spikes in his hair.
His hair is separated into parts, so we will draw it in two sections, with this part going on the right. Be sure to leave an empty space on the right of this hair shape, as we will be adding another section there shortly.
Step 2 – Next, draw more of his hair and ear
We mentioned the empty space on the right-hand side, and as promised we will fill it up in this step of your Todoroki drawing.
To do this, draw some more sharply curved lines on the side for more of his spiky hair dropping down. Then use a smoother curved line for his ear poking out from the hair, as shown in the reference image.
Then it's on to step 3!
Step 3 – Finish off his hairstyle
Earlier in this guide on how to draw Todoroki, we spoke about how his hair is separated into two sections, and we will draw the second one now.
The left side of his hairstyle will look very similar to the first half, almost as if it were a mirror image of it.
Using the same kinds of spiky lines from earlier, draw the left section of his hair. Then we can start drawing his face in the next part.
Step 4 – Now, draw his facial features
Now that you have completed the hair of your Todoroki drawing, we can start to draw his face. Use a curved line with a rounded tip at the base for his face and chin outline.
Don't forget to also draw his other ear on the left side! His nose will be drawn with a straight line that has two dots underneath it, and his mouth will also be drawn with a thin, wavy line.
His eyes will be drawn with some rounded shapes with sharp edges, and you can draw his pupils with two small circles that are dotted inside of them.
Finally, draw a curved line on the upper right-hand side of his face for his distinctive scar.
Step 5 – Finish off the chest and shoulders for Todoroki
For this fifth step of our guide on how to draw Todoroki, we will finish off drawing his body so that you will be ready for the final step where you can color him in.
He has a tall collar on his top, so we shall start with that. The rim of the collar will be drawn with some curved lines running parallel to one another, and then you can draw some lines going straight down for the sides of the collar.
Then you can use some more lines angling downward for his shoulders and then add some line detailing to them. That will conclude the final details of this guide, and you're ready to proceed! Before you do, you could also add some details of your own.
These could include drawing the rest of his body or drawing a background. If you went with that idea, you could recreate your favorite Todoroki scene!
These are just a few ideas, but there are tons of ways to get creative with it, so be sure to have fun and see what you can create!
Step 6 – Finish off your Todoroki drawing with some color
Part of the character of Todoroki is his duality with fire and ice, and these elements are reflected in his very design.
Half of his hair is white for the side that controls ice, with a darker purple for the other side along with his scar to represent fire. We went with this color scheme in our reference picture, so you can use this as a guide as you color your own Todoroki drawing!
You can also color in the background or any other extra elements you may have added! Another way to include some color variation is to experiment with different art tools and mediums.
We hope to see which mediums, colors and techniques you use to color in this drawing!
3 More tips to make your Todoroki drawing easy!
Make drawing this iconic character that much easier with these tips for your Todoroki sketch Anime and manga characters tend to have an exaggerated and detailed design.
This drawing of Todoroki is no exception, and this can make it tricky to draw.
One way you can make the drawing easier is by consulting the man himself! By looking at him in the anime, you can use it along with our guide to make it much easier to draw.
Doing this will not only make this design easier to handle, but it would also allow you to create some variations.
For example, you may want to have him looking in a different direction or to have a different facial expression.
Another way you could make this Todoroki drawing easy would be to add some more of his design to the image.
Drawing more of the character could seem like it would be harder to do, and that is true in a sense.
It will be a bit harder, but the upside is that the details of the characters will be less apparent. To fit the rest of his body, his face will have to be drawn much smaller.
This means it won't need a high level of detail. Once again, you could use the anime itself to help you if you want to draw more of his body.
This character may not look like most actual living people, but you could still use real people to help you as you draw. This person could be a friend, family member or even yourself!
You could take a picture of your chosen model or use a mirror if you yourself are the model.
The person you use as a model may not look exactly like Todoroki, but using a real face will help you with drawing facial features.
Once again, this is a tip that would also help if you wanted to give him a different facial expression or position. You may be surprised how much using a real person can help!
Your Todoroki Drawing is Complete!
That will finish off this guide on how to draw Todoroki! We aimed to help you to recreate this classic character by breaking it down into smaller steps.
This was done to make sure that the drawing was more manageable and not as frustrating so that you can focus on the fun of drawing! Hopefully we achieved this goal for you to make this a really fun experience.
Now you can take it even further by adding even more to this picture. There were a few ideas that we went over, but this is your chance to show us how creative you can get with it!
We know you will do an awesome job with how you finish off this classic character.
When you have mastered this guide, be sure to come over to our website, as we have tons of awesome guides for you to enjoy there. We upload new guides often for you, so make sure to visit often!
We would love to see your cool Todoroki drawing, so please do share it on our Facebook and Pinterest pages when it's done!